These are easy popular Japanese recipes anyone can make at home. Whether you are looking for a main dish or a dessert, you will find something here, I promise!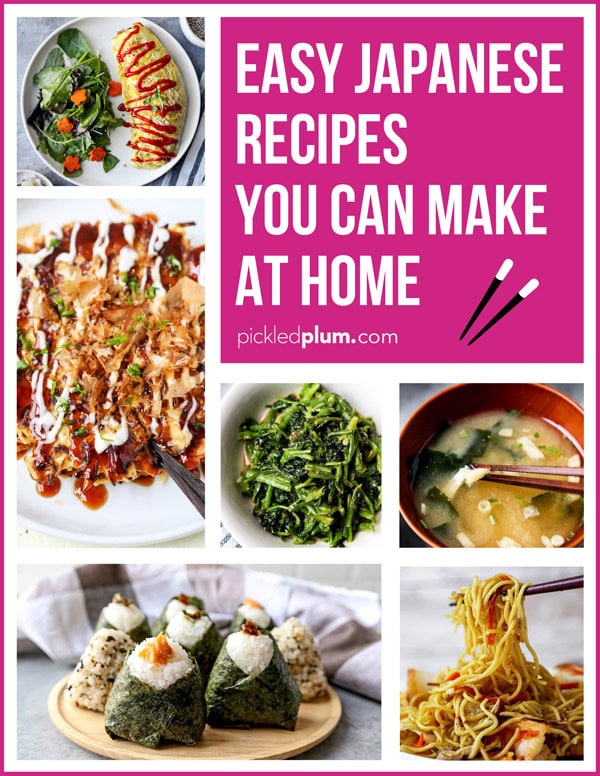 Cooking Japanese food doesn't have to be intimidating, many Japanese recipes can be created with just a few ingredients! I've been in love with washoku since I was a little girl, watching my Japanese mother make dishes such as onigiri, somen, and my favorite – curry rice.
Nowadays, I make my own Japanese food at home because it's quick and easy, and my husband's favorite cuisine. We both love the savory and umami flavors of ramen and soba noodles, a warm rice bowl topped with stir fried vegetables, mochi ice cream and kinako dango for dessert, a comforting miso soup as an energy booster, and of course, nothing beats rice balls as a snack! I like to fill them with umeboshi, okaka, and salmon.
My Japanese recipes are based on dishes I've tasted from my own mother and also from spending three years living in Tokyo. Omakase, izakaya (tapas-style food served in small dishes), washoku, and how to cook Japanese rice perfectly every time.
Fill your pantry with the basic Japanese ingredients for cooking and you will be able to make a whole meal in no time. Most recipes take less than 30 minutes to make and use the same combination of ingredients. The measurements are what makes each dish taste different.
From traditional Japanese recipes to westernized ones, these are all easy and simple recipes to make. You'll be having fun in the kitchen I promise all the while learning about the culture and food. As we say in Japanese – itadakimasu (I humbly receive this food)!
Easy Japanese Recipes You Can Make At Home
____________________________________________________________
Appetizers/Small Plates

This is an easy Japanese seaweed and cucumber salad tossed in a simple vinegar and soy sauce based dressing. It's a very refreshing salad that only takes 5 minutes to make.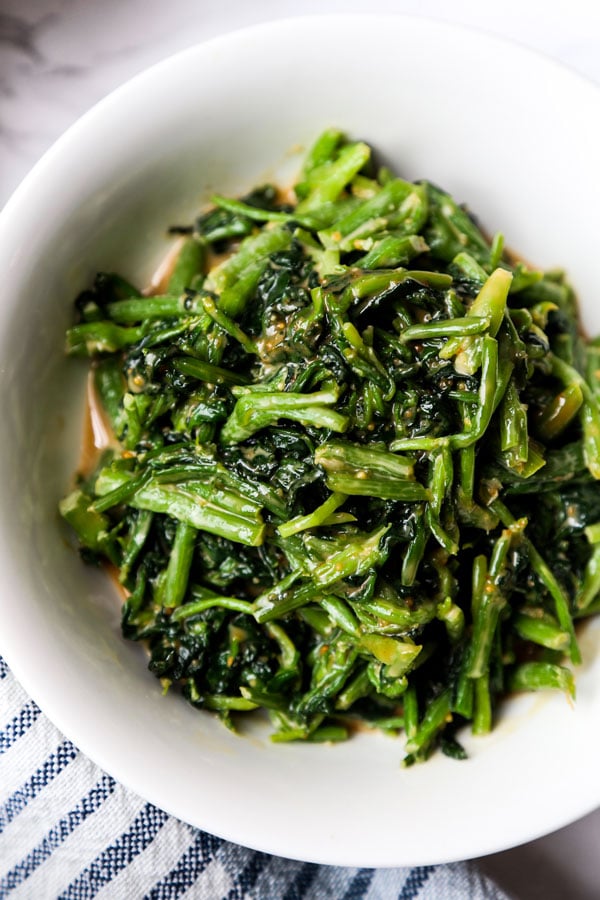 The combination of creamy peanut butter, soy sauce, and rice vinegar dressing, gives this chilled watercress salad a sweet and nutty taste.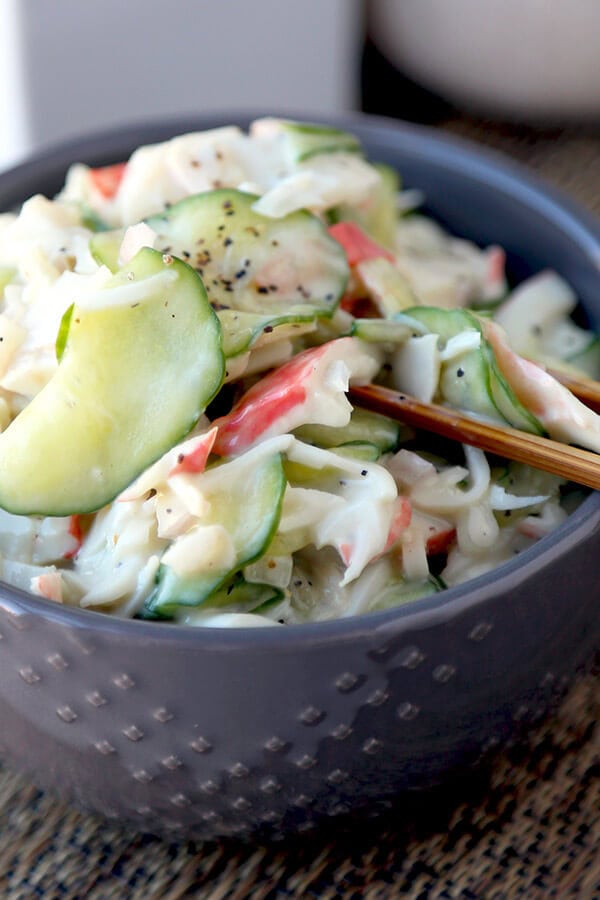 Kani salad, or crab salad, is a very popular dish in Japan. It's often served as part of a bento meal or as a side to chicken or beef. The creamy texture and sweet taste makes it kid friendly!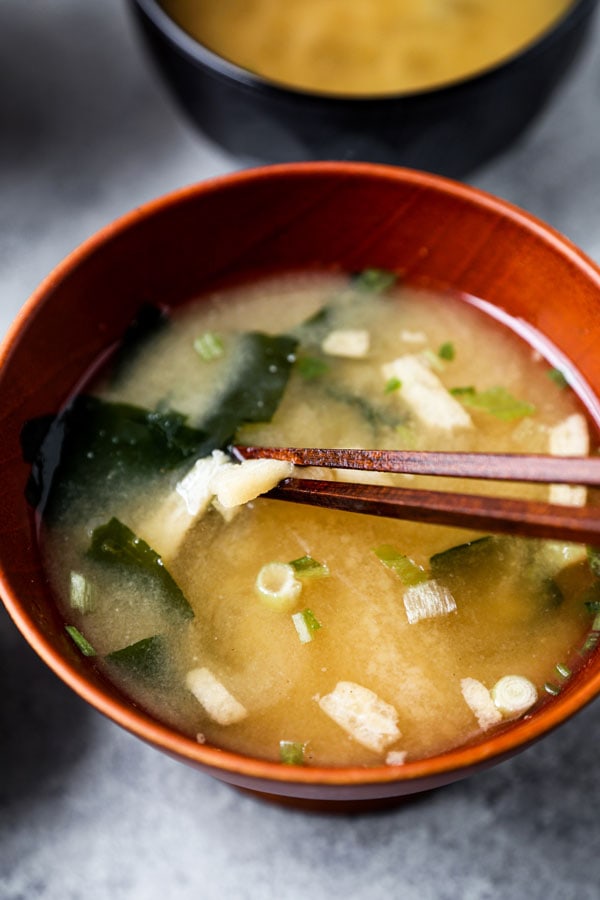 One of Japan's most famous dish is miso soup. As simple soup made with miso paste, seaweed, and tofu, that pairs well with fish, chicken, noodles, and rice.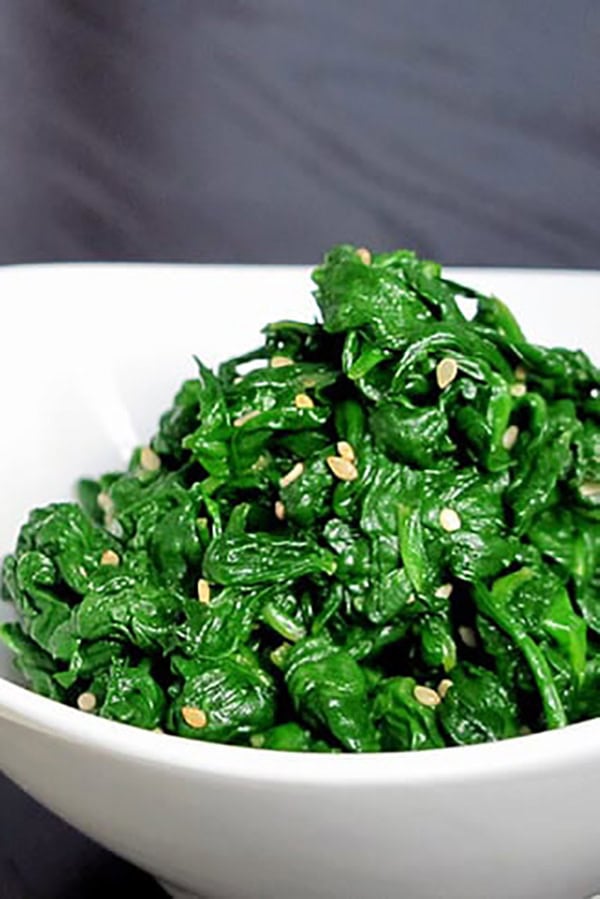 This is another dish that only takes a few minutes to make. Oshitashi, or ohitashi, is a traditional dish of boiled spinach that have been chilled and dressed in a little sesame oil, soy sauce, and dashi. The toppings include sesame seeds and bonito flakes.
A favorite among kids and adults, onigiri are rice balls that are stuffed with various ingredients such as salmon, fish roe, bonito flakes, tuna with mayo, or pickled plum, and are wrapped with nori.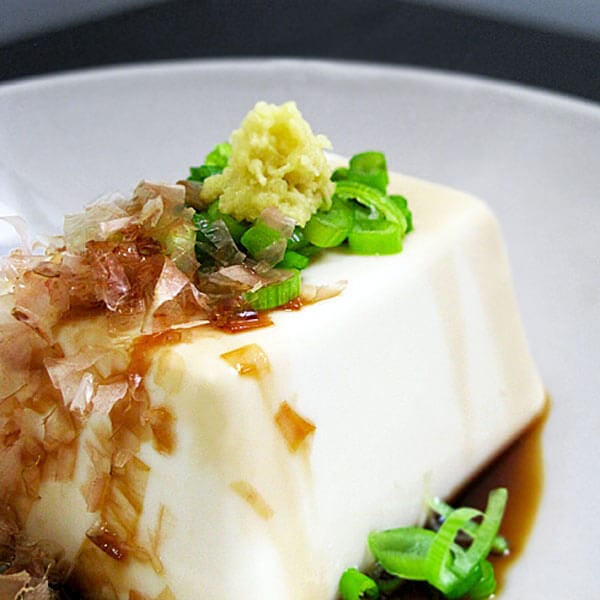 Make sure to find the best quality silken tofu for this recipe since it's the start of the dish. It's served with a drizzle of soy sauce and topped with chopped scallion, grated ginger, and bonito flakes.
Ochazuke is a comforting soup made with green tea that's poured over Japanese rice and served with various toppings. It's usually served at the end of a meal to use up what's left of the rice.
Natto are fermented soybeans that are slimy in texture and funky in taste (think blue cheese or marmite). It's hard to describe because it's such a unique ingredients. One thing is for sure – you will either love it or hate it – there's no in between when it comes to natto!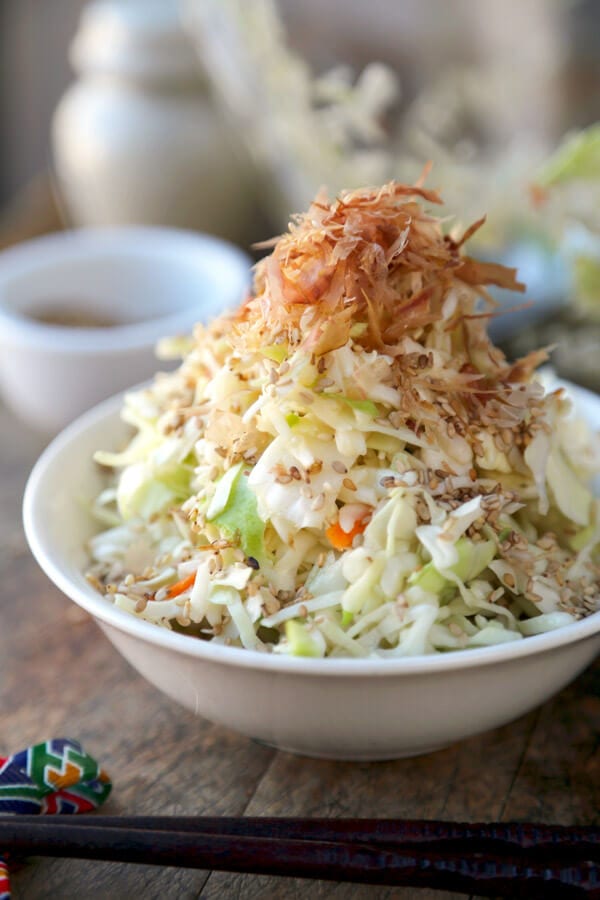 You would never think that pairing dried fish flakes with shredded cabbage would taste so good – and yet it does! A simple vinaigrette of soy sauce and rice vinegar bring just the right amount of acidity to this spectacular salad.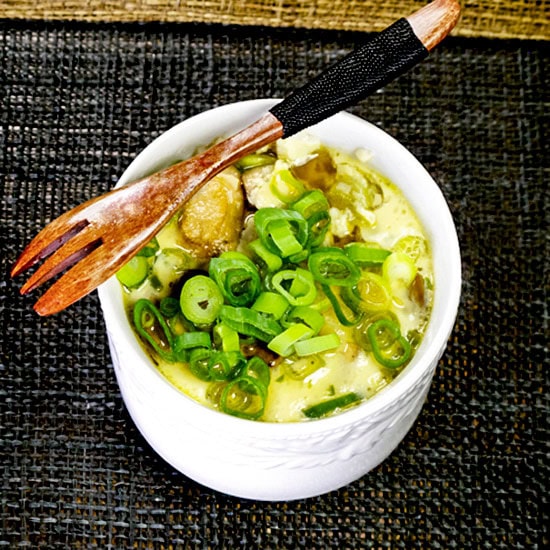 A silky egg custard that's flavored with dashi and stuffed with ingredients such as fish cakes, shrimp, mushrooms, and beans.

Agedashi tofu (or doufu) are silken tofu cubes dusted with potato starch and deep fried until crispy. The tofu is served in a warm tsuyu broth and topped with daikon.
These eggplants are scored and pan fried until golden brown. They are then brushed with a sweet miso glaze and broiled for a few minutes until the glaze is caramelized. It's a stunning dish both in looks and taste.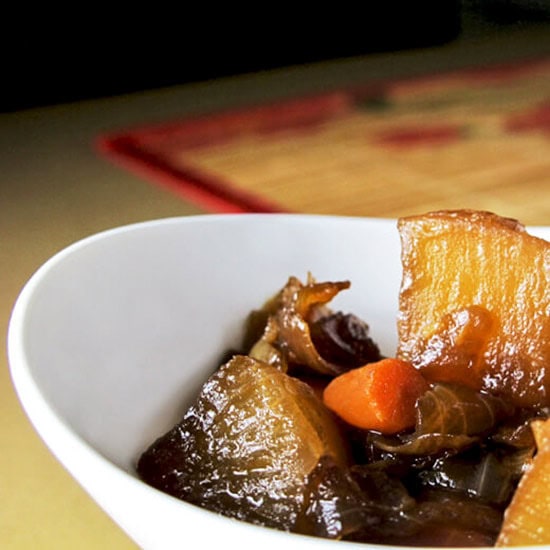 Oden is a mix of vegetables, fish cakes, eggs and konnyaku (devil's tongue jelly) that are simmered in a kombu and dashi broth for hours. It's known as a winter comfort food because of its warming properties.

Though this soup is mainly served on New Year's Day when people pray for health, prosperity and happiness, I make ozoni all year round. If you are a mochi lover like I am, you will love this simple soup made with dashi, carrots, shiitake mushrooms, daikon, mitsuba, and rice cakes.
____________________________________________________________
Main
I make omurice whenever we have leftover Japanese rice in the fridge. Omurice is basically ketchup flavored vegetable fried rice wrapped in a fluffy omelette. It's simple, easy, and delicious!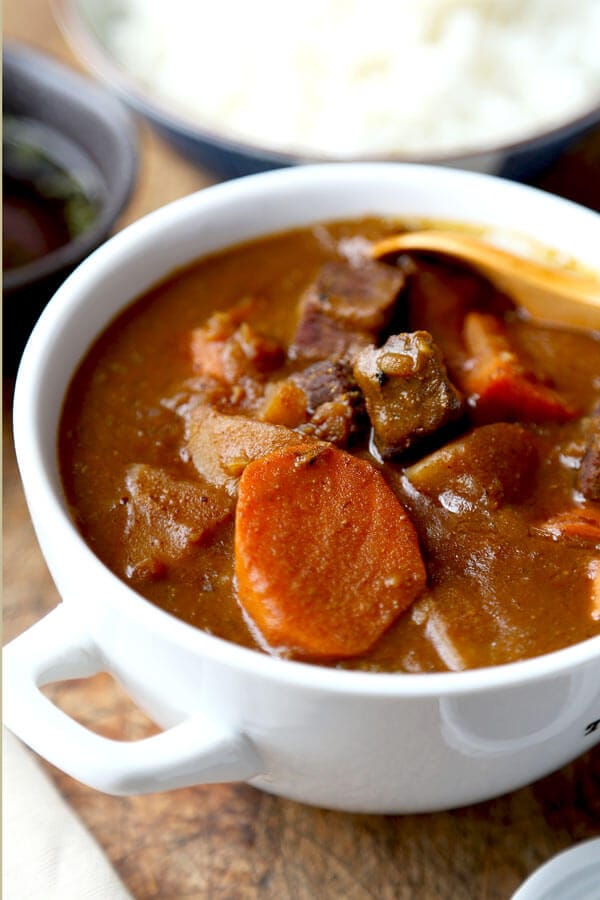 What makes Japanese curry different from other curries lies in it sweetness and rich gravy-like texture. The lack of heat makes it an easy meal to serve to kids.
Sometimes called Japanese pizza, okonomiyaki is a savory Japanese pancake grilled with a mix of vegetables, meats, and/or seafood, and topped with mayonnaise, tonkatsu sauce, and bonito flakes.
A soy sauce based ramen noodle soup served with ramen eggs, chopped scallions, and nori.
Miso ramen hails from Northern Hokkaido where the winters can be as harsh as those in Canada. It's a rich, cloudy broth packed with umami and earthy flavors.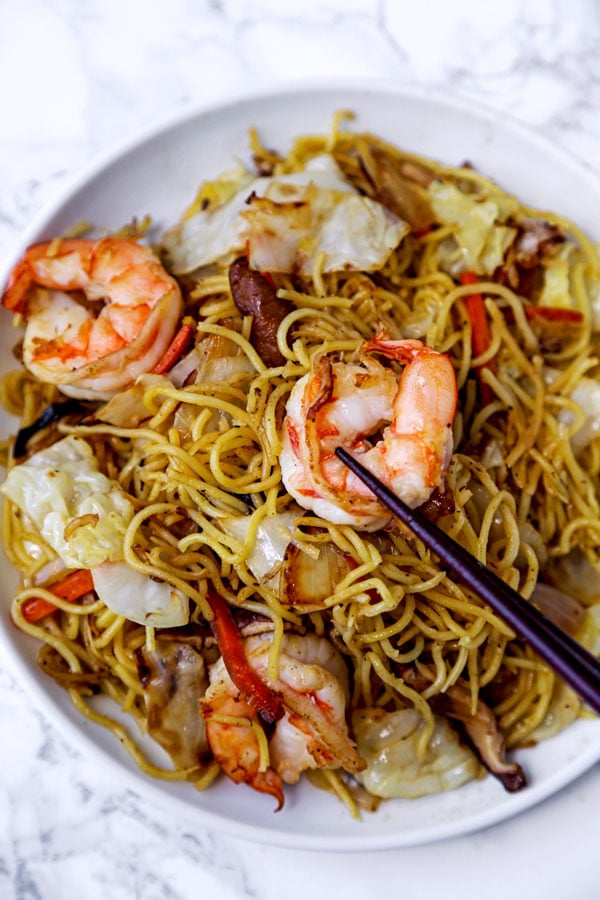 Japan's most famous noodle dish beside ramen, yakisoba are noodles that are stir fried with vegetables like cabbage, carrots and mushrooms – as well as bits of pork or other proteins – and seasoned with soy sauce, nori powder, and benishoga.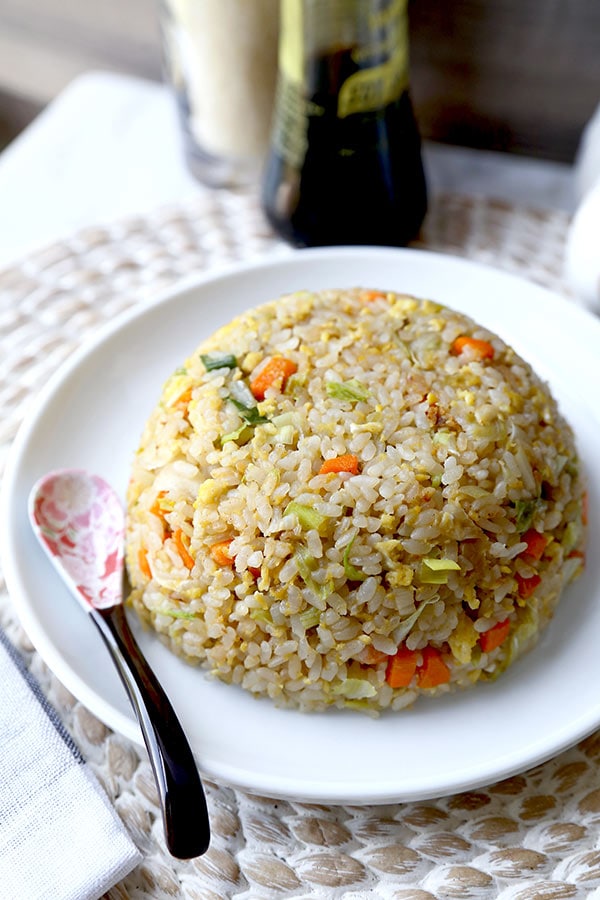 Japanese fried rice is Ben's go to dish when he wants to make something quick and delicious. The flavors, although quite subtle, are fragrant and very comforting. Sprinkle a pinch of white pepper to add a kick to it!
Classic chicken katsu is deep fried but this recipe is baked in the oven and the result is just as delicious – minus the fat. The panko breading is crispy and the chicken is moist and juice. Serve with tonkatsu sauce and shredded cabbage on the side.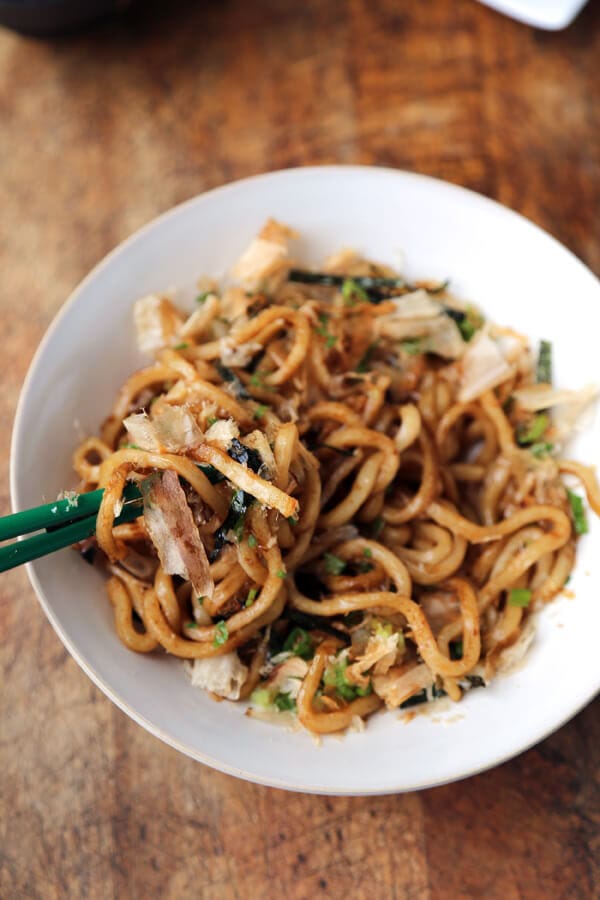 Another classic Japanese food pairing that's worth trying – soy sauce and butter. Udon noodles pan fried with soy sauce and butter, topped with fresh scallions, nori and bonito flakes.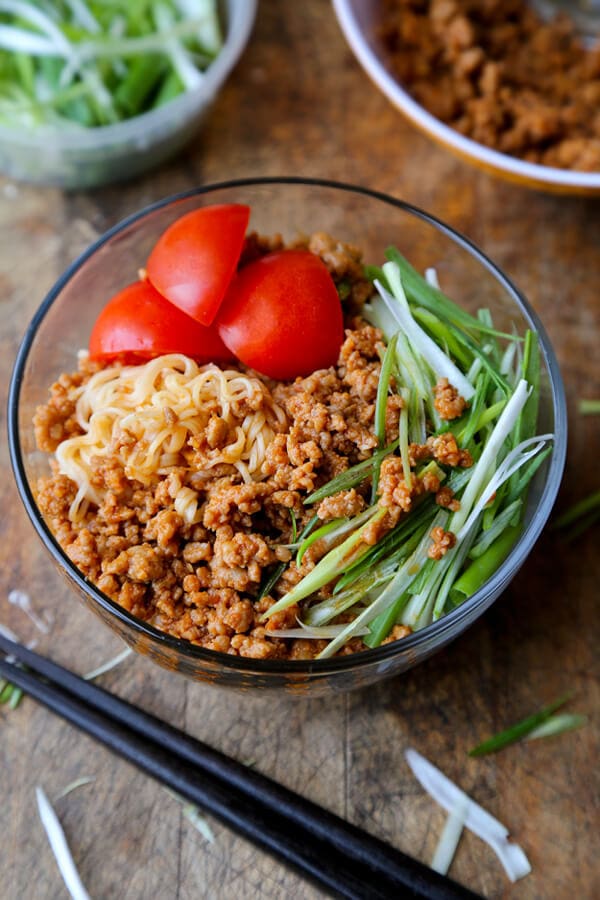 This classic Japanese noodle dish uses Korean chili paste to add heat and color. But rather than being spicy, it's more sweet, nutty and smoky.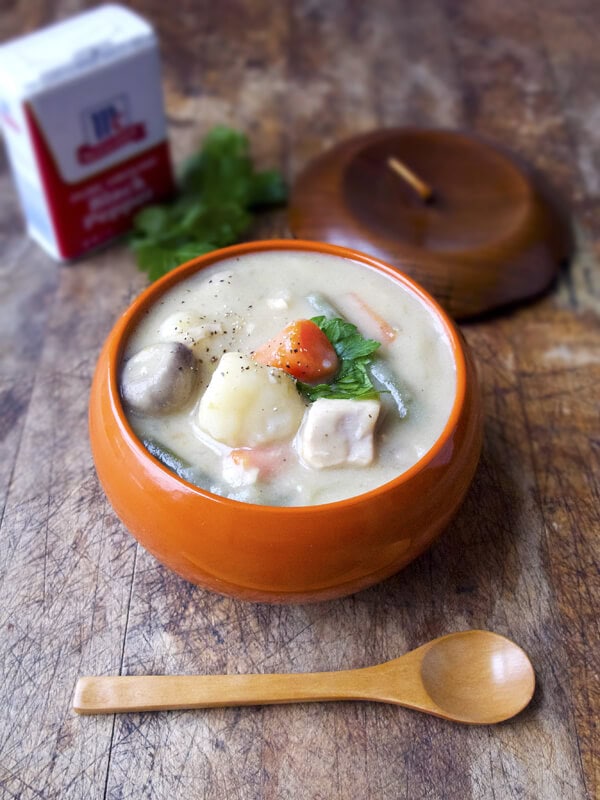 A creamy chicken stew that's sweet and savory – the ultimate Japanese comfort food.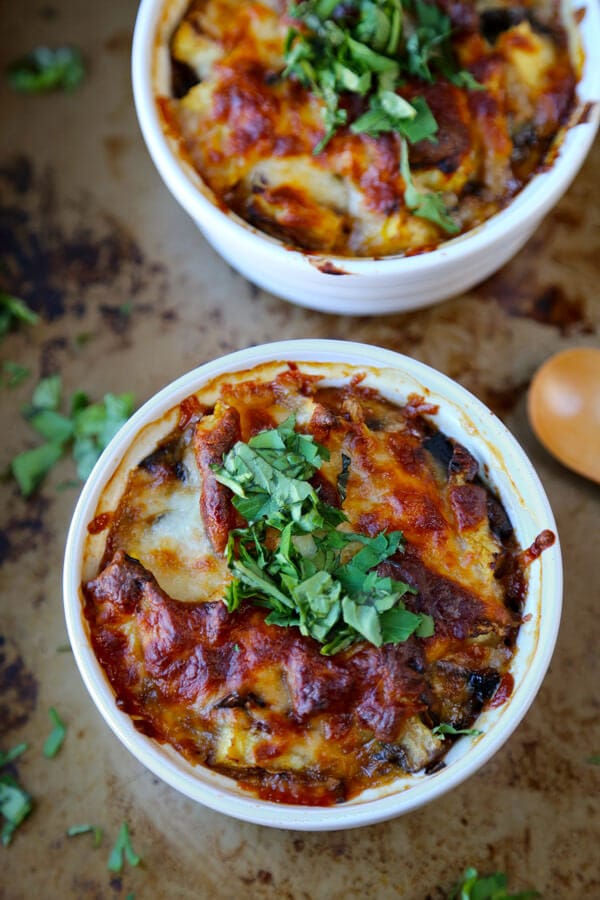 Gratins are very popular in Japanese cooking. Mixing a little miso paste to impart a little umami to the creamy sauce means there is no need to add salt. The dish is extremely flavorful and the veggies are moist and so tender they almost melt in your mouth.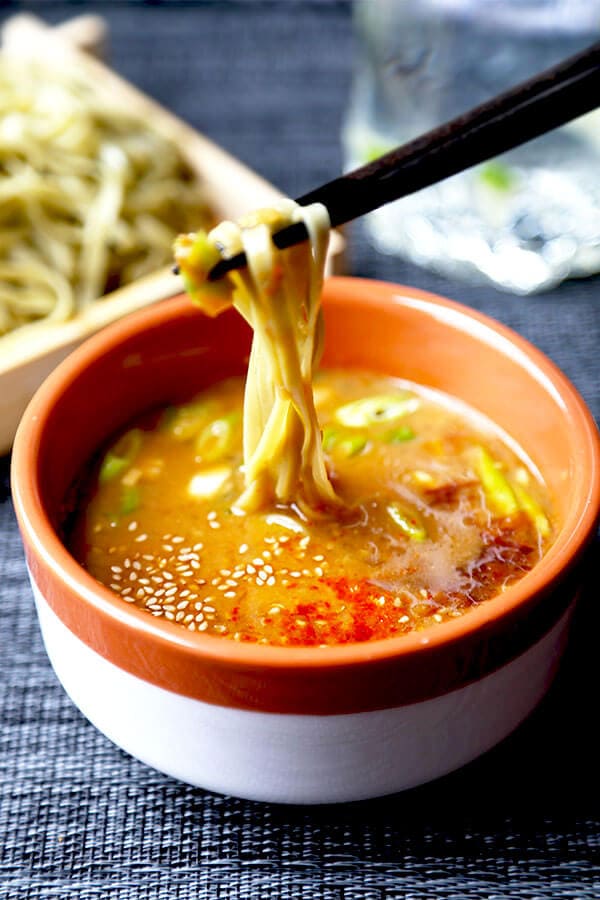 Tsukemen is not as popular as ramen but just as yummy. Instead of serving the noodles in a soup, the broth, which is more concentrated, is served on the side and used as a dipping sauce.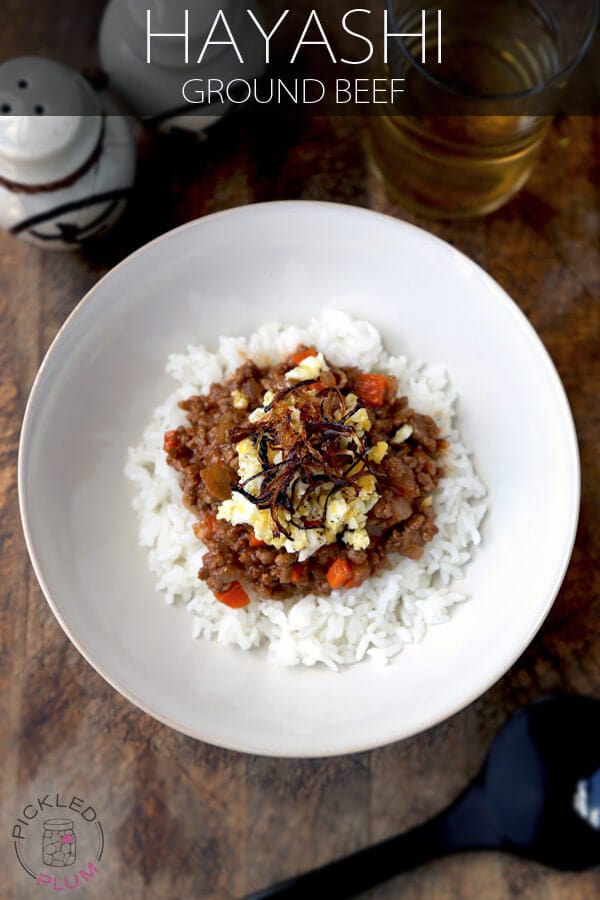 This dish is a take on the classic hayashi rice. For this recipe I'm using ground beef and cooking it in broth, sake, ketchup and Worcestershire sauce. It's one of those dishes you can whip up in no time and that's guaranteed to make your family very happy!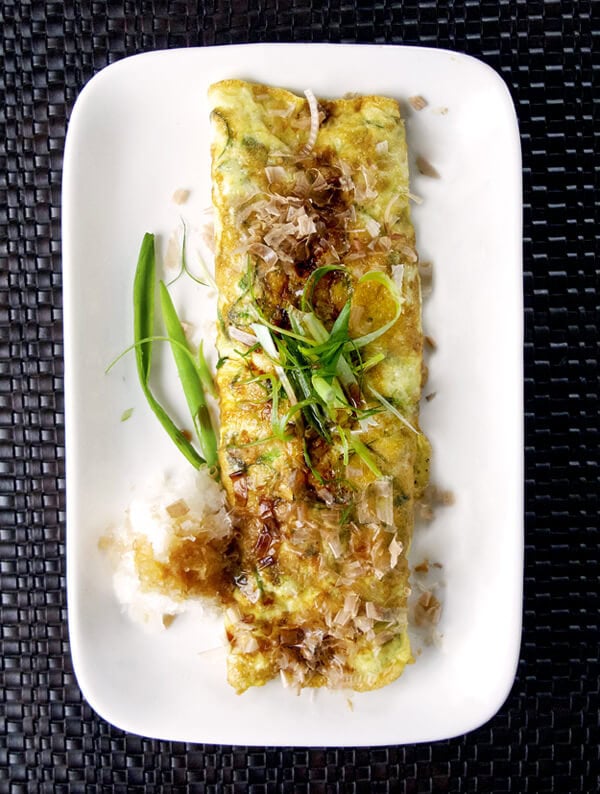 This is a simple omelette made with dashi and scallions, and top with bonito flakes and a drizzle of soy sauce.
A bowl of chewy udon noodles in a light, savory broth. Ready in just 15 minutes from start to finish.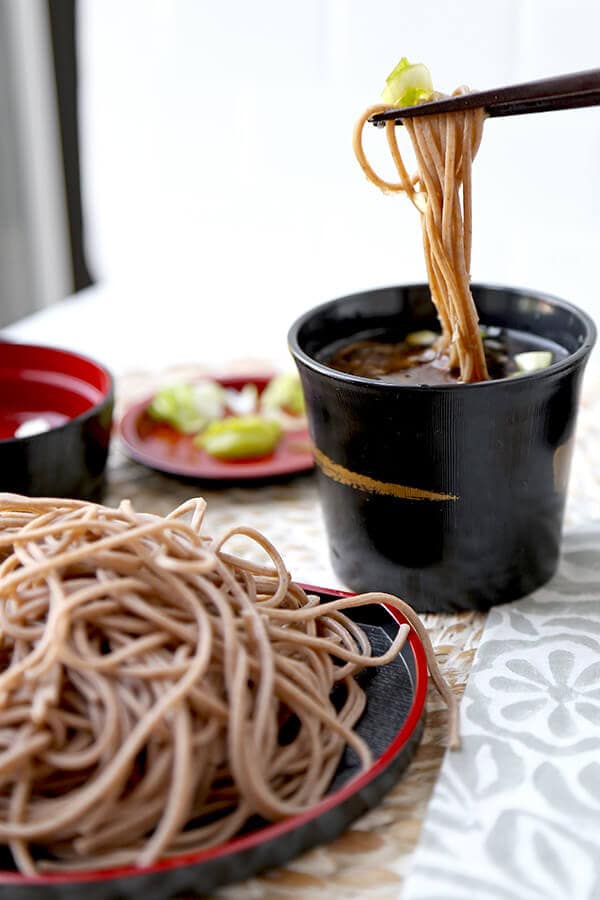 Most often served in the summer, zaru soba are buckwheat noodles served chilled with a tsuyu dipping sauce.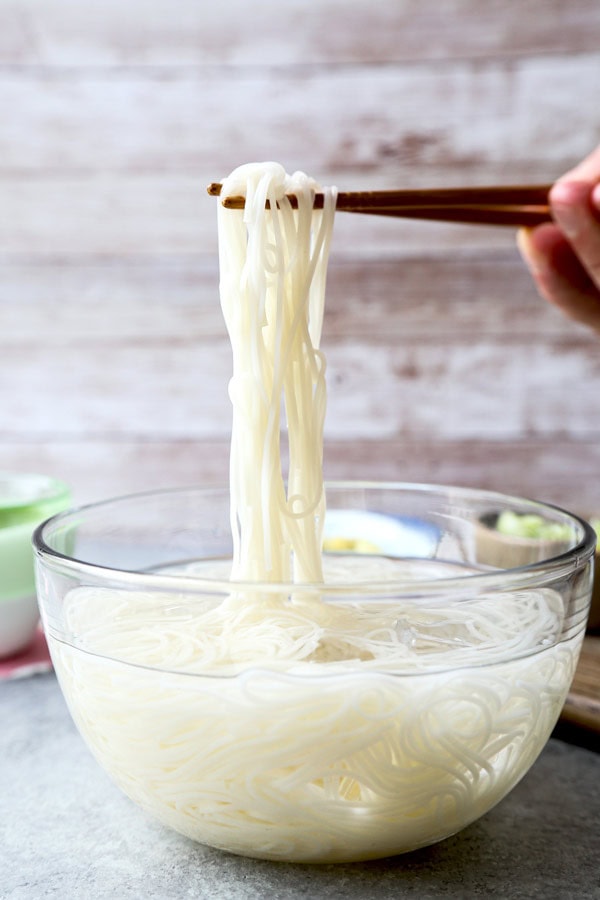 Another summer noodle dish, somen is also served chilled with a tsuyu dipping sauce. The only difference between zaru soba and somen are the noodles – while soba noodles are coarse and made with buckwheat, somen noodles are much thinner and made with wheat flour.
____________________________________________________________
Japanese Desserts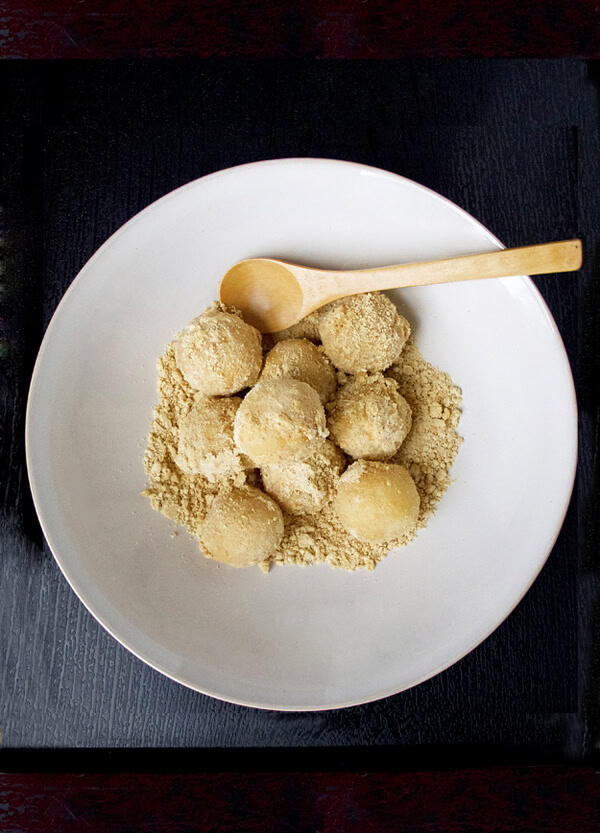 Dango are rice flour balls that are boiled until they get the doughy and chewy. These ones are dusted with kinako (soybean flour) mixed with sugar and a little salt. A classic Japanese combination of nutty, sweet, and salty.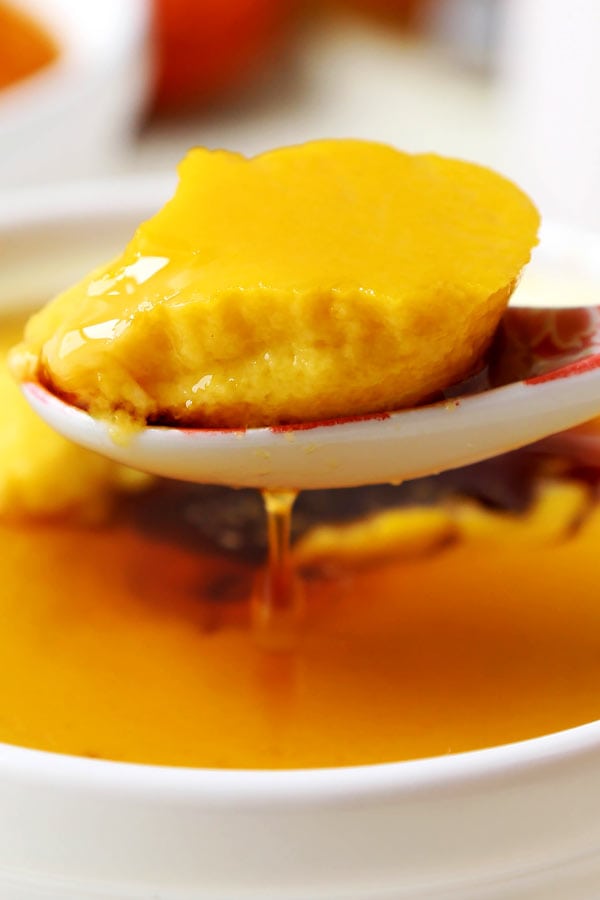 Flan-like, sweet and silky, Japanese pudding is very similar to crème caramel.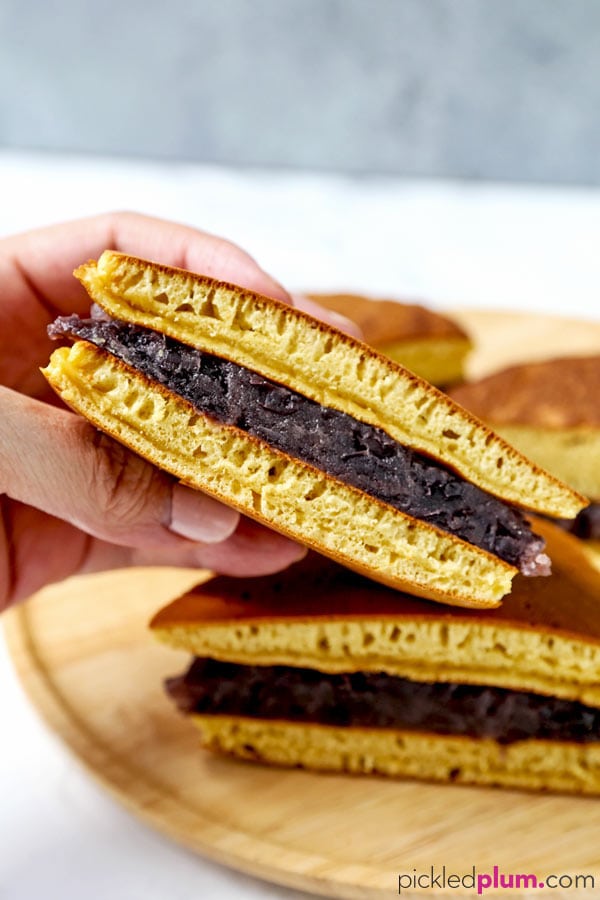 Dorayaki is a very traditional Japanese dessert that dates all the way back to the 16th century. The dessert is made of sweet red bean paste that's sandwiched between two small pancakes.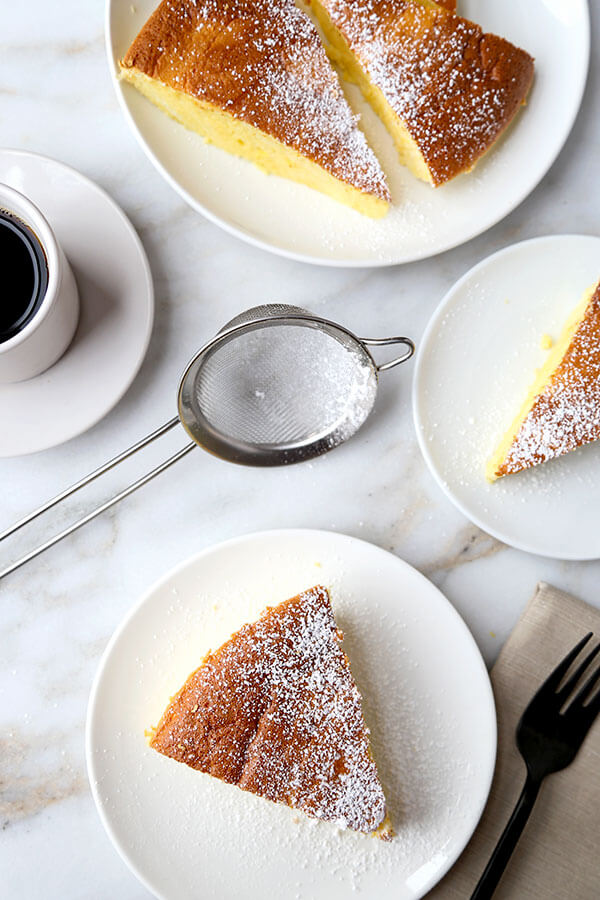 I'm not big on American cheesecake but I could eat the Japanese version every day! What makes Japanese cheesecake so different is the texture – super light and airy. It's also less sweet so you get to enjoy a slice without being overwhelmed by too much sugar.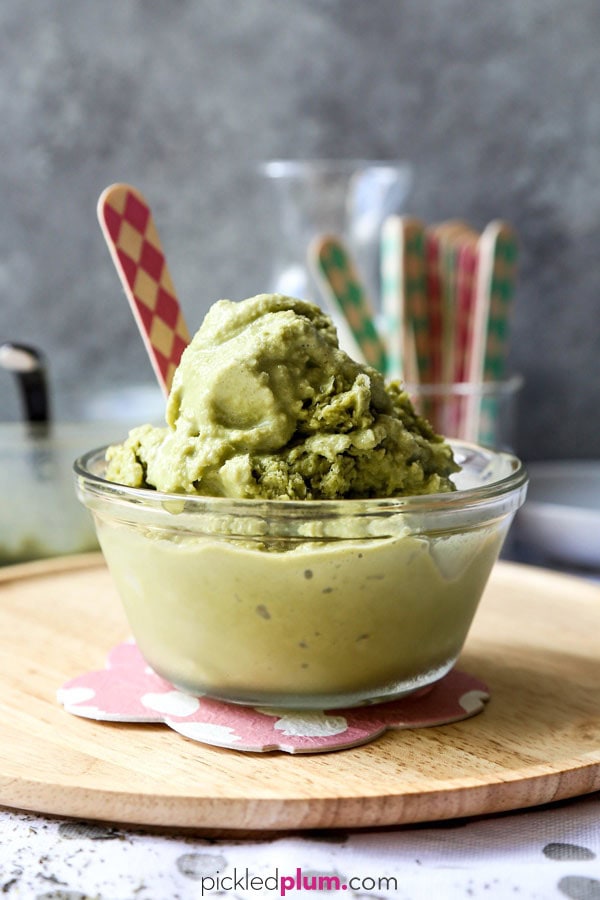 The perfect balance between the bitterness of green tea and the sweet and creamy flavors of ice cream. This is a no churn recipe.
____________________________________________________________
Japanese Sauces and Dressings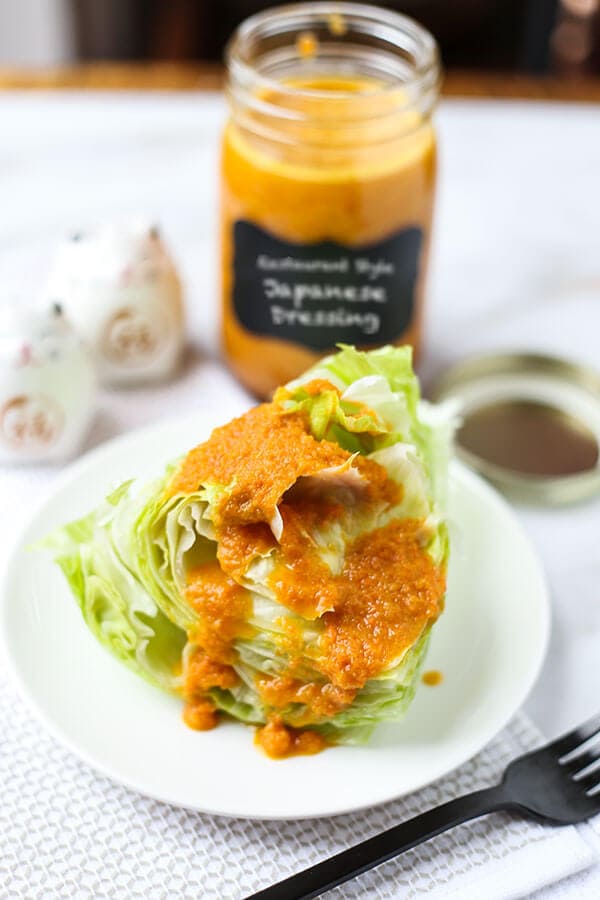 This is one of the most popular recipes on my blog. It's also one of our favorite salad dressings. This Japanese carrot dressing is sweet and tangy which makes it the perfect accompaniment to cold vegetables.
Ponzu sauce is a mixture of soy sauce and ponzu, which is a citrus fruit similar to lemon. It's often used as a salad dressing, dipping sauce or marinade.
Also called Japanese barbecue sauce, tonkatsu sauce is very smoky, sweet and savory. It's used in the same as barbecue sauce is used in the US – for grilled meats, sandwiches, and as a dipping sauce.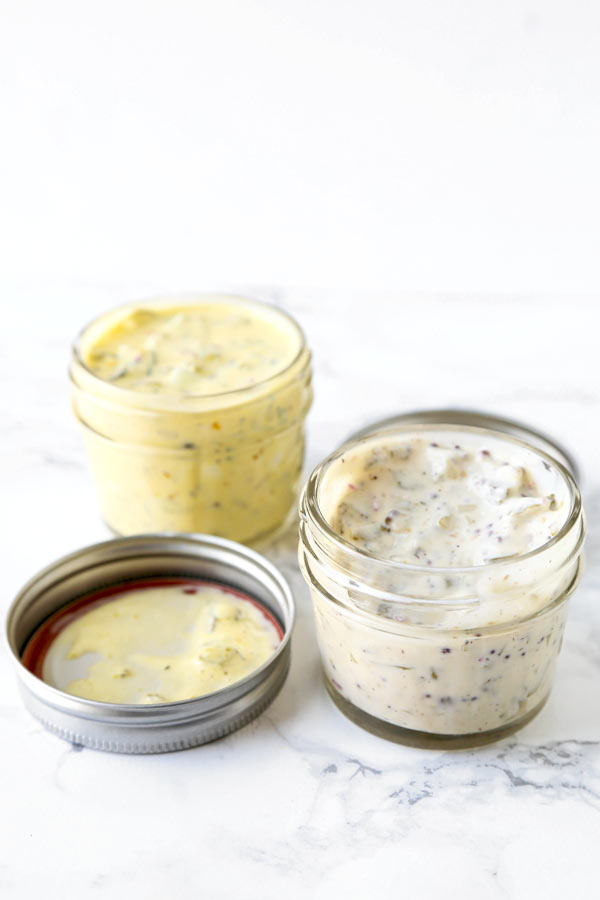 Japanese tartar sauce is a little different than American tartar sauce in that boiled eggs and Japanese mayo – which has more umami – are used. The result is a sauce that's more punchy and creamier in texture.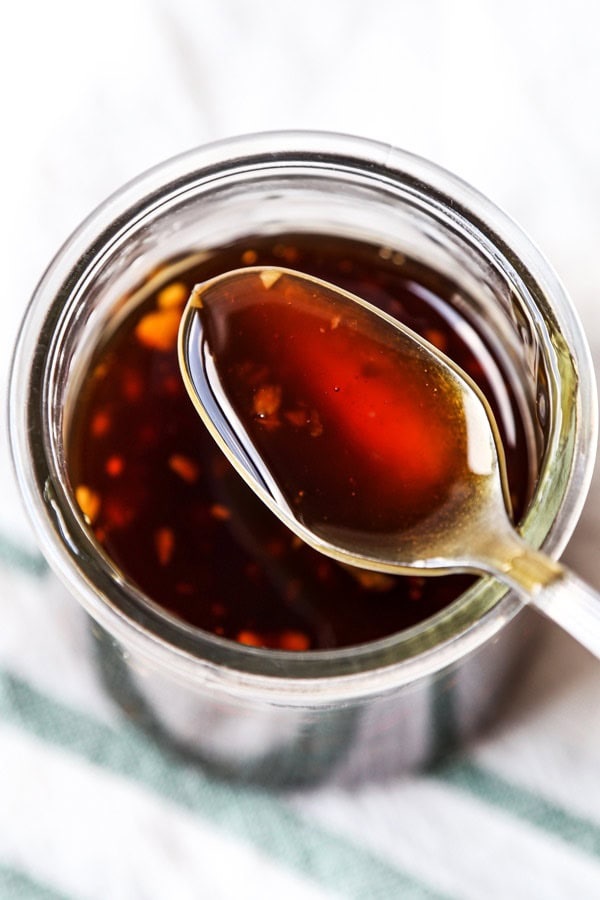 Last but not least, teriyaki sauce is Japan's most famous export next to sushi. No explanation is needed aside from the fact that my version is less sweet and more savory. Give it a try, you'll love it.
_______________________________________________________________
About Japanese Food
Washoku vs Yōshoku
Most Japanese recipes can be placed into one of two categories: washoku and yōshoku.
An extreme oversimplification of those terms is that washoku is the traditional cuisine of Japan, which is usually reliant on in-season ingredients. So, when you eat classics like Japanese pickled vegetables or oden or miso glazed grilled fish, you're likely eating washoku dishes.
Another super over-simplified explanation of a nuanced issue is that yōshoku is food containing some Western (or foreign) ingredients and flavors, prepared in a style that appeals to the Japanese palate.
Therefore, food like ramen and gyoza that have their origins in Chinese cooking (sometimes this is also referred to as chuuka) – and spaghetti Napolitan, many au gratin dishes, and korokke (croquettes) which skew Western – are yōshoku.
It's super difficult to know where the line is drawn! So many things we assume are straight-up Japanese recipes have actually been absorbed into the Japanese food sphere and perfected for the Japanese palate.
My opinion on the matter is that, no matter where dishes like curry and spaghetti Napolitan came from originally, they have become Japanese over the years through their ubiquitousness in Japanese food culture.