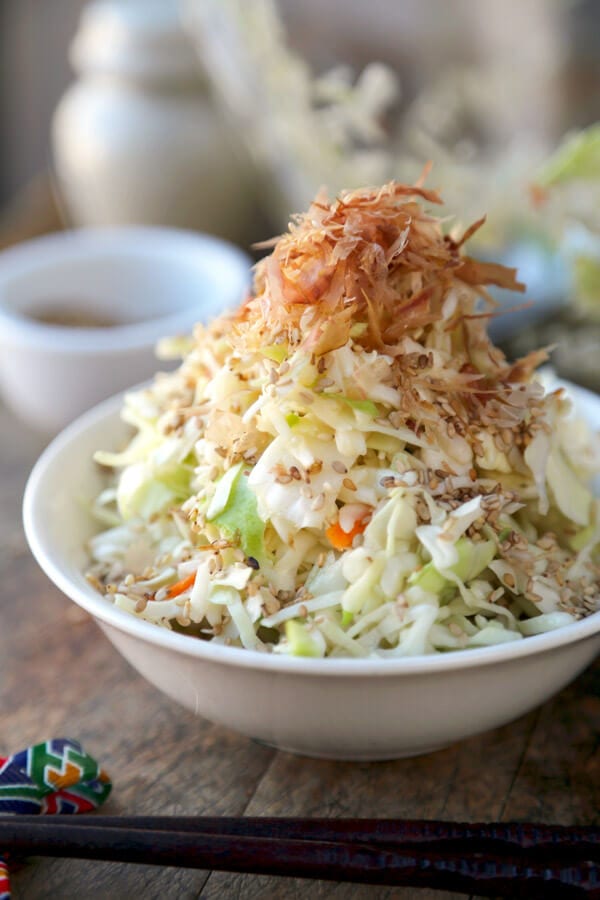 Japanese Cabbage Salad
Spring is almost here and I can feel it in the air! The birds are back and I can see teeny tiny buds growing on tree branches. The sun is shining a little stronger than a week ago and all I want to do is take long and slow walks in the middle of the day. I love this time of the year because it signifies the rebirth of everything surrounding me, including myself! As much as I think a fresh coat of snow can be one of the most beautiful and romantic things to see, deep down inside I am a sunshine girl. I need to feel the warmth of the sun on my skin and absorb some of that vitamin D to perk me up. It's also the time when I get excited about making quick and easy dishes like this Japanese cabbage salad. After all, who wants to stay indoors when it's this beautiful outside?!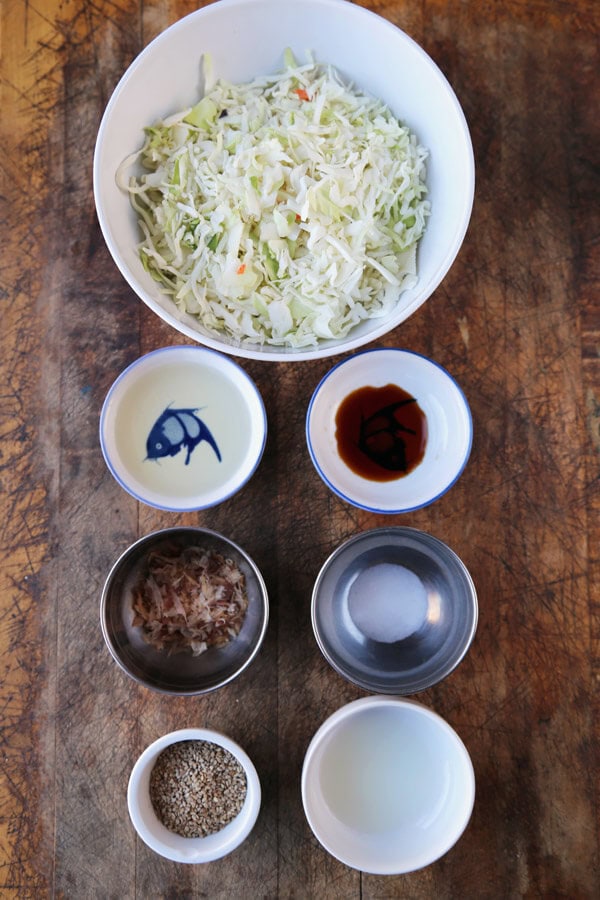 Japanese cabbage salad is something that's very common in Japanese cuisine. It's very simple and tastes extremely refreshing and cleansing. There are many different versions of Japanese cabbage salad but most of them include soy sauce and a squirt of lemon juice. Think of when you order tonkatsu or any fried dishes at your favorite Japanese restaurant. Chances are the fried portion of the meal will most likely come on top or next to a mountain of shredded cabbage salad dressed with a soy sauce and lemon vinaigrette. That's the traditional way Japanese cabbage salad is served and I could eat it every day. My husband on the other hand prefers flavors that are more acidic and pungent so instead of using lemons, I am using rice vinegar and bonito flakes (katsuobushi) to suit his palate.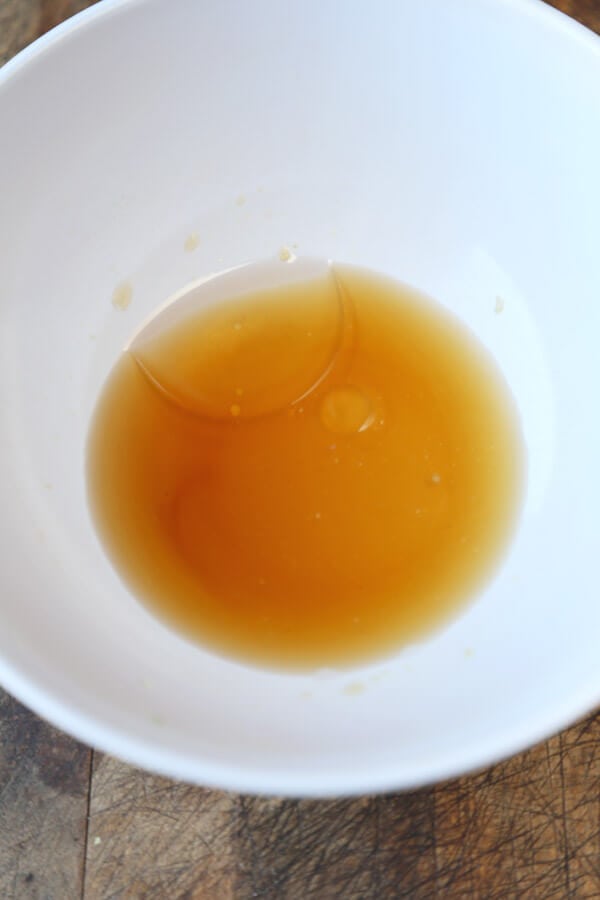 The result is just as refreshing but with more kick and depth of flavor. The combination of all seven ingredients tastes like a mix between a Vietnamese chicken slaw and a traditional Japanese cabbage salad. A little pungent, nutty, salty and acidic. For this recipe I'm using a bag of pre-shredded coleslaw mix in order to keep it as quick and easy as possible. This Japanese cabbage salad takes less than 5 minutes to make from start to finish!
Serve this Japanese Cabbage Salad with easy spicy chicken onigiris, a bowl of spaghetti squash yaki soba style or some slow cooker short ribs with kimchi.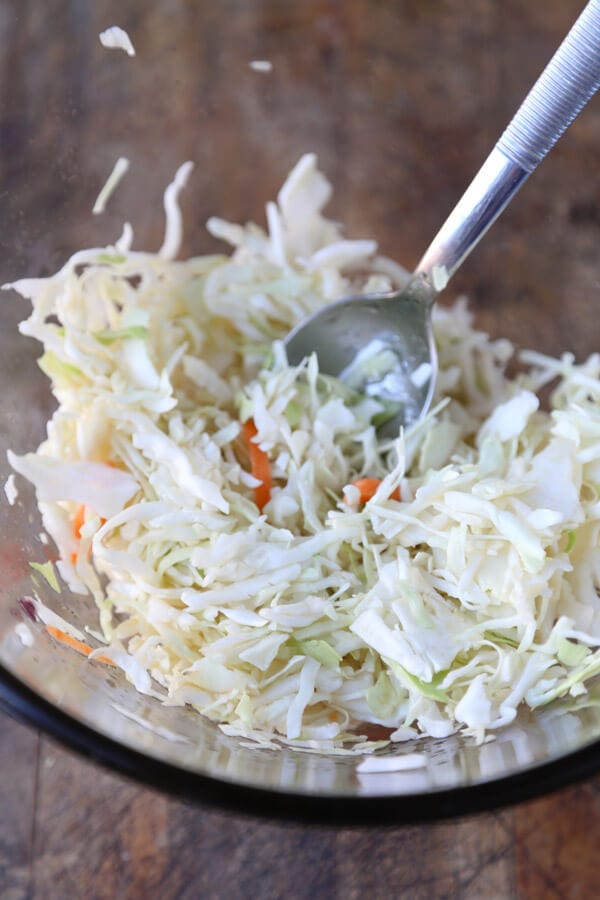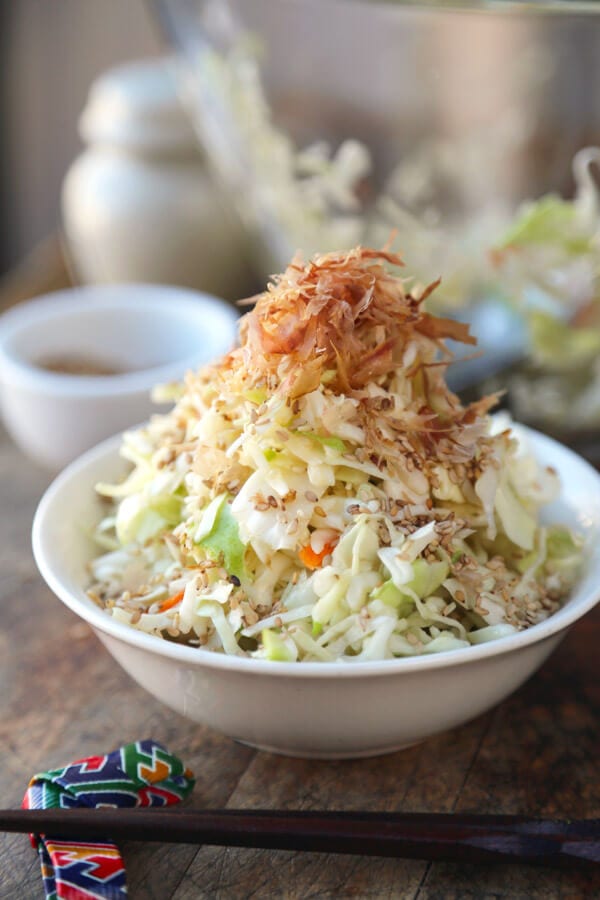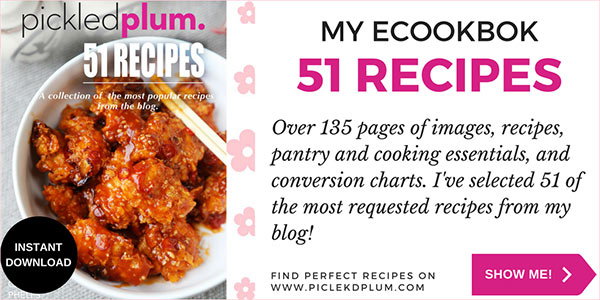 These recipes constantly make "best dish" lists on sites such as Country Living, Self, Shape, Bon Appetit, The Cooking Channel, Men's Fitness and Woman's Day. They are favorites among my readers, friends and family!
51 of the best appetizers, sides, stir fries, main, noodles & rice, desserts & drinks from the blog.
Simple and easy dishes made healthier, with calories and fat content provided. Tried and tested by my readers and loved by everyone!
---
Print
Japanese Cabbage Salad
This is a light and refreshing recipe for Japanese Coleslaw that's also very quick and easy to make. Less than 5 minutes from start to finish!
Prep Time:

5 minutes

Total Time:

5 minutes

Yield:

2 people

Category:

Salad, Side

Cuisine:

Japanese, Gluten-Free
Ingredients
3 cups pre-shredded coleslaw mix
For the dressing:
1 teaspoon granulated sugar
2 teaspoons light soy sauce
1 teaspoon canola oil
2 1/2 tablespoons rice wine vinegar
1 stalk scallion (finely chopped)
Toppings:
3 tablespoons toasted sesame seeds
1/4 cup bonito flakes (katsuobushi)
Instructions
Mix all the ingredients for the dressing together in a bowl and pour it over the shredded coleslaw mix. Toss well and top with sesame seeds and bonito flakes
Nutrition
Calories:

187

Sugar:

2.2

Sodium:

26

Fat:

11.3

Saturated Fat:

1.4

Carbohydrates:

16.3

Fiber:

3.1

Protein:

4.6