Healthy Snack: Soy and Sesame Edamame
Bring me edamame any time, anywhere and I will eat the entire bowl by myself! Tender but still yielding a slight crunch, I adore the texture and taste of edamame peas in their salty pods. Yum yum yummy! The fact that it also makes a very healthy snack is a major bonus point I am happy to collect (very high in fiber and protein, great for weight loss)! The fact that it can take on many different flavors so well makes it even better and fun to play with.
The classic Japanese restaurant way to serve edamame is boiled with a pinch of salt on top. It's simple, clean and delicious. And though I love this preparation when I'm eating out, I have become more experimental with this healthy snack at home. Lately I have gotten obsessed with lightly frying them in toasted sesame oil, drizzling some soy sauce on top and adding plenty of black pepper. SU-PERB!
Nutty, salty and peppery, it feels like I am eating some sort of Szechuan dish minus the heat. There's more depth of flavor as opposed to being a one note dish, which makes it more addictive (a good thing if it's a healthy snack!). Dressed this way, you can serve edamame at Super Bowl parties and barbecues and no men will ever call it girly food or "that green pea stuff over there." And no one has to know it's a really healthy snack 😉
It can also keep in the fridge for a few days. These soy and sesame edamame are yummy cold or hot, just like pizza!
Looking for other healthy snack options? Try these salt and vinegar oven baked kale chips (so easy!!), nasu dengaku (eggplant with sweet miso glaze) baked general Tso chicken or a refreshing watermelon, strawberry and tomatillo salad.
Did you like this Soy & Sesame Edamame Recipe? Are there changes you made that you would like to share? Share your tips and recommendations in the comments section below!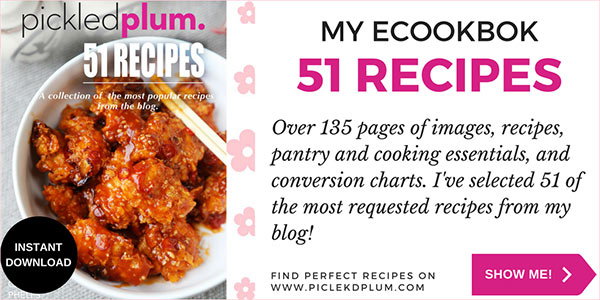 These recipes constantly make "best dish" lists on sites such as Country Living, Self, Shape, Bon Appetit, The Cooking Channel, Men's Fitness and Woman's Day. They are favorites among my readers, friends and family!
51 of the best appetizers, sides, stir fries, main, noodles & rice, desserts & drinks from the blog.
Simple and easy dishes made healthier, with calories and fat content provided. Tried and tested by my readers and loved by everyone!
---
Print
Healthy Snack: Soy and Sesame Edamame
A nutty and healthy snack of edamame lightly fried in toasted sesame oil, tossed with black pepper and soy sauce.
Prep Time:

1 minutes

Cook Time:

4 minutes

Total Time:

5 minutes

Yield:

2

Category:

Snack, Side Dish

Cuisine:

Japanese, Vegan
Ingredients
150 grams edamame in pods
2 tablespoons toasted sesame oil
1 teaspoon soy sauce
salt and pepper to taste
Instructions
Boil edamame for five minutes. Drain in cold water and dry with paper towel.
In a pan over high heat, add sesame oil. When the oil is hot, almost smoking, add edamame pods and fry for about 3-4 minutes, until the pods are sightly charred.
Add soy sauce and stir until the sauce has evaporated.
Season with salt and lots of black pepper.
This healthy snack can be served immediately or refrigerated. Delicious hot or cold!