If you're looking to explore the delightful world of Japanese cuisine, tori nikujaga is a must-try dish that embodies both simplicity and rich flavors. This hearty stew combines tender chunks of chicken, onions, potatoes, carrots, and shimeji mushroom, cooked in a savory soy-based broth, making it a comforting and satisfying meal. Let's dive into the origin, ingredients, and preparation of this delicious Japanese classic!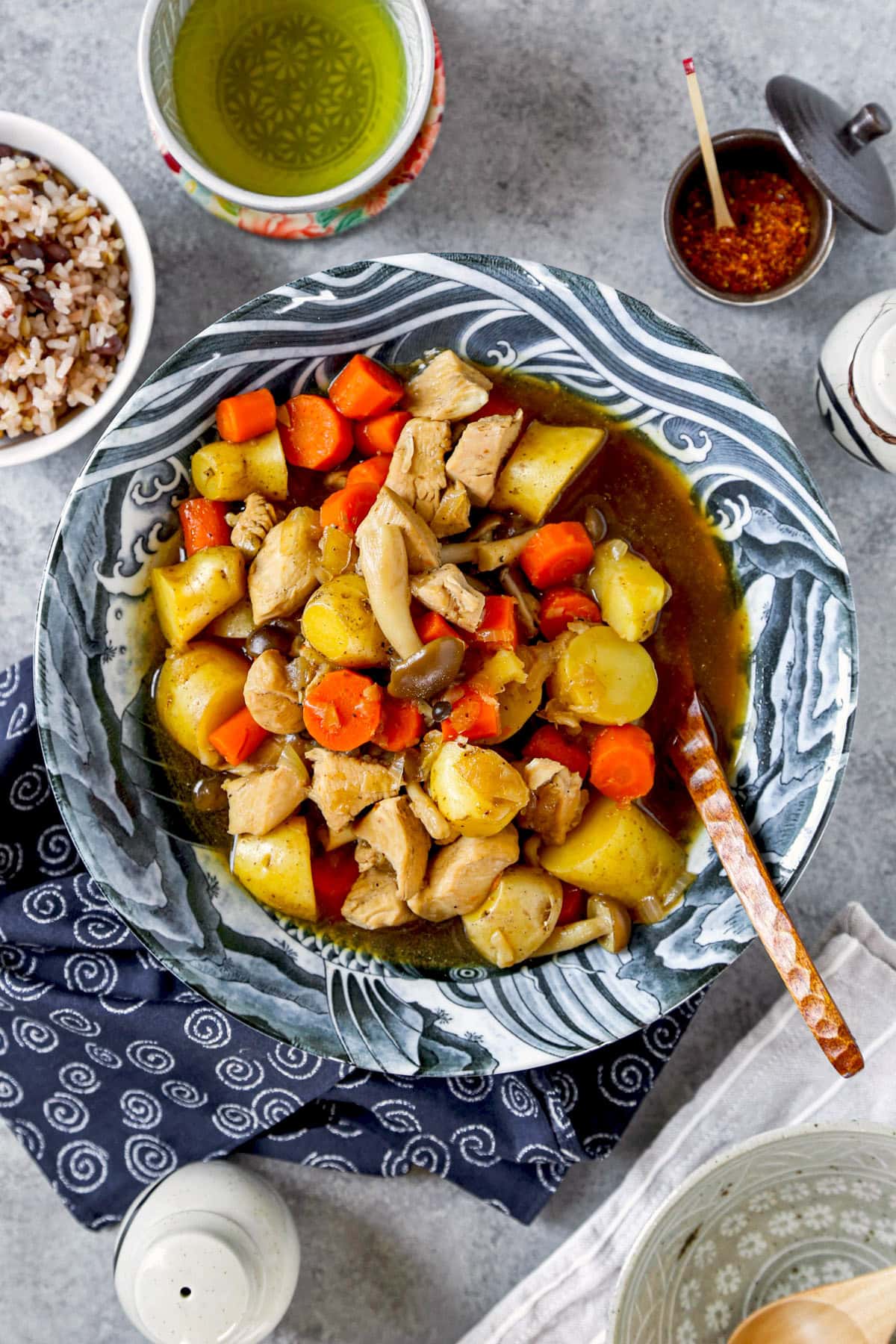 What is Tori Nikujaga (鶏肉じゃが )?
Tori nikujaga is a popular home cooked stew that embodies what Japanese comfort food is all about. Tori nikujaga, which means chicken (tori), meat (niku), and potatoes (jaga, which is short for jagaimo), is very similar to the original nikujaga (肉じゃが ). The only major difference is that the classic version uses thinly sliced meat (beef or pork) instead of chicken. It should also be noted that most, if not all, nikujaga and tori nikujaga in Japan include konnyaku noodles. I decided to make this recipe without it since it can be difficult to find konnyaku in the U.S.
Because of its heartwarming properties, this Japanese chicken and potato stew is often served in the colder months of the year, accompanied by a side of rice. Personally, it's a nostalgic meal that takes me back to my childhood in Quebec. My Japanese mother liked to serve nikujaga on cold winter days to warm our bodies after spending a few hours playing in the snow.
The traditional version for nikujaga is believed to have first appeared in the late 1800s when admiral Tōgō Heihachirō, of the Imperial Japanese Navy, requested that his cooks create a version of the British Royal Navy beef stew. Nikujaga is one of the first Japanese "fusion" dishes, or yoshoku in Japanese, recorded in Japanese history.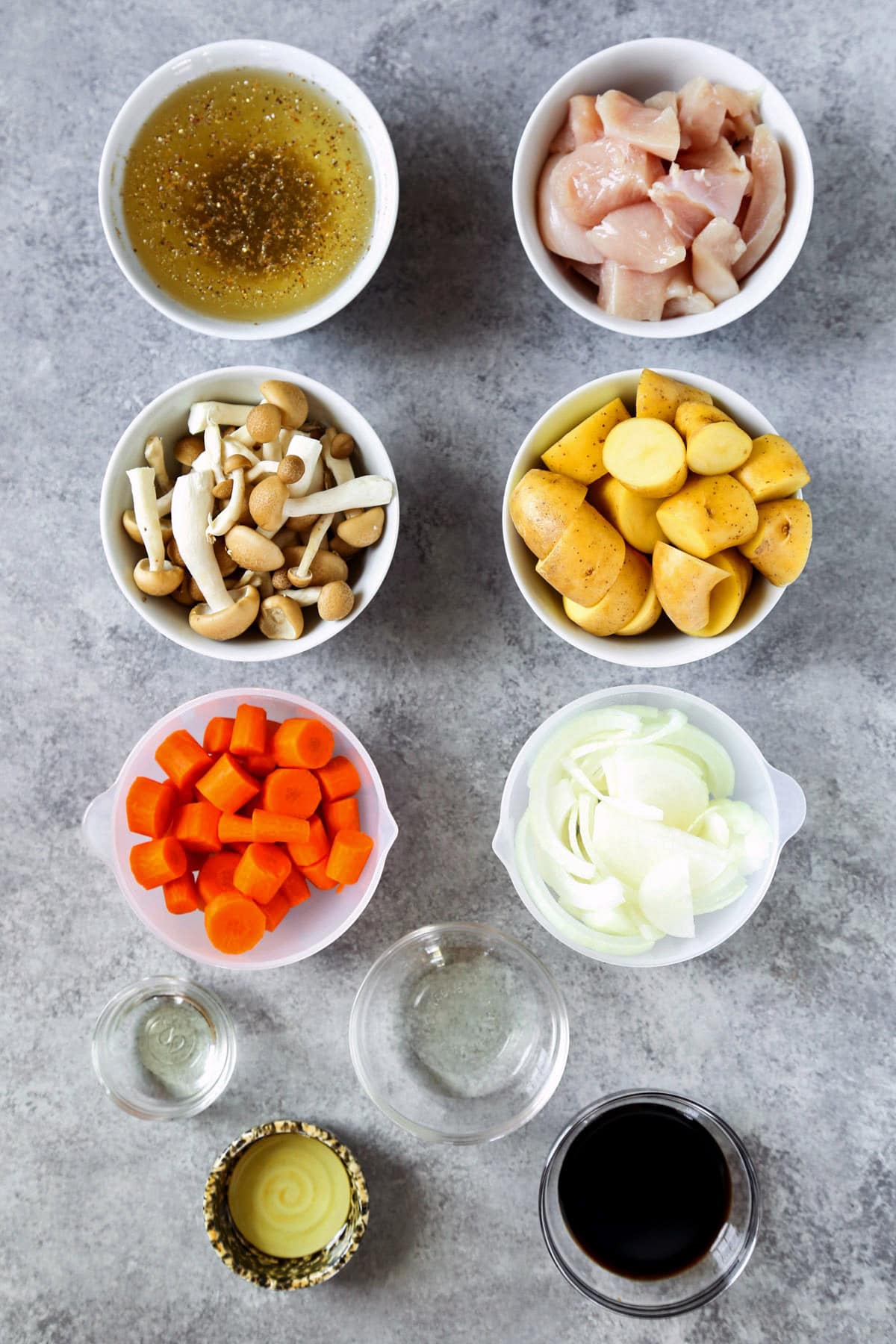 Tori Nikujaga Ingredients
Chicken: I'm using boneless, skinless, chicken breast that are cut into bite size chunks. But feel free to use your favorite cut and leave the bone in and skin on if you prefer it this way. The chicken doesn't have to be cut into bite size chunks either but please note that the cooking time will vary if the pieces (e.g., a whole drumstick) are bigger.
Onion: One large onion sliced into thin half moons to add sweetness and depth of flavor.
Potatoes: Any type of potato will work for this stew. My mother loves using baby potatoes while I prefer using fingerling potatoes or sliced Yukon Golds or russet potatoes.
Carrots: Carrots add sweetness and a lovely pop of color. I recommend using thicker carrots so they can preserve their shape and not get too mushy once they are cooked.
Dashi (fish stock): You can make dashi stock from scratch (follow this tutorial) or use a high quality dashi powder like I do. My favorite brand is Kanoya.
Sake: You don't need to use a high quality sake to make this dish. Regular cheap sake or cooking sake (which is what I use) will do just fine.
Mirin: Mirin is a sweet rice wine that's similar to sake. Real mirin is made by fermenting koji (a mix of glutinous rice and cultured rice) in a neutral spirit like shochu (sweet potato alcohol). The real stuff can be hard to find in the U.S but I was able to find this one sold on Amazon. I haven't tried the Kawashimaya brand but it looks like the real deal since the alcohol content is relatively high. I buy mine at Marukai in Los Angeles. The flavor of real mirin is much more complex than what you find sold in regular supermarkets. Brands like Kikkoman's Aji-mirin isn't real mirin because it contains a mix of corn syrup and vinegar, and the flavor is quite sweet. While it's still better to use this type of mirin than nothing at all, it doesn't come close to the depth of flavor real mirin offers.
Soy sauce: Soy sauce infuses the dish with earthy and umami flavors. I recommend using a Japanese soy sauce such as Yamasa, as they tend to have more depth and be more balanced than other types of soy sauces.
Shimeji Mushrooms: Shimeji mushrooms have small caps and a long stems. They are often used in Japanese soups (miso soup), stews, salads, or as a topping for steaks and other protein. If you cannot find shimeji mushrooms you can use maitake or enoki. Or you can completely omit mushrooms as they are optional.
Ingredient Substitutions
If you are missing a vegetable or a basic ingredient from the recipe list, or would simply like to make the dish more filling or tasty, here is a list of ingredients that pair well with this dish.
Feel free to add more vegetables such as snow peas, green beans, or thinly sliced daikon (make sure it's sliced thin as daikon takes time to cook), to the stew. You can also swap one veggie for another.
Add a few boiled eggs to make the dish more filling.
Add konnyaku noodles or shirataki noodles to improve digestion.
Use tamari or liquid amino instead of soy sauce to make this dish gluten-free.
Use chicken broth instead of dashi if you like a more intense chicken flavor.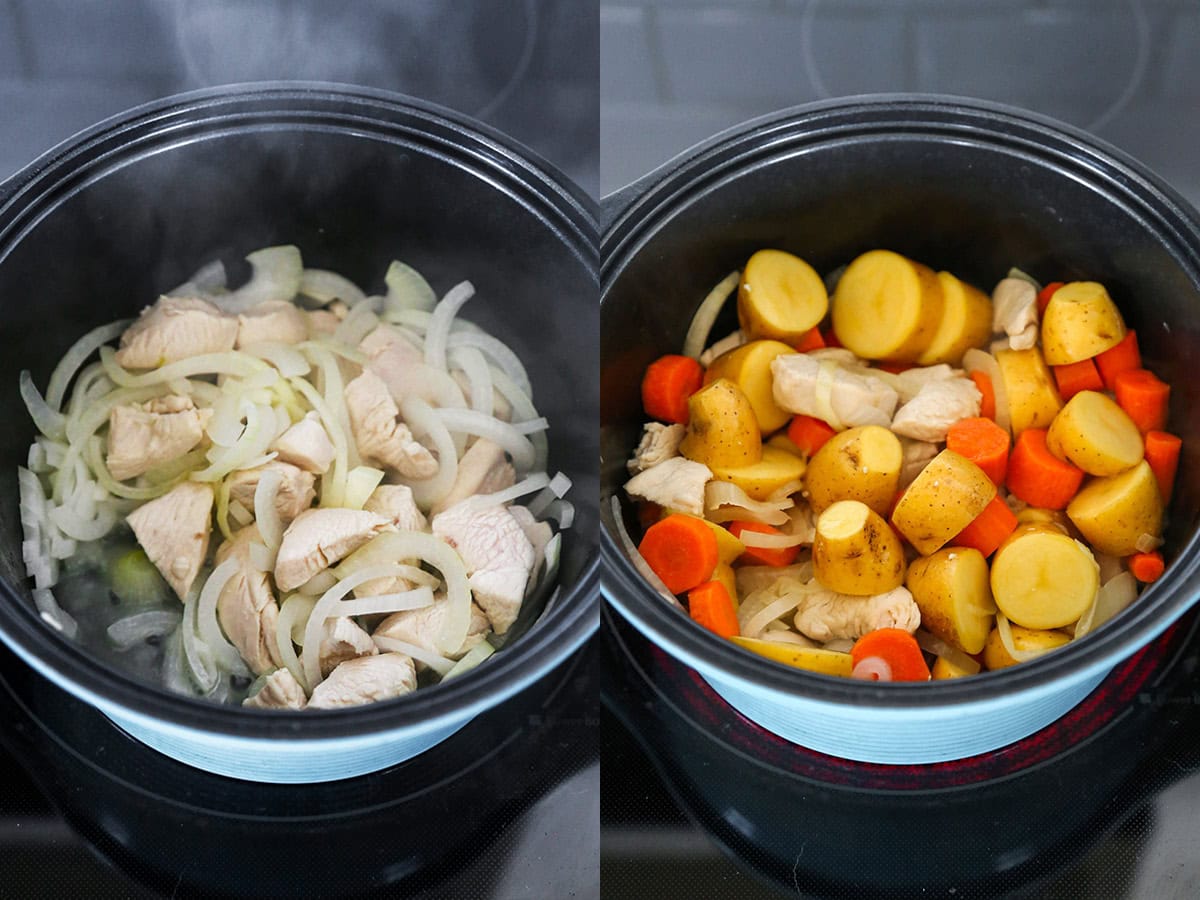 How To Make Tori Nikujaga
Scroll all the way down to the recipe card for the full recipe.
Gather all of your kitchen tools and cooking ingredients.
Start by prepping all of your ingredients.
Add oil to a medium size pot and saute the chicken for a couple of minutes. Add the onions and saute for an additional 2 minutes.
Add the potatoes and carrots and saute for 2 more minutes.
Add the remaining ingredients, except for the shimeji mushrooms, and bring the liquid to a boil.
Lower the heat and simmer for 15 minutes.
Add the shimeji mushrooms and cook for 10 more minutes. Enjoy!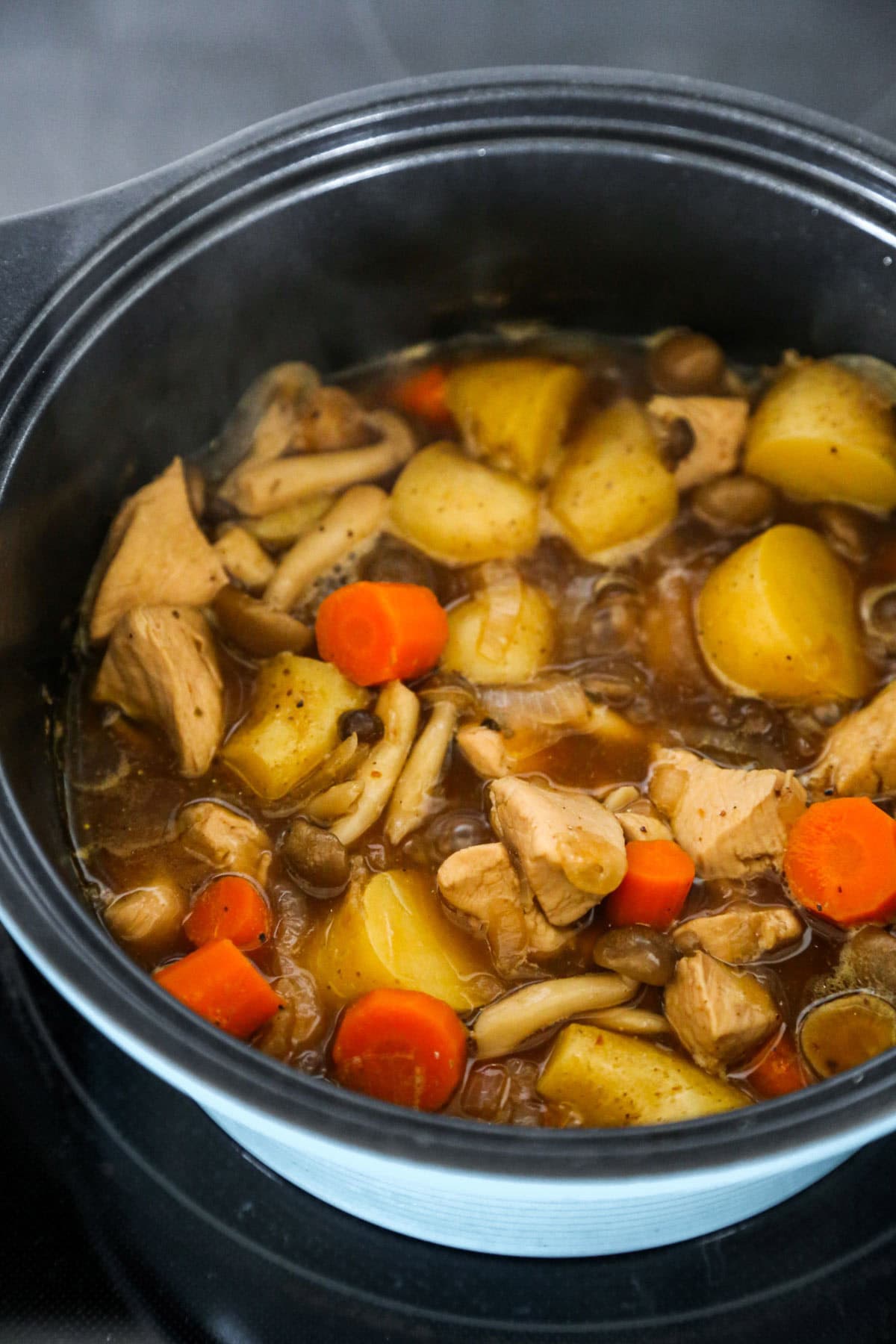 How To Serve Tori Nikujaga
Tori nikujaga is a tasty dish that's sure to become a family favorite! It's a comforting dish that's both filling and delicious. Here's how to serve it in a way that pays homage to its Japanese roots, while mixing a little bit of new with the old.
Bowls: Use donburi bowls or deep soup bowls and serve the dish in individual servings.
Rice: Serve a generous portion of steamed white rice in a separate bowl or on the side. Nikujaga is often eaten by taking a spoonful of rice and dipping it into the flavorful broth.
Garnishes: Top each serving of tori nikujaga with thinly sliced green onions for a refreshing crunch and a pop of color. You can also add a sprinkle of shichimi togarashi (Japanese seven-spice blend) for a touch of heat.
Pickles: Offer a side of Japanese pickles, such as tsukemono or takuan, to complement the flavors and provide a crunchy contrast to the stew's more delicate texture.
Fresh herbs: Instead of green onions you can use fresh herbs like mitsuba, cilantro, or parsley as a garnish for a burst of color and flavor.
Citrus: Add a squeeze of fresh lemon juice or yuzu juice to brighten up the taste of the broth.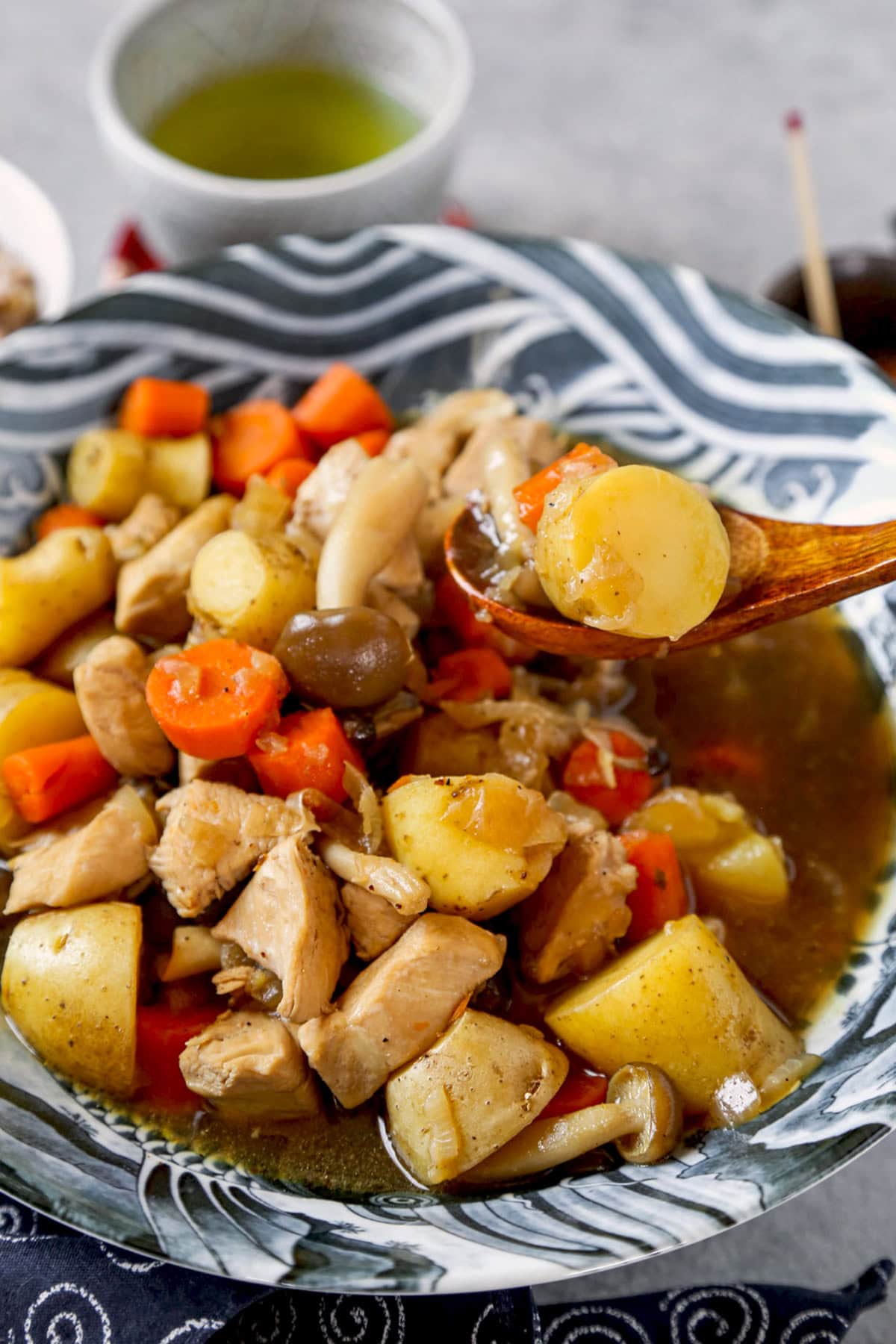 Remember, Nikujaga is all about comfort and warmth. so feel free to adapt the taste and presentation to your liking! Whether you choose to serve it traditionally or with a modern twist, your family or dinner guests are sure to appreciate the delightful flavors of this classic Japanese dish.
What To Serve With Nikujaga
Here are some of my favorite sides to pair with this Japanese chicken stew:
Did you like this easy tori nikujaga recipe? Are there changes you made in the kitchen that you would like to share? Share your tips and recommendations in the comments section below!
Print
Tori Niku Jaga (Japanese Chicken & Potato Stew)
Tori nikujaga is a hearty stew that combines tender chunks of chicken, onions, potatoes, carrots, and shimeji mushroom, cooked in a savory soy-based broth.
Author: Caroline Phelps
Prep Time:

10 minutes

Cook Time:

31 minutes

Total Time:

41 minutes

Yield:

4

servings

1

x
Category:

Stews

Method:

Boiling

Cuisine:

Japanese
1 tablespoon

vegetable oil

1

pound

boneless, skinless, chicken breasts, sliced into bite size pieces

1

large onion, sliced into half moons

2

large potatoes, peeled and sliced into chunks, or

10

to

12

baby potatoes

2

large carrots, roughly chopped

600

ml

water mixed with 2 teaspoons dashi granules

2 tablespoons

sake

3 tablespoons

mirin

6 tablespoons

soy sauce

1

packet shimeji mushrooms (optional)
Instructions
In a medium size pot over medium high heat, add the oil.
When the oil is hot, add the chicken and cook for 2 minutes, or until the outside of the flesh has changed color.
Add the onion and cook for 2 minutes, frequently tossing the chicken and onion.
Add the potatoes and carrots and stir. Cook for 2 minutes.
Add the water, dashi granules, sake, mirin, and soy sauce, and stir well.
Bring the liquid to a boil. Turn the heat down to a simmer and cook for 15 minutes, uncovered.
Add the shimeji mushrooms and cook for an additional 10 minutes, uncovered.
Turn the heat off and serve.
Notes
Store the leftovers in an airtight container and refrigerate for up to 4 days.
Nutrition
Serving Size:

1 serving

Calories:

379

Sugar:

12.8g

Sodium:

1173.4mg

Fat:

6.7g

Saturated Fat:

3.5g

Unsaturated Fat:

0.7g

Trans Fat:

0g

Carbohydrates:

46.7g

Fiber:

6.1g

Protein:

31.2g

Cholesterol:

82.7mg
Keywords: Japanese chicken stew
Recipe Card powered by