How to Make Dashi
*This post may contain affiliate links. Read my disclaimer here.
Dashi is the saline, savory sea stock that lays the bedrock of umami in so many Japanese recipes. Check out this How To Make Dashi tutorial and see how minimal effort can still yield maximum flavor. Dashi will elevate your homemade miso soup, soba and simmered dishes into the stratosphere.
When I was a kid, I loved it when my mom made noodles in the summertime.
Whether she made cold, refreshing somen on a scorcher in August, or buckwheat loaded zaru soba when it was just merely warm outside, I couldn't get enough.
There's something about dipping cold, perfectly al dente noodles into a small container of chilled tsuyu (concentrated broth) and then slurping with abandon that, to this day, reminds me of summer vacation.
Once I asked my mom how it was possible to get all that flavor into such a small container of soup.
She replied that it all came down to using dashi as a base of flavor – and then building the rest of the flavors from there.
"How do you make dashi?" I asked.
Instead of just telling me how to make dashi, my awesome mother ended up showing me two methods. Oddly enough, the method from scratch ended up being just as easy as (and only slightly more time consuming than) the method that called for instant dashi powder.
Once we had completed our foodie tutorial, we did a blind taste test. And while there's nothing that beats a homemade dashi recipe, I was super pleased with how well the powdered substitute held up!
I learned a simple, yet all-important, building block of flavor in Japanese cuisine that day.
It also didn't hurt that I got some quality kitchen time with my awesome mom. I still think of that lesson when I eat cold noodles in the summertime!
What is Dashi?
Dashi – sometimes referred to as Japanese sea stock – is the ubiquitous broth base used in everything from soba, sunomono, miso soup to oden, etc.
It's a building block of flavor you'll find at the heart of many of the Japanese classics you know and love.
While you'll find many households (even in Japan) relying on mass-produced dashi stock powder these days, making a batch of real-deal dashi is one of the easiest kitchen tasks in existence.
And, even though the powdered stocks are a time saver, there's nothing that compares to the umami-loaded greatness of a homemade batch.
Minor variations aside, at its core, dashi relies on two ingredients:
…katsuobushi and kombu.
Let's take a closer look at those simple, flavor packed food wonders!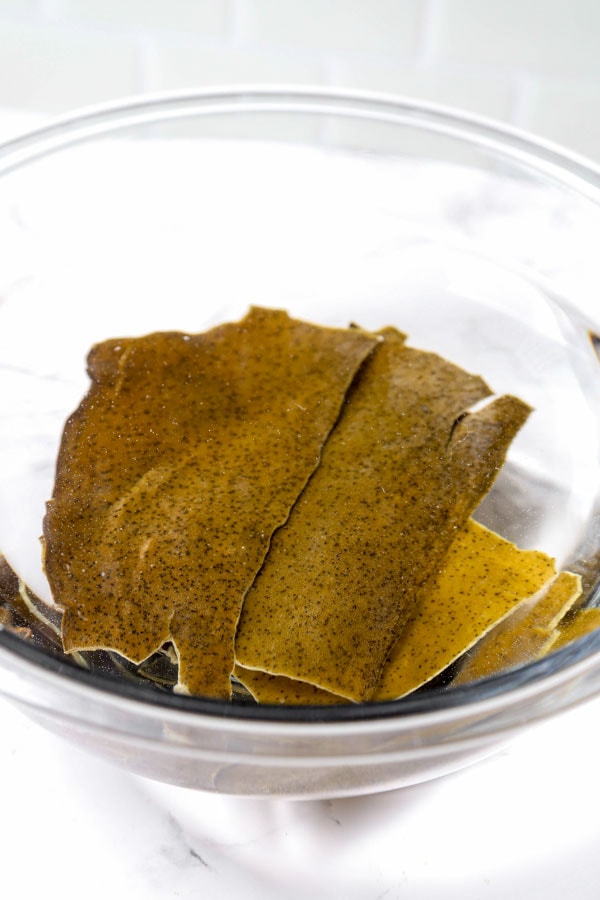 What is kombu?
Kombu is kelp.
Simple, right?
But understanding what kombu brings to the table in terms of flavor means having a peek at something that sounds very unappetizing: glutamic acid.
However, it's un-sexy name is at odds with what it actually is!
You see, glutamic acid is an amino acid responsible for umami (the fifth-taste).
Japanese Kombu (昆布) just happens to have glutamic acid in spades – and is, therefore, integral to this stock that flavors so much of the cuisine of Japan.
This edible kelp, typically cultivated in Hokkaido in the north of Japan, is a key ingredient in making dashi – but has many uses and preparations.
Typically sold dry, kombu may also be used fresh along with sashimi or pickled in vinegar.
First year konbu comprises much of what makes it to the market to be consumed, and has a thinner consistency and lighter taste.
Ma-Kombu (meaning 'real kombu') is thicker after having been given a second year to grow and has a more rounded depth of flavor.
When searching online for how to make dashi, you won't find many recipes that omit the kombu. This is because this dried magic from the sea is responsible for much of the depth of flavor you get from a well rounded dashi broth.
And, btw, it's good for you! Kombu is said to help the body in the digestive process, combats anemia and can even improve thyroid function.
Our umami loaded dashi stock would be absolutely lost without this wonderful dried kelp!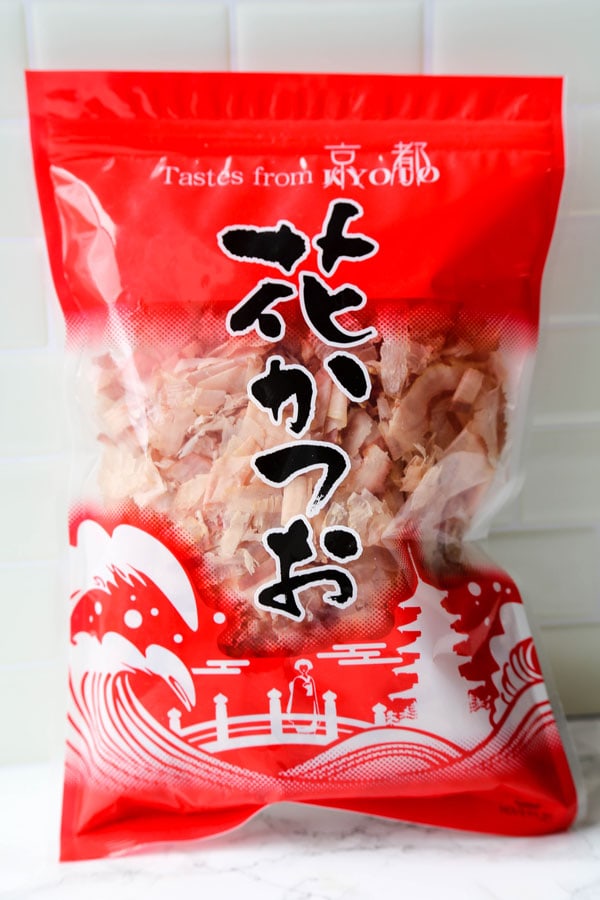 What are Bonito Flakes (Katsuobushi)?
Bonito flakes are the fish flakes that almost literally dance and sway on top of okonomiyaki, fresh off the grill-top at the Izakaya.
Made of smoked bonito or skipjack tuna that has been fermented and dried in to blocks as hard as wood – the fish is then shaved in to mega-thin ribbons and packaged up.
As mentioned, bonito flakes and dried kelp just happen to be the main flavor agents in dashi.
And, like kombu, katsuobushi just happens to be a huge imparter of umami wherever you find it in the food world.
But you'll also find these savory fish flakes used as a stuffing called okaka (おかか) for onigiri, a topping on takoyaki and a texture/flavor element on hiyayakko (cold tofu).
Oh – and don't let your kitty find your bag of bonito flakes – unless you want your feline friend to devour the entire contents in a purring frenzy.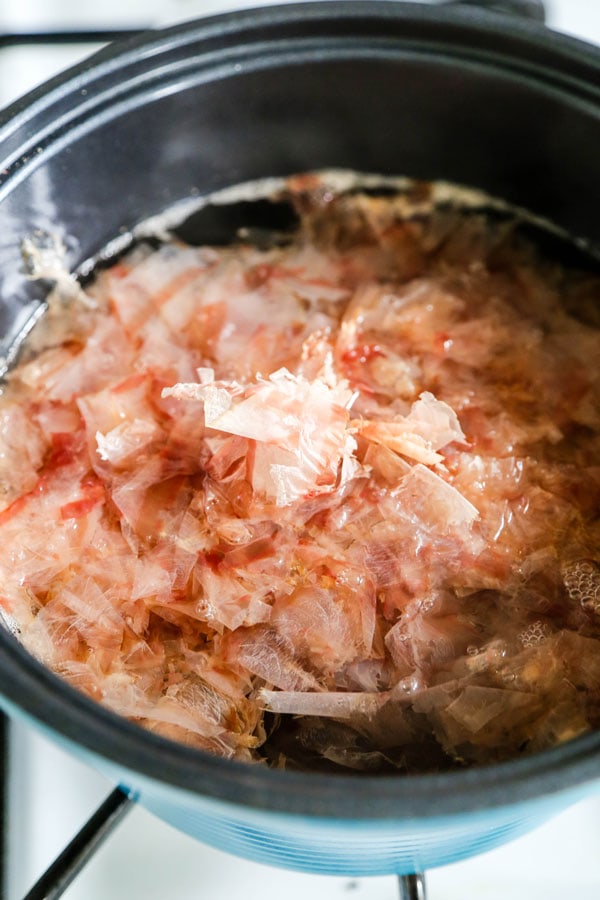 How to make dashi
My favorite part about making homemade dashi stock is that you get this versatile, complex tasting, umami loaded broth to use in a thousand different ways – all by exerting super limited effort.
Soak a couple of pieces of kombu in about six cups of water in a

stock pot

at room temperature. While I give it at least 30 minutes for the soak, I'm a huge fan of the flavor you get at the 3+ hour point.  However, if you're strapped for time, don't sweat this step too much.
Place the water and kombu in a pot and bring to a boil. Remove the kombu as soon as the water beings to boil. This is done because dashi tends to get a bit bitter and gooey if you boil the kombu.
Turn the heat off

 

– or just add a couple of tablespoons of cold water to bring the temperature away from the brink of boiling.
Add the bonito flakes to the pot and stir until all the flakes sink below the surface. Then just crank the heat on again and bring to a boil. Once boiling, turn the heat to low and simmer for about five minutes. Make sure to skim off any foam that rises to the top of the liquid.
Turn off the heat and allow the mixture to steep for 10-15 minutes or so. This is where the flavor really deepens!
Strain and you're good to go. Told you that was easy!
Reusing Bonito Flakes
Don't throw away the used bonito flakes! I've written a post showing you how you can reuse them to make a delicious topping for rice. You can read the post here.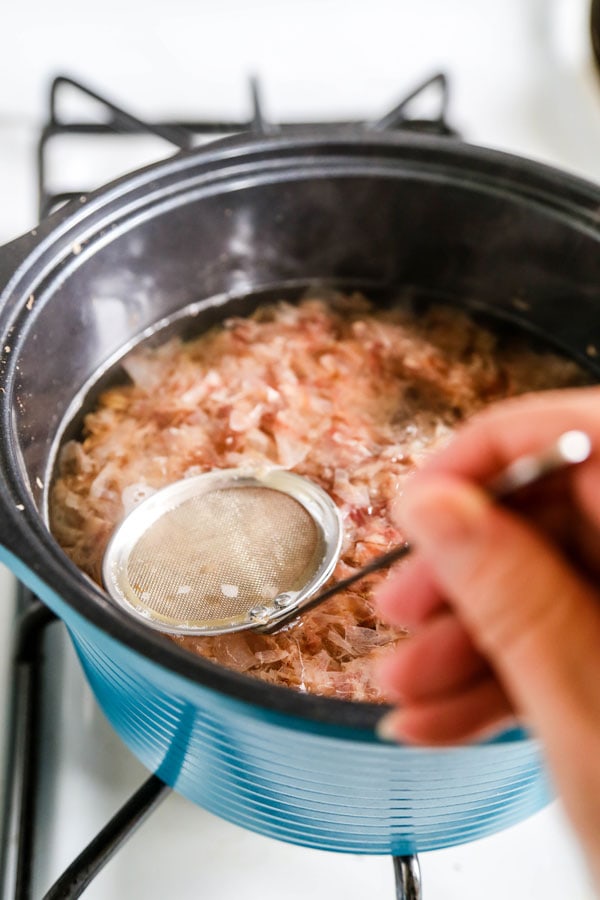 What does dashi taste like?
Without going overboard on a long winded description, I'd say dashi tastes like the essence of the sea.
There's obviously the saltiness and slight smokiness that the katsuobushi imparts.
However, there's also an a wallop of the savory, almost undefinable, umami at play.
You can always play around with the ratios of kombu, katsuobushi and water you use in your own homemade dashi exploits to make it a little stronger or weaker to suit your palate.
But the essence of the sea should always be there!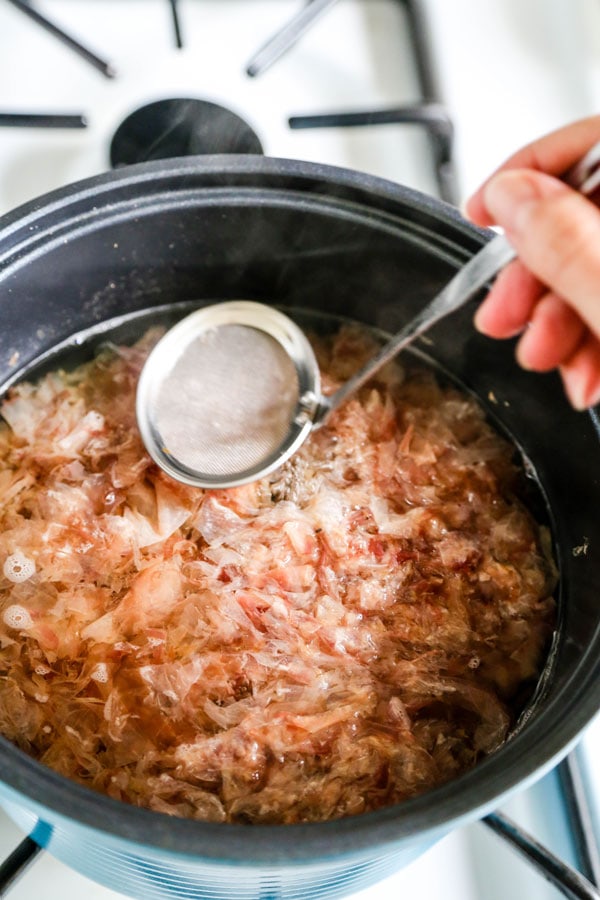 What can I make with dashi?
Do you like miso soup? Well, aside from the obvious use of miso paste, dashi makes up a huge part of the flavor component of that iconic Japanese soup.
In fact many well known Japanese soups and stews rely on at least some dashi to achieve a well rounded and deep flavor.
Ever had ramen or udon? If so, chances are there was dashi stock at play in the broth.
My favorite izakaya snack – agedashi tofu – calls for dashi to kick up the smoky, umami elements in that yummy deep fried tofu dish.
The list could go on for days. In fact, if you cook a ton of Japanese food at home, you may just want to keep a decent amount of dashi in the fridge. You'll definitely find a ton of uses for it!
Where can I Find ingredients to Make Dashi?
One thing I learned about growing up with a Japanese mother in a small town in Quebec is that making even the simplest recipe in the world can be a non-starter if you can't find the ingredients.
Luckily, in this age of globalism, these two previously tough-to-come-by Japanese ingredients are in more places than ever!
Most Asian grocery stores will likely have the kombu and katsuobushi you need to get started on your very own Japanese sea stock.
And, if you're pressed for time, just pick them up online:
Kombu + Katsuobushi on Amazon:
Some of my favorite recipes to make are the ones with the shortest checklist of ingredients!
Can I Make Vegan Dashi?
YES! Vegan dashi is totally doable and can be just as satisfying.
If you're steering clear of fish, one of the easiest stocks you can make is kombu dashi.
Simply soak your dried kelp in water – and that's it! So easy, and a very delicious vegan stock loaded with umami.
Another dashi substitute is to make mushroom dashi. This just happens to be my favorite option when making vegan dashi.
Simply rehydrate dried shiitake mushrooms in water. I like to give them a looong soak (like up to 12 hours). The resulting mushroom flavored water holds an unreal depth and adds so much flavor when adding it to your vegan Japanese recipes.
Pro-tip: when making shiitake mushroom dashi, you can combine it with kombu dashi to round out the flavor. The resulting vegetarian 'sea stock' is absolutely loaded with umami!
An easy to make cornerstone of flavor in Japanese cuisine
Dashi is everywhere in Japanese cuisine. And with good reason.
This savory essence of the sea effortlessly provides the bedrock of umami that so many Japanese recipes call for.
I hope you find this recipe helpful – and that you discover dashi to be as useful in your own Japanese cooking pursuits as it is in mine.
And, hey – if someone asks you why your homemade miso soup tastes so much better than the powdered stuff they get at the corner sushi spot, maybe you can show them how to make dashi.
C'mon – let 'em in on the easy secret!
How about you? Is there a recipe you use for a flavor building block that's simple to make but has outsized flavor? I'd love to hear about it in the comments section below!
Other simple, delicious Japanese recipes you can utilize dashi in:
Did you like this How to Make Dashi Tutorial? Are there variations in your own dashi recipe that you would like to share? Share your tips and recommendations in the comments section below!
Print
How to Make Dashi
Impart Japanese flavors to your dishes with this easy homemade dashi recipe.
Author: Caroline Phelps
Prep Time:

5 minutes

Cook Time:

20 minutes

Total Time:

55 minutes

Yield:

6 Cups

1

x
Category:

Soup

Method:

Boiling

Cuisine:

Japanese
6 cups

water

20 grams

kombu (preserved kelp)

4 cups

katsuobushi (dried, shaved bonito flakes)
Instructions
Add water and kombu to a stockpot and let kombu steep at room temperature for at least 30 minutes (you can soak the kombu for up to 6 hours if you have the time to wait).
Place pot over medium heat and bring to a boil.
Remove kombu right before water reaches full boil.
Turn heat off and allow liquid to cool slightly (you can also add a tablespoon or two of cold water to cool quicker).
Add bonito flakes and stir until mixed in. Bring liquid to a boil again.
Once boiling, decrease the heat to low and lightly simmer for 5 minutes, skimming off any foam that rises to the top.
Turn off heat and let steep for 10-15 minutes.
Strain liquid through cheesecloth or a fine sieve to remove bonito flakes from the liquid (straining through a couple paper towels will work in a pinch).
Use dashi immediately, or store in the fridge for up to one week. You can also store unused dashi in the freezer for a month or so.
Keywords: recipe, how to, diy, homemade, fish stock, fish broth
Recipe Card powered by
Pickled Plum is a participant in the Amazon Services LLC Associates Program, an affiliate advertising program designed to provide a means for sites to earn advertising fees by advertising and linking to amazon.com.