Dashi is the saline, savory sea stock that lays the bedrock of umami in so many Japanese recipes. It's a staple ingredient in Japanese cooking and one that's very easy to make at home. Learn how to make dashi and vegan dashi with this quick tutorial!
What is Dashi?
Dashi, sometimes referred to as Japanese sea stock, is an essential ingredient in Japanese cooking. This ubiquitous fish and seaweed broth is used in many washoku (和食 – Japanese cuisine) dishes such as tempura sauce (tentsuyu), udon, miso soup, sunomono, oden, and okonomiyaki.
It's a building block of flavor you'll find at the heart of many of the Japanese classics you know and love.
While you'll find many households (even in Japan) relying on commercial dashi stock powder these days, making a batch of dashi from scratch is one of the easiest kitchen tasks in existence.
You will need two ingredients to make a basic dashi broth (scroll down for vegan dashi):
Bonito flakes, or katsuobushi (鰹節), or dried baby sardines, also known as anchovies. In Japanese, baby sardines are referred to as niboshi (煮干) or iriko (いりこ) – both words meaning the same thing. Generally, people from the Kansai region (Osaka) prefer using the word iriko, while people from the Kanto region (Tokyo area) tend to lean toward niboshi.

Kombu (kelp)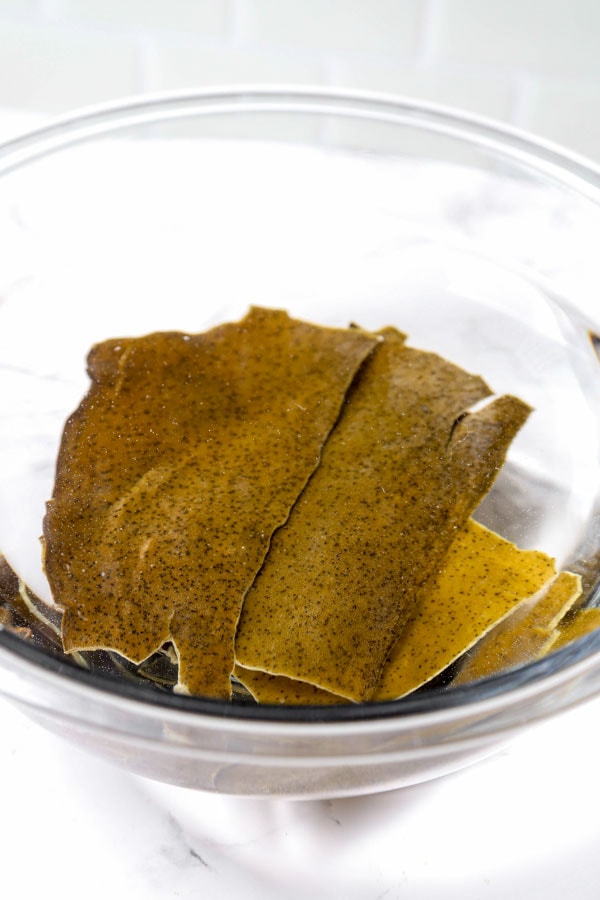 What is Kombu (昆布)?
Kombu, also spelled konbu, is a type of edible seaweed that's mostly harvested in the Hokkaido region of Japan. Typically sold dry, kombu may also be used fresh along with sashimi or pickled in vinegar.
First year kombu comprises much of what makes it to the market to be consumed, and has a thinner consistency and lighter taste. Ma-Kombu (meaning 'real kombu') is thicker after having been given a second year to grow and has a more rounded depth of flavor.
But understanding what kombu brings to the table in terms of flavor means having a peek at something that sounds very unappetizing: glutamic acid.
You see, glutamic acid is an amino acid responsible for umami (the fifth-taste).
Japanese Kombu (昆布) just happens to have glutamic acid in spades – and is, therefore, integral to this stock that flavors so much of the cuisine of Japan.
When searching online for how to make dashi, you won't find many recipes that omit the kombu. This is because this dried magic from the sea is responsible for much of the depth of flavor you get from a well rounded dashi broth.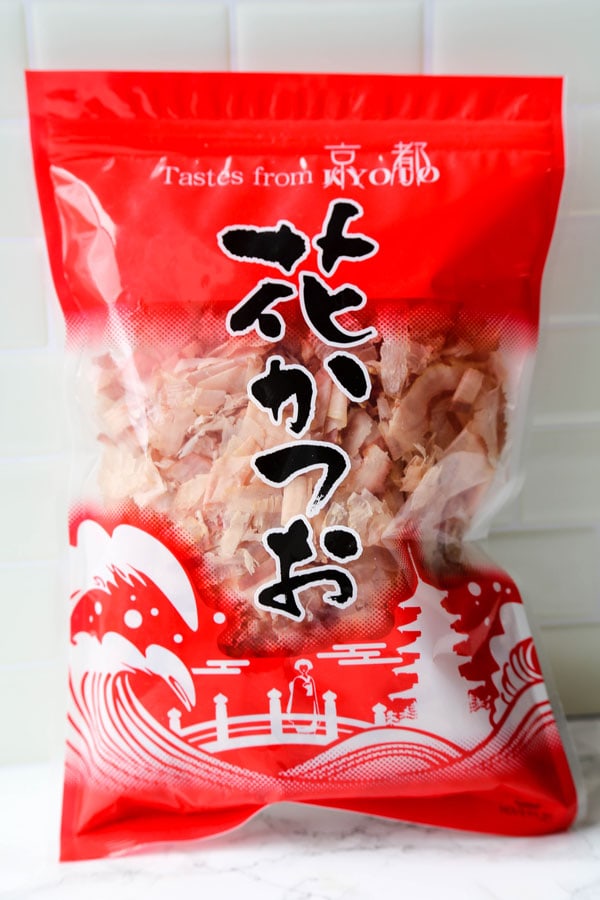 What is Katsuobushi (鰹節)
?
Katsuobushi, or bonito flakes, are the fish flakes you see dancing and swaying on top of Japanese salads and hot grilled dishes. 
Made of smoked bonito or skipjack tuna that has been fermented and dried in to blocks as hard as wood, the fish is then shaved in to mega-thin ribbons and packaged up.
As mentioned, bonito flakes and dried kelp just happen to be the main flavor agents in dashi.
And, like kombu, katsuobushi just happens to be a huge imparter of umami wherever you find it in the food world.
But you'll also find these savory fish flakes used as a stuffing called okaka (おかか) for onigiri, a topping on takoyaki and a texture/flavor element on hiyayakko (cold tofu).
They are also a very popular snack for cats as they can be found in almost every pet store globally.
Niboshi (煮干) / Iriko (いりこ)
Another ingredient that's often used to make dashi in Japan are baby sardines called niboshi, or iriko. Since the fish cannot be shaved into flakes because it's so small, it's dried instead, until almost crispy.
Making dashi with baby sardines is a little different than with bonito flakes:
The heads of the baby sardines are first removed. The bodies are then added to a bowl with some water – about 40g of sardines to 1 liter of water – and left to soak for about 30 minutes.
The baby sardines and water are then transferred to a pot, brought to a boil, and left to simmer for 10 minutes.
Finally, the liquid is strained through a sieve to separate the broth from the sardines.
Instead of being discarded, the sardines are candied and used as a rice topping (tazukuri).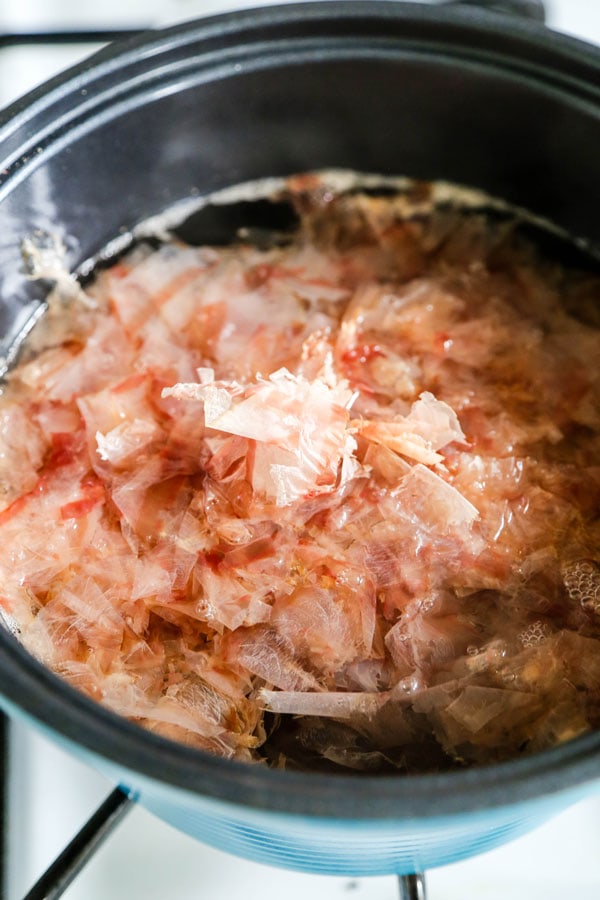 How to Make Dashi
Place 20g of kombu in six cups of water in a stock pot at room temperature. Soak for at least 30 minutes, up to 3 hours for a stronger taste (I recommend 3 hours). 
Place the water and kombu in a pot and bring to a boil. Remove the kombu as soon as the water begins to boil to prevent the kombu getting slimy or too bitter in taste.
Turn the heat off

and a

dd 4 cups of bonito flakes to the pot. Stir until all the flakes sink to the bottom of the pot. Turn the heat on again and bring to a boil. Once boiling, turn the heat to low and simmer for about five minutes. Make sure to skim off any foam that rises to the top of the liquid.
Turn off the heat and allow the mixture to steep for about 15 minutes. This step is very important in order to let the flavor and umami really develop.
Strain the broth through a sieve to remove the flakes. Transfer the dashi to a jar to use later (refrigerate if that's the case), or use it immediately.
Reusing Bonito Flakes
Don't throw away the used bonito flakes! I've written a post showing you how you can reuse them to make a delicious topping for rice. You can read the post here.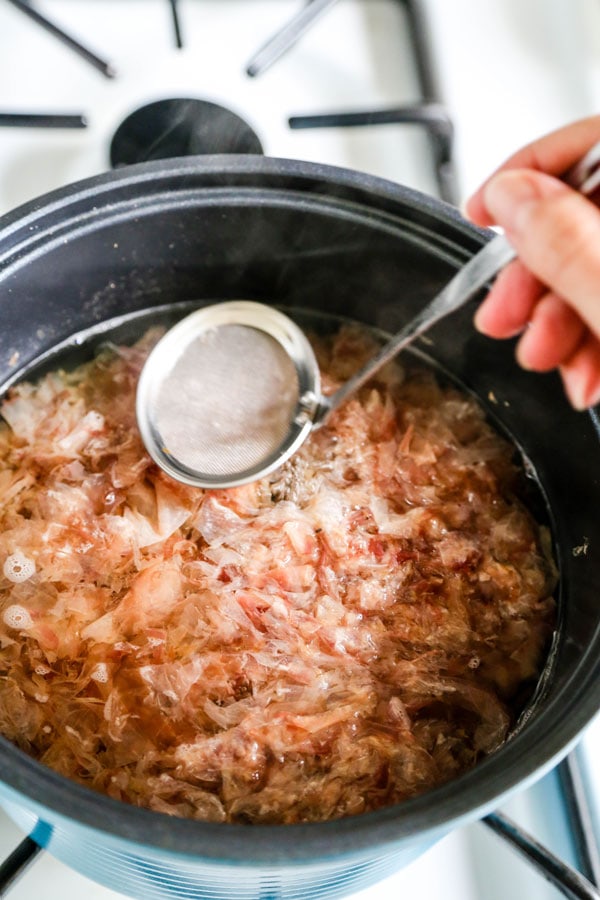 How to Make Vegan Dashi
Making vegan dashi is very easy and delicious. It's often used in Japanese cuisine and offered as an option for those on a plant based diet. So if  you are vegan and find yourself in Japan, it's always a good idea to ask for kombu dashi based broths. Many restaurants will have them, especially if you let them know ahead of time. 
Soak 40g of kelp (kombu) in 6 cups of water.  

Use cold or room temperature water.

Let the kelp soak for a minimum of 30 minutes. I recommend soaking it for about 3 hours to get a stronger umami and mineral taste.
Transfer the water and kombu to a pot and turn the heat to high. Remove the kelp as soon as the water comes to a boil but don't throw it away. Turn the heat off and let the water cool to room temperature.
Skim any remaining foam or leftover kelp bits with a small mesh strainer. The clearer and cleaner the dashi looks, the better it will taste.
Transfer the vegan dashi to a jar or pitcher and refrigerate for up to 1 week. Or you can use it right away!
Another vegan dashi option is to add a few dried shiitake mushrooms. This just happens to be my favorite option when making vegan dashi as it adds even more umami and depth of flavor (and plenty of earthiness). Simply add 4 to 6 dried shiitake mushrooms and let them soak with the kombu and water. 
What to make with used kelp: Slice the kombu into sticks and pan fry for a few minutes with a little sesame oil and soy sauce. Use it as a topping for rice (it's delicious!)
What does Dashi Taste Like?
Dashi tastes like the essence of the sea. It's a little mineral, fishy, smoky, and rich in umami.
The flavor of dashi will vary based on how long you have let the ingredients soak and steep.
How to Use Dashi
Many well known Japanese soups, stews, and side dishes, rely on at least some dashi to achieve a well rounded and deep flavor.
Aside from the obvious use of miso paste, dashi makes up a huge part of the flavor component of miso soup. The same goes for many ramen, soba, and udon based broths, and dipping sauces.
My favorite izakaya snack – agedashi tofu – also calls for dashi to kick up the smoky, umami elements in that deep fried tofu dish. Tamagoyaki is another very well known and popular Japanese dish that uses dashi. 
Dashi is used to enhance the flavor of a dish and is commonly paired with ingredients such as soy sauce, mirin, sake, and sugar.
Where to Buy Ingredients for Dashi
Most Asian grocery stores will most likely be selling kelp, bonito flakes, or baby sardines. If not, a Korean or Japanese supermarket will definitely have those items for sale. Or you can also find them on Amazon here:

Did you like this How to Make Dashi Tutorial? Are there variations in your own dashi recipe that you would like to share? Share your tips and recommendations in the comments section below!
Print
How to Make Dashi
Impart Japanese flavors to your dishes with this easy homemade dashi recipe.
Author: Caroline Phelps
Prep Time:

5 minutes

Cook Time:

20 minutes

Total Time:

55 minutes

Yield:

6 Cups

1

x
Category:

Soup

Method:

Boiling

Cuisine:

Japanese
6 cups

water

20 grams

kombu (preserved kelp).  For vegan: Use 40 grams of kelp to infuse more kelp flavor since you won't be using any bonito flakes.

4 cups

katsuobushi (dried, shaved bonito flakes)
Instructions
Add water and kombu to a stockpot and let kombu steep at room temperature for at least 30 minutes (you can soak the kombu for up to 6 hours if you have the time to wait).
Place pot over medium heat and bring to a boil.
Remove kombu right before water reaches full boil.
Turn heat off and allow liquid to cool slightly (you can also add a tablespoon or two of cold water to cool quicker).
Add bonito flakes and stir until mixed in. Bring liquid to a boil again (for vegan: skip step 5,6, and 7).
Once boiling, decrease the heat to low and lightly simmer for 5 minutes, skimming off any foam that rises to the top.
Turn off heat and let steep for 10-15 minutes.
Strain liquid through cheesecloth or a fine sieve to remove bonito flakes from the liquid (straining through a couple paper towels will work in a pinch).
Use dashi immediately or store in the fridge for up to 1 week.
Notes
Freezing dashi: Freeze unused dashi in an airtight storage bag or container for up to 1 month.
Nutrition
Serving Size:

1/2

Calories:

11

Sugar:

0 g

Sodium:

266.3 mg

Fat:

0 g

Saturated Fat:

0 g

Carbohydrates:

0.2 g

Fiber:

0 g

Protein:

2.4 g

Cholesterol:

5.7 mg
Keywords: recipe, how to, diy, homemade, fish stock, fish broth
Recipe Card powered by