Five ingredients is all you need to make this authentic Japanese tempura sauce. Salty, savory, a little sweet, and full of umami, this sauce only takes 15 minutes to make from start to finish. 
I always keep a bottle of tempura sauce ready to use in my fridge because of its versatility.
Not only do I use it for shrimp and vegetable tempura, I also use it for donburi dishes, as a seasoning for steamed vegetables, as a sauce for chicken and tofu dishes, and as a dipping sauce for noodles.
I never get tired of the combination of dashi, soy sauce, and mirin, it's the most perfect mix of flavor for my palate as it hits all the right notes. The smell alone is enough to make me drool!
My tempura sauce recipe is the quintessential dipping sauce you find in Japanese restaurants. As you may have noticed, some restaurants offer tempura sauces that are more concentrated in flavor while others like to stick to something more delicate.
Mine is somewhere between the two and is easy to tweak so you can enjoy it the way you like it. Let me show you how to make it.
What is Tempura Sauce?
Tempura sauce, or tentsuyu (天つゆ), is a Japanese sauce that is served with tempura, which is a dish made of vegetables and seafood that are dipped in a light batter and deep fried until crispy.
It can be served on its own but the traditional Japanese way is to add grated daikon. Daikon helps lighten up the heaviness of deep fried foods by adding freshness and a cooling effect.
The classic ingredient combination for tentsuyu is dashi, soy sauce, and mirin. But sugar and sake can also be used instead of mirin. The sauce is salty, deep in umami, and a little sweet.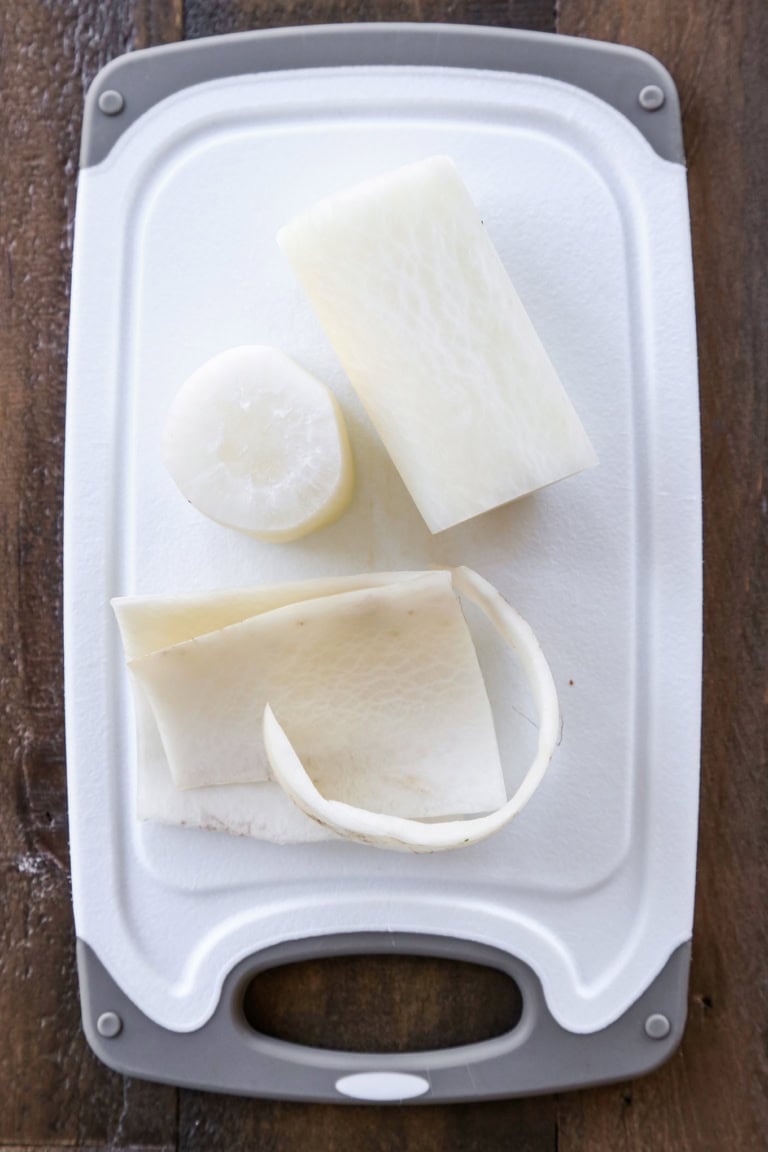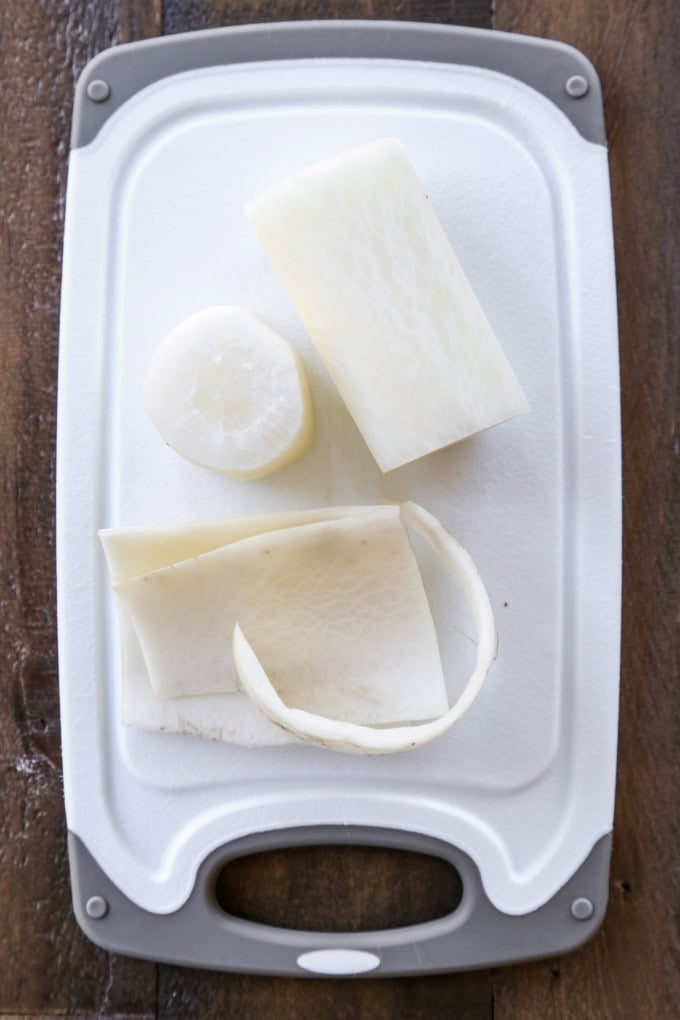 Ingredients for Tempura Sauce
Dashi: You can make the dashi from scratch using my recipe here, or use dashi granules. The ratio of dashi granules to water is about 1 teaspoon per 1 cup of water.
Soy Sauce: I'm using 3 tablespoons of soy sauce since I prefer my tempura sauce to be on the milder side. But feel free to add more if you like it more punchy. Just make sure you add more mirin as well to balance the saltiness and umami of the soy sauce.
Mirin: Mirin has a sweet taste that's also slightly pungent. The combination of mirin and soy sauce is very common in Japanese cooking, especially in sauces, as it tames the saltiness of soy sauce and adds a subtle sweetness.
Bonito flakes: I like to infuse the sauce with extra umami by adding 1/4 cup bonito flakes in the end, when the heat is turned off. The flakes only need to sit in the sauce for 20-30 seconds and are then discarded.
Daikon: I like to use a knife instead of a peeler because it's faster and makes it easy to see how much I'm taking off. To prepare the daikon, keep peeling until you get to the part where the flesh is almost see through. That's where the good stuff is! Daikon skin is quite thick and if not peeled properly, it can add bitterness to the sauce.
Tools Needed
Small pot
Strainer
Chef's knife
Grater
Make Vegan Tempura Sauce
To make this recipe vegan, omit the use of bonito flakes and instead of using regular dashi, use kombu dashi. You can easily make kombu dashi at home with my recipe here, or buy granules here.
Make Low Sodium Tempura Sauce
You can use tamari sauce instead of soy sauce to lower the amount of sodium. Tamari sauce contains around 233mg sodium per tablespoon, compared to regular soy sauce which contains around 879mg sodium per tablespoon.
If you don't like the taste of tamari, Kikkoman sells a Less Sodium Soy Sauce (look for a green label) which contains 575mg  sodium per tablespoon.
How to Make Tempura Sauce
Peel the daikon and grate it. As previously mentioned, make sure you are removing the entire thick exterior of the daikon radish so you don't get any of the bitter taste. An easy way to do this is by using a knife and take out about 1/4-inch thick ring around the outside of the daikon. Peel it in a similar way you would peel an apple with a knife. Grate the daikon and place it a bowl to the side.
Grab a small pot and add the dashi, soy sauce, and mirin. Place the pot on a burner and turn the heat to medium. When the sauce is boiling, turn the heat off and add the bonito flakes (katsuobushi). Leave for 20-30 seconds.
Strain the sauce through a sieve to remove the bonito flakes and discard them.
Divide the sauce among dipping bowls and add 1-2 tablespoons grated daikon to each bowl. Serve with shrimp or vegetable tempura.
Where to Buy Tempura Dipping Sauce
If you'd rather skip through the process of making tempura sauce from scratch (it's so good though, you should try to make it 😉 ), you can buy pre-made concentrated tentsuyu. All you need to do is add hot water until you are satisfied with the taste and serve it.
Tentsuyu is easy to find in Japanese supermarkets and other Asian grocery stores. You can also get it on Amazon, here.
How to Store Tempura Sauce
You can only store tempura sauce if it doesn't have any grated daikon in it. If it does it won't last for more than a day and won't taste good, the longer it sits.
Keep leftover tempura sauce in an airtight container, refrigerated. It will keep for up to 6 weeks.
You can also freeze tempura sauce in an ice cube tray and keep in a plastic storage container. This makes it easier to portion out servings so you don't have to thaw more than you need to.
Other delicious and easy-to-make Japanese sauces:
Did you like this Tempura Sauce Recipe? Are there changes you made that you would like to share? Share your tips and recommendations in the comments section below!
Print
Tempura Sauce
Salty, savory, a little sweet, and full of umami, this sauce only takes 15 minutes to make from start to finish. 
Author: Caroline Phelps
Prep Time:

10 minutes

Cook Time:

5 minutes

Total Time:

15 minutes

Yield: about

1 2/3 cup

1

x
Category:

Sauce

Method:

Boiling

Cuisine:

Japanese
1

cup

dashi

3 tablespoon

soy sauce

3 tablespoon

mirin

1/4

cup

bonito flakes

3

ounces

daikon
Instructions
Start by washing the daikon and peeling in until you get to the part where the flesh is almost translucent. I recommend using a knife – it's faster and easier to see where the thick outer part stops and the flesh begins.
Grate the daikon (preferably using a Japanese grater) and set aside in a bowl.
In a small pot over medium high heat, add the dashi, soy sauce, and mirin.
Bring to a boil and turn off the heat. Add the bonito flakes and leave for 20 seconds. Strain through a sieve and discard the bonito flakes.
Divide the tempura sauce among dipping bowls and add 1-2 tablespoon grated daikon to each bowl. Serve.
Notes
To make the sauce stronger: Add an additional 1 tablespoon soy sauce and 1 tablespoon mirin.
To make the sauce milder: Use 1 tablespoon less of both soy sauce and mirin.
Make it vegan: Omit the bonito flakes and use kombu dashi instead of regular dashi. Make kombu dashi from scratch by following my recipe, or buy it in granules.
To lower the amount of sodium: Use tamari sauce instead of regular soy sauce, or use Less Sodium Soy Sauce (not to be confused with light soy sauce).
Nutrition
Serving Size:

1/4 cup

Calories:

41

Sugar:

4.5g

Sodium:

473.8mg

Fat:

0.3g

Saturated Fat:

0.1g

Unsaturated Fat:

0.1g

Trans Fat:

0g

Carbohydrates:

6.4g

Fiber:

0.4g

Protein:

2g

Cholesterol:

0mg
Recipe Card powered by