Blanketed with katsuobushi (鰹節) and coated with a sweet and savory dressing, these charred Japanese Style Grilled Bell Peppers wouldn't be out of place in a Tokyo izakaya. Best part: you can make this Japanese influenced recipe on your backyard grill or in a grill pan!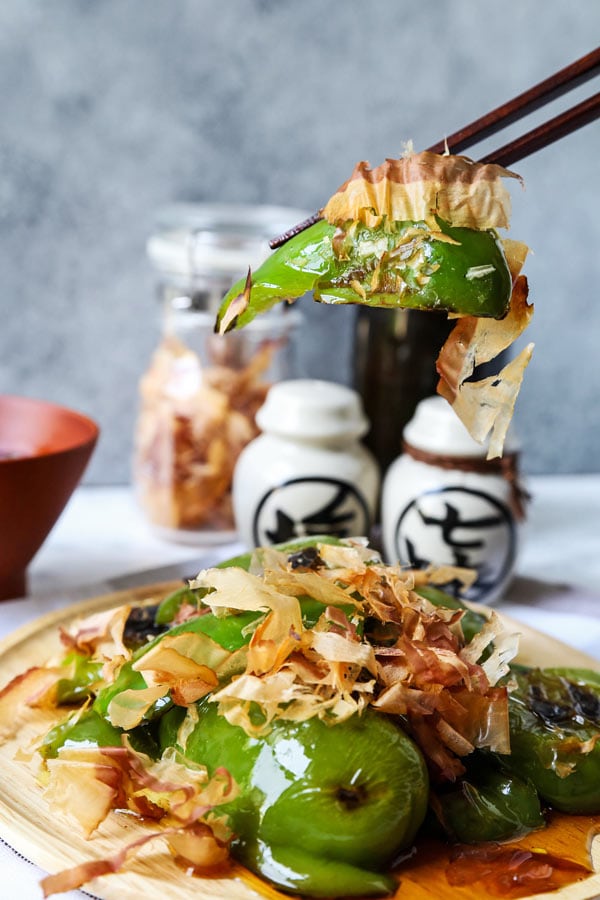 Japanese Style Grilled Bell Peppers
"Wait, what?" Ben said, and just stared at the grill pan.
I've never seen someone so shocked to see a charred green pepper in a pan before.
Maybe I should explain.
You see, while Ben loves green bell peppers, I typically do not. And, while I've tried my best to enjoy green bell peppers in as many different preparations I can muster, they usually seem distractingly bitter to my palate.
And, it's not like I haven't tried!
Seriously, I've tried green roasted peppers, sliced green peppers in stir fry…  Heck, I've even minced them and added them to my vegan spaghetti bolognese sauce. (Finely chopped, out of sight and slow simmered has seemed to work best.)
Why keep trying, you ask? Well, because they're super healthy.
And it's not all bell peppers I have an aversion to! I absolutely ADORE red bell peppers and yellow bell peppers. They have a mellow sweetness that I can't get enough of.
In fact, I love red and yellow bell peppers so much, I make this stuffed bell peppers recipe at least once every couple of weeks!
But when it comes to green bell peppers, I use them super infrequently. So it's no real surprise that Ben seemed to be in shock for a good 30 seconds when he saw me searing up these Japanese style grilled bell peppers, ha!
And, I've gotta say, they're delicious.
Uh….
Seriously! I went wild for these peppers.
So, how did I trick my taste buds into relishing a veggie that I normally avoid at all costs?
Simple. I made it Japanese.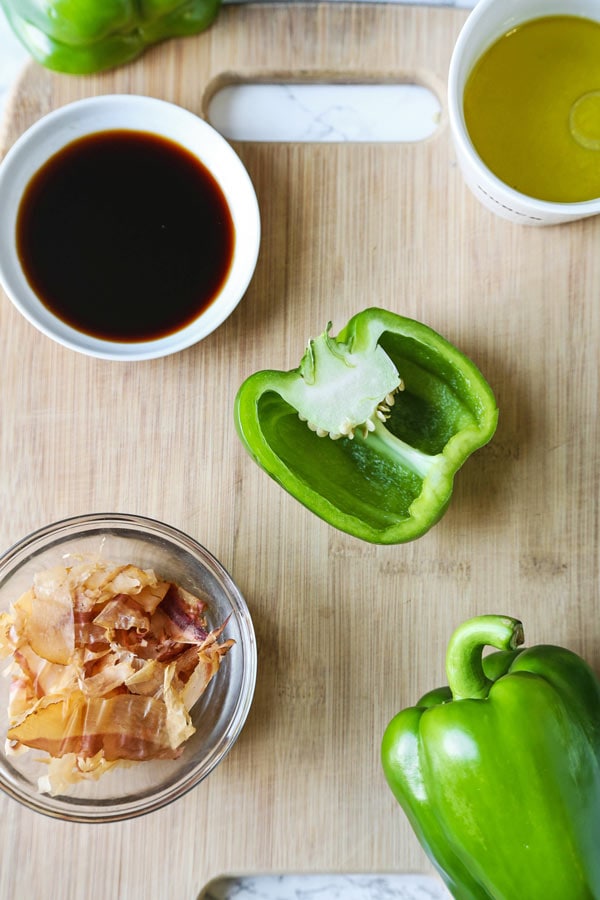 A Japanese bell pepper recipe
Now, it looks like I may not be alone in my specific aversion. In fact, year after year, Japanese children vote green peppers their least favorite vegetable.
So, while I'm just guessing here, it does stand to reason that Japanese moms, dads and home-chefs alike must get their kids to eat this common veggie by preparing it in a way no one can resist. Right?!
I topped these grilled bell peppers with both sweet and savory Japanese elements. And those simple ingredients not only taste great on their own, they also mellow out the more assertive flavors of the green peppers.
Now – for sweetness, I use mirin. Mirin is a sweet rice wine. However, in this recipe, mirin pulls double duty.
Not only is it sweet, but mirin's viscosity also helps the sauce stick to the peppers.
Dashi brings a saline edge to the sauce without overpowering it. In this grilled bell peppers recipe you can use powdered dashi – or make your own.
Check out my post on how to make dashi here.
For a full on savory punch, I added soy sauce to this olive oil based dressing.  Soy sauce provides a hefty earthy tone to the palate.
But the savory star of this dish (aside from the green bell peppers themselves) is the final addition to the plate before serving.
And I'm talking about katsuobushi.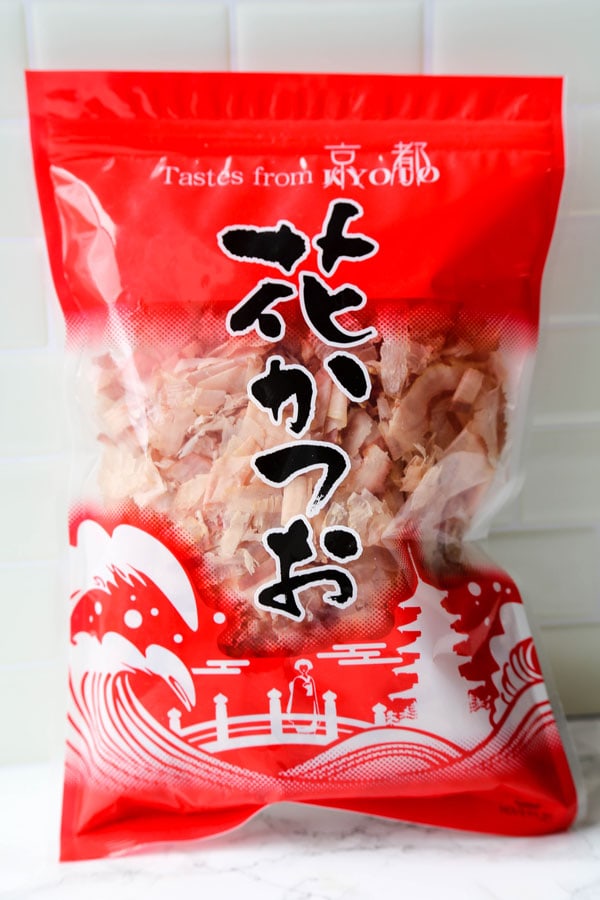 What is katsuobushi?
Katsuobushi (鰹節) is the Japanese word for dried bonito flakes.
Made of smoked bonito or skipjack tuna that has been fermented and dried in to blocks as hard as wood – the fish is then shaved into thin ribbons and packaged up.
And you may have noticed them before. They're the dried and savory fish flakes that sway and dance in the heat coming off your okonomiyaki and takoyaki.
Not only does katsuobushi add a smoky and umami element to this Japanese style grilled bell peppers recipe, it also delivers some great texture to the overall dish.
You see, even after the sweet and savory Japanese dressing has coated and slicked the bonito flakes, they still retain an almost jerky-like chew.
And that's why, in in the ingredients section below, I mention that you can add ½ cup or more of these perfectly savory fish flakes.
When I make this simple, smoky grilled bell peppers at home, it's fair to say I use more than a half-cup of katsuobushi.
Heck, some might even call it overkill. But I call it a perfect amount!
However, aside from the flavor of this composed pepper dish, another great reason to eat green bell peppers is that they're super healthy.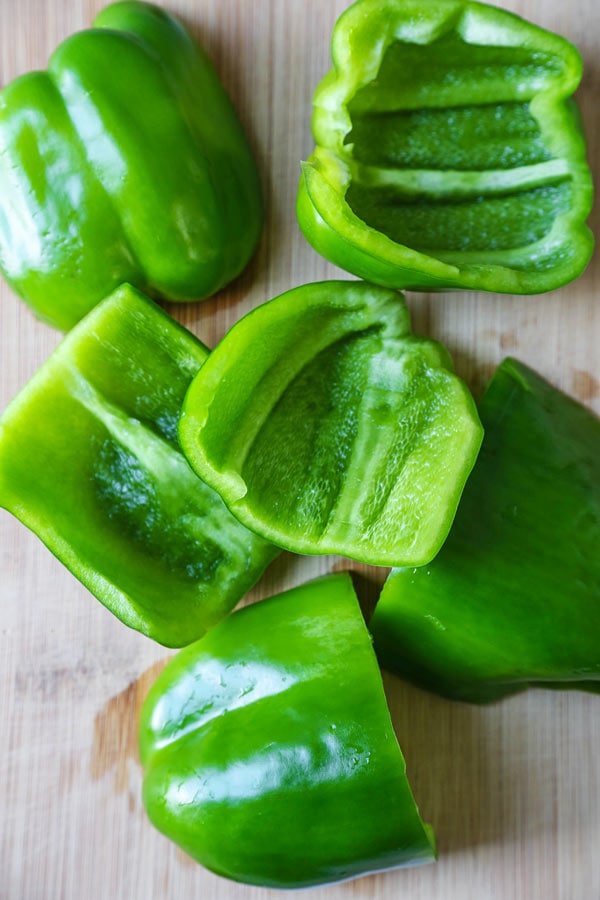 Green bell pepper nutrition
It goes without saying that I'm a huge fan of any vegetable that manages to taste delicious while imparting a healthy spin on dinner. Luckily, that's most veggies in a nutshell!
And a quick bit of pepper trivia: turns out most red peppers are just green peppers that have fully ripened and become sweeter with age. Yep – except for the permagreen variety of bell pepper (which will remain green with age), the only thing standing in my way of enjoying most green bell peppers is time!
Obviously then, when it comes to all bell peppers, there's very little difference in their nutritional values. That said, red bell peppers tend to have more vitamin C than their green brethren.
However, both red and green bell peppers are antioxidant rich – an excellent source of both vitamins C and A.
And, aside from containing good amounts of folate and fiber, bell peppers have high levels of lutein and zeaxanthin. These antioxidants are said to help promote eye health and may combat the effects of macular degeneration.
Oh yeah, that boost of vitamin C your body gets from bell peppers can translate in to youthful looking skin too. You see, our bodies utilize this to promote collagen production.
So, if it tastes delicious – and is packed with health benefits – devouring bell peppers seems to be a win/win!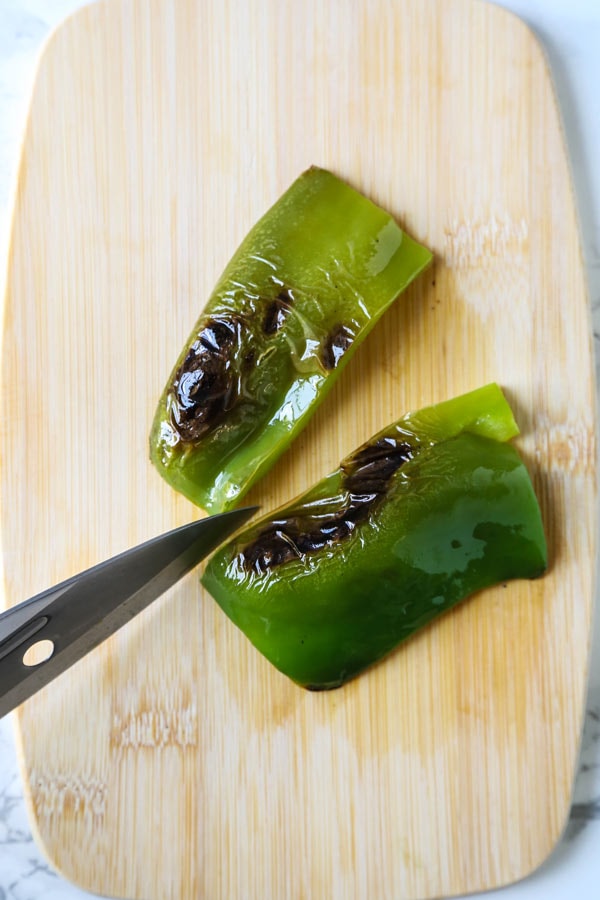 How to cut a pepper
The internet is awash with a trillion videos, showing you ways to cut a bell pepper like a pro. And the advice spans from the classic methods to the more flashy looking kitchenhacks.
Chances are, if you cook a ton, you probably have your own method – and I'm not here to change that. Don't fix what isn't broken, right!?
However, my advice to you is that, no matter which method you use, when you core and seed your pepper make sure to remove the ribs. Those are the white, fibrous things that vertically line portions of the pepper's flesh and connect to the core.
In my experience, eating the ribs of a green bell pepper can greatly increase bitterness. So, not only does it look nicer, it also tastes better to get rid of the ribs.
Once you've flexed your knife skills, it's time to move on to the grill!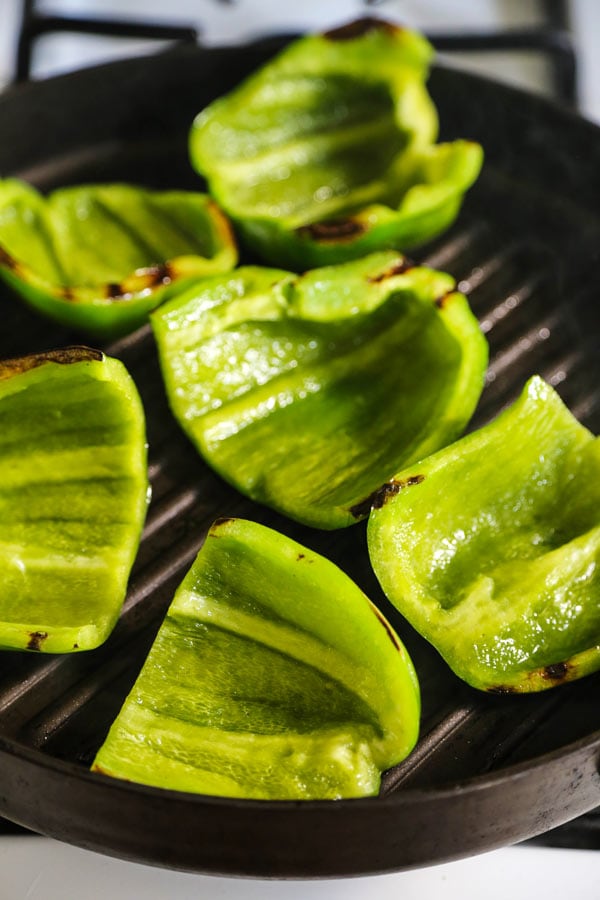 How to grill bell peppers
Whether you're cooking out in the backyard – or just using a grill pan in the kitchen like me – you'll want your peppers sliced in half at least.
For the outdoor griller, slicing your bell peppers in half means they'll cook quickly, without falling through the grill grates. (Ugh – that's the worst!)
If you're using a grill pan, you can opt to slice them in quarters if you'd like. That way you'll get more of the flat surface touching the pan at once.
I opted for medium high heat. This produced grilled bell peppers that were blistered and slightly charred – without turning to carbon.
Pull your peppers off the heat when they're showing some grill marks, but still have a bit of a tender crunch to them.
If you're not a fan of the char that a grill or grill pan can impart, another option is to make grilled bell peppers in foil. However, with this method it can be a bit tough to know when they're properly cooked.
No matter how you prepare your grilled bell peppers, the addition of the mirin, soy and olive oil based dressing – and the bonito flakes of course – will launch the flavor into the stratosphere!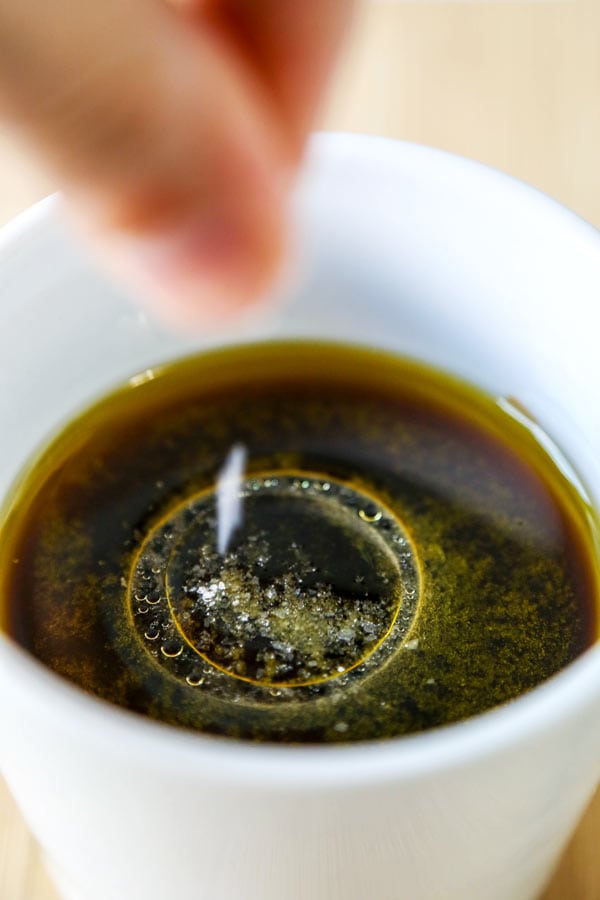 The only green pepper recipe I need
All the odds were stacked against this becoming one of my favorite bell pepper recipes of all time. With all the delicious roasted red pepper recipes out there, I assumed that distinction would go to a red bell pepper recipe.
However, the unthinkable has happened! At least as far as this Japanese influenced recipe goes, it's fair to say that I'm a convert concerning green peppers.
I'm pleased to say: I love em!
Now, does this mean I'll be running out to the store for green peppers any time a recipe calls for red bell pepper? Um, no.
Red and yellow bell peppers still do it for me in the flavor department 100%. I love their mix of mild, crisp sweetness.
But I'll be less standoffish when it comes to using green peppers in future recipes – because I think I've cracked the code (at least personally) to enjoying them.
From now on, I'll be grilling my green bell peppers – and coating them in a sweet and savory Japanese dressing.
Oh yeah – and I'll be applying the katsuobushi super liberally, ha! 🙂
What about you? What's your least favorite ingredient that you've somehow managed to make delicious in your own home kitchen? I'd love to hear about it in the comments section!
Other simple, delicious Japanese vegetable recipes: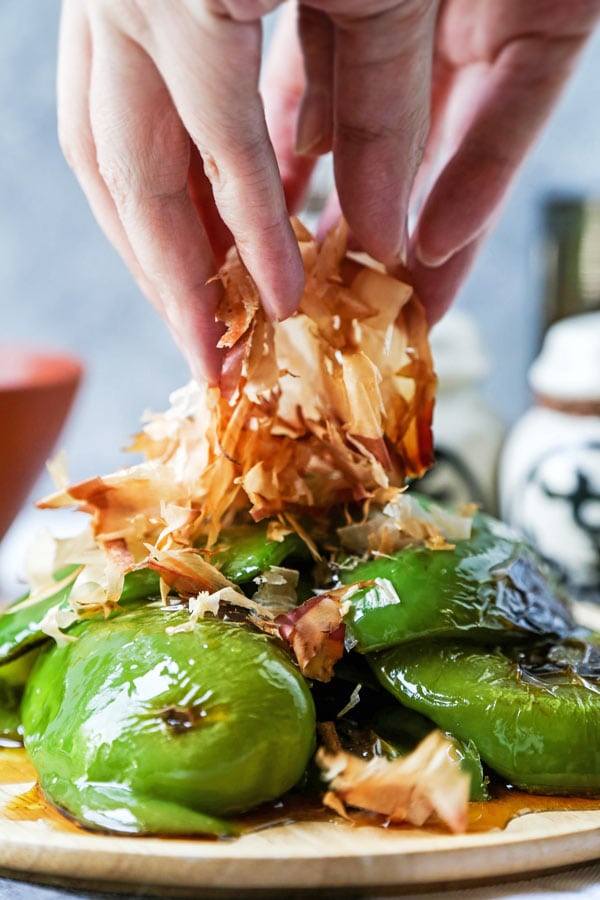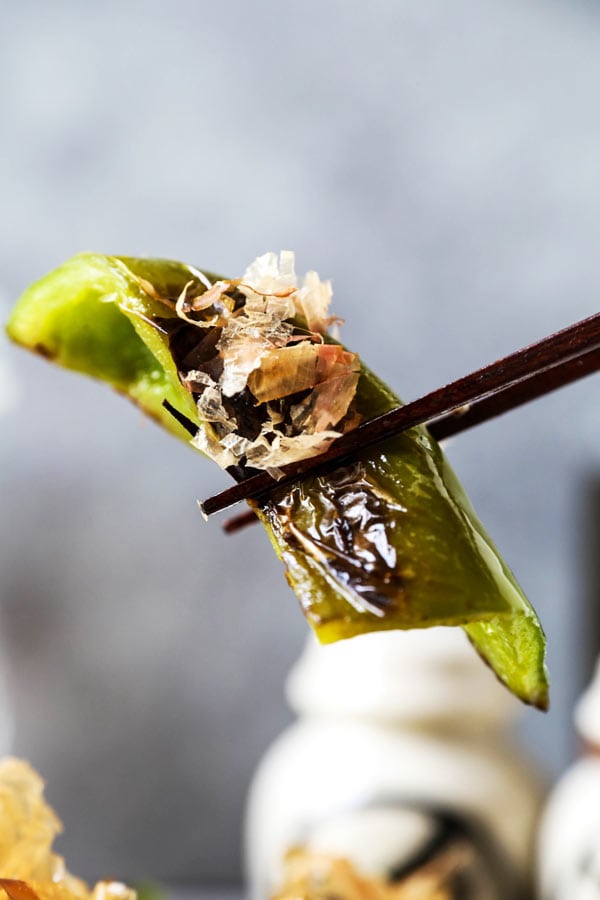 Did you like this Japanese Style Grilled Bell Peppers Recipe? Are there changes you made that you would like to share? Share your tips and recommendations in the comments section below!
Print
Japanese Style Grilled Bell Peppers
Char grilled bell peppers topped with bonito flakes and dress in a soy sauce based dressing.
Author: Caroline Phelps
Prep Time:

7 minutes

Cook Time:

6 minutes

Total Time:

13 minutes

Yield:

2

people

1

x
Category:

Side

Method:

Pan frying

Cuisine:

Japanese
For the Japanese dressing: (makes 1/2 cup)
1 tablespoon

olive oil

1 tablespoon

sake

3 tablespoons

mirin

1/4 cup

dashi

2 tablespoons

soy sauce
salt and pepper to taste
For the peppers:
3

–

4

green bell peppers (cored, seeded and sliced into halves)

2 teaspoons

vegetable oil

1/2 cup

bonito flakes (or more, to taste)
Instructions
Lightly brush bell peppers with vegetable oil.
Heat up your grill or grill pan. When it's hot, place the peppers facing skin side down.
Grill until the skin blisters and bell peppers soften.
Turn the bell peppers over, and grill for a few minutes until the inside is done.
Transfer to a cutting board. Slice each pepper half in half again, and arrange the peppers on a plate.
Pour a few tablespoons of the Japanese dressing over the peppers (start with about 3-4 tablespoons and adjust to taste)
Top with bonito flakes and serve with more dressing on the side.
Nutrition
Serving Size:
Calories:

216

Sugar:

14.9 g

Sodium:

890.8 mg

Fat:

9.9 g

Saturated Fat:

1.9 g

Carbohydrates:

21.7 g

Fiber:

3.1 g

Protein:

5.7 g

Cholesterol:

7.9 mg
Keywords: recipe, snack, healthy, easy
Recipe Card powered by