This is a traditional Japanese nasu dengaku recipe you will fall in love with! Tender broiled eggplant slices brushed with a sweet and savory miso sauce – it's simply irresistible and ready in just 15 minutes!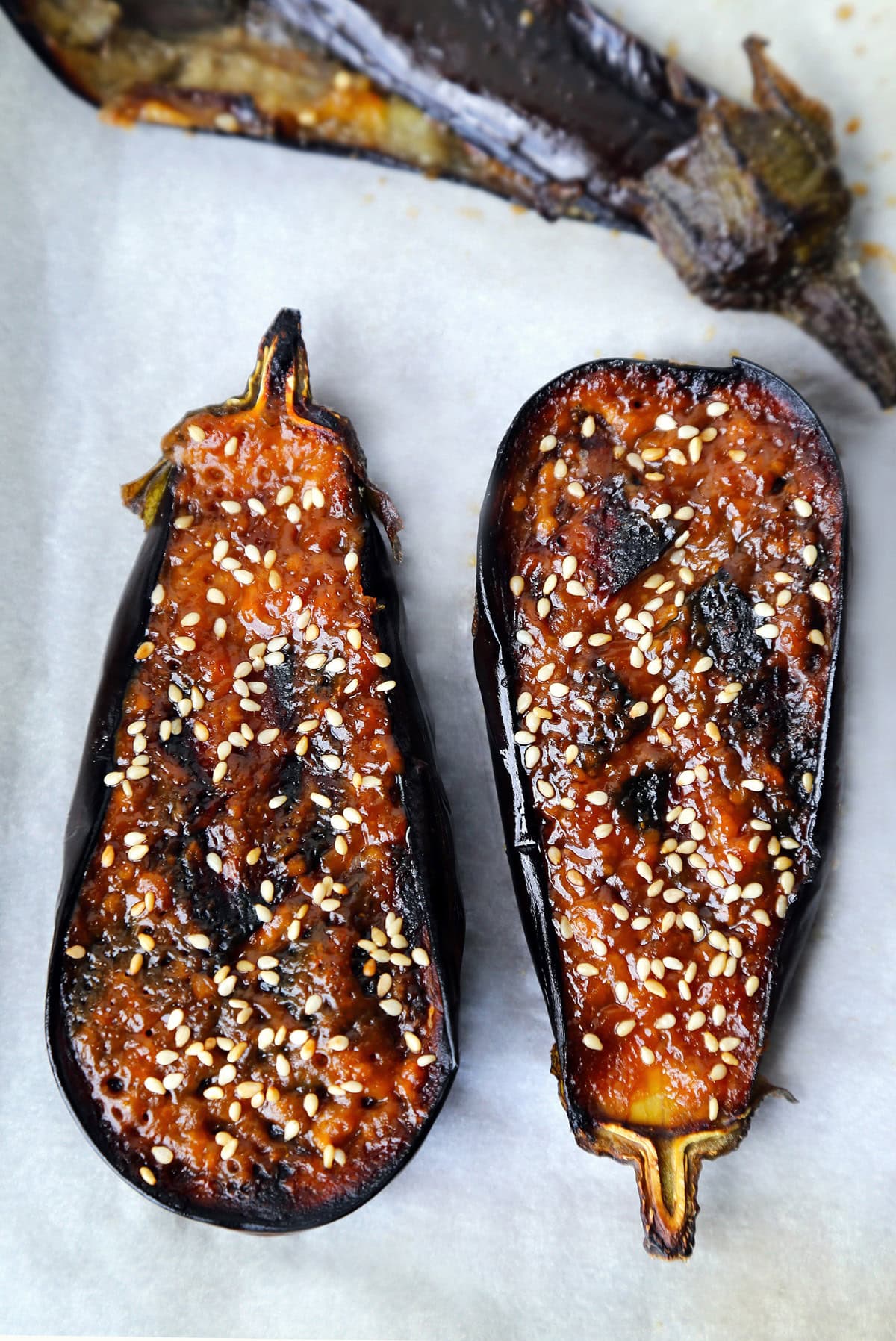 I used to have a lot of trouble cooking eggplant. No matter what I did to it, I never seemed to get it right!
It either had a mushy texture or was undercooked, with that awful spongy crunch. It wasn't until I started perusing Japanese cookbooks that I learn amazing, no fail, ways to cook eggplant.
Today, I'm excited to share with you the delicious Japanese eggplant dish that finally broke the curse and turned me into an eggplant expert!
This nasu dengaku recipe was my first major success in cooking with eggplant, and boy is it a good one!
What is Nasu Dengaku?
Nasu Dengaku is a classic Japanese side dish made with eggplant sliced in half, scored and brushed with a sweet and savory miso sauce.
The translation literally means eggplant grilled over a fire, which is exactly how it's done in Japan.
My version is a little different – I cook the eggplant halves for a few minutes in a skillet and finish them in a baking tray under a broiler, until the miso sauce caramelizes and bubbles.
The flavor is savory, smoky and sweet – with a toasted, nutty essence skirting around the edges. It's SO good!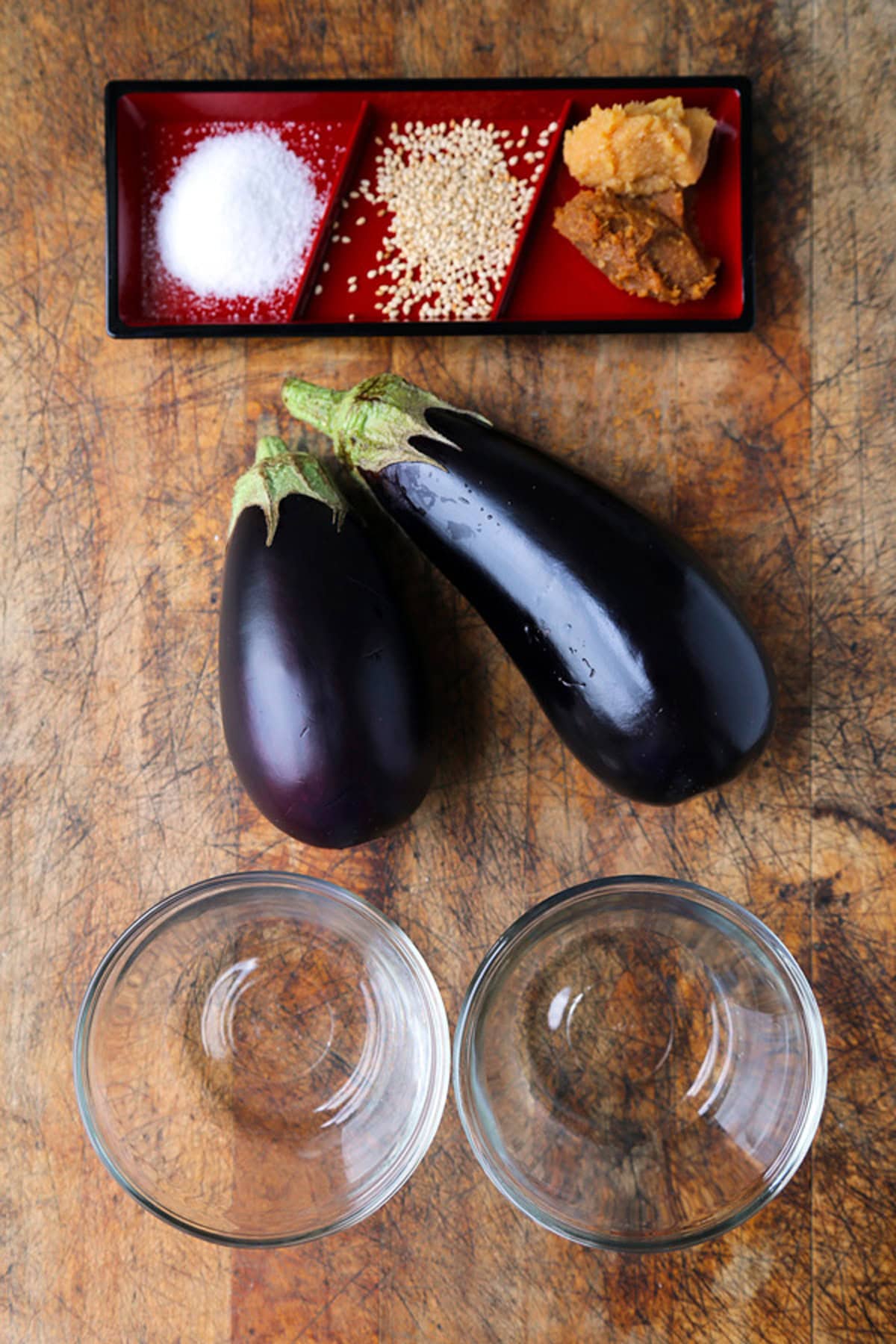 Ingredients for Nasu Dengaku
Eggplant: When I make this dish, I like to use eggplant that are on the small side. They tend to be less bitter than larger eggplant. Male eggplants also tend to have fewer seeds. A good way to check the sex of an eggplant is to look at the bottom. Slimmer eggplants with a round indentation mark at the bottom tend to be male. Rounder eggplants with an indentation that is elongated tend to be female.
Vegetable Oil: Any neutral flavored cooking oil will work well for this recipe.
Miso Paste: Miso paste is the key ingredient in this miso eggplant dish. Miso paste is a fermented food that is made from soybeans, salt, and koji (a type of fungus). It has a salty, savory flavor that is perfect for this dish. Additionally, miso paste is a good source of probiotics, which are beneficial for gut health. I like to use white miso paste (shiro miso) or awase miso, which is a mixture of red and white miso paste. Learn all about miso paste here.
Sugar: A little sugar adds a touch of sweetness without going over into cloying territory. And it also helps the sauce caramelize to perfection under the broiler.
Mirin: This fermented rice wine rounds out the flavors in many Japanese dishes – and tempers some of the saltiness from the miso paste. It's easy to find at your local Asian grocery store – or grab mirin on Amazon.
Sake: Sake is a Japanese rice wine that is made from fermented rice. It has a dry, slightly bitter flavor that helps to balance out the sweetness of the mirin in this dish. Sake also contains amino acids, which can help add depth of flavor to the miso sauce.
Sesame Seeds: Sprinkle a few white sesame seeds on your eggplant just before serving. You'll love the toasted nuttiness!
Additional Toppings
Nasu dengaku is extremely flavorful on its own but can be topped with garnishes to add color and additional aromatics. Some of the most popular ones are:
Chopped chives
Shredded shiso leaves
Fresh herbs such as basil or cilantro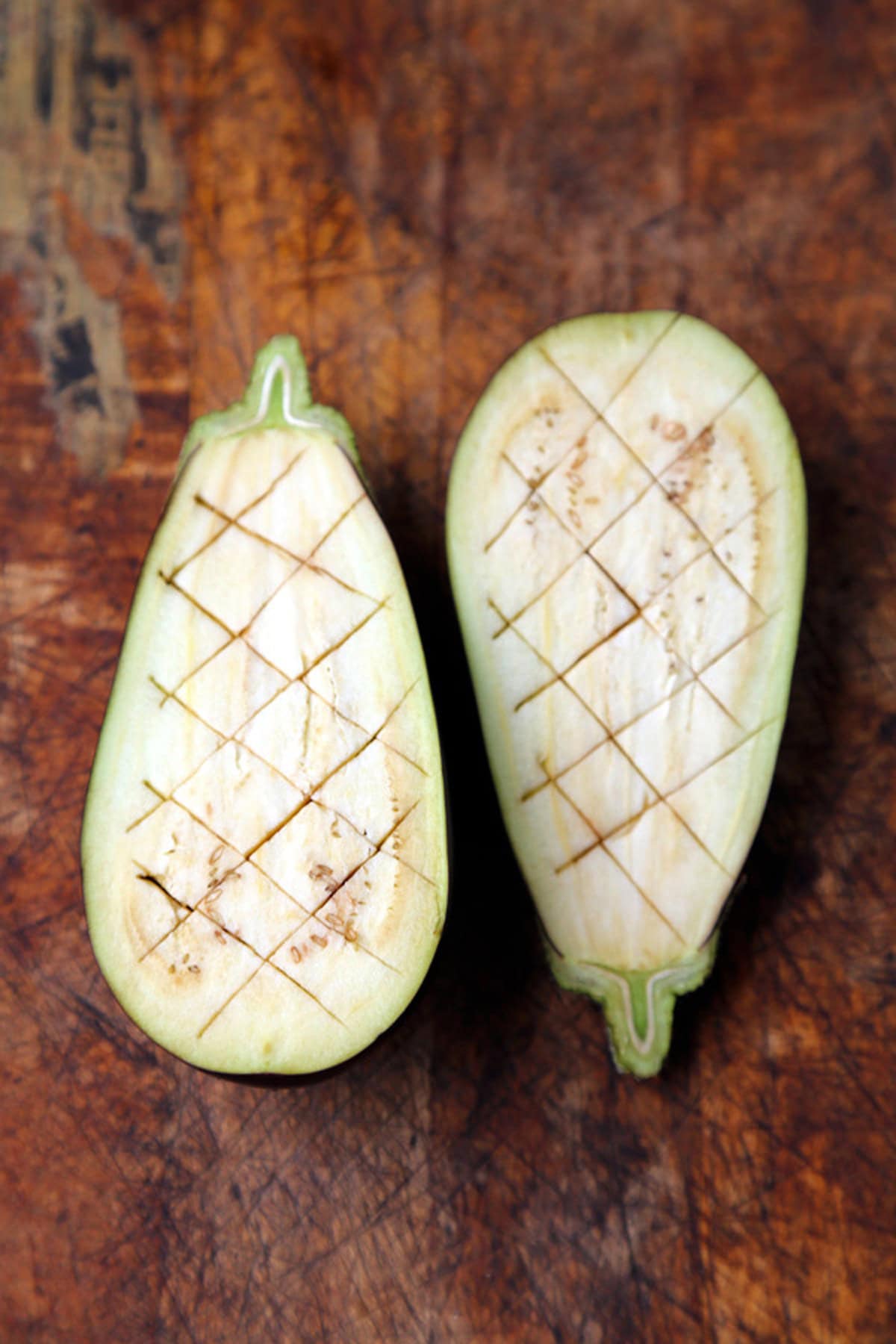 How to make miso glazed Japanese eggplant
Prepare the eggplant. Using a sharp knife, slice the eggplant in half, lengthwise. Then score the inside flesh of each half with a knife in a criss-cross pattern.
Cook the eggplant. Get a pan going over over high heat and add your oil to coat the bottom of the pan. Place your eggplant halves in the pan with the cut side down. Cook for a few minutes until the skin begins to brown.
Flip it! Next, flip the eggplant over and cook with a lid on the pan on for 3-4 minutes – until the eggplant is cooked through, and the inside flesh has browned.
Make the miso glaze. Meanwhile, whisk your miso paste, sake, mirin and sugar together in a small bowl until you achieve a smooth consistency.
Apply the sauce. Take your eggplant halves out of the pan – and place them on top of a foil lined baking sheet with the skin facing down. Brush each piece generously on top with the miso glaze.
Broil the nasu dengaku. Place in the oven and broil for 4 minutes. The glaze on top should be bubbling.
Serve. Top with sesame seeds and serve it immediately.
That's it! So easy. The eggplant will be tender and cooked to perfection. And the flavor is out of this world!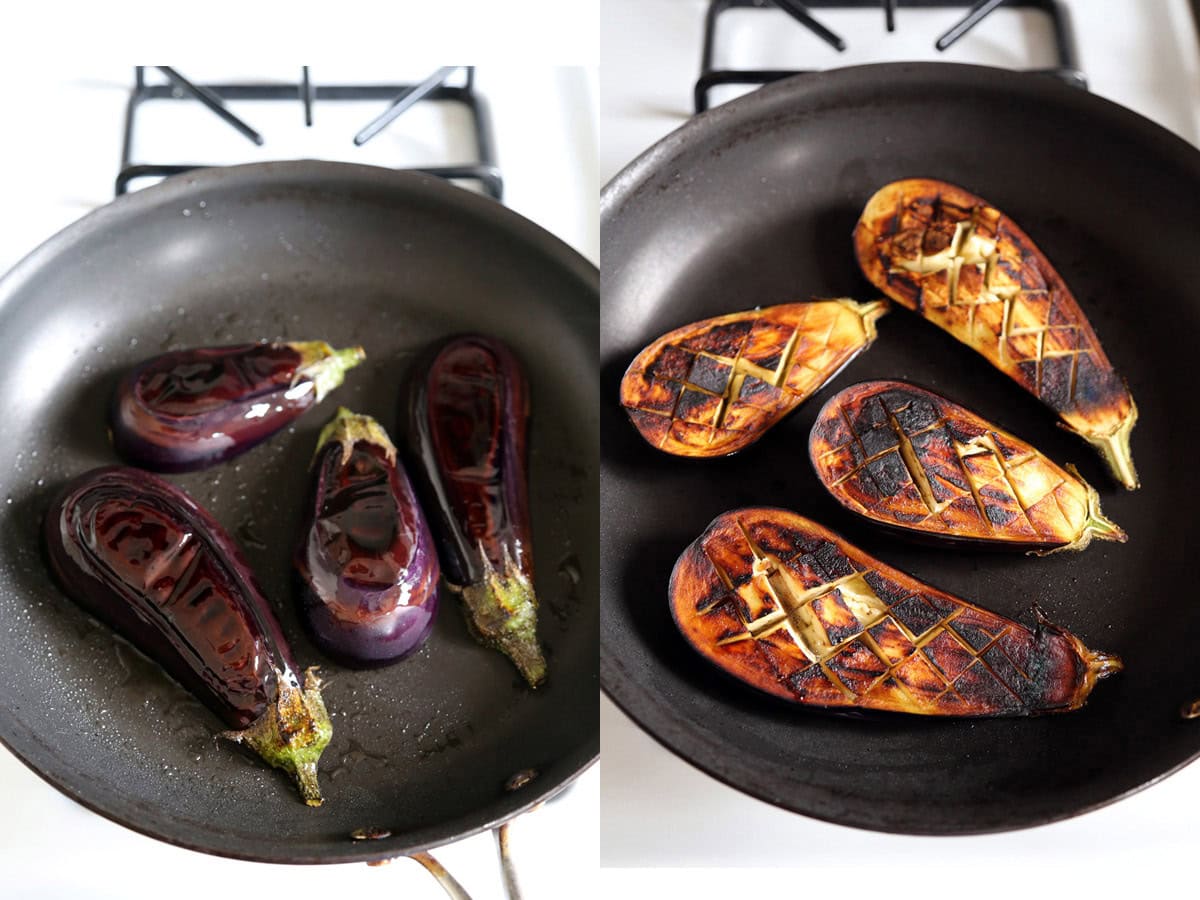 A Tip On Cooking Eggplant
Halving and then scoring the inside of eggplant with a sharp knife will ensure that it cooks properly in the pan.
The trick to scoring the eggplant is to cut the inside flesh in a criss-cross pattern – without cutting the outer skin. Watch the video on this page if you're a visual learner (like me!).
Also, when pan frying, it's a good idea to cook long enough that the flesh gets a decent amount of color on it – but not so long that it turns to mush. Remember, the final step of cooking is under the intense heat of the broiler in your oven.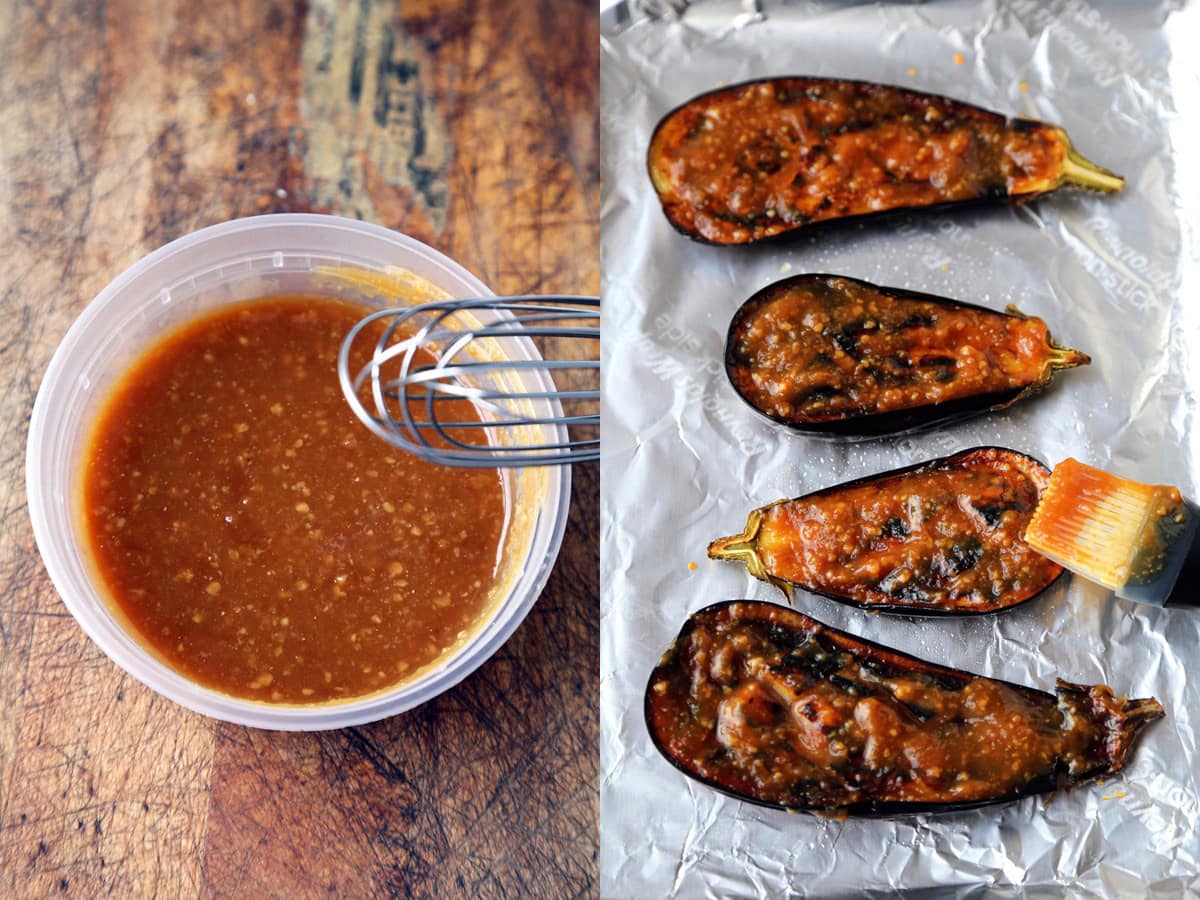 What To Serve With Nasu Dengaku
Nasu dengaku is usually served as a side dish, but it can also be enjoyed as a main course. It can also be enjoyed hot or cold.
Serve it with a simple side of plain white rice as a main.
Or serve this as a side and easily pair it up with full flavored dishes like this savory Japanese Curry – this veggie studded Japanese fried rice – or this impossibly crispy baked chicken katsu.
Hey – how about making a simple side salad and topping it with this iconic Japanese restaurant style carrot and ginger dressing? You really can't go wrong!
And check out these other delicious and easy eggplant recipes: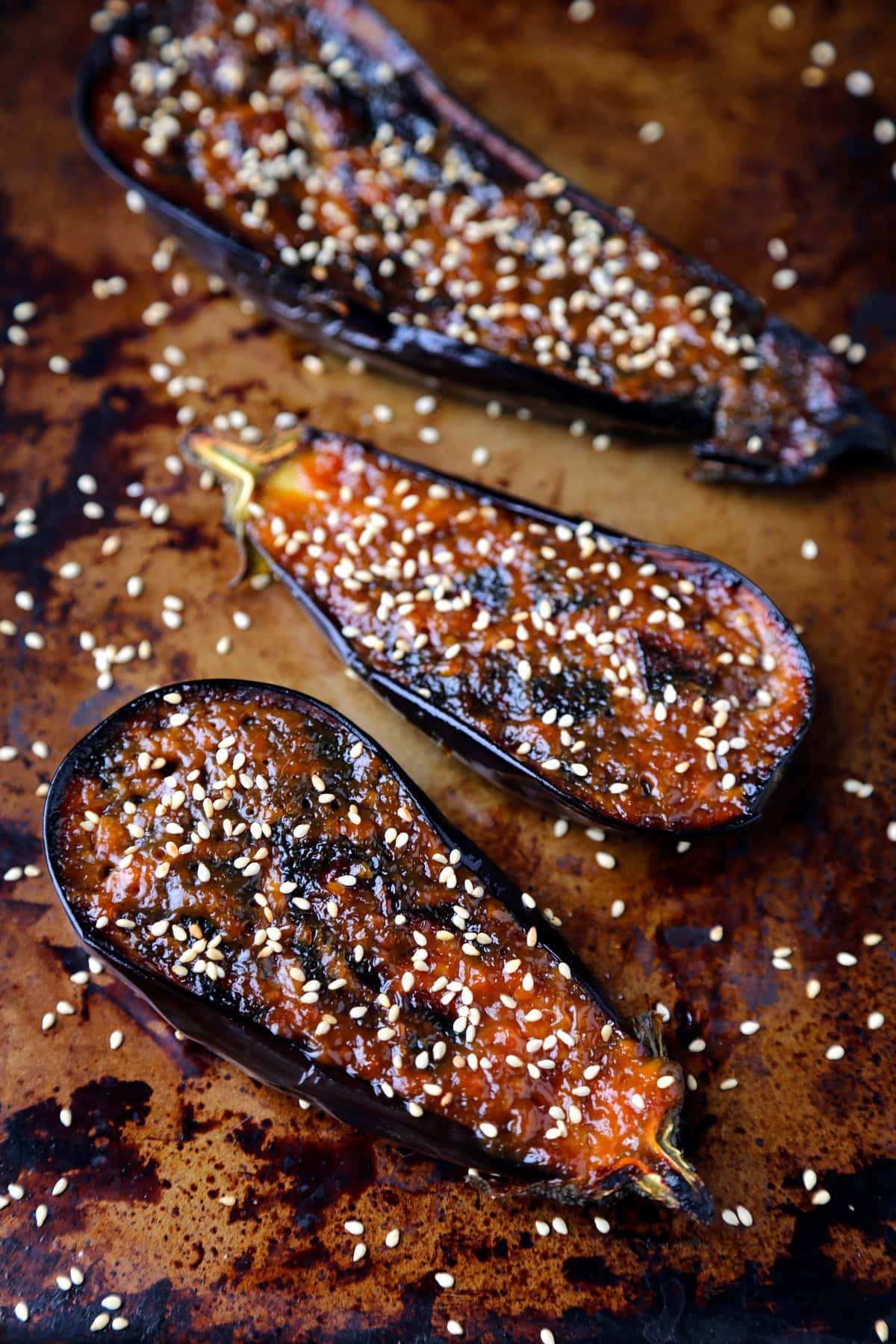 Did you like this Nasu Dengaku Recipe? Are there changes you made that you would like to share? Share your tips and recommendations in the comments section below!
Serve nasu dengaku with a side of Japanese rice. Watch our video on How To Make Japanese Rice the stove top or rice cooker method!
Print
Nasu Dengaku – Miso Glazed Eggplant
A classic Japanese dish, nasu dengaku with miso glaze is both a sweet and savory.
Author: Caroline Phelps
Prep Time:

5 minutes

Cook Time:

10 minutes

Total Time:

15 minutes

Yield:

2

people

1

x
Category:

Appetizer, Side

Method:

Pan frying, broiling

Cuisine:

Japanese
2

small eggplant

2 tablespoons

vegetable oil or other neutral oil

1/4

cup

miso paste (I use awase miso which is a mix of both red and white miso paste)

2 tablespoons

mirin

1 tablespoon

granulated sugar

1 tablespoon

sake
sesame seeds
Instructions
Slice eggplant in half and using a knife, score the inside in small squares.
In a pan over high heat, add oil and put the eggplant skin facing down.
Cook for a few minute until skin is brown. Turn the eggplant over and cover with a lid. Cook until eggplant is cooked through (about 3 to 4 minutes).
Meanwhile, in a bowl, mix miso, mirin, sugar and sake.
Cover a cooking tray with foil and place the eggplant on top. Brush miso dengaku mix on top of each eggplant until all the surface is coated.
Put in the oven and broil for 4 minutes. The miso mix should be bubbling when you take it out of the oven.
Sprinkle sesame seeds on top and serve hot.
Notes
Nasu dengaku is best served immediately.
Nutrition
Serving Size:

1 eggplant

Calories:

288

Sugar:

15.6g

Sodium:

92mg

Fat:

15.8g

Saturated Fat:

2g

Unsaturated Fat:

5.7g

Trans Fat:

0g

Carbohydrates:

27.9g

Fiber:

4.3g

Protein:

4.9g

Cholesterol:

0mg
Keywords: Japanese miso eggplant
Recipe Card powered by