Are you a fan of aubergines? You're going to love these popular Asian eggplant recipes! Learn about the best eggplants to track down at the grocery store – and how to tell if they're fresh. Then learn how to make some of the best velvety, umami eggplant recipes from China and Japan!
Eggplant is one of my go-to ingredients when I feel like firing up the wok and making something delicious with minimal effort.
Because you can make an easy eggplant stir fry with some garlic, ginger and a handful of vegetables that tastes better than takeout. Or you can make aubergine the star of the show with a few common pantry sauces and aromatics – and a quick stint under the broiler (or in an air fryer).
Eggplant is a versatile ingredient that works so well in these nine popular Asian eggplant recipes. And when you nail the perfect tender texture, there's absolutely nothing like it.
How to Choose Eggplant
When it comes to the different varieties of eggplant in the produce aisle, I personally tend to focus on three common types (although there are many).
Chinese eggplant: With a long, slim body and very few seeds, Chinese eggplant have a thin light lavender outer skin that cooks relatively quickly.
Japanese eggplant: Very similar in appearance, texture and taste to Chinese eggplant (I can't tell them apart by sight alone). The Japanese variety tends to have a deeper purple hue than Chinese eggplant. Bonus: they have very few seeds.
Italian eggplant: Dark maroon and chubby, these eggplant work well when serving in sliced rounds (like an eggplant Parmesan – or the char siu style eggplant recipe below). Although they look very similar to American eggplant, Italian eggplant tend to be smaller, more tender and sweeter.
Other common eggplant varieties include Thai eggplant, Indian eggplant and fairy tale eggplant.
A good rule of thumb when shopping for eggplant is to look for a green stem – and a smooth, firm and shiny skin without wrinkles. Do a weight test. Is one smaller, but heavier than the others? Go for that one. Smaller eggplants tend to be less bitter than their gargantuan counterparts.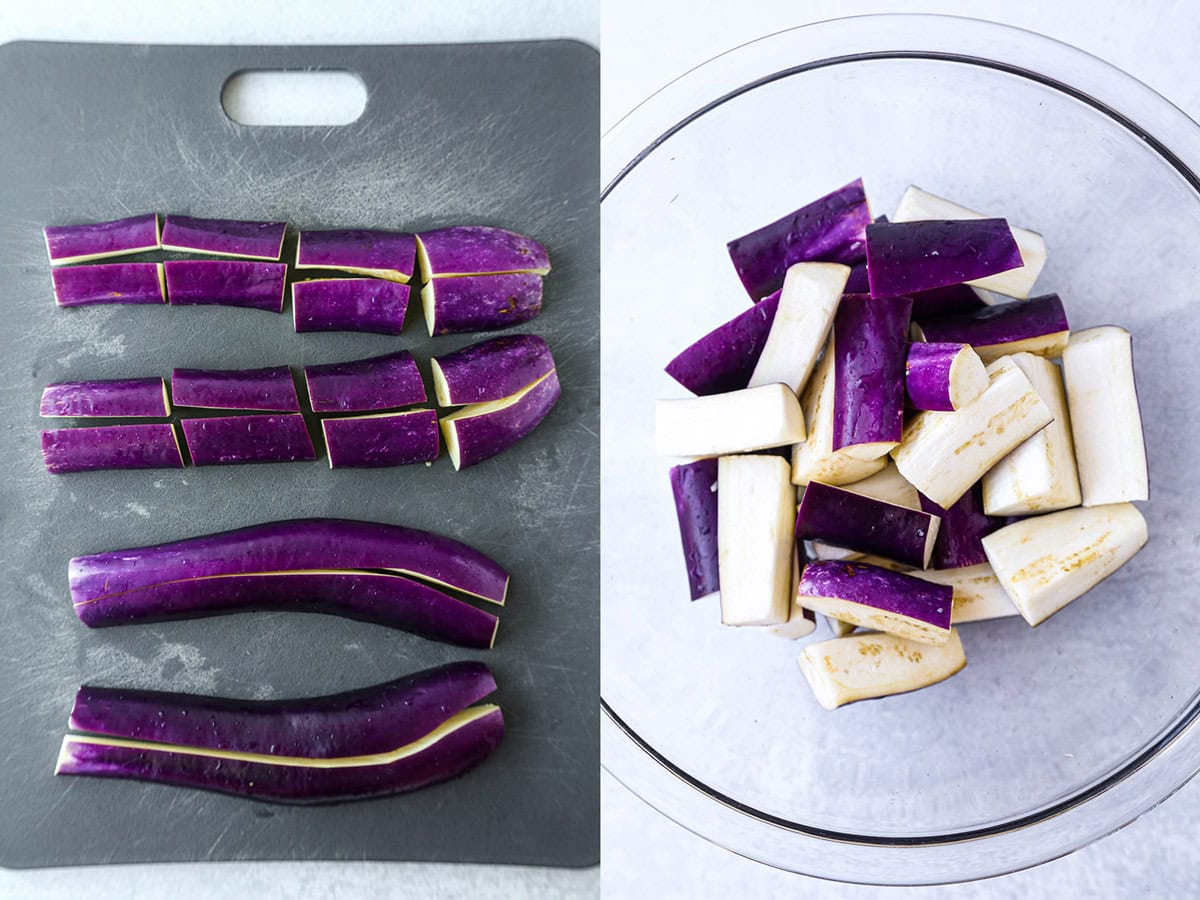 Should You Salt Eggplant Prior to Cooking?
Generally, you won't need to salt the inner flesh of your eggplant prior to cooking. However there are two instances when salting your cut eggplant can come in handy.
Bitter eggplant. If you were unlucky at the grocery store and picked up a particularly bitter eggplant, salting the inner flesh can counteract some of that bitterness. Luckily, most eggplant varieties have had the bitterness bred out.
Deep frying – or pan frying on high heat. Salting the exposed areas of your cut eggplant with kosher salt prior to cooking will draw out some of the excess moisture (and further season it in the process).
Have you tried any of these easy Asian eggplant recipes? Are there changes you made that you would like to share? Share your tips and recommendations in the comments section below!
Print