If you're looking for a savory eggplant dish, look no further than this sauteed Japanese eggplant! It's quick, easy to make, and is packed with flavor. The eggplants are cooked until tender, then seasoned with a ginger, miso, and sesame sauce that is simply irresistible.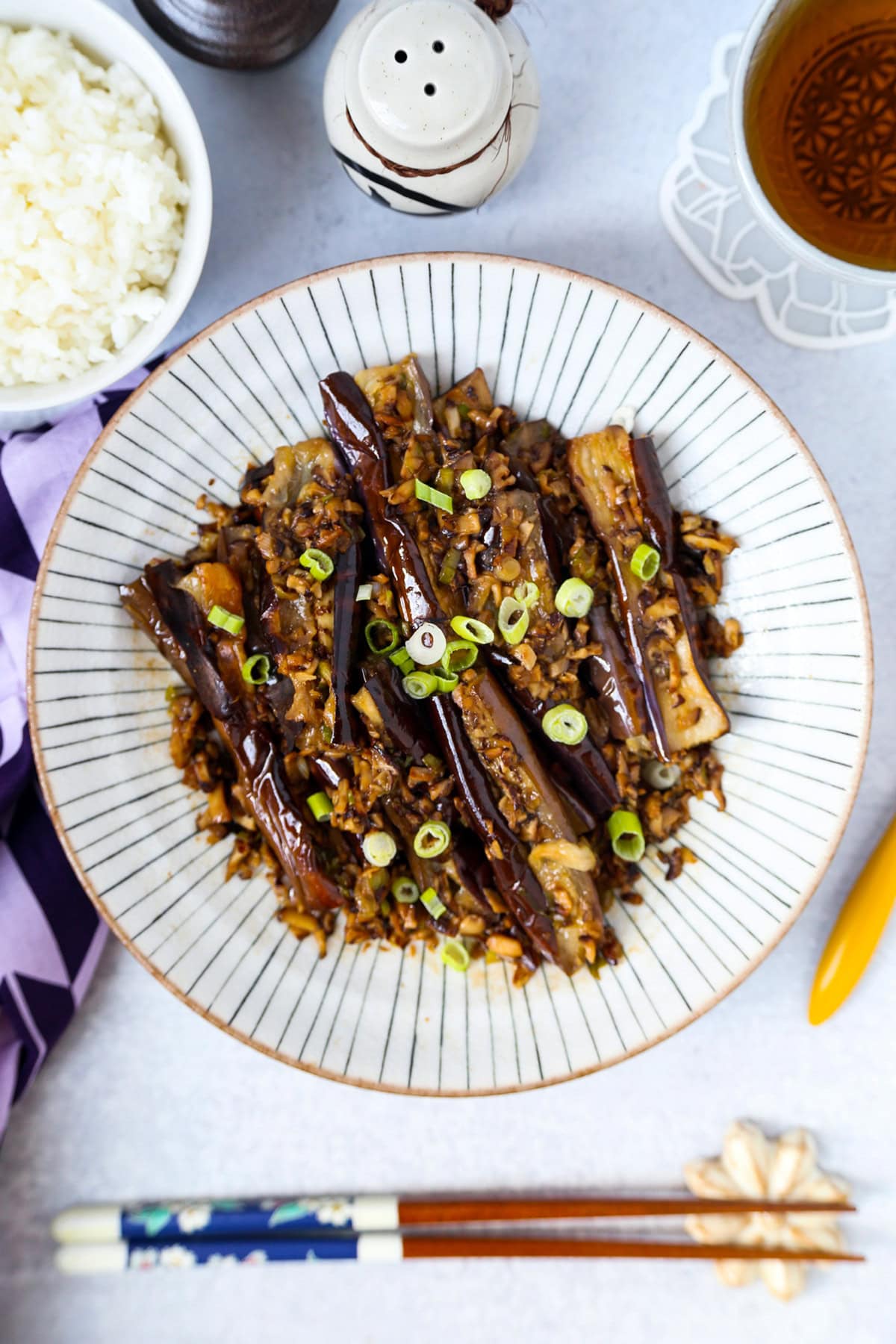 This recipe for sauteed Japanese eggplant is a quick and easy way to enjoy a tasty and nutritious plant-based meal. While the recipe calls for miso paste, this dish doesn't taste anything like the traditional nasu dengaku (Japanese miso eggplant), where the eggplants are broiled and brushed with a sake and miso glaze.
This dish has a simpler taste – it's savory, salty, and nutty, but doesn't have the depth of flavor nor the pungent element that nasu dengaku has.
What Is A Japanese Eggplant?
Japanese eggplant, called 'nasu' in Japanese, is a type of eggplant that is long and slender, with a thin, dark purple skin. They have a milder and slightly sweeter flavor than regular eggplants. Because of their smaller size, they cook faster and absorb flavor more easily. Japanese eggplants are often used in Asian cuisine and can be swapped with Chinese eggplants, which are lighter in color, and can sometimes be longer.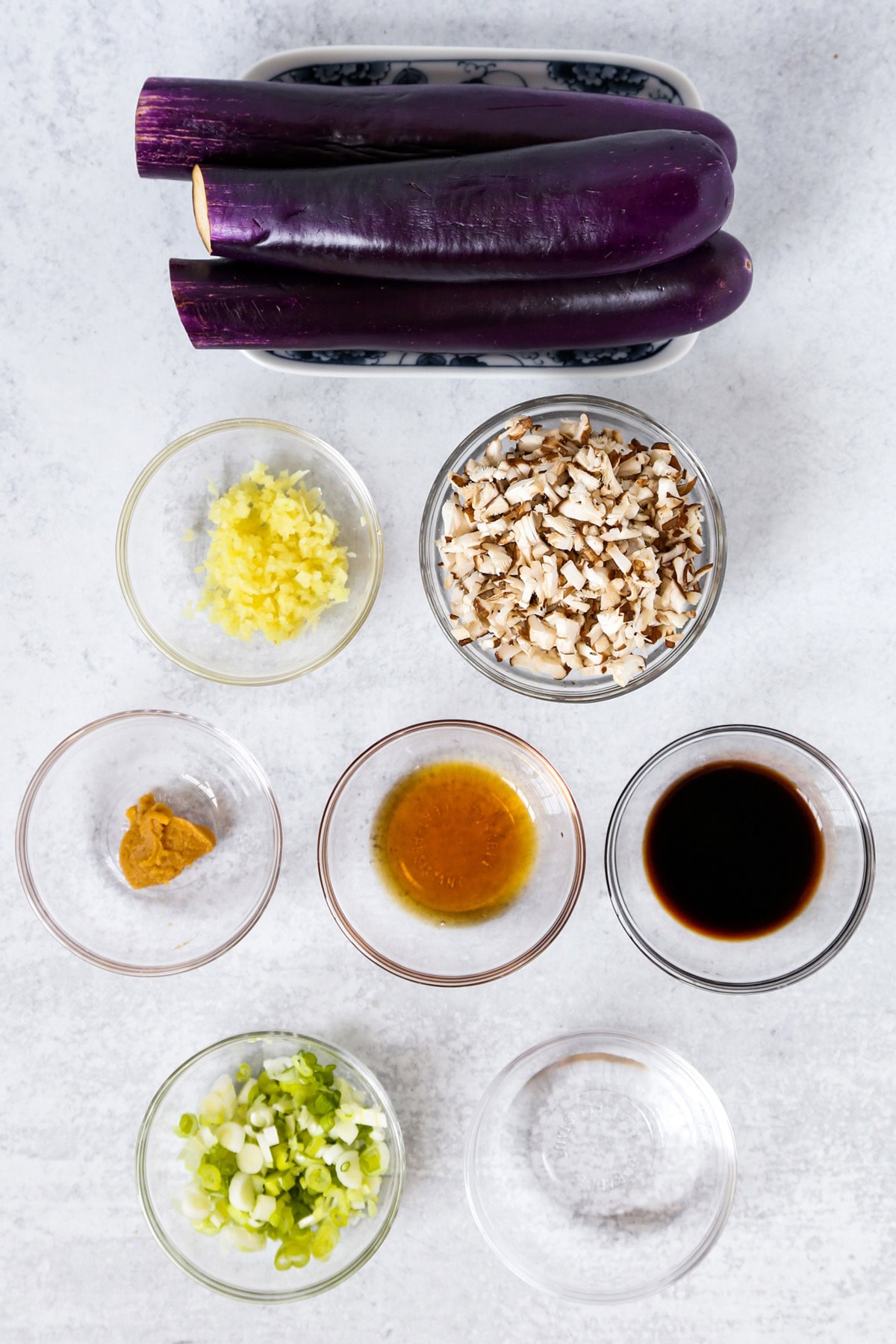 Sauteed Japanese Eggplant Ingredients
Oil: I'm using vegetable oil to saute the eggplants but feel free to use other neutral oil such as grapeseed oil. Make sure it has a high smoke point so it won't burn as easily as some other oils.
Japanese eggplant: You will need three Japanese eggplants for this recipe. The eggplants are the star of the show so they must be cooked until very tender to achieve the perfect texture and be able to absorb the sauce.
Green onions

:

Green onions add a touch of sweetness and crunch to the dish. Since they cook quickly I like to add them to the skillet towards the end of the recipe so they can retain a slight crunch.
Shiitake mushrooms: The shiitake mushrooms add a ton of umami and earthiness to this dish! I recommend using fresh mushrooms if possible, but you can also use dried mushrooms that have been reconstituted in water.
Fresh ginger: Fresh ginger adds a lovely warm flavor to the dish. It's also very good for you as it has been shown to aid in digestion and fight inflammation.
Water: A little water is needed to dilute the strong flavor of the sauce. You can also use dashi to add a briny element.
White miso paste: Miso is made from fermented soybeans and is a staple ingredient in Japanese cuisine. I like to use white miso paste for this recipe because it's milder, but feel free to use other types such as awase miso or red miso (use less if you are using red miso), if you already have some in your fridge or pantry.
Sesame oil: Sesame oil adds a nutty taste to the sauce. It's a traditional flavor found in many Japanese sauteed dishes.
Soy sauce: I recommend using Japanese soy sauce such as Kikkoman or Yamasa, as they are more complex in flavor than other types of soy sauce.
Salt and pepper: A little salt and pepper is needed to balance the flavor of the sauce.
Ingredient Variations
If you would like to play with the flavor of this dish or make it more filling, here are some ideas you might be interested to try:
Add one or two minced garlic cloves and saute together with the ginger to add a little sweetness.
Garnish with shredded shiso leaves to brighten up the dish and give it a unique and traditional Japanese taste.
Drizzle a little rice vinegar on top to add some sourness.
Add firm tofu cubes to make the stir fry more filling. I recommend cooking the tofu separately, dusted with a little cornstarch so they are crispy and pillowy (read my tutorial on how to make the perfect crispy tofu).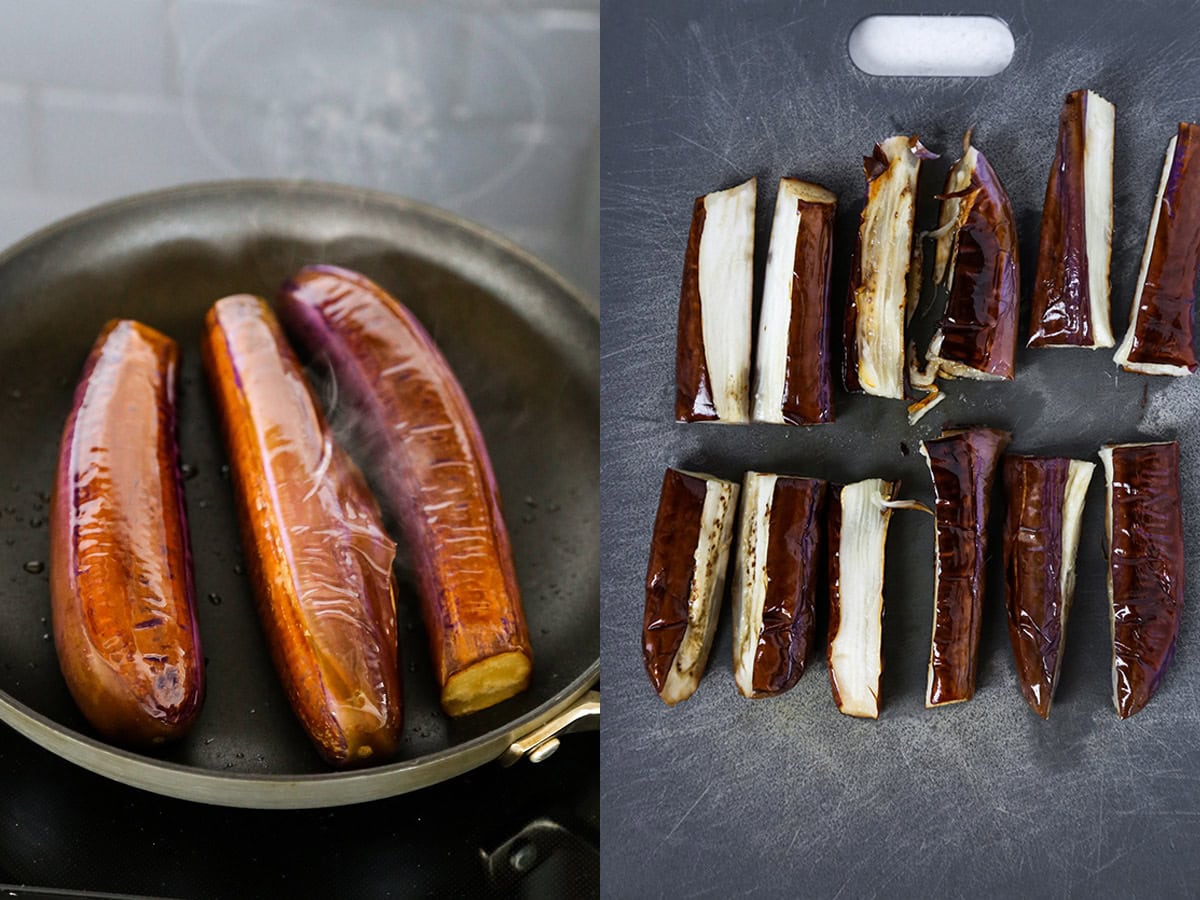 How To Cook Japanese Eggplant
Scroll all the way down to the recipe card for the full recipe.
Heat the oil in a large pan over medium heat.
Add the eggplants and saute on each side over medium-high heat for about 3 minutes, until the eggplants are tender.
Remove the eggplants from the skillet and slice them.
Add the scallions, mushrooms, and ginger to the skillet and cook for 3 minutes, stirring occasionally, until the vegetables are tender.
In a small bowl, whisk together the miso paste, sesame oil, and soy sauce. Add the sauce to the skillet, along with the eggplants, and cook for 2 minutes until heated through.
Note: Sauteing the eggplant in a skillet yields a result very similar to nasu agebitashi, where the eggplants are deep fried until tender. I find that sauteing them is much easier and healthier.
Where To Buy Japanese Eggplant
You can buy Japanese eggplant at Japanese grocery stores. You can sometimes find them in other Asian grocery stores, although it will most likely be Chinese eggplant that's being sold, which is also fine. Whole Foods also sometimes carry Japanese eggplant.
Let me say this – Chinese eggplant is just as delicious as Japanese eggplant! In fact, they are so similar that I often swap one for the other without even thinking about it.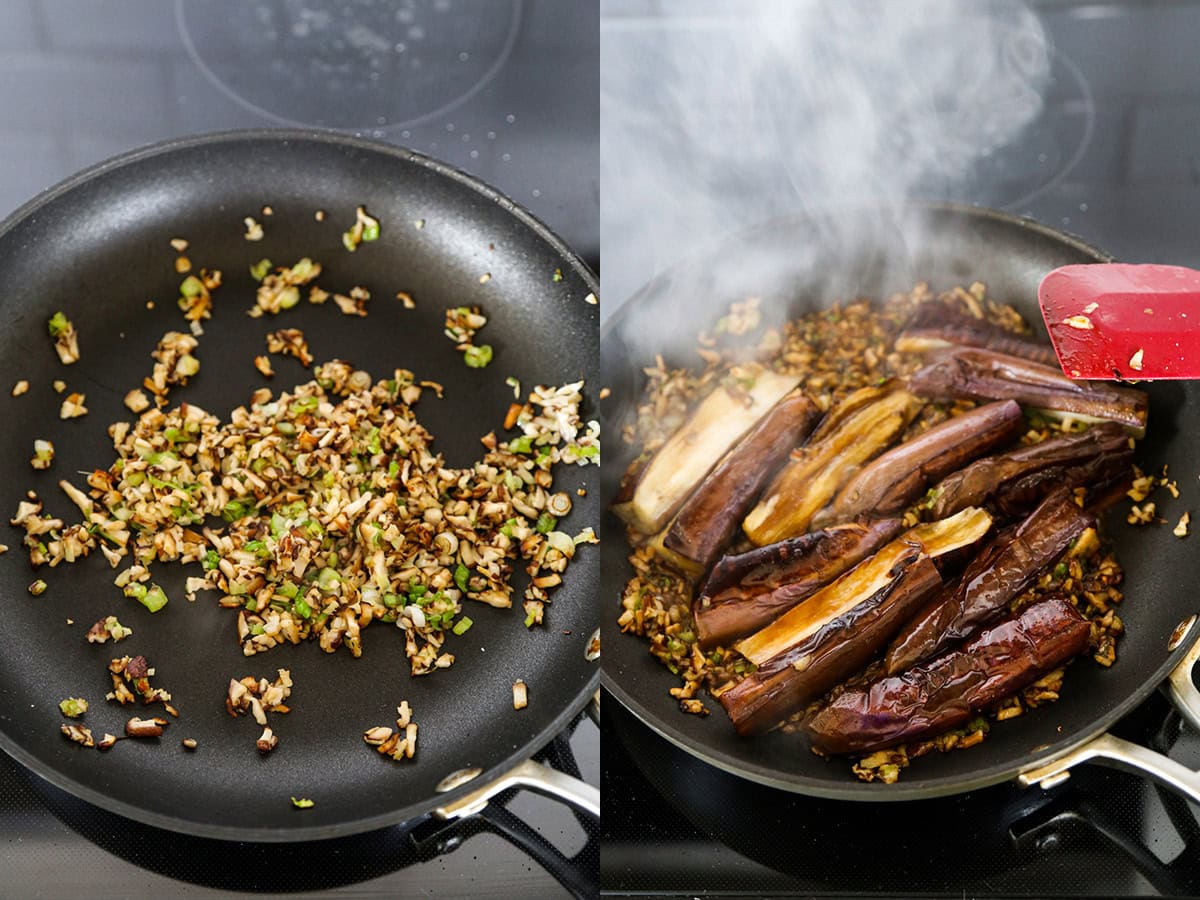 How To Store This Japanese Eggplant Recipe
To store this delicious eggplant stir-fry, start by letting the dish cool down to room temperature. You can then transfer it to an airtight container and refrigerate for up to 2 days.
I don't recommend freezing this dish because the texture of the eggplant will get very mushy.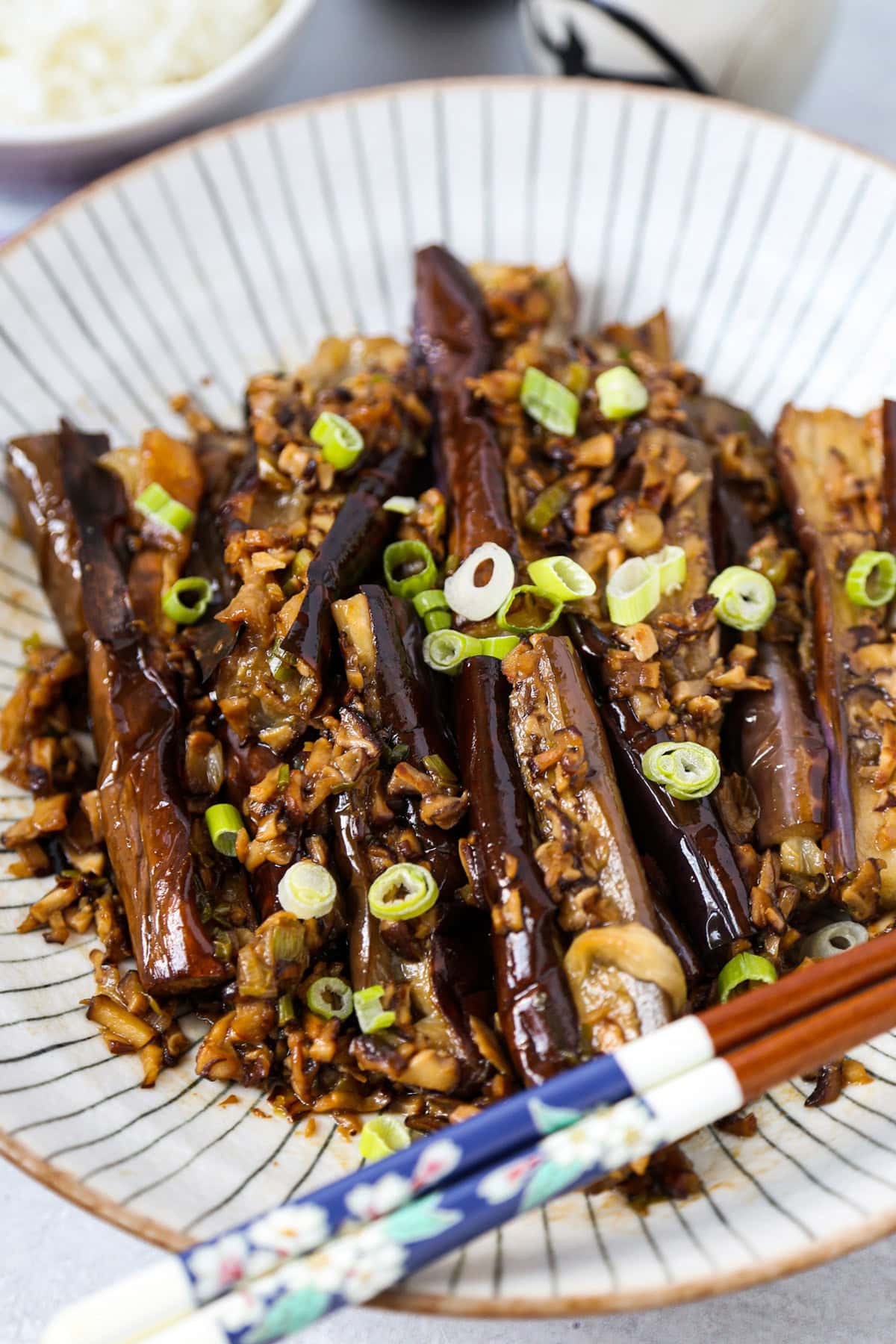 What To Serve With Japanese Eggplant
This sauteed eggplant recipe can be served as an appetizer, side, or part of a main. Because of it's assertive flavors, it goes really well with a side of brown rice or white rice. You could also pair it with quinoa, farro, and even noodles.
As for sides to serve with it, some of my favorites are: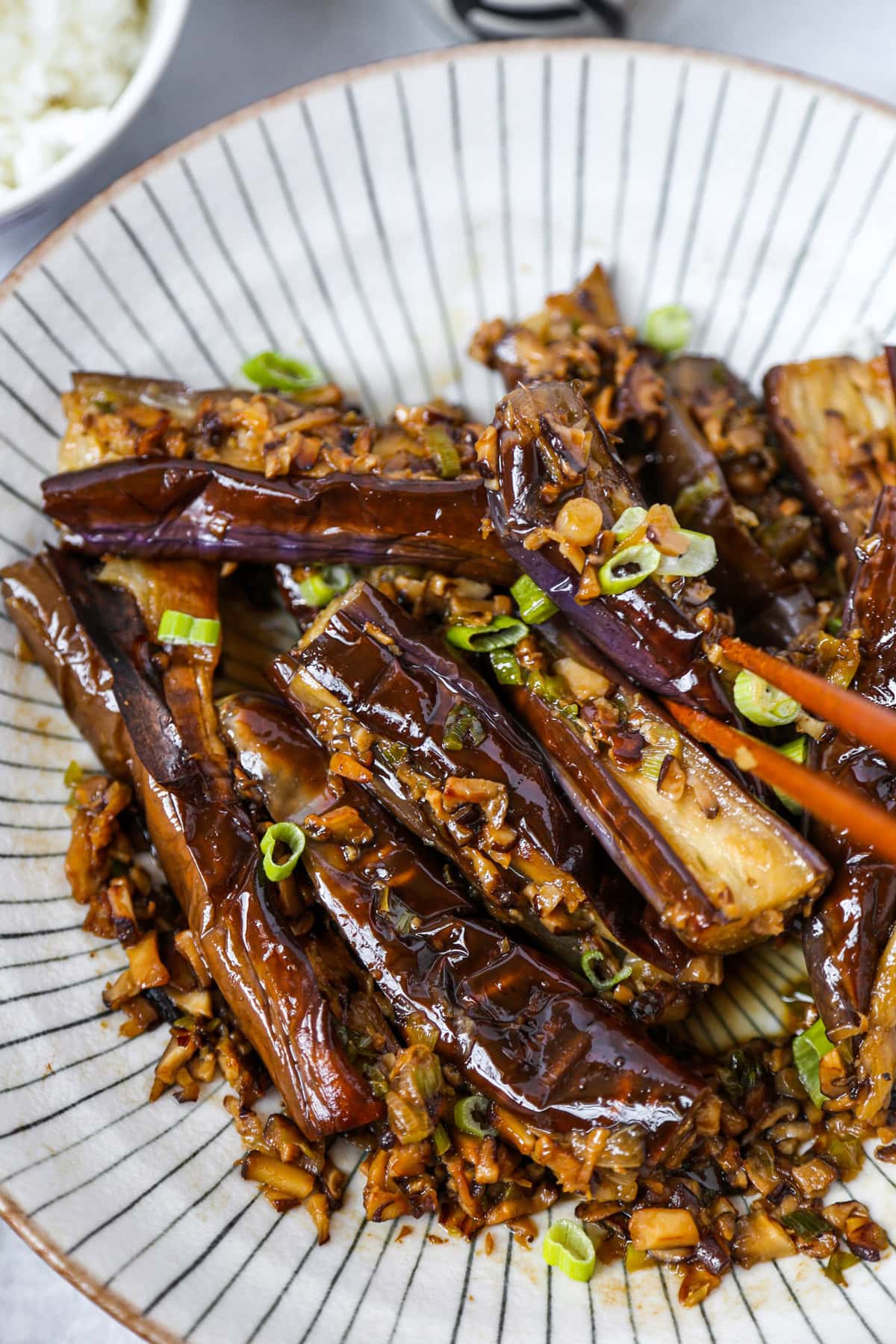 Did you like this sauteed Japanese eggplant recipe? Are there changes you made that you would like to share? Share your tips and recommendations in the comments section below!
Print
Sauteed Japanese Eggplant
Tender eggplants seasoned with a ginger, miso, and sesame sauce that is simply irresistible.
Author: Caroline Phelps
Prep Time:

15 minutes

Cook Time:

10 minutes

Total Time:

25 minutes

Yield:

2

servings

1

x
Category:

Stir fries

Method:

Stove top

Cuisine:

Japanese

Diet:

Vegan
1 tablespoon

vegetable oil or grapeseed oil

3

Japanese eggplant, stems removed

2

scallions, finely chopped

4

shiitake mushrooms, finely chopped

1 tablespoons

fresh ginger, minced

2 tablespoons

water

1 teaspoon

white miso paste

2 teaspoons

sesame oil

2 teaspoons

soy sauce
Salt and pepper, to taste
Instructions
In a skillet over medium heat, add the vegetable oil and swirl it around to coat the entire surface.
Place the three eggplants in the skillet and cook for 3 minutes. Flip the eggplants over and cook for another 3 minutes, or until the eggplants are tender. Turn the heat off and transfer the eggplants to a cutting board. Let them cool to room temperature. Leave the skillet on the stove top as you will be using it again.
Mix the water, miso paste, sesame oil, and soy sauce in a bowl.
Season with salt and pepper and set aside.
Using a sharp knife, slice each eggplant into 4 pieces, lengthwise. Set aside.
Use the same skillet and turn the heat to medium high. Add the scallions, shiitake mushrooms, and ginger, and cook for 3 minutes, until the mushrooms are slightly caramelized.
Add the sliced eggplant and the sauce and stir fry for 1 minute, until the eggplant is warm.
Transfer to a plate and serve.
Notes
Store the leftovers in a storage container and refrigerate for up to 2 days. 
Nutrition
Serving Size:

1 serving

Calories:

183

Sugar:

9.6g

Sodium:

154.5mg

Fat:

12.2g

Saturated Fat:

6.3g

Unsaturated Fat:

2.2g

Trans Fat:

0g

Carbohydrates:

18.4g

Fiber:

8.2g

Protein:

4g

Cholesterol:

0mg
Recipe Card powered by
Other Eggplant Recipes You Might Enjoy