A kid friendly Poor Man's Spicy Tuna Roll Recipe you can easily make with everyday pantry ingredients! Ready in 25 minutes from start to finish.
When it comes to ordering sushi rolls (or maki), I have two favorites.
Negitoro is fatty tuna mixed with scallions, and is the first thing my eyes find when scanning any sushi menu. Seriously, I'm automatically drawn to those words – almost like your name being printed in the middle of a full roster of names and somehow, magically seeing your own first.
A very close second would be the spicy tuna roll. I really can't get enough of the spicy-mayo laden tuna, wrapped in Japanese rice and delicate toasted nori (seaweed) sheets.
This poor man's spicy tuna roll was born of late-night watching-a-movie-hunger. We had just started streaming Zoolander (for, like, the millionth time) and were craving sushi – but, alas, I had no sashimi grade tuna just lying around in the fridge.
But I did have rice, seaweed sheets and canned tuna. It was a Chopped moment for sure! And my mystery basket didn't let me down. The flavor of the this improvised spicy tuna roll was on point – just not raw.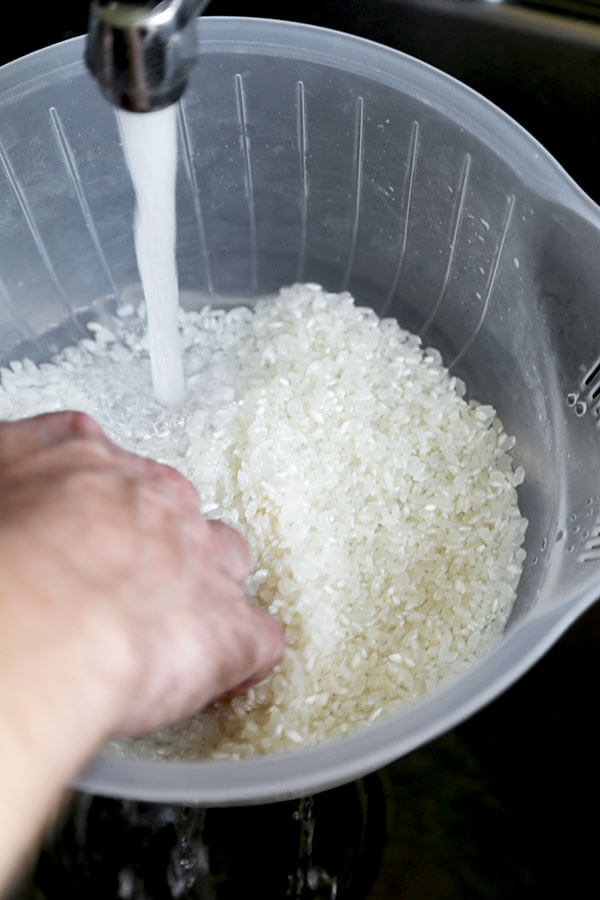 Ingredients for Spicy Tuna Rolls (Easy Version)
Tuna: I'm using canned tuna for this simplified, kid friendly version. No matter how bare my pantry is, there's usually a can of tuna in there.
Sriracha Sauce: Sriracha delivers a spicy (and mildly sweet) kick without being overtly volcanic.
Chili Oil: Japanese chili oil is a mildly spicy condiment made by infusing veggie or sesame oil with red chili peppers. It imparts a wonderful depth of flavor. I only use 1/2 tsp.
Rice Vinegar: Mildly tart with fruity and sweet notes, rice vinegar elevates the spicy tuna mixture from being one note. It also reduces some of the 'fishiness' of the canned tuna.
Scallions: Finely chopped green onions bring a subtle crunch and freshness.
Mayonnaise: Use whatever you have handy in the fridge. I tend to use light mayo and vegan mayo most of the time. However, many sushi restaurants use Japanese Kewpie mayo. If you want to make Kewpie style Japanese mayonnaise at home, check out this step-by-step recipe.
Seaweed Sheets (Nori): Toasted nori sheets are commonly used when rolling sushi – but the seaweed sheets aren't just there to keep everything from spilling out of the roll. There's a toasty, savory, marine flavor that enhances the overall bite.
Cooked Japanese Rice: I use Japanese short-grain rice. But, to keep it kid friendly – and easy – there's no need to make sushi rice from scratch (more on this in a sec).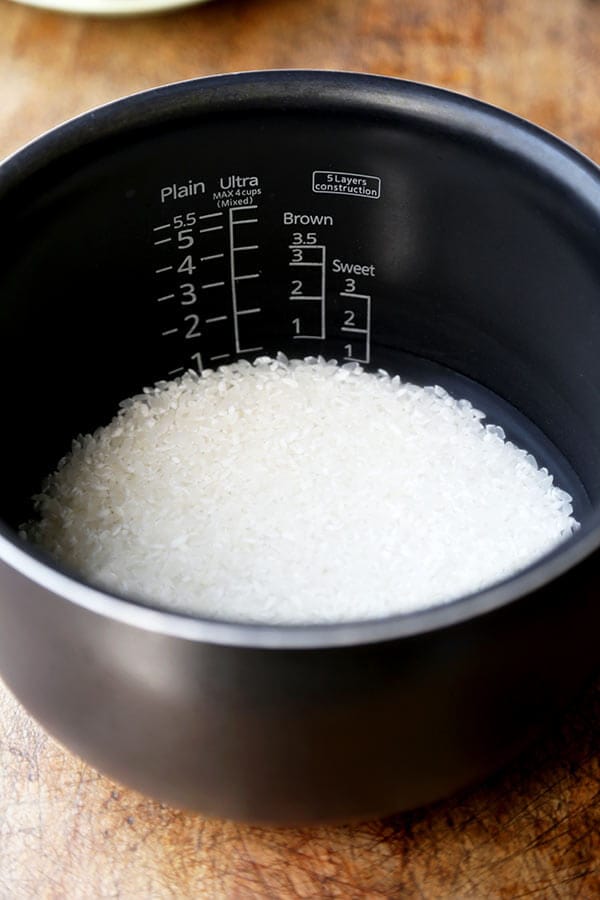 How To Make Spicy Tuna Roll
Rolling maki (sushi rolls) for the first time can be a bit of a challenge. Too loose, and the rolls are sloppy and won't stick together. Too tight, and the fillings get squeezed out of the ends, or your delicate sheets of nori rip apart.
Nevertheless, it won't take more than a little bit of trial and error before you're rolling your very own homemade spicy tuna roll with the confidence of a sushi master.
The Rice
Proper sushi rice has a bit of rice vinegar, sugar and salt added to it while cooling – however, I left it out of this recipe to keep this spicy tuna roll an easy recipe to whip up using leftover rice and a few pantry staples.
If you're cooking rice from scratch for your own spicy tuna maki, check out this post on how to make Japanese rice.
Just make sure you use short grain Japanese rice as it's stickier than medium grain. You should also rinse the rice well under water, in a Japanese rice strainer preferably, swishing it around with your fingers until the water runs clear. This gets rid of excess starch from the grains. 
Once the Japanese rice is cooked, transfer it to a large bowl and let it cool to room temperature.
While the rice is cooling you can set up your work station. You are going to need a bowl of tepid water to dip your hands into it to prevent them from getting too sticky. Place your spicy tuna mix next to it and a sushi bamboo mat next to the bowls.
The Filling
Just mix the tuna (drained) with the sriracha sauce, chili oil, scallions rice vinegar and mayo. Stir until the spicy tuna mixture is even.
How to Roll Spicy Tuna Rolls
Place a nori sheet, shiny side down, on a sushi mat and spread about 1/4 cup of rice to one side of the sheet.
Spread the rice using your fingers so it's in a flat thin layer and covers about half of the sheet.
Add a line of spicy tuna mix in the center of the rice and lightly spread it.
Grab the bamboo from both ends of the side with the nori sheet and start rolling.
Roll it tight enough so the rice feels tight but no so tight that the tuna mixture spills out from the ends. Keep rolling until there is a little nori sheet left.
Wet your fingers and lightly run them across the bottom edge of the nori sheet. Continue rolling until the mat comes off.
Wet a sharp knife and slice the roll in half. Slice into bite size pieces and cut off the ends if you want the roll to look neater.
Congratulations, you just made spicy tuna rolls! If you're a visual learner (like me), check out this video for the steps.
What Is In a Spicy Tuna Roll
I think there are many different recipes for spicy tuna roll as I've noticed the flavor varying slightly from restaurant to restaurant. So the answer to this question would be – it depends where you get it!
Some serve the sushi grade tuna in one piece while others finely chop it up.
There can also be crunchy tempura bits added to the roll or chopped green onions, or neither. Sesame seeds make an appearance from time to time.
But there is one thing that remains the same in all the rolls I've had – the spicy sauce made with sriracha and mayonnaise. What you decide to add to the sauce after is up to you.
I like mine with a dash of rice vinegar and chili oil for extra heat. And because this is the poor man's version, I'm using canned tuna instead of fresh tuna.
This poor man's spicy tuna roll is a great way to introduce people, that might be a little squeamish about eating raw fish, to the wonderful flavors of sushi. Plus, it's a lot cheaper to make than to eat the real thing – but just as good and satisfying.
The perfect evening snack
As the movie played on, we devoured the creamy, toasty and spicy tuna rolls with abandon. They were absolutely delicious! What made them even better was a slight dip (not too much!) in a ramekin of soy sauce and wasabi.
There's always time to work your way up to devouring raw uni, ikura and hotate nigiri in the future. Also, this is a fun food project moms and dads can do with the kids that is totally tasty and might present an opportunity for a little bonding in the kitchen.
Look at this spicy tuna roll recipe as a model-airplane-assembly session with the kids – but with yummy food!
Other simple and delicious Japanese rice recipes you can serve as evening snacks:
Did you like this poor man's spicy tuna roll recipe? Are there changes you made that you would like to share? Share your tips and recommendations in the comments section below!
---
Print
Spicy Tuna Roll (Poor Man's)
A kid friendly Poor Man's Spicy Tuna Roll Recipe you can easily make with everyday pantry ingredients! Ready in 25 minutes from start to finish.
Author: Caroline Phelps
Prep Time:

25 minutes

Total Time:

25 minutes

Yield:

6

people

1

x
Category:

Rice

Cuisine:

Japanese
5 ounces

can tuna in water (well drained)

1 tablespoon

sriracha sauce

1/2 teaspoon

chili oil

1/2 teaspoon

rice vinegar

2 tablespoons

scallions (finely chopped)

1 1/2 tablespoons

light mayonnaise

6

nori sheets (seaweed)

1 1/2

cups

cooked Japanese rice (room temperature), or sushi rice –

v

isit my post on how to make sushi rice
Instructions
In a bowl, mix tuna, sriracha sauce, chili oil, rice vinegar, scallions and mayonnaise.
Place a sheet of nori on top of a bamboo mat (sushi roller).
Set a small bowl of water next to the sushi roller and wet your fingers. Add ¼ cup cooked rice to one side of the nori sheet and spread it by pressing down (you may need to add more rice – just make sure it's thinly spread out). Continue until at least 3/4 of the nori sheet is covered.
Add a line of spicy tuna mix to the center of the rice (about 1½ tablespoons, or more if you like bigger rolls).
Roll up the bamboo mat (starting with the side with the rice and spicy tuna). You have to roll it tight enough that the rice feels condensed, but not so tight that the tuna mixture spills out (or the nori sheet breaks). You'll get the hang of it after doing it a couple of times. Keep rolling until there is only a bit of nori left visible.
Wet your fingers and run them across the inside edge of the nori sheet. This will seal the end of the roll. Keep rolling and delicately remove the bamboo mat.
Wipe a sharp knife with a wet cloth and cut the roll into bite size pieces.
Serve with soy sauce and wasabi.
Notes
This Spicy Tuna Roll Recipe is best served immediately after making. The rice will harden very quickly if refrigerated.
Nutrition
Serving Size:

6

Calories:

106

Sugar:

0.5g

Sodium:

98.1mg

Fat:

2g

Saturated Fat:

0.4g

Unsaturated Fat:

0.9g

Carbohydrates:

14.3g

Fiber:

0.1g

Protein:

6.8g

Cholesterol:

10.5mg
Keywords: maki rolls, makizushi, maki sushi
Recipe Card powered by