Ahi tuna is a delicious and healthy protein that is perfect for making tartare. This tuna tartare recipe is easy to follow and results in a dish that is full of refreshing flavors, perfect to serve as an appetizer or a main. It's both tasty and beautiful and pair well with some simple sides for a quick and elegant meal. It's one of my favorite tuna recipes!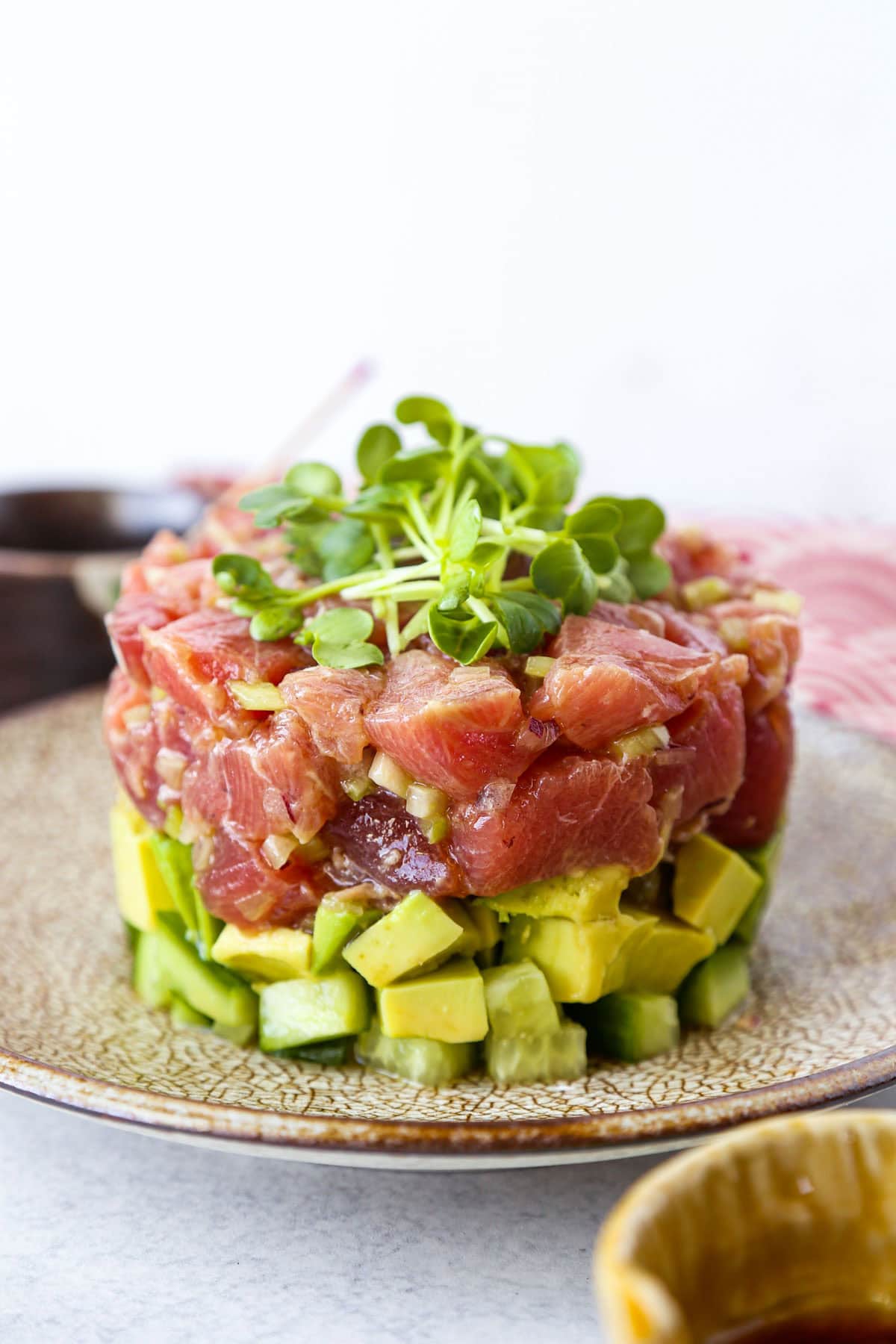 What is Tuna Tartare?
Tuna tartare is a dish made of raw tuna that has been cut into small piece and mixed with chopped onions and a citrus and soy sauce based dressing. The original tuna tartare was created in 1983 by chef Shigefume Tachibe who worked at Chaya Brasserie in Los Angeles. Looking to please customers who wanted something light and refreshing, he took some of the classic steak tartare ingredients – a raw egg, onions, and pickles – and combined them with freshly chopped tuna, a squeeze of lemon juice, and chopped avocado.
Nowadays tuna tartare comes in different flavor combination and most of the recipes do not include a raw egg. The most common flavor profile is soy sauce, wasabi, and lemon juice, and the chopped tuna is served with cucumber and avocado.
Why Tartare and Not Crudo or Sashimi?
The French word tartare is used in cooking whenever an ingredients has been chopped into small pieces and mix with seasoning or a dressing of some kind.
Crudo is an Italian and Spanish word that simply means raw. In cooking, it is a blanket term used whenever seafood or meat is sliced (it can be sliced in any shape or form) and served with a vinaigrette or some type of light seasoning.
Sashimi is a Japanese word used when seafood or meat is carefully sliced and served with very little to no sauce or seasoning. Only high quality fish, shellfish, or meat is used as the main goal of the dish is to let the quality of the ingredient shine. It can sometimes be lightly marinated.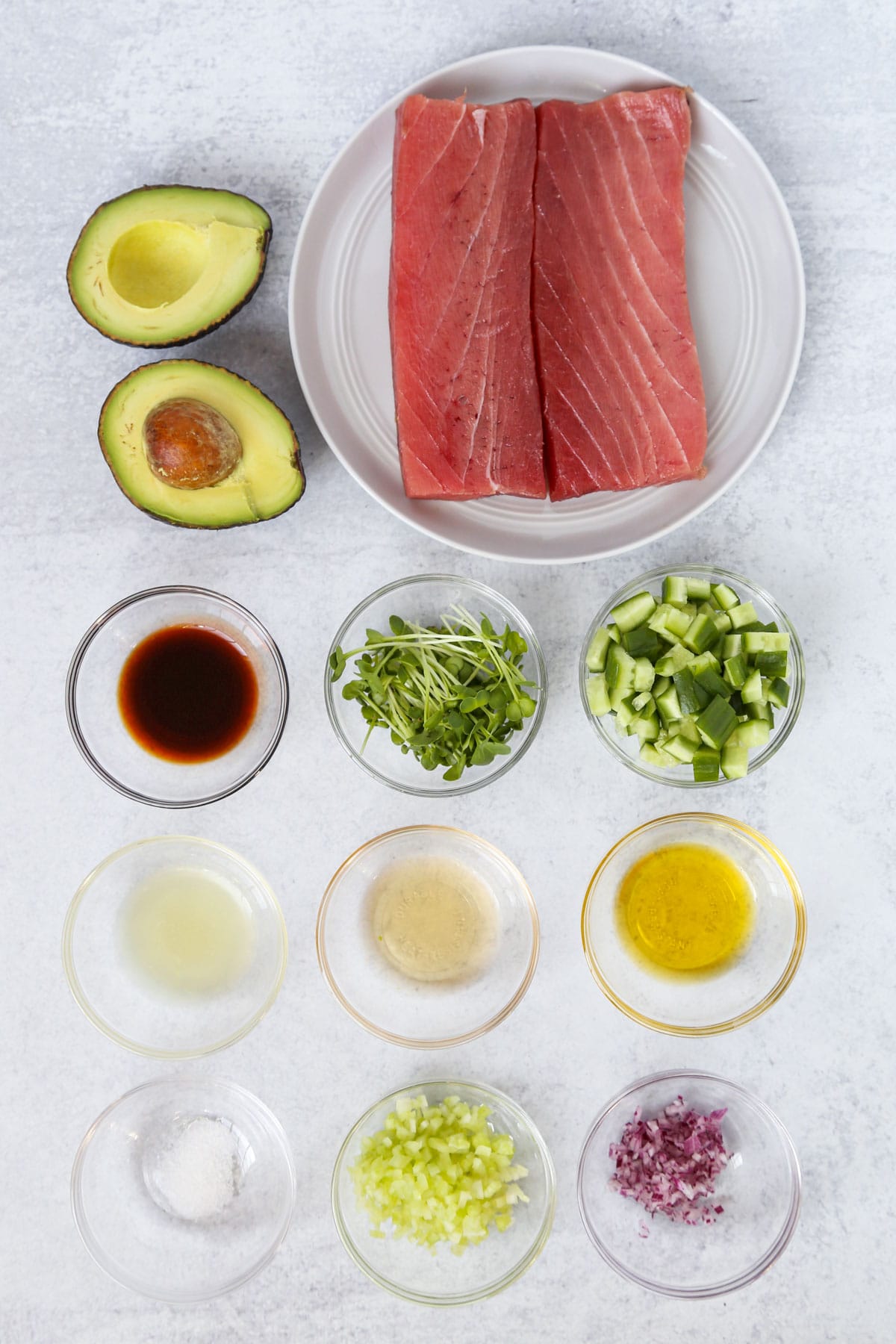 What is Sushi Grade Fish?
Sushi grade or sashimi grade fish is a term used to mean that the fish you are buying is safe to eat raw. It's a term mostly used in North America since most Canadians and Americans only eat raw fish in the form of sushi or sashimi. It doesn't meant that the quality of the fish has passed a rigorous test to be deemed safe to eat. It's what you call an unregulated term.
The fish market or seller is the only one making the final decision about the quality of the fish. Therefore, it is not the safest way to go about eating raw fish unless you trust the establishment. It's also worth noting that the safest fish to eat that are labeled sushi grade or sashimi grade are tuna and salmon.
I personally only purchase fish that are labeled sushi grade or sashimi grade, but I also only get my fish from Nijiya and Mitsuwa, which are two Japanese supermarkets that I trust. I wouldn't feel comfortable buying fish to eat raw from general grocery stores chains. Unless it's from a Japanese supermarket or a local fish market, I skip all homemade raw dishes.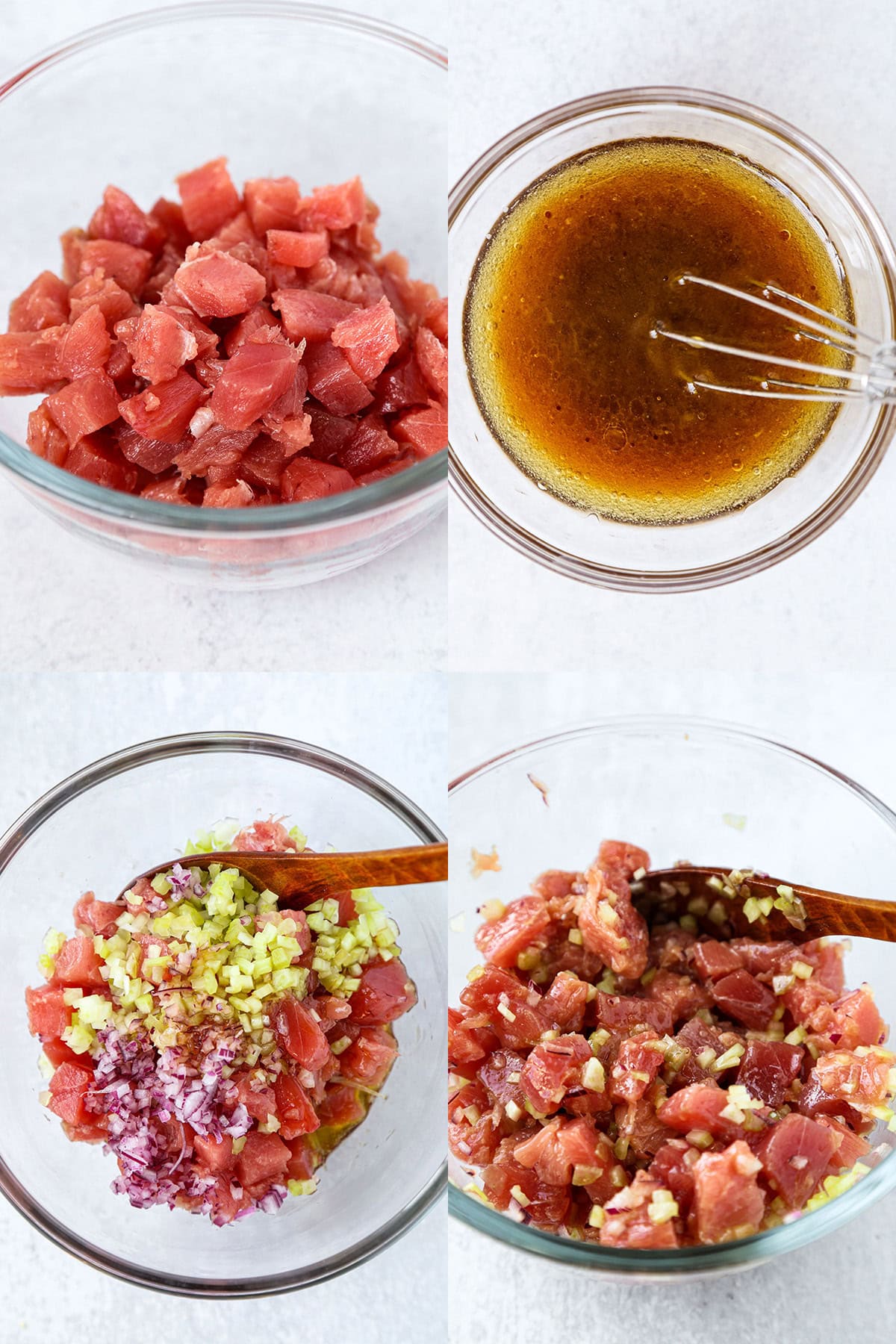 Can I Use Other Fish to Make This Tartare Recipe?
Yes you can but keep in mind that the two safest raw fish to eat are tuna and salmon.
So, obviously, salmon is an option and will pair beautifully with the flavors of this dish. Yellowtail (hamachi) is another great fish for a tartare, and if you can find good high quality raw shrimp, that's another delicious option I can guarantee you will love.
What About Frozen Tuna?
High quality frozen tuna – meaning wild caught and sustainable, such as Wild Alaskan Company – should be fine and safe to eat. Make sure it is safe for raw consumption by contacting the company if nothing is mentioned on the packaging.
But do keep in mind that freezing fish doesn't kill all germs and parasites contrary to popular belief. That's why it's important to invest in good fish when deciding to serve it raw. And you can't find fresher fish than your local fish market, which should also sell them frozen.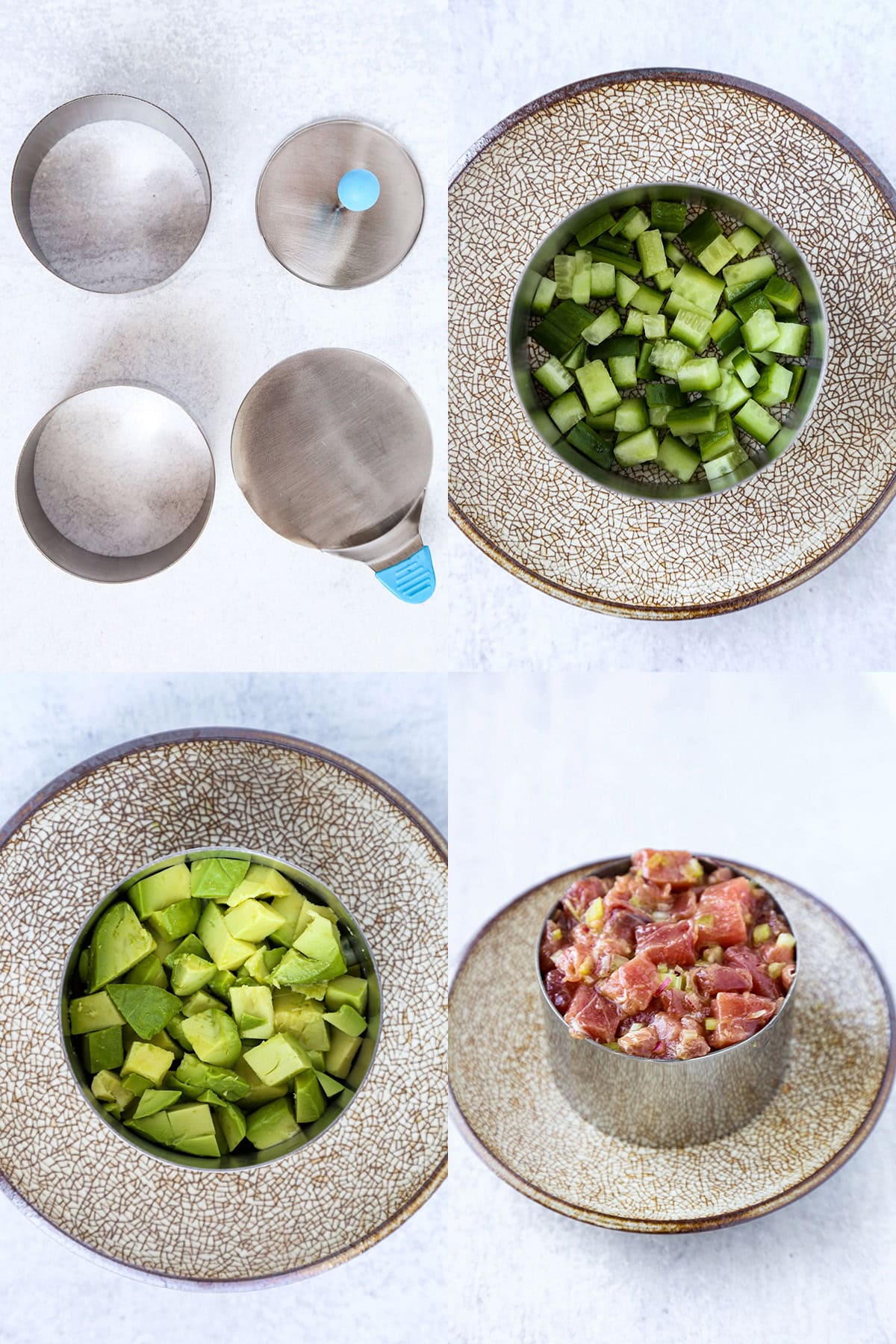 Tuna Tartare Ingredients
Raw tuna: Find a good piece of raw ahi tuna (also called yellowfin tuna) that contains little sinew. Fresh raw tuna doesn't have a strong fishy smell and has a pale pink to deep red color.
Olive oil: Use good quality olive oil as this will impart notes of herbs and fruit to the dish.
Rice vinegar: Plain rice vinegar is what I like to use, but apple cider vinegar can also be an option.
Lime juice: Lime juice adds a refreshing citrus taste to vinaigrette. You can also use yuzu juice or sudachi juice for a citrus flavor with a twist.
Soy sauce: Only use Japanese soy sauce such as Yamasa or Kikkoman to make this tartare. The reason being that Japanese soy sauce is more complex in flavor instead of just being salty or sweet.
Salt: A little salt helps to bring all the flavors of the vinaigrette together.
Red onion: Finely chopped red onion infused the dish with a little sweetness and a hint of purple color.
Celery: The celery adds crunch and a slight leafy taste to the tartare.
Cucumber: I recommend using English or Kirby cucumber for their firm and crunchy texture.
Avocado: Use a ripe avocado for this recipe as it will add a rich and creamy element to the dish.
Microgreens: Microgreens are optional since they are more of a garnish, but do add a lovely refreshing taste. You can also use radish sprouts as a substitute.
Variations
There are many different and delicious ways to dress tuna tartare. My recipe is light and mild so feel to add to it with some of the ingredients listed below:
Sesame seeds
Sesame oil
Grated ginger
Chopped green onions
A squirt of sriracha sauce to add some heat and a peppery taste
A little wasabi for some heat and a refreshing taste
Ponzu sauce for extra citrus and soy flavors
Tempura bits as a topping to add some crunch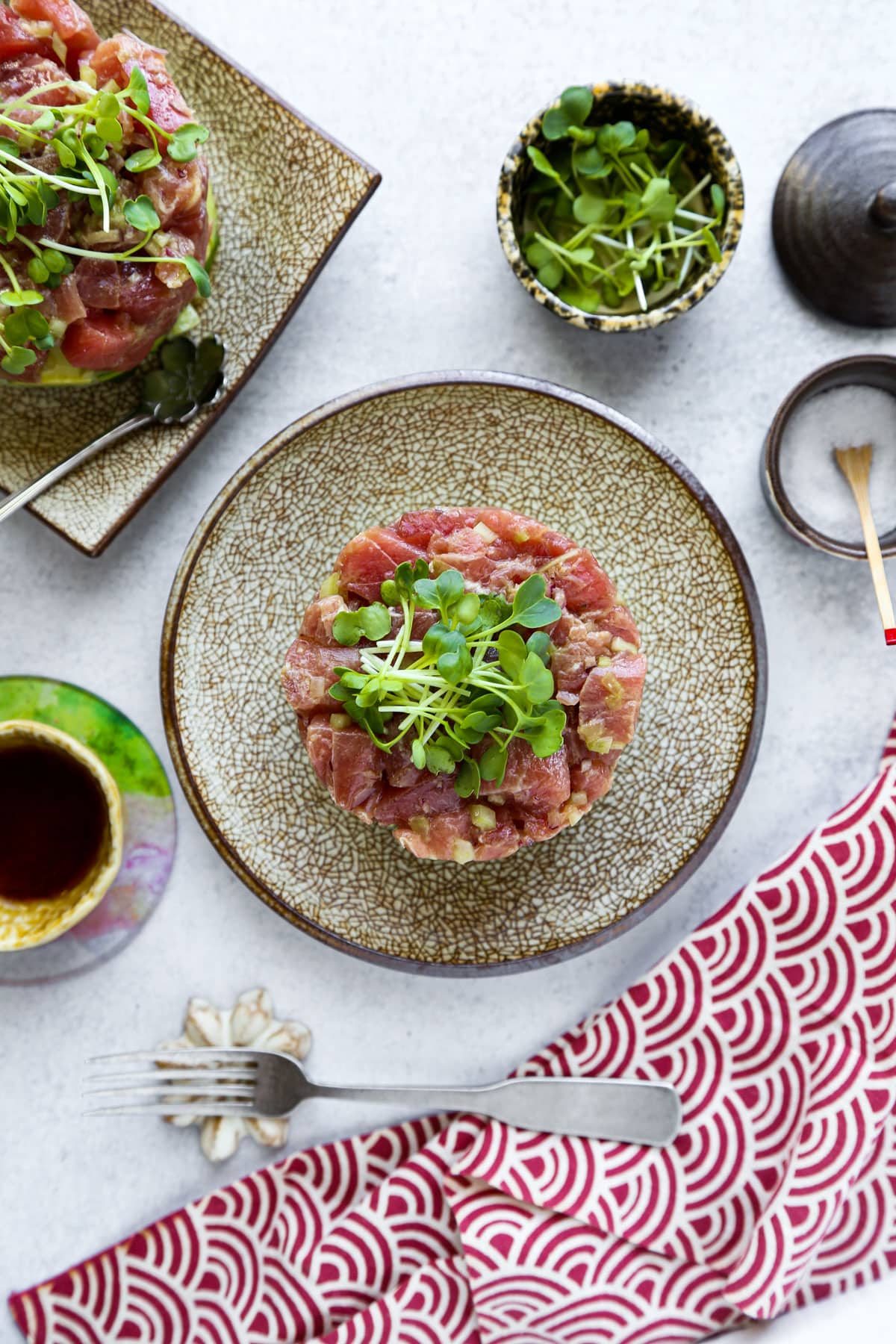 How to Make Tuna Tartare
Scroll all the way down to the recipe card for the full recipe.
Place the tuna steak on a clean cutting board and using a sharp knife, chop into bite size pieces.
Make the vinaigrette by whisking the olive oil, rice vinegar, lime juice, soy sauce, and salt.
Using a spoon, mix the tuna, red onion, celery, and vinaigrette.
Put the dish together by placing a round food mold on a plate and adding a layer of cucumber, followed by a layer of avocado, and a layer of the tuna mixture. Do the same for the remaining food molds.
Top the dish with microgreens, remove the food molds and serve.
Is Tuna Tartare Healthy?
Tuna tartare is very healthy! Both tuna and avocado are packed with omega 3 healthy fats and contain minerals such as potassium and magnesium and vitamins such as vitamin B6, C, and E. Tuna is also low in calories and very filling since it's high in protein, making it in an excellent choice for those watching their caloric intake.
Tuna tartare also contains lime juice which is high in vitamin C and is excellent for the skin, olive oil which is good for the heart, and cucumber which is rich in vitamin K, and important nutrient for bone health.
What to Serve with Tuna Tartare
Tuna tartare can be served as a main dish, an appetizer, or a side. This recipe makes enough for two mains or four appetizers or side dishes.
If you are eating this as a main I recommend serving the tartare with small sides as it can be quite filling. The classic Japanese restaurant combination of miso soup and green salad with carrot ginger dressing should be plenty.
To serve as an appetizer or a side, I suggest pairing the clean and refreshing flavors of this tuna recipe with light dishes such as these ones: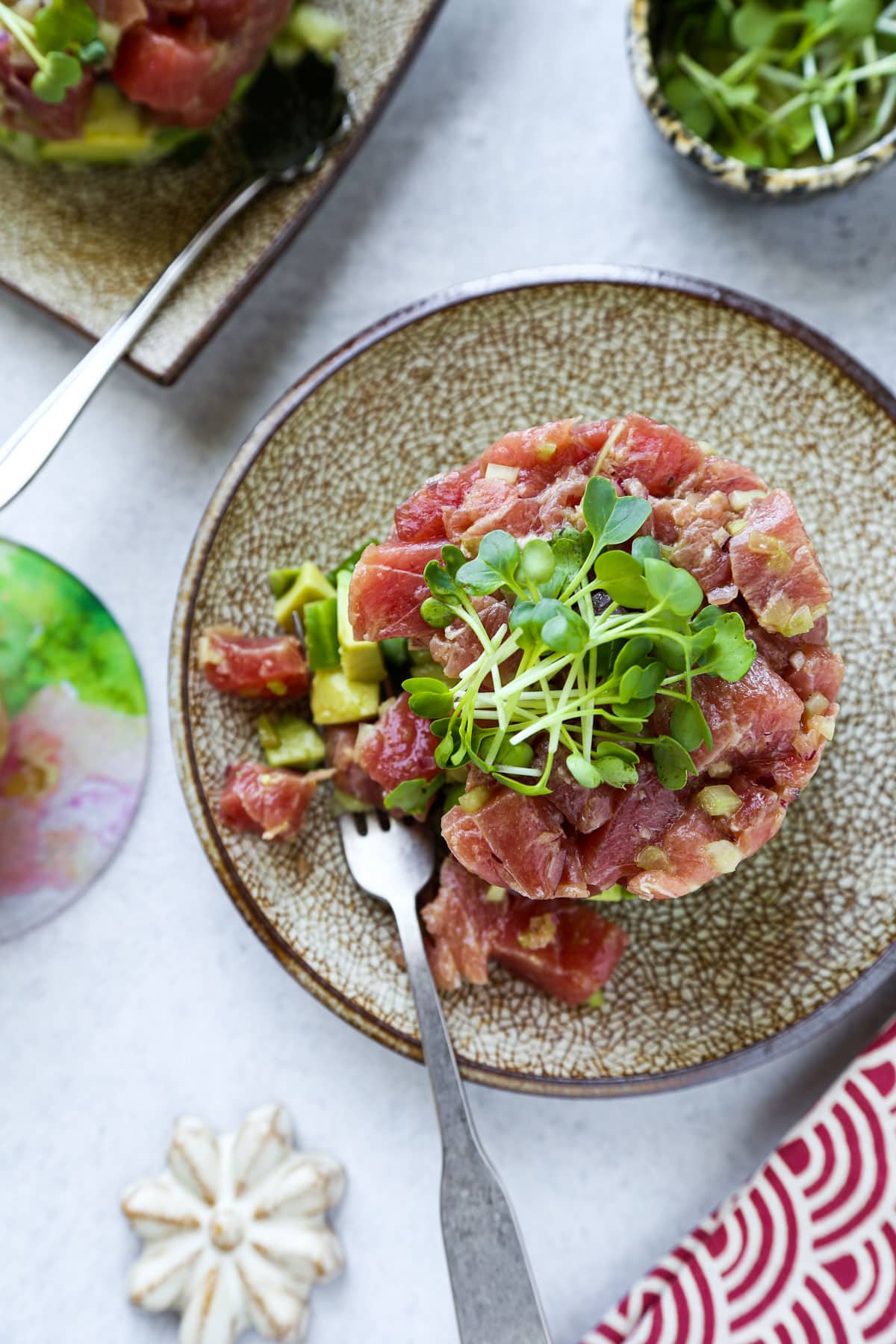 Other Tasty Seafood Recipes You Might Like
Did you try this tuna tartare recipe? Are there changes you made that you would like to share? Share your tips and recommendations in the comments section below!
Print
Tuna Tartare
Author: Caroline Phelps
Prep Time:

20 minutes

Cook Time:

N/A

Total Time:

20 minutes

Yield:

4

appetizer size servings

1

x
Category:

Appetizer

Method:

N/A

Cuisine:

French Japanese

Diet:

Low Calorie
300

g

sushi grade tuna, yellowtail, or salmon

2 teaspoons

olive oil

2 teaspoons

plain rice vinegar

1 tablespoon

freshly squeezed sudachi juice, lime juice, or yuzu juice

1 tablespoon

soy sauce

1/4 teaspoon

kosher salt

1 tablespoon

finely chopped red onion

1/2

celery stick, finely chopped

3/4

cup

English or Kirby cucumber, diced

1

avocado, peeled, pitted, and chopped into small bite size pieces

1/4

cup

microgreens or radish sprouts, chopped
Instructions
Place the tuna on a cutting board that has been thoroughly cleaned. Using a sharp knife, chop the tuna into small cubes. Set aside.
Add the olive oil, rice vinegar, sudachi juice, soy sauce, and salt, to a bowl and whisk to combine.
Add the chopped tuna, red onion, and celery to the bowl, and mix well using a spoon.
Using round food molds: Place one on each serving plate. Divide the cucumber among the two molds and top with the avocado. Finish by topping with the chopped tuna tartare and gently press down. Gently remove the molds and top with microgreens. Serve.
Using ramekins: Divide the tuna tartare among two ramekins and top with avocado, and cucumber, and gently press down. Place a serving plate on top of each ramekin and gently flip them over. Top with microgreens and serve.
Notes
For any leftovers, refrigerate in an airtight container for up 2 days. It won't taste as good though so I recommend enjoying this tartare fresh, the day you make it. 
Nutrition
Serving Size:

1 appetizer size serving

Calories:

170

Sugar:

1g

Sodium:

233mg

Fat:

8g

Saturated Fat:

1.2g

Unsaturated Fat:

1g

Trans Fat:

0g

Carbohydrates:

5.1g

Fiber:

2.7g

Protein:

19.5g

Cholesterol:

29.3mg
Recipe Card powered by