This is a sweet, spicy and smoky honey sriracha oven baked salmon recipe you won't be able to stop eating – and you only need 10 ingredients and 25 minutes to make it!

This easy baked salmon recipe is a seafood take on the honey sriracha tofu recipe I published a few months ago – and one that remains a favorite among my readers. It's not surprising since the sweet, spicy and smoky glaze is so delicious and dangerously addictive!
When I created the tofu dish, I used the combination of honey and sriracha sauce to show that tofu can be a super tasty treat to make for dinner. You can imagine how happy I was (and still am) to see that people all over the web were loving it as much as I did!
It even converted tofu haters into lovers – a huge compliment for a home chef like me!
I have since used the recipe for chicken and beef but what really made me go WOW was when I reduced the sauce and used it as a glaze for oven baked salmon. Even Ben, who isn't a fan of salmon was blown away by how good this dish came out.

The Best Salmon Recipe
From the caramelized edges to the initial kick of heat in your mouth, this is one salmon recipe you will be dreaming about for days on end.
The salmon seasoning is loud and blends beautifully with the refreshing flavors of the fish. Serving it with freshly chopped cilantro is optional but will add an added pop of color and a smidge of pungency to this already delicious and vibrant dish.
Let's cook!

What is Sriracha?
Sriracha (pronounced "see-rah-jah") is a sauce that hails from the city of Si Racha, on the eastern coast of Thailand. It was first made over 80 years ago by Ms. Thanom Chakkapak who manufactured her recipe after it was a big hit among friends and family. It quickly became the no.1 selling sauce across Thailand but didn't make an appearance in the US until 1980 when David Tran, founder of Huy Fong Foods, created his own version of the sauce. That's the sauce you see everywhere with the clear bottle, green cap, and iconic rooster.
What Does Sriracha Taste Like?
The bright red sauce is made of chili peppers, sugar, garlic, vinegar, and salt. Sriracha sauce can taste vastly different from brand to brand. The original one from Thailand is more sweet and smoky, while the Roland brand is more acidic and mild. For this recipe I'm using Huy Fong which is sweet, tangy, and hot.
How Spicy is Sriracha Sauce?
This depends on the brand of sauce and your tastebuds. For example, the Huy Fong brand ranks between 1,000-2,500 in heat units which makes it less spicy than a Jalapeño pepper. But keep in mind that it's still a hot sauce so there is definitely a good amount of heat in it!
Nothing that will make you cry though 🙂.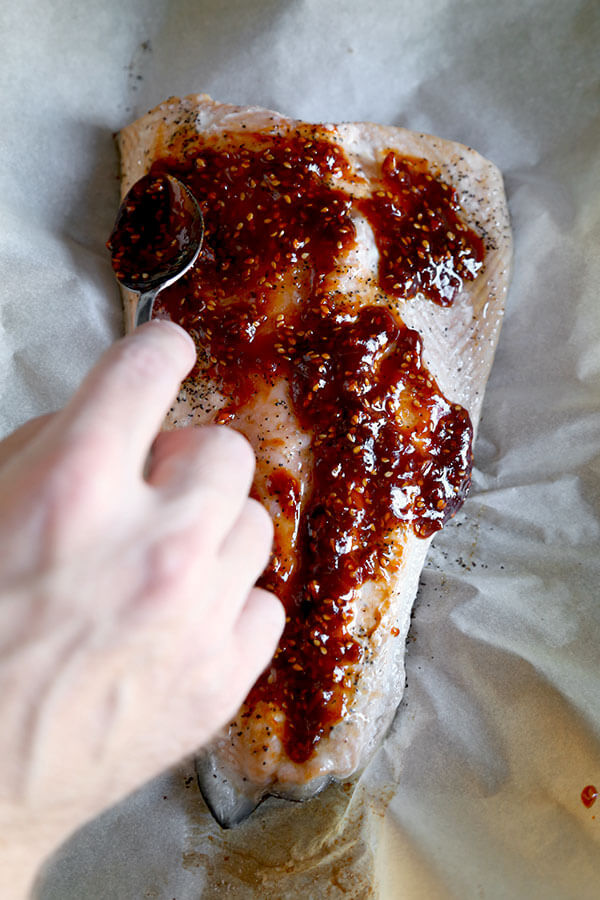 Ingredients for Honey Sriracha Oven Baked Salmon
Salmon Fillet: I'm using a pound of boneless salmon fillet but you can use any type of cut for this recipe. I prefer boneless because it's easier to eat.
Oil: Choose a neutral oil such as vegetable, corn, or grapeseed, so as not to alter the flavor of the salmon seasoning sauce.
Garlic: One clove for a little pungency, minced.
Sriracha Sauce: I'm using Huy Fong's Sriracha sauce but you can use any other brand for this recipe.
Soy Sauce: The soy sauce adds umami and earthiness to the glaze, only one tablespoon is needed.
Honey: Honey is for sweetness and to balance the saltiness of the glaze. Feel free to add an additional half a tablespoon if you like it sweeter.
Rice Vinegar: Use plain rice vinegar to add a layer of tanginess to the sauce.
Sesame Oil: A little sesame oil goes a long way. One teaspoon is plenty to infuse the glaze with nuttiness.
Sesame Seeds: This is mostly decorative but it also adds a little crunch to the dish.
Cilantro: Optional but highly recommended! If you like pungent Asian dishes like I do, go wild on chopped cilantro, you won't regret it!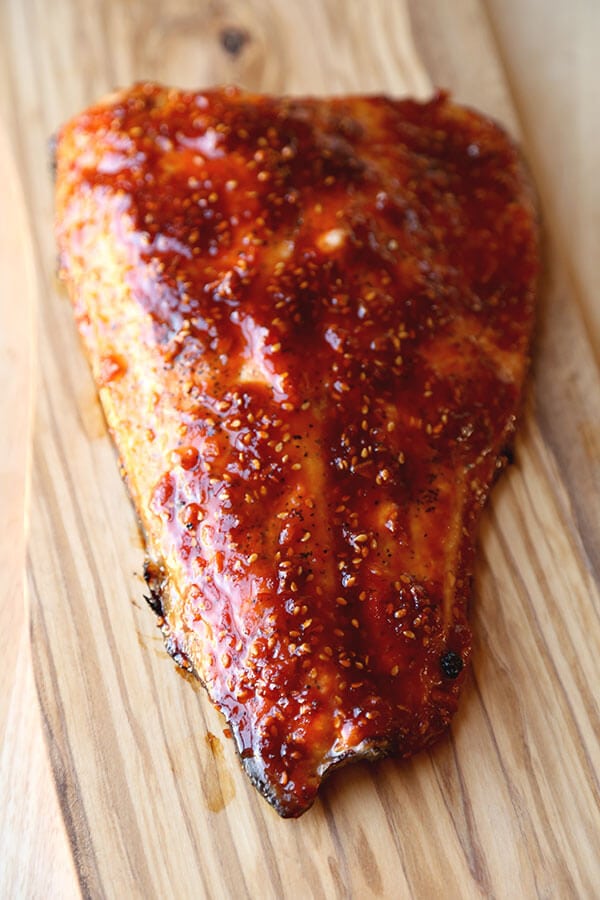 How to Cook Salmon
You will need a cooking tray and parchment paper to make this recipe.
Preheat your oven to 425ºF.
Line a cooking tray with parchment paper and place the salmon fillet on top with the skin side down. Lightly season with salt and pepper on both sides.
Cover the salmon fillet with another piece of parchment paper and bake in the oven for 10 minutes.
While the salmon is baking, place all the ingredients for the sauce in a small pot and cook on low to medium heat until it boils. Turn the heat to low and cook for 8-10 minutes until the sauce has reduced by half and has thickened.
Transfer the sauce to a bowl and stir in the sesame seeds.
Take the salmon out of the oven and brush the top of the fillet with the sauce, covering the surface evenly. Use all the sauce.
Bake the salmon for an additional 8-10 minutes until it's cooked through and top with fresh cilantro.
Enjoy!
What to Serve with Salmon
Since this dish is quite assertive in flavor, I like to serve sides that are mild and in keeping with the theme of the dish, Asian influenced. Some of my favorites are: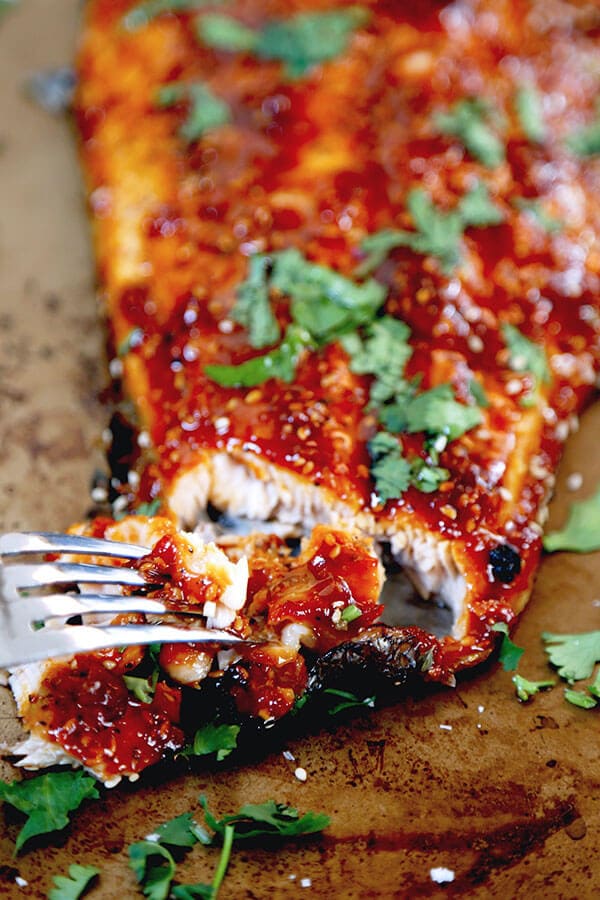 Did you like this baked salmon with honey sriracha sauce? Are there changes you made that you would like to share? Share your tips and recommendations in the comments section below!
Print
Baked Salmon with Honey Sriracha Sauce
This is a sweet, spicy and smoky honey sriracha oven baked salmon recipe you won't be able to stop eating – and you only need 10 ingredients and 25 minutes to make it!
Author: Caroline Phelps
Prep Time:

5 minutes

Cook Time:

20 minutes

Total Time:

25 minutes

Yield:

4

people

1

x
Category:

Fish and seafood

Method:

Baking

Cuisine:

Thai
1

pound

boneless salmon fillet
handful cilantro leaves (optional)
Sriracha glaze
1 tablespoon

vegetable oil (or other neutral oil)

1

clove garlic (finely chopped)

2 tablespoons

sriracha sauce

1 tablespoon

soy sauce

1 1/2 tablespoon

honey

1 tablespoon

rice vinegar

1 teaspoon

sesame oil

1 tablespoon

sesame seeds
Instructions
Preheat oven to 425ºF.
Line a cooking tray with parchment paper and lay salmon fillet on top (skin side down). Season with salt and pepper.
Cover salmon with another piece of parchment paper and bake for 10 minutes.
Meanwhile, put all the ingredients for the glaze EXCEPT sesame oil and seeds, in a pan and bring to a boil. Lower heat to a bubbling simmer and cook for 8-10 minutes, until sauce has thickened and reduced by about half. Transfer to a bowl and stir in sesame oil and seeds.
Glazing:
Use a brush or the back of a spoon and cover the top of the fish with the glaze mixture, spreading it as evenly as possible.
Return salmon in the oven for 8-10 minutes, until cooked through.
Serve topped with fresh cilantro.
Notes
This Honey Sriracha Oven Bake Salmon Recipe will keep refrigerated for up to 2 days.
Nutrition
Serving Size:
Calories:

223

Sugar:

7.7 g

Sodium:

359.8 mg

Fat:

9.4 g

Saturated Fat:

1.8 g

Carbohydrates:

9.3 g

Fiber:

0.5 g

Protein:

26.2 g

Cholesterol:

59.7 mg
Keywords: Roasting, main, dinner
Recipe Card powered by