Let's hear it for comfort food! This fish stew delivers a mix of garden freshness with the deep flavors of the sea. Easy to make at home and ready in less than 45 minutes!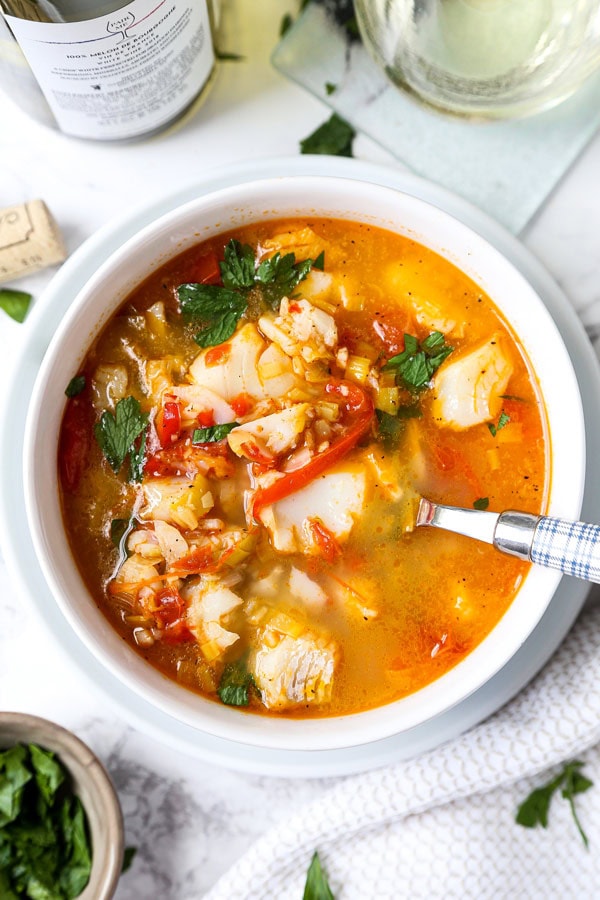 Ben was hovering. He tends to do that when I'm in the kitchen and appetizing smells start wafting towards him.
"Is that the fish stew?" he asked, knowing full well that it was.
You see, he's a little crazy about all fish soups. Whether it's this sour Filipino salmon sinigang, or a tomato based seafood and fish stew like cioppino – or this cream based Japanese clam chowder, he's all in when it comes to the myriad seafood soups out there.
So when he grabbed the ladle and snuck a sip of this leek and red pepper loaded fish stew as it was still bubbling away in the soup pot, I was super happy to see that look he gets in his eyes when he really likes something.
And I really hope YOU love this easy fish stew recipe as much as he does! Ready in under 45 minutes, I think you'll be shocked by the amount of flavor you can develop in such a short time in your own kitchen!
What does this fish stew taste like?
Well, in this recipe there's a garden fresh lightness, countered by a marine saltiness and just the slightest hint of the sharp edge you'll sometimes get when cooking with wine or brandy. In short, it's delicious! And it has just the right balance of flavors to come back for seconds (and thirds!).
And all that flavor has gotta come from somewhere. So let's take a look at the ingredients you'll need to make this easy fish recipe.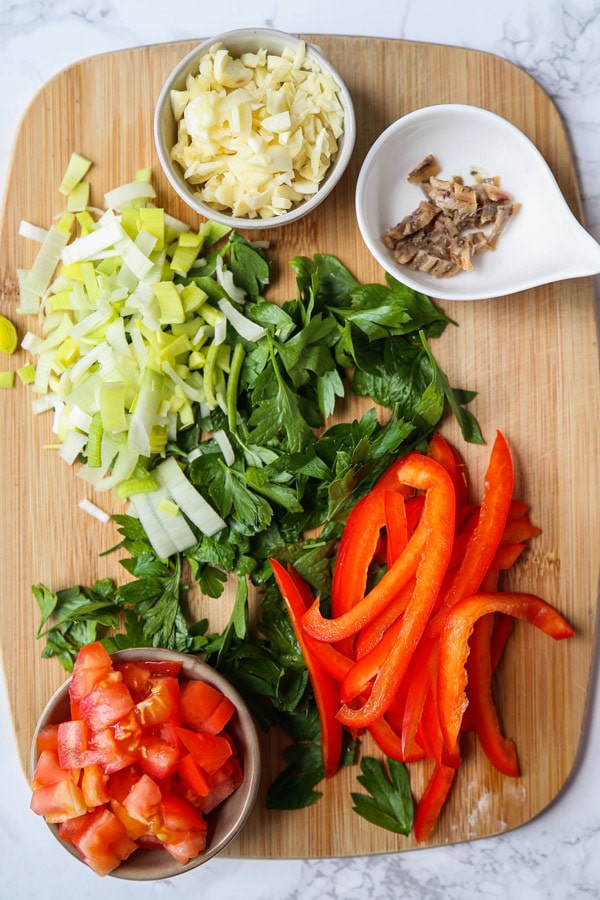 Fish stew ingredients
Extra Virgin Olive Oil: Use the good stuff. Starting your aromatics simmering in first press olive oil will set the tone for the entire dish.
Minced Garlic: Garden fresh pungence is at the core of this fish soup. This is an important layer.
Anchovy Fillets: There's no need to make fish stock with these little flavor bombs at your fingertips. When mixed with your white wine and chicken (or veggie) stock, you'll taste the Medeterrenean in record time!
Leeks: With its mild onion flavor and light chew, leeks help develop the freshness factor in this heady soup.
Red or Yellow Bell Pepper: A pop of color and a dash of sweetness is what peppers bring to this otherwise savory stew.
Fresh Tomatoes: Adding chopped fresh tomatoes brings a bright, acid twist and more garden goodness to the party!
White Wine: This is super important to the overall flavor! Choose a dry white wine you enjoy drinking on its own.
Low Sodium Chicken Stock: Why low-sodium? Because the anchovy filets bring the salt to this yummy fish broth. Chicken broth delivers a deep, soulfulness to this fish stew. As an alternative, you can use vegetable broth if you prefer.
Skinless Boneless Fish Fillets: I prefer halibut, cod or sea bass (more on this in a sec).
Flat Leaf Parsley: This is where you get the real essence of the garden! With it's natural brightness, parsley seems to be the great unifier of all the savory flavors in this delicious stew.
Best fish for fish stew
A sturdy yet delicate white fish is usually best when making fish stew. You want it to stand up to being simmered with vegetables in broth without falling apart – but it should also be pleasingly tender when eaten. I prefer boneless cod, halibut or sea bass.
Steer clear of fish which is too tough or super oily (like a tuna steak or mackerel). They just won't work as well in this delicate fish stew.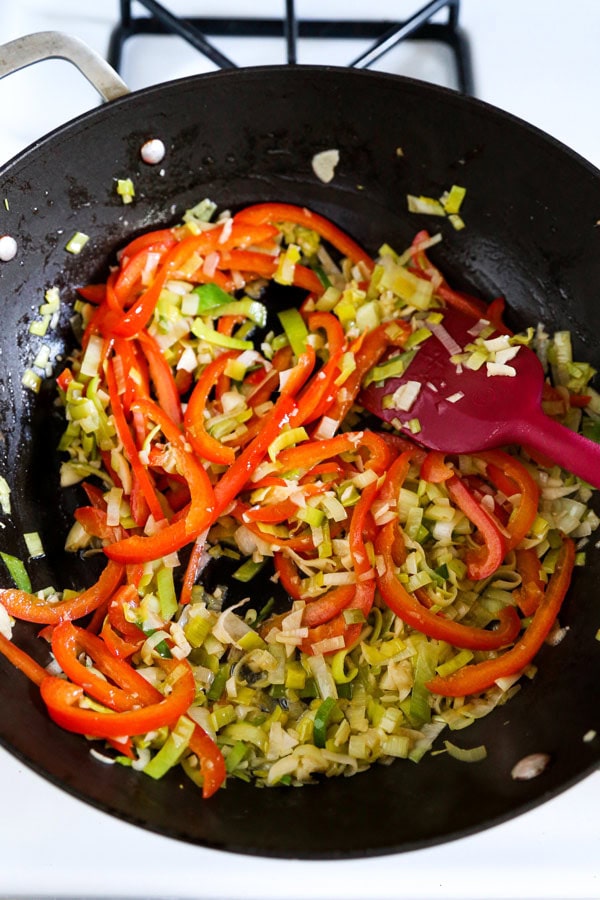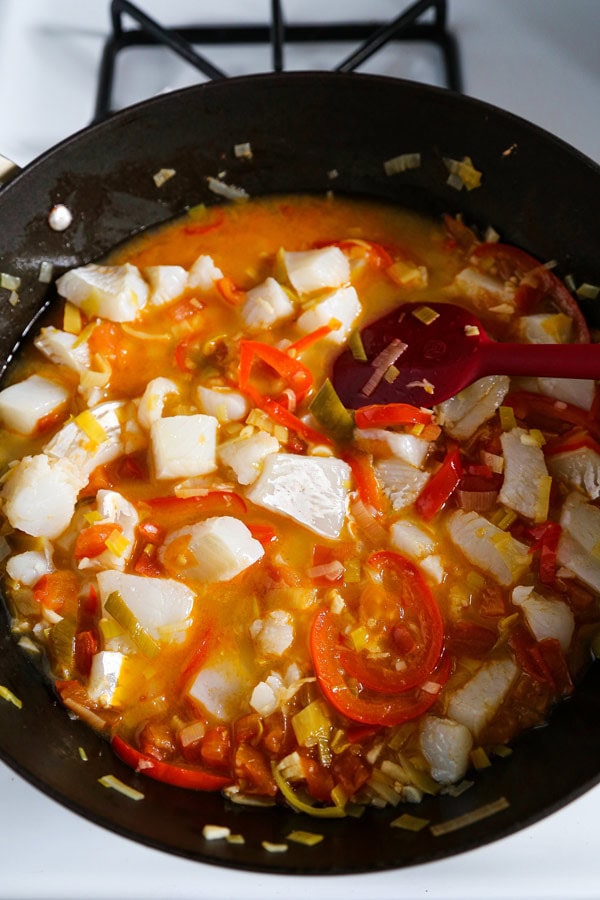 How to make fish stew
Start with a large saucepan over medium heat – and add olive oil, garlic, anchovies, leek, and bell pepper. Cook that mixture for 4 minutes, until the garlic becomes fragrant.

Add chopped tomatoes and white wine. Stir and cook for 3 minutes.

Then add chicken stock and bring to a boil. Once boiling, turn the heat down to a simmer, cover and cook for 20 minutes.

Finally, add fish fillets and cook for 5 minutes, or until it is cooked through.

Serve in bowls topped with flat leaf parsley. Season with salt and pepper if needed.
It really doesn't get much easier than that! I love it when simple recipes with straightforward steps still manage to deliver mammoth levels of unexpected flavor.
As a starter, or as a main course – you and your family are gonna be so happy you sat a pot of this on the dinner table!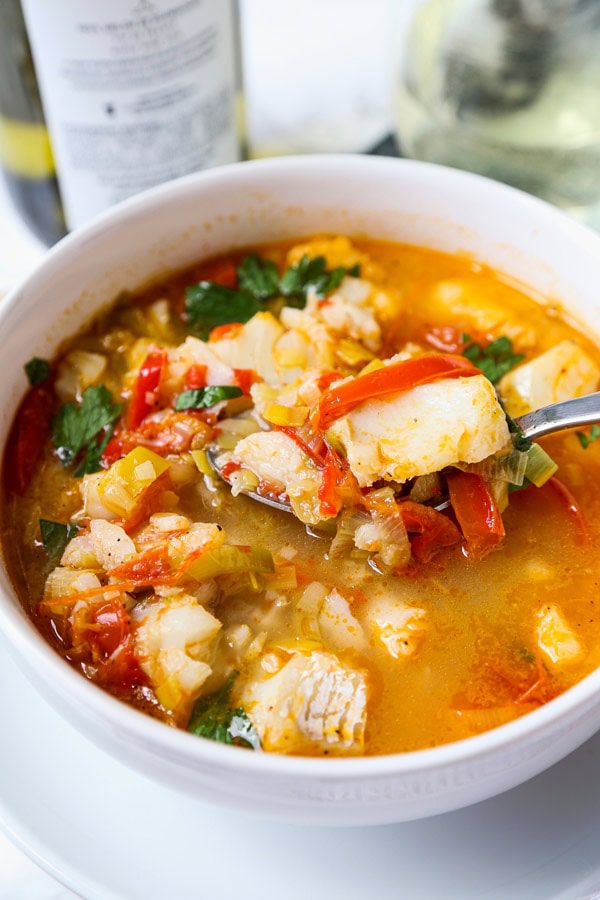 What to serve with fish stew
One thing this delicious fish stew doesn't feature is potatoes. And while it's perfectly hearty without the spuds, I love pairing potatoes on the side of any seafood soup. They're a natural match. This red potato salad would work or… let's be real – air-fryer french fries would be fantastic on the side!
Other than that, you could definitely pair this stew with a salad, a vegetable side dish, a casserole, or even a sandwich. Here are a few options: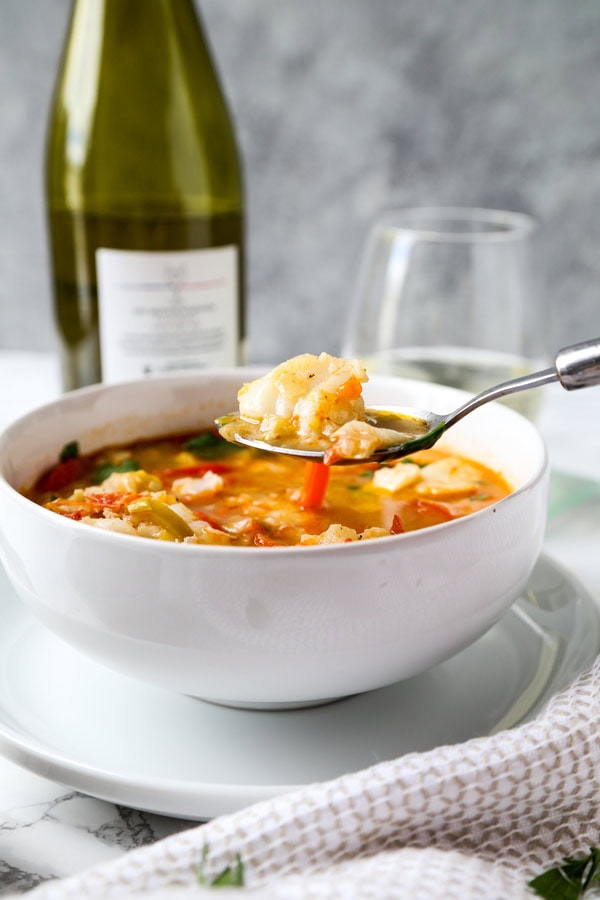 What about you? What do you like to serve on the side when you make fish stew at home? I'd love to hear about your favorite pairings in the comments.
Happy cooking!
Did you like this Fish Stew Recipe? Are there changes you made that you would like to share? Share your tips and recommendations in the comments section below!
Print
Easy Comforting Fish Stew
This delicious fish stew is comfort food at its best! It manages to be hearty and refined all at once. YUM!
Author: Caroline Phelps
Prep Time:

10 mins

Cook Time:

32 mins

Total Time:

42 minutes

Yield:

serves 4

Category:

Stew

Method:

Simmered

Cuisine:

American
3 tablespoons

olive oil

2

garlic cloves, minced

3

anchovy fillets, finely chopped

1

stalk leek, finely chopped

1

red or yellow bell pepper, cored, seeded and julienned

1 cup

fresh tomatoes, chopped

1/2 cup

white wine

1 1/2 cup

low sodium chicken stock

1 1/4

pound skinless, boneless fish fillets such as halibut, cod or sea bass, cut into bite size pieces

3 tablespoons

flat leaf parsley, chopped 

Salt and pepper
Instructions
In a large saucepan over medium heat, add olive oil, garlic, anchovies, leek, and bell pepper. Cook for 4 minutes, until garlic becomes fragrant.

Add tomatoes and white wine, stir and cook for 3 minutes. 

Then chicken stock and bring to a boil. Turn the heat down to a simmer, cover and cook for 20 minutes.

Add fish and cook for 5 minutes, until fish is cooked through.

Serve in bowls topped with flat leaf parsley. Season with salt and pepper if needed. 
Notes
This yummy fish stew is best fresh out of the pot. Leftovers can be kept covered in the fridge for up to two days.
Nutrition
Serving Size:
Calories:

240

Sugar:

3.8 g

Sodium:

670.1 mg

Fat:

11.5 g

Saturated Fat:

1.7 g

Carbohydrates:

8.6 g

Fiber:

1.8 g

Protein:

20.6 g

Cholesterol:

55.8 mg
Keywords: soup, stew, seafood, fish, vegetables, side, main course
Recipe Card powered by