This Tuna Sandwich Recipe is so delicious that everyone will be demanding seconds! The best lunch, ready in 10 minutes from start to finish.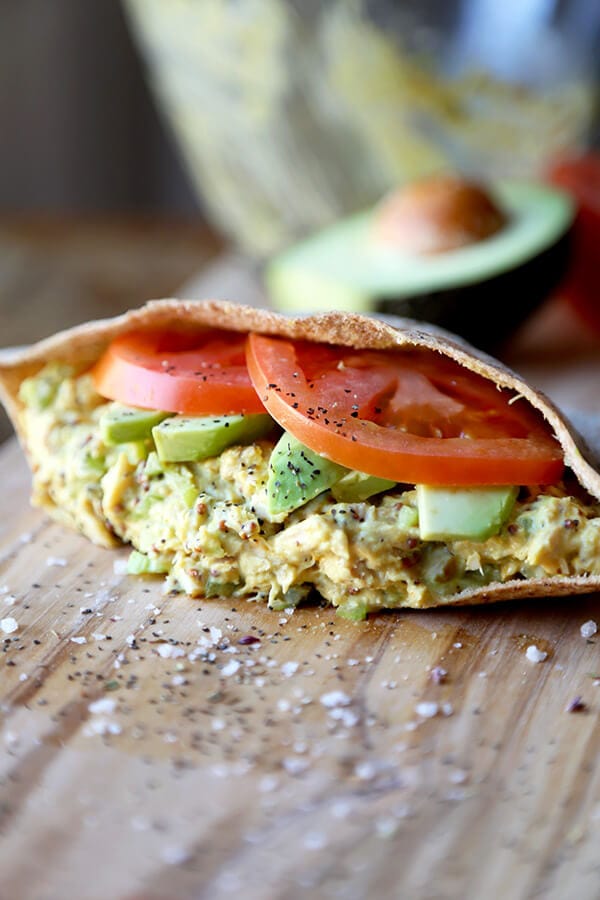 Fact: moms just make good food.
And, whether it's a tuna casserole, a spicy tuna roll or a simple tuna salad recipe, mom's food wins the day almost without exception. You see, we get a taste for mom's food at such a young age, that all food from childhood onward gets compared to how mom made it first.
My mother excels at making killer tuna sandwiches.
She has the touch; the understanding of what turns a good tuna sandwich idea into the best dang sandwich you've ever seen on a plate. At least, that's how I feel about my mom's cooking 🙂
Whether I'm visiting her in Japan, or she's hanging out with me in the Pickled Plum kitchen, I ask her to make me one for lunch without fail. And every time she puts the knife down and hands me the plate, my mouth automatically starts to water.
Her savory tuna salad is a little crunchy, light but still creamy, tangy and aromatic all at once!
It's simple – but the tuna fish is perfectly seasoned. Give your whole-grain bread or pita a once-over with that magical spread, then add a few slices of avocado and tomato…
And, friends, you've got yourself the ultimate tuna sandwich recipe.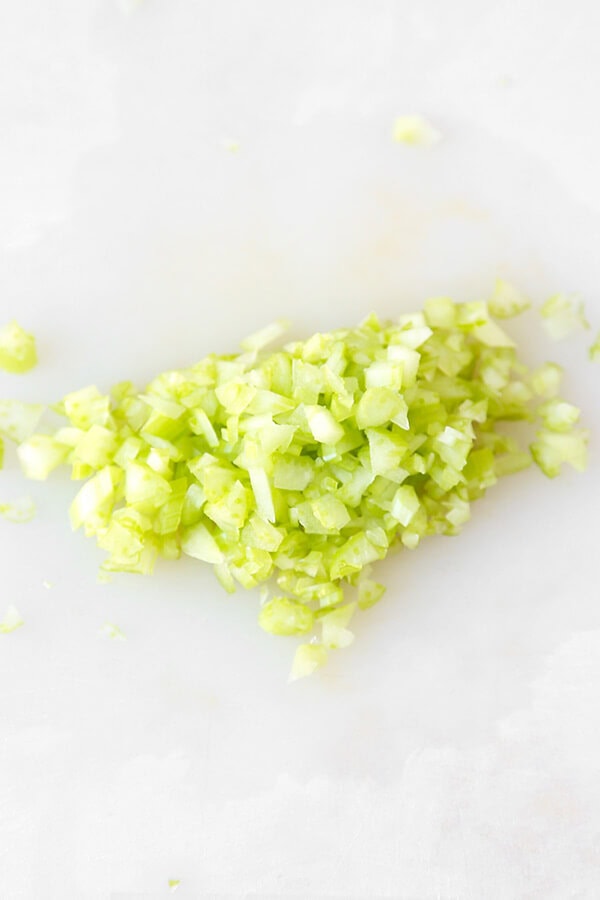 Mom's rules for making the best tuna sandwich recipe
OK – as far as my mom is concerned, there are a few hard and fast rules to making a perfect tuna salad:
The celery must be finely chopped. That's mandatory. It should be fine enough to become part of the spread as opposed to sticking out in chunks.

It should be a little tangy. My mother spent 25 years in Quebec, which may explain why she's all over tangy mustard and zingy cornichons with the same fervor most French Canadians have.

It should be light and not laden with mayo. You want to be able to taste the tuna and all the other ingredients that are part of the tuna salad. Too much mayo is a non-starter.
However you don't need the best canned tuna in the world or some insanely expensive loaf of 34-grain bread from an out-of-the-way artisanal bakery.
We're making tuna salad here! It should be easy and delicious.
By sticking to a few simple rules, though, it means lunch will be on-point. And, who knows – you may just add this 10-minute turmeric dusted tuna salad lunch to your own list of favorite sandwich recipes!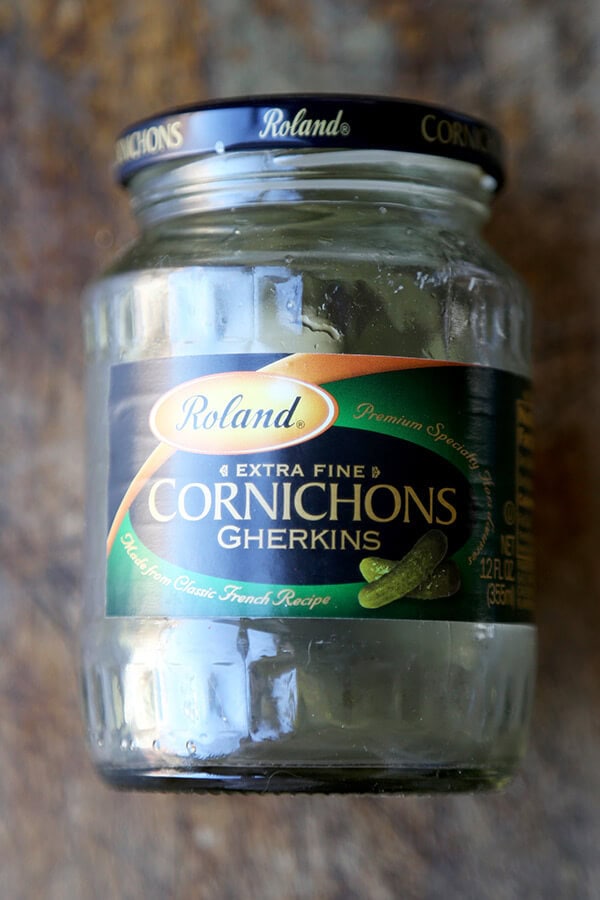 Turmeric tuna salad?
Yep – I've added a dash of turmeric to this tuna salad.
I find that turmeric's peppery earthiness works super well to round out the flavors that the celery, whole grain mustard and mayo deliver to this magical sandwich.
It also happens to be one of those all-purpose spices you can add to anything from a yummy curry to this honey, ginger and turmeric latte.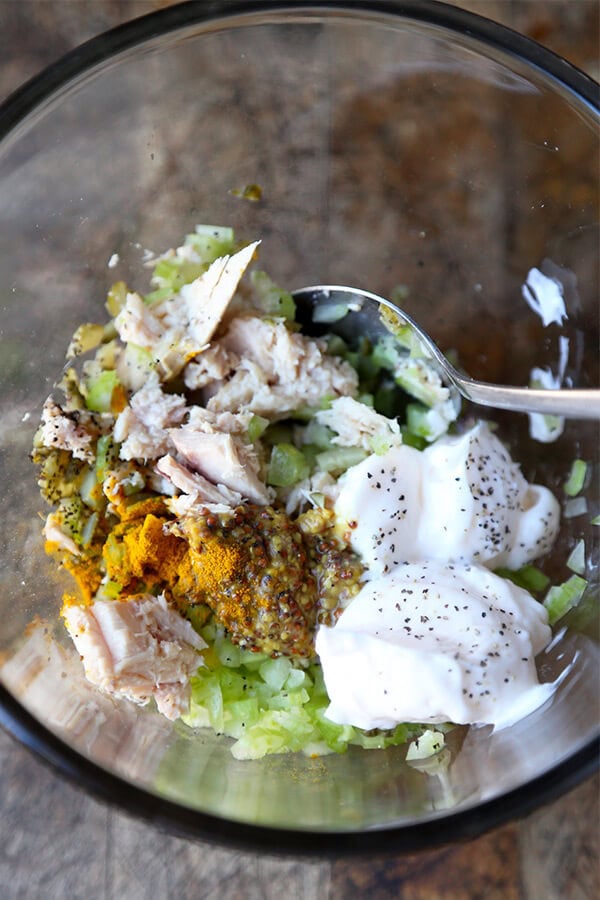 What is turmeric?
Turmeric is a rhizome that is grown primarily in Vietnam and India. Ubiquitous in Indian cooking, it tends to show up a great deal in curry spice blends, used both for color and flavor.
With scent essences of orange and ginger, turmeric can lend a slightly bitter complexity to the food it is used in. In the case of this delicious tuna sandwich recipe, a little bit goes a long way to adding depth of flavor to a simple sandwich!
Aside from the color and flavor turmeric lends to food, you'll also find the powder used in everything from elixirs to teas to face masks.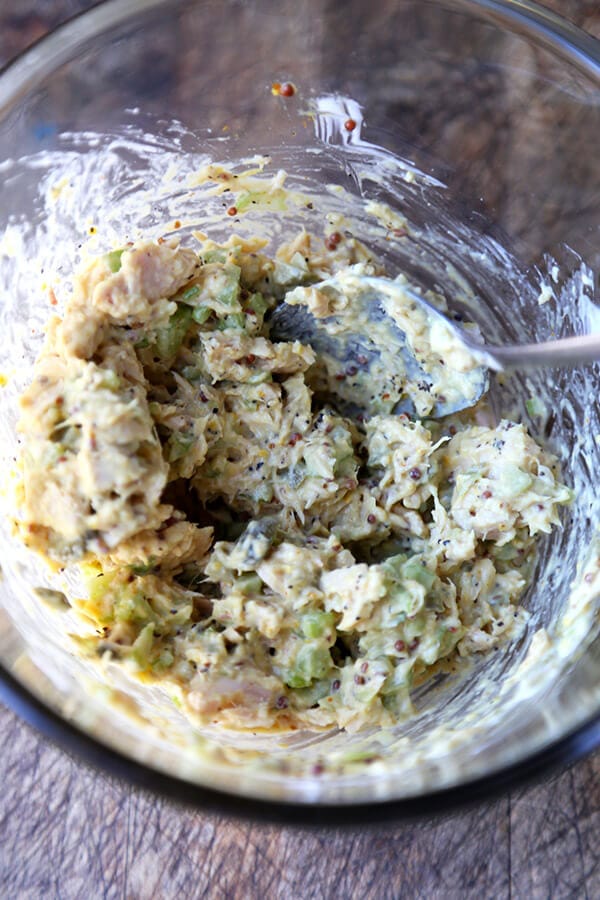 What's the best bread for this tuna salad sandwich?
Great news! That's totally up to you.
While I'm a huge fan of eating tuna salad with pita bread, there are absolutely no rules when it comes to your preferred carb. I've tried this recipe with everything from whole grain bread to white sandwich bread.
The whole thing really shines when using an oven-fresh French baguette – or a crispy, flaky Vietnamese bánh mì loaf made with rice flour and wheat flour.
On a wrap kick? Then why not try with a good flour tortilla!
If you're following a gluten free diet (or are just all breaded out), make lettuce wraps instead! Ben is a big fan of bread – but an even bigger fan of a good lettuce wrap. So anytime we make this at home, I make sure to have romaine leaves on hand for him to scoop his tuna salad into.
Taking this to work? You can make the tuna salad the night before, refrigerate it – and wrap all the sandwich ingredients separately. Quickly assemble it at work, and you'll be the envy of the office. No sad desk-salad for you!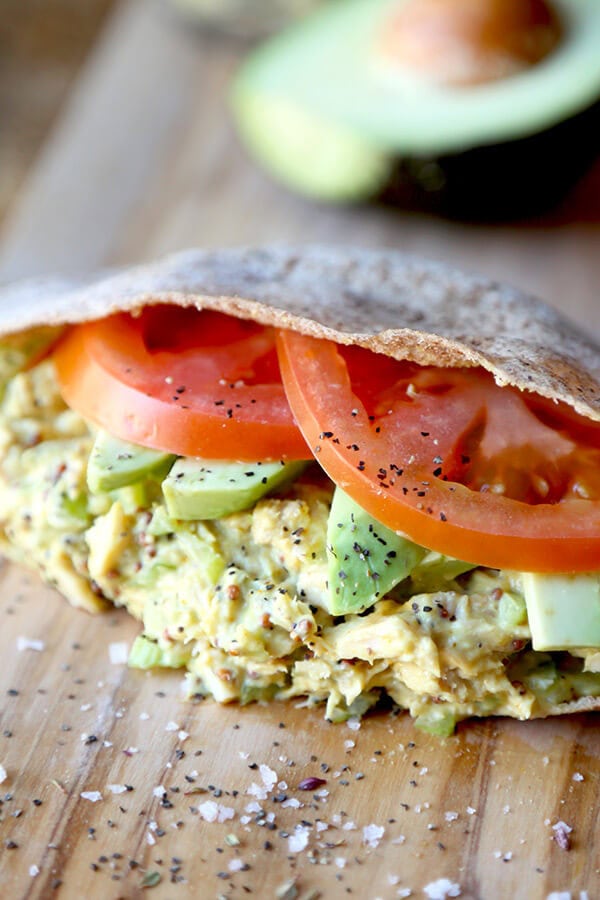 Or make a tuna salad… salad
Another great aspect of this tuna sandwich recipe is that it doesn't have to be a sandwich at all!
You can just add the tuna mixture to a simple lunchtime salad. My mother does this all the time:
Put cold, chopped iceberg lettuce in a sealable container and top it with a scoop of tuna salad.

Close it up with a lid and shake until the iceberg lettuce is evenly covered with the mixture.
It's crazy yummy!
I bet it would even be delicious mixed with pasta – although I have yet to try the combination. It's always good to keep your food options open!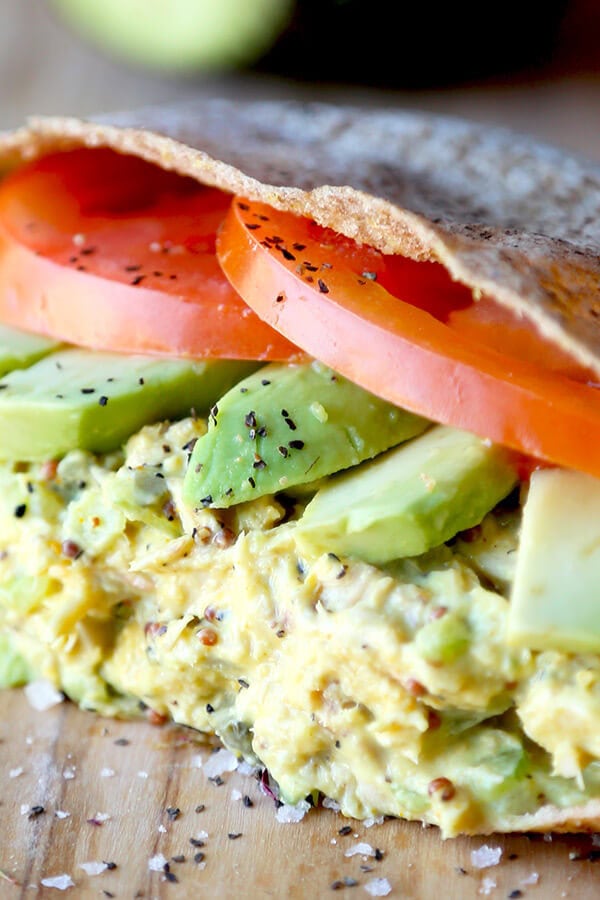 Is this really the best tuna salad sandwich?
Geez, I'd sure like to think so. But I realize that I may be slightly biased.
Since my amazing mom is the architect of the broad strokes of this recipe, I'm going deep – all the way back to childhood – with my flavor preferences on this one.
Let's put it this way: If you were going to ask someone how to make a delicious tuna sandwich, you could definitely do worse than asking my mom. She's loaded with ideas on food that pull from both her Japanese heritage – and her time making French influenced dishes for her family in Quebec.
I'd like to think I picked up a bit of her worldly outlook on food in the process. Heck, I'm pretty sure a lot of us picked up a bit of our culinary identities from our mothers.
So, in that case, let's hear it for mom's tuna salad!
What about you? What's a dish you remember from childhood that you reference as the benchmark for flavor when eating versions of it now? I'd love to hear about in the comments section!
Other delicious and easy lunch ideas:
Did you like this Tuna Sandwich Recipe? Are there changes you made that you would like to share? Share your tips and recommendations in the comments section below!
---
Print
My Favorite Tuna Sandwich Recipe
This is the ultimate tuna sandwich recipe – crunchy, savory, tangy and creamy, it has it all – plus a pinch of turmeric!
Author: Caroline Phelps
Prep Time:

10 minutes

Total Time:

10 minutes

Yield:

3

sandwiches

1

x
Category:

Sandwiches

Cuisine:

American
For the tuna salad
1/2 cup

celery (finely chopped)

2

5 ounces can tuna in water (drained)

4

small cornichons, gerkins (finely chopped)

2 teaspoons

whole grain mustard

1/4 cup

light mayonnaise

1/4 teaspoon

turmeric
salt and pepper to taste
For the sandwich
whole wheat pita bread or whole grain sandwich bread
avocado slices
tomato slices
Instructions
Put all the ingredients for the tuna salad in a bowl and mix well.
Assembling the sandwich:
Slice a pita bread in half and spread the tuna salad evenly into each one.
Add avocado and tomato slices and serve immediately.
Notes
Keep any leftovers of your tuna salad covered in the fridge for 2-3 days.
Nutrition
Serving Size:

1 sandwich

Calories:

323

Sugar:

4.9 g

Sodium:

433.5 mg

Fat:

10.1 g

Saturated Fat:

2 g

Carbohydrates:

26.8 g

Fiber:

4.9 g

Protein:

30.1 g

Cholesterol:

42.9 mg
Keywords: recipe, lunch, seafood, snack
Recipe Card powered by