Kani salad, or kanikama salada (カニカマサラダ), is one of Japan's most popular and loved salads. It is made with imitation crab, cucumber, and comes with a sweet and tangy kewpie mayo dressing. This is a family friendly recipe that can be served as a side or an appetizer. This kani salad recipe is ready in 15 minutes from start to finish.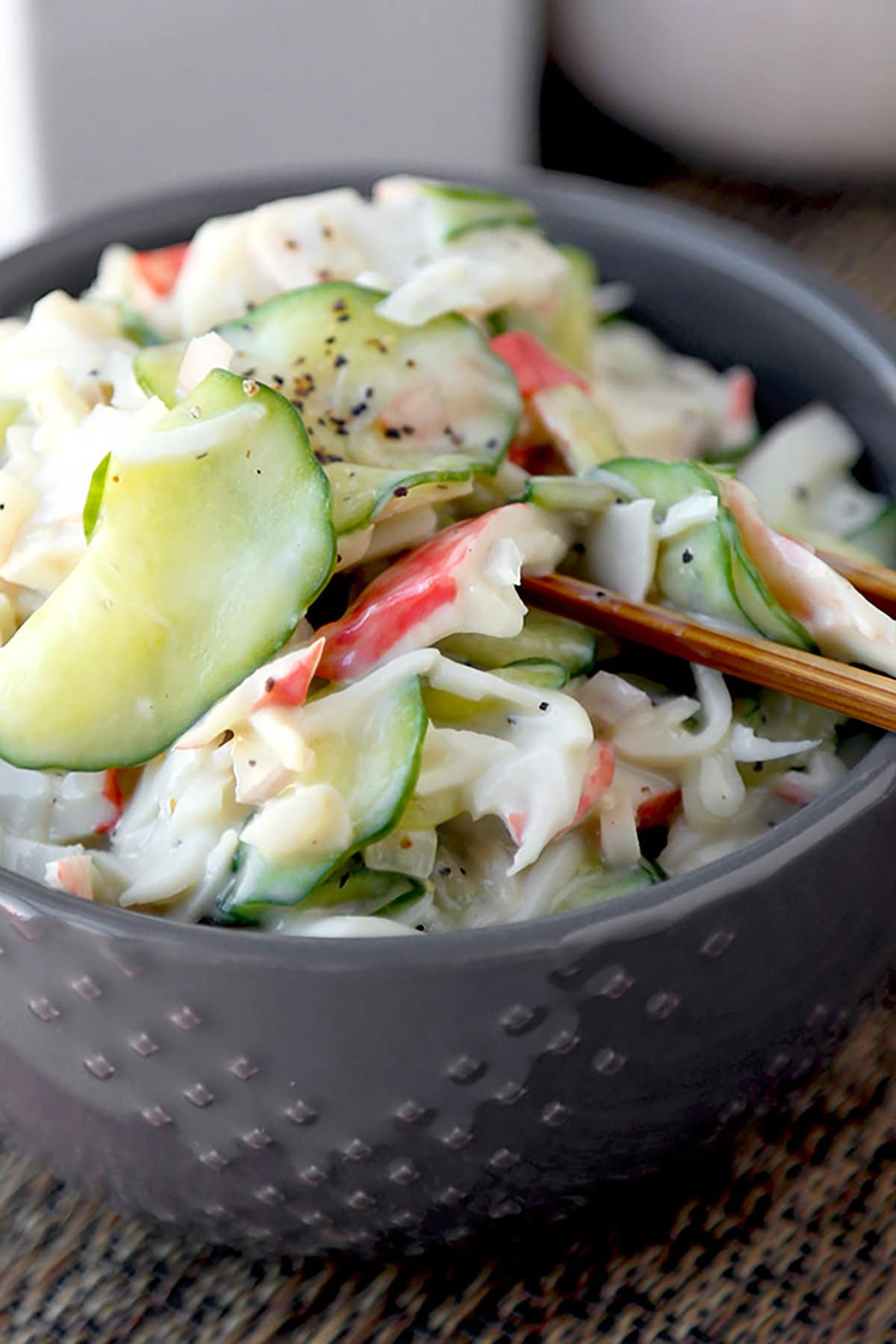 What Is Kani Salad?
Kani salad, or kanikama salada (カニカマサラダ), is a simple salad made of imitation crab sticks, thinly sliced vegetables such as cucumber, carrots, or cabbage, and a creamy mayonnaise dressing.
The word kani means crab in Japanese, and the word kanikama means crab sticks or imitation crab.
Kani salad can be found in convenience stores (konbini) and supermarkets across Japan, and is often served at home as part of a family meal. As for here in the US, kani salad is most often served in Japanese restaurants and can sometimes be found in Japanese supermarkets in the premade meal section.
What is the Flavor of Kani Salad?
Kani salad is somewhat similar to a creamy coleslaw because mayonnaise is the main ingredient used for the dressing. But what's important to note is that Japanese mayonnaise (kewpie mayo) is used instead of regular mayonnaise. And since the flavor of kewpie mayo is quite unique – very eggy and fruity – the end result is a salad that is more complex in flavor.
So what does kanikama salada taste like? It's creamy, sweet, fruity, and tangy.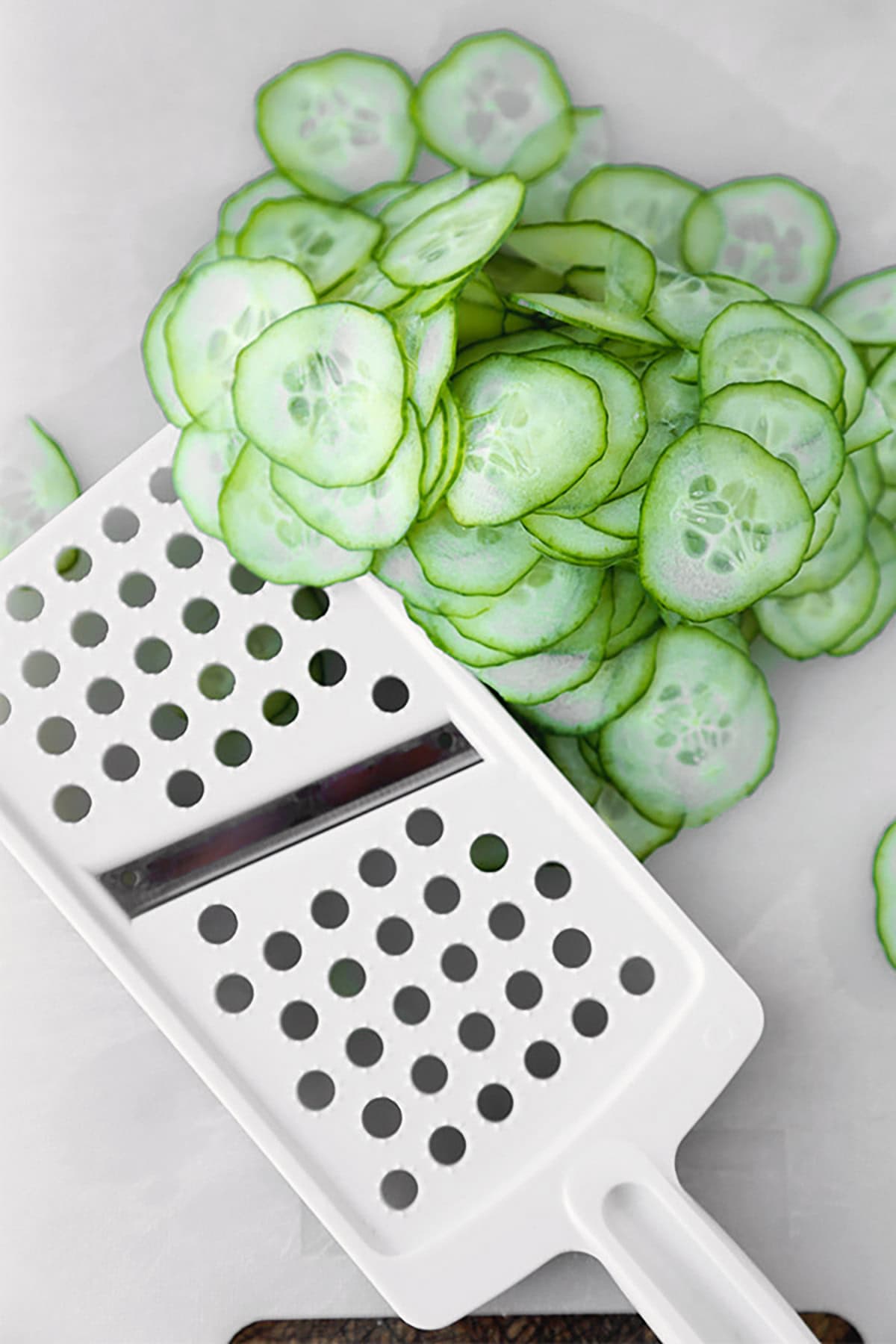 What is Imitation Crab Meat Made of?
Imitation crab meat is made from surimi, which is a sticky paste made from different types of fish that have been pounded and combined with binders (starch, soy protein, egg whites). The paste is seasoned with salt, sugar, msg, and other seasonings. All of the ingredients are combined to create a paste that is formed into different shapes, and then cooked or cured.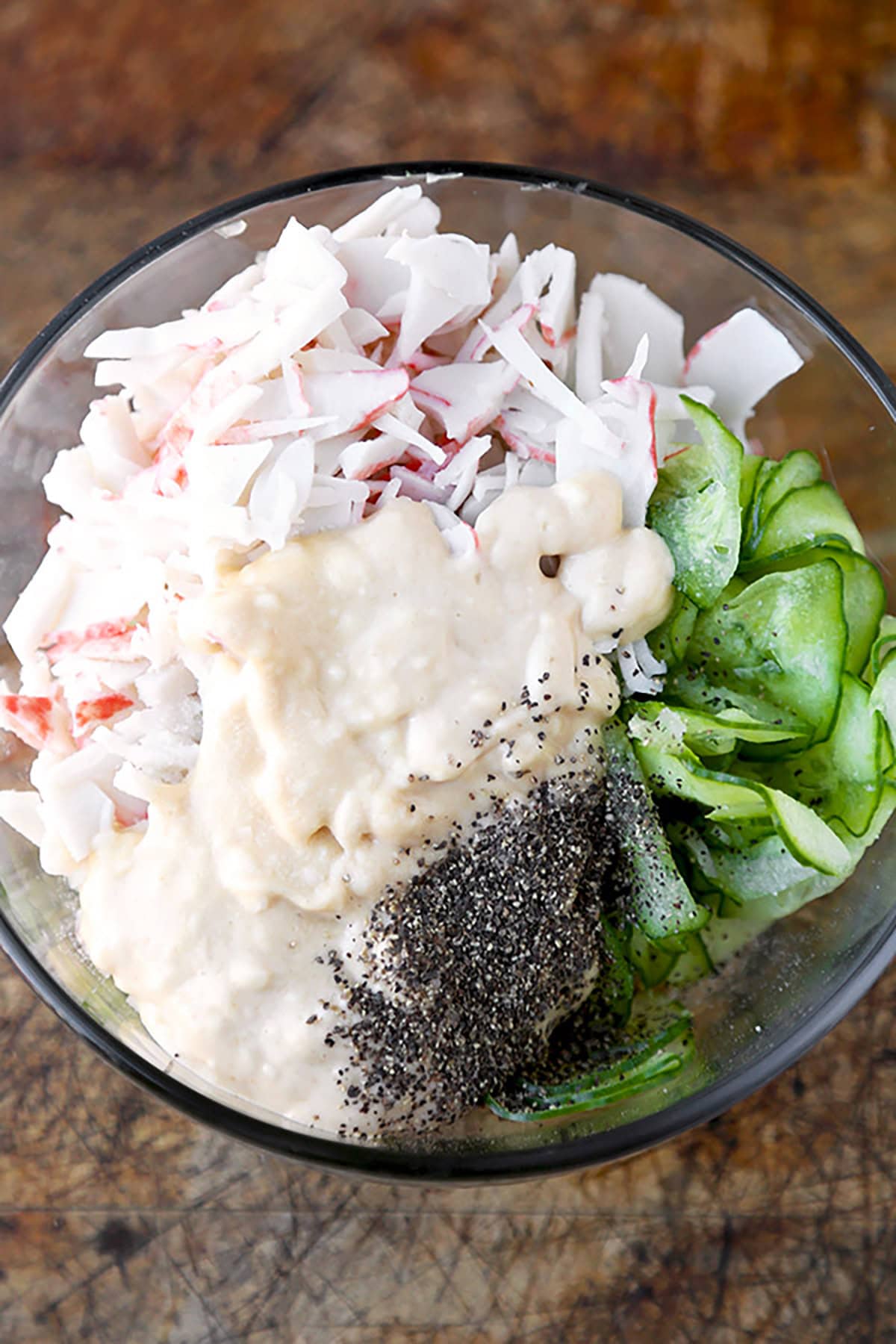 Kani Salad Ingredients
Making kani salad is very easy! All you need are seven ingredients – most of them are easy to find – and about 15 minutes of your time.
Vegetables
You can use a variety of vegetables to make this recipe. I like to keep it simple by only using thinly sliced cucumber and a small shallot because they absorb the flavor of dressing and give the salad a delicate crunch. Other vegetables that are often used in crab salad are thin carrot strips, cabbage, lettuce, sprouts, and corn kernels.
Crab Meat
Imitation Crab
For a classic Japanese style kanikama salada, and for this recipe, you will need some imitation crab meat. Look for imitation crab sticks or chunks sold in the frozen or refrigerated section of your local grocery store. You will find more options and most likely better quality imitation crab at a Japanese supermarket. Why imitation crab and not real crab? I don't know the exact reason why but I'm assuming it's because imitation crab is cheaper and easier to find and can be purchased all year-round.
Real Crab
However, if you prefer your salad to be healthier you can use real crab meat (canned or fresh). It should be noted that the texture of the salad may not end up being the same as the classic style. Canned crab can be very mushy and grainy and both canned and fresh crab can be quite watery, which might dilute the taste of the dressing.
Kani Salad Dressing
You will need Japanese kewpie mayonnaise, rice vinegar, soy sauce, and ground black pepper to make this kani salad dressing. If you cannot find kewpie mayo you can use regular mayonnaise and add one mashed cooked egg yolk.
You can also add a dash of sesame oil if you enjoy the nutty flavor of sesame seeds. Some Japanese recipe also skip the vinegar and use dashi instead. As you can see, there are many different ways to make kani salad dressing, so feel free to play around with different ingredients until you are satisfied with the taste!
Toppings
To elevate the salad and give it a luxurious look, top the salad with a small scoop of salmon roe or tobiko (flying fish roe).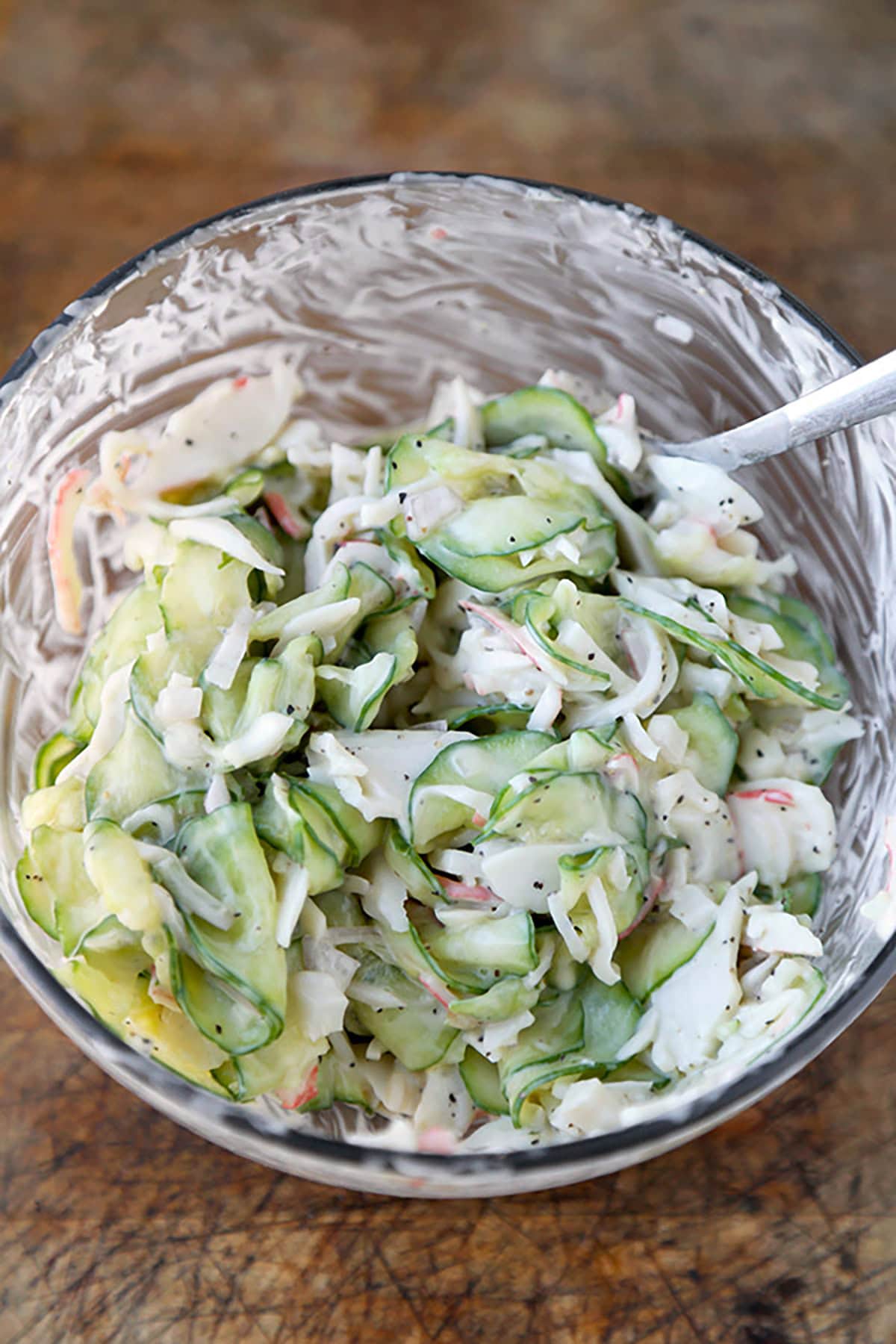 How To Make Japanese Kanikama Salad
Start by peeling half of the cucumber and slice it on the thinnest setting on a mandolin. You can also do this using a knife. Then grab the cucumber slices, place them in the palm of your hand and squeeze out the excess liquid.
Lightly shred or chop the imitation crab and set aside.
Add them to a mixing bowl along with the imitation crab and shallots.
In a separate bowl, whisk in the mayonnaise, vinegar, soy sauce and black pepper and pour the mixture over the cucumber, crab and shallots. Toss well and serve!
I especially love this salad when it's cold so I recommend making it a little ahead of time so it has time to chill in the fridge.
Spicy Kani Salad Recipe
If you love spicy food and like to add some heat to most of your dishes, good news! You can make this crab salad as spicy as you like. The steps are the same as the one given in the recipe card below except for the addition of sriracha sauce.
I recommend starting with 1 tablespoon of sriracha sauce and working your way up. If you like heat and smokiness, adding 1 teaspoon of gochugaru is also a great option. And yes – you can add both to the salad!
What you will end up with is one tasty crab salad recipe you won't be able to stop eating!
It's light, creamy, crunchy, sweet, savory and peppery – and makes a wonderful side dish, snack or appetizer.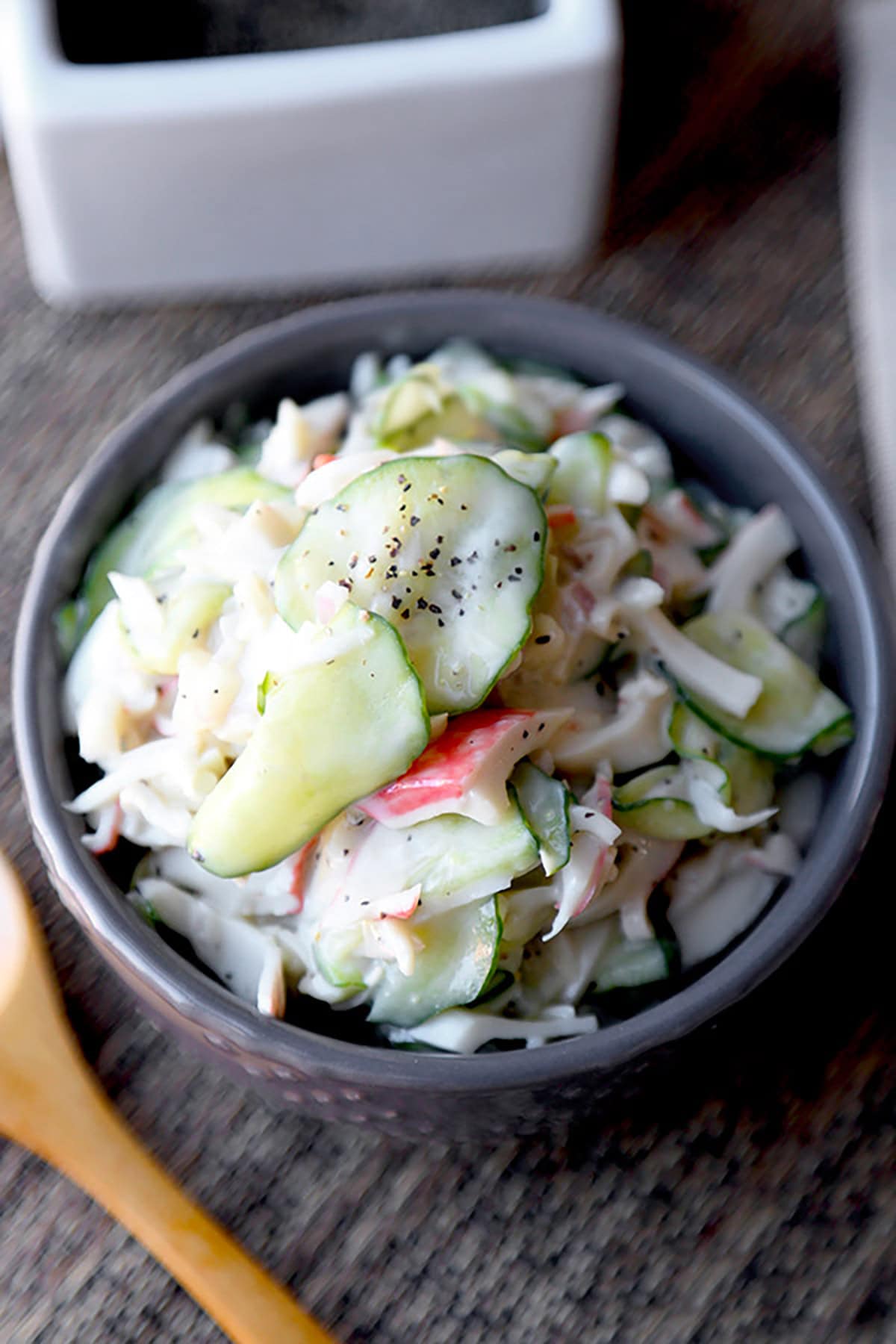 Kani Salad Maki or Sushi
Kani salad can also be used as a filling for maki rolls or as a topping for nigirizushi. I also recommend adding thinly sliced mango for a pop of sweetness!
To learn how to make sushi rice, check out my step by step tutorial in this post. It's very easy! And if you are new to maki rolls, check out this post on how to make maki sushi.
I also have an easy spicy tuna roll recipe that can be used as a filling for maki rolls.
Other simple Japanese dishes: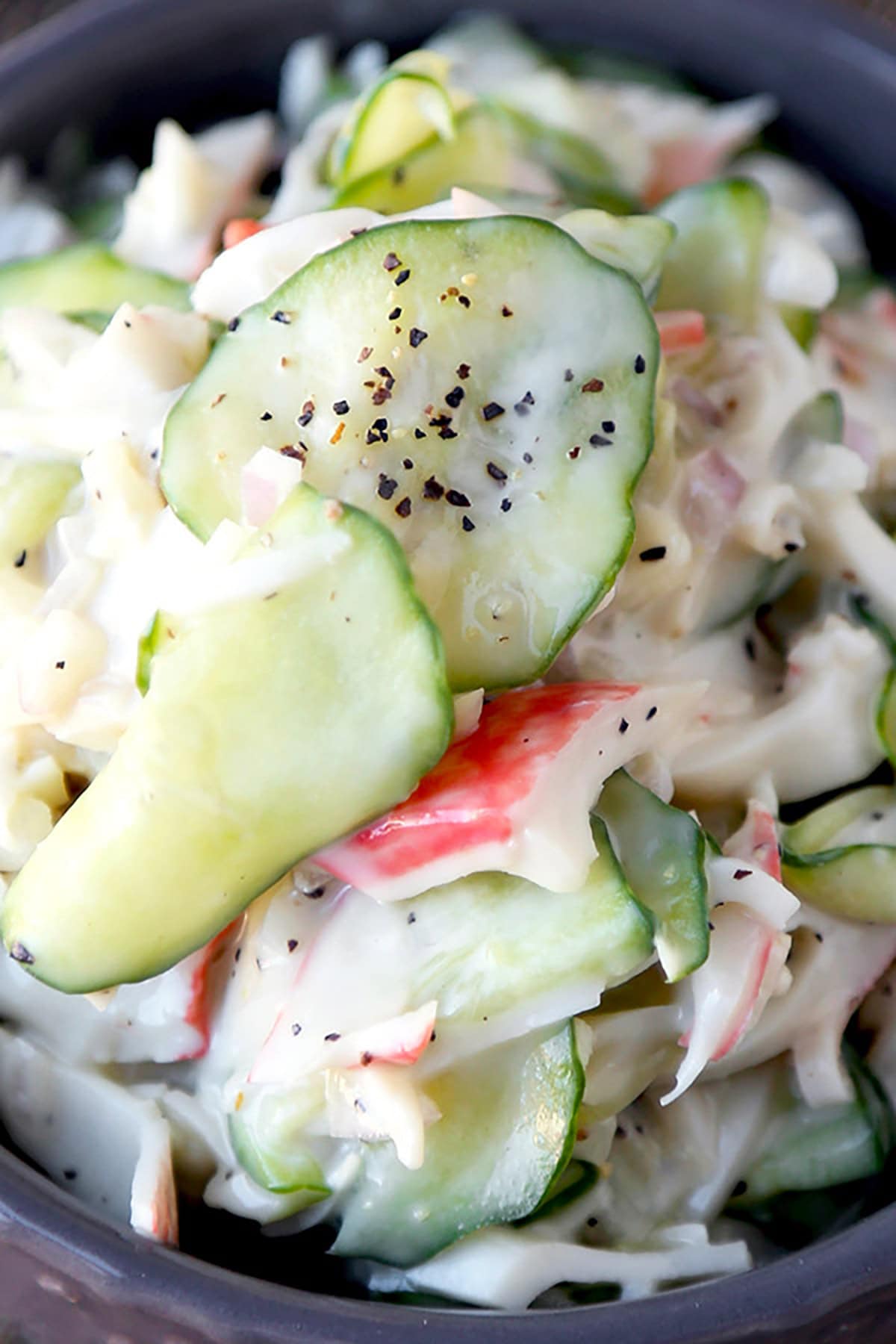 Did you like this kani salad recipe? Are there changes you made that you would like to share? Share your tips and recommendations in the comments section below!
---
Print
Kani Salad (カニカマサラダ)
This is a light and creamy Japanese crab salad that can be served as a side or a snack. Ready in just 10 minutes!
Author: Caroline Phelps
Prep Time:

15 minutes

Cook Time:

0 minutes

Total Time:

15 minutes

Yield:

2

people

1

x
Category:

Salads

Cuisine:

Japanese

Diet:

Low Calorie
1/2

English cucumber (sliced thin, using a mandolin on its thinnest setting)

3

ounces

imitation crab (finely chopped lengthwise)

2 tablespoons

shallot (minced)

2 1/2 tablespoons

Japanese kewpie mayonnaise or regular mayonnaise

1 teaspoon

rice vinegar or apple cider vinegar

1 1/2 teaspoon

soy sauce

1/4 teaspoon

ground black pepper
Spicy Kani Salad:
Use all the ingredients from above plus 1 tablespoon sriracha sauce or more.
Instructions
Take cucumber slices in the palm of your hands and squeeze out as much water as you can – be careful not to break the slices.
Lightly shred or chop the imitation crab and set aside.
Put cucumber, shallot, and imitation crab in a bowl and toss.
In a separate bowl, whisk the mayonnaise, rice vinegar, soy sauce and black pepper, until smooth. Add sriracha sauce at this point if you are making the spicy version.
Pour the dressing over the cucumber, shallot, and fake crab meat. Stir well until the vegetables and crab meat are evenly coated. Serve.
Notes
This Kani Salad will keep refrigerated in an airtight container for up to 2 days.
I find Japanese mandolins to be easier and safer to use as they are easier to handle for smaller hands.
Nutrition
Serving Size:

1 serving

Calories:

100

Sugar:

4.6g

Sodium:

600.2mg

Fat:

4.4g

Saturated Fat:

0.8g

Unsaturated Fat:

2.5g

Trans Fat:

0g

Carbohydrates:

11.2g

Fiber:

0.8g

Protein:

4.1g

Cholesterol:

11.5mg
Keywords: appetizer, side, snack
Recipe Card powered by