This Korean Sticky Chicken Recipe is packed with heat, nuttiness, and sweetness. Honey and gochugaru create a peppery glaze that makes this Korean chicken recipe, out of this world. Ready in 20 minutes from start to finish.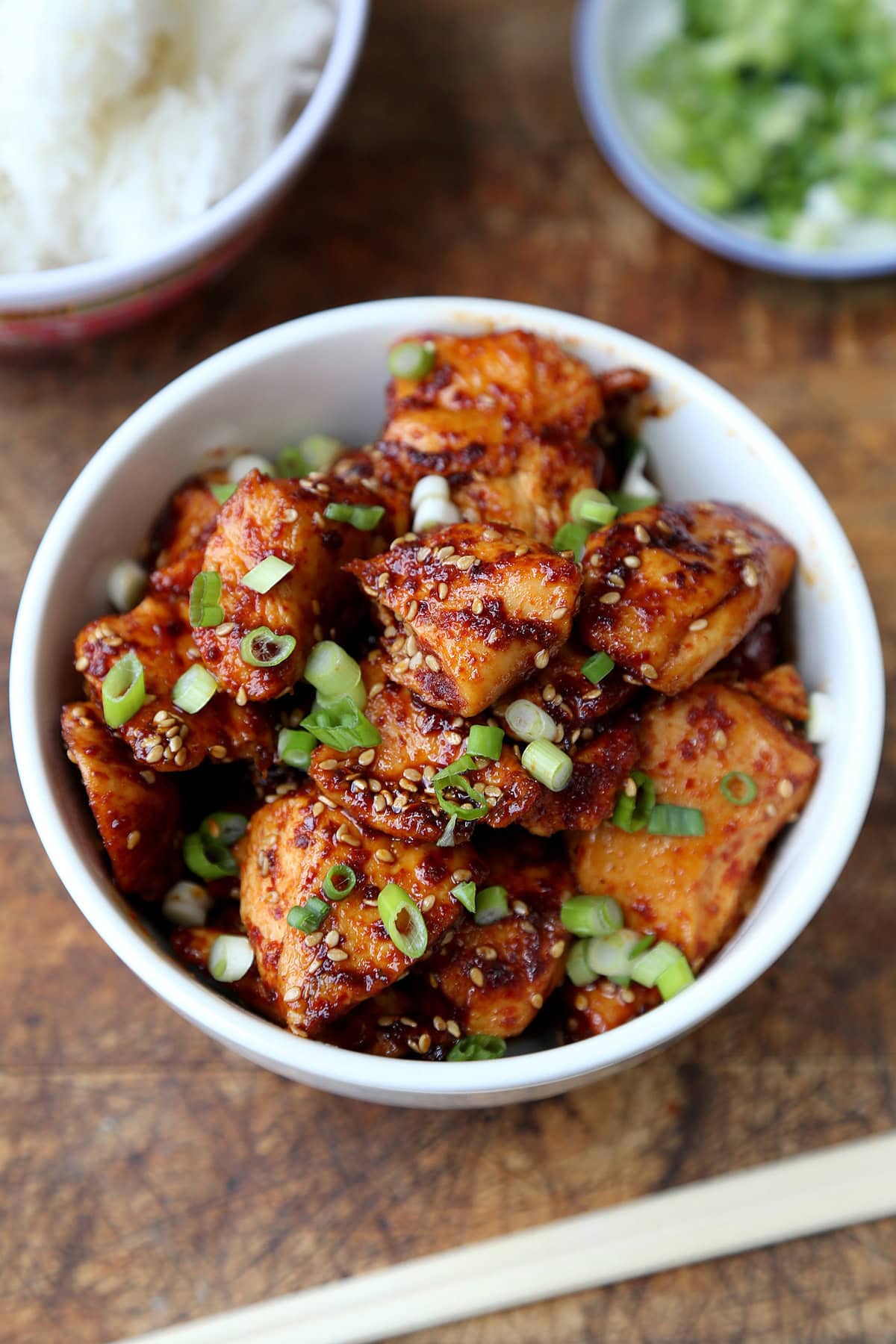 An Easy Korean Chicken Recipe
Sometimes cooking can be such a breeze.
You know, like on those occasions when everything just comes together from ingredients, flavor and timing perspective. Like the recipe I have for you today! This is one of the easiest and flavor packed Korean chicken recipes of all time. Seriously, when it comes to easy chicken recipes, this is the pinnacle.
This Korean sticky chicken recipe may be simple to make, but tastes anything but.
Loaded with savory and sweet heat – and ready in about 20 minutes from start to finish – this may just end up making steady appearances in your weeknight dinner rotation!
Not only is dinner ready in under 20 minutes, the outsized, deep flavors you get on the plate make it seem like you must have been working in the kitchen for a loooong time. Plus, there's no marinating necessary to get the bold flavors infused into the chicken!
Aside from the aggressive Korean spices used to build the towering, savory-sweet-heat, there's a secret method to infusing a TON of flavor into the meat in this simple chicken breast recipe. Let's cook!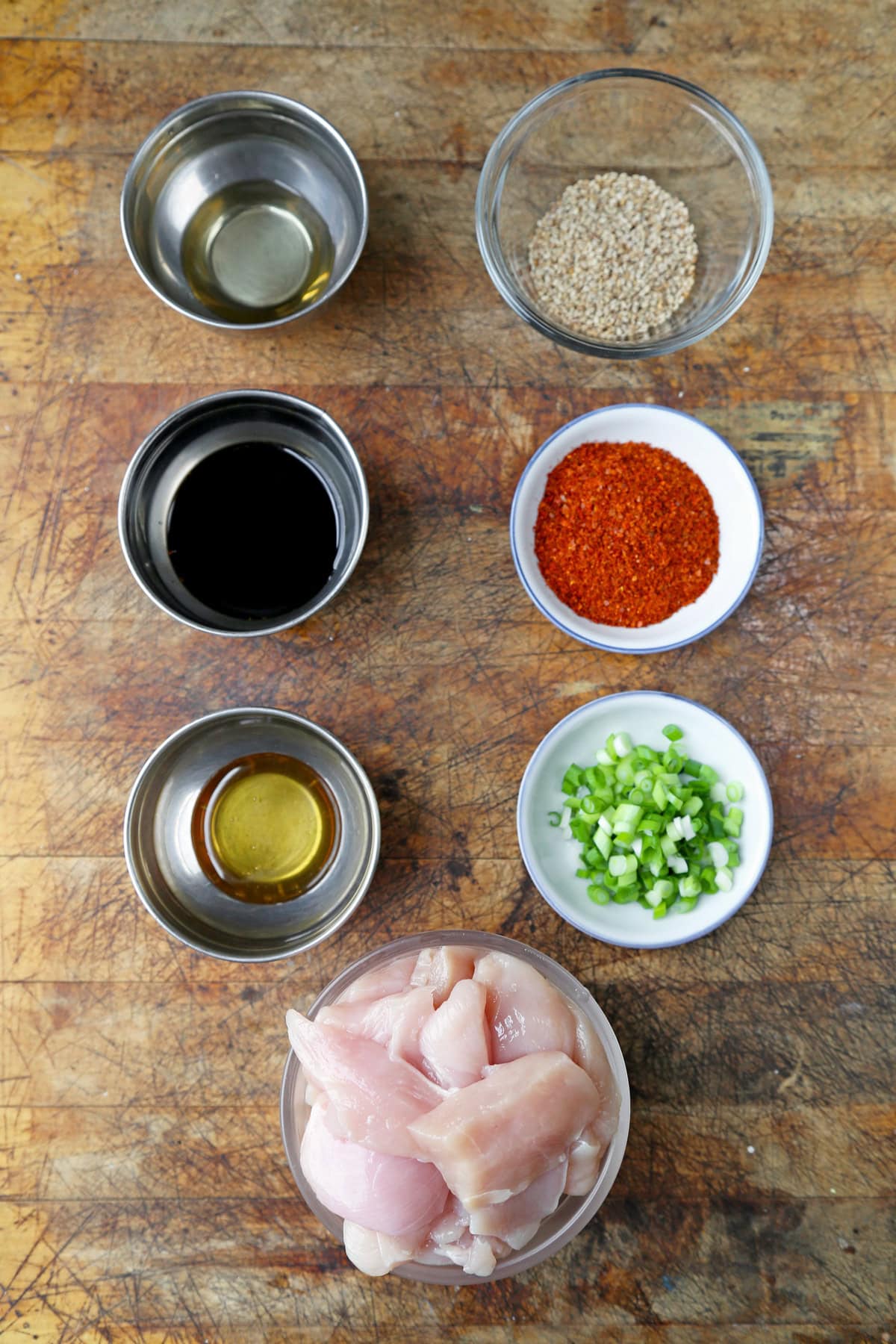 Ingredients For Korean Sticky Chicken (Spicy Korean Chicken)
Chicken: Skinless, boneless, chicken breasts or chicken thighs are best for this recipe. Since there is pounding involved, you want to make sure that the cut you pick doesn't have any bone, unless you don't mind removing it yourself.
Gochugaru: Korean chili pepper flakes are smoky and have just enough heat to warm the palate.
Oil: Any neutral oil such as grapeseed oil or vegetable oil can be used. Peanut oil is also okay.
Soy sauce: When it comes to soy sauces, the ones I use 98% of time are Japanese because they are more complex in flavor. My go to brand is Yamasa.
Rice vinegar: Plain rice vinegar has a refreshing fruity taste similar to apple cider vinegar. Make sure it says plain on the bottle and not "original" or "seasoned", as these types tend to be sweet.
Honey: Use a honey you like to eat out of the jar since there is plenty of honey flavor in this dish. Just like when a recipe calls for wine, always pick one that you actually enjoy having on its own.
Green onion: Chopped green onions (scallions) are used as a garnish for a bright and refreshing crunch.
Ingredient Variations
Drizzle a little sesame oil on the chicken before serving to make it extra nutty.
Mix 1 teaspoon gochujang with 2 tablespoons water and add it to the sauce to make your Korean chicken more fiery.
Add a squirt of ketchup and a dash of worcestershire sauce to give the sauce a bbq-ish taste.
Add a squirt of sriracha sauce to make the chicken peppery spicy.
To make the sauce gooey, add 1/2 teaspoon of cornstarch and 2 tablespoons of water to the sauce. Mix well before adding the sauce to the pan to separate the cornstarch.
Make this recipe vegan by using a protein such as extra firm tofu and swapping the honey for brown sugar or pure maple syrup.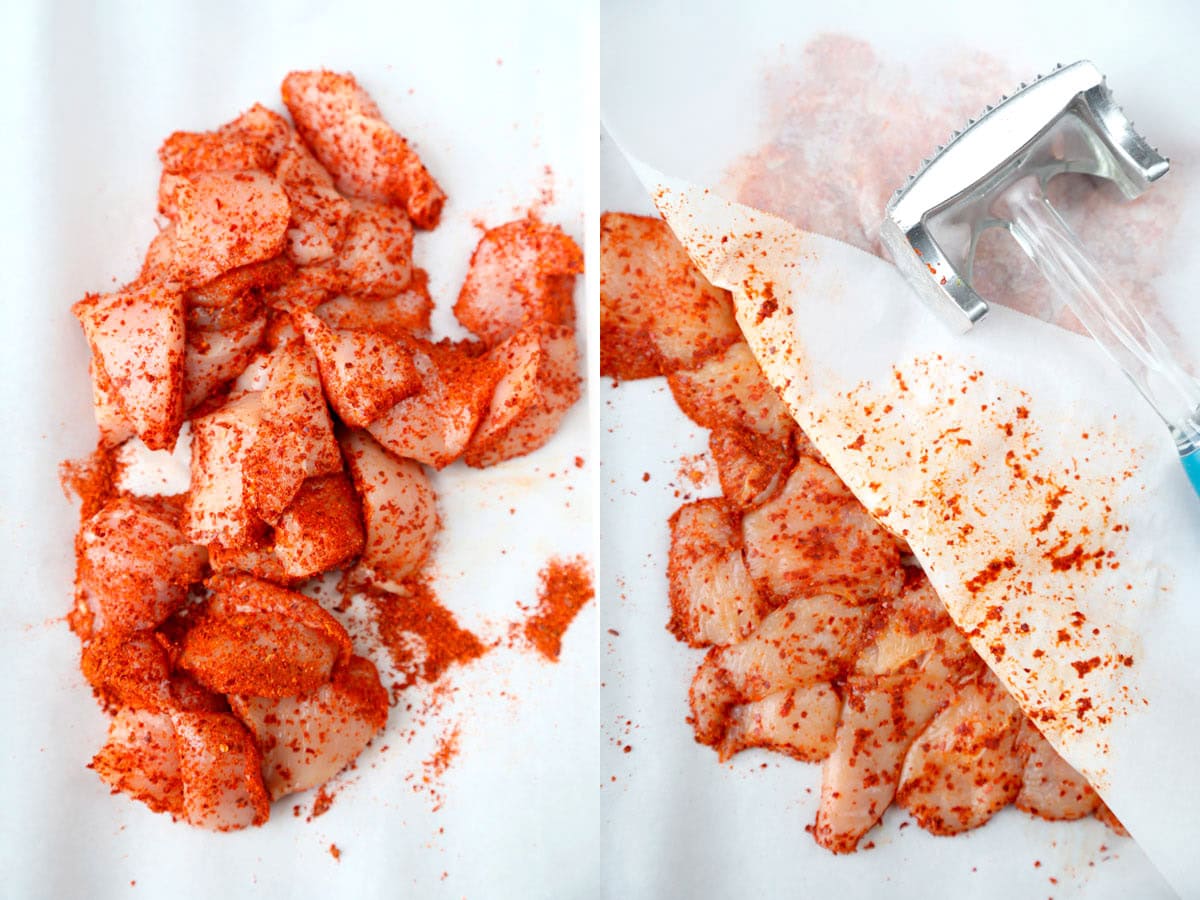 How To Make This Korean Chicken Recipe (Instructions)
A little earlier, I mentioned that there was a secret method to infusing a ton of flavor into this chicken breast recipe in a short amount of time. That secret is:
Instead of spending hours marinating your chicken to achieve deep flavor, give it a bash!

I saw this simple concept at work while watching a Jamie Oliver cooking video a while back.

Just lay your boneless chicken pieces on a piece of parchment paper on a solid surface.

Sprinkle

gochugaru

(Korean red chili flakes) on top of the breasts and place a piece of parchment paper on top.
Pound a few times with a rolling pin or

meat tenderizer

. This will lock the spices on your chicken giving it a serious boost of flavor.
Pan fry the chicken in a skillet over medium to medium-high heat for a few minutes until it's fully cooked and transfer the pieces to a plate.
Mix the ingredients for the sauce in a bowl and add it to the skillet. Stir and keep cooking until the sauce bubbles – about 1 to 2 minutes.
Return the chicken to the skillet and quickly toss it with the sauce to coat the pieces evenly.
Turn the heat off and add the sesame seeds. Toss the chicken and transfer the dish to a serving plate.
*This method does not tenderize chicken, it just gives it flavor.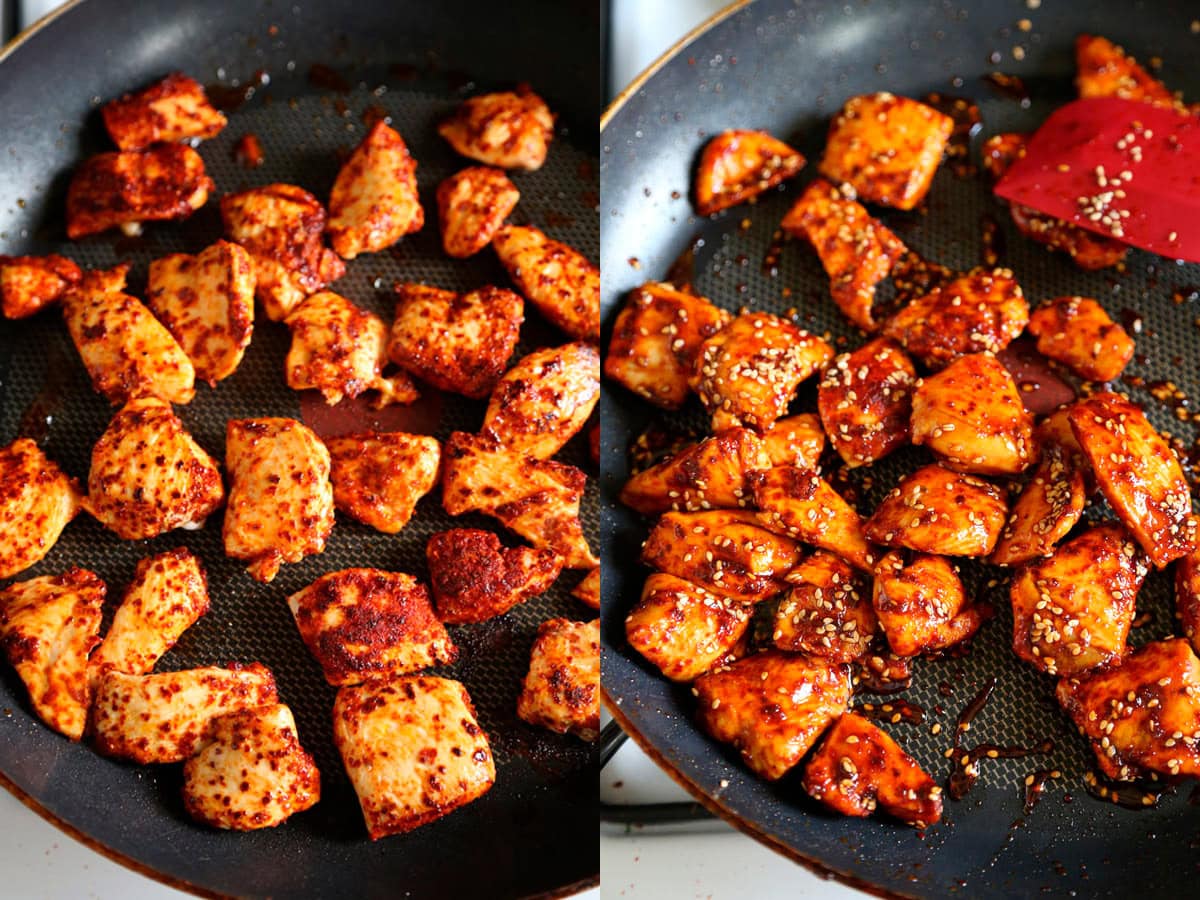 Korean Fried Chicken

vs this Korean Sticky Chicken Recipe

Also known affectionately as KFC, Korean fried chicken tends to have the whole flavor game on wrap!

Usually running the gamut from savory to spicy to sweet, this magical bird tends to be mega crispy because of the double fry method. You see, frying twice can send the crispiness of the skin and flaky breading to sky high levels of perfection.

However, as with my oven baked Korean chicken wings, I try to keep the deep frying to a bare minimum in my home kitchen for two basic reasons.
Deep frying renders delicious outcomes, but tends to be high in calories and fat.

I'm (mildly) terrified of deep frying. Since I can be quite clumsy, one wrong step, or a loose pot handle and… ugh. Cold shivers.
Therefore, making this Korean sticky chicken recipe was an attempt at capturing the essence of Korean fried chicken's flavor – minus the deep frying. And the result is delicious! The flavor is so assertive that it doesn't feel like a healthier alternative at all!
Korean Chicken Bulgogi
Another somewhat similar Korean chicken recipe that plays with the sweet and savory flavor profile is chicken bulgogi, or dak bulgogi.
While bulgogi is actually a marinated beef dish, dak bulgogi is a variation with sliced chicken. Chicken bulgogi, fresh off the grill, is a true culinary delight! A thing to behold.
The main difference between chicken bulgogi and this Korean sticky chicken recipe from a cooking perspective is that bulgogi requires a long marinade to infuse flavor into the meat. Plus, chicken bulgogi is traditionally grilled and then eaten in lettuce wraps, dipped in ssamjang.
What is gochugaru?
Gochugaru is one of those integral ingredients that forms much of the architecture of how Korean food tastes. Without it, many Korean recipes wouldn't get that trademark smoky, spicy flavor profile they are so well known for.
Gochugaru is a coarsely ground dried pepper (sun-dried), that is ground and used to provide heat in everything from kimchi to marinades to dipping sauces. The flakes are bright red and have a smoky, almost sweet undertone. The spice level is comparable to poblano peppers and jalapeños. The consistency is kinda like a cross between a powder and chili flake.
You can easily find gochugaru sold in Korean supermarkets or here on Amazon. Korean food exports have risen 10% annually over the past ten years, so it's becoming more and more easy to shop for products.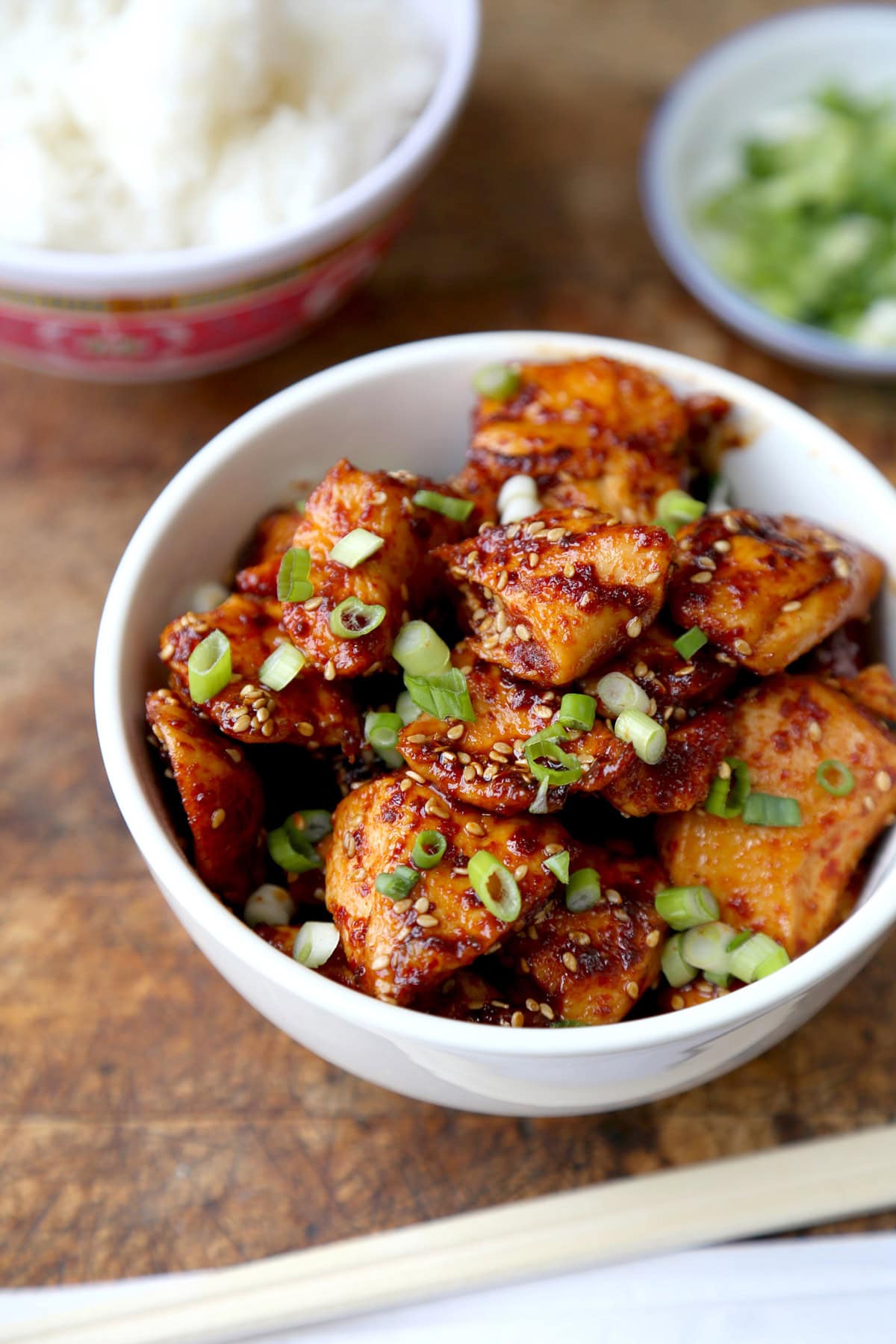 What Does This Korean Chicken Taste Like?
To deliver an understated and rich sweetness that compliments the fiery elements of the gochugaru, I use honey instead of sugar in this Korean chicken recipe.
With honey, you can go sweet in a flavor profile without going overboard into 'cloying' territory. The floral element also make the dish more complex in flavor. Add smoky Korean chili flakes, a splash of umami from the soy sauce, and a tangy tablespoon of rice vinegar, and you have a sauce that's both sweet and savory, a little pungent, and with just the right amount of heat.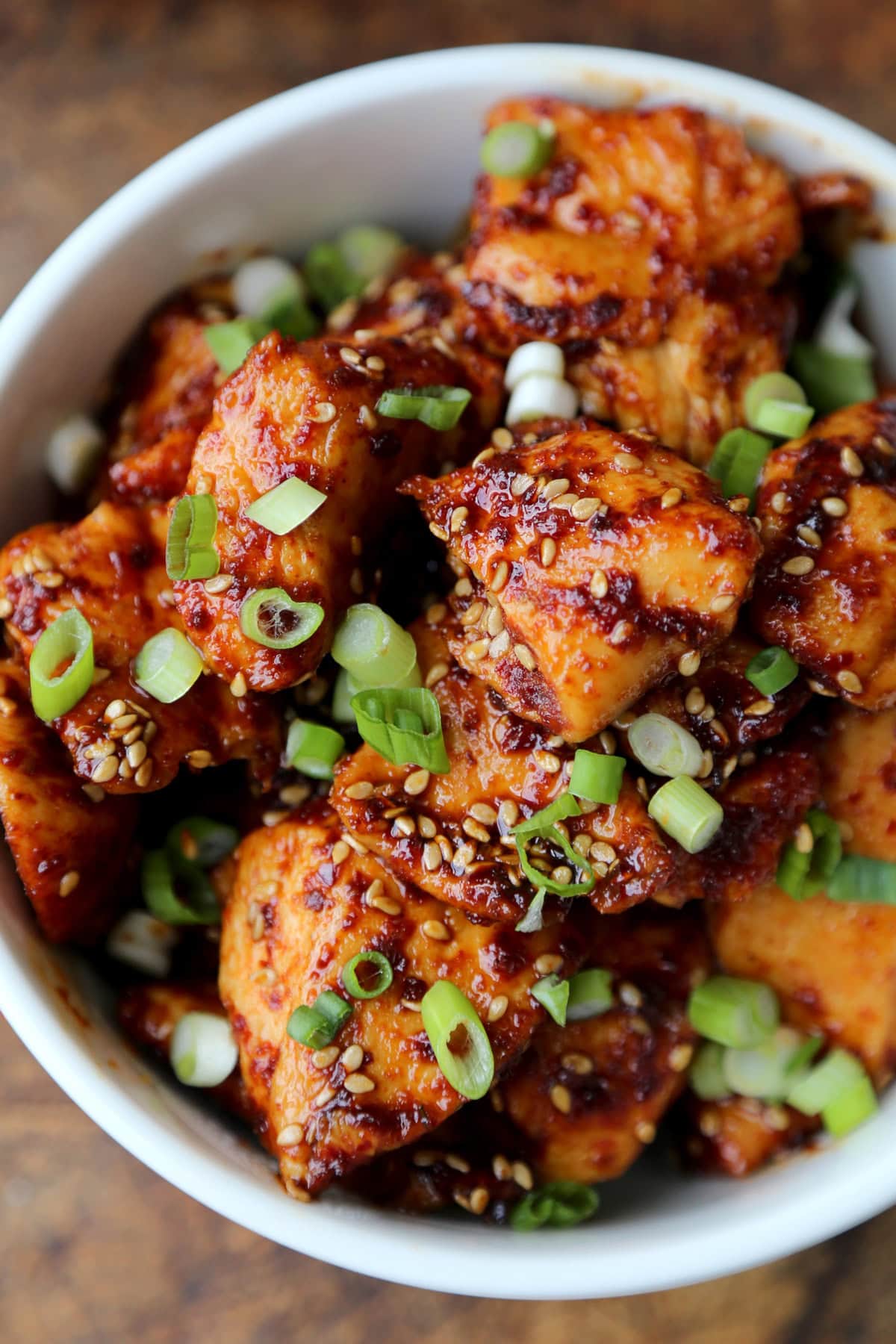 This is the perfect recipe to whip up at the end of a long, stressful day – when a eating proper meal may seem like the least of your immediate priorities. The first bit of this Korean chicken recipe will liven up your other senses and maybe just hit the slow motion button on life for a second.
It's awesome when food can provide, not only nourishment – but enough flavor to prompt us to slow down so we can savor the moment, and every single bite.
How To Store Korean Chicken
If you have leftovers or wish to save the cooked dish for later, wait until the chicken has cooled down to room temperature. Then store it in an airtight storage container and refrigerate it for up to 3 days.
This is one of my all time favorite Korean inspired recipes. And I hope it ends up on your dinner table soon!
Other Easy and Delicious Korean Recipes You Might Like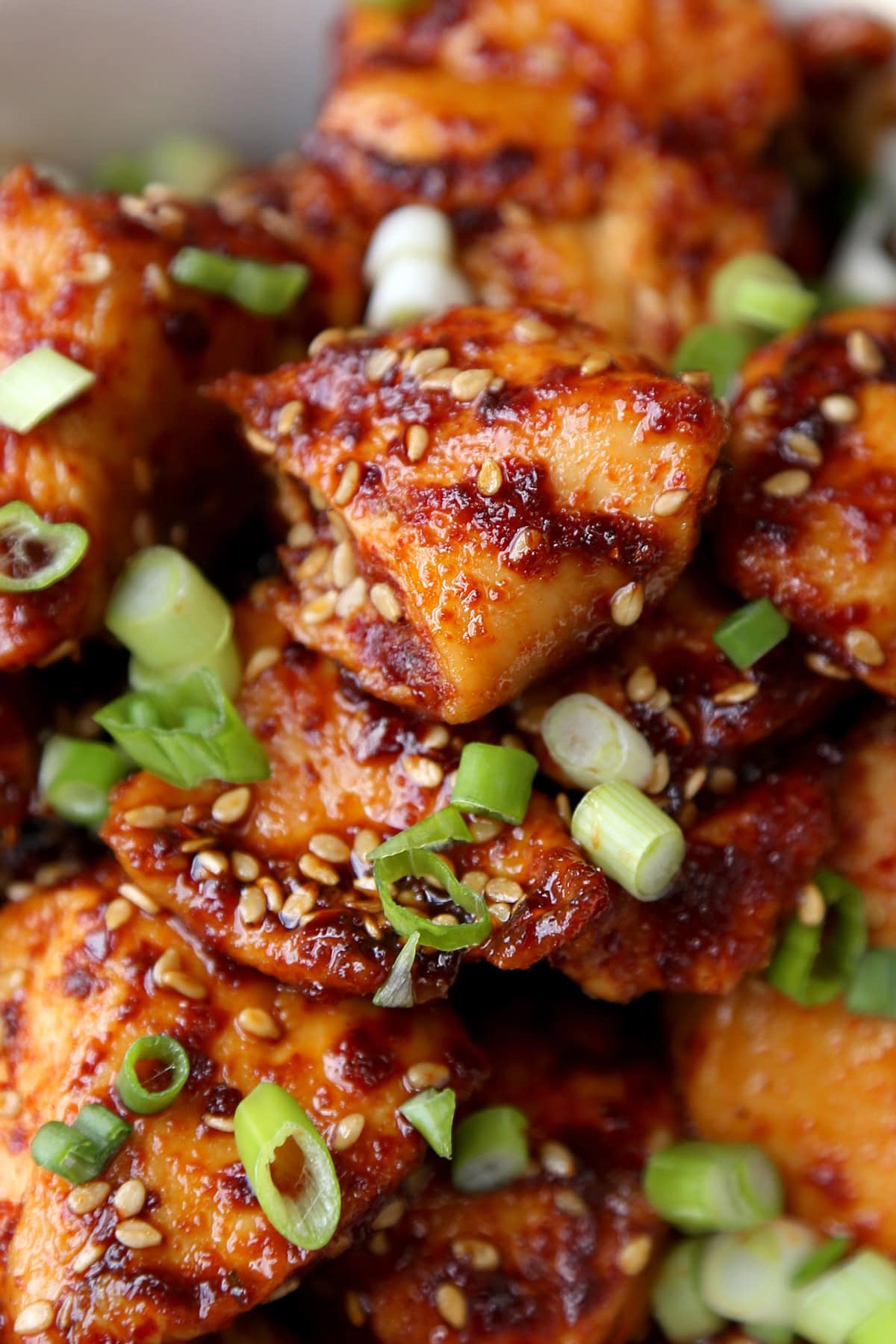 Did you try this Korean chicken recipe? Are there changes you made that you would like to share? Share your tips and recommendations in the comments section below!
---
Print
Korean Sticky Chicken
Hot, sweet and savory, this Korean sticky chicken is the perfect accompaniment to a steamy bowl of white rice, and only takes 20 minutes to make from start to finish.
Author: Caroline Phelps
Prep Time:

10 minutes

Cook Time:

10 minutes

Total Time:

20 minutes

Yield:

3

servings

1

x
Category:

Main

Method:

Pan fried

Cuisine:

Korean
1

pound

skinless and boneless chicken breasts, sliced into large chunks

2 tablespoons

gochugaru (Korean red chili flakes)

1 tablespoons

grapeseed oil, vegetable oil, or other neutral oil

2 tablespoons

soy sauce

1 tablespoon

rice vinegar

2 tablespoons

honey

1 tablespoon

sesame seeds

2

stalks scallions, chopped
Instructions
Put the chicken pieces on a sheet of parchment paper and sprinkle Korean red pepper flake on top. Cover with another piece of parchment paper and pound the chicken with a meat mallet, until each piece is well coated.
In a large skillet over medium to medium-high heat, add the oil and swirl it around to coat the bottom surface of the skillet. When the oil is hot, add the chicken. Cook on each side for 2 to 3 minutes or until the chicken is cooked through. Transfer to a plate and set aside.
In the same pan over medium heat, add the soy sauce, rice vinegar, and honey, and let the sauce bubble for 1 minute, until it thickens a little.
Return the chicken to the pan and cook for about 1 minute, until the chicken is coated evenly.
Turn the heat off and sprinkle the sesame seeds on top. Toss the chicken on last time and transfer it to a serving plate.
Top with chopped scallions a serve immediately.
Notes
This Korean sticky chicken recipe will keep refrigerated for up to 3 days.
Nutrition
Serving Size:

1 serving

Calories:

304

Sugar:

12.7g

Sodium:

360.5mg

Fat:

10.7g

Saturated Fat:

1.6g

Unsaturated Fat:

4.8g

Trans Fat:

0g

Carbohydrates:

16.2g

Fiber:

1.5g

Protein:

35.9g

Cholesterol:

110.3mg
Keywords: Pan fried chicken
Recipe Card powered by