Not only is this baked chicken katsu recipe just as crispy as the deep fried version, it stays crispy even longer! 
Baked Chicken Katsu Recipe
As a flexitarian, Ben and I don't eat a lot of meat.
Our diet consists of 80% vegetables, fruits, dairy, beans and grains and 20% meat and fish. Well… More like 15% meat and fish and 5% chocolate for myself :). On the days we do have meat, we make sure it's well prepared and tastes great so we can fully enjoy it.
One thing we both love is fried chicken. We love it so much that we often reminisce about having KFC delivered to my old apartment in Toronto. Old school, unhealthy yet so unbelievably delicious!
If I'm going to be a bad girl, I'm having KFC or a poutine and there's nothing anyone can do about it. But finding a healthier alternative is always nice. Especially when that alternative is as crazy good as this baked chicken katsu.
Imagine a tender and juicy chicken breast covered with panko breadcrumbs so crispy, you would swear it's deep fried! Yes, it's that good!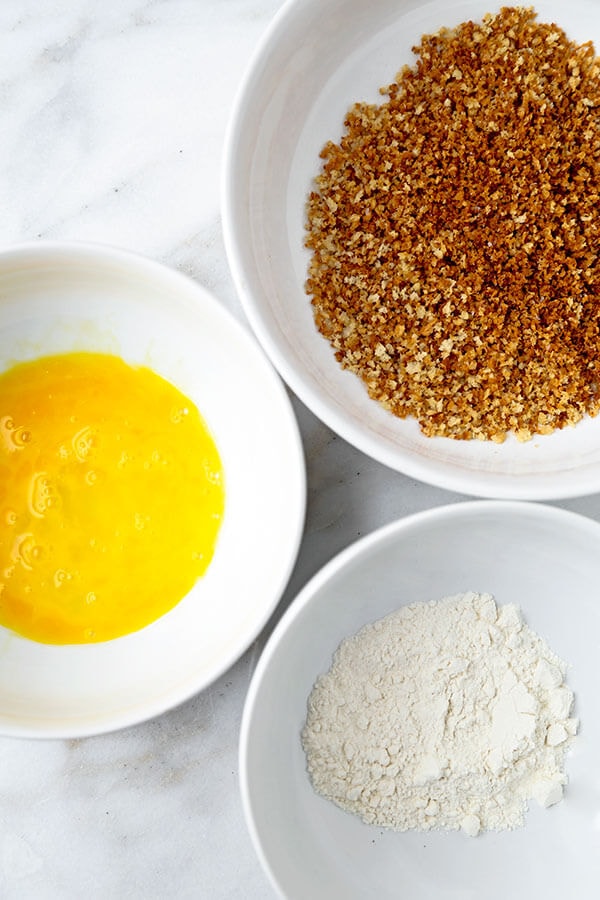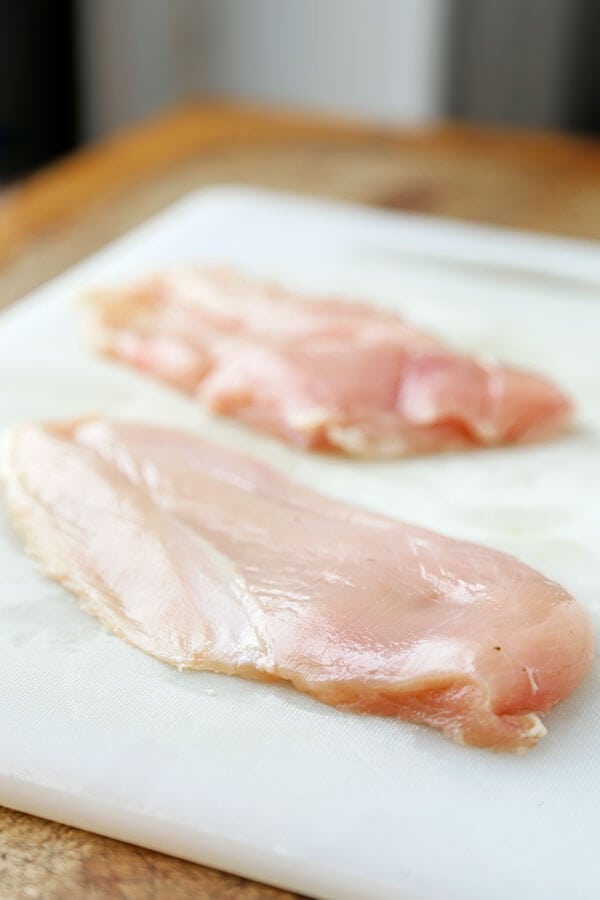 The secret to those crispy breadcrumbs is to briefly toast them in a pan with a tablespoon of extra virgin olive oil.
When they turn golden brown, transfer to a bowl and you are ready to bake your chicken katsu. This method ensures that the breadcrumbs will stay nice and crispy for a long time. When I shot this recipe, the chicken stayed crispy for four hours.
Who knows how much longer it would have stayed that way if we hadn't devoured it!
This baked chicken katsu recipe is great on it own but if you want to eat it the way they do in Japan, serve it with tonkatsu sauce.
It's basically the Japanese version of barbecue sauce but sweeter and tangier. You can find it at your local Asian super market or buy it here on Amazon. I often swap ketchup for tonkatsu because the taste is a bit more complex and more sandwich friendly. It goes well with everything served on a bun!
Other yummy chicken recipes:
Did you like this Baked Chicken Katsu Recipe? Are there changes you made that you would like to share? Share your tips and recommendations in the comments section below!
Print
Baked Chicken Katsu Recipe
This baked chicken katsu recipe is just as crispy as the deep fried version and stays crispy even longer!
Author:
Prep Time:

5 minutes

Cook Time:

25 minutes

Total Time:

30 minutes

Yield:

2 people

Category:

Main

Cuisine:

Japanese
Ingredients
1/2 pound boneless, skinless chicken breast
1/2 cup panko breadcrumbs
1 tablespoon extra virgin olive oil
3 tablespoon all-purpose flour
1 large egg
salt and pepper to taste
tonkatsu sauce (optional)
Instructions
Move one of the oven racks to the upper-middle part and preheat oven to 400ºF.
Line a baking sheet with parchment paper and set aside.
Place three shallow bowls one next to another and fill the first one with flour and the second with the egg. Leave the third one empty for now – this will be for the panko breadcrumbs.
In a small pan over medium heat, add breadcrumbs and olive oil and toss to coat evenly. Season with salt and pepper and cook until breadcrumbs are golden brown. Turn the heat off and add breadcrumbs to the last shallow bowl.
Pound chicken to about 1/2-inch thickness and dip each piece in flour, egg and panko breadcrumbs. Press gently to coat the chicken evenly on each side.
Place chicken pieces on parchment paper and bake in the oven for 12-13 minutes on each side, until the chicken's internal temperature reaches 165° Fahrenheit (75° Celsius).
Serve with tonkatsu sauce or ketchup.
Keywords: recipe, poultry, healthy