I'm excited to share with you the best Asian side dishes that are super delicious and a great way to round out your main course. Whether you're looking for Chinese, Thai, Japanese or Korean—there's something here for you and the whole family!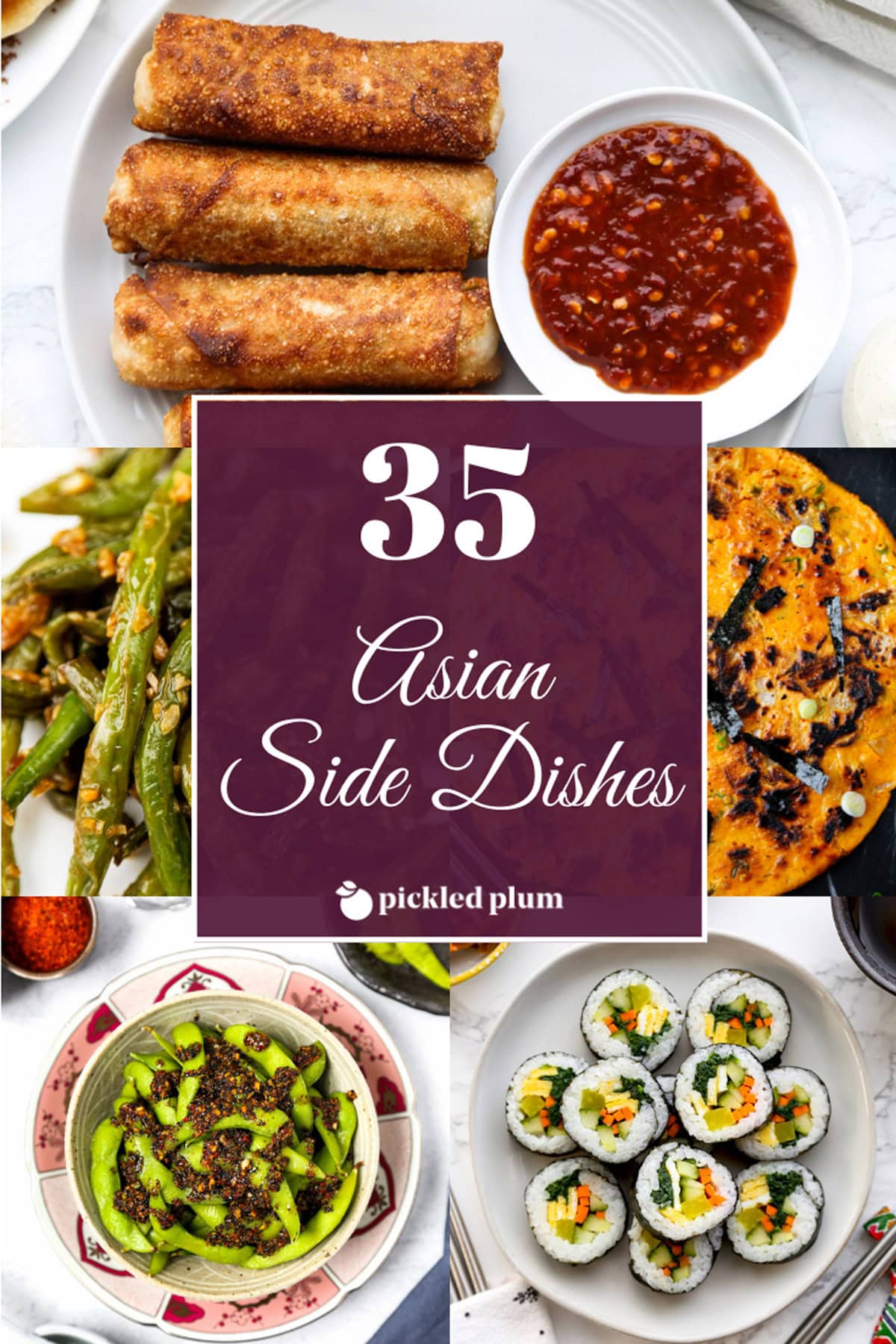 In Japan, dining on small plates of bar-food vs. a single meal is common. Japanese culture has their own version of a Spanish Tapas-style restaurant called the izakaya. So it stands to reason that creating a meal composed entirely of delicious Asian side dishes can help recreate the fun, communal Japanese dining experience.
One of my favorite things about many Asian dishes is that they tend to be simple to prepare with minimal ingredients but brought to life with flavored spices and sauces—making most easy recipes to prepare. Who doesn't love minimal work and maximum flavor?
Well, if you're like me – and are looking to put some Asian vegetables on the table next to a couple of rice side dishes, this post is for you!
Here you'll find 35 of the best Asian side dishes I serve at my place.
Asian Side Dishes Are Big Time Savers in the Kitchen
One of the biggest challenges we face as a home chefs is preparing meals that keep it interesting and delicious, while finding time to actually fit cooking into our busy lives. If something requires many ingredients and takes 3 hours to prepare, it's not going to get made very often, right?!
Special occasions: yes. Busy Tuesday evening after work, soccer practice and a flute recital: not so much.
One of my favorite things about many Asian dishes is that they tend to be simple to prepare and pack a punch in the flavor department. Many times, Asian cuisine will rely on minimal ingredients, prepared simply – and then everything is brought to life with aggressively flavored sauces and spices.
What Sauces or Spices Should I Keep Stocked?
Keeping sauce and spice staples in your pantry and fridge can help speed up your cooking process each time you want to whip up a quick but delicious side dish. A tablespoon of a condiment like fish sauce is a great addition that can go a long way to delivering a deep umami kick to a dish. And a tiny bit of chili crisp or sesame oil can take a simply prepared dish to the moon from a flavor perspective. Many of these dishes have common ingredients so keeping them stocked for the future will come in handy!
Sesame oil
Light Soy Sauce
Mushroom-based oyster sauce (vegan-friendly)
Liquid aminos (gluten-free friendly)
After you've gathered all of your favorite sauce and spice ingredients, you're halfway to being able to whip up the perfect side dish in no time. See, simple ingredients make great recipes!
Whether you're here looking for the perfect side to go with your almost-finished-dinner or hoping to fill the table with a ton of colorful small plates, I hope you find your new favorite from this list of easy-to-make Asian side dish recipes! Enjoy!
35 Asian Side Dishes
With these easy asian side dishes your family dinner will never be bland! Who knew such simple steps could turn into one of the best home chefs on the block!
What do you think about this compilation of 35 Asian Side Dishes? Did you find what you were looking for? What's your go-to signature food pairing to your favorite main meal? Share your favorite, easy side dish, tips, and recommendations in the comments section below!
Print