Bok Choy With Garlic and Oyster Sauce
*This post may contain affiliate links. Read my disclaimer here.
There's no delivery required for this delicious and easy Bok Choy With Garlic and Oyster Sauce Recipe! This is a quick stir fry recipe that only takes 10 minutes to make from start to finish. Pour the sauce over rice and enjoy!

I used to spend a lot of money on delivery. Yep – I was one of those people who used to order take out 3-4 times a week thinking it was cheaper than to cook for one.
And that was true sometimes when I lived in Toronto. I was able to get a full takeout container of Thai or Chinese food for around six bucks.
But that changed when I moved to New York. In my Brooklyn neighborhood, ordering food from a normal, no frills Chinese restaurant (yes I'm talking about you, Mr. Wonton) was anything but cheap. A simple fried rice would be close to $10 and a tub of wonton soup would be about $12. And if you wanted to order vegetables dishes, you had to pay even more!
Being a bok choy lover, I used to order it with garlic and oyster sauce pretty much every single time I did takeout. But that stopped in Brooklyn. I thought it was insane to pay over $13 for bok choy, knowing that it only cost $3 at the store, so I started making my own bok choy stir fry.
And you know what? It came out tasting even better than the ones I've had from restaurants! Here's a quick tutorial on how to make bok choy with garlic and oyster sauce
How to Prepare Bok Choy
Preparing bok is very easy but one thing to look for is dirt. You want to make sure every leaf is clean otherwise the little grains of dirt will end up ruining your dining experience (no one has ever said "yum!" while chewing on sand).
If you are using baby bok choy, no cutting is needed. For regular size bok choy, trim the end where the leaves connect, or you can just break off the leaves one by one with your hands.
Fill a bowl with water and add the bok choy. While soaking the leaves, rub them to remove all the dirt and transfer them to a strainer.
For baby bok choy, I find it's easier to clean them one by one under a running tap. That's because a lot of dirt collects at the bottom, where the bulb is, so you want to make sure to carefully open the bulb and clean between the leaves. Transfer the baby bok choy to a strainer.
Rinse the bok choy and drain well.
Grab a paper towel a pat the bok choy dry. This step is optional but I find that it helps the bok choy cook faster and be less watery.
Now that your bok choy is ready to cook, let's take a look at the ingredients you will need to make this stir fry.
Ingredients for Bok Choy with Garlic and Oyster Sauce
Garlic: A few minced garlic cloves to give the dish a fragrant aroma and a little sweetness.
Oil:  I'm using canola oil but feel free to use other neutral oil such as vegetable or grapeseed oil.
Bok choy: Any type of bok choy will work for this recipe. Make sure the leaves are clean by soaking and rinsing them thoroughly.
Oyster sauce: A good oyster is an absolute must whenever you are making oyster sauce based dishes. It shouldn't too sweet but should definitely be a little pungent. My favorite is Lee Kum Kee.
Shaoxing wine: Shaoxing wine is a little sweet and vinegary, it's one of those ingredients that makes a dish taste more authentically Chinese. You can use dry sherry as a substitute.
Soy sauce: A little soy sauce to add saltiness and umami.
Ground black pepper: The final touch to round up the flavors and infuse a little heat.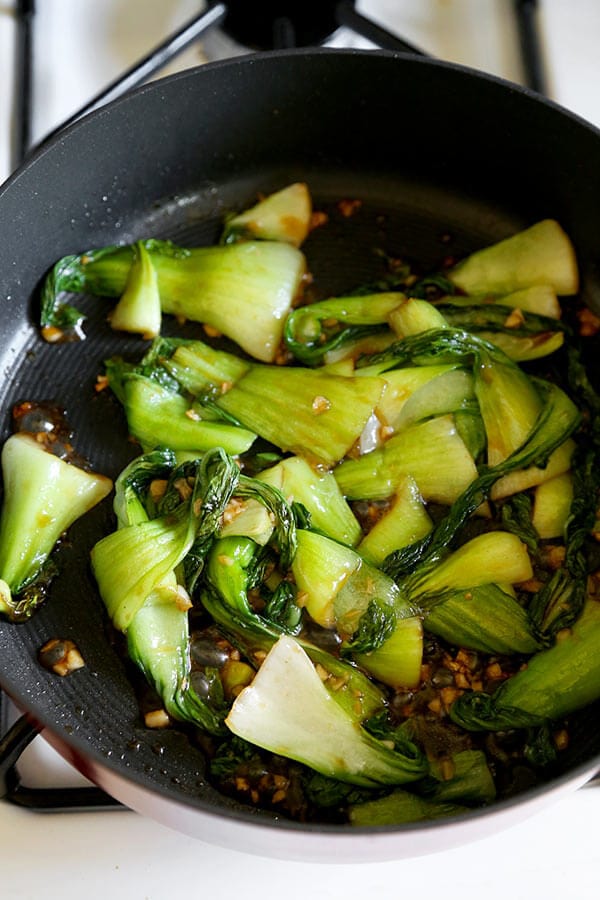 How to Make Bok Choy with Garlic and Oyster Sauce
Gather all of your kitchen tools and ingredients.
Prep your bok choy and set it aside.
Fill a medium or large pot with salted water and bring to a boil.
Add the bok choy and blanch for 1 minute.
Drain and rinse the bok choy under cold water. Drain well and transfer the bok choy to a bowl.
Place a skillet over high heat and add the oil and garlic. Sautee for one minute.
Add the bok choy and the remaining ingredients and toss for 1 minute.
Turn the heat off and transfer the dish to a plate. Enjoy!
What to Serve with this Bok Choy Stir Fry
I usually serve this simple stir fry with a side of white rice and a soup. I make this whenever I'm looking to eat lighter without compromising of flavor. But I also like to pair it with other Chinese favorites such as:
Did you like this Bok Choy With Garlic and Oyster Sauce Recipe? Are there changes you made that you would like to share? Share your tips and recommendations in the comments section below!
Print
Bok Choy With Garlic and Oyster Sauce
There's no delivery required for this delicious, healthy and easy Bok Choy With Garlic and Oyster Sauce Recipe! Ready in 10 minutes from start to finish.
Author: Caroline Phelps
Prep Time:

5 minutes

Cook Time:

5 minutes

Total Time:

10 minutes

Yield:

4

sides

1

x
Category:

Side dish

Method:

Stove top

Cuisine:

Chinese
3

cloves garlic (minced)

1 tablespoon

canola oil

16 ounces

bok choy (or baby bok choy)

1 1/2 tablespoons

oyster sauce

1 teaspoon

shaoxing wine or dry sherry

1 teaspoon

soy sauce
ground black pepper to taste
Instructions
Bring a pot of salted water to boil and add bok choy. Boil for 1 minute and drain. Rinse under cold water and drain again, well. Set aside.
In a pan over high heat, add oil and garlic and cook for 1 minute. Add bok choy and all the other ingredients and cook for 1 minute.
Turn the heat off and transfer bok choy and sauce to a plate. Serve immediately.
Notes
This Bok Choy With Garlic and Oyster Sauce will keep refrigerated for up to 2 days.
Keywords: recipe, appetizer, Asian, vegetarian, dim sum, easy
Recipe Card powered by
Pickled Plum is a participant in the Amazon Services LLC Associates Program, an affiliate advertising program designed to provide a means for sites to earn advertising fees by advertising and linking to amazon.com.