Vegan Dan Dan Noodles
*This post may contain affiliate links. Read my disclaimer here.
This is a vegan recipe for dan dan noodles you won't be able to stop eating! Chopped mushrooms replace the ground meat and bring earthiness to this spicy, nutty and tangy noodle dish. It's yummy!
Sometimes vegan recipes just taste better than recipes with meat.
I know, it sounds crazy! But the more I cook vegan dishes, the more I realize that sometimes indeed, certain dishes are just better without meat traditionally used. Well, such is the case with these vegan dan dan noodles!
Finely chopped mushrooms replace the ground meat typically used in this dish. They lighten it, give it earthiness and turn this bowl of spicy noodles into a super nutritious meal!
You see, mushrooms are packed with goodness. They are high in vitamin D, which is essential for bone health – and also great at boosting the immune system. Mushrooms are also very high in antioxidant properties, which fight against free radicals (that can cause illnesses and create fine lines and wrinkles), and work to protect us against different types of cancers such as prostate, skin, gastric and colon.
But aside from all that… mushrooms are absolutely delicious! The level of umami they impart to this Szechuan vegan noodle recipe is second to none!
Once you try them, I think you'll be in absolute love with dan dan noodles.  The fact that this is a vegan recipe will be secondary 🙂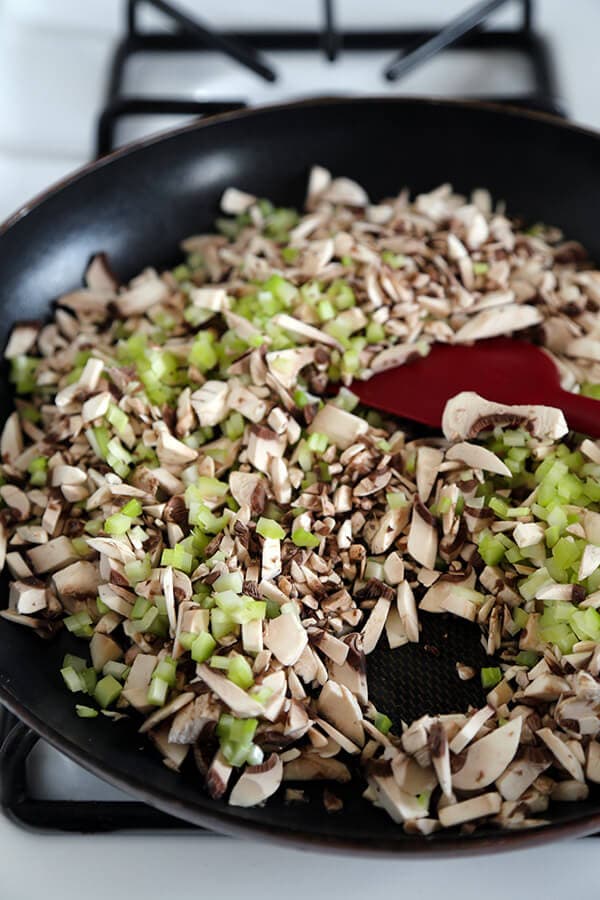 What are dan dan noodles?
Now, traditional Chinese dan dan noodles (担担面) are a mixture of chili oil, ground meat, sauce, leafy greens and noodles. And, while many versions of this dish abound, the one overarching similarity between them is that they're usually quite spicy!
Many recipes will call for the use of Sichuan peppercorns. Those are the face numbing peppercorns you'll also frequently find in recipes like mapo tofu.
Well, it's gotta be said that I'm not a big fan of the mouth numbing qualities of those peppercorns. For me they tend to hijack all other flavors.
So I left them out of this mushroom dan dan recipe.
That said, if you love it numbingly spicy (I'm looking at you, Ben), then feel free to add them!
Also, traditional Sichuan dan dan mien can be served dry or in more soupy preparations.
However, for this vegan version, I'm keeping it simple-to-make with a recipe that is more on the dry side of things. You're absolutely gonna LOVE how easy it is to whip up at home!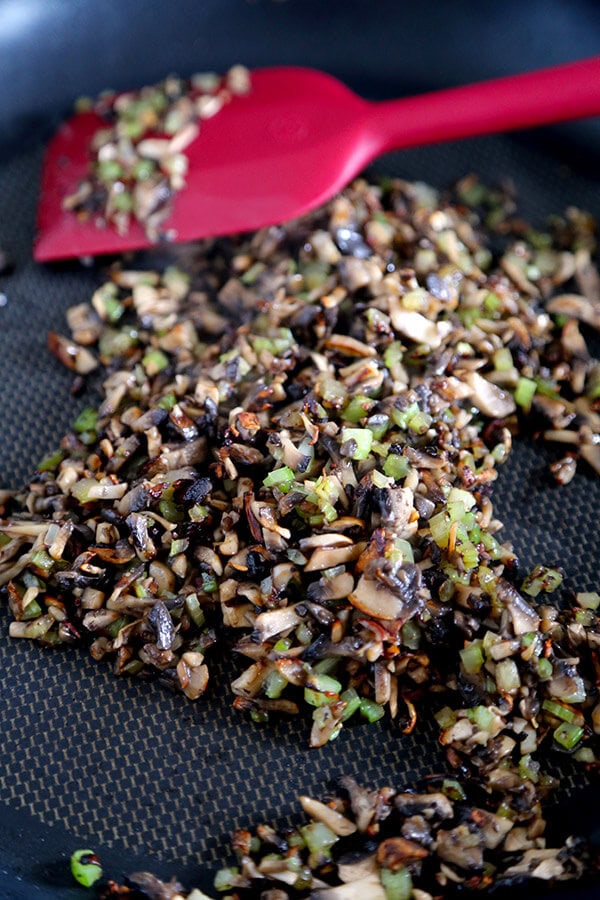 How to make dan dan noodles
For these vegan dan dan noodles, I've mixed finely chopped button mushrooms and celery and stir fried the mixture until tender and almost caramelized.
The texture is so similar to ground meat you will find it hard to believe you are actually eating vegetables!
So there weren't any tough to find ingredients, I opted to use thin spaghetti, cooked al dente. This is a great substitution for traditional Chinese noodles 🙂
Give a quick blend to all the elements for the sauce. I'm using garlic, ginger, rice vinegar, hot chili oil, soy sauce, peanut butter, sugar and salt.
Once your sauce is blended, the noodles are cooked and the mushroom mixture nicely caramelized – just mix everything together in a large bowl.
Mixing this warm mixture with a handful of baby spinach makes the leaves wilt just enough that they don't get soggy or watery. Noodles, mushrooms and spinach are tossed in this nutty, spicy, acidic, sweet and salty sauce to create vegan dan dan noodles that are quite spectacular!
Easy and delicious!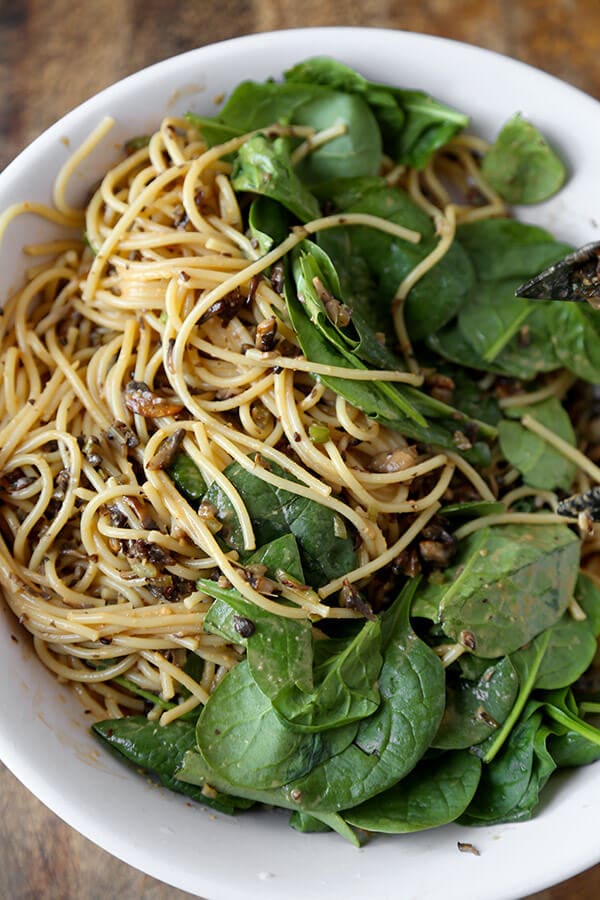 What does dan dan mean in Chinese?
Dan dan noodles got their name from the pole that traditional Chinese noodle sellers used to carry when hawking their yummy wares to a hungry populace.
You see, a dan dan was a carrying pole that had a container at each end. One was a basket of noodles – and the other was a container of sauce. The noodle sellers would hike the pole onto a shoulder, balancing the containers on each end. When someone ordered noodles, they'd serve them up and then move on down the road.
Well, it's not uncommon in food history that the name of a dish is set by the populace that savors it. Sure, pole carried noodles doesn't have much of a ring to it… But dan dan noodles sounds just right!
Your favorite new Sichuan food recipe
Now, you may have tried dandanmien on an epic trip to China – or at your favorite neighborhood Chinese spot.
But I bet you've never tried them with mushrooms instead of meat.
Let me tell you, mushrooms create such a savory, umami flavor and texture in this Chinese noodle recipe – that you won't miss the meat at all!
Serve these vegan dan dan noodles as a main or a side. They taste their best when made fresh but are still delicious cold (after being refrigerated) – or give them zap for a few seconds in the microwave.
Happy cooking, friends!
Other delicious and easy Asian vegan recipes:
Did you like this Vegan Dan Dan Noodles Recipe? Are there changes you made that you would like to share? Share your tips and recommendations in the comments section below!
---
Print
Vegan Dan Dan Noodles
This is a vegan recipe for dan dan noodles you won't be able to stop eating! Chopped mushrooms replace the ground meat and bring earthiness to this spicy, nutty and tangy noodle dish.
Author: Caroline Phelps
Prep Time:

10 minutes

Cook Time:

9 minutes

Total Time:

19 minutes

Yield:

4

people

1

x
Category:

Main

Cuisine:

Chinese
Scale
Ingredients
8 ounces

thin spaghetti

1 tablespoon

peanut or vegetable oil

2

stalks celery (finely chopped)

9 ounces

white button mushrooms (finely chopped)
handful baby spinach

2

stalks scallions (finely chopped)
Sauce
2

small cloves garlic (minced)

1 tablespoon

ginger (minced)

3 tablespoons

rice vinegar

2 tablespoons

hot chili oil (or less if you don't like it too spicy)

3 tablespoons

soy sauce

3 tablespoons

natural peanut butter

2 1/2 teaspoons

sugar
salt
Instructions
Bring a pot of water to boil. Add spaghetti and cook for 8-9 minutes, until al dente. Drain, rinse under cold water, drain again and transfer to a large mixing bowl.
In a pan over high heat, add peanut oil, celery and mushrooms and cook for 8-10 minutes, until mushrooms are beginning to turn a golden brown color. Transfer to a bowl and set aside.
Put all the ingredients for the sauce in a blender and blend until smooth. Add sauce to the spaghetti and toss until the noodles are evenly coated. Season with salt until you are satisfied with the taste.
Add mushroom mix, spinach and scallions to the noodles and toss well. Serve.
Notes
This vegan dan dan noodles recipe will keep refrigerated for up to 3 days.
Keywords: recipe, noodles, Asian, vegetarian, plant based
Recipe Card powered by
Pickled Plum is a participant in the Amazon Services LLC Associates Program, an affiliate advertising program designed to provide a means for sites to earn advertising fees by advertising and linking to amazon.com.