Chinese broccoli is one of my favorite Asian leafy greens! I love its crunchy texture and the flavor it takes when dressed with a simple garlic and oyster sauce. It's a little bitter, savory, and pairs well with just about anything. You can't wrong with this!
Chinese broccoli.
Chinese kale.
Gai lan.
All the same thing. It's the Chinese leafy vegetable you see in most traditional Chinese menus and dim sum restaurants. It looks like broccoli rabe and is usually served with oyster sauce or other brown sauce and with lots of yummy garlic bits.
My recipe is a mix of both – I've stir fried the Chinese broccoli with garlic, soy sauce, broth and sesame oil, and topped it with a little oyster sauce for extra flavor.
The flavors are assertive and pair beautifully with the bitterness of leaves. It's a simple recipe that takes no longer than 10-15 minutes to make.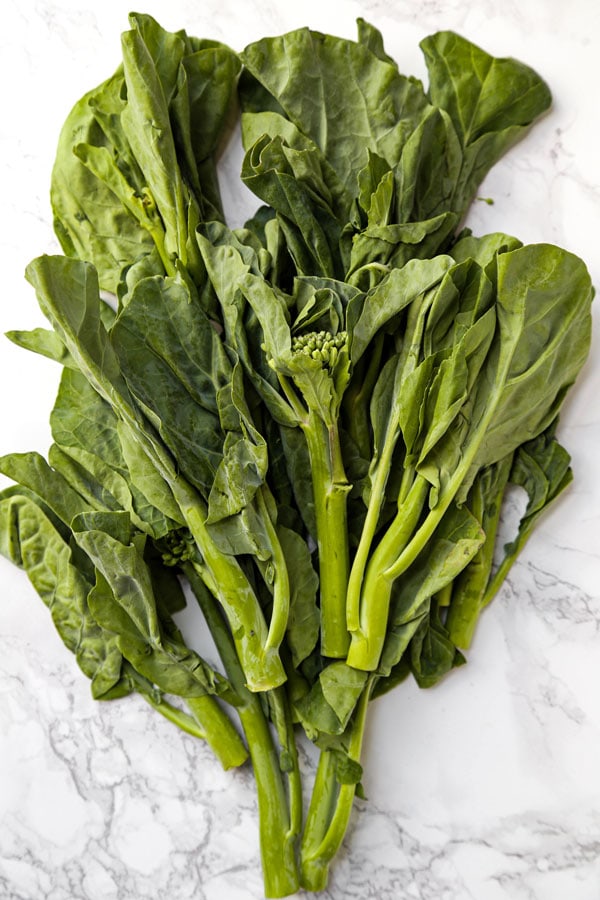 What Does Chinese Broccoli Look Like?
If you are not used to shopping at an Asian grocery store, finding Chinese broccoli can be a bit of an adventure. The leaves can look very similar to other leafy greens such as ong choy, choy sum, bok choy, and tatsoi. My first two trips I walked back and forth between the aisles comparing one veggie to another until I finally gave up and asked for help.
What to look for:
Thick stems and dark green leaves that look a bit like kale. Chinese broccoli also has flower heads like the ones on a broccoli, but much smaller and hidden within the leaves.
If you are still unsure, just ask someone. Use the Mandarin word gai lan when asking and someone will direct you to the right vegetable.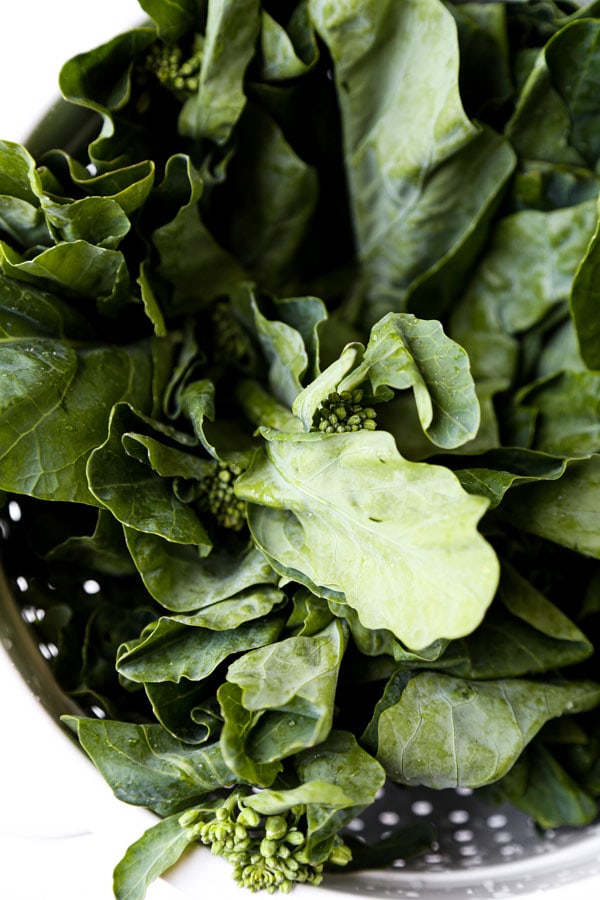 Chinese Broccoli with Garlic Sauce Ingredients:
Chinese broccoli (gai lan): You can find gai lan at your local Asian grocery store or specialty store. You may also be able to find it at a farmer's market.
Vegetable oil: Just a little is needed to saute the vegetables.
Garlic: We will be adding the garlic near the end of the cooking process to preserve the pungent taste.
Soy sauce: To add a splash of umami and saltiness. You can substitute with liquid amino if you are gluten intolerant.
Chicken or vegetable broth: Though I am not big on using meat and poultry in my recipes, I do prefer using chicken broth for this dish. It gives the dish more depth of flavor and a comfort food-like taste.
Sesame oil: A dash to add nuttiness.
Cornstarch: This is to thicken the sauce and give it a velvety texture.
Oyster sauce: I love oyster sauce so much for its punch of saltiness and earthiness. Make sure you buy the good stuff since there are a lot of subpar options out there that are heavy on sugar. A good oyster sauce should have a faint oyster taste and not be too sweet. My favorite is the Lee Kum Kee Premium Oyster Flavor Sauce.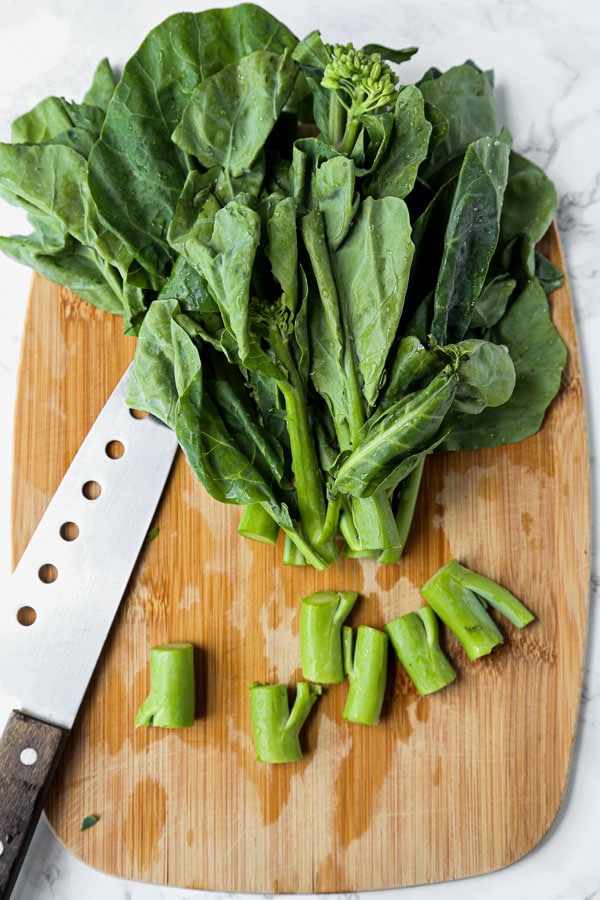 How To Cook Chinese Broccoli with Garlic Sauce:
You won't believe how easy it is to make.
Rinse the Chinese broccoli. Rinse it well to remove all the dirt and hidden living things (should there be any). If the gai lan you have seems quite sandy, fill a bowl with water, put the gai lan in and leave it in there for a few minutes. This will dislodge any hidden grainy bits which will sit at the bottom of the bowl. Take the gai lan out, rinse it and drain it well.
Make the garlic sauce. Mix all the ingredients for the sauce in a bowl and you're done.
Slice off part of the stems. The ends can be quite hard and stringy so I recommend cutting off about 2-3 inches.
Saute the vegetables. Use a wok or a large deep pan to cook the Chinese broccoli for about 5 minutes, then add the garlic and saute for an additional 1 minute.
Stir in the sauce. Add the sauce, toss and cook until most of it has evaporated.
Serve. Serve it on a pretty white plate and with a side of steamed white rice. Gai lan is best when eaten fresh and hot.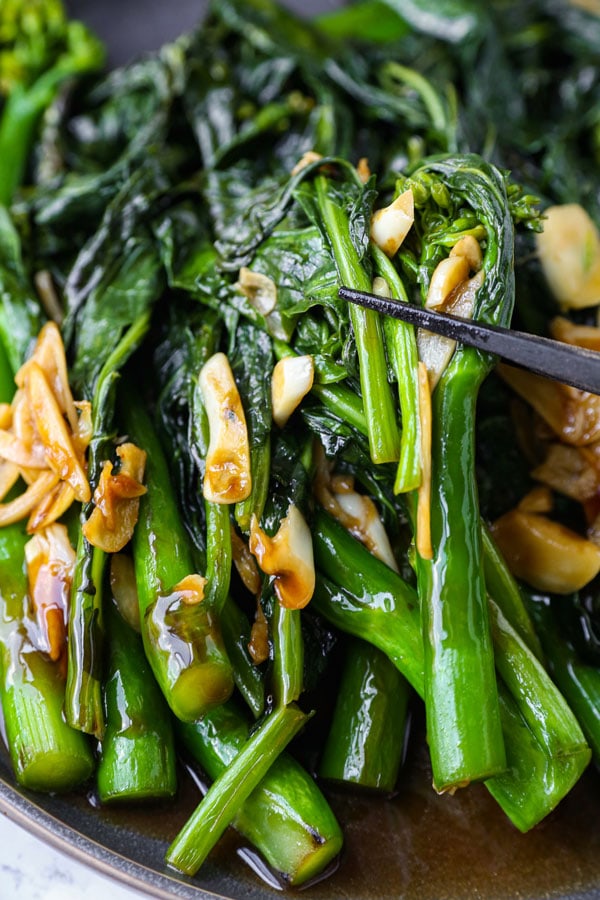 What to Serve with Chinese Broccoli:
This is an easy Asian stir fry that can be served either as a main or a side dish. It pairs beautifully with other simple Chinese dishes such as: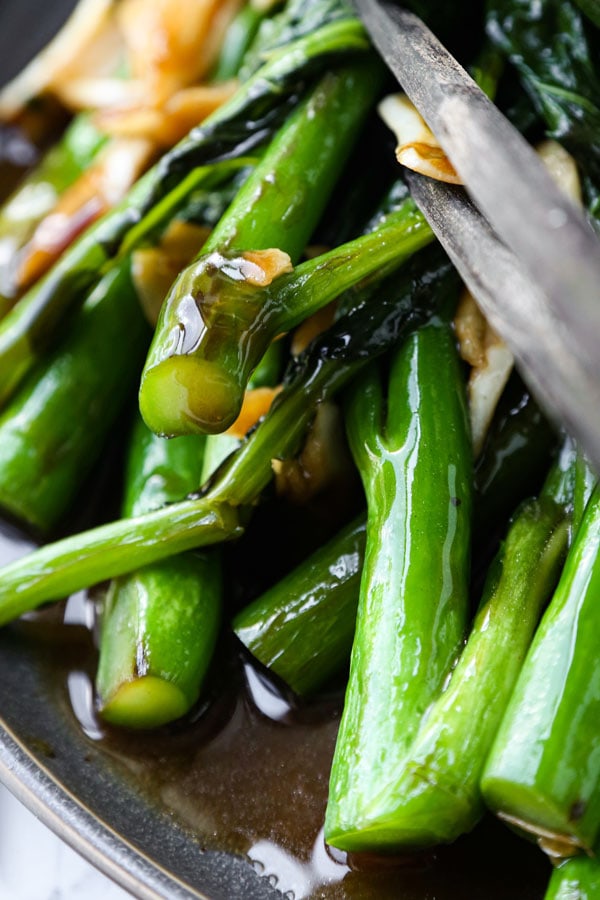 Did you like this Chinese Broccoli with Garlic Sauce Recipe? Are there changes you made that you would like to share? Share your tips and recommendations in the comments section below!
Print
Chinese Broccoli with Garlic Sauce
A classic Chinese side dish your entire family will love!
Author: Caroline Phelps
Prep Time:

5 minutes

Cook Time:

7 minutes

Total Time:

12 minutes

Yield:

4

sides

1

x
Category:

Side

Method:

Stir frying

Cuisine:

Chinese
1

pound Chinese broccoli (gai lan)

1 tablespoon

vegetable oil

4

garlic cloves, thinly sliced

1 tablespoon

 soy sauce

1/4 cup

 chicken broth (or vegetable broth)

1/2 teaspoon

 sesame oil

1/2 teaspoon

 corn starch

1 tablespoon

oyster sauce
Instructions
Wash Chinese broccoli under water and drain well.

In a bowl, mix soy sauce, broth, sesame oil, and cornstarch. Set aside.

Place Chinese broccoli on a cutting board and slice 2 inches off the 

stems.

In a large wok or deep pan over high heat, add vegetable oil. When the oil 

is hot, add Chinese broccoli and saute for 5 minutes, tossing the broccoli every 

minute or so.

Add garlic, toss and cook for 1 minute.

Add sauce and cook for 1 minute, or until most of the sauce has 

evaporated.

Transfer to a plate and top with oyster sauce.
Nutrition
Serving Size:
Calories:

85

Sugar:

2 g

Sodium:

218.9 mg

Fat:

4.7 g

Saturated Fat:

2.9 g

Carbohydrates:

9 g

Fiber:

3 g

Protein:

3.5 g

Cholesterol:

0 mg
Keywords: recipe, Chinese broccoli, Chinese kale, appetizer, dim sum, stir fried vegetables
Recipe Card powered by