A crispy Tofu Recipe that tastes just like Chinese take out! Tossed in a sweet and spicy honey sriracha sauce, these tofu cubes are delectable and ready in just 20 minutes!
There are plenty of tofu recipes out there but not all of them are equal. I'm sure you've heard people say that tofu tastes like cardboard and I'm here to tell you that's not true!
Tofu can be spectacular if you know how to cook it the right way. One thing to remember is that the preparation is as important as the seasoning of the dish. Give it love and attention and it will reward you by becoming the center piece of your recipes.
Take this honey sriracha tofu for example – aside from being one of the most loved recipes on my blog, it showcases how versatile a simple block of soybean can be!
But before we get started, let's familiarize ourselves with one of Asia's staple ingredients.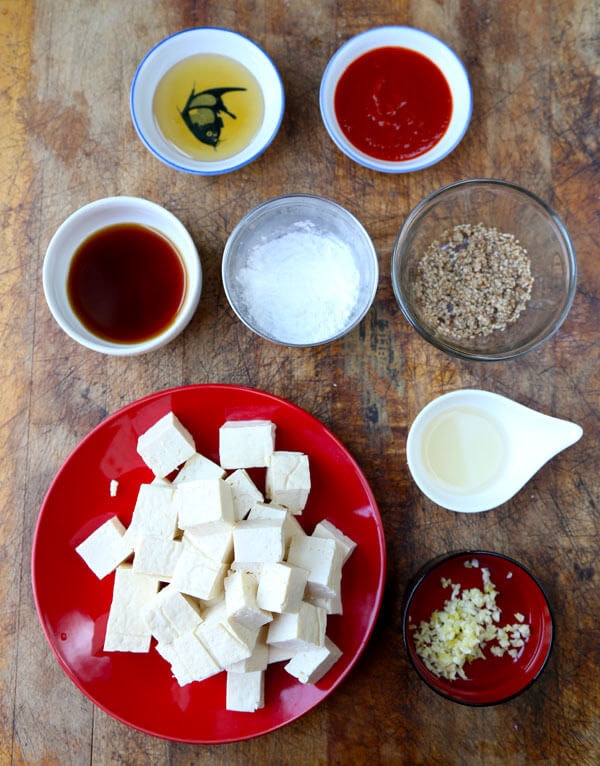 What is Tofu?
Tofu, or bean curd, is made by coagulating (congealing) soy milk and pressing the curds into white blocks (tofu blocks), very much like the process of making cheese.
There are different levels of firmness:
Silken. This is the softest and smoothest type of tofu that has the highest water content, meaning it's been pressed the least. It's mostly used for soups, smoothies, or served cold with a drizzle of soy sauce (hiyayakko). Silken tofu is very delicate and difficult to handle with bare hands as it breaks easily.
Medium firm. This one is considered the regular type of tofu. The texture is between soft and extra firm, making it ideal for stir fries, salads, and dishes where it can be scrambled, or cooked in a gooey sauce like mapo tofu. Medium tofu is hard enough to hold in your hand without breaking but still needs to be pressed before using to let out excess water.
Extra firm. The most condensed of them all, extra firm tofu contains the least amount of water. It's great in stir fries and can be marinated to take on various flavors. It bakes and grills well and is delicious in sandwiches and burgers. It's easy to handle and needs only to be drained before using.
What Does it Taste Like?
Tofu is quite mild in flavor. It's a little sweet like soy milk, creamy, with a slight pungency to it. Because it's so mild, it's extremely versatile and can take on any flavor you give to it. While most packaged tofu can have a slight bitter taste, fresh tofu doesn't at all. In fact, freshly made tofu is so delicious that it can be eaten on its own.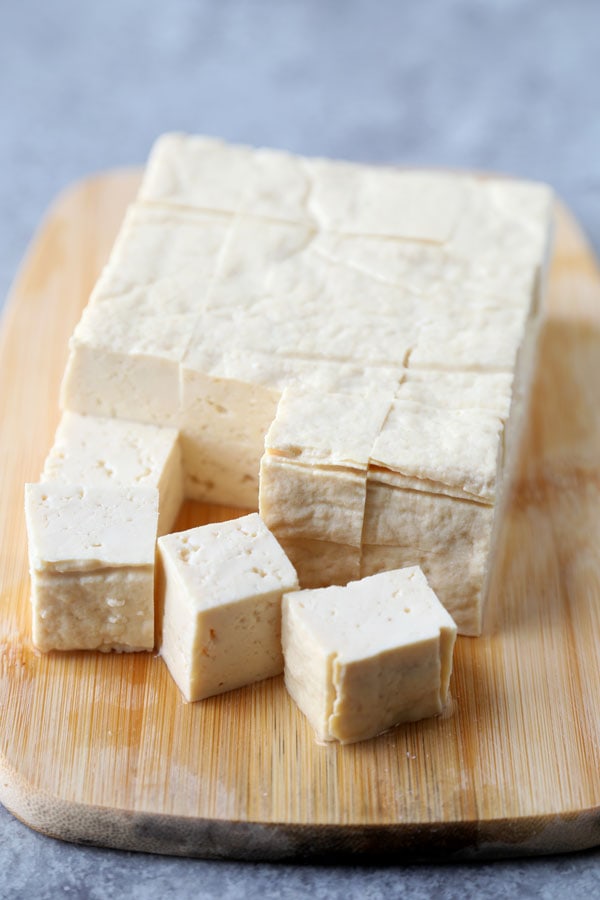 How To Cook Tofu
Open the package, drain the water and place the block of tofu on a plate.
Leave it for 15-20 minutes to allow the excess water to come out (this is the traditional Japanese way). Alternatively, you can wrap the tofu in paper towel a few times and give it a gentle press until most of the water has come out.
Place the block of tofu on a cutting board and slice it into bite size cubes.
Dust the tofu cubes with cornstarch or potato starch until all sides are coated.
Put a little oil in a pan and fry the tofu on high heat for a few minutes, until all the sides are golden brown and crispy.
Add the honey sriracha sauce and briefly toss the cubes. Transfer to a plate and serve.
I love to eat this tofu recipe with a side of rice and veggies. The tofu cubes are fluffy and moist on the inside, and nice and crispy on the outside. So yummy!

Using a Tofu Press
When it comes to baking tofu or using it in dishes with little sauce, it's best to remove as much water as possible so you can get the crispiest pieces you can.
Using a tofu press is the best way to extract as much water as possible since it's made specifically for that. They are not expensive and totally worth it if you cook a lot with tofu.
The one I use is the TofuXpress because I get more bang for my buck. If I only need half a block of tofu for my recipe I can leave the other half in the TofuXpress since it can be used as a storage container.
I also use it to marinate tofu (I recommend slicing the tofu in cubes when marinating so you get more flavor infused per bite) and to pickle vegetables. I'm big on multi-purpose products since I need to save space. My Brooklyn kitchen is teeny tiny!
How to Press Tofu
Place the tofu in the tofu press and twist.
Leave it overnight and drain the excess water.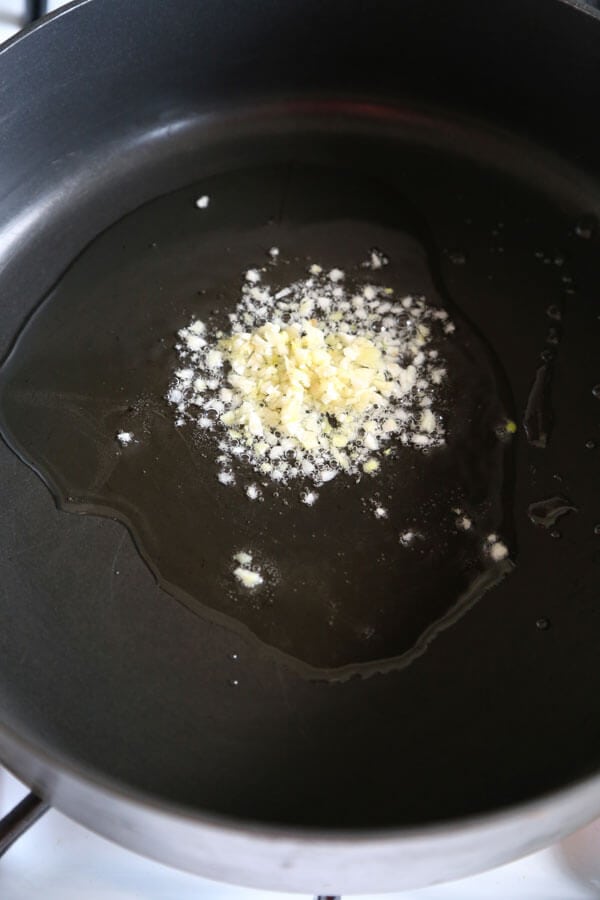 How Long Does Tofu Last?
Most tofu is sold in aseptic containers to prevent any contamination. Left in these containers, tofu can last 1-2 weeks past the expiration date, stored in a refrigerator. I've come across some articles saying that it can last months past the expiration date but that's something I can't recommend since I never keep it longer than 2 weeks after it expires.
If the package is opened, it will only last 3-5 days. The best way to conserve leftover tofu is to transfer it to a storage container and fill it with fresh water. Change the water daily to prevent contamination.
Can Tofu Be Frozen?
Yes, absolutely!
Just make sure you extract as much water as you can before freezing it. Slice the tofu into cubes and store it in an airtight plastic bag or container. When you are ready to use it, take it out of the freezer and let it thaw in the fridge overnight. Do not refreeze again though as this may contaminate the tofu.
Frozen tofu will keep for 3-4 months.
Is Tofu Gluten-Free?
Tofu is made with soybeans, water and curdling agent. So yes, plain tofu is gluten-free.
However, it should be noted that not all flavored tofu is gluten-free. Always make sure to check for the GF (gluten-free) label.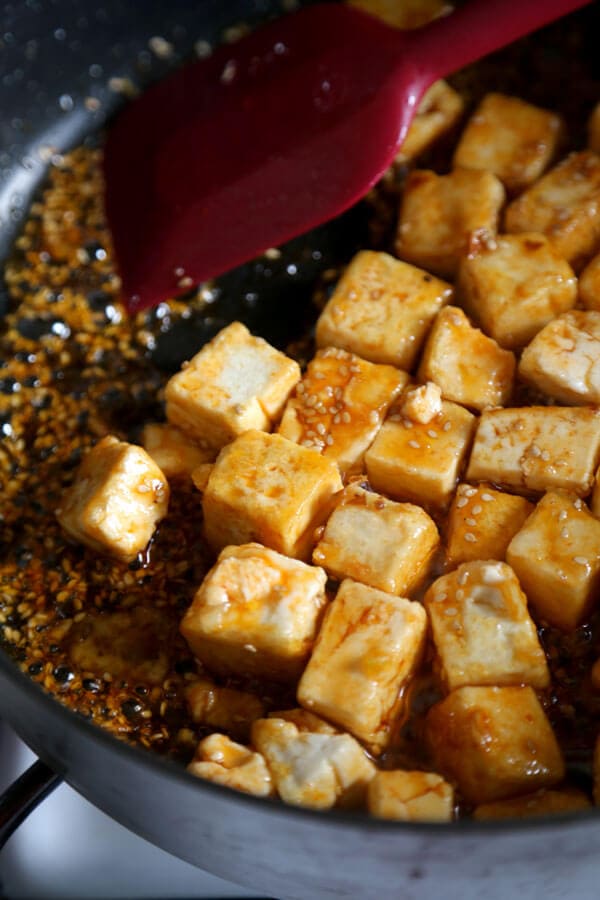 Cooking with Tofu
I've come a long way since the first time I sliced a block of tofu.
The only preparation I knew was to serve it chilled, topped with grated daikon and drizzled with soy sauce (a Japanese dish called hiyayakko).
As I familiarized myself with tofu I got better at achieving good texture and balancing flavors. I learned that marinating tofu made for a delicious salad topping and that adding a few cubes to my smoothies made them super creamy. The more I used tofu in my cooking and the more impressed I became with this ingredient.
By now I think it's safe to say that I'll never run out of tofu recipes to create!
A Substitute for Meat That's Also Great for the Skin
Tofu is the perfect substitute for meat as it's lower in calories and fat but just as filling.
And did you know that tofu can also slow down the aging process?
Tofu is packed with strong anti aging properties. It's rich in isoflavones which help prevent collagen breakdown. Think of it this way: every bite of tofu you eat preserves skin-firming collagen and act as a glue that holds everything together.
Beauty on a physical level starts from the inside so the more "beauty foods" you eat, the more radiant your skin will be!

What To Serve This Tofu Recipe With
A bowl of rice is a must!
The grains will soak up the sauce and intensify the flavors with each bite you take. Because the flavors of this tofu recipe are so intense, I recommend sticking to milder sides like steamed veggies, plain rice, miso soup, or something creamy like a kani salad to offset the heat of the dish.
Honey Sriracha Chicken Or Shrimp
Pairing sriracha with honey seemed like a natural choice when I created this tofu recipe. The balance of heat and acidity from the hot sauce paired with sweet and floral honey was a flavor combination I knew would succeed.
And the good news is that it works with just about any other protein too!
If tofu isn't really your cup of soy milk (I'm good at making bad jokes), swap it for chicken or shrimp. The steps are exactly the same except that you will need to cook the chicken for longer to make sure it's cooked through.
Crispy Tofu For The Win
It's easy to see myself chowing down on something like this in a food court somewhere in Thailand or Malaysia. The flavors are reminiscent of my days traveling and working across Asia.
I always get a little nostalgic when picturing myself sitting in a hawker center in Singapore or slurping a bowl of noodles on a subway platform in Tokyo – every day felt like a new adventure.
Ultimately, spending 8 years in Asia changed my life because it's there that I fell in love with cooking and the reason why I now have a food blog.
This honey sriracha tofu recipe is best served immediately. It's still yummy the next day but the slight crispy texture will be soft by then.
Looking for more tofu dinner recipes? Try these ones: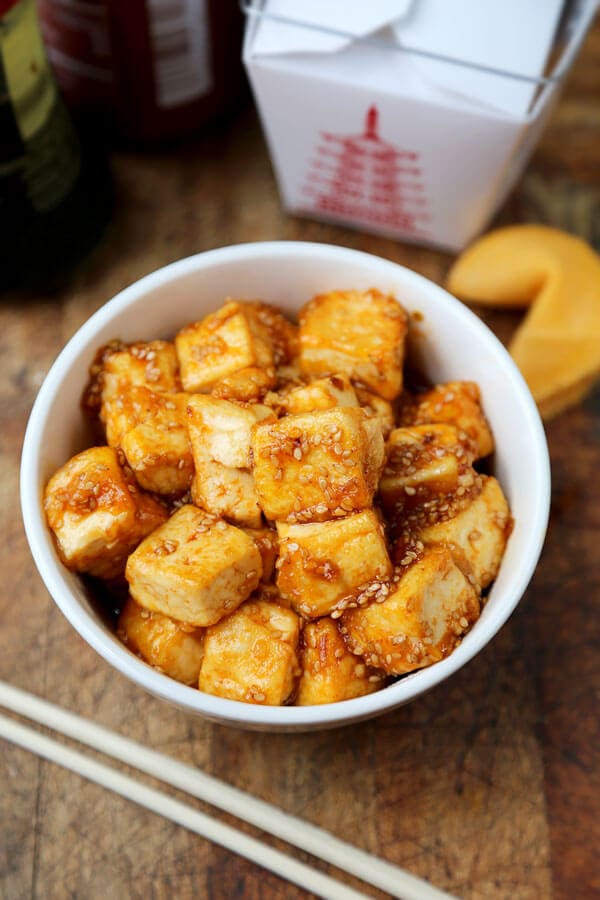 Did you like this Crispy Honey Sriracha Tofu Recipe? Are there changes you made that you would like to share? Share your tips and recommendations in the comments section below!
---
Print
Crispy Honey Sriracha Tofu
Tossed in a sweet and spicy honey sriracha sauce, these tofu cubes are delectable and ready in just 20 minutes!
Author: Caroline Phelps
Prep Time:

10 minutes

Cook Time:

10 minutes

Total Time:

20 minutes

Yield:

2

people

1

x
Category:

Tofu

Method:

Stir fry

Cuisine:

Chinese
14 ounce

block medium firm tofu

1

clove garlic (minced)

2 tablespoons

sriracha sauce

1 tablespoon

soy sauce

1 1/2 tablespoon

honey

1 tablespoon

rice vinegar

2 tablespoons

potato starch or corn starch (for dusting)

3 tablespoons

vegetable oil (or other neutral oil)

1 teaspoon

sesame oil

1 tablespoon

sesame seeds

1

scallion, finely chopped (optional)
Instructions
Drain the tofu from the package and place on a plate. Let sit for 15-20 minutes to remove excess water. Alternatively, wrap the tofu in paper towel or tea towel to remove excess water. Repeat 3 to 4 times until the tofu is dryer.
Whisk garlic, sriracha, soy sauce, honey and rice vinegar in a bowl and set aside.
Dust tofu with cornstarch until all sides are coated.
Use a medium large pan and turn the heat to high. Add oil and when the oil is hot, almost smoking, add tofu cubes. Be careful of oil spits! Fry on each side for 2-3 minutes without touching or tossing too much, until golden brown.
Add sauce and gently coat tofu cubes. Cook for 3 minutes.
Turn the heat off and add sesame oil and sesame seeds.
Stir once more to evenly coat tofu cubes and serve topped with scallions.
Notes
Potato starch (katakuriko) is most often used in Japanese cooking. Much like cornstarch, it gives sauce and gooey texture and turn light and crispy when deep fried.
This honey sriracha tofu recipe is best when served immediately to enjoy the crispiness of the tofu cubes.
Nutrition
Serving Size:
Calories:

373

Sugar:

15.7 g

Sodium:

848.9 mg

Fat:

23.7 g

Saturated Fat:

5.1 g

Carbohydrates:

22.6 g

Fiber:

2.7 g

Protein:

19.5 g

Cholesterol:

10.5 mg
Keywords: bean curd, Asian, main
Recipe Card powered by