This is a traditional Japanese style mapo tofu recipe – but with a twist! I've added curry powder for a playful, unexpected pop of flavor to an already tasty dish. And don't be fooled by the extensive list of ingredients – this recipe is super easy and quick to make! 🍽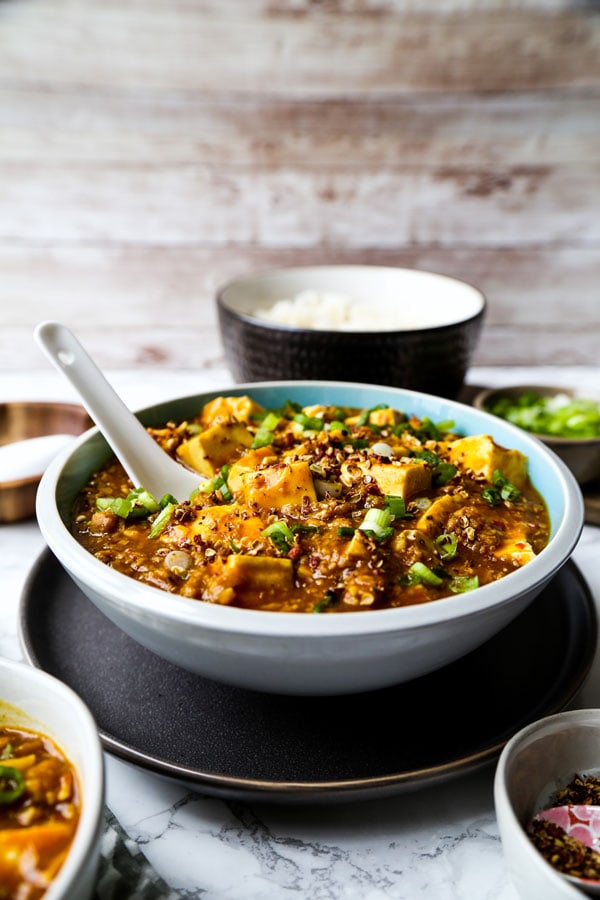 Mapo tofu may just be my favorite tofu dish of all time.
Its the silky gooey texture and peppery, smoky flavors that make me want to eat a bowl of it every day.
There are two types of mapo tofu (or mabo doufu) that I crave – the authentic Sichuan version which is fiery red and loaded with heat, and the Japanese version which is much milder and on the sweeter side.
This recipe hails from Japan, from a tv show called danshi gohan (男子ごはん) that I enjoy watching in my pajamas every Saturday morning. When I saw they were making mapo curry tofu, I knew I had to write down the recipe, it sounded too good to ignore!
Armed with pen and paper, I jotted down the recipe and made the dish for dinner that evening.
And it was so good that I had to share it with you!
Yes, the list of ingredients can seem a little daunting but the recipe itself is very quick to make.
Since most of the ingredients are for the sauce, it only takes about 15 minutes to put the whole thing together.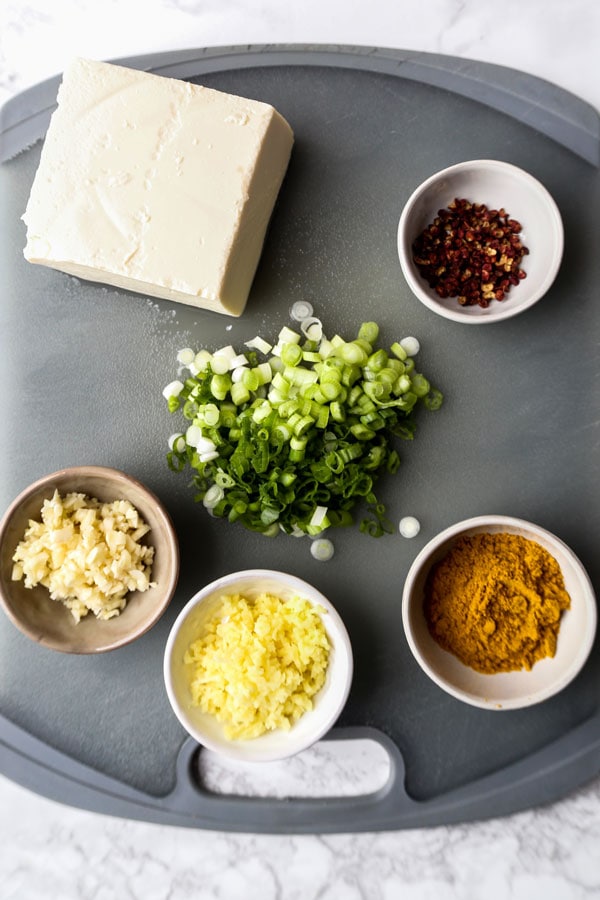 How to Drain Tofu
If you are familiar with tofu, you know how important it is to drain it well before using it.
That's because tofu has a high water content. Therefore it needs to be taken out of the package and drained for a while before it can be added to dishes.
This is especially true with silken tofu. Since it has the highest amount of water, it can seriously dilute the taste of a sauce if it's added right out of the package.
There are three easy ways to drain tofu:
Leave it on a plate for 15-20 minutes and dispose of the puddle of water at the bottom of the plate.
Wrap it in paper towels and change them a few times until the tofu releases less and less water.
Place the block of tofu over a folded paper towel in a strainer. Leave for 15 minutes.
Potato Starch vs Cornstarch
When it comes to the texture of mapo tofu, you can use either potato starch or corn starch to achieve its gooey consistency.
What's the difference?
Well, one is derived from potatoes while the other one is from corn. I use both and can honestly say that there isn't a big difference between the two.
Potato starch is more often used in Japanese cooking. Called katakuriko (片栗粉), it's a fine white powder that's almost squeaky to the touch. Since potato starch cannot handle high heat for a long time before it loses its consistency, it's added at the end of the cooking process to thicken sauces, gravies, and soups.
Corn starch is more often used in Chinese cooking and also looks like a fine white powder. Unlike potato starch, it can be added to a recipe at the beginning of the cooking process since it can handle high heat for a long time and won't lose its texture.
How to Make Mapo Curry Tofu
Whisk the ingredients for the sauce into a bowl and set aside.
Saute ground pork, chopped mushrooms or vegan ground meat in a wok with sesame oil.
Add ginger and garlic.
Add the sauce, stir, and bring to a boil.
Stir in curry powder and tofu cubes.
Top with scallions and a sprinkle of Szechuan peppercorns and serve with rice.
I told you it was easy! Once the ingredients for sauce are combined, there is very little left to do 😊
Now because this is a Japanese style mabo doufu, I recommend serving it with Japanese rice which is stickier than regular white rice.
Most supermarkets in the US sell medium grain Japanese rice which is a variety not used in Japan.
Short grain Japanese rice is what you want. Considered regular rice in Japan, it's what's use to make rice balls, sushi, chahan, rice vinegar, sake, and all other dishes that include or come with rice. Brands like Tamanishiki (that's the one I always use) are not expensive and very good.
Here's a video tutorial on how to make Japanese rice on the stove top and in the rice cooker.
I make mine using a rice cooker because it's a no fail technique, I can't tell you how much easier it is! Plus, you don't have to keep an eye on it – just set it and forget it!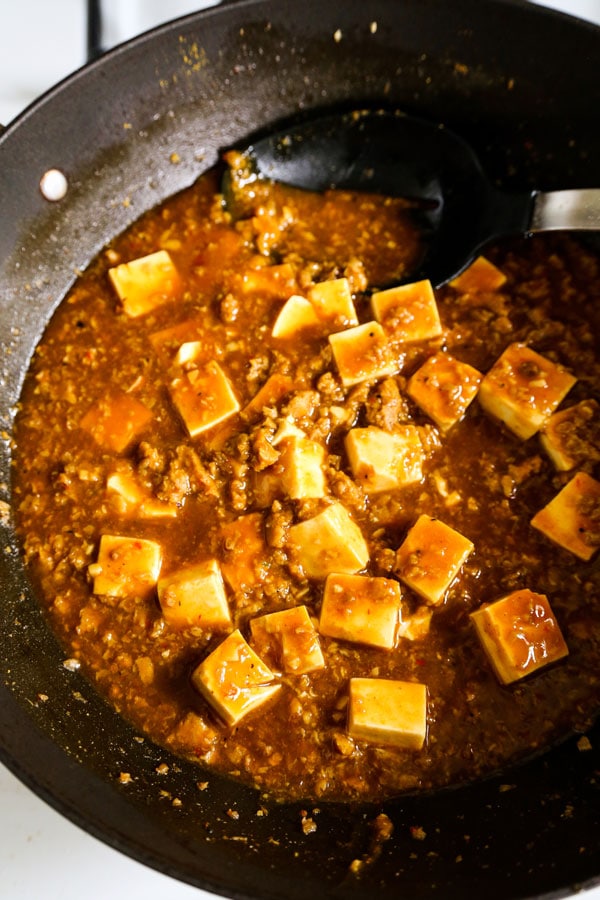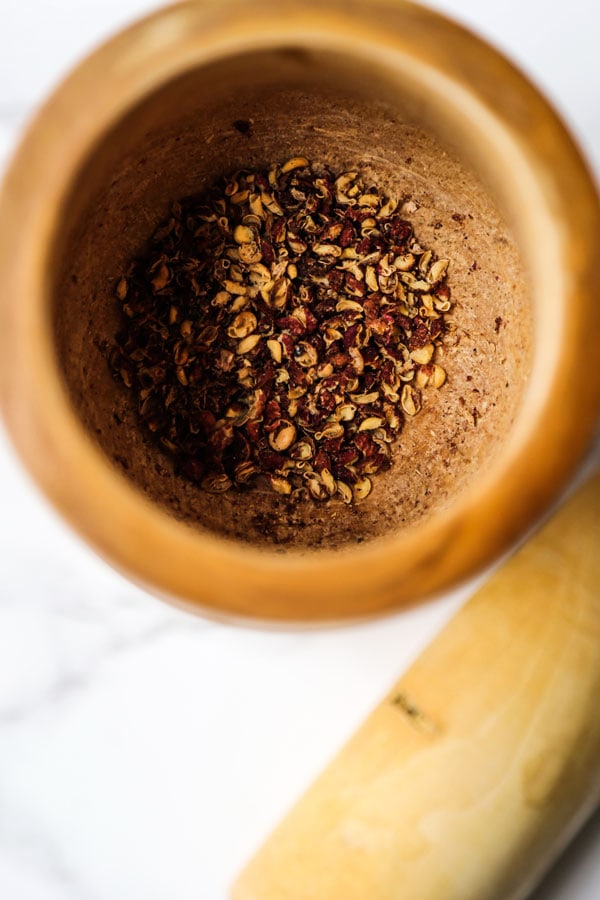 What are Szechuan Peppercorns?
Szechuan peppercorns are one of the craziest ingredients I've ever tasted!
Not only do they numb the tongue and lips, they also change the way my water tastes (like metal!) after chewing on a few peppercorns.
What's interesting to know is that, despite their super fiery effect, they are not closely related to black pepper or chili pepper. Szechuan peppercorns (or Sichuan peppercorns) belong to the rue or citrus family and are one of the ingredients used in Chinese five spice powder.
For a while I wasn't sure if I liked them or not since my mouth would get numb like a bad trip to the dentist every time I ate a dish with Szechuan peppercorns!
Ben on the other hand fell instantly in love with the dried berries, wanting to add them to as many Chinese dishes as possible.
It took me some getting used to before I could appreciate Szechuan peppercorns but once I did, we became good friends.
I realized that I like Szechuan peppercorns in small doses and prefer to add them as a topping rather than a cooking ingredient. The reason being that they can really overpower a dish quickly. So its best to start with a little and adjust the taste as you go.
They make a wonderful addition to this mapo curry tofu, bringing just enough heat, a slight tingly sensation, and a nice crunch.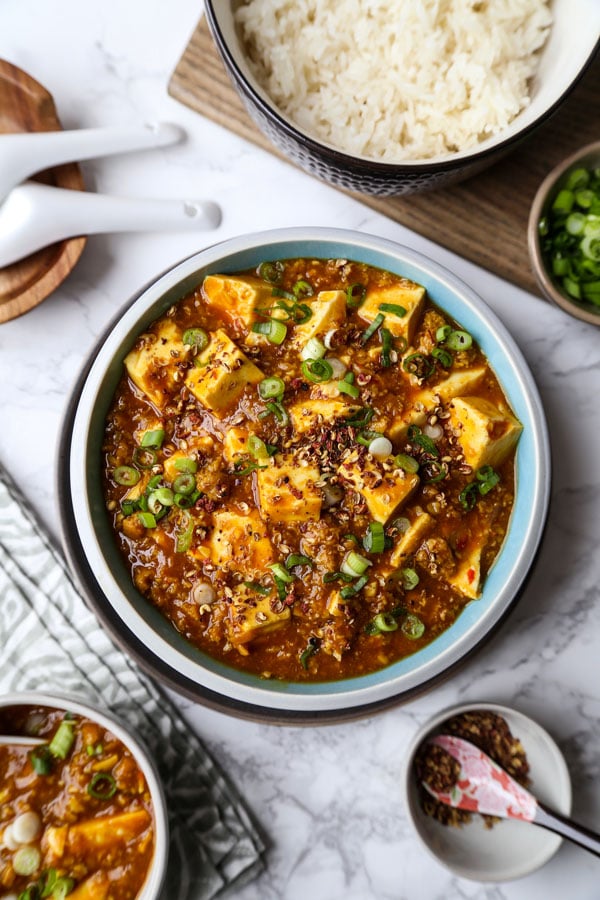 What to Serve with this Mapo Curry Tofu
This is a very assertive dish that doesn't need any more seasoning so I recommend serving it with milder sides that can also be refreshing. In keeping with the Japanese theme of this meal, here are some of my favorite sides:
Did you like this Mapo Curry Tofu Recipe? Are there changes you made that you would like to share? Share your tips and recommendations in the comments section below!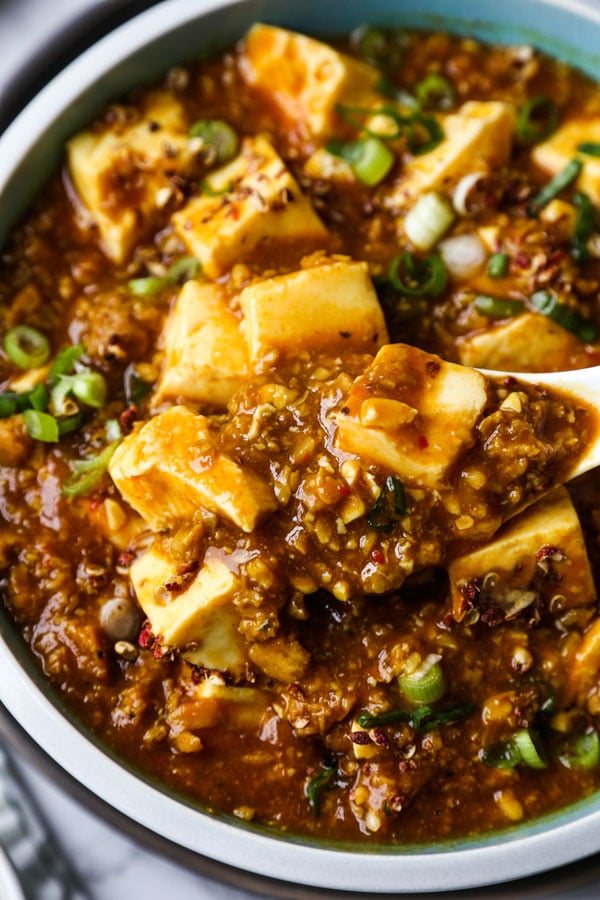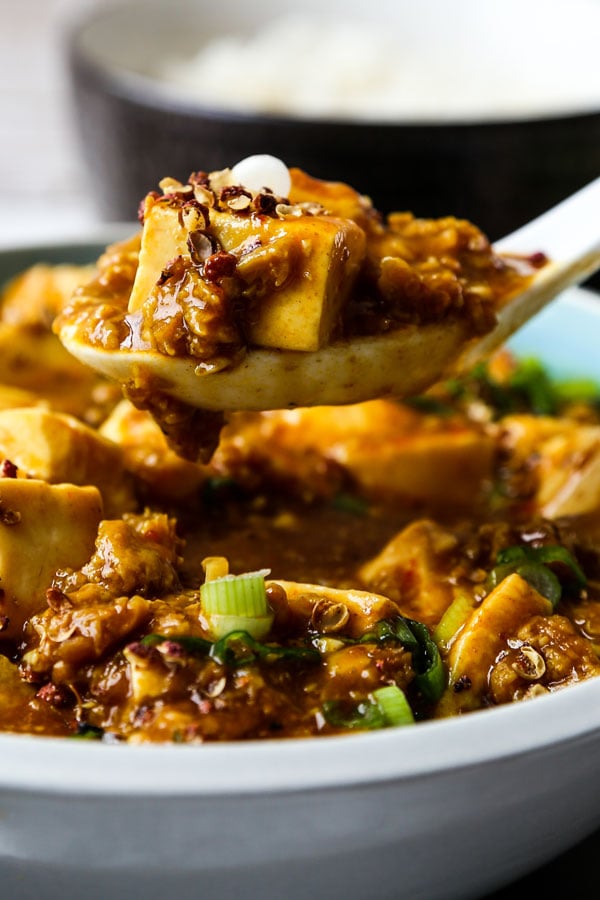 Print
Mapo Curry Tofu (麻婆カレー豆腐️)
This is a traditional Japanese style mapo tofu recipe – but with a twist! I've added curry powder for a playful, unexpected pop of flavor to this already tasty dish. 
Author: Caroline Phelps
Prep Time:

10 minutes

Cook Time:

7 minutes

Total Time:

17 minutes

Yield:

4

1

x
Category:

Curry

Method:

Stove top

Cuisine:

Japanese
Sauce
2 cups

water

3 tablespoons

low sodium soy sauce

1 tablespoon

shaoxing wine or dry sherry

1 1/2 tablespoon

oyster sauce

2 teaspoons

sugar

1 teaspoon

granulated chicken or vegetable stock

1 1/2 tablespoon

potato starch or cornstarch
Mapo curry tofu
1 tablespoon

sesame oil

5 ounces

ground pork, finely chopped mushrooms or vegan ground meat

1

thumb size piece fresh ginger, peeled and minced

3

garlic cloves, minced

2 tablespoons

curry powder

1

block silken tofu (

14oz

), drained

3

scallions, finely chopped (optional)

1 teaspoon

ground Szechuan peppercorns (optional)
Instructions
Mix the ingredients for the sauce in a bowl and whisk until the potato starch has dissolved.
In a wok or large deep pan over medium high heat, add sesame oil and ground pork, and cook for 4-5 minutes or until the ground pork is fully cooked.
Add ginger and garlic and season with salt and pepper. Stir and cook for 1 minute.
Add the sauce and bring to a boil.
When the soup thickens, add the curry powder and tofu cubes. Gently stir so as not to break the tofu.
Turn the heat off, transfer the mapo tofu to a serving bowl and top with scallions and a sprinkle of Szechuan peppercorns.
Serve with short grain Japanese rice. I use Tamanishiki.
Notes
Store the leftovers in the fridge, in an airtight container. It will keep for 2-3 days.
If the consistency gets too watery, warm the leftovers in a pot and stir in 1 tablespoon of cornstarch mixed with 2 tablespoons water to get the gooeyness back.
Nutrition
Serving Size:
Calories:

225

Sugar:

2.5 g

Sodium:

600.5 mg

Fat:

12.8 g

Saturated Fat:

2.8 g

Carbohydrates:

11.2 g

Fiber:

2.1 g

Protein:

14.8 g

Cholesterol:

37.2 mg
Keywords: mabo doufu, main, bean curd,
Recipe Card powered by