I've been in love with Japanese Curry since I was a little girl! The sweet and savory flavors married in a thick curry sauce that's so silky and rich make it so that every bite is exciting to eat. And the good news is you can make it from scratch or out of the box!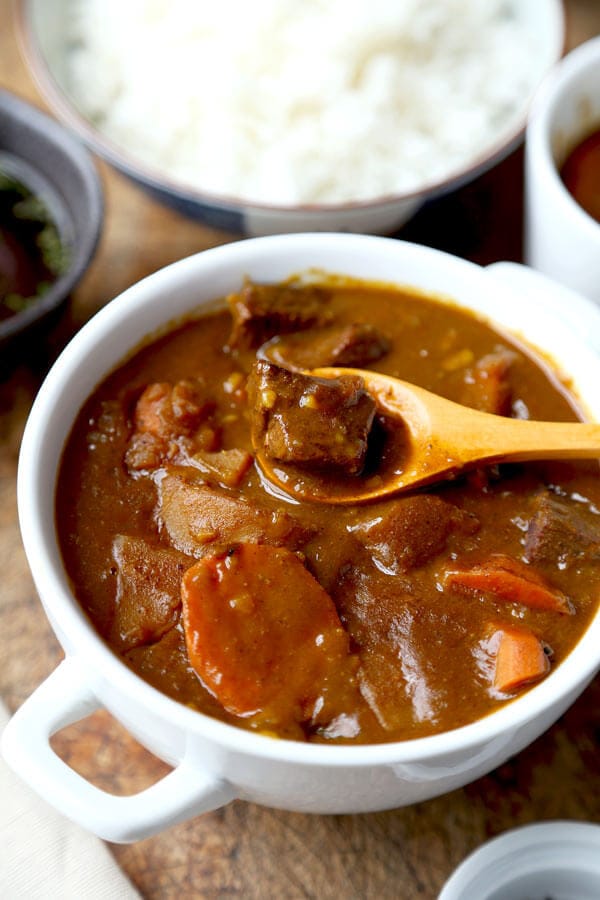 Japanese Curry Recipe
Japanese curry was my all-time favorite dish as a little girl.
I fell in love with it during my first trip to Japan at the age of four, when we stopped for a quick lunch at a family restaurant near my grand parents' place in the southern province of Kyushu.
Japanese curry was part of the kids bento style lunch special (called okosama lunch which translates to child's meal) along with a side of corn soup, shredded cabbage, potato salad, and rice with a flag on top. Everything was new and delicious and that curry with its silky brown gravy curry changed my life forever.
I became obsessed with it: I demanded that my Japanese aunts make it all the time and only wanted to eat in restaurants that had it on the menu. If I could have bathed in Japanese curry, I gladly would have. It was love at first bite.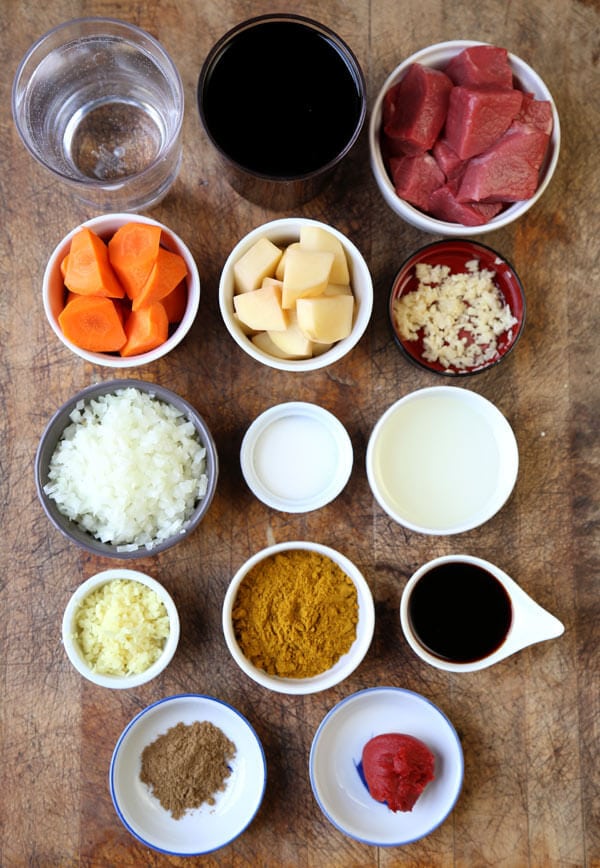 What Does Japanese Curry Taste Like?
Japanese curry is quite different from any other curry you'll find in Asia – it's not spicy but rather sweet (which is probably why kids love it so much), savory, and sometimes a little spicy. The sauce reminds me of a rich and thick demi-glace that's layered with spices and earthy flavors.
What Do You Put in Japanese Curry?
Typically, curry rice consists of onions, carrots, potatoes and beef. That's the classic combination and the most popular one used across Japan. However, you can use pretty much any combination of vegetables and protein to create your own special curry. I've added kabocha squash, mushrooms, green peas, zucchini, chicken, even chickpeas.
There are also restaurants like Coco Ichibanya that offers the option to customize your curry by choosing toppings, level of spiciness, even rice portions!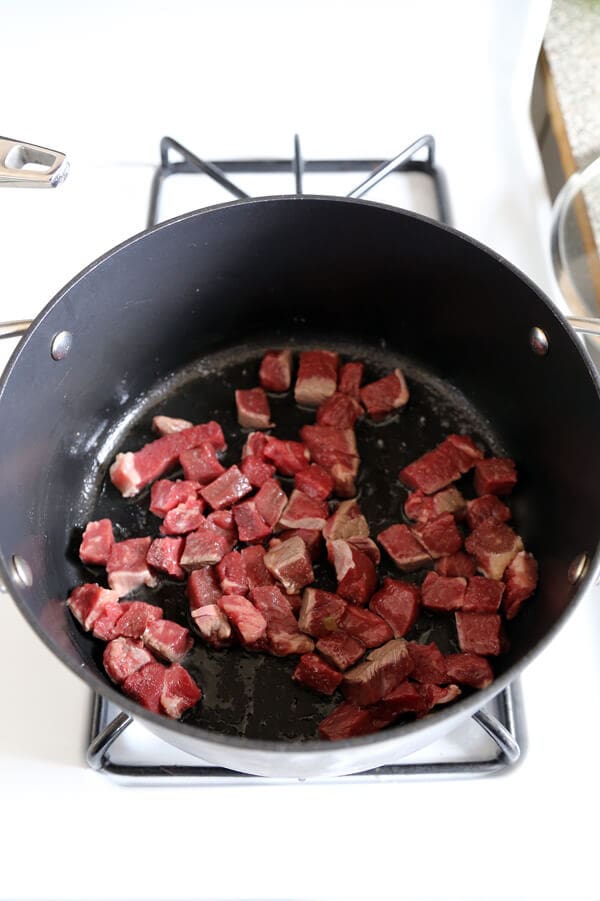 How To Make Japanese Curry
Cook the beef cubes in a large pot and transfer them to a plate once they are cooked.
Add onions to the pot and cook them until tender.
Stir in garlic, ginger and grated apple and cook for two minutes.
Sift flour and stir.
Add carrots, potatoes and spices and stir.
Add tomato paste and red wine and bring to a boil.
Stir in sugar, soy sauce and water and bring to a boil.
Return the beef to the pot, cover and simmer for half an hour.
Remove the lid and cook for an additional 30 minutes.
You may think that making kare raisu (that's how it's pronounced in Japanese) from scratch is really hard. It does look like a lot of work because of the amount of ingredients involved but I'm telling you, it's really not that bad and so worth it!
Just like a good old stew, the hardest part about this Japanese curry is the amount of chopping involved. You will also need a few minutes to cook the ingredients but once this is done, the rest is left mostly unattended.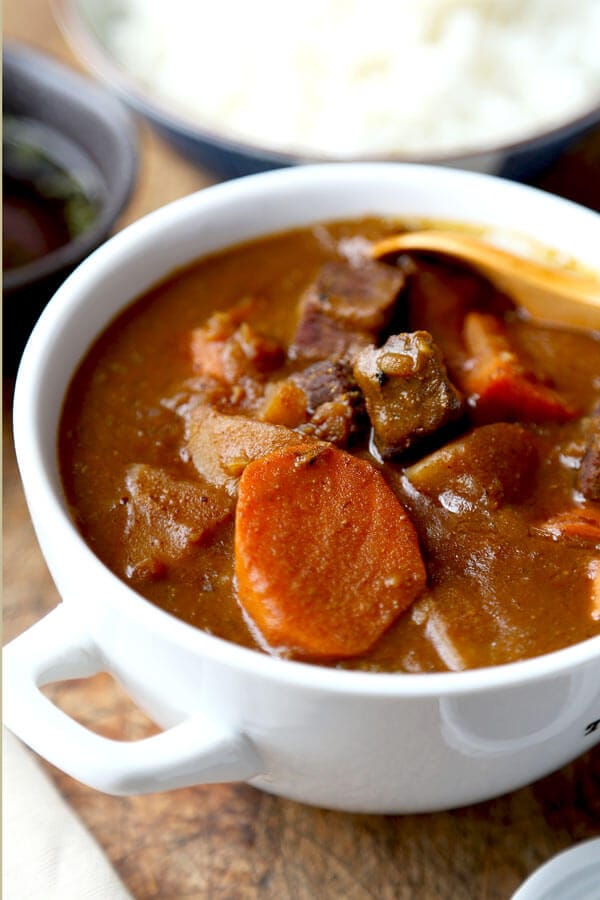 Japanese Curry Sauce Mixes (Pre-Made Roux in a Box)
No time to make it from scratch?
No problem.
You can buy pre-made Japanese curry roux in a box and they are absolutely delicious!
Go to your nearest Japanese super market or order it on Amazon. Called curry sauce mix, they are basically curry sauce cubes that melt once you add them to water. They may not be as nutritious as the home made version but boy are they tasty!
I recommend still adding the grated apple and ginger for more sweetness and a hint of heat. That's a trick I've picked up from cooking with my Japanese aunts and a good friend of mine, Naoko.
I always have a few boxes of curry sauce mix in my pantry because they take no time to make and always hit the spot. Now you are probably wondering what brand is the best and I'm about to tell you right this second!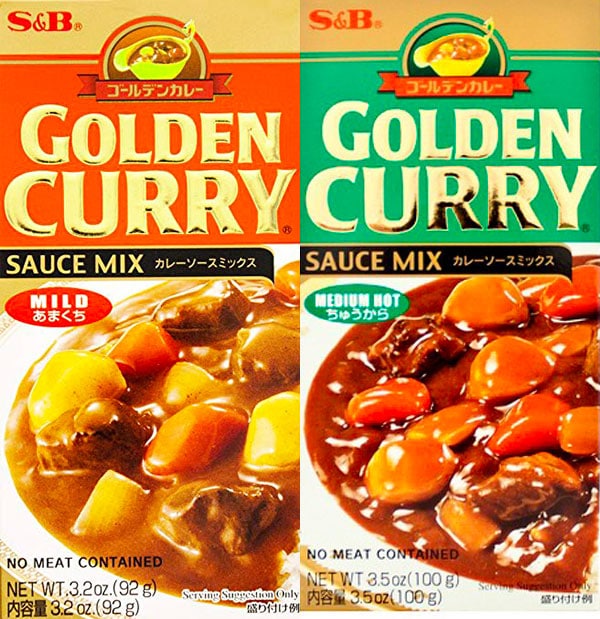 Golden Curry
My mother's favorite because it's less sweet and deeper in savory flavors. Golden Curry's roux is simple and contains the shortest list of ingredients of all curry mix sauces. The taste is also milder and more bland than other mixes so if you like strong, punchy flavors, keep reading because there are better options to excite your palate. My mother likes this brand because it's the most traditional, plus, she gets to adjust the flavors however she likes.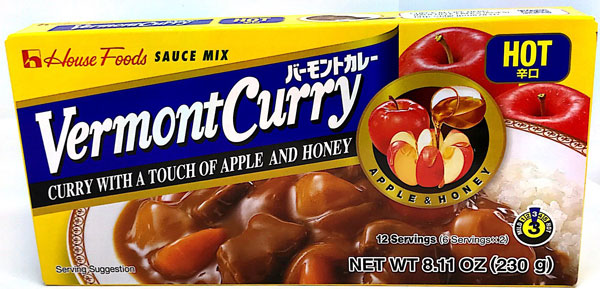 Vermont Curry
Sweet and so delicious! This brand is the most kid friendly because it's sweeter than the others. The sauce contains honey, apples and cheese, which is why it's called Vermont (a little strange but as long as it tastes good, right?) and also why the sauce is thicker than the other brands.
This was my favorite brand until I discovered…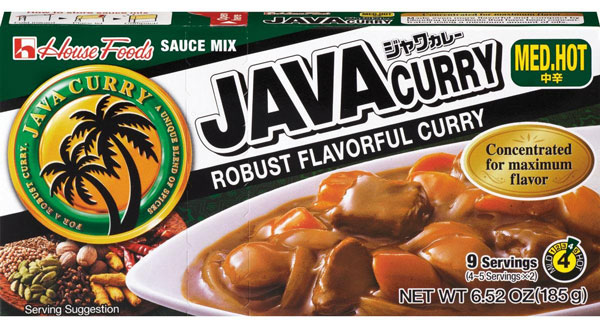 Java Curry
If you like spicy, this is the brand to buy!
I was actually surprised at how much heat Java Curry packed since Japanese people usually don't like spicy food. It's less sweet than the Vermont brand but still has plenty of fruitiness. I would say it's a more balanced curry roux where savory and sweet meet in the middle, with a kick of heat.
It's really yummy!
Kokumaru and Torokeru are two more popular curry mix sauces but I can't talk about them since I'm not familiar with their flavors. I do plan to give them a try though since I've heard really good things.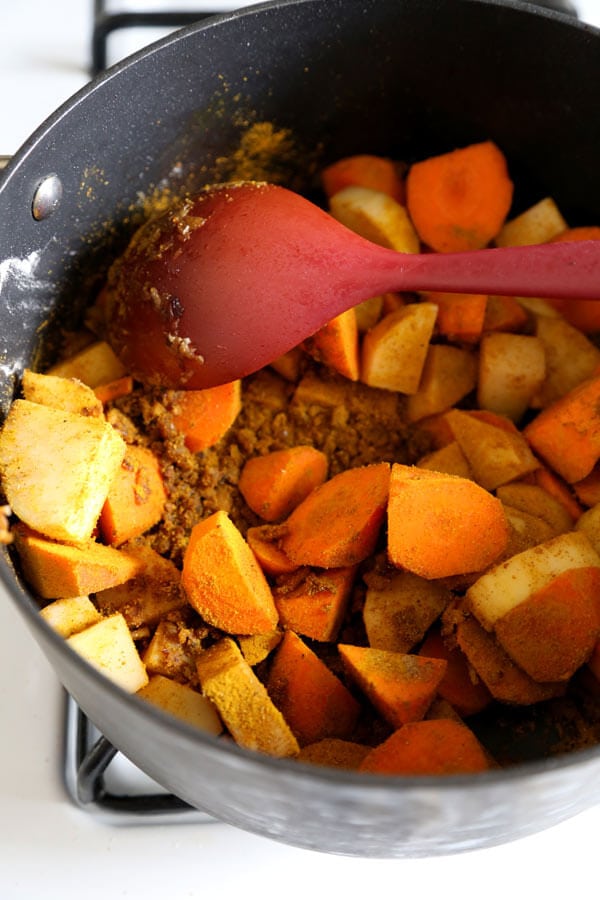 Can I Freeze Japanese Curry?
Absolutely!
Save your curry in individual batches (in small air tight food containers of Ziploc bags) and thaw it in the fridge overnight or in the microwave.
Eat it with rice, pasta or you can even add it to ramen! A couple of scoop in your ramen and you've got yourself a seriously intense bowl of flavor!
Katsu Curry
You know that famous Japanese dish that comes with rice, curry and crispy breaded pork? It's called katsu kare and I have a delicious, baked version for you to try!
I swapped pork for chicken and created a breading that's super crispy without the need for frying (you know I have a fear of hot oil spits by now!). Pairing this curry recipe with baked chicken katsu is the ultimate comfort food and one your family will love!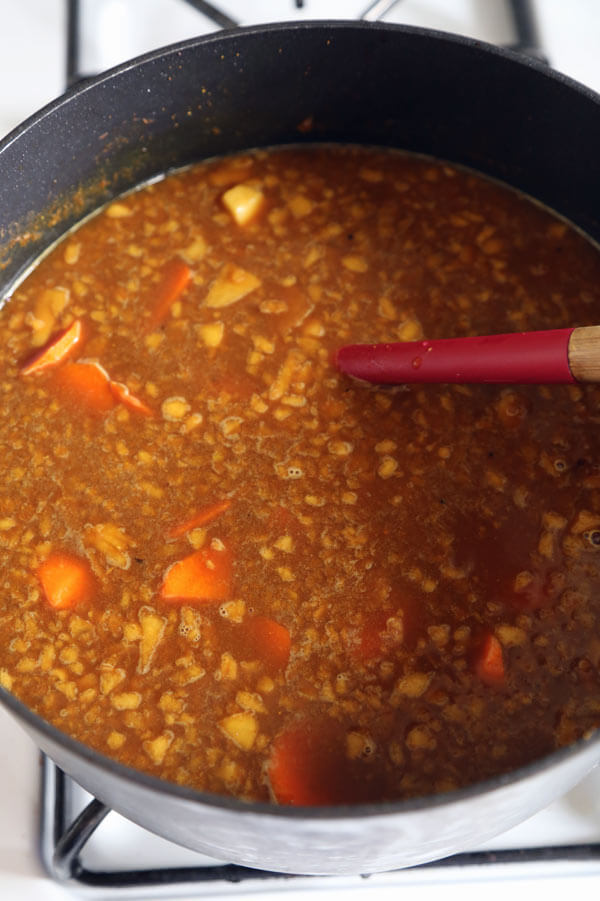 What to Serve this Japanese Curry with
Baked chicken katsu!
Seriously though, there are many ways to create a Japanese dinner without having to stress about finding difficult ingredients. Here are some of my favorite, easy and quick curry accompaniments: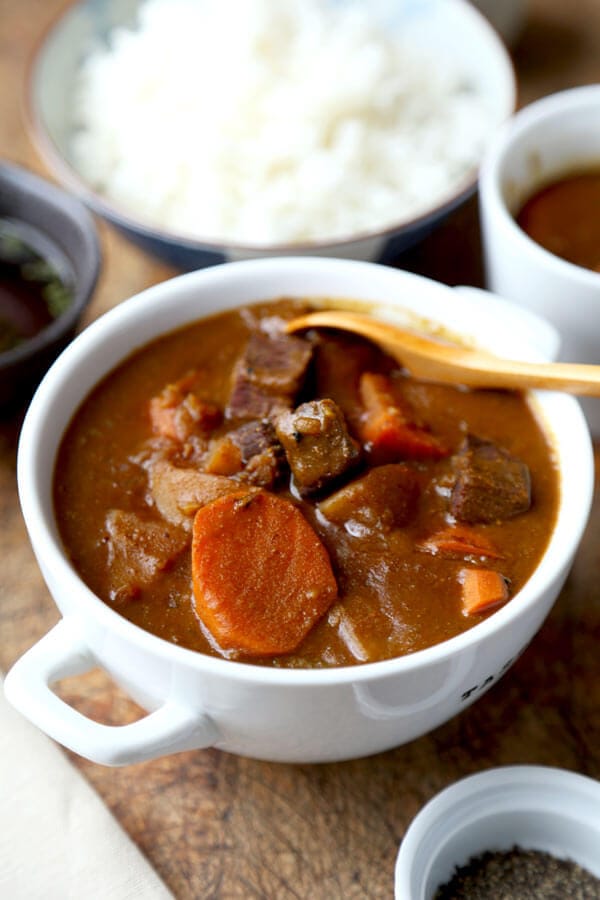 Did you like this Japanese Curry Recipe? Are there changes you made that you would like to share? Share your tips and recommendations in the comments section below!
Japanese rice and curry go hand in hand.
Watch our video on How To Make Japanese Rice the stove top or rice cooker method!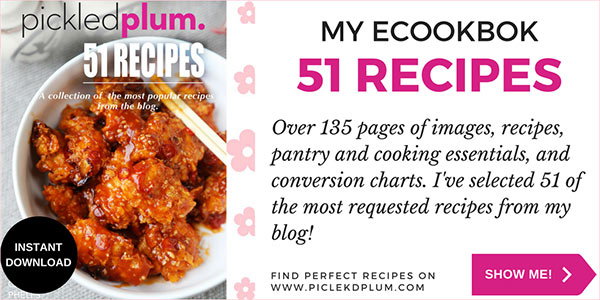 51 of the best appetizers, sides, stir fries, main, noodles & rice, desserts & drinks from the blog.
Simple and easy dishes made healthier, with calories and fat content provided. Tried and tested by my readers and loved by everyone!
---
Print
Japanese Curry Recipe
This Japanese Curry Recipe is a little spicy & sweet, with a thick gravy-like sauce that's silky and delicious! Everyone including your kids will ask for seconds!
Author: Caroline Phelps
Prep Time:

10 minutes

Cook Time:

60 minutes

Total Time:

70 minutes

Yield:

4

people

1

x
Category:

Curry

Method:

Stove top

Cuisine:

Japanese
Scale
Ingredients
2 tablespoon

s peanut oil

1

pound stewing beef

1

large onion (peeled and finely chopped)

2

cloves garlic (finely chopped)

1 tablespoon

ginger (peeled and minced)

1

apple (peeled, cored and minced)

3 tablespoon

s all-purpose flour

2

large carrots (peeled and roughly chopped on the bias)

1

large potato (peeled and roughly chopped)

1 teaspoon

garam masala

4 tablespoon

s curry powder

2 tablespoon

s tomato paste

2 cup

s red wine

1

1//2 tablespoons granulated sugar

2 tablespoon

s soy sauce

4 cup

s water
Instructions
In a large pot over medium high heat, add 1 tablespoon peanut oil and stewing beef. Cook for 5 minutes or until meat is cooked through. Transfer to a plate and set aside.
Lower heat to medium low and in the same pot, add remaining 1 tablespoon peanut oil with onions and cook for about 10 minutes, until onions are translucent and slightly caramelized.
Add garlic, ginger and apple and cook for 2 minutes.
Add flour and stir for 1 minute.
Add carrots, potatoes, garam masala and curry powder and stir well.
Add tomato paste, stir well and slowly add red wine and bring to a boil.
Add sugar, soy sauce and water, stir and bring to a boil again.
Add beef and lower heat to a simmering boil. Cover and cook for 30 minutes.
Take the lid off and cook for another 30 minutes or until curry soup has reduced by a third.
Season with salt and pepper and serve with rice.
Notes
This Japanese Curry Recipe will keep refrigerated for up to 5 days.
Keywords: recipe, main, Asian, stew, beef, easy
Recipe Card powered by