Omurice is a Japanese comfort food that's a favorite in my family! It's a simple omelette stuffed with ketchup fried rice that's both delicious and filling. And it only takes 20 minutes to make from start to finish.
Omurice is one of those easy recipes that should be on everyone's weekly meal rotation.
Even in an ingredients pinch, it works with just about anything because the concept is so simple – a ketchup fried rice omelette topped with more ketchup. It's homey and so delicious!
Bonus: making this Western influenced Japanese comfort food classic is also a great way to use up some of the leftovers in your fridge that may have otherwise gone to waste.
What is Omurice?
Omurice, or omuraisu, is a Western-influenced Japanese dish consisting of fried rice seasoned with ketchup, wrapped in a thin omelette, and topped with more ketchup. It's a popular comfort food served at home, in family restaurants, and cafes all across Japan.

Pulling phonetically from the two main parts of the dish, omurice (pronounced omu-raisu)  is exactly what it sounds like. 'Omu' from omelette, and 'raisu' from rice.
There are newer versions of omurice where the omelette is no longer thin but instead thick and fluffy, and layed on top of the rice, just like a blanket. Some omurice are also topped with demi-glace or a white sauce instead of the traditional squirt of ketchup.
It's fair to say that any dish made with fried rice, either wrapped or topped with an omelette, can be classified as omurice.
What is Yōshoku?
This type of Western flavored food in the Japanese cuisine lexicon is referred to as yōshoku – and is huge in Japan.
An oversimplification if yōshoku is that it is food containing some Western ingredients and flavors, prepared in a style that appeals to the Japanese palate.
And those influences can be seen in many dishes ubiquitous in Japanese family eateries: like spaghetti Napolitan, many au gratin dishes – and even in Japanese korokke (croquettes).
How to Pronounce Omurice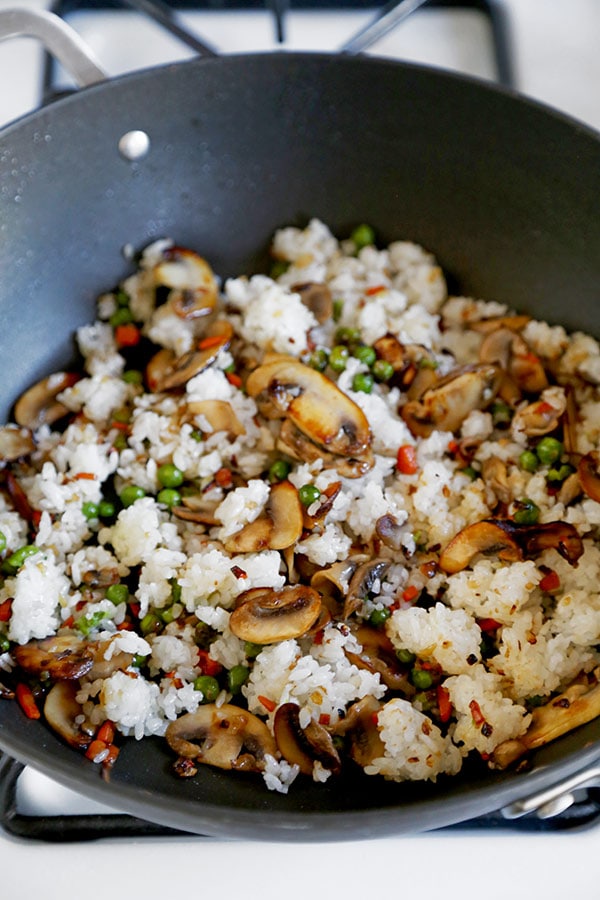 Ingredients for Omurice
For the full recipe, scroll down to the bottom of this post.
Ketchup: Ketchup is what makes this dish Western-influenced since the sweet tomato flavor isn't something found in washoku (traditional Japanese cuisine).
Chicken broth: I find that nothing flavors fried rice as well as powdered chicken stock or broth. But feel free to use water or vegetable broth if you prefer that.
Soy sauce: A teaspoon of soy sauce is all you need to infuse the dish with umami and earthiness.
Oil: Choose a neutral oil such as vegetable oil, safflower oil, or grapeseed oil.
Mushrooms: I love mushroom fried rice! It's my favorite type of fried so whenever I make omurice, I always add a few button mushrooms to it. However, if you don't like the taste of mushrooms, go ahead and take them out, as they are not necessary for this dish.
Onion: Finely chopped onion adds sweetness and depth of flavor to fried rice. It's one of those ingredients we don't notice when we eat it, that make a big difference.
Carrot: Carrots are beautiful in fried rice as they add a vibrant orange color to the dish. Since carrots can take a while to cook, chopping them into small pieces helps to speed up the process.
Peas: I use frozen peas that have been thawed, but if you have access to fresh peas, by all means use them!
Cooked Japanese rice: Using leftover rice that has been sitting in the fridge is much better than freshly cooked rice. That's because the texture is easier to handle when you break it up in a pan and mix it with the other ingredients.
Eggs: 4 large eggs is just the perfect amount to create two omelettes that are just thick enough to cover the fried rice.
Water: The water is added to the whisked egg to give it a lighter and fluffier texture.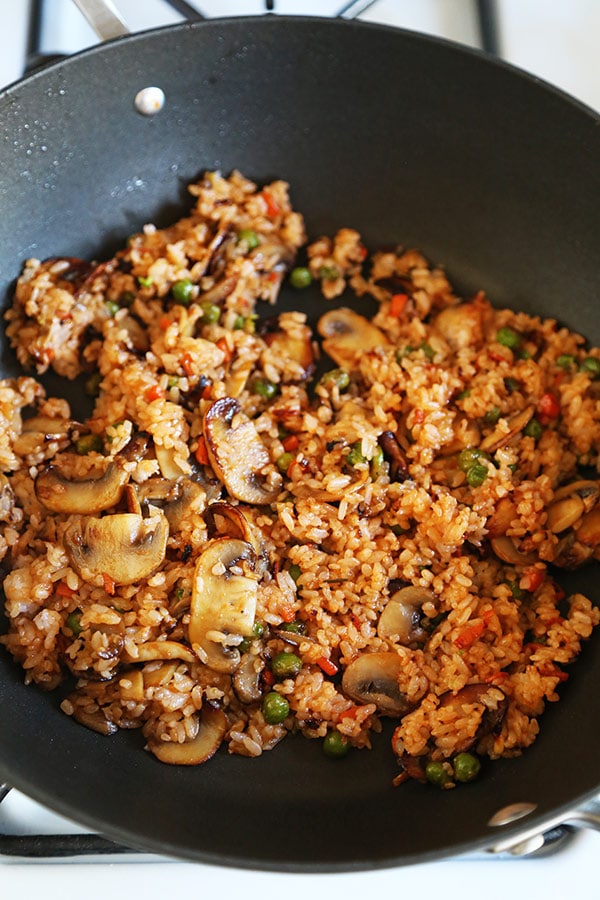 How to Make Omurice
Gather all of your kitchen tools and ingredients and set them on the kitchen counter.
Start by mixing the ketchup, chicken broth, and soy sauce in a bowl, and set it aside.
Cook the vegetables by adding oil in a pan and turning the heat to medium. When the oil is hot, add the mushrooms first and cook them for about 5 minutes. Add the onions, carrots, and peas, and cook for 3 more minutes, until the carrots are tender yet still a little crunchy.
Add the leftover cooked Japanese rice to the pan and break it up using a spatula or a rice paddle. Mix with the vegetables and when the rice is warm, add the ketchup, broth, soy sauce mixture. Mix the sauce until the fried rice is evenly coated and seasoned. Turn the heat off and season with salt and pepper. Your rice is done!
Now let's make the omelette – whisk 2 eggs with one tablespoon in a bowl.
In a medium or large skillet, add a little oil and turn the heat to medium. Swirl the oil around to coat the entire surface of the skillet. When the oil is hot, add the egg mixture and swirl it around to coat the entire surface of the skillet as well. Turn the heat down to low after 1-2 minutes, when the omelette is mostly cooked.
Take half of the fried rice mixture and place it in the center of the omelette. Fold each side of the omelette over the rice – it doesn't have to cover all of the rice – and grab a plate.
Now take your time doing this – place the plate over the skillet and omurice, and quickly flip the pan over so the Japanese omelette falls onto the plate.
Dress the omelette with some ketchup on top and serve.
Create Your Own Omurice
The best part about making omurice is that you can use whatever ingredient that sounds good at the moment. I have the most fun with recipes that are a little open-ended and give you the freedom to improvise on the spot.
I top my Japanese omurice with ketchup 90% of the time, but sometimes I like to change things up and use a mix of tonkatsu sauce and kewpie mayo, or a demi-glace. 
How about you? What's your favorite omurice topper? Do you like ketchup with your eggs, or do you run for the hot sauce as soon as your eggs hit the plate? I'd love to hear about it in the comments section below!
Here are other popular and easy Japanese recipes you might like:
Did you like this Omurice Recipe? Are there changes you made that you would like to share? Share your tips and recommendations in the comment section below!
Print
Omurice – オムライス
Make this simple Japanese omelette stuffed with ketchup fried rice in just 20 minutes, from start to finish.
Author: Caroline Phelps
Prep Time:

10 minutes

Cook Time:

15 minutes

Total Time:

25 minutes

Yield:

2

people

1

x
Category:

Main

Method:

Pan frying

Cuisine:

Japanese
2 tablespoons

ketchup + more for topping

2 tablespoons

chicken broth or water

1 teaspoon

soy sauce

1 tablespoon

vegetable oil

6

button mushrooms (chopped)

1/4 cup

onions (finely chopped)

1

small carrot (diced)

1/4 cup

frozen peas (thawed)

2 cups

leftover cooked Japanese rice
salt and pepper (to taste)
For the omelette:
4

large eggs

2 tablespoons

water
Pinch of salt

1 tablespoon

vegetable oil
Instructions
Whisk ketchup, chicken broth, and soy sauce, in a bowl and set aside.
In a deep skillet over medium heat, add oil and mushrooms. Cook for 4-5 minutes, or until the water from the mushrooms has evaporated.
Add onions, carrots and peas and cook for 3 minutes, or until carrots are tender but still yield a soft crunch.
Add rice and break it up using a spatula, plastic or wooden rice paddle or spoon. Mix well and add ketchup mixture. Mix well until the rice is evenly colored. Turn the heat off and season with a little salt and pepper.
Making the omelettes:
In a separate mixing bowl, whisk 2 eggs and 1 tablespoon water.
In a medium or large frying pan over medium heat, add vegetable oil and swirl to evenly coat the bottom. When the oil is hot, add the egg mixture and swirl around to create a round omelette. When the omelette is mostly cooked – just barely runny – turn the heat off.
There are two ways to serve omurice:
#1
Put the rice in a bowl and gently press it down, so the rice is compact enough to hold the shape of the bowl. Put a plate over the bowl and flip it over. The rice should be shaped like a perfect mound.
Carefully slide the omelette over the rice to cover it on all sides and top with ketchup.
#2
Add half of the rice mixture in the center of the omelette and gently fold each side toward the center. It doesn't have to entirely cover the rice, just enough that you can fold a little of the omelet over the rice. Place a plate on top of the pan (make sure it's touching the pan, flat) and quickly flip the pan so the omelette falls onto the plate.
Top with ketchup and serve.
Repeat the same steps to make the second omurice.
Notes
Leftovers: Omurice tastes just as good the following day! Transfer the leftovers to an airtight storage container and cover with a lid. It will keep for up to 2 days.
Nutrition
Serving Size:
Calories:

517

Sugar:

10.1 g

Sodium:

504.9 mg

Fat:

17.1 g

Saturated Fat:

5.6 g

Carbohydrates:

69.4 g

Fiber:

2.2 g

Protein:

19.9 g

Cholesterol:

379 mg
Keywords: recipe, snack, omelet, izakaya food, easy, kid friendly
Recipe Card powered by