Kimchi lovers, get ready for the best kimchi fried recipe! Packed with spicy, pungent, and sour flavors, this kimchi fried rice can be served as a side or as a main, topped with an egg or spam. Ready in 15 minutes from start to finish.

What is Kimchi Fried Rice?
Kimchi fried, or kimchi bokkeumbap (김치 볶음밥), is a popular Korean dish made of leftover rice pan fried with kimchi, and a mixture of soy sauce, gochujang (Korean chili paste) or gochugaru (Korean pepper flakes), and sometimes rice vinegar and/or sesame oil. Vegetables or meats are also added from time to time.
For my kimchi fried rice recipe, I've added chopped kale and a cooked egg because I love the texture of the kale and creaminess the egg adds to this meal. But these ingredients are not necessary to make this kimchi fried rice. You can stick to the basics and it will still be delicious! Or you can add your own combination of ingredients as this is a very versatile recipe.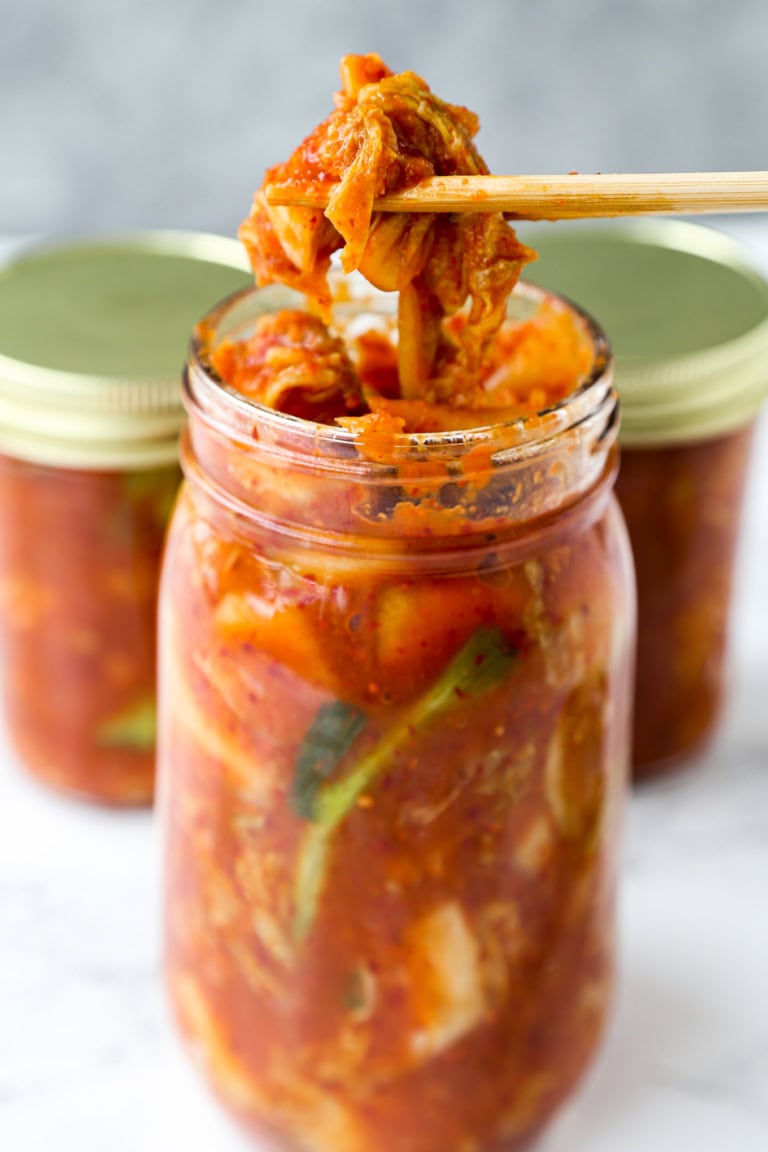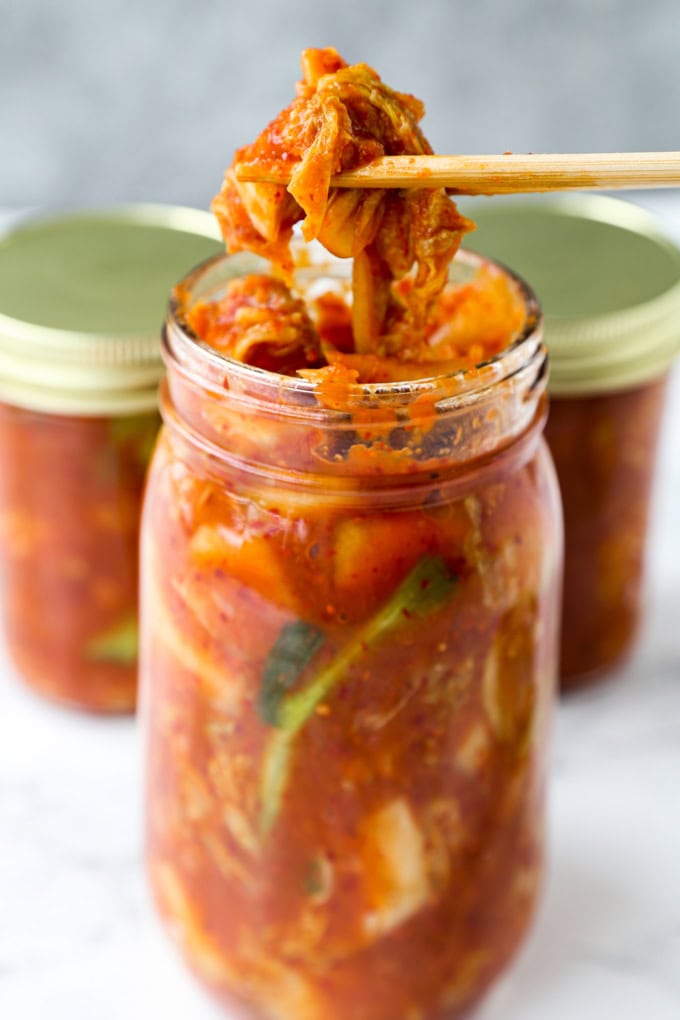 What is Kimchi?
Kimchi (김치), which means "submerged vegetables", is a Korean side dish of vegetables that have been fermented in a mixture of gochugaru (Korean chili flakes), garlic, ginger, scallions, fish sauce, and sugar. Other ingredients can also be used to making kimchi, it's been said that "no two kimchi recipes are the same!"
There are many different types of kimchi but the most popular one is the baechu kimchi, which is mainly made up of napa cabbage. Other popular kimchi vegetables are cucumber, radish, scallions, mustard leaf, and carrots.
My favorite?
I'd say it's a toss between the classic baechu (napa cabbage kimchi), kkakdugi (radish kimchi) and oi sobagi (cucumber kimchi). And I also love my version of vegan kimchi as it has a refreshing taste while still possessing all the pungent qualities of a good kimchi.
Best Rice to Use for Kimchi Fried Rice
I personally prefer to use short grain Japanese rice because of its sticky and chewy texture.
While medium and long grain rice result in a fried rice that's more dry and fluffy, short grain rice has a lovely thick and clumpy texture similar to a risotto. Instead of turning mushy, short grain rice becomes chewy and puffy when it absorbs liquid.
It should be noted that most Japanese rice sold in US grocery stores are the medium grain type, so make sure to read the label before buying it. You can find Japanese short grain rice in Japanese supermarket or you can order it online.
My favorite brand is Tamanishiki.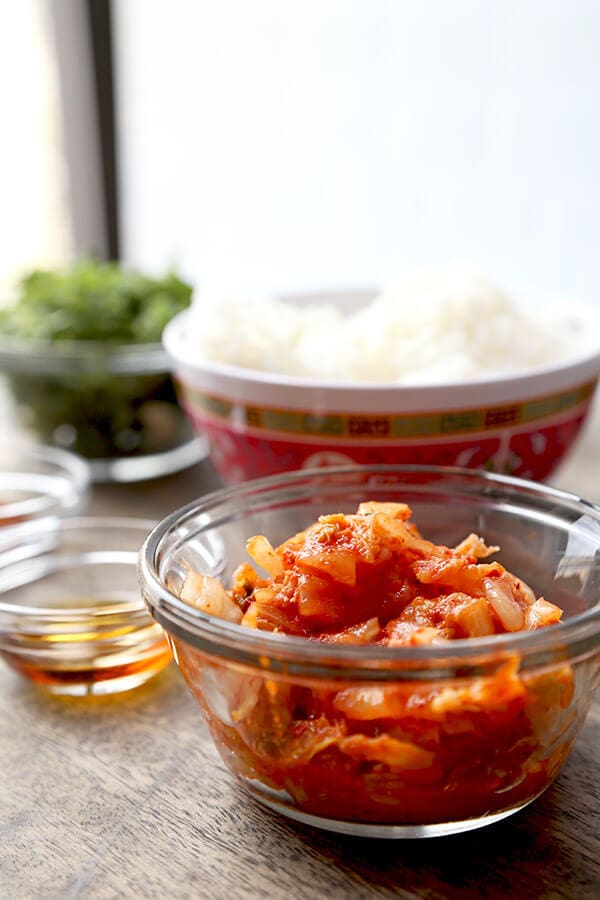 Ingredients for kimchi fried rice
Oil: We need a little oil to fry the kimchi so it's not so watery.
Kimchi: The main seasoning of the dish! Kimchi is packed with pungent and spicy flavors and is at the heart of Korean cooking. You can find kimchi at your local grocery store, Asian grocery store or you can order it from Amazon.
Kale: Adding kale is optional but highly recommended as it lightens up the dish.
Rice: Leftover rice is always the best choice when making fried rice. That's because the rice has had time to harden and contains less moisture than it did when it was fresh. Because the rice is dryer, it can absorb seasoning without getting mushy.
Soy sauce: Soy sauce adds umami and earthiness to the fried rice.
Rice vinegar: Use plain rice vinegar to impart a little acidity and to also brighten up the flavors.
Korean pepper flakes: Called gochugaru, Korean pepper flakes are essential to Korean cooking as they add that smoky and spicy element we've come to associate with the cuisine.
Sesame oil: We finish the dish by adding a drizzle of sesame oil for nuttiness.
Easy variations
Swap white rice for brown rice, farro or wheat berries to try out different textures.
Swap kale for Swiss chard or spinach.
Add a fried egg on top or a couple of slices of spam for a heartier meal.
How to Make Kimchi Fried Rice:
Mise-en-place: Gather all the kitchen tools and ingredients required to make this dish.
Pan fry the kimchi: This step gets rid of the excess liquid in the kimchi, rendering it more concentrated in flavor. Fry in a pan with a little oil for a couple of minutes.
Cook the rice and kale: Stir in the rice and kale, cover with a lid and cook for 2-3 minutes.
Add the remaining seasonings. Stir in the remaining ingredients (except the egg if you are using one), and cook for a couple more minutes.
Serve: Transfer the kimchi fried rice to a plate and enjoy while it's warm. Alternatively you can let it cool to room temperature and refrigerate it for later, in an airtight storage container.
Can I Freeze Fried Rice?
Absolutely!
However I would advise to thaw and reheat fried rice only once to prevent bacteria from developing.
Rice is very sensitive to heat and moisture and can develop mold quite easily. So the more often you change its temperature – remember that we have cooked the rice when we first made it, refrigerated it, and reheated the leftovers to make fried rice  – the higher the chance of it developing mold.
One easy way to avoid the heat/reheat dilemma is by portioning out the fried rice and freezing it that way. I like to freeze mine in individual portions, about 1 cup per storage container.
Make sure the rice is at room temperature (unless you are transferring it from the fridge which doesn't require any wait time) and stored in an airtight storage container. It will keep for up to 1 month.
What to Serve with Kimchi Fried Rice
Stick with side dishes that don't overwhelm the palate since the flavors of this kimchi fried rice are quite assertive.
I would suggest avoiding bright red dishes and spicy dishes like tteokbokki and choosing milder options so your taste buds won't get overwhelmed.
Here are my recommendations:
Did you like this Kimchi Fried Rice Recipe? Are there changes you made that you would like to share?
Print
Kimchi Fried Rice – Kimchi Bokkeumbap
Kimchi fried rice (김치) is a classic Korean meal you can make at home in just 15 minutes!
Author: Caroline Phelps
Prep Time:

5 minutes

Cook Time:

8 minutes

Total Time:

13 minutes

Yield:

4

sides

1

x
Category:

Rice

Method:

Stir frying

Cuisine:

Korean

Diet:

Vegetarian
1 tablespoon

oil such as peanut oil, vegetable oil, or grapeseed oil

1/2 cup

kimchi, chopped, with its juices

1/2 cup

kale or other greens such as spinach, chopped (optional)

1 1/2 cup

cooked Japanese rice (preferably short grain)

2 tablespoons

water

2 tablespoons

soy sauce

1 tablespoon

rice vinegar

1/2 tablespoon

Korean pepper flakes (gochugaru)

1 teaspoon

sesame oil

1

large egg (optional)
Instructions
In a pan over medium high heat, add oil and when the oil is hot, add kimchi.
Cook for 3 minutes until kimchi is soft and add kale, rice and water.
Toss, cover and cook for 2-3 minutes, until kale has soften. Stir in soy sauce, rice vinegar, Korean pepper flakes, sesame oil and cook for 2 minutes.
Transfer to a bowl and serve topped with a fried egg.
Notes
This kimchi fried rice recipe will keep refrigerated for up to 1 week.
Nutrition
Serving Size:
Calories:

145

Sugar:

0.7 g

Sodium:

339.6 mg

Fat:

5 g

Saturated Fat:

0.7 g

Carbohydrates:

22.1 g

Fiber:

0.7 g

Protein:

2.7 g

Cholesterol:

0 mg
Keywords: recipe, vegetarian, stir fry, Asian, side dish, main
Recipe Card powered by