Kimchi Fried Rice (Kimchi Bokkeum Bap)
*This post may contain affiliate links. Read my disclaimer here.
Kimchi fried rice (김치) is a classic Korean meal you can make at home in just 15 minutes!

김치
Last Friday I invited a couple of friends over to test the new hot plate I had recently bought. I threw a Korean barbecue themed dinner with tofu, beef and chicken bulgogi, and lots of chopped veggies to grill and enjoy with a variety of dipping sauces.
I also went all out on side dishes; squash pancakes, stir fried noodles, Korean cucumber salad and a fiery red kimchi fried rice.
Yum!
The table was filled with food and drinks and we stayed up until 2:30 eating, laughing and listening to music. It was the most perfect and fun evening!
Hosting dinners is one of my favorite things to do – I love the entire process of picking a theme, creating a menu, buying wine, decorating the table and choosing the music. I love to entertain at home and one of the greatest things about living in a place like Brooklyn is everyone is always happy to come visit.
I picked this kimchi fried rice as a side to keep my Korean dinner theme authentic. Plus, who doesn't like homemade fried rice – it's the best comfort food!
If you are a kimchi lover like I am, you are going to love this recipe! It's smoky, spicy, sour, and has the perfect amount of chewiness required to make you go mmmmm! No gochujang required for this recipe either – I'm using Korean pepper flakes instead.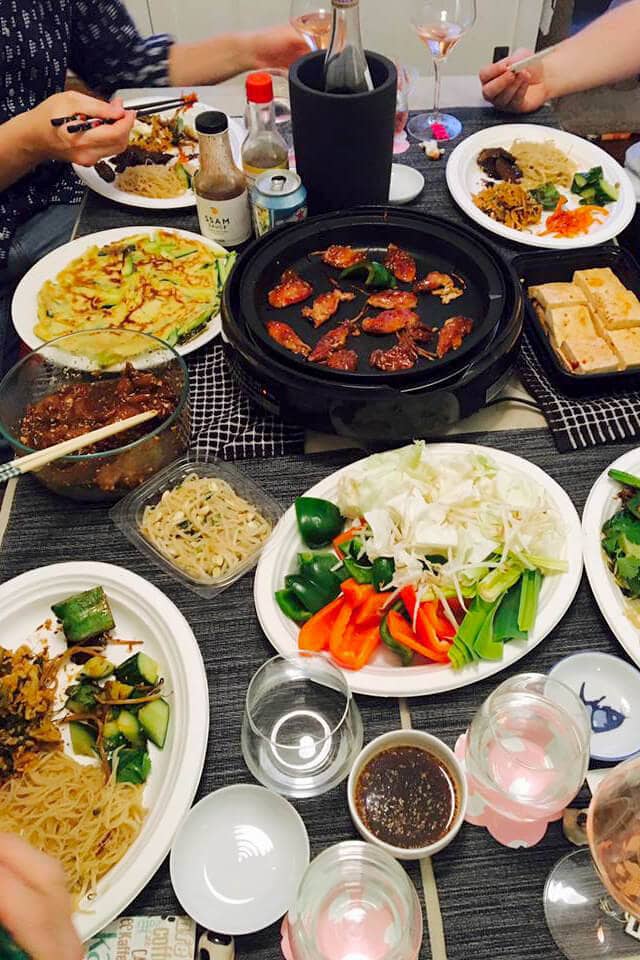 What is Kimchi?
Kimchi (which means "submerged vegetables" in Korean) is a popular Korean side dish of vegetables that have been fermented in a mixture of gochugaru (Korean chili flakes), garlic, ginger, scallions, fish sauce, and sugar. Other ingredients can also be used to making kimchi, it's been said that "no two kimchi recipes are the same!"
There are many different types of kimchi but the most popular one is the baechu kimchi, which is mainly made up of napa cabbage. Other popular kimchi vegetables are cucumber, radish, scallions, mustard leaf, and carrots.
My favorite? I'd say it's a toss between the classic baechu (napa cabbage kimchi), kkakdugi (radish kimchi) and oi sobagi (cucumber kimchi).
Kimchi is a staple in Korean cuisine. It's Koreas most famous export – aside from BTS and Korean dramas – and one I'm happy to see become more and more popular as time goes on!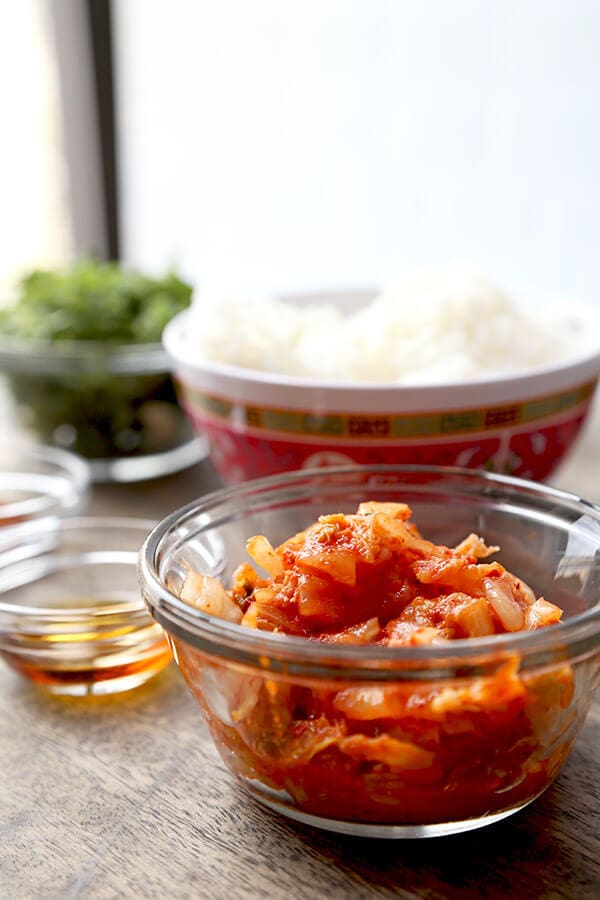 Ingredients for kimchi fried rice:
Olive oil: To fry the kimchi. You can use vegetable oil as well if you prefer a more neutral taste.
Kimchi: The main seasoning of the dish! Kimchi is packed with pungent and spicy flavors and is at the heart of Korean cooking. You can find kimchi at your local grocery store, Asian grocery store or you can order it from Amazon.
Kale: Adding kale is optional but highly recommended as it lightens up the dish.
Japanese rice: Make sure to use short grain rice which is the type of rice used in Japan. Most Japanese rice sold in US grocery stores are actually medium grain (Nishiki, Kohoku) which are simply not as good. Visit your nearest Japanese supermarket to find short grain rice, or order it online. My favorite brand is Tamanishiki.
Soy sauce: The combination of kimchi and soy sauce make my heart sing.
Rice vinegar: A dash of sweetness and acidity to round up all those beautiful flavors.
Korean pepper flakes: Called gochugaru in Korean, these pepper flakes are super smoky and not too spicy.
Sesame oil: We finish the dish by adding one last layer of flavor – nuttiness.
Easy variations:
Swap white rice for brown rice, farro or wheat berries to try out different textures.
Swap kale for Swiss chard or spinach.
Add a fried egg on top or your favorite protein for a heftier meal.
How to Make Kimchi Fried Rice:
Pan fry the kimchi: This step gets rid of the excess liquid in the kimchi, rendering it more concentrated in flavor. Fry in a pan with a little oil for a couple of minutes.
Cook the rice and kale: Stir in the rice and kale, cover with a lid and cook for 2-3 minutes.
Add the remaining seasonings. Stir in the remaining ingredients (except the egg if you are using one), and cook for a couple more minutes.
Serve: Transfer the kimchi fried rice to a plate and enjoy while it's warm. Alternatively you can let it cool to room temperature and refrigerate it for later, in an airtight storage container.
What to Serve with Kimchi Fried Rice:
Since the flavors of this fried rice are quite assertive, it's best to stick with other dishes that don't overwhelm the palate. So for those who were hoping to serve kimchi fried rice with tteokbokki, I would suggest picking something else since the combination of the two might be too strong (and pungent) for most people to enjoy.
Here are my recommendations:
Did you like this Kimchi Fried Rice Recipe? Are there changes you made that you would like to share?
Print
Kimchi Fried Rice
Kimchi fried rice (김치) is a classic Korean meal you can make at home in just 15 minutes!
Author: Caroline Phelps
Prep Time:

5 minutes

Cook Time:

8 minutes

Total Time:

13 minutes

Yield:

4

sides

1

x
Category:

Rice

Method:

Stir frying

Cuisine:

Korean
Scale
Ingredients
1 tablespoon

olive oil

1/2 cup

kimchi, chopped, with its juices

1/2 cup

kale, chopped (optional)

1 1/2 cup

cooked Japanese rice (preferably short grain)

2 tablespoons

water

2 tablespoons

soy sauce

1 tablespoon

rice vinegar

1/2 tablespoon

Korean pepper flakes (gochugaru)

1 teaspoon

sesame oil

1

large egg (optional)
Instructions
In a pan over medium high heat, add oil and when the oil is hot, add kimchi.
Cook for 3 minutes until kimchi is soft and add kale, rice and water.
Toss, cover and cook for 2-3 minutes, until kale has soften. Stir in soy sauce, rice vinegar, Korean pepper flakes, sesame oil and cook for 2 minutes.
Transfer to a bowl and serve topped with a fried egg.
Notes
This kimchi fried rice recipe will keep refrigerate for up to a week.
Keywords: recipe, vegetarian, stir fry, Asian, side dish, main
Recipe Card powered by
Pickled Plum is a participant in the Amazon Services LLC Associates Program, an affiliate advertising program designed to provide a means for sites to earn advertising fees by advertising and linking to amazon.com.