This is a traditional Filipino recipe for bihon pancit. Very easy to prepare, these chewy rice noodles are tossed with vegetables and chicken, and cooked in a sweet and savory sauce. Not only is it delicious, it only takes 25 minutes to make from start to finish.
Do you prefer rice or noodles?
While I absolutely love both, if you held my feet to the fire and made me choose (please don't do that!) I would choose noodles. Hands down.
Hey, I will always love rice. But there is just so much that can be done with noodles. Heck, just the variety of noodle types available is quite staggering!
Egg noodles, soba noodles, udon noodles, lo mein, zoodles, wide chow fun noodles, spaghetti, somen noodles, shirataki noodles and – one of my all-time favorites: rice noodles.
Why rice noodles? Well, because to me they feel more delicate and light.  Rice vermicelli is just the perfect vehicle for Southeast Asian flavors (my favorite next to Japanese).
I'm using bihon noodles for this yummy Filipino pancit recipe – although you could use almost any package of rice vermicelli noodles.
What is Pancit Bihon?
Pancit is a Filipino dish that usually consists of noodles cooked with soy sauce along with some variation of meats and chopped vegetables.
Typically, the term pancit exclusively refers to noodles in Filipino. However, the literal translation, which originated from the Chinese word pien sit, means ready-made food, or cooked food.
During the Spanish colonial times, many Chinese migrants in the Philippines worked as street vendors. They were known as panciteros. 
The Chinese panciteros mainly cooked for women who worked in cigar factories. These hard-working women bought meals from panciteros because they had very little time to cook at home.
It was during this time that street food became synonymous with convenience and quality. Noodles – being one of the most convenient to-go, ready made foods – were commonly served at these food stalls.
Well – it's pretty easy to see why the word pancit eventually took on the meaning it currently has in the Filipino food lexicon.
That's a little slice of Philippine history for you!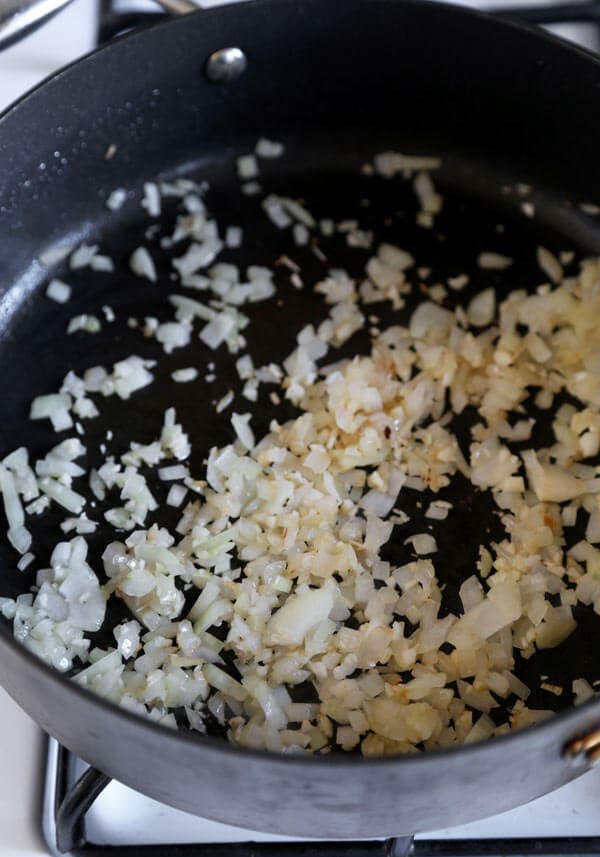 Pancit Bihon vs Pancit Canton
Now, while pancit refers to noodles, there are a ton of variations in heavy rotation.
Every pancit recipe is different.
Some are served with boiled eggs and Chinese sausages, while others contain pork and shrimp. Other versions yet have an added citrus flavor – while some are kept super simple and cooked with soy sauce and a little sugar.
Pancit bihon and pancit canton are two of the most popular versions of pancit. While many variations exist even within these two types of pancit, the main difference between the two is the type of noodles used.
Pancit bihon calls for bihon noodles (thin rice vermicelli, sometimes called rice stick noodles).
However, in pancit canton, you'll usually see flour stick noodles used. These pre-fried wheat based noodles are closely related to lo mein noodles.
A third, very popular Filipino noodle recipe is pancit palabok. What stands palabok apart from the crowd is that it calls for rice stick noodles to be covered in a thick shrimp gravy.
Although there are hundreds, if not thousands of different versions of pancit at the local level, one thing remains consistent across the board: noodles signify a long life. Therefore, noodles should never be cut short.
In light of this symbolism, noodles are commonly served at Filipino birthday celebrations to represent good luck in the years to come.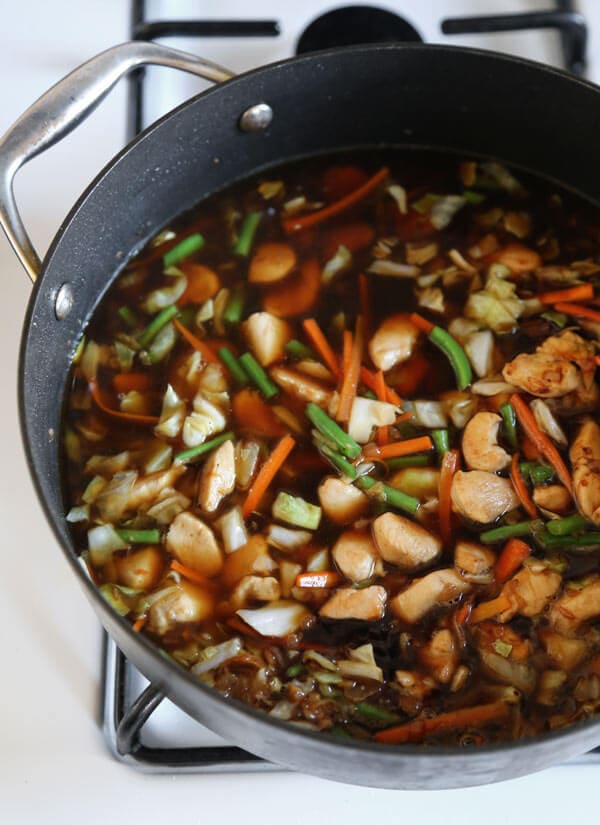 Ingredients for Bihon Pancit
Peanut Oil: Most Asian recipes call for peanut oil for its nutty flavor. However, you can use a neutral oil such as vegetable or grapessed oil to make this dish and it will be just as good.
Chicken Breast: I use boneless, skinless chicken breast for this recipe since the chicken needs to be cut into bite size pieces. But you are more than welcome to use bone-in with skin on if you are planning to serve it on top of the pancit. Cook your chicken in a separate pan until it's cooked through and follow the same steps to the recipe.
Garlic: I'm using two cloves, minced, to add a little pungency but you can use more if you are a garlic lover.
Onion: I'm using a small yellow onion and chopping it into small pieces. If you don't have a yellow onion but happened to have a white one, red one, or some shallots, that's fine too.
Bihon Noodles: Bihon noodles are thin noodles made of cornstarch and rice flour. They are very similar to thin rice noodles and vermicelli noodles which is why both make good substitutes.
Mixed vegetables: I'm using a mix of green beans, carrots, and cabbage, but you can have fun here and come up with your own combination.
Pancit Sauce: A mix of low sodium chicken stock, dark soy sauce, soy sauce, oyster sauce, and sugar.
Salt and Pepper: Only add if you think it needs extra seasoning.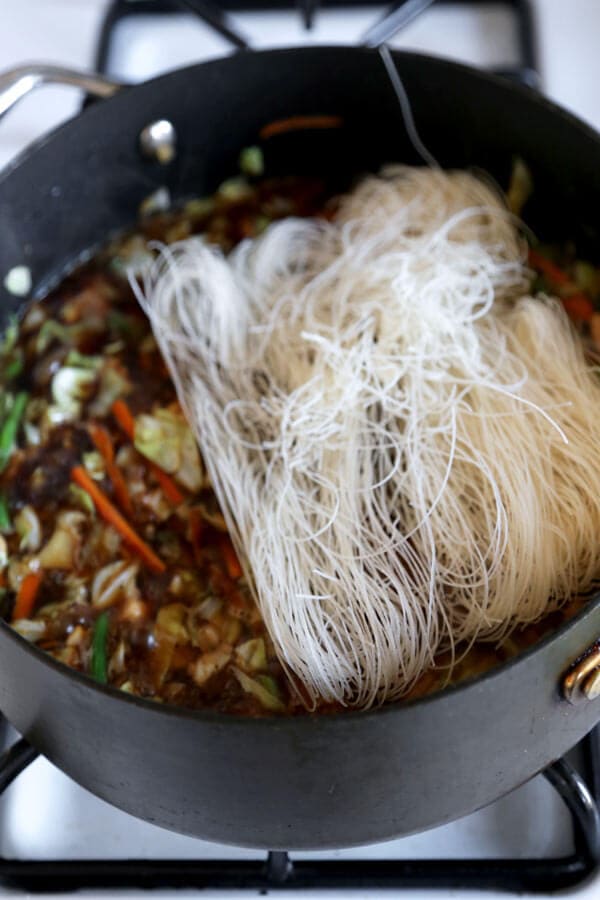 How to Make Bihon Pancit
When whipping up this yummy Filipino bihon pancit recipe, I like to get all my ingredients laid out in front of me. Doing my mise-en-place ahead of time frees me up to pay 100% attention to the task at hand.
And while this pancit dish is very easy to put together, it's always good to have all the ingredients prepped ahead of time to avoid little mistakes.
Whisk all the ingredients for the sauce in a bowl and set aside.
Place a medium size pan on a burner over medium heat. Add a little oil and pan fry the chicken until the pieces are cooked through. Transfer them to a plate and set aside.
Use the same pan to add the garlic and onion, and cook for 3-4 minutes until fragrant and the onions have become translucent.
Return the chicken pieces to the pan and season with a little salt and pepper.
Add the vegetables and stir fry until the vegetables are soft but still yielding a little crunch.
Whisk the sauce, add it to the pan, and bring it to a boil.
 Add the dry pancit noodles to the pan and let the heat from the sauce cook them. Gently toss the noodles to make sure they are evenly coated. The noodles will get infused with tons of flavor this way as opposed to just being coated with sauce. They should be cooked in 3-4 minutes. If the noodles are still crunchy once the sauce has been absorbed, add a little stock (1/4 cup) to help them cook through.
Turn the heat off and transfer the dish to a serving bowl or plate. Season with salt and pepper and serve with soy sauce and lemon wedges.
Yummy, I'm getting hungry from just looking at these pictures!
Vegetarian Bihon Pancit
Meat not your thing? Not a problem, make it vegetarian by omitting the chicken.
A pancit loaded with vegetables is just as delicious and so colorful!
This recipe is already packed with carrots, cabbage, green beans and scallions. However, there's no need to stop there!
The more the merrier when it comes to goodness from the garden. You might experiment with adding things like red bell pepper, leeks and broccoli to your own homemade veggie pancit creations.
And if you're a pescatarian, you could easily substitute the chicken in this recipe for shrimp.
As always, make these recipes work for YOU. Think of my recipes as blueprints. The form is there. Your tastes should dictate the final touches!
What to Serve with Filipino Bihon Pancit
This dish is served as a main and pairs beautifully with these simple Asian sides:
Excellent As Leftovers
This pancit bihon recipe makes the BEST leftovers!
I've seen Ben shoveling cold noodles into his mouth by the light of the refrigerator as a savory midnight snack. No joke, hehe.
While this pancit bihon recipe is great fresh out of the wok – or served cold out of the fridge, it also handles a reheat in the microwave pretty well. Just make sure to cover the noodles with a lid or a damp towel (or paper towel) to prevent them from drying and zap for 1-2 minutes.
Busy mom?
Make this pancit ahead of time and keep it refrigerated until it's time to serve dinner.
Did you like this Bihon Pancit Recipe? Are there changes you made that you would like to share? Share your tips and recommendations in the comments section below!
---
Print
Bihon Pancit (Filipino)
This is a deliciously sweet and savory Filipino pancit recipe that's easy to prepare and ready in less than 25 minutes!
Author: Caroline Phelps
Prep Time:

10 minutes

Cook Time:

10 minutes

Total Time:

20 minutes

Yield:

4

people

1

x
Category:

Noodles

Method:

Stir frying

Cuisine:

Filipino
1 tablespoon

peanut oil (or vegetable oil)

1

pound boneless, skinless chicken breast (sliced into bite size pieces)

2

cloves garlic (finely chopped)

1

small onion (finely chopped)

8 ounces

pack bihon noodles, vermicelli noodles or rice noodles

1 1/2 cups

mixed vegetables such as carrots, cabbage and green beans, scallions, (chopped bite size)
salt and pepper to taste
lemon wedges (optional)
Pancit sauce:
2 cups

low sodium chicken stock or vegetable stock for vegan

2 tablespoons

dark soy sauce

2 tablespoons

soy sauce

1 tablespoon

oyster sauce or

1 tablespoon

soy sauce mixed with 1/2 teaspoon sugar for vegan

1 teaspoon

sugar
Instructions
In a wok or a large pan over medium heat, add oil and chicken and cook until tender. Transfer to a plate and set aside.
Add garlic and onion and cook for 2 minutes. Add the cooked chicken and season with a little salt and pepper.
Stir in the veggies and cook for another 3-4 minutes or until a little tender.
Add all the ingredients for the pancit sauce and bring to a boil.
Add rice noodles and stir until all the noodles are coated with the sauce. Keep on stirring and cooking until the noodles are tender (3-4 minutes).
Add more stock (or water) if the dish is dry before the noodles are tender.
Season with salt and pepper and more soy sauce if necessary. Serve immediately with lemon wedges.
Notes
Got leftovers? Save this bihon pancit in an airtight storage container and refrigerate it for up to 3 days.
To warm up the leftovers, microwave with the lid on for 1-2 minutes.
Nutrition
Serving Size:
Calories:

506

Sugar:

3.4 g

Sodium:

1022.5 mg

Fat:

8.1 g

Saturated Fat:

1.6 g

Carbohydrates:

68.9 g

Fiber:

6 g

Protein:

36.7 g

Cholesterol:

82.7 mg
Keywords: main, noodles, stir fry, easy dinner
Recipe Card powered by