Smoky, spicy and with a punch of umami, these spicy vegan Sichuan noodles will keep you coming back for more. Plus, the entire recipe only requires 8 ingredients and is ready in 10 minutes!

Spicy Vegan Sichuan Noodles
Sometimes a girl just needs a bowl of noodles! Oh boy – this spring is shaping up to be a busy one.
Between developing recipes, cooking, shooting food photos, writing blog posts, making recipe videos and going to castings, there hasn't been a lot of time to relax and smell the proverbial roses. Trust me, I'm not complaining! I like it busy.
And while I'd prefer to have maybe a few more minutes to veg-out in front of the TV, being busy sure beats the alternative!
This delicious and spicy Sichuan noodles recipe was created on one of those crazy days when the only thing that'll make the swirling madness seem all better is a bowl of pasta and a hockey game on the tube.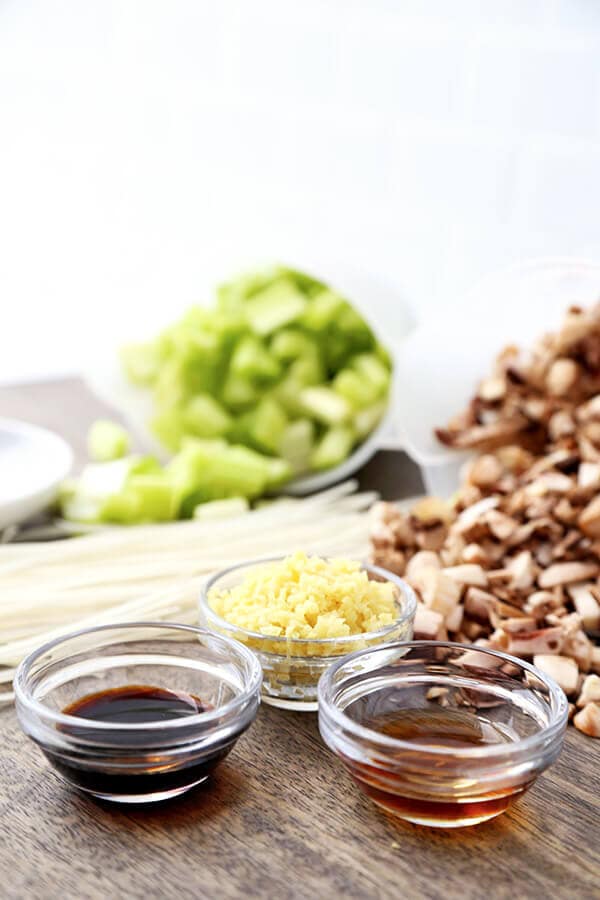 Trust me guys, first bite – and I was hooked! A reaction happens when slurping noodles that seems to erase the insanity of a busy day.
The clean crunch of celery plays so well with the umami earthiness of mushrooms.
Plus, the flavor combination in this smoky and spicy Sichuan noodles recipe totally reminds me of one of my favorite Chinese recipes of all-time: smoked tofu with asian celery at Szechuan Gourmet.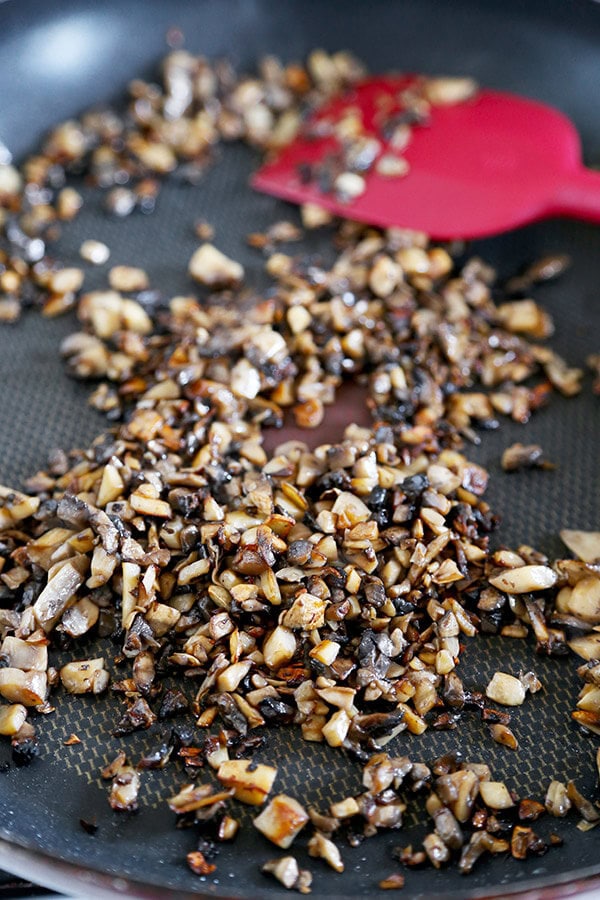 You see, a few more years ago than Ben would like to admit, he had a surprise birthday party sprung on him. I called his friends and had them all waiting around a huge table at his favorite Sichuan restaurant in NYC.
When we walked in and asked for a table for two, he was shocked indeed to see a ton of his favorite people already munching on dumplings in chili oil and dan-dan noodles.
Did we sit down and order jellyfish in chili oil?
Why, yes we did (it was surprisingly good!).
We also ordered a few portions of the smoky and spicy smoked tofu and Asian celery that everyone tore into with gusto. My own spicy Sichuan noodles recipe reminded me so much of that delicious meal on that fun day that I caught myself, alone in my own kitchen, grinning between delicious bites!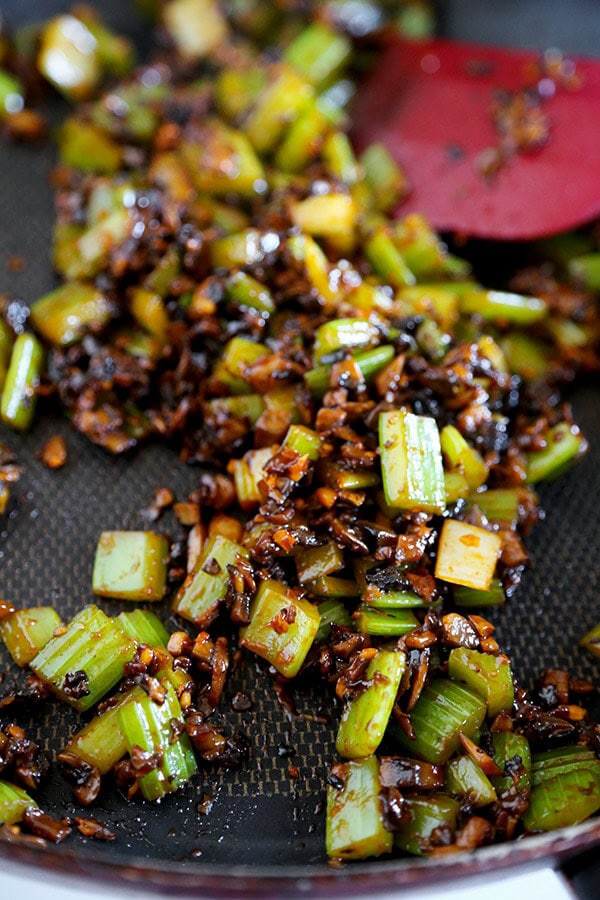 While I absolutely love spicy food, I'm not a huge fan of the numb-your- whole-mouth- for-the- duration-of- your-meal Sichuan peppercorn.
There are people that love it – and more power to them! For me, it ends up masking the other flavors in the dish and, when used heavily, can come across as a brash flavor that smothers subtlety.
For this Sichuan noodles recipe I used gochujang, soy sauce and chinkiang vinegar for a base that had a bit of kick, minus the full-frontal assault of the numbing peppercorns.
The sauce paired so nicely with the mushrooms, celery and rice noodles. Food-match made in heaven!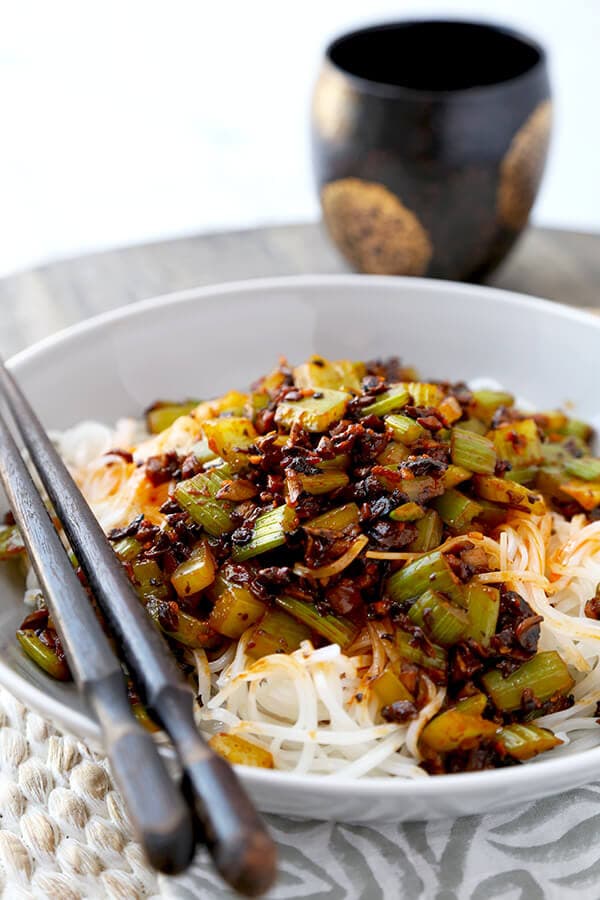 Feel free to use any type of pasta you'd like in this easy to make (and totally vegan!) Sichuan noodles recipe. I used rice noodles in my recipe – but the spicy, umami and crunchy veggie mixture will totally go well with ramen noodles or even spaghetti.
Delish!
What about you? What's your comfort food of choice when life gets crazy? Have you ever made a recipe that reminded you of something delicious you ate at a restaurant before?
I'd love to hear about it in the comments section!
Other delicious Asian vegan dishes: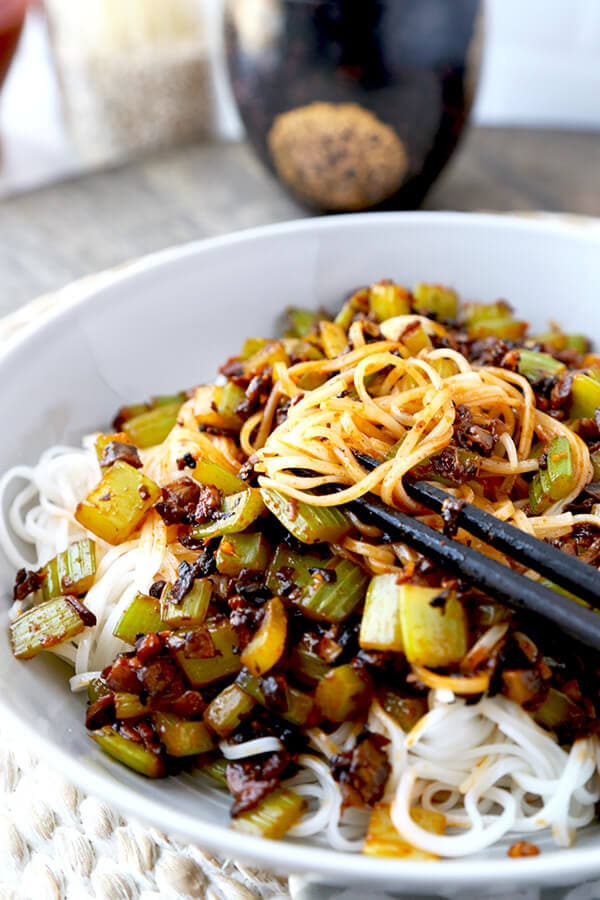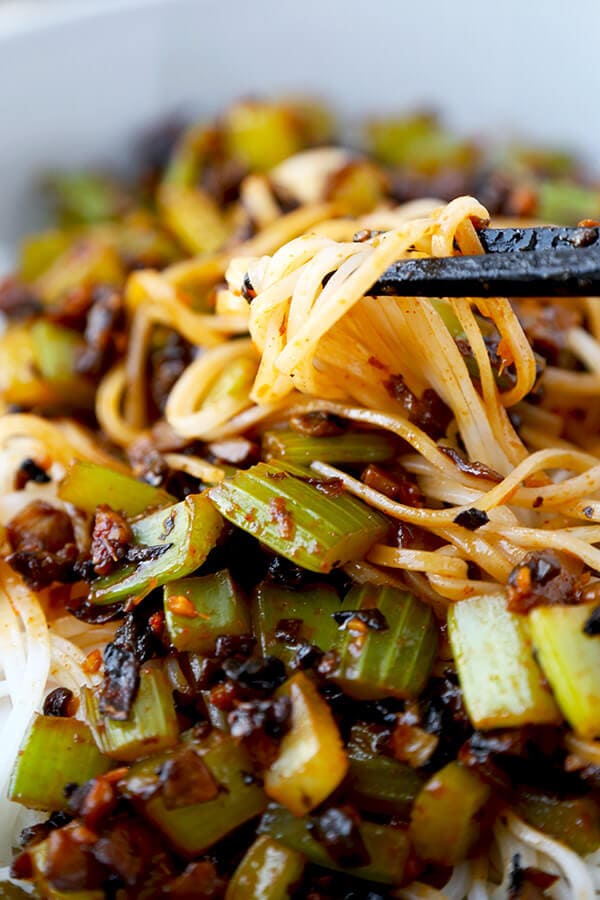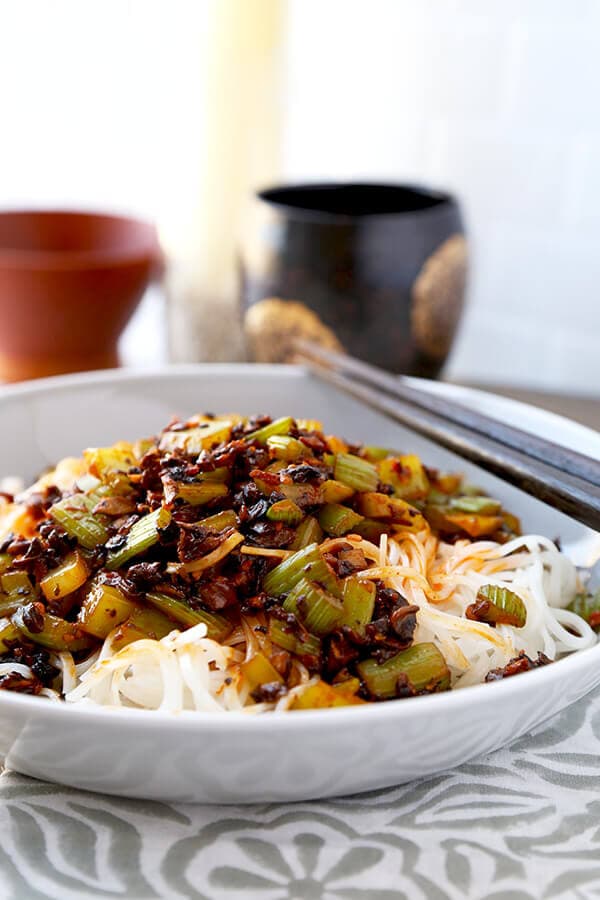 Did you like this Spicy Vegan Sichuan Noodles Recipe? Are there changes you made that you would like to share?
Print
Spicy Vegan Sichuan Noodles
Classic Szechuan flavors needs no meat to be delicious, this dish proves it!
Author: Caroline Phelps
Prep Time:

10 minutes

Cook Time:

10 minutes

Total Time:

20 minutes

Yield:

2

people

1

x
Category:

Vegan

Method:

Stir frying

Cuisine:

Chinese
2 cups

celery (diced)

1 tablespoon

vegetable oil

6 ounces

rice noodles

5 ounces

button mushrooms (finely chopped)

2 tablespoons

ginger (peeled and finely chopped)

2 tablespoons

gochujang (Korean hot chili paste)

2 tablespoons

soy sauce

1 tablespoon

chinkiang or balsamic vinegar
Instructions
Bring a medium size pot of salted water to boil. Add celery and blanch for 3 minutes. Drain and set aside.
Bring another pot of water to boil and cook noodles according to directions on the package. Drain and set aside. TIP: tossing a few drops of sesame oil will prevent the noodles from sticking together.
In a large pan over medium high heat, add mushrooms and ginger and cook until mushrooms are golden brown (about 5-6 minutes). Add gochujang and stir well until mushrooms are evenly coated. Add celery and toss until coated.
Add soy sauce and chinkiang vinegar, stir and turn the heat off.
Divide noodles evenly among bowls and serve topped with spicy mushrooms and celery.
Notes
These Spicy Szechuan Rice Noodles will keep refrigerated for up to 2 days.
Nutrition
Serving Size:
Calories:

424

Sugar:

10.9 g

Sodium:

1088.1 mg

Fat:

4.4 g

Saturated Fat:

1.4 g

Carbohydrates:

86.4 g

Fiber:

3.7 g

Protein:

9.2 g

Cholesterol:

3.5 mg
Keywords: recipe, main, plant based, vegetarian
Recipe Card powered by