If you're looking for a quick and easy way to add depth of flavor to your dishes, then look no further than gochujang! This Korean ingredient is perfect for those who want to add a little spice and smokiness to their food. Plus, it's vegan friendly and can be used in a variety of recipes – both traditional and modern. Learn how to make this essential Korean ingredient at home and in less than 10 minutes. No fermentation needed!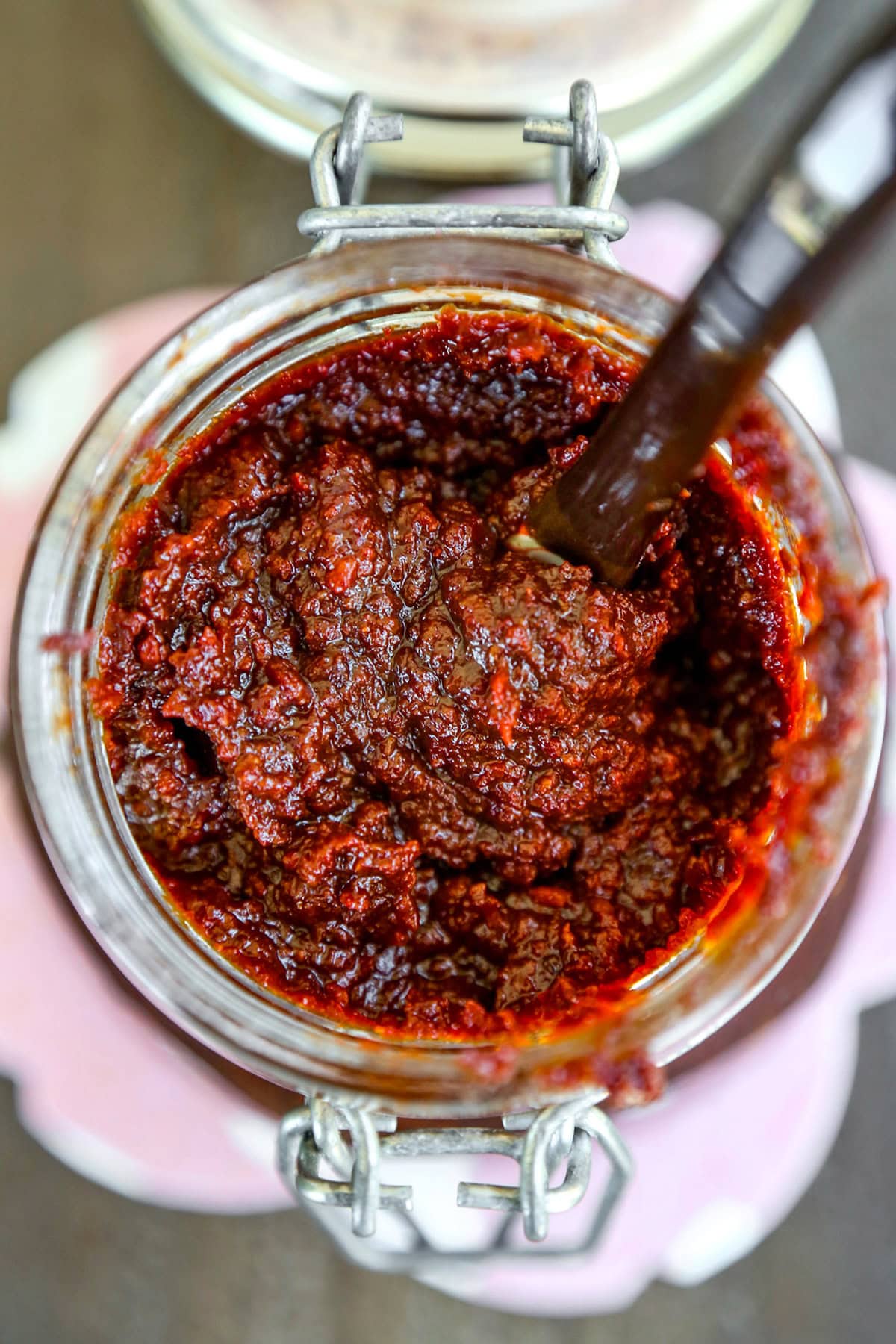 What is Gochujang?
Gochujang 고추장 is a Korean red pepper paste made from fermented soybean, meju powder (fermented soybean powder), glutinous rice, gochugaru (Korean red pepper powder), and salt.
It's been a staple in Korean cooking for centuries and comes in different levels of heat, from a spice level that's mild to extremely hot. The starches in glutinous rice are converted into sugar and cultivated with enzymes. The process takes years to make. Gochujang is fermented in earthenware called angdok which are kept outside on an elevated stone platform, called jangdokdae.
"Korean cuisine has continued to gain worldwide popularity since 2010, and approximately 30 percent of respondents in a recent Statista survey said Korean food was very popular in their country." – foodinstitute.com
What does it Taste Like?
Gochujang is used as a flavor enhancer in soups, stews, and salads, and for pickling and marinating meats, seafood, tofu, and vegetables. The flavor profile is quite impressive: while doenjang (Korean fermented soybean paste) is salty and earthy – very similar to miso paste – gochujang has a strong spicy, smoky, umami, sweet, and nutty flavor that's pungent and hard to compare to anything else.
Because of its thick and sticky texture – like a paste – gochujang has to be cooked in liquid or mixed with other ingredients to be consumed (it cannot be used as a finishing sauce or dipping sauce).
Where To Buy Gochujang
Gochujang is very easy to find these days. You can find it at most Asian supermarkets (Korean, Chinese, Vietnamese) or buy it online on Amazon and other retailers.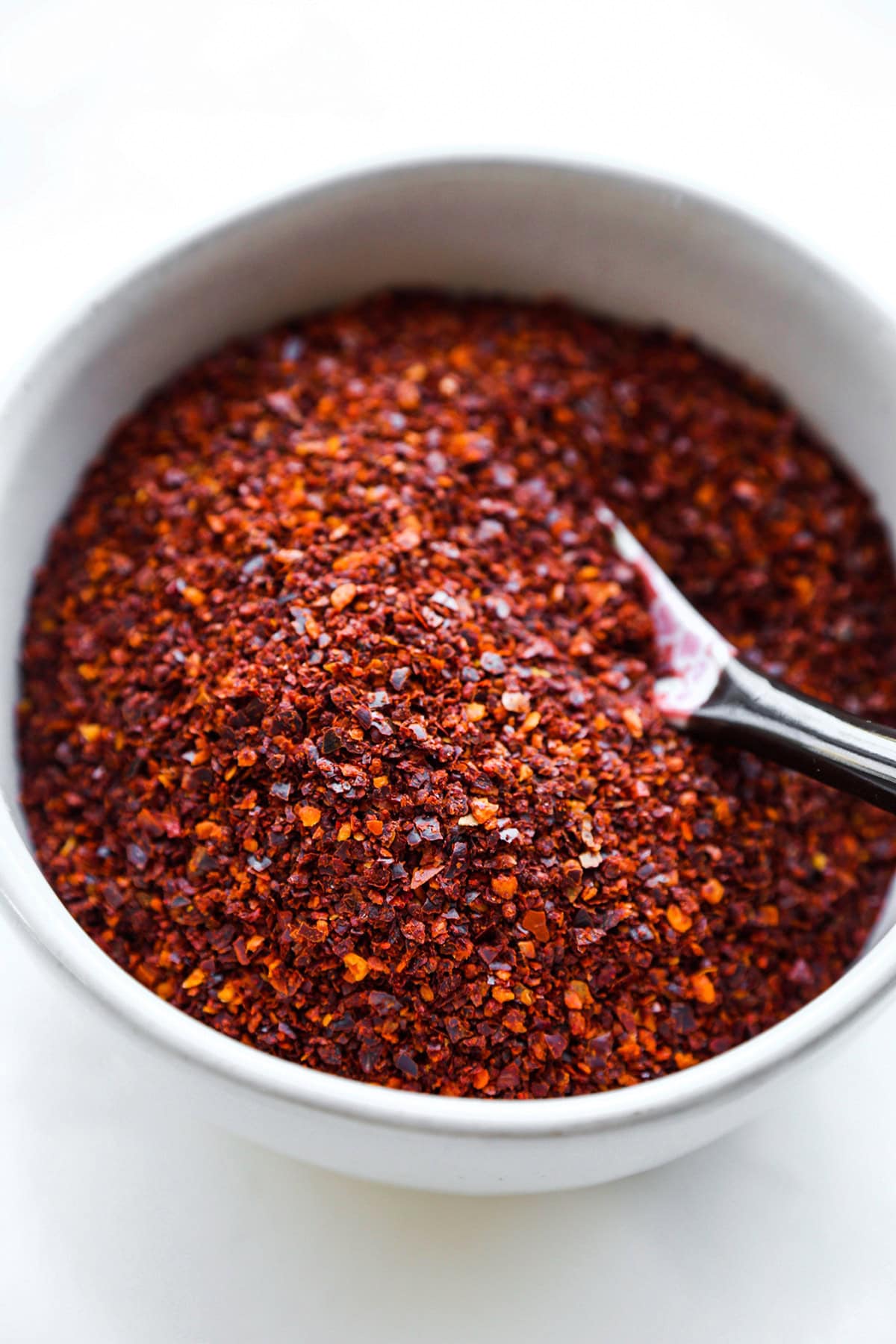 Ingredients for Gochujang
Gochugaru (Korean red pepper flakes): This is what gives the sauce its spicy and super smoky flavor. Without gochugaru you cannot make gochujang as there is nothing else like it that would make a good substitute.
Water: The water is to soften the Korean pepper flakes a create a paste.
Honey: You can use any basic honey for this dish, it doesn't have to be raw or anything like that. The honey adds a floral note and some sweetness.
Red miso paste: Yes it has to be red miso paste for this recipe, sorry guys! The reason being that red miso is smoky and salty, unlike white miso which isn't smoky at all and has a sweeter taste.
Sake: You can use drinking sake or cooking sake, just a little is needed to add a little sweetness.
Rice vinegar: Half a teaspoon is all we need to balance the sweetness and saltiness.
Salt: The addition of red miso paste already adds saltiness but I'm adding a little extra so that it can stand up to the strong smoky taste.
Gochugaru Flavor Variations:
Make it more spicy: Add 1-2 additional tablespoons of gochugaru (you might need to add an extra tablespoon or two of water as well).
Make it less spicy: Use 2 tablespoons gochugaru and 1/4 cup water instead of what the original recipe calls for.
Make it more sweet: Add an extra tablespoon of honey.
Make it more pungent: Add an extra teaspoon or two of rice vinegar.
To make the real thing you would need a Korean earthernware clay pot (onggi hangari – 항아리), fermented soybean powder, malt barley, sweet rice powder, rice syrup, and other harder to find ingredients. You will also need a lot more patience since it will take up to 6 months for the gochujang to ferment.
And though the flavors will be more complex and deep than this recipe, I see nothing wrong with using an 8-minute gochujang to season some of my favorite Korean dishes!
How to Make Gochujang
Have all your ingredients measured and ready to use.
Put the gochugaru, water, miso paste and honey in a small pot and turn the heat the medium.
Stir until the mixture starts to bubble and turn the heat off. Let the mixture cool about 15 minutes, until it reaches room temperature.
Stir in the remaining ingredients and transfer the gochugaru paste in a jar or other glass or plastic airtight container. Enjoy!
How Long Does Homemade Gochujang Last?
For a quick gochujang that doesn't go through the long fermenting process, about 1 month, refrigerated in an airtight storage container, is the recommended time.
For store bought gochujang, the shelf life is a lot longer.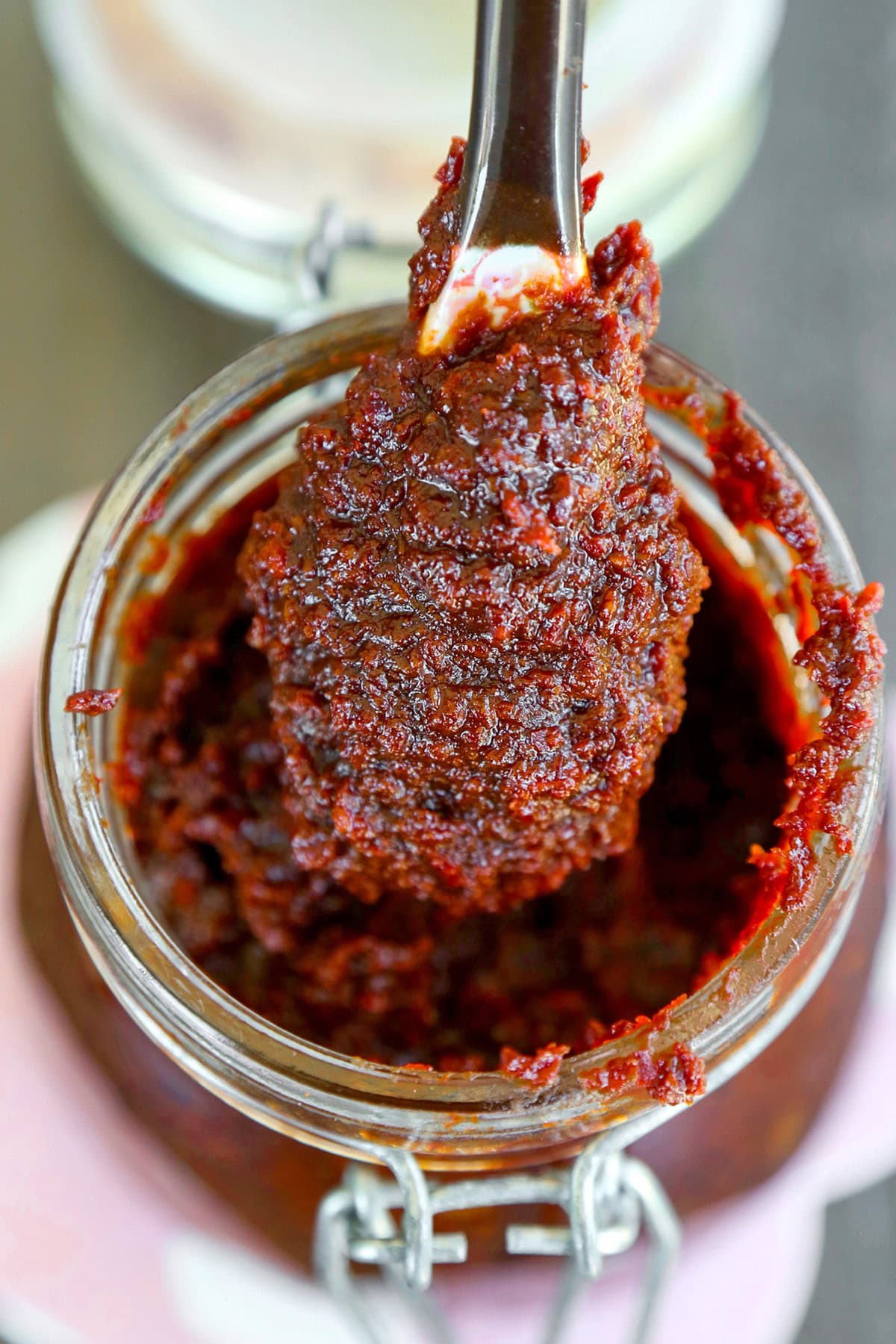 How to Use Gochujang
Now you are probably wondering what you can make with gochujang.
Use gochujang to enhance your dishes with a little smokiness, heat, and umami. Famous Korean dishes such as bibimbap (rice bowl), tteokbokki, ssamjang, and soondubu jjigae, all use gochujang as one of their main ingredients.
FYI: a little goes a long way!
If you are making a simple stir fry and would like more flavor, adding a teaspoon of gochujang would greatly improve the dish.
The same thing goes for soups and stews that are either tomato based or broth based.
To make gochujang sauce (bibimbap sauce), mix a little gochujang with soy sauce, sugar or mirin, rice vinegar, and sesame oil (click here for gochujang sauce recipe). You really can't go wrong with this flavor combination!
You can also use gochujang as a sandwich spread. Mix about a teaspoon gochujang with 2-3 tablespoons mayonnaise and voila! You've just made a spicy Korean style sandwich at home.
The options are endless! The more familiar you will become with the intricate flavors of gochujang and the easier it will be to combine it with other ingredients.
Some of my favorite Korean dishes using gochujang: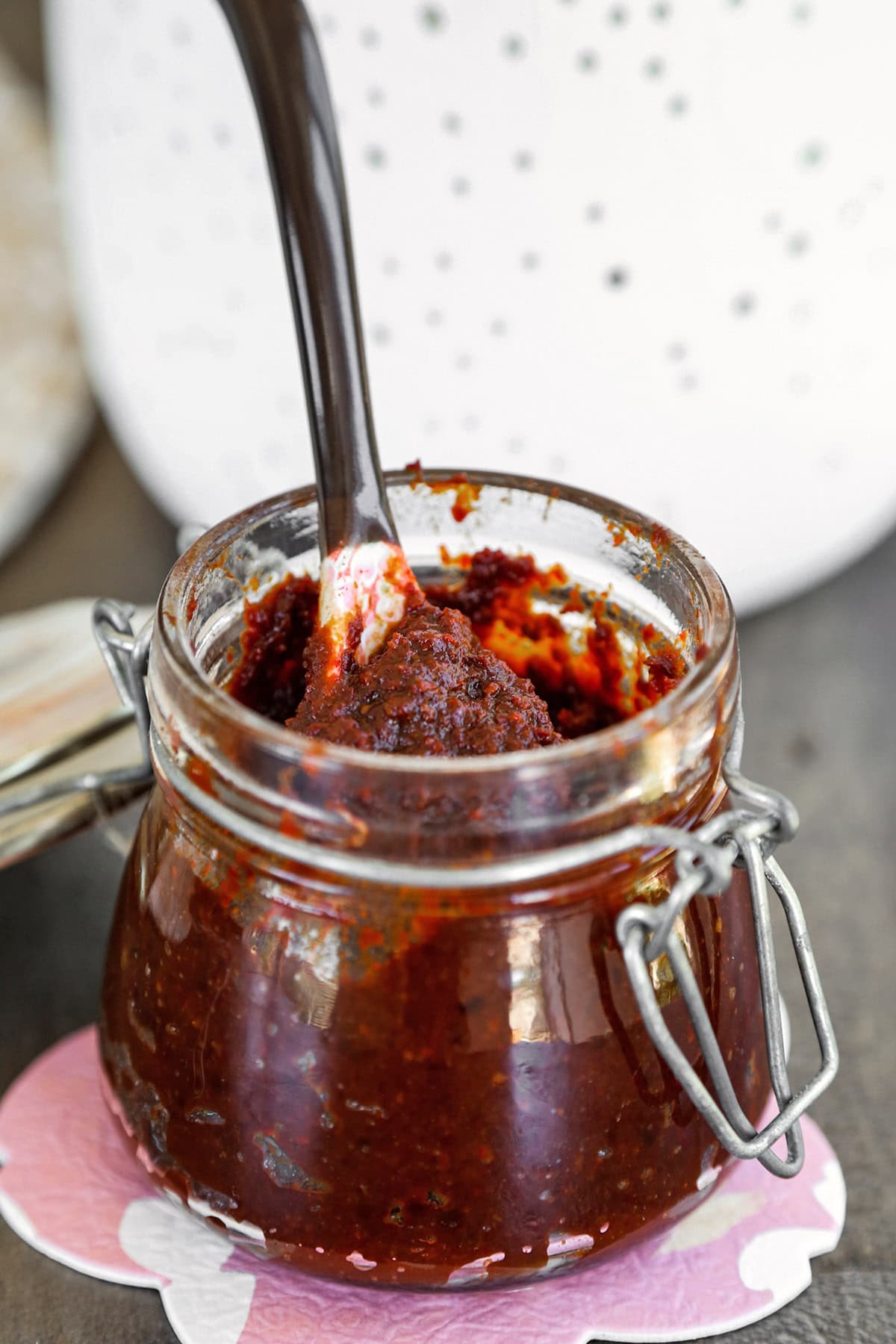 Did you like this homemade gochujang recipe? Are there changes you made that you would like to share? Share your tips and recommendations in the comments section below!
Print
Homemade Gochujang (Korean Chili Paste)
Learn how to make your own gochujang at home in less than 10 minutes. No fermentation needed!
Author: Caroline Phelps
Prep Time:

5 minutes

Cook Time:

3 minutes

Total Time:

8 minutes

Yield: about

1 cup

1

x
Category:

Sauces

Method:

Stove top

Cuisine:

Korean

Diet:

Vegan
1/4 cup

gochugaru (Korean chili pepper flakes)

1/3 cup

water

2 tablespoons

honey

3 tablespoons

red miso paste

1 1/2 tablespoon

sake

1/2 teaspoon

rice vinegar

1/4 teaspoon

salt
Instructions
Add gochugaru, water, honey, and miso paste to a pot and stir over medium heat until the mixture bubbles. 

Turn off the heat and leave for 15 minutes. 

Stir in sake, vinegar and salt, and transfer the mixture to a bowl. Let cool to room temperature. 

Refrigerate for up to 1 month.
Notes
This homemade gochujang is best kept in an airtight container, somewhere dark and cool.
Nutrition
Serving Size:

2 tablespoons

Calories:

66

Sugar:

4.3g

Sodium:

73.4mg

Fat:

0.4g

Saturated Fat:

0g

Unsaturated Fat:

0g

Trans Fat:

0g

Carbohydrates:

6.3g

Fiber:

0.4g

Protein:

0.8g

Cholesterol:

0mg
Keywords: condiment, seasoning, red pepper paste
Recipe Card powered by