Loaded with fiery gochujang, this tteokbokki recipe (spicy Korean rice cakes) is chewy, sweet and spicy, and ready in just 35 minutes from start to finish.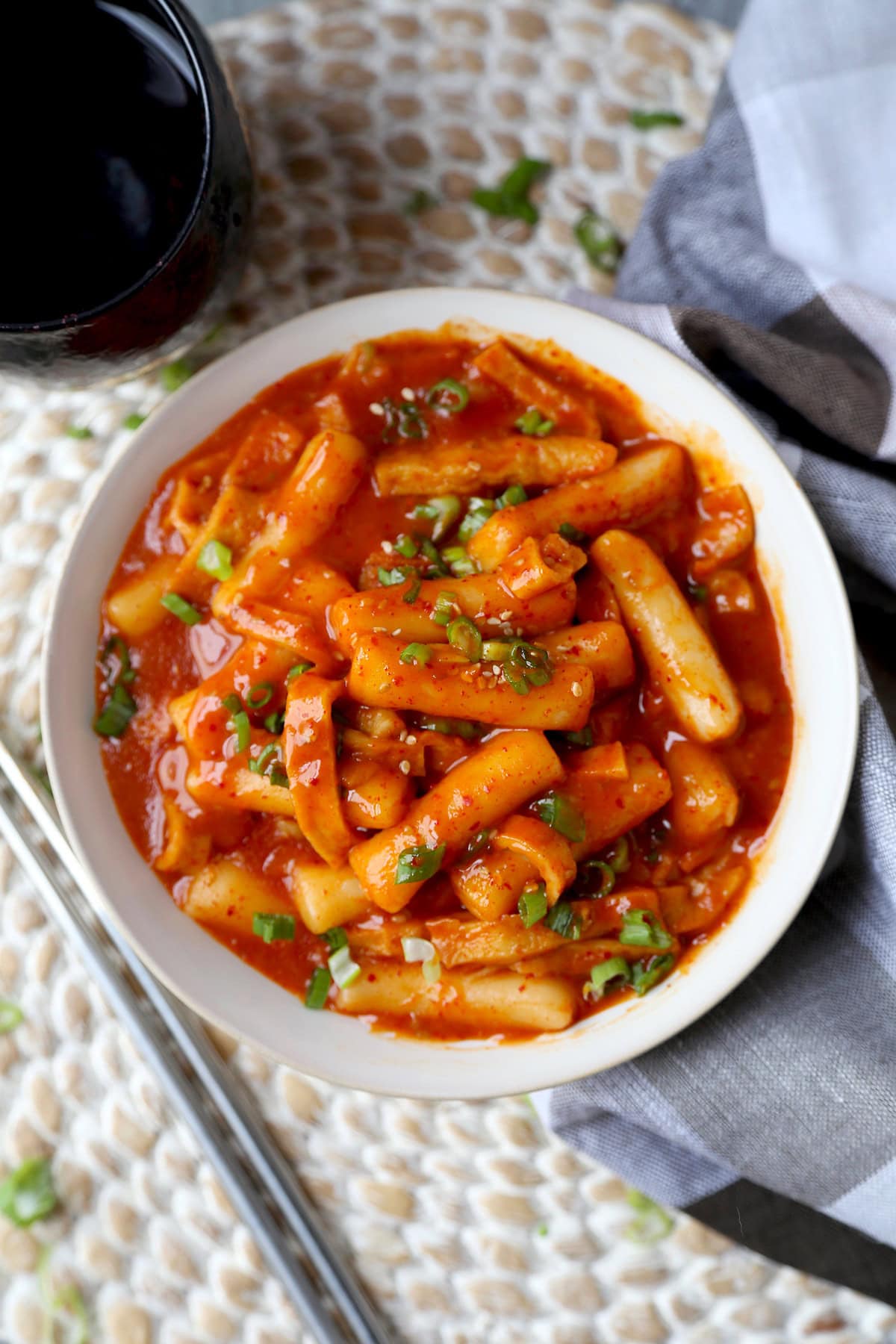 What is Tteokbokki?
Tteokbokki, also spelled dukbokki, topokki, or ddeokbokki, are Korean hot and spicy rice cakes. Cylindrical, chewy white rice cake noodles called tteok are stir fried in a delicious spicy gochujang based sauce. Savory elements are added to the sauce by way of anchovy stock, dried kelp and a splash of sesame oil.
Korean street food
Just like Japan and Thailand, Korea is known for its amazing selection of street food. Sold in pojangmacha tents (street stall on wheels), dishes such as twigim (Korean-style tempura), gimbap (Korean sushi), mandu (dumplings), yangnyeom tongdak (fried chicken), pajeon (pancakes), myeon (noodle soup), and odeng (fish cakes), occupy the busy streets of South Korea.
One of the most famous Korean street-foods, tteokbokki is fiery, savory and slightly sweet food perfection!
Grabbing a plate of tteokbokki after a few glasses of soju (Korean spirit) with friends is the ultimate late night indulgence in Korea. You can find tteokbokki sold in food stalls across Seoul and the rest of the country, where groups of people gather to enjoy great food with friendly conversations.
As for how-to-pronounce this tongue-twister of a word, I've found saying, "dukbokki" usually raises the fewest eyebrows when ordering at a restaurant in New York's Koreatown. But, I'm probably still butchering the language without meaning to, ha 🙂
However, no matter how hard it is for me to say correctly, this tteokbokki recipe is super easy to whip up at home in just over 30 minutes!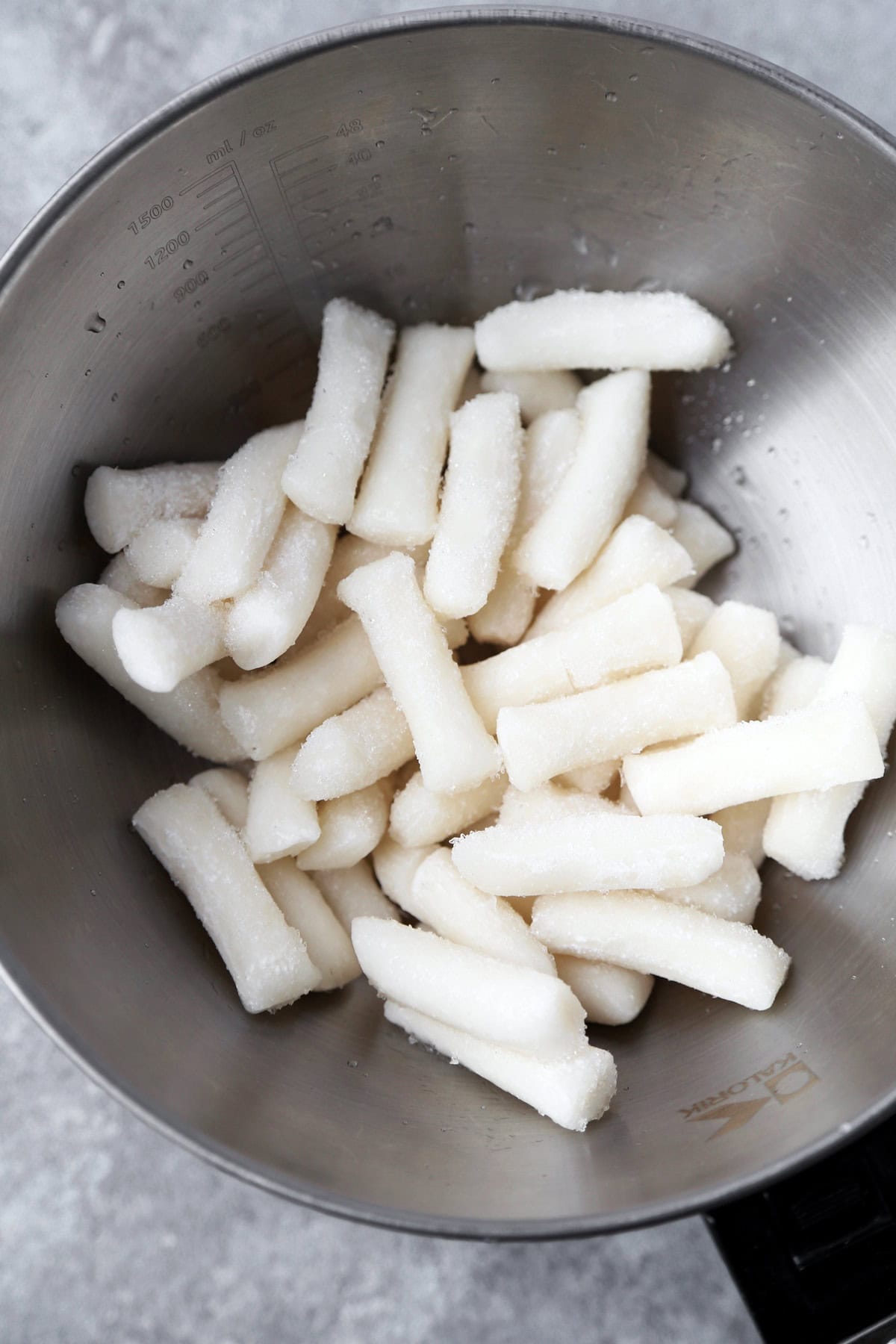 Where to Buy Tteokbokki
You can find instant tteokbokki (Korean rice cakes) in the frozen section of Asian grocery stores and specialized Korean supermarkets. For those living in New York City, H Mart in Koreatown sells them, and I've also seen them in Hong Kong supermarket in Chinatown.
And while you are there, look for these other ingredients since you will need them for this dukbokki recipe. Another option is to purchase them on Amazon:
Gochujang (Korean red pepper paste)

Gochugaru

(powdered Korean chili pepper flakes)

Dried kelp

Sesame oil
Tteokbokki Sauce
Known for its bright red color and fiery taste, tteookbokki sauce is usually made with a mix of gochujang, gochugaru, anchovy stock, soy sauce sauce, and sugar. You can control the amount of heat that goes into your sauce by adding more or less gochugaru, which a smoky Korean chili pepper flakes.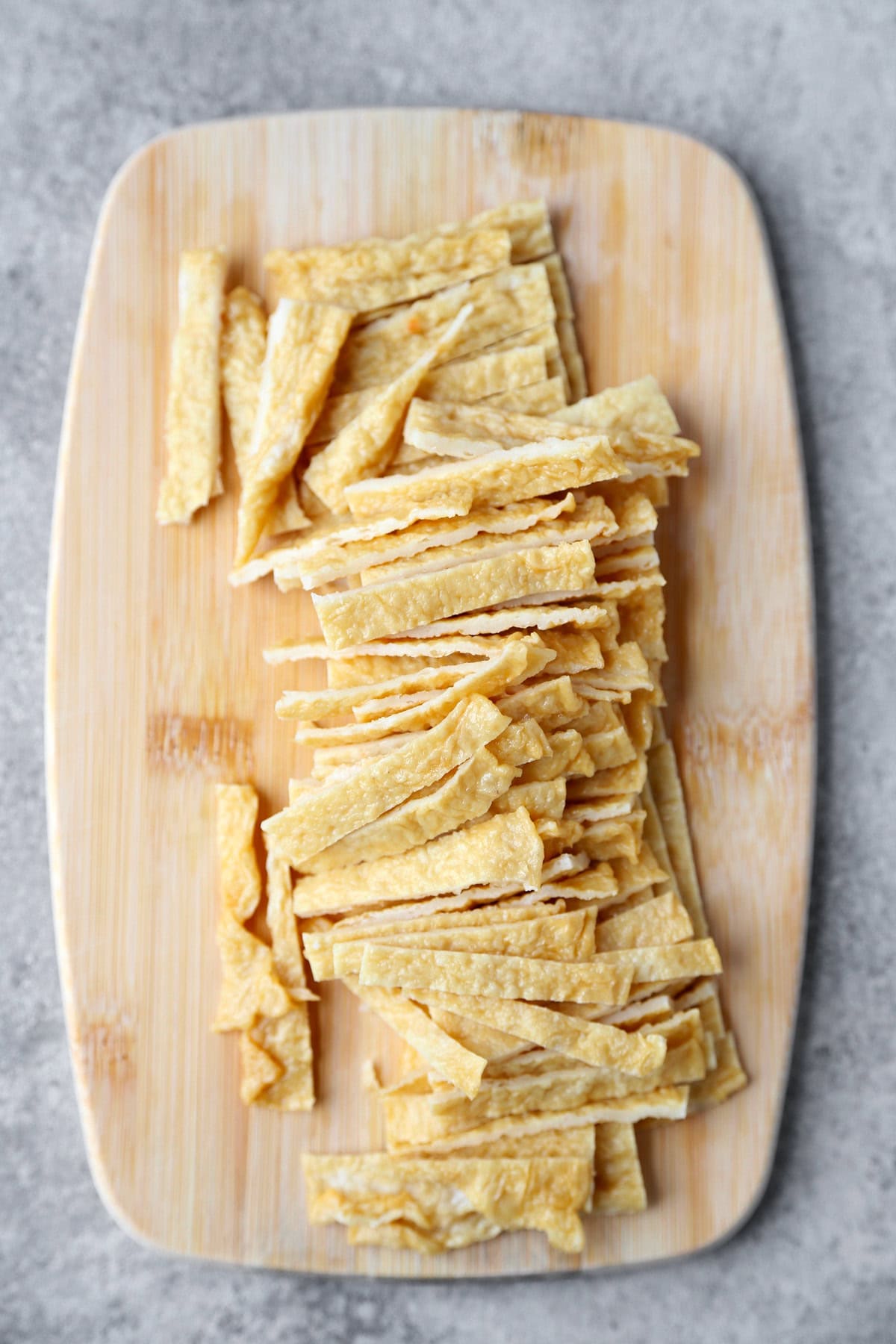 Ingredients for Tteokbokki
Tteokbokki (떡볶이떡): The main ingredient for this recipe. Once cooked, Korean rice cakes are chewy and slightly sweet in flavor.
Tteokbokki sauce: A mix of anchovy stock, dried kelp, gochujang, gochugaru, soy sauce, and sugar.
Korean fish cakes: Authentic Korean food can be very pungent and these fish cakes definitely pack a punch in that department!
Sesame oil: Add it once the cooking process is finished to preserve the delicate nutty flavor. A little goes a long way with sesame oil.
Scallions: The chopped scallions add a really nice and refreshing crunch to the dish.
Sesame seeds: Optional but recommended if you like lots of nuttiness!
Additional Ingredients
My recipe for tteokbokki is very simple and traditional so I'm only using the basic ingredients. However, you can have fun and add your own favorite ingredients to it, or try these other very popular additions:
Ramen noodles
Shredded cabbage
Carrots
Daikon
Eggs
Cheese
Hot dogs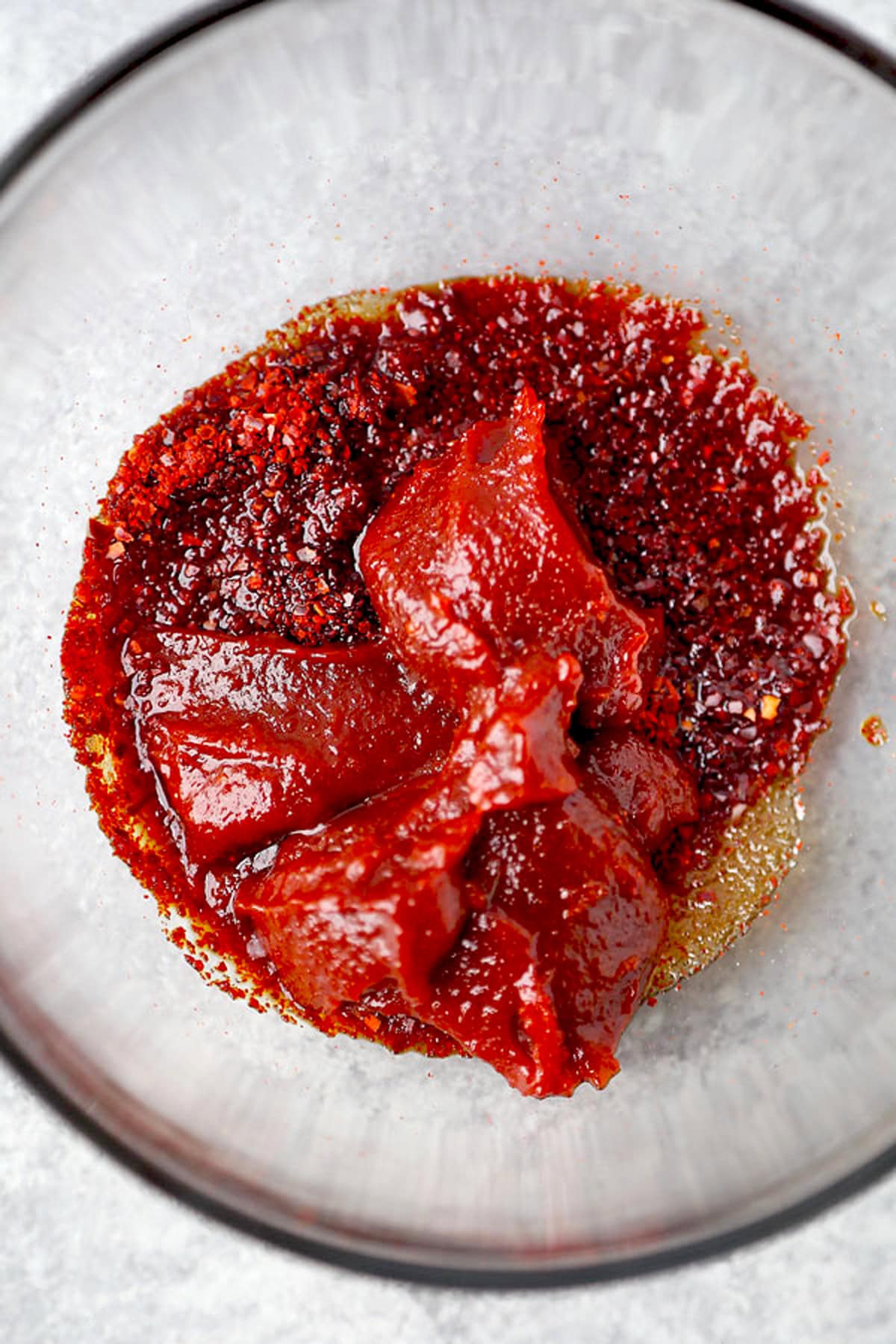 How to Make Tteokbokki

(Dukbokki)
Making the stock: Pour the anchovy stock in a medium size pot along with a 6×6-inch piece of dried kelp, and bring to a boil. Lower the heat, simmer for 10 minutes and remove the kelp.
Adding the seasonings: Turn the heat back up and stir in the gochujang (Korean red chili paste), gochugaru (Korean chili flakes), soy sauce and sugar.
Cooking the rice cakes: When the stock in boiling, add the rice cakes and cook for 8 to 10 minutes, until they are soft. Make sure to stir frequently to prevent the rices cakes from sticking together or to the bottom of the bottom.
Cooking the fish cakes: Chop the fish cakes into bite size pieces and add them to the pot. Cook for 4 minutes.
Serving tteokbokki: Turn the heat off and add the sesame oil and scallions. Stir and serve tteokbokki in a bowl with sesame seeds on top (optional).
If your rice cakes come out of the package on the hard side, it's a good idea to soak them in water for 10-15 minutes. If they're already soft, you should be good to go. Spicy, nutty, savory, sweet and super filling – I promise it's going to be a hit!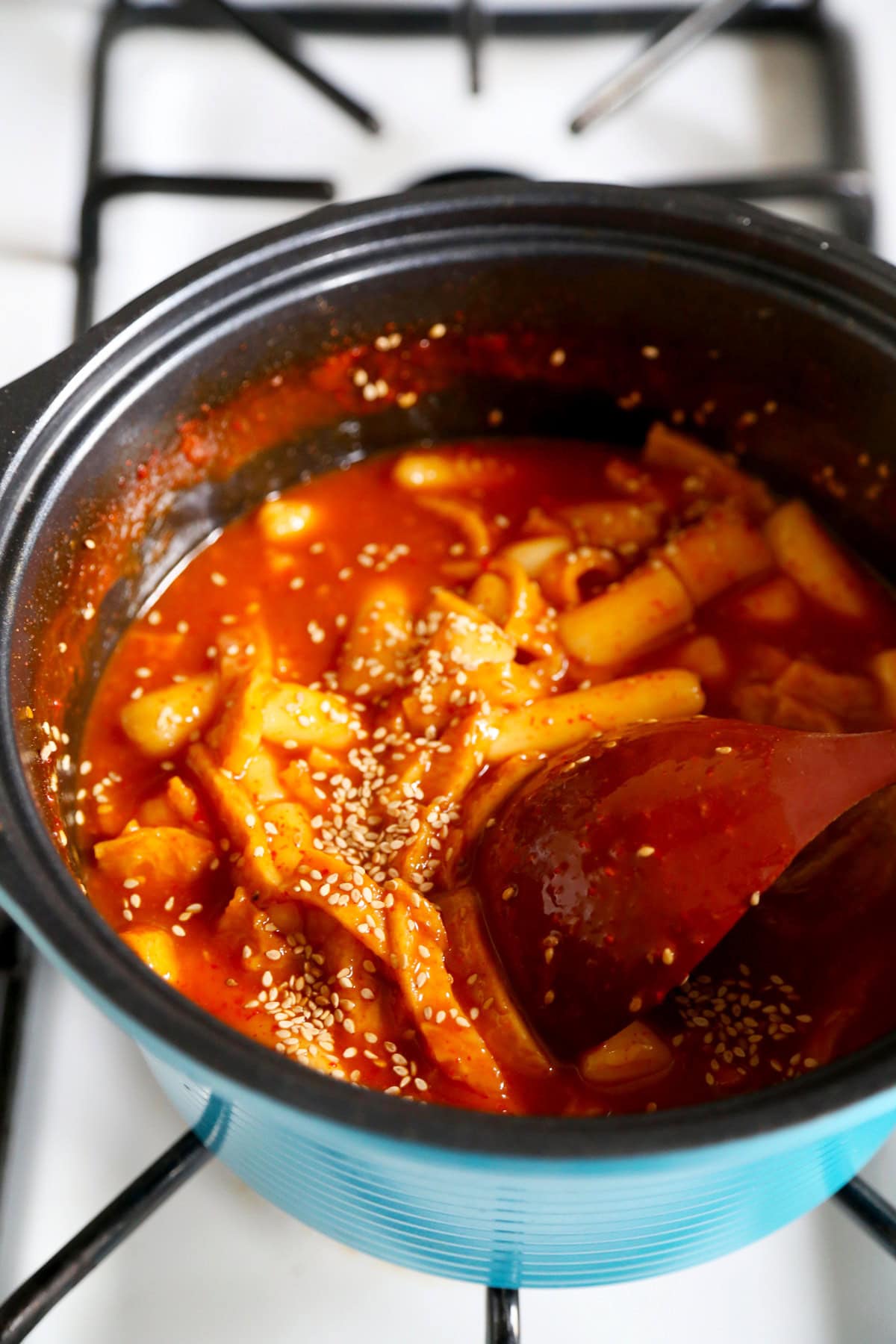 Freezing Tteokbokki
You may be able to freeze tteokbokki but I don't recommend you do so. That's because the texture of the fish cakes and rice cakes will not be very pleasant once they are reheated. It's best to keep your leftovers in the fridge and eat them within 2-3 days.
Making
Vegan Tteokbokki
Traditional tteokbokki is not vegan (this recipe isn't either).
That said, if you'd like to make a vegan version it can totally be done with minimal hassle!
Simply use plain water in place of the anchovy stock – and omit the Korean fish cakes altogether – to make your own tteokbokki recipe entirely plant based.
While I find that the anchovy broth really fills out the flavor profile, I tried making a vegan version (with just water) at home – and it was wonderfully delicious!
It's so cool when recipes can be easily tweaked so everyone can enjoy them!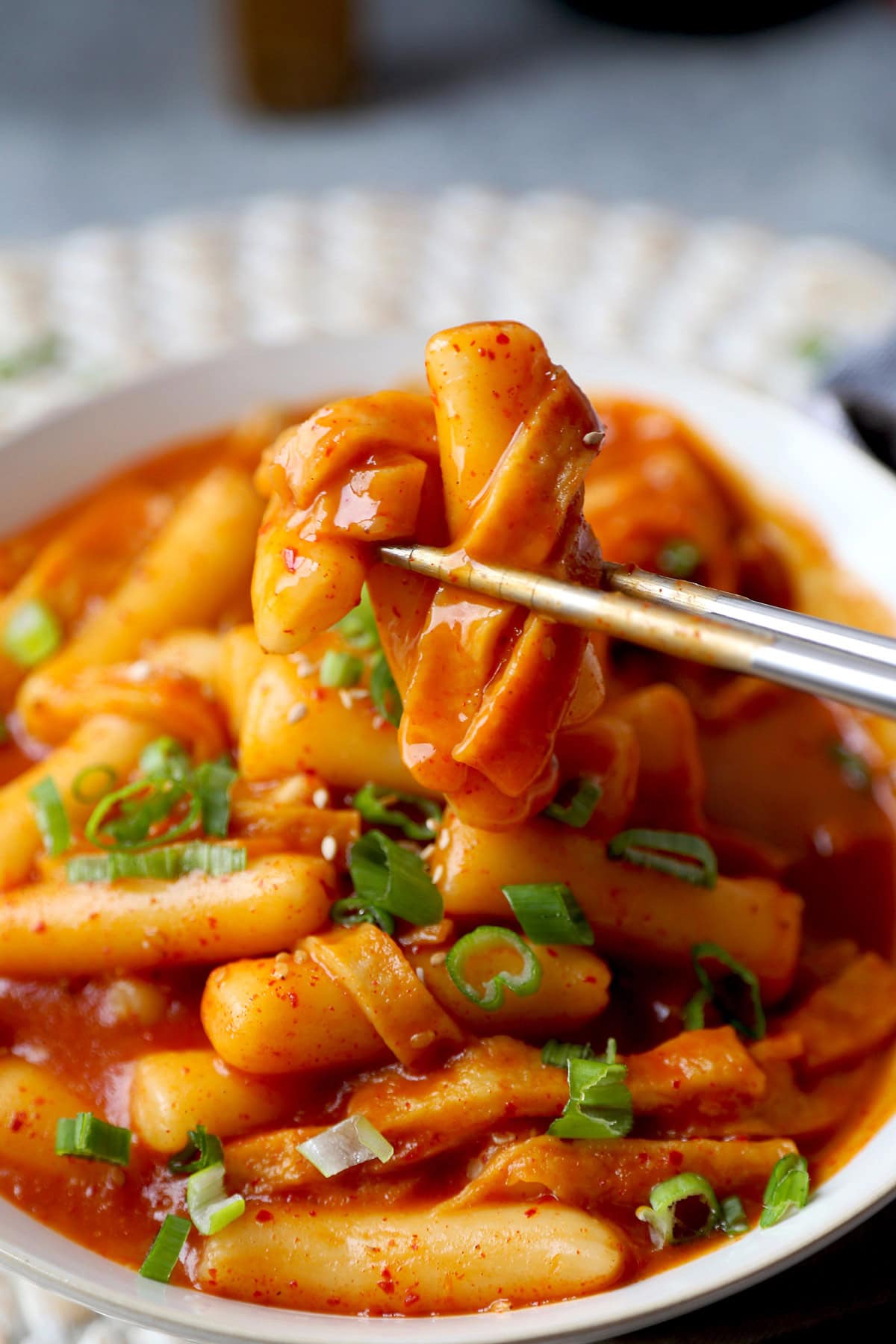 What to Serve with Tteokbokki
Looking to create a Korean inspired feast for dinner? Here are some of my favorite recipes:
PLUS: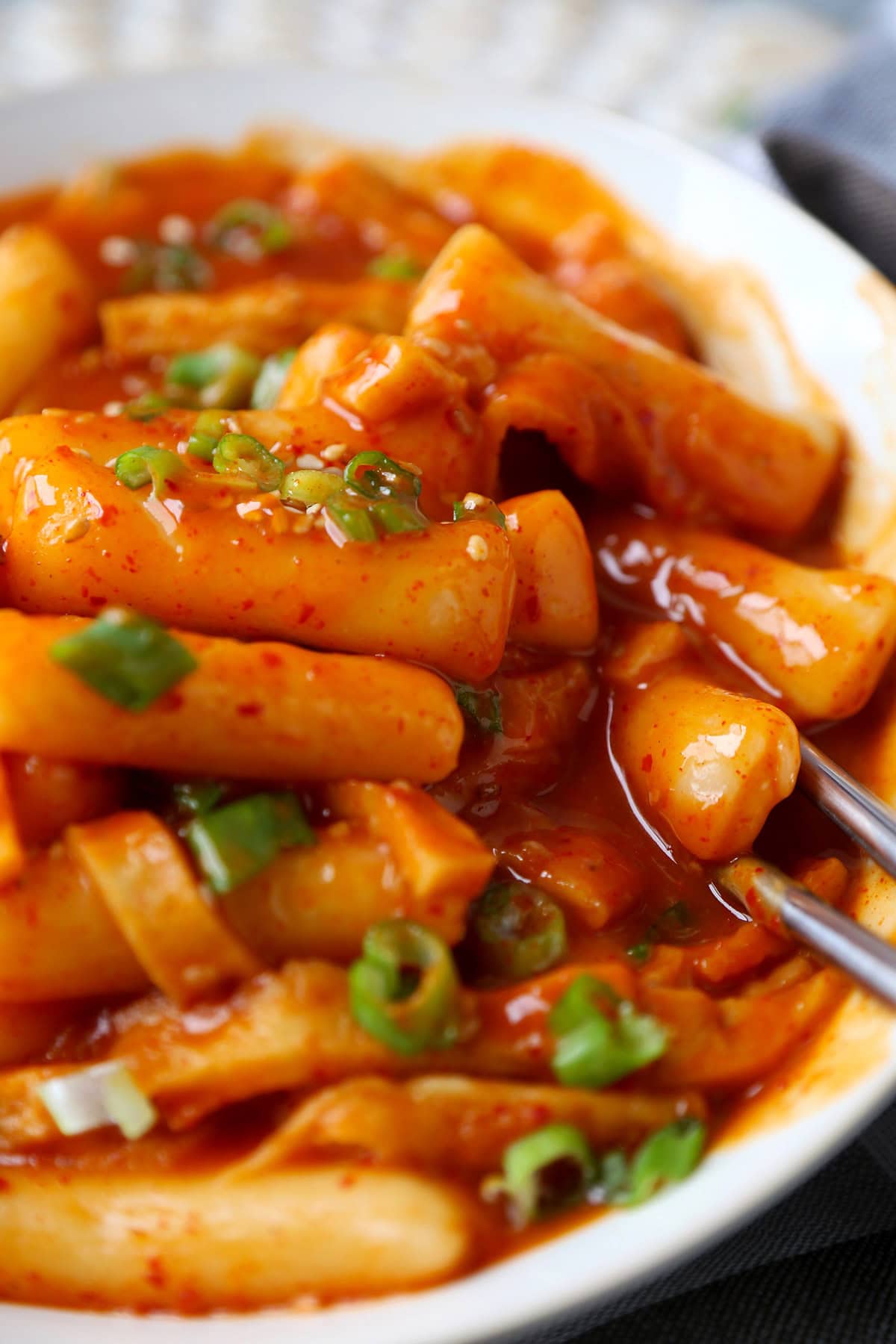 Did you like this Tteokbokki Recipe? Are there changes you made that you would like to share? Share your tips and recommendations in the comments section below!
Print
Tteokbokki – Spicy Korean Rice Cakes
A delicious and incendiary Korean rice cakes recipe. Add this spicy tteokbokki to your steady rotation at home!
Author: Caroline Phelps
Prep Time:

10 mins

Cook Time:

24 mins

Total Time:

34 minutes

Yield:

4

small servings

1

x
Category:

Main

Method:

Stove Top

Cuisine:

Korean
1

pound tteokbokki (Korean rice cakes)

3 1/2 cups

anchovy stock (or water)

6

x 6 inch piece dried kelp

3 tablespoons

gochujang (Korean red chili paste)

1 tablespoon

gochugaru (Korean chili pepper flakes)

1 tablespoon

soy sauce

1 tablespoon

sugar

4 ounces

Korean fish cake, rinsed, patted dry and sliced into bite sized pieces

1 teaspoon

sesame oil

3

scallions, chopped

Sesame seeds (optional)
Instructions
Soak rice cakes in water for 10-15 minutes (This step is for rice cakes that are hard. Skip this step if they are already soft).

In a medium size pot over high heat, add anchovy stock and dried kelp and bring to a boil. Remove the kelp, lower the heat to low, and simmer for 10 minutes, uncovered.

Stir in gochujang, gochugaru, soy sauce and sugar – and bring back to a boil.

Add rice cakes and cook for 8-10 minute, stirring frequently until they are soft.

Add fish cake and cook for 4 minutes, stirring frequently.

Turn off the heat and stir in sesame oil. Add scallions, stir and transfer to a bowl. Sprinkle sesame seeds on top (optional) and serve.
Notes
Tteokbokki is best served immediately after cooking. While the spicy Korean rice cakes can be stored in the fridge for 2-3 days, they will naturally get hard when they cool down. Definitely better fresh!
Nutrition
Serving Size:
Calories:

365

Sugar:

8.1 g

Sodium:

794.2 mg

Fat:

2.6 g

Saturated Fat:

0.3 g

Carbohydrates:

75.4 g

Fiber:

1.5 g

Protein:

6.8 g

Cholesterol:

4.1 mg
Keywords: spicy, mochi, Asian
Recipe Card powered by