Rabokki, short for "ramyeon" (Korean instant noodles) and "tteokbokki" (spicy rice cakes), is a beloved Korean street food dish that combines chewy rice cakes and ramen noodles tossed in a gochujang based spicy and savory sauce. If you're looking for a quick and easy meal packed with traditional Korean flavors, rabokki is a must-try!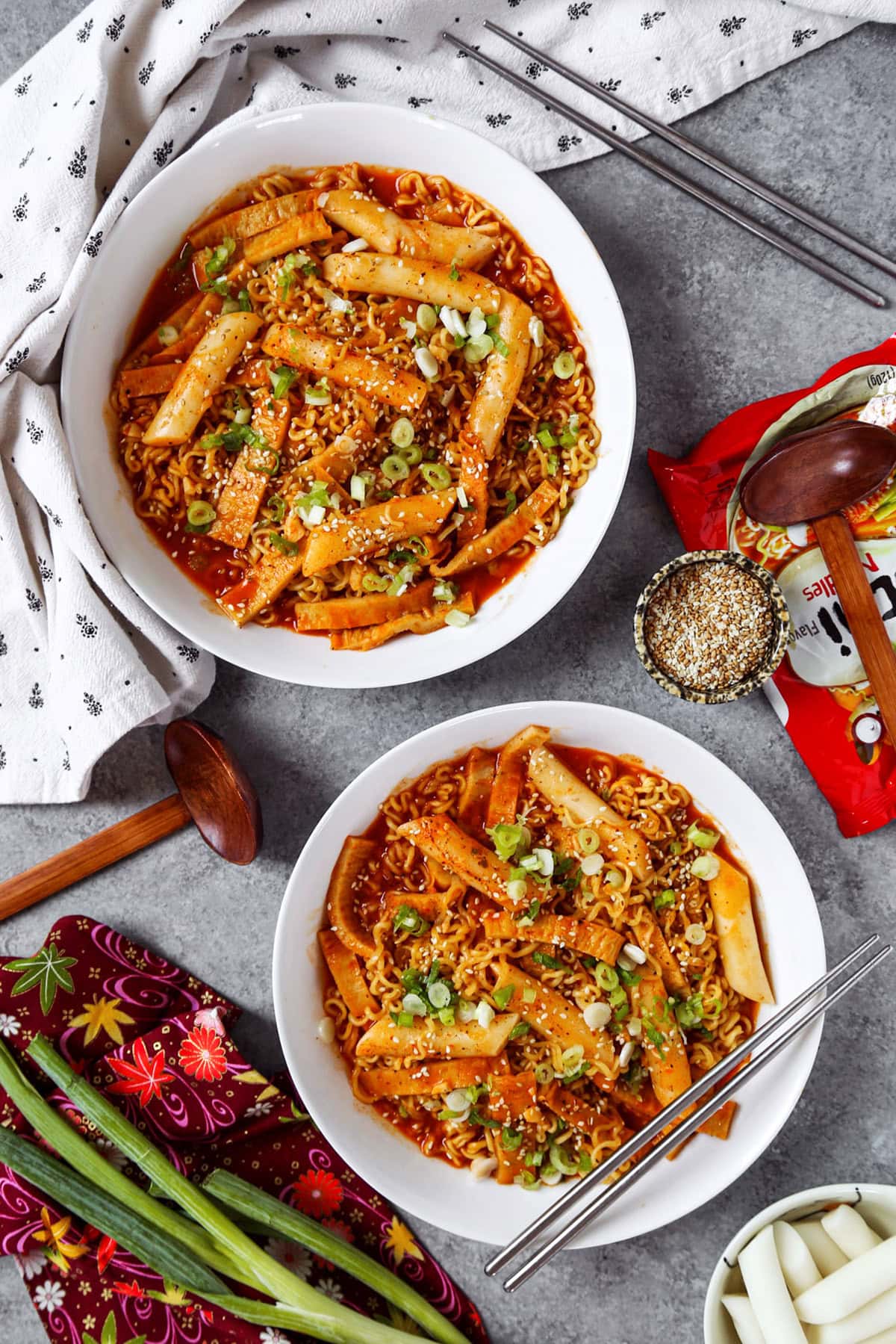 What is Rabokki?
Rabokki is a Korean street food that's very similar to tteokbokki. For those unfamiliar with tteokbokki, the dish consists of rice cakes and fish cakes that are served in a spicy sauce made of gochujang, gochugaru, anchovy stock, soy sauce, and sugar. What makes rabokki different is the addition of ramen noodles and its various toppings used.
This recipe for rabokki is very basic. No additional toppings are included but I will list some options below if you would like to dress it up.
Origins of Rabokki
Rabokki's history can be traced back to the mid-20th century when South Korea was going through significant social and economic changes. After the Korean War, there was a shortage of food, and instant noodles like ramyeon became an affordable and convenient source of sustenance. Tteokbokki, on the other hand, was already a beloved traditional dish that had been around since the Joseon Dynasty (found in 1392).
Combining the noodles with the already loved tteokbokki offered a filling snack that was not only tasty but also budget-friendly. Street vendors began selling rabokki, making it a hit among students, workers, and anyone looking for a quick and satisfying meal.
Today, rabokki is a cherished part of Korean street food culture and can also be found on restaurant menus.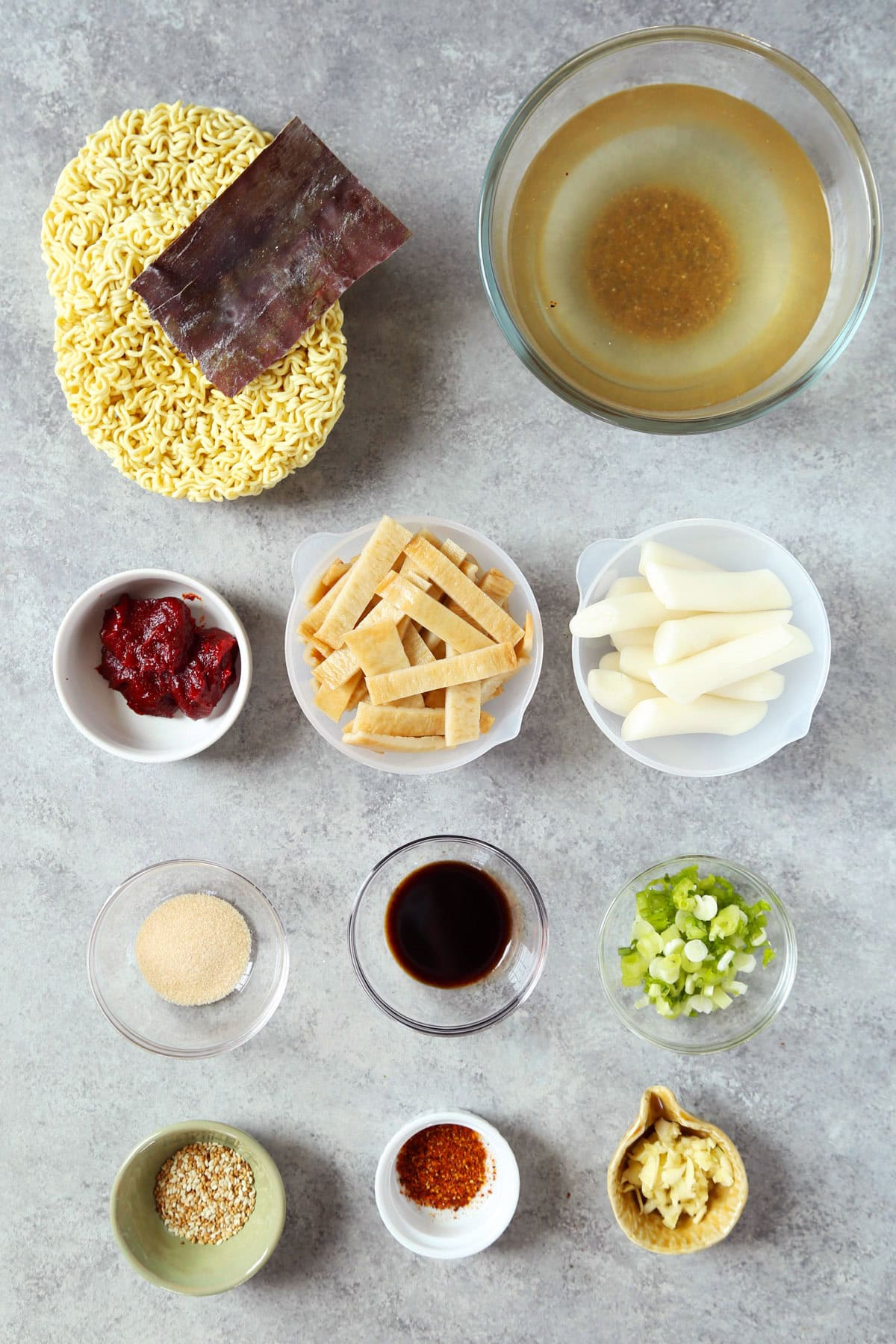 Rabokki Ingredients
Dashi stock: You can use dashi stock or anchovy stock to make this recipe. My favorite dashi powder is Kanoya Original Dashi Stock Powder, which is a mix of bonito flakes, sardines, herring, and kelp.
Kelp (Kombu): The kelp infuses the stock with a mineral taste. It's very mild so you can omit it if you don't have it on hand.
Garlic: I like to add a teaspoon of minced garlic to make the dish a little more pungent.
Gochujang: Gochujang is a spicy Korean red pepper paste often used in soups and stews. It's very smoky, salty, and pungent, and is a staple ingredient in Korean cooking. You can make it from scratch or get it on Amazon.
Gochugaru: Gochugaru, which are Korean chili flakes, is another essential ingredient in Korean cooking. The chili flakes, called taeyangcho or gochu flakes, are crushed and dried, and have a less intense flavor profile than gochujang. Since they are not fermented they simply provide smokiness and a little heat.
Soy Sauce: The soy sauce imparts saltiness and plenty of umami.
Sugar: A little granulated sugar is added to balance the savory and salty flavor of the sauce. Feel free to use honey if you prefer it over sugar.
Korean Rice Cakes (Tteokbokki Tteok): These cylindrical rice cakes are the heart of rabokki. In terms of chewiness, they are similar to mochi and are also slightly sweet.
Korean Instant Ramen (Ramyeon, Ramyun): While you can use any instant ramen noodles you like, the spicy flavor varieties work best to complement the overall spiciness of the dish.
Green Onions: Green onions are the classic topping used because of their refreshing crunch and pop of color.
Sesame Seeds: The sesame seeds complete the dish by mellowing the strong pepper flavor and imparting some nuttiness.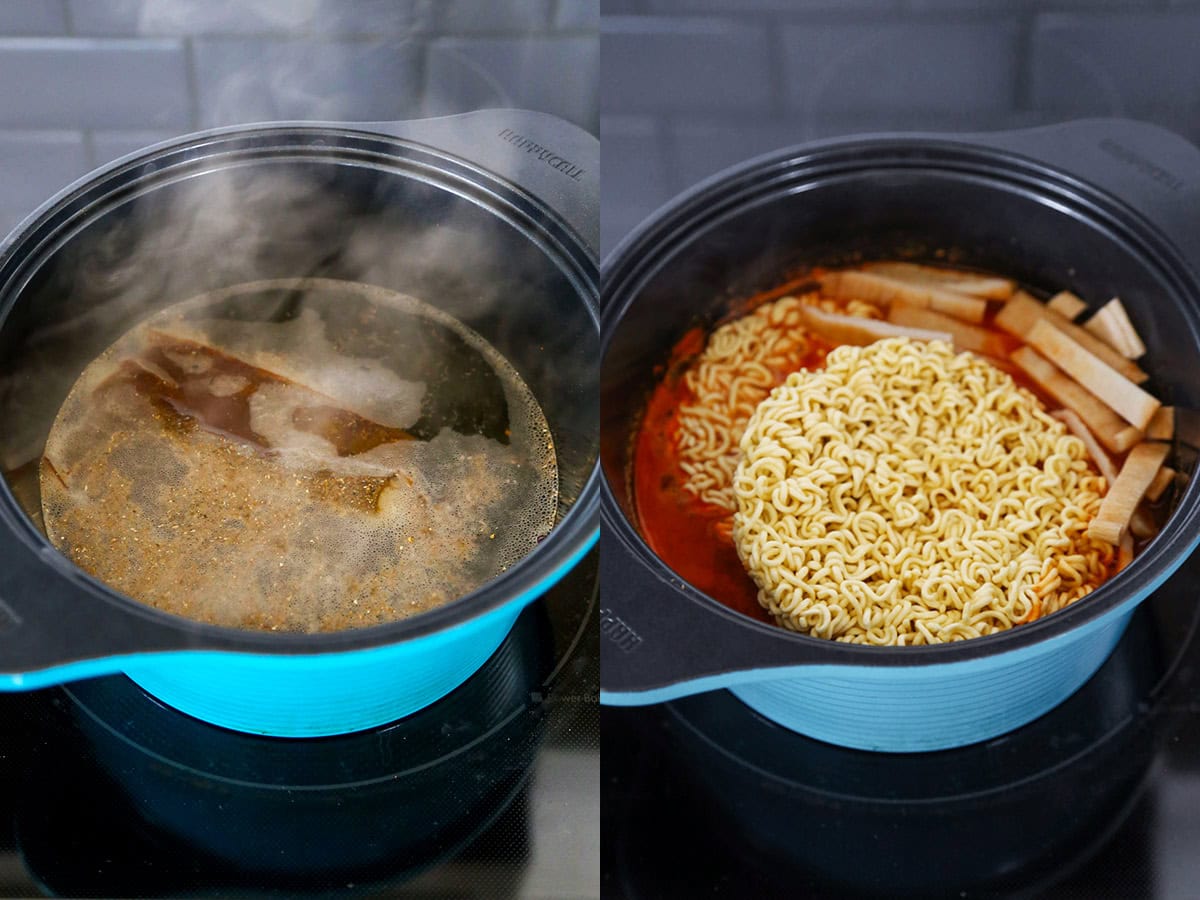 How To Make Rabokki
Scroll all the way down for the full recipe.
Gather all of your kitchen tools and ingredients.
Prep all the ingredients so you can follow the recipe smoothly.
Begin by adding the dashi stock and kelp in a medium size pot and bringing the stock to a boil.
As soon as the stock starts to boil, remove the kelp. You can discard it or slice it into strips and pan fry it with a little soy sauce (my mother's trick since she hates to throw away food).
Add the garlic, gochujang, gochugaru, soy sauce, and sugar, and bring to a boil one more time.
Add the rice cakes and cook for 3 minutes.
Add the ramyun noodles and sliced fish cakes and boil for another 2 to 3 minutes, until the noodles are cooked.
Serve the rabokki in shallow bowls and top with green onions and sesame seeds. Enjoy!
Fun and Tasty Toppings To Add
For those looking to dress up their rabokki and layer it with even more flavor, here are some of the most popular toppings used in Korea:
Cheese: Cheddar cheese or mozzarella cheese are popular choices. Let the cheese melt on top and mix it into the sauce. Delicious!
Eggs: Regular boiled eggs or quail eggs, sliced in half.
Dumplings: Any type of dumplings such as gyoza, mandu, or pot stickers.
Kimchi: I love the addition of kimchi for its sour and acidic taste. It makes the flavor of rabokki really shine!
Cabbage: Shredded or chopped cabbage is added during the cooking process.
Leeks: Chopped leeks are also added during the cooking process so they are tender when eaten.
Wiener Sausages: Two or three wiener sausages can be used as a topping to add saltiness and make the dish more filling.
Perilla Leaves: Getting used to the taste of perilla leaves may take some time as it's very unique. The best way I can describe the type of perilla leaves used in Korean cooking (Japanese cuisine uses shiso leaves which is a type of perilla leaf, but is different in taste, size, and thickness) is that they are little minty, very grassy and licorice-like.
Nori (Toasted Seaweed): Toasted seaweed pairs beautifully with rabokki. It has a sweet, mineral, and almost nutty taste, that blends perfectly with the flavors of this spicy rice cakes and ramen noodle dish.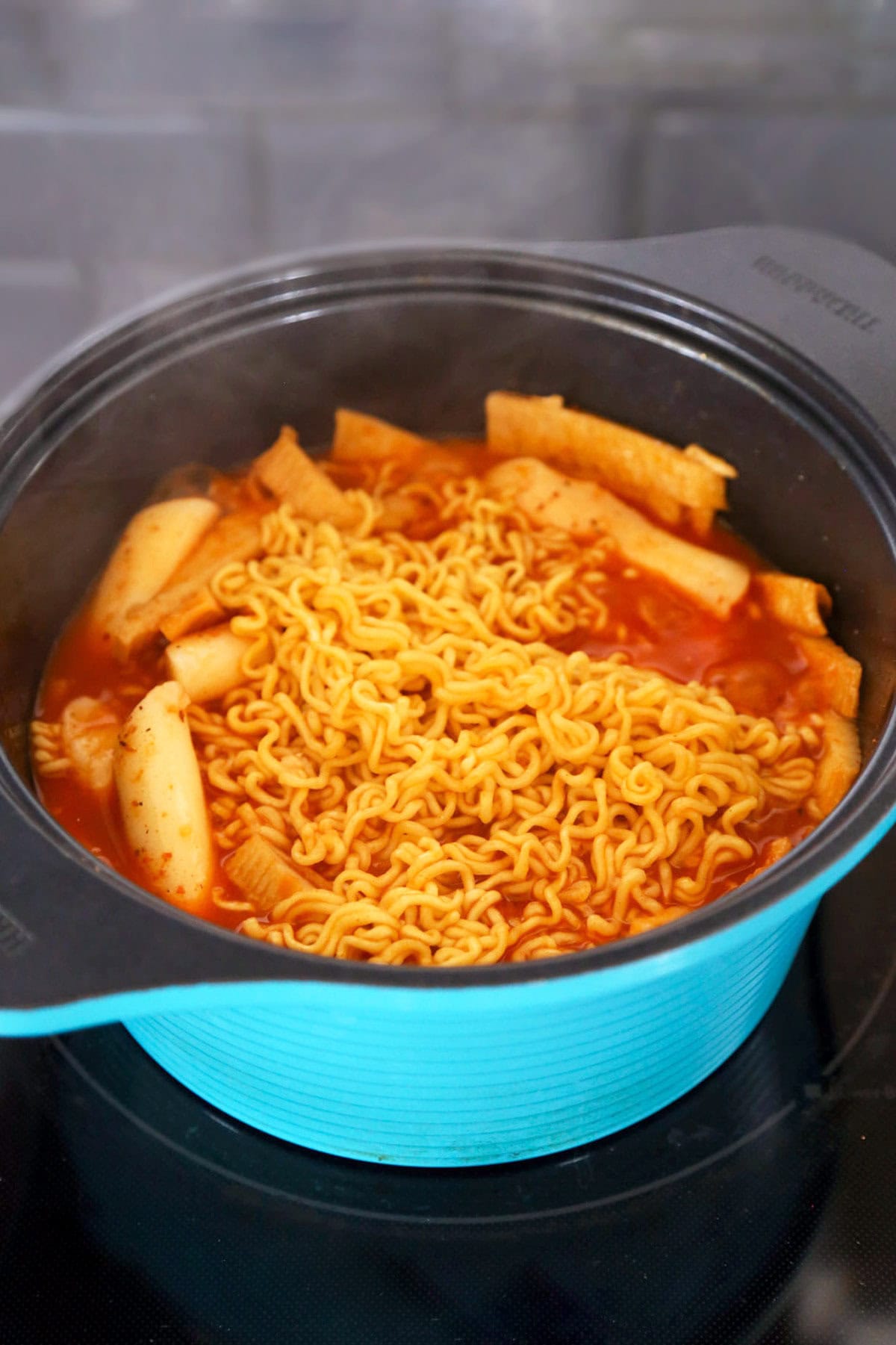 How To Serve Rabokki
Rabokki should be served in individual bowls so that people can add their own favorite toppings. It's best eaten right away when the dish is hot and the ingredients are the perfect texture. If you would like to make rabokki ahead of time, I recommend making the entire dish minus the the fish cakes and ramyun noodles.
That's because both the fish cakes and ramyun noodles will absorb the broth and expand a lot, resulting in a mushy mess you won't want to eat!
You can add the fish cakes and noodles when you are warming up the dish, right before eating it.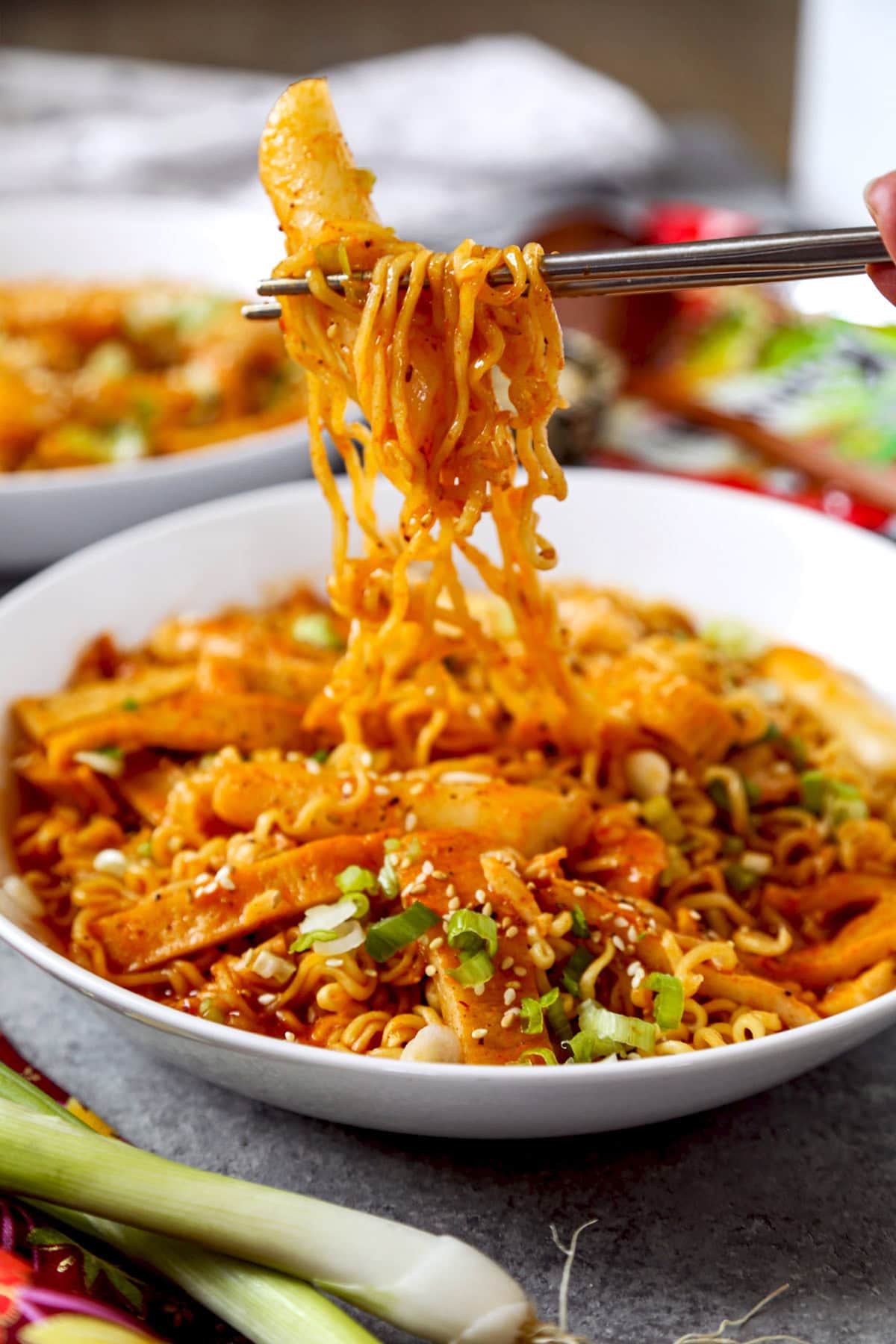 Cooking Tips
Spice Level
You can control the spice level by adjusting the amount of gochujang. Most of the heat comes from this fiery red paste so if you are someone like me, who prefers low to medium heat, start by using less gochujang. Do a taste test and add more until you are satisfied with the spice level.
Cooking Time
Cooking time is very important for this dish! Keep an eye on the texture of the noodles. My recipe recommends boiling the noodles for 2 to 3 minutes but it really depends on the type of noodles you are using. Some fresh ramen noodles take less than a minute to cook while other thicker noodles take a minute longer. Taste them every 30 seconds or so to get the perfect texture.
Balancing Flavors
You can also adjust the overall taste of rabokki based on your personal preferences. Add more soy sauce for an extra umami kick, more sugar (you can also use honey) for a sweeter taste, and a dash of fish sauce for extra saltiness and a stronger fermented taste.
Toppings
Lastly, keep in mind that each garnish will add extra flavor to the dish. Cheese will make your bowl of rabokki creamy and less aggressive in taste, kimchi will make it saltier and vinegary, dumplings and sausages will add a meaty element, and perilla leaves will lighten up the dish with its refreshing grassy and anise-like taste.
What To Serve With Rabokki
Here are other popular Korean dishes to pair with this street food favorite: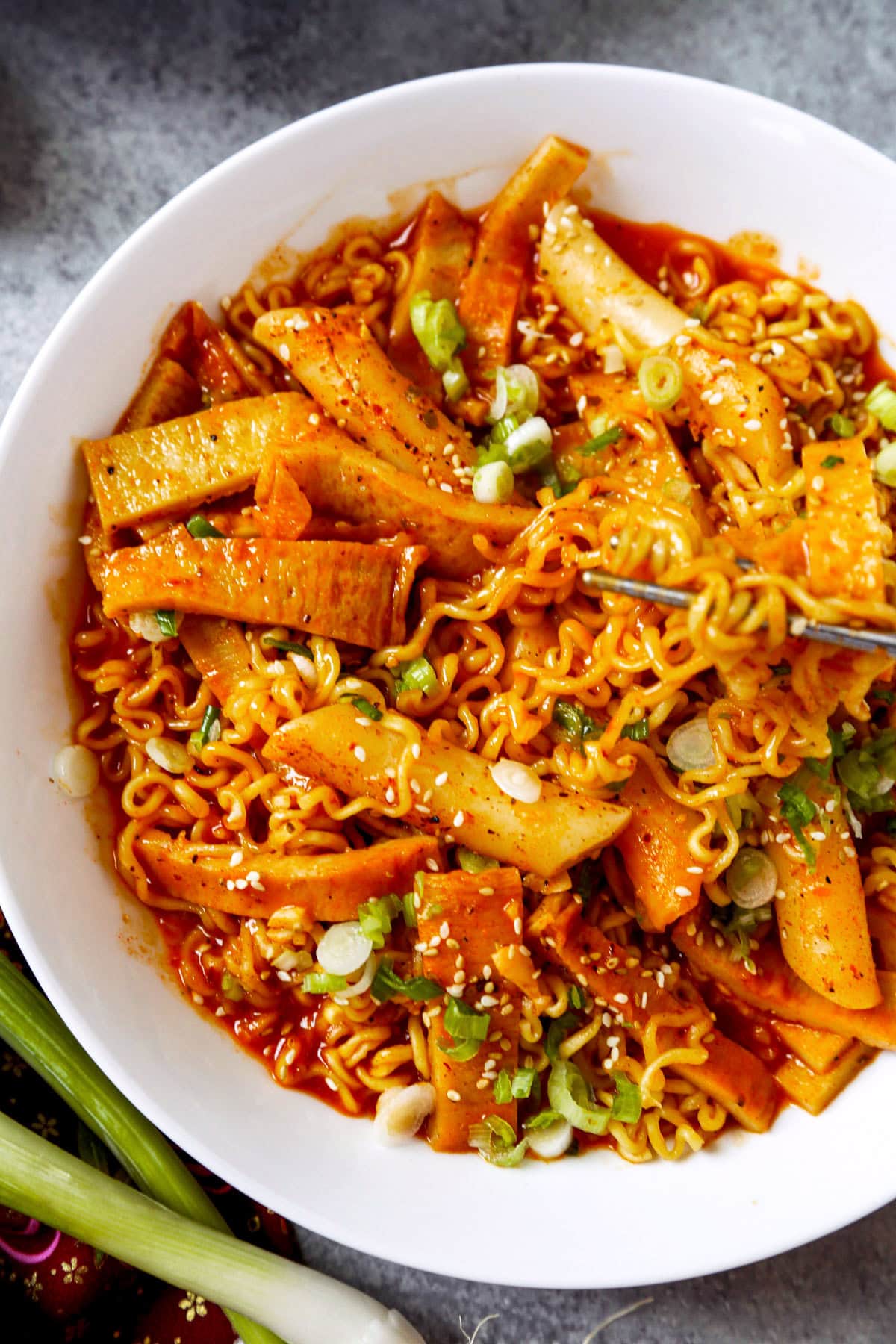 Did you like this rabokki recipe? Are there changes you made in the kitchen that you would like to share? Share your tips and recommendations in the comments section below!
Print
Rabokki (Tteokbokki with Ramen)
Rabokki is a beloved Korean street food dish that combines chewy rice cakes and ramen noodles tossed in a gochujang based spicy and savory sauce.
Author: Caroline Phelps
Prep Time:

10 minutes

Cook Time:

10 minutes

Total Time:

20 minutes

Yield:

2

servings

1

x
Category:

Noodles

Method:

Boiling

Cuisine:

Korean
3 1/2

cups

dashi stock, anchovy stock, or water

1

3-inch long and 2-inch wide piece of kelp (optional)

1 teaspoon

minced garlic

3 tablespoons

gochujang

1

/2 teaspoon gochugaru

1 tablespoon

soy sauce

1 tablespoon

sugar

12

pieces Korean rice cakes (tteokbokki tteok)

1

package Korean instant ramen like Nongshim ramyun

2

sheets Korean fish cakes, sliced into strips

2

green onions, chopped

1 teaspoon

sesame seeds
Instructions
Add the dashi stock and kelp in a pot over medium high heat, and bring to a boil. When the water is boiling, remove the kelp immediately (you can discard it or save it to make seasoned kombu later).
Add the garlic, gochujang, gochugaru, soy sauce, sugar, and stir to combine.
Bring the broth to a boil and when it's boiling, add the rice cakes and cook for 3 minutes.
Add the ramen noodles and fish cakes and cook for 2 to 3 minutes, until the noodles are cooked.
Turn the heat off and divide the rabokki into two bowls. Top with green onions and sesame seeds and serve immediately.
Notes
Make ahead of time:
Hold off on the fish cakes and ramen noodles if you are planning to make this ahead of time. Follow the recipe as is but only add the fish cakes and ramen noodles right before you are ready to eat the rabokki. You can make the rest ahead of time, for up to a day.
Leftovers: Unfortunately, rabokki doesn't make good leftover food because the ramen noodles and fish cakes will get mushy and expand in size. I recommend removing them and keeping the rest in an airtight storage container. It will keep for up to 2 days.
Nutrition
Serving Size:

1 serving

Calories:

540

Sugar:

20.6g

Sodium:

3300mg

Fat:

10.6g

Saturated Fat:

3.4g

Unsaturated Fat:

1.3g

Trans Fat:

0g

Carbohydrates:

92.4g

Fiber:

2.5g

Protein:

7.3g

Cholesterol:

12.5mg
Recipe Card powered by