This is a deliciously bright, sweet, salty, and spicy Korean daikon radish salad that can be served as a side (banchan) or topping for your favorite bowl of bibimbap. And it only takes 15 minutes to make!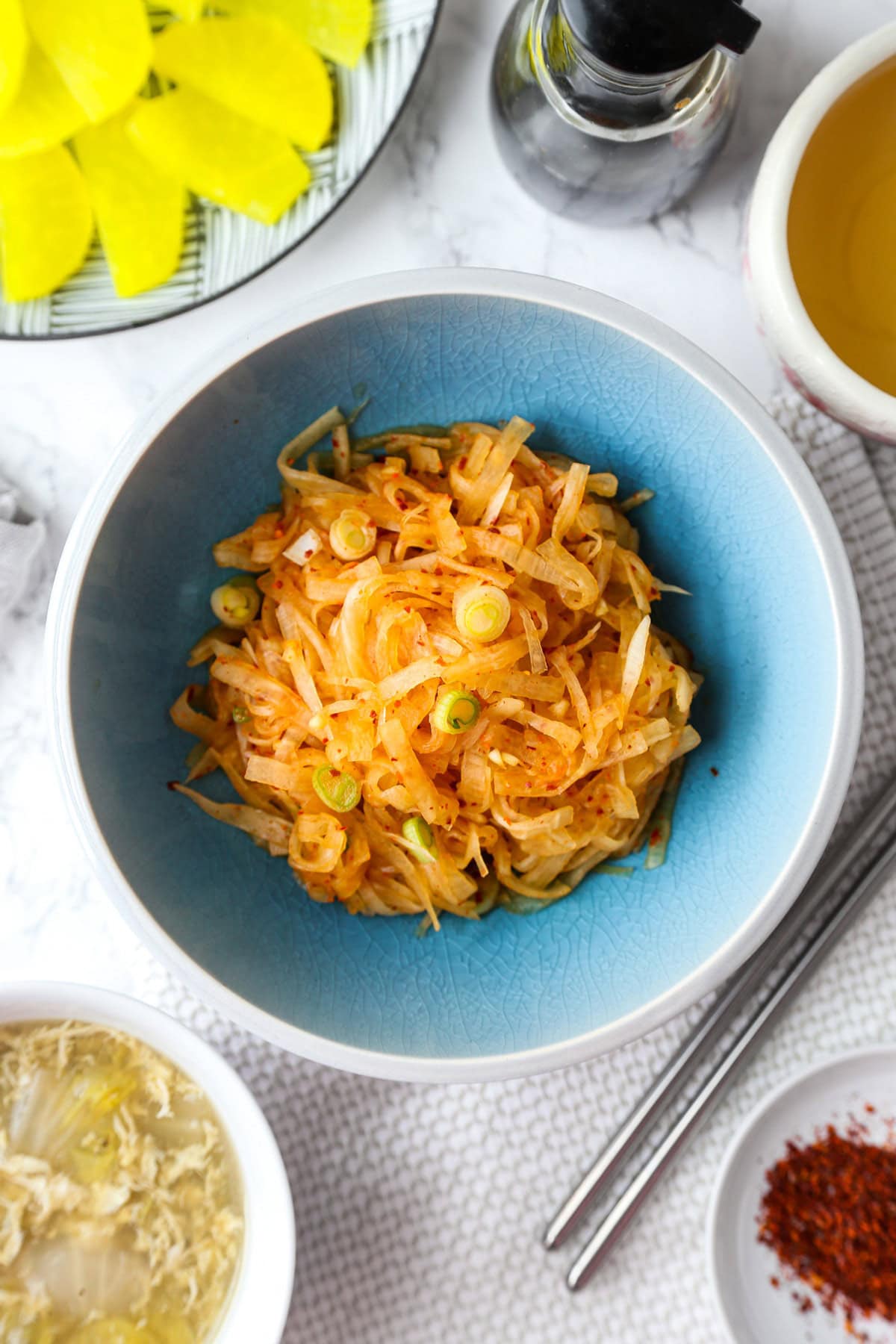 Daikon radish is a popular vegetable used in many Japanese and Korean dishes.
It's often used in stews, salads, and also pickles very well.
This spicy daikon radish salad, called musaengchae or moochae in Korean, makes a perfect side dish (banchan) to a light dinner, as the pungent flavor and heat give a lovely flavor boost. It's also yummy as a topping for bibimbap or as a condiment for wraps and sandwiches.
Making this Asian radish salad only takes 15 minutes, but I recommend letting the daikon pickle for a little while for maximum enjoyment!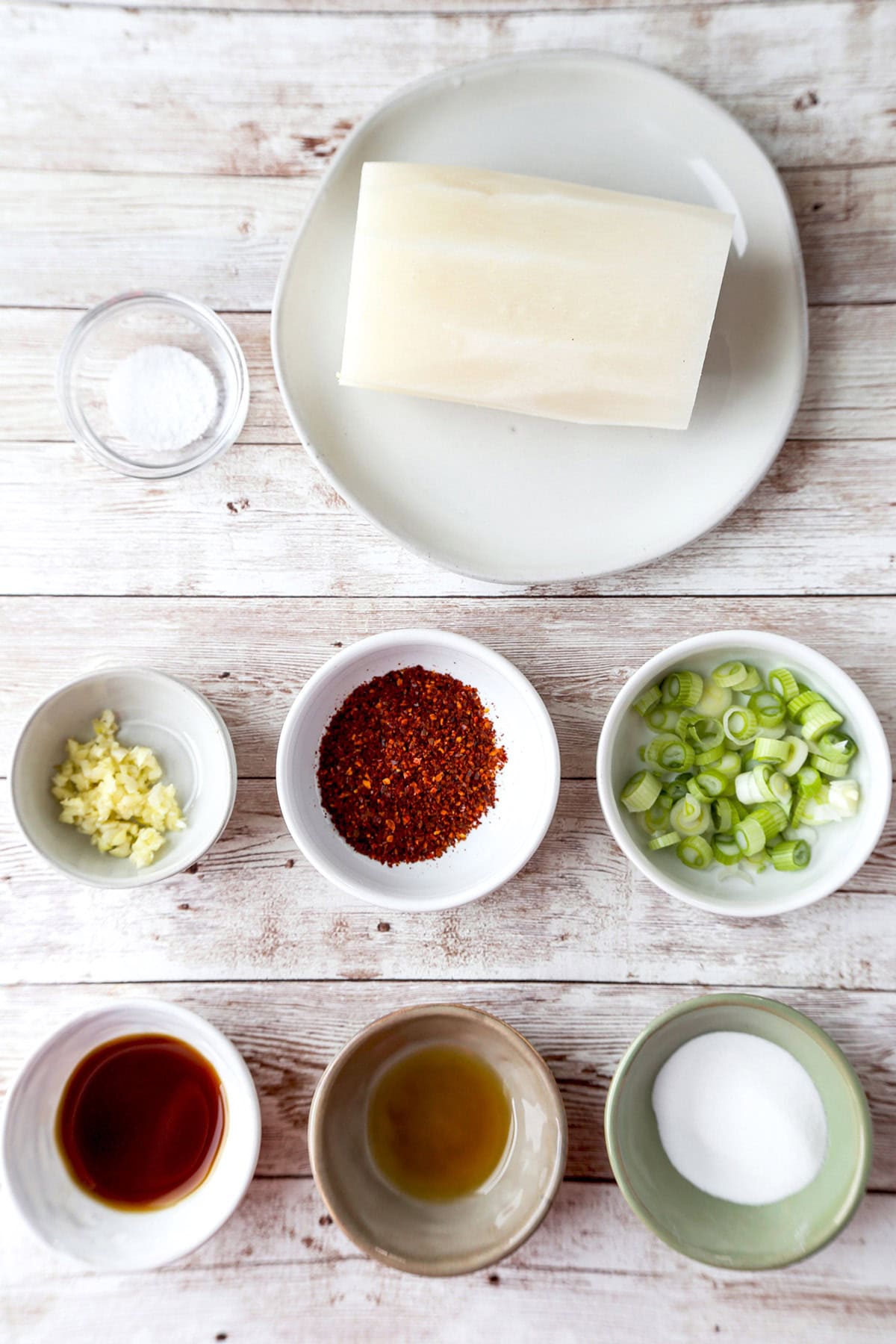 What is Daikon Radish?
Daikon radish (大根), or mu (무) in Korean, is a white winter radish that resembles a large chubby carrot. It's native to East Asia and has a mild, slightly sweet, and slightly bitter flavor.
Can You Eat Daikon Radish Raw?
Absolutely! It can be used in salads to add a refreshing crunch (like this recipe) or can be pickled since it absorbs flavors very well. Since daikon has a high water content, you may need to drain it or slightly squeeze the excess water once it's chopped. Otherwise you may end up with a little puddle at the bottom of your daikon dish.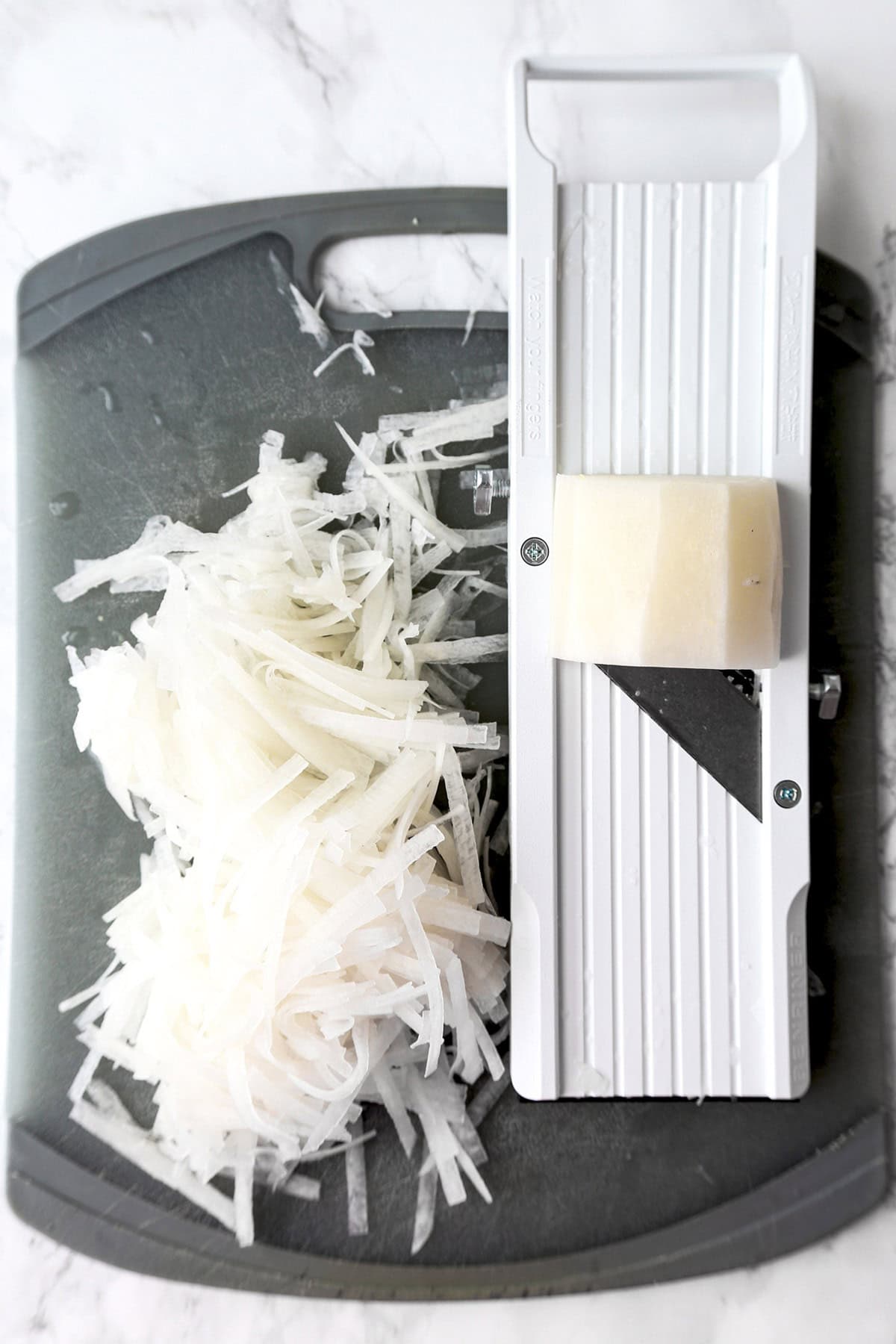 Where to Buy Daikon Radish
Daikon radish is very easy to find these days.
It can be purchased at Whole Foods or any Asian grocery stores. You may even be able to find it at your local supermarket.
How to Prepare Daikon Radish
Wash and dry the daikon first.
Then grab a chef's knife and peel the outside in circular motion, like you would with an apple.
You can also use a vegetable peeler but it's better to do it with a knife since the outside can be quite thick. You can see where the outer part ends and where the translucent flesh begins by slicing into it It's important to completely peel the outer part because it's quite bitter and hard. And it doesn't matter whether you eat it raw or cooked, the outer part is simply not yummy.
My mother taught me that trick and it's improved my daikon dishes by leaps and bounds!
You can slice daikon however you like but remember that the thicker it is cut, the longer it will take to cook. I personally like to slice it in a half moon shape for soups and pickles, shred or julienne it for salads, and cut it a little thicker (like 1/4-inch to 1/2-inch thick) for stews.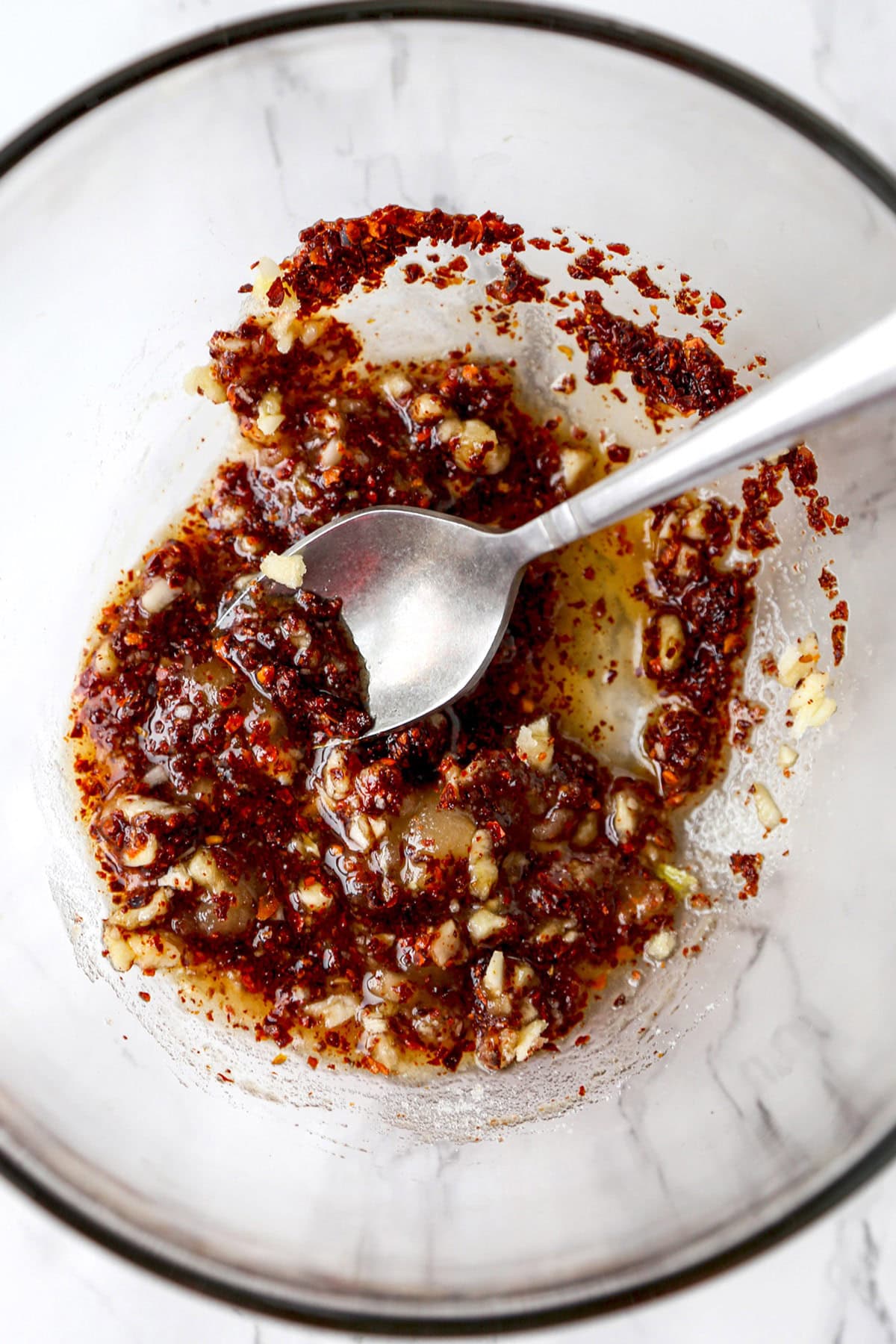 Ingredients for Korean Spicy Daikon Radish Salad
Daikon radish: You will need 650g (about 1 1/2 pound) of daikon radish for this recipe. To get the best daikon, compare a few by holding one at a time in your hand. A good daikon should be white and feel nice and heavy because of its high water content. Stay away from the ones that look dry, are too green, or starting to turn grey.
Korean pepper flakes (gochugaru): Korean pepper flakes are super smokey and have a nice amount of heat. They are the base for many Korean dishes, including kimchi! Feel free to add more if you like your food to be spicy!
Fish sauce: Fish sauce is salty but also very pungent. I recommend buying fish sauce at an Asian supermarket since the ones I've seen in regular grocery stores aren't as complex in flavor. My favorite brands are Red Boat and Tiparos.
Sugar: A little sugar is added to balance the salty and pungent flavors from the fish sauce.
Garlic: Minced garlic is also used to infuse the sauce with extra pungency and zing.
Sesame oil: Just a touch but enough to inject the sauce with some nuttiness.
Salt: You might be thinking "salt on top of fish sauce? That's going to be so salty!", but trust me, it's not! It will balance out all the flavors nicely.
Scallions: Scallions add sweetness, crunch, and color to this vibrant Korean daikon salad.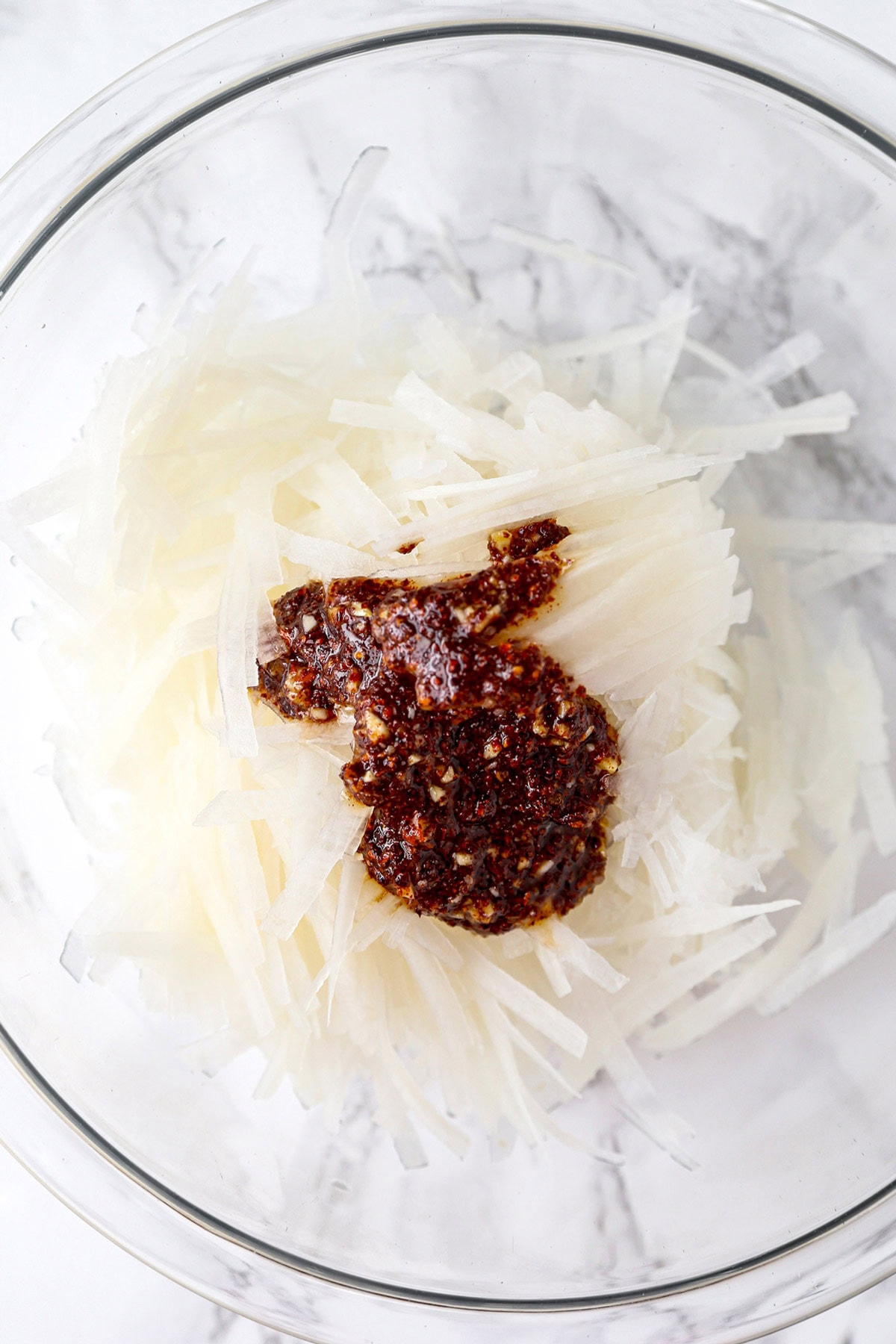 How to make Daikon Radish Salad (Moochae)
Gather all of your ingredients and kitchen tools at your work station.
Peel the daikon and julienne into 2-inch long sticks using a mandolin slicer (I'm using a Japanese mandolin slicer which are sharper and much easier to use than the French ones), or a knife.
Gently squeeze out excess water from the daikon and put it in a bowl.
In a separate bowl, mix the ingredients for the spicy sauce and pour it over the daikon.
Cover one of your hands with a plastic glove or bag and use that hand to mix the daikon and sauce. Mix well until the shredded daikon is evenly coated with the sauce.
Cover the bowl and refrigerate for at least 30 minutes. If you are using a plastic bowl, transfer the salad to a glass one to prevent the red pepper flakes from staining it.
The salad is ready to eat! Or you can let it sit for longer for more flavor.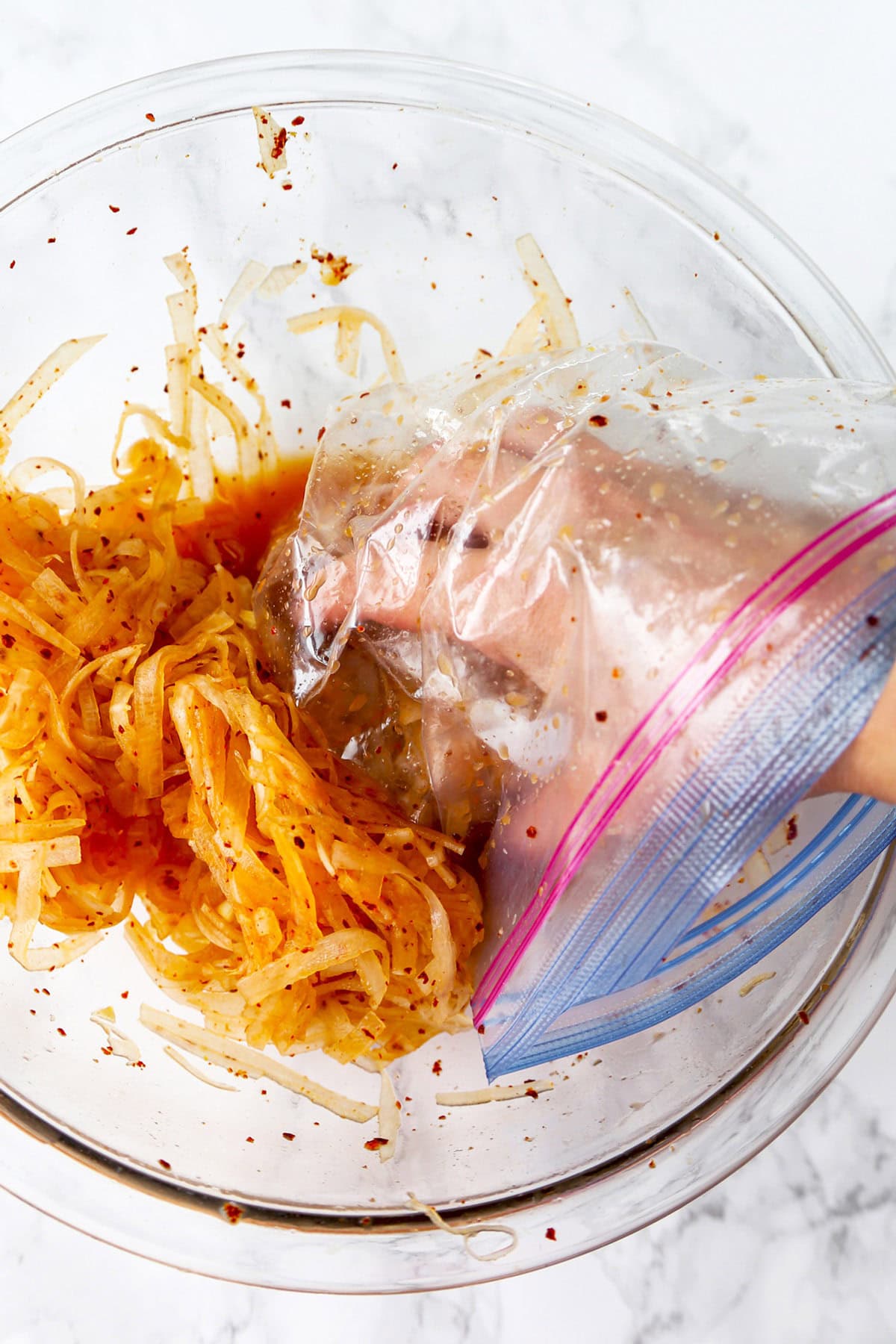 Moochae – Quick Substitute for Kimchi
For kimchi enthusiasts like me, you will be happy to know that this dish is sort of a quick and simplified version of kimchi. You can make this sauce and use napa cabbage or cucumber instead of daikon, if you are looking for a quick kimchi recipe.
It won't taste as pungent or deep as real kimchi since there is no fermentation period, but it does hit the spot for a sudden kimchi craving.
Masissge deuseyo (bon appétit in Korean)!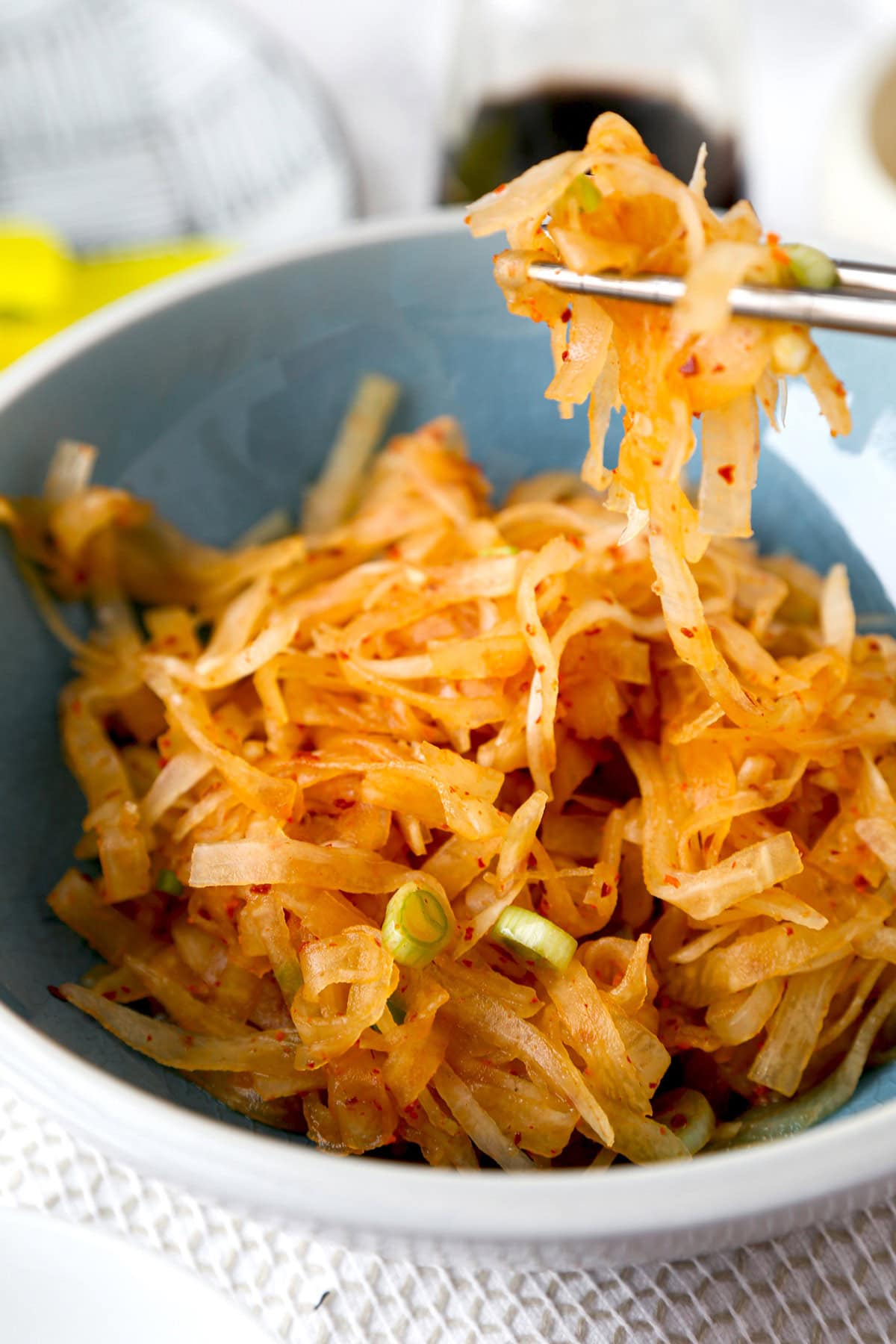 What to Serve with Korean Spicy Daikon Radish Salad
Musaengchae, or moochae, is meant to be eaten in small portions because of its strong flavor. It pairs well with a simple bowl of white rice or can be served with other small appetizers. Here are some of my favorite dishes to pair this Asian daikon radish salad with: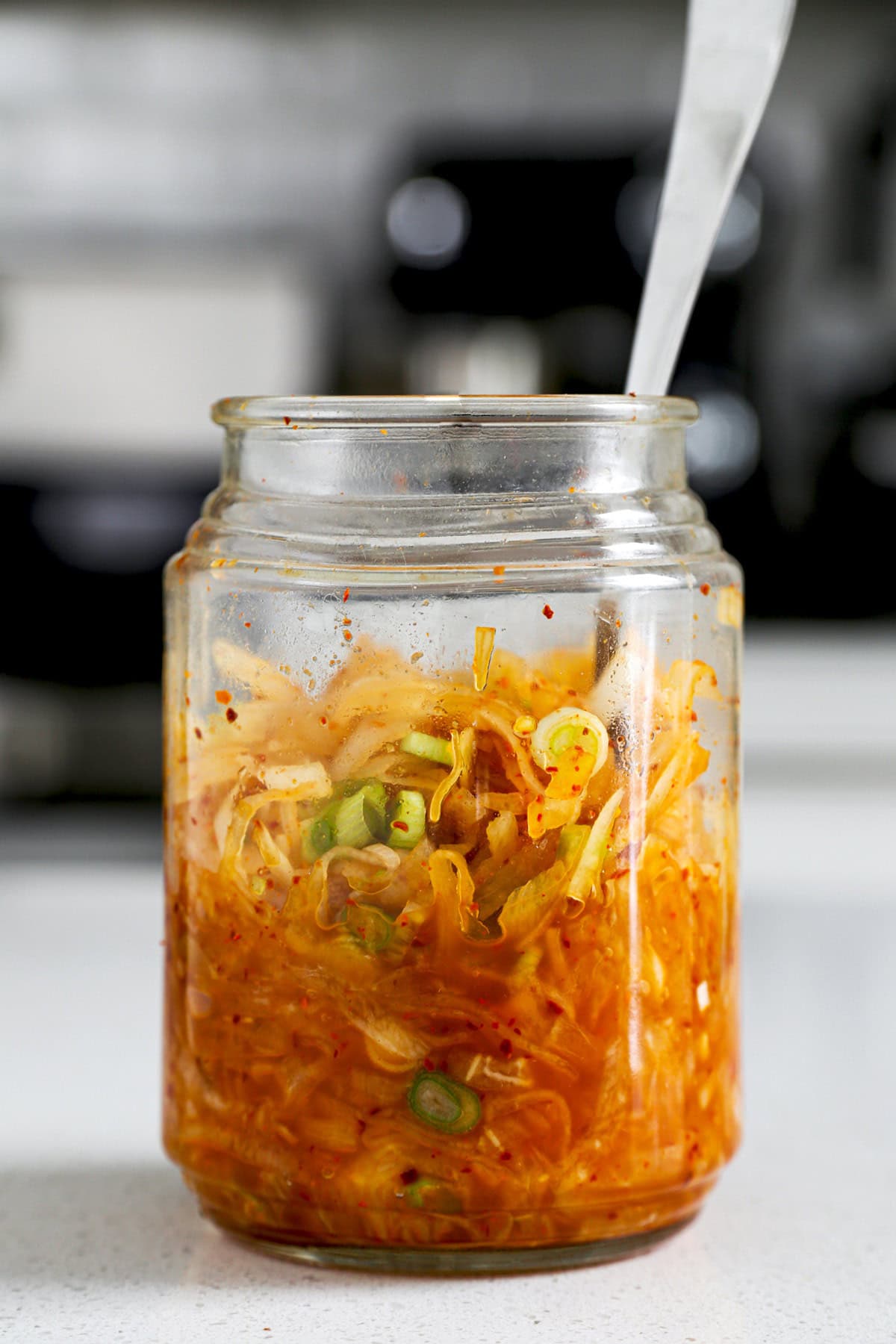 Did you like this Korean Spicy Daikon Radish Recipe? Are there changes you made that you would like to share? Share your tips and recommendations in the comments section below!
Print
Korean Spicy Daikon Radish Salad (Musaengchae)
This is a deliciously bright, sweet, salty, and spicy Korean daikon radish salad that can be served as a side (banchan) or topping for bibimbap. 
Author: Caroline Phelps
Prep Time:

15 minutes

Cook Time:

none

Total Time:

15 minutes

Yield:

6

–

8

sides

1

x
Category:

Side

Method:

Cutting

Cuisine:

Korean

Diet:

Gluten Free
650g

daikon radish

1 1/2 tablespoon

Korean red pepper flakes (gochugaru)

1 1/2 tablespoon

fish sauce

1 tablespoon

sugar

1

garlic clove, minced

1 teaspoon

sesame oil

1/2

teaspoon salt

2

scallions, finely chopped
Instructions
Peel the daikon and julienne, or shred using a mandolin slicer, into 2-inch long sticks. The thickness of the sticks isn't that important, cut it the way you like it (I personally like thin sticks).

Hold the daikon sticks in your hands and gently squeeze out excess water. Just do it once – we are not trying to get rid of all the water but just the excess. Transfer to a bowl.

In a separate bowl, mix the pepper flakes, fish sauce, garlic, sesame oil, and salt, and pour the sauce over the daikon.

Cover the hand you will be using for mixing with a plastic glove, or cover it with a plastic bag. Mix the daikon and sauce well and add the scallions. Cover the bowl with a lid or plastic wrap. If you are using a plastic mixing bowl, transfer the mixture to a glass bowl to prevent staining. 

Refrigerate for 30 minutes before serving.
Notes
Keep this daikon salad refrigerated in a glass container with a lid. It will keep for up to 1 week.
I'm using a Japanese mandolin slicer which are sharper and much easier to use than the French ones.
Nutrition
Serving Size:

1 small bowl

Calories:

36

Sugar:

2.4g

Sodium:

465.4mg

Fat:

1g

Saturated Fat:

0.2g

Unsaturated Fat:

0.5g

Trans Fat:

0g

Carbohydrates:

6g

Fiber:

2g

Protein:

1.6g

Cholesterol:

0mg
Keywords: banchan, appetizer
Recipe Card powered by