Mild, nutty, and refreshing, this classic Korean bean sprouts salad can be made at home in less than 10 minutes from start to finish!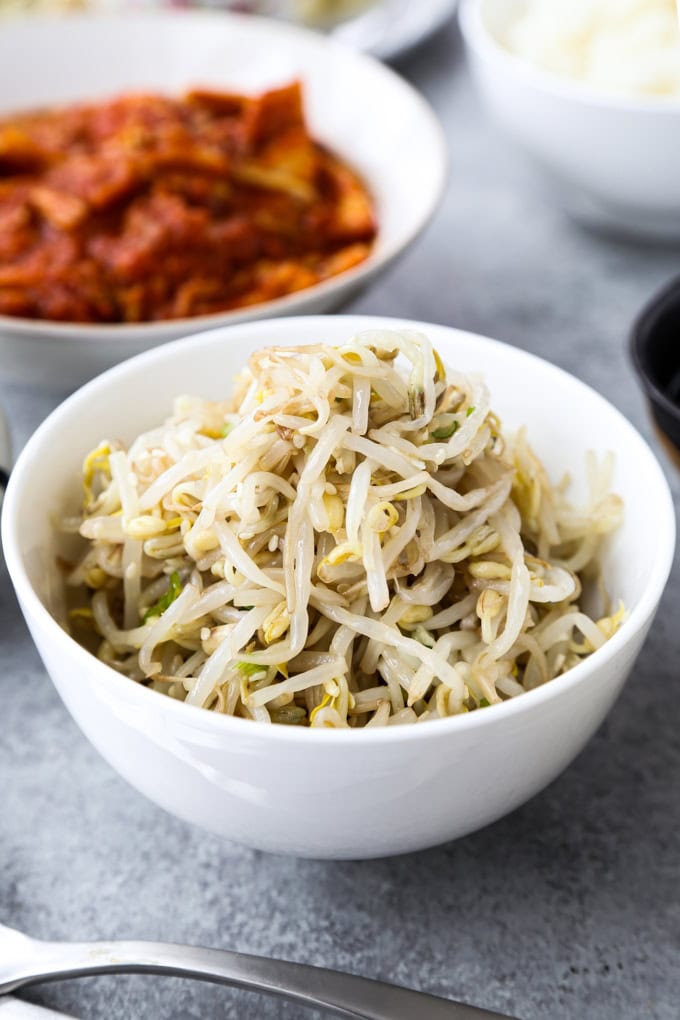 Sookjuk namul (숙주나물 무침), or Korean bean sprouts salad, is one of those essential Korean side dishes, also known as banchan, served in every Korean household, restaurant, and supermarket. It's kimchi's little cousin at Korean barbecues and the quintessential topping for bibimbap.
It's a very simple dish made of beans sprouts, garlic, scallions, toasted sesame oil, sesame seeds, and salt. I'm using mung bean sprouts for this recipe but should mention that in Korea, sookjuk namul is mostly made with soybean sprouts (kongnamul), which are very similar to bean sprouts.
So what's the difference between the two you ask?
Soybean sprouts are more difficult to grow than mung bean sprouts because they often split open and can develop a bitter taste. The good ones have a stronger bean taste. They are also harder to digest which is why you won't see them being served raw very often. They are usually served cooked in soups, stews, and stir fries.
I'm working on a post on how to sprout your own mung bean sprouts at home so stay tuned! For now, I'm going to show you how to make this salad using store bought mung bean sprouts.
Let's cook!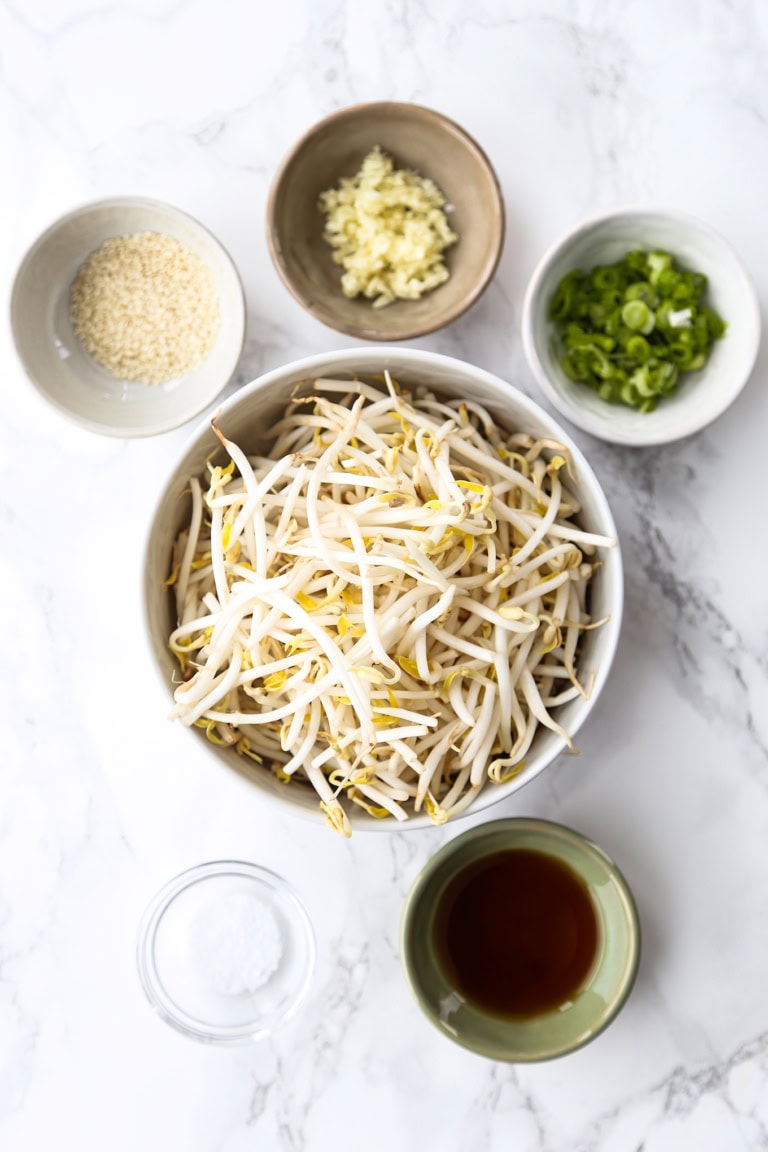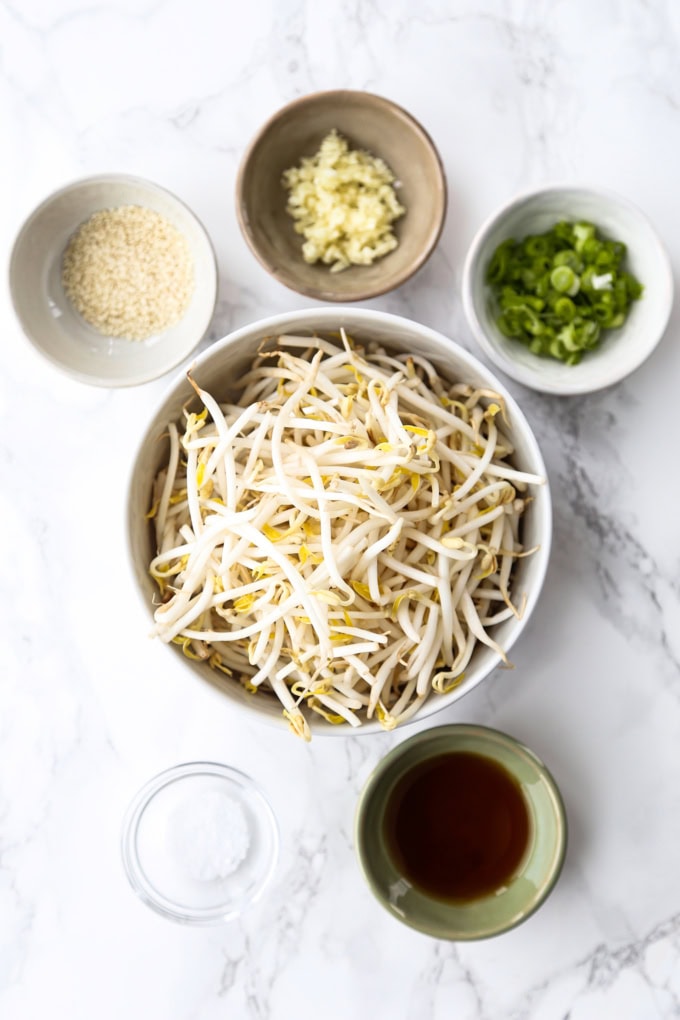 What are bean sprouts?
Bean sprouts are a vegetable that's grown by sprouting mung beans or soybeans. There are other types of bean sprouts such as lentil sprouts and adzuki bean sprouts, but for the sake of this post, we will stick to the ones used for this specific dish.
Bean sprouts are a popular ingredient in Asian cuisine, used in salads, soups, stews, fried rice, spring rolls, and stir fries. The flavor is mildly nutty with a hint of bitterness. It's a refreshing ingredient that's high in water and yields a satisfying crunch when eaten raw.
Are mung bean sprouts the same as bean sprouts?
Yes.
Mung bean sprouts is the variety that's most often used in Chinese and Japanese cooking, and the type you are mostly likely to find at your local grocery store. Korean cuisine on the other hand prefers the use of soybean sprouts. So if you are ever on the hunt for that specific kind of sprouts, a trip to a Korean supermarket will be your best bet.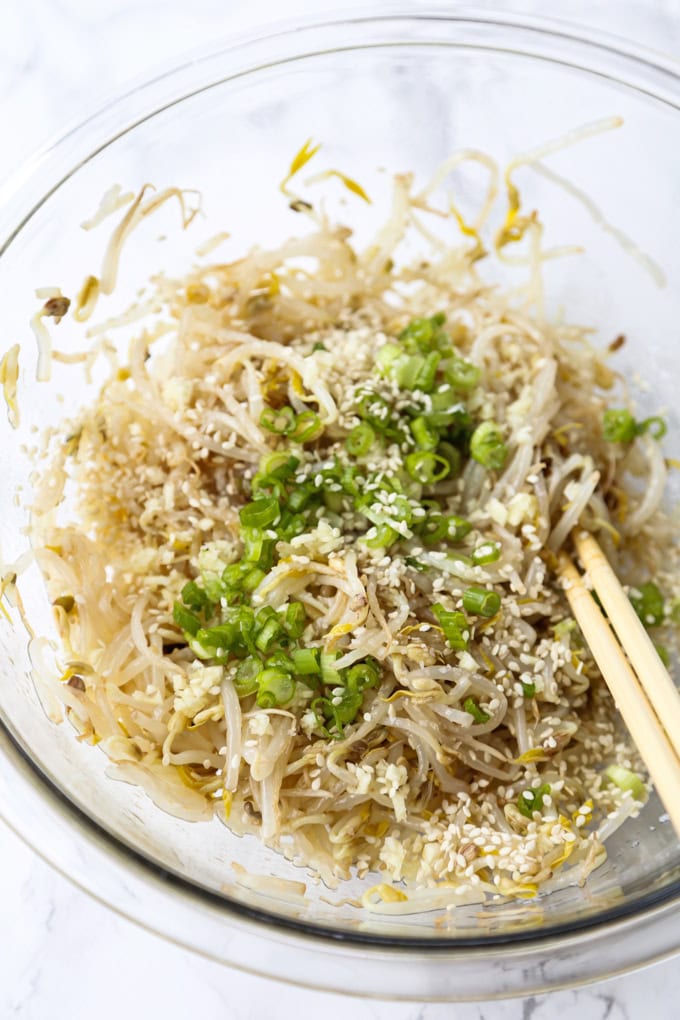 Ingredients for Korean mung bean sprouts salad
Only six ingredients are needed for this recipe!
Mung Bean Sprouts: You will need one pound which will shrink down to about 2 cups once they are briefly blanched.
Garlic: 1-2 regular size cloves, peeled and minced. This will add a beautiful aroma to the dish with a touch of spiciness.
Toasted Sesame Oil: Always use toasted sesame oil to finish a dish as the toasting process makes the flavor more intense. Regular sesame oil is only used for frying.
Scallions: Scallions add a lovely crunchy texture to the dish. I'm using 1 1/2 tablespoon but feel free to use more if you love scallions!
Sesame Seeds: Toasted sesame oil and sesame seeds go hand in hand in Asian cooking. One dresses the dish while the other is used more as a garnish.
Salt: A decent pinch to make the tastebuds dance. You can also use a drizzle of soy sauce if you find the dish too mild.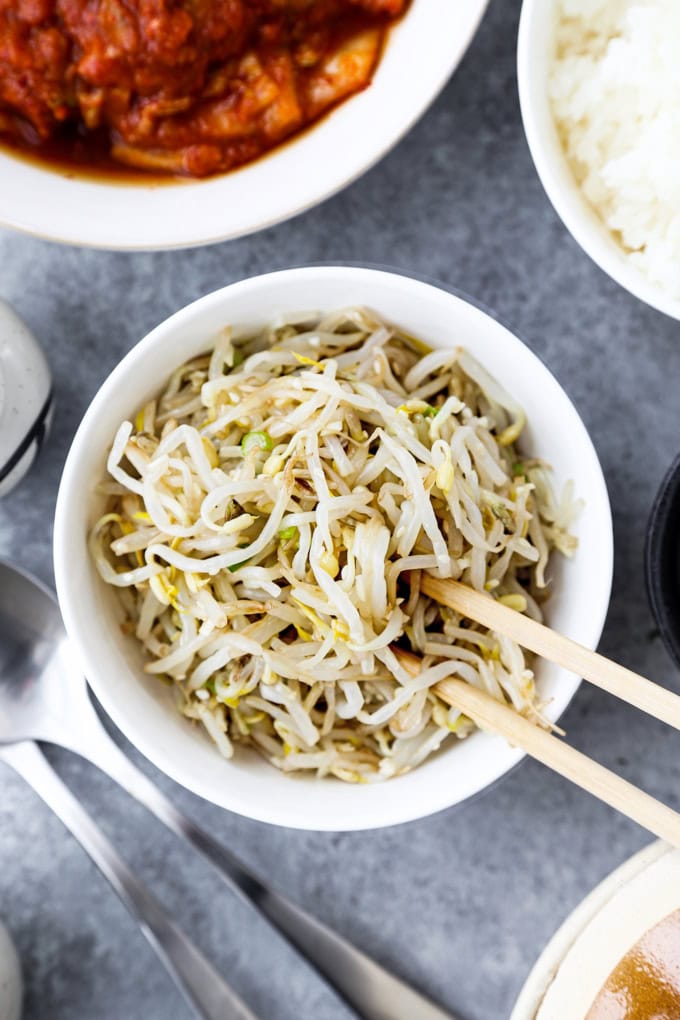 How to make mung bean sprouts salad
Easy! So Easy!
Boil water in a pot. Add a teaspoon of salt as we will be using this to blanch the bean sprouts. The salt prevents discoloration.
Blanch the bean sprouts. For no more than 2 minutes otherwise the texture will be too soft. Timing is key to the success of this recipe!
Dress the bean sprouts. Rinse the bean sprouts in cold water and drain them well. Toss them with the remaining ingredients and serve cold with other easy Korean dishes. Jal mug get sum ni da (eat well)!
How to store bean sprouts
The best bean sprouts to buy are the ones that are not pre-packaged. I recommend visiting your local Asian grocery store since you are most likely to find the best ones there. Get the freshest ones you can find (pristine white with yellow tips) since they will automatically last longer.
Don't wash them until you have to use them.
Wrap them in newspaper or a paper towel to absorb excess moisture, and place them in a storage container or plastic bag.
Keep them in the fridge, preferably in the vegetable crisper.
Storing them this way will help them stay fresh for up to two weeks.
Freezing bean sprouts
Though you can freeze bean sprouts, I would advise against doing so as they loose their beautiful crisp crunch and become soggy. But if you absolutely must freeze them:
Don't wash them until you have to use them.
Keep them in an airtight plastic blag.
Keep them in the back of your freezer. Every time you open and close the door the internal temperature of the freezer changes, which in turn creates freezer burn on food.
Bean sprouts will last for up to 3 months in the freezer.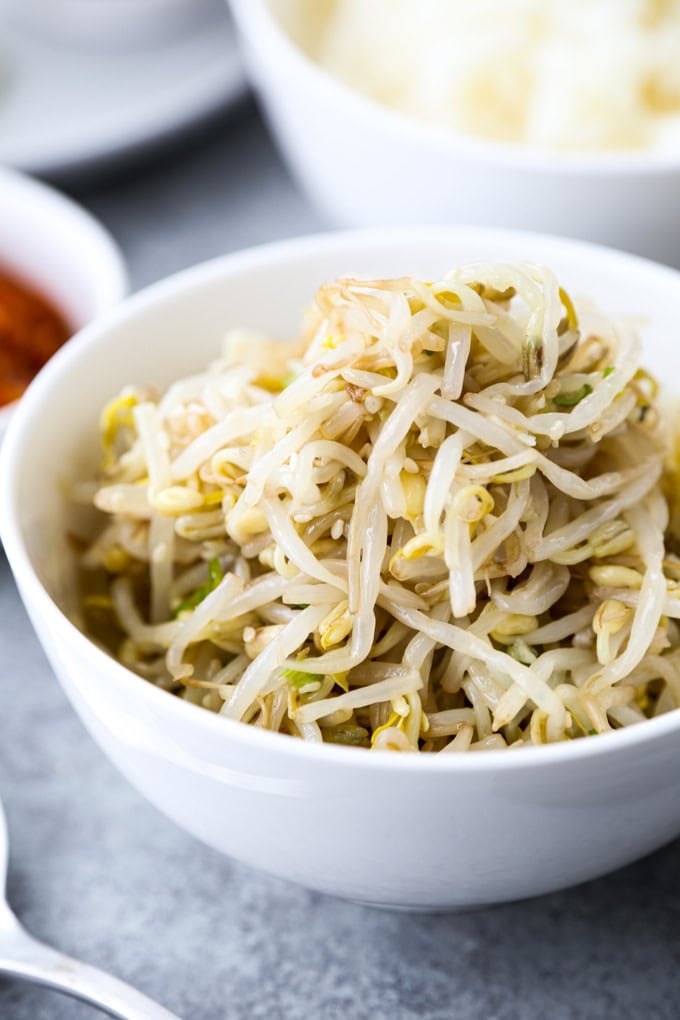 What to serve with Korean mung bean sprouts salad
Sukjoo namul is quite mild and therefore pairs nicely with dishes that pack a punch in the flavor department. Here are some of my favorite pairings:
Other bean sprout dishes:
Did you like this Korean Bean Sprouts Salad Recipe? Are there changes you made that you would like to share? Share your tips and recommendations in the comments section below!
Print
Korean Bean Sprouts Salad (Sookju Namul)
Mild, nutty, and refreshing, this classic Korean bean sprouts salad can be made at home in less than 10 minutes from start to finish!
Author: Caroline Phelps
Prep Time:

5 minutes

Cook Time:

2 minutes

Total Time:

7 minutes

Yield: about

2 cups

1

x
Category:

Salads

Method:

Boiling

Cuisine:

Korean
1

pound fresh mung bean sprouts

1 teaspoon

salt

2 ½ tablespoons

toasted sesame oil

2 teaspoons

minced garlic

1 ½ tablespoon

chopped scallions

1 ½ teaspoon

sesame seeds

¼ teaspoon

salt
Instructions
Bring a medium size pot of water with 1 teaspoon of salt to boil. 

Add mung bean sprouts and blanch for 2 minutes. It's important to use a timer here so you don't overcook them. Drain and rinse under cold water until the bean sprouts are cold. Drain again. 

Gently squeeze the sprouts to remove excess water and pat dry with a paper towel. 

Transfer to a bowl and add sesame oil. Toss the beans sprouts until they are evenly coated and sprinkle garlic, scallions, sesame seeds, and salt. 

Toss again and serve cold. 
Notes
For more flavor you can add a drizzle of soy sauce.
For leftovers, keep this bean sprouts salad refrigerated in an airtight container for up to 2 days.
Nutrition
Serving Size:
Calories:

118

Sugar:

4.8 g

Sodium:

152.8 mg

Fat:

9.3 g

Saturated Fat:

1.3 g

Carbohydrates:

7.6 g

Fiber:

2.2 g

Protein:

3.8 g

Cholesterol:

0 mg
Keywords: appetizer, side dish, banchan
Recipe Card powered by