My Mother's Miso Soup (みそ汁)
*This post may contain affiliate links. Read my disclaimer here.
I've been eating miso soup since I was a little girl and this is my mother's recipe – my favorite! Savory, delicate and made with only three ingredients, you won't believe how comforting it is. Ready in 15 minutes from start to finish.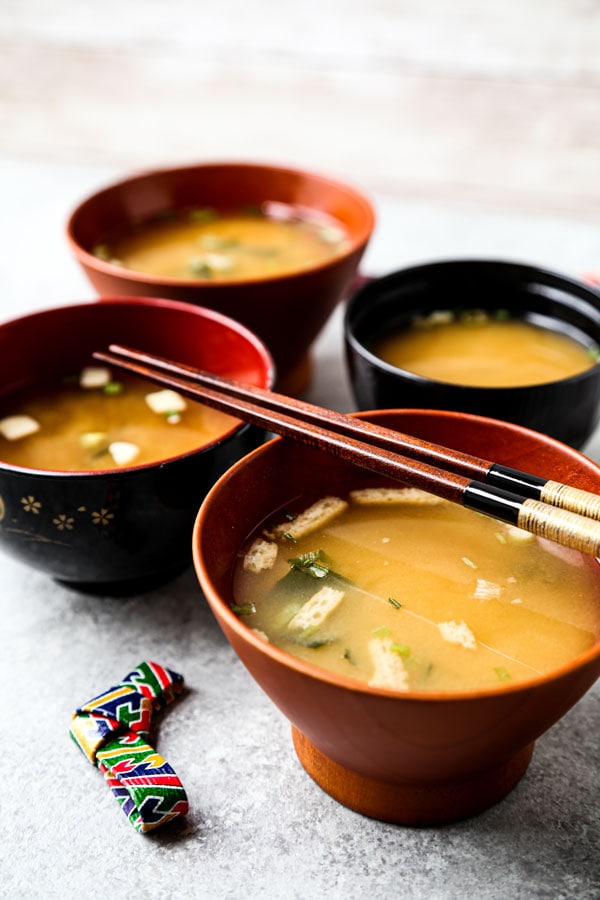 Miso soup may be the most famous Japanese dish of all time. Next to sushi, it's what most people refer to whenever they say they crave Japanese food.
To me, miso soup, or miso shiru (みそ汁) in Japanese, is what I have for breakfast 3-4 times a week. I grew up on this cloudy, savory soup and can never get enough of its comforting properties.
My mother made the best homemade miso soup. And although it is unlike what you are used to seeing in restaurants, hers is another popular version that's often served in Japan.
Using only chopped onions, dashi and miso paste, the soup takes on a sweet fragrance called amami (あまみ), making the soup milder yet still deep in flavor. The onions are boiled until tender and literally melt in your mouth, it's absolutely delicious!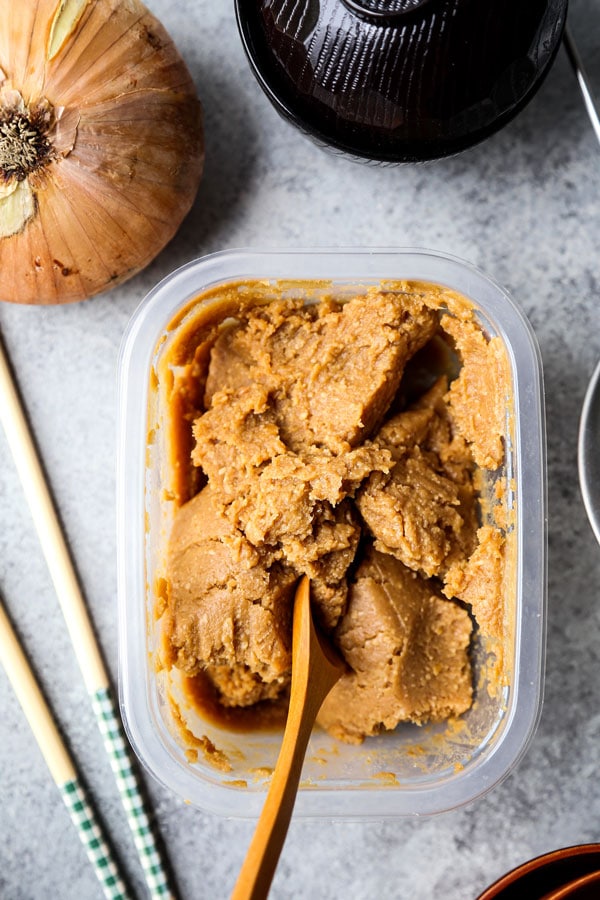 What is Miso Soup?
Miso soup (味噌汁) is a traditional Japanese soup made with dashi (soup stock made with kombu or bonito flakes), miso paste and various ingredients depending on regional and seasonal recipes.
While it's usually served together with a salad as part of an appetizer in the US, miso soup comes with rice as part of a main meal in Japan.
How to Pronounce Miso
What is in Miso Soup?
There are two basic ingredients for making miso soup:
Dashi
Miso paste (fermented soybean paste)
You can use any type of miso paste (white, red, awase, etc…) to make miso soup. The taste will vary from salty to sweet, depending of the color of the paste you choose. A light colored paste (white) is usually on the sweeter side while a darker (red) paste will be smokier and saltier.
Popular ingredients added to miso soup in Japan are:
Tofu
Green onions (scallions)
Seaweed (wakame)
Deep-fried tofu pouches (aburaage)
Eggplant
Daikon
Shimeji mushrooms
Okra
Kabocha squash
Potato
Carrot
Cabbage
Spinach
You can also add fresh clams to make the broth briny (so delicious!) or ground sesame seeds for a little nuttiness. The options truly are endless! I've even seen miso soup with natto beans (the famous Japanese slimy fermented beans)!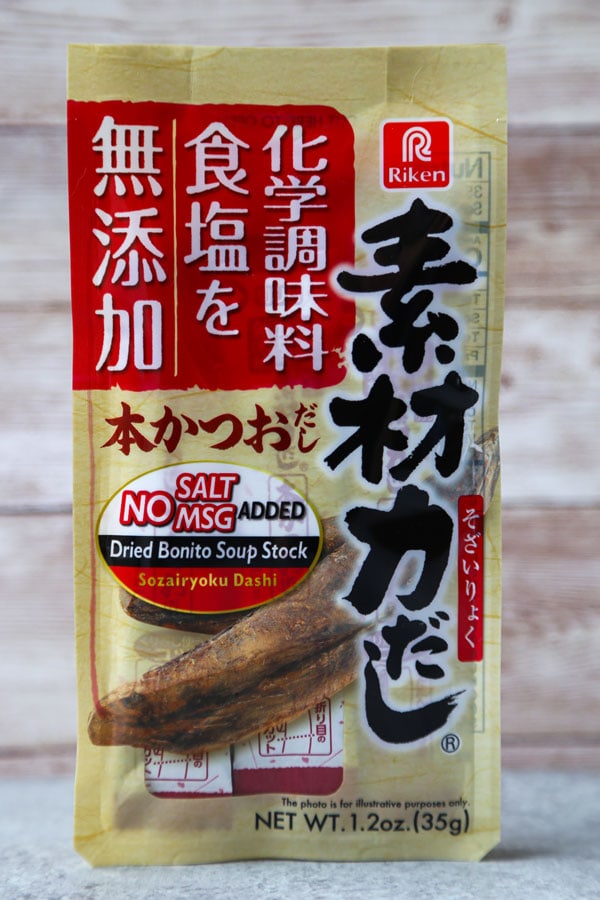 How to Make Dashi
You can make dashi from scratch by:
Adding bonito flakes to boiling water (about 15 grams of bonito flakes for every 2 cups of water), turning the heat down to low and letting it simmer for about 10-15 minutes.
Drain the liquid through a strainer and use.
Or you can do it the easy way – my way 90% of the time – and use dashi granules. I used Hondashi for years until a Japanese friend of mine told me about other brands that tasted closer to the real thing. Nowadays, I use the Riken brand which you can buy in Japanese supermarket or online on Amazon.
They have two types of dashi to choose from – bonito and sardine. I have been using both after my mother told me that sardine stock is becoming more and more popular in Japanese cooking.
Hondashi Ratio
1 teaspoon to 1 cup of water is the recommended ratio for the Hondashi brand.
There are so many brands of instant miso soup to choose from that it can be very confusing to pick one. You would think they would all taste similar but they couldn't be more different in taste.
I've gone through many brands and the only one I truly love is the Hikari Instant Awase Miso Soup. This one is perfectly balanced and comes with 4 different garnishes – seaweed, tofu, scallions, and deep-fried tofu pockets. This one is above average and beats most of the soups I've had in Japanese restaurants.
It's truly delicious!
You can buy the Hikari Miso brand in Japanese supermarkets or here on Amazon.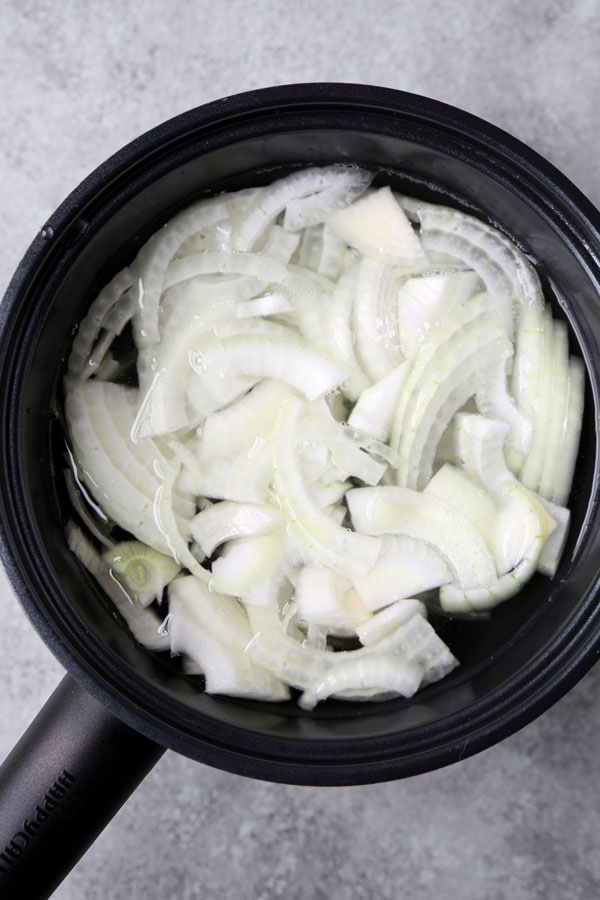 Tools Needed to Make this Miso Soup:
Chef's knife
Small or medium pot
Ladle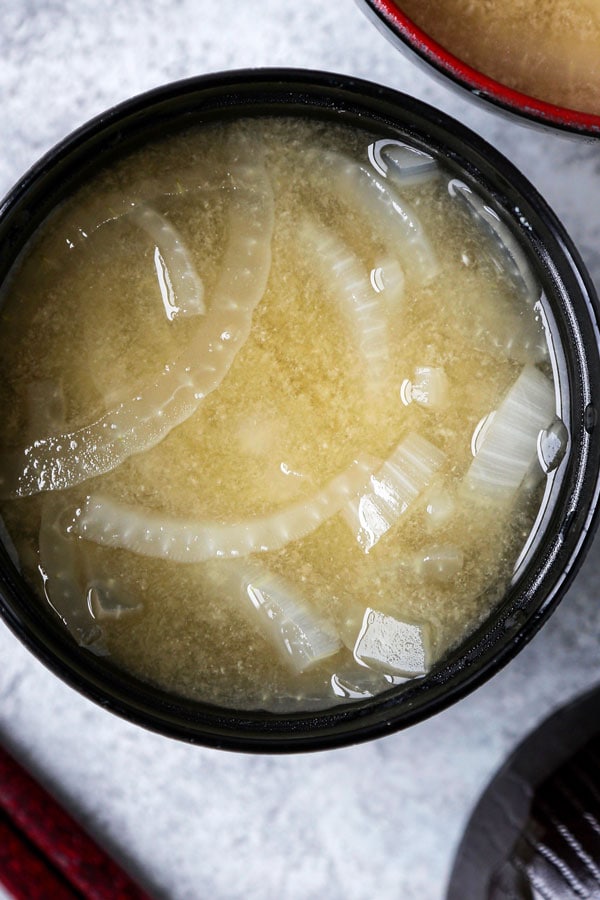 Ingredients for Miso Soup:
Onion: A large white or yellow onion, preferably sweet. Don't be afraid to use a lot since it adds a lovely flavor to the soup. And once the onion slices are boiled, they are so tender they almost melt in your mouth.
Water: Four cups of water or four cups of dashi if you are making it from scratch using bonito flakes or kombu.
Dashi granules: One tablespoon is enough to add plenty of depth of flavor to the soup.
Miso paste: Use red miso paste if you like your miso soup very smoky and salty, white miso paste if you prefer a milder, gentler, and sweeter taste, and awase miso paste if you like it in between.
Ichimi togarashi (optional):  Optional but a must for myself! I always add a sprinkle to infuse a little heat to my soup.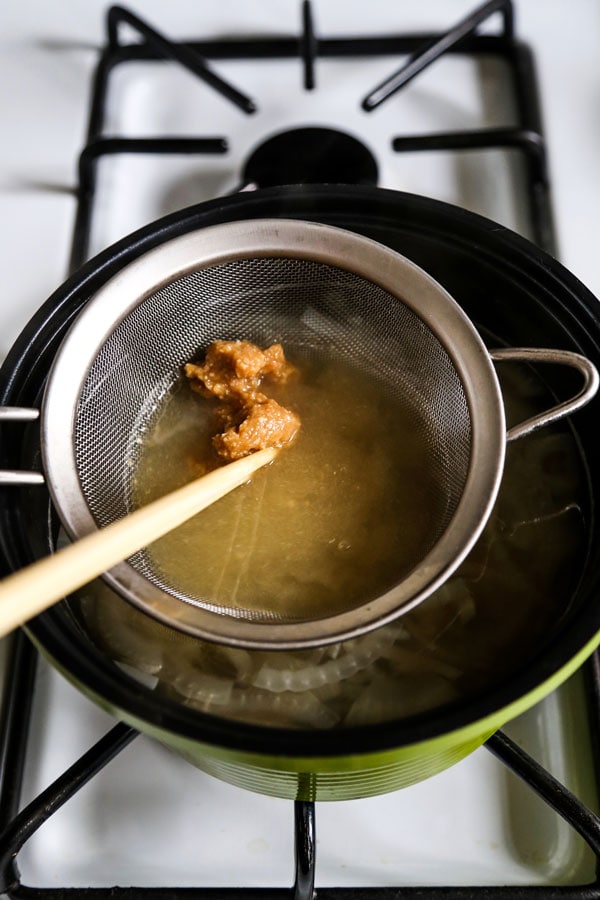 How To Make Miso Soup
Add 4 cups of water, onions and dashi granules to a pot and bring to a boil.
Lower the heat, cover and cook for about 10 minutes, until the onions are tender.
Place the miso paste in a colander and lower it into the pot until enough water covers the miso paste.
Using chopsticks, swirl the paste until it completely dissolves into the soup.
Turn the heat off and serve.
Other Variations
Traditional Miso Soup
For the traditional miso soup with tofu and seaweed, bring the water and dashi to a boil, add the tofu and cook for 2 minutes. Follow the same steps for dissolving the miso paste, and finish by adding the seaweed (wakame).
Vegan Miso Soup
Another option for making miso soup is using kombu dashi which is made from dried seaweed.
The dashi granules are 100% vegan, making it ideal for those who are on a plant based diet. I use kombu dashi all the time in many of my dishes because I really enjoy the mineral taste of seaweed.
You can also make it from scratch but I really like the granules which have a stronger seaweed flavor. If you'd like to make it from scratch:
Grab a 5″ x 5″ piece of kombu and soak it in 4 cups of cold water for at least 30 minutes, all the way to overnight. The longer it soaks, the more flavor your broth will have.
Pour the water and kombu in a pot and bring to a boil. Remove the kombu right before the water starts to boil and throw it out. This step is important since boiled kombu releases bitterness and gets super slimy.
Turn the heat off and use.=
Miso Soup with Winter Veggies
If you would like to make it with carrots, potatoes, daikon, or other vegetables that take longer to cook – add them with the cold water and dashi and simmer until they are tender. The miso paste should always be added last otherwise it may taste bitter or loose its punchy flavor.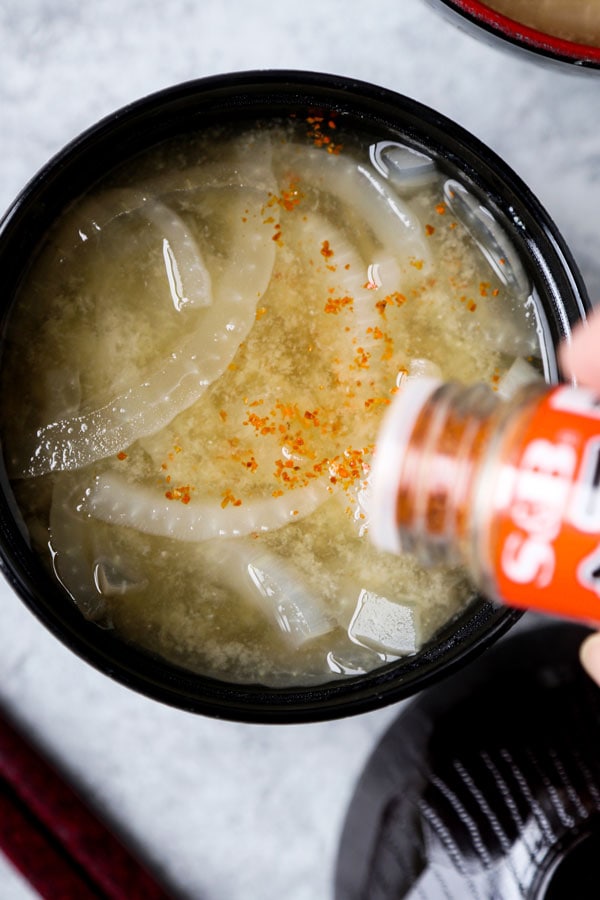 Ichimi Togarashi
Ichimi togarashi is ground chili peppers, which are used to spice up soups, noodles, yakitori – and any other type of food. You can find it used as a condiment in most Japanese noodle shops as a seasoning – and you can buy it Japanese supermarkets or on Amazon.
I like to add to add a sprinkle of ichimi to my soup to enhance the flavors – a trick I picked up from my mother 🥰
Making miso soup is very easy and makes a wonderful snack to have in the house for kids and adults. It's also an energy booster, the perfect 3 o'clock pick me up!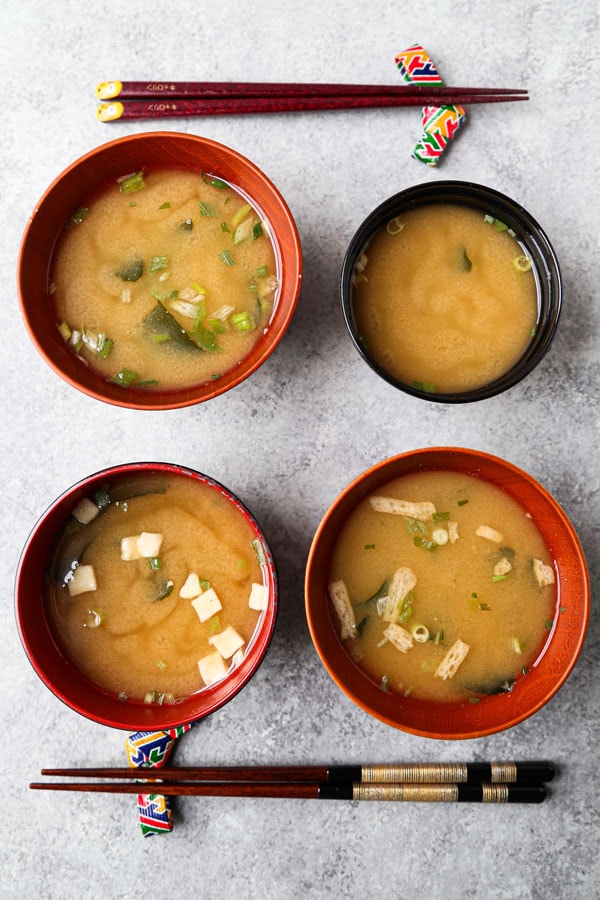 What to Serve with Miso Soup
For a traditional Japanese meal, serve with this soup with a bowl of steamed white rice and: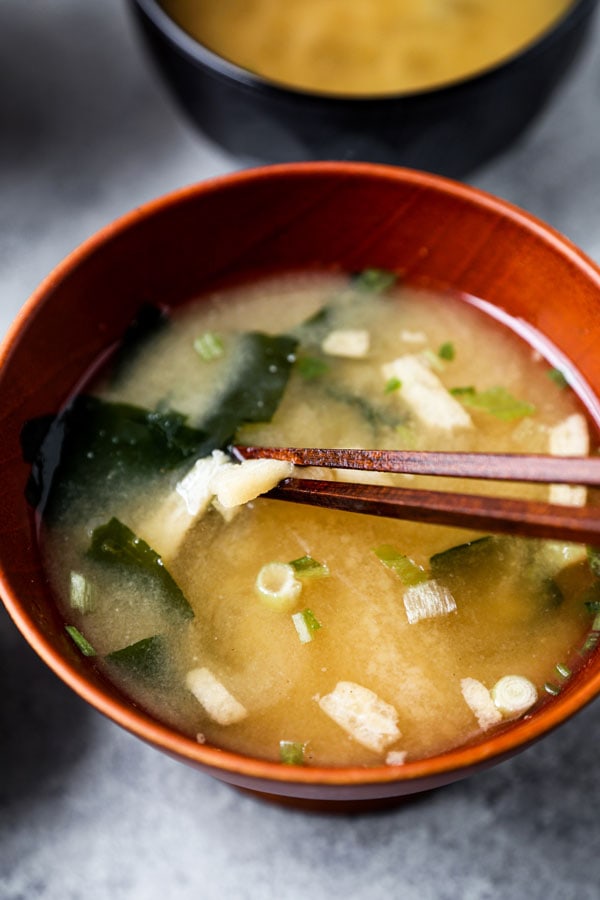 Did you like this Miso Soup Recipe? Are there changes you made that you would like to share? Share your tips and recommendations in the comments section below!
Print
My Mother's Miso Soup
This is a simple miso soup with sliced onions just like the way my Japanese mother makes it!
Author: Caroline Phelps
Prep Time:

5 minutes

Cook Time:

10 minutes

Total Time:

15 minutes

Yield:

4

1

x
Category:

Soup

Method:

Stove top

Cuisine:

Japanese
Instructions
Put the sliced onions, water and dashi granule in a pot and bring to a boil. Lower the heat, cover and cook for 10-12 minutes, until the onions are tender.
Place the miso paste in a small strainer and lower the strainer into the pot, until the liquid covers the miso paste. Stir the miso paste with chopsticks until it has fully dissolved.
Turn the heat off and serve. Sprinkle a little ichimi for heat.
Notes
This miso soup will keep for three days, refrigerated in an airtight container.
Keywords: recipe, Japanese food, appetizer, side, miso shiru
Recipe Card powered by
Pickled Plum is a participant in the Amazon Services LLC Associates Program, an affiliate advertising program designed to provide a means for sites to earn advertising fees by advertising and linking to amazon.com.