This hot and savory Baby Bok Choy Soup With Garlic and Ginger is summer eating at its best. Loaded with rice noodles, this fragrant Asian soup recipe is easy to make and packed with deep, umami flavor. Plus: tips and tricks on selecting and preparing the best bok choy!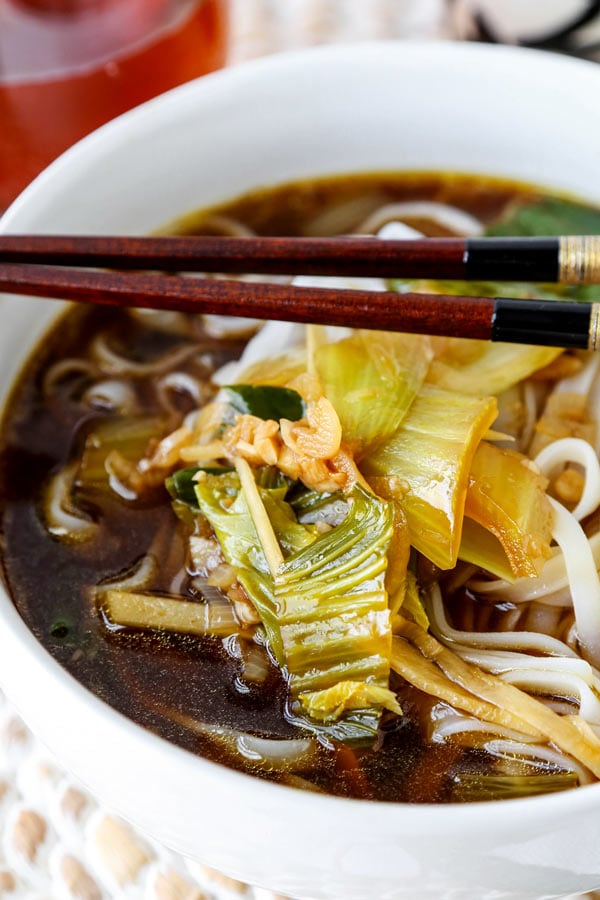 Baby Bok Choy Soup With Garlic and Ginger
Summer means soup!
Wait… what?
Yep, as temperatures rise, I find myself making more soup. And I don't discriminate when it comes to the actual temperature of the soup either.
Sure, an ice-cold and garden-fresh gazpacho does a great job of warding off the heat. It also seems like the obvious hot weather choice for soup.
However, when the mercury creeps north, I'm just as likely to cool down with a steaming bowl of hot and sour soup as well.
OK – I'll explain. And, before I begin, I know this seems counterintuitive, but bear with me.
The cooling benefits you get from a bowl of something like a frigid vichyssoise are obvious. Hot day, cold soup. Delicious relief, right!?
Well, this savory and hot baby bok choy soup, loaded with pliant rice noodles and plenty of fragrant garlic and ginger can provide a similar cooling effect – and we're serving this hot-hot-HOT!
So, what gives?
Yes, consuming hot soup on a hot day is going to deliver even more heat to your body. But it's precisely this heat that prompts your body to sweat – which can cool you off.
You see, as the sweat evaporates, your body cools down naturally.
It's a lesson I've learned from local food lovers in Bangkok, Singapore and Tokyo in the summer. It's a bit of the old(est)-school heat relief.
And the same goes for spicy food!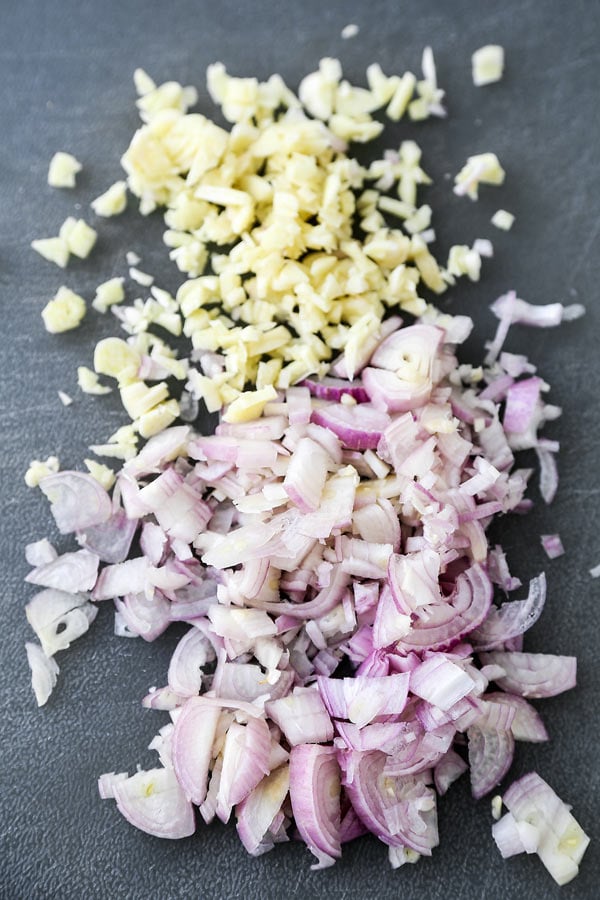 Hot day. Hot soup. Cooling relief
So, a similar idea applies with spicy food creating a cooling reaction on a hot day.
Eating food loaded with something like delicious and spicy bird's eye chilies can bring-on a good sweat as well – by increasing blood circulation and prompting your body to try to match the external hot temperature.
Same principal. You sweat while you eat. The sweat evaporates and cools you off.
Now, while this baby bok choy soup recipe isn't loaded with Thai chilis, it does contain a significant amount of fresh ginger.
And while ginger isn't spicy in that whole melt-your-face-off way, there is a decent underlying slow-burn to it.
Oh, and I'd be remiss if I didn't mention the suggested inclusion of sambal oelek in your soup. It's a chili paste that can really deliver some fire.
So use sparingly! Or – heck – go wild if you like it volcanic 🙂
But even if you like to keep it on the milder side, this hot Asian noodle soup is packed with assertive flavor – and has the added benefit of being able to cool you down on a hot summer day.
What's even better? Well, on the difficulty scale, this quick soup recipe is about as easy as they come.
So let's eat!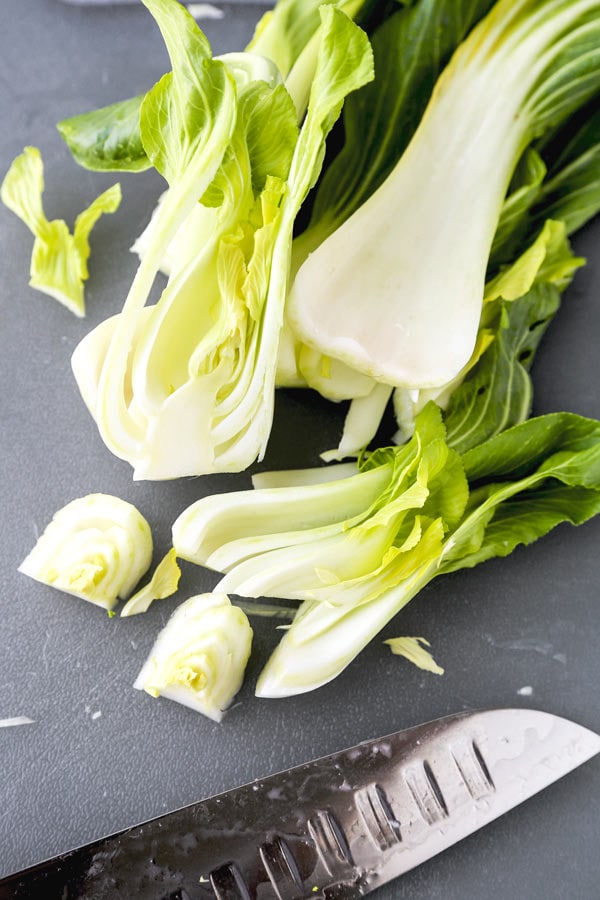 But first, what is bok choy?
Bok choy – 上海青 – is a type of Chinese cabbage with bulbish whitish stems and dark green rising leaf blades.
Sometimes anglicised as pak choi, pak choy and bok choi, it is sold in both mature and baby forms.
This rice noodle soup recipe calls for the use of baby bok choy. I absolutely LOVE the mild flavor and pliant crunch baby bok choy brings to the table in this fragrant garlicky ginger soup broth!
However, feel free to use mature bok choy if you prefer it, or can't find baby bok choy.
Bok choy leaves manage that perfect balance between tender and crunchy. The stalks tend to be juicy and crisp. It's an absolutely perfect texturizing veggie for our soup!
To me, the flavor of bok choy sits somewhere equidistant between cabbage, celery and cucumber. There's a clean, almost peppery element that just drives me crazy.
You'll find most bok choy recipes calling for it to be braised, stir fried or steamed. However, it's also perfect raw or served in soups and stews.
Oh, and check out one of my all-time favorite preparations: Bok Choy With Garlic and Oyster Sauce.
Yummy!
How to tell if bok choy is fresh
This is super easy.
Whether you're at the neighborhood grocery store, or roaming a Chinese market on Mott Street, choosing the best greens for your Asian spiced bok choy soup should be a breeze.
Just look for stems that are firm and bunched together. The heads of your bok choy should be close fitting. If you see any wilted leaves lollygagging around on their own and separated from the bunch, it's best to put them down and keep looking for a fresher bunch.
Likewise if you see any black or discolored spots on the stems or leaves. Keep on moving.
How to prepare bok choy
As I mentioned, it's super common to find bok choy braised, stir fried, steamed – or used as an element in a noodle recipe.
Since the leaves and stems of baby bok choy are already pliant enough to be eaten raw, you don't want to overdo it on the cook time.
For this gingery bok choy soup with rice noodles recipe, we only want to simmer our bite sized veggies for about five minutes.
That's just long enough to be properly cooked, yet not so long that they become mushy.
I love my veggies to have a bit of life left in them!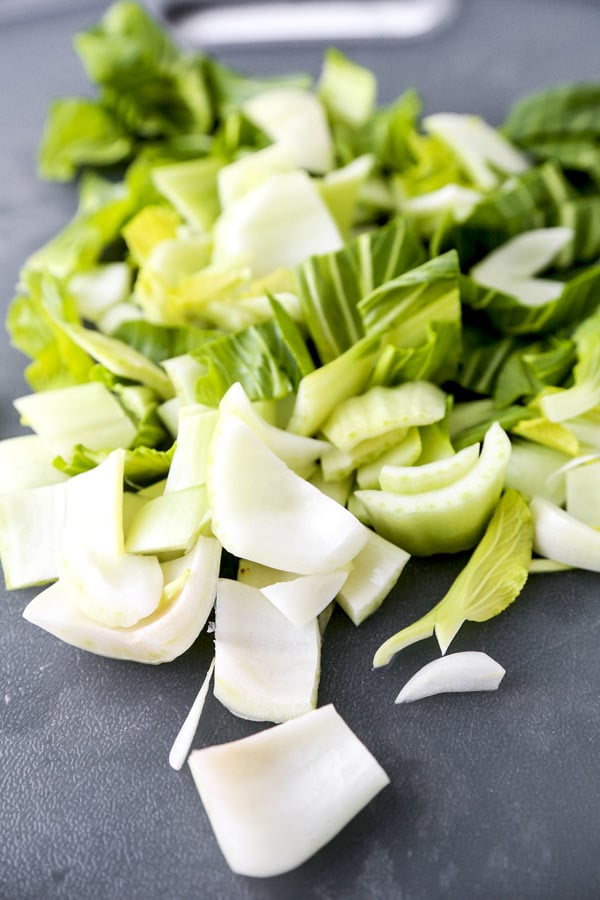 How to cut bok choy
If you're staring at the cutting board, getting flustered, wondering how to chop bok choy, stop worrying!
A lot will depend on what you're using it for.
In the case of this healthy asian soup recipe, just chop your baby bok choy bite sized and be done with it!
However, if you're making braised or pan-fried baby bok choy, a single slice in half lengthwise will usually do the trick. It creates a wonderful flat surface where you can impart some color via contact with the hot pan. Although, if they're really tiny, you could just as easily just leave them whole as well.
For some noodle dishes, you'll want to make a single cut at the bottom of the stem so you free the individual stems and leaves to intermingle with your noodles and veggies.
But, again, for this baby bok choy soup recipe, just chop it all bite sized and move on to the soup pot!
What part of the bok choy do you use?
Short answer: all of it!
Slightly longer answer, it'll probably depend whether you're using mature bok choy or baby bok choy.
In the case of baby bok choy, just give it a good rinse under cold water and you should be good to go.
With mature bok choy, the base of the stem can get a little hard. To illustrate, think about a head of lettuce or cabbage. While you can eat the whole thing – I find it just a bit more pleasing to get rid of the tiiiiny bit at the bottom where the stems all come to a point. But that's just with mature bok choy.
In this baby bok choy recipe, we're using the whole thing!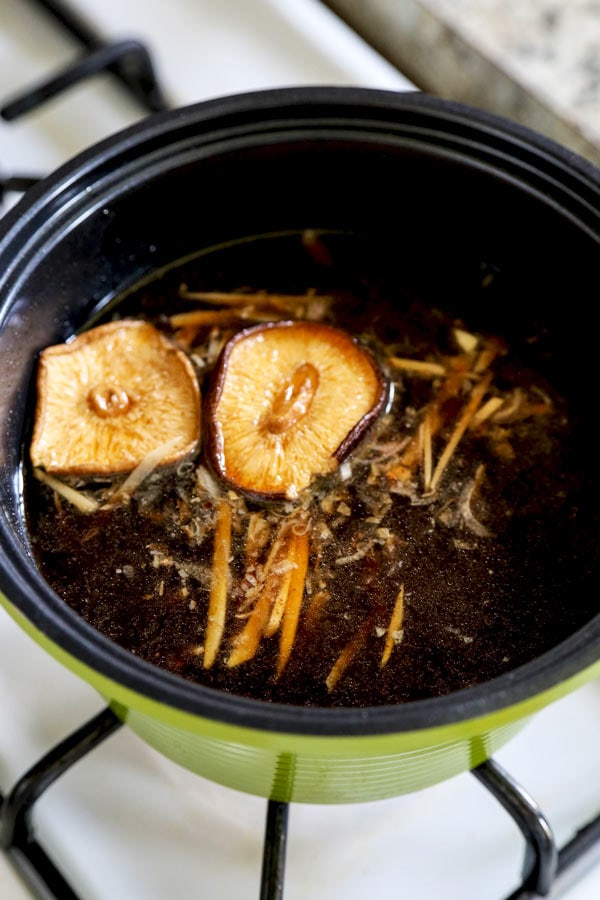 Bok choy nutrition
Is bok choy healthy? Oh yeah!
While a cup of bok choy sports only about nine calories, those calories are densely packed with nutrients.
Loaded with vitamins A, C and K – along with a nice dose of omega-3s – bok choy is an antioxidant rich veggie that is said to reduce inflammation and even assist with things like macular degeneration.
Sounds like a wonderfood to me!
However, as always, I'm not a doctor 🙂 It's always best to do your research and consult a physician or registered dietitian when introducing new foods and ingredients into your diet – especially if you have health concerns.
Regardless, bok choy is a low calorie, low fat food with a wonderful crunch!
How to cook this baby bok choy soup with garlic and ginger
If you're like me, this is best part! (Well, aside from eating, hehe.)
This garlic and ginger bok choy soup is one of my favorite easy Asian recipes to make for the simple fact that it's a total no-brainer that just happens to be super yummy.
Without further ado, let's get cooking!
I like to sweat my garlic and shallots in a bit of oil for a couple of minutes, until they are translucent and fragrant.
Then I add my broth, a bit of soy sauce, some paper-thin ginger slices and a couple of dried shiitake mushrooms and bring to a boil. The dried shiitakes add an unreal amount of umami and depth to the soup broth.
At this point, lower the heat, cover and simmer for around 20 minutes or so.
Now, add your chopped baby bok choy and allow it to cook for 4-5 minutes. Remember, this is a veggie that provides quite a bit of texture and crunch to the noodle soup, so don't cook it into oblivion!
While your broth is simmering, grab your rice noodles and prepare them according to the instructions on the package. Some brands call for you to boil them – and some will just require a soak. Make sure to read that package.
We're almost there, now!
Simply divide the cooked noodles between two bowls and ladle your fragrant, bok choy loaded broth on top.
It's at this point that I add a bit of sambal oelek to my soup and give it a stir. Spice junkies (like Ben) go for broke at this step.
Now – dig in!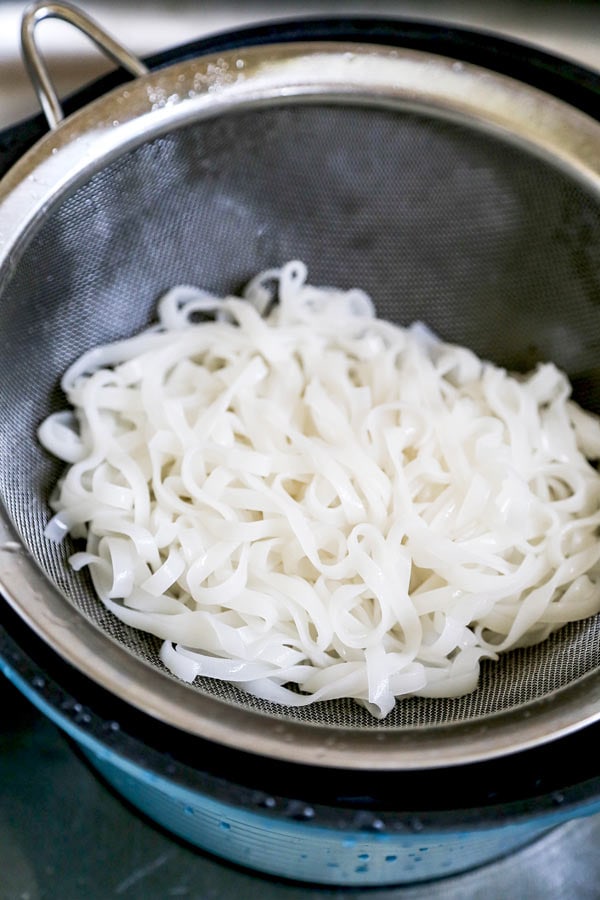 So how does this Asian noodle soup recipe taste?
One of my favorite elements of this soup is that it's super flavorful, despite the relatively short cook time.
A lot of that can be attributed to the dry shiitake mushrooms we used in the broth. There's a deep, savory and umami undertone throughout.
However, there's also a bright and almost spicy note on top from the use of the ginger that counteracts the bass that the stock and mushrooms impart. You might call the ginger the treble of this baby bok choy soup.
And I'd be remiss if I didn't mention the bok choy itself! The green, clean and peppery flavor just sits in the pocket and holds the entire thing together.
If you add sambal oelek, then you'll be playing with a bit more heat 🙂
Yep – it's definitely a soup you might eat on a hot day in asia – the savory and spicy notes might just prompt a sweat to break out on your forehead.
But, as we know, that sweat is a good thing!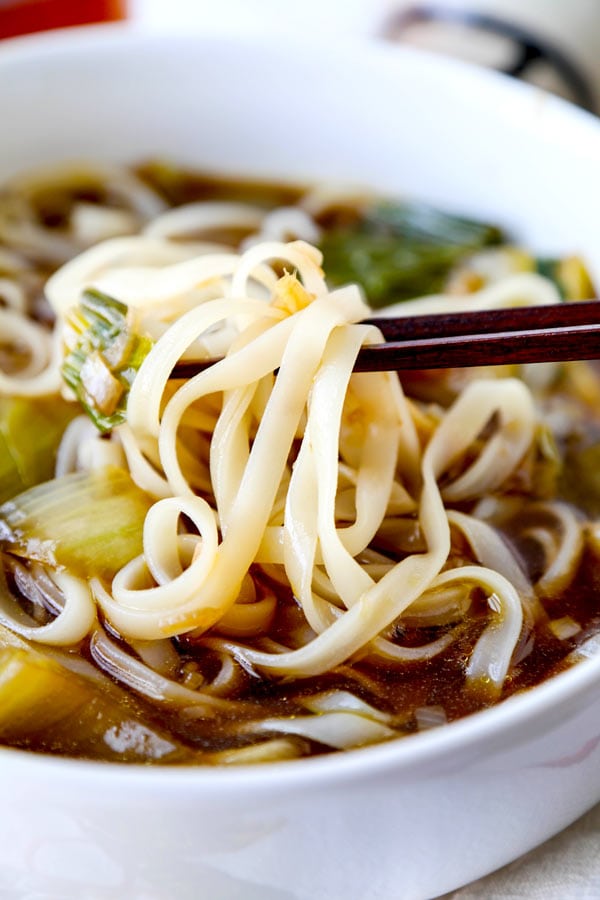 A vegetarian bok choy soup – that doesn't have to be vegetarian
I used vegetable broth in my own savory bok choy noodle soup recipe. In fact, my version is completely vegan.
However, chicken broth would be a delicious fit for this Asian soup recipe as well.
In fact, beef broth or mushroom broth could work in a pinch.
And, if you're feeling ambitious, and still want to keep it on the vegetarian side of things, you could whip up a batch of this vegetarian pho broth to use as a fragrant base for your own bok choy soup recipe.
As always, you should feel empowered to tweak and experiment with your food to satiate your own one-of-a-kind palate!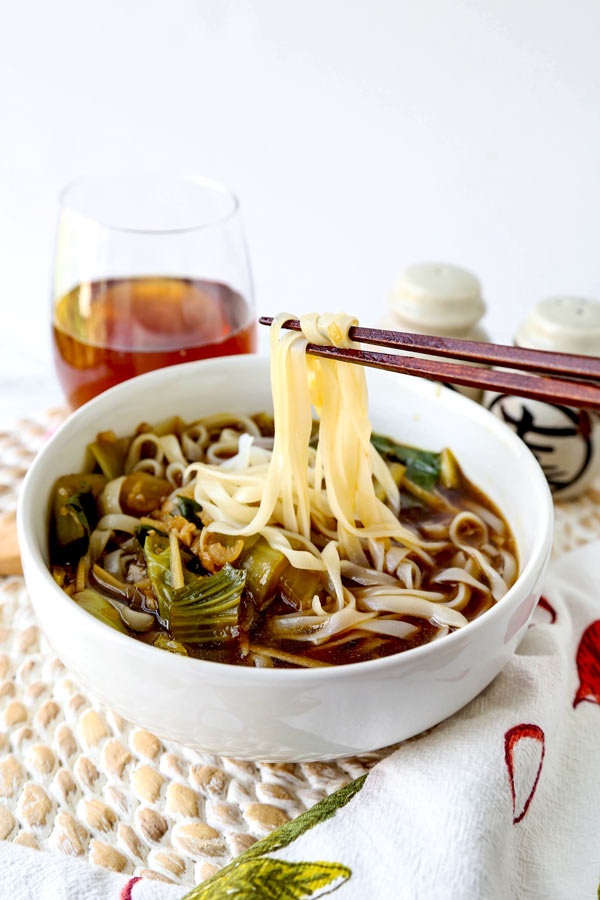 A super easy soup recipe to prepare on a hot summer day
I'll be making a ton of this healthy, steamy baby bok choy soup with fragrant garlic and ginger this summer.
As the temps start to rise, my slurping of soupy noodles usually keeps pace.
Aside from being delicious, it's a great way to cool down in the most old-school way possible!
And – hey – if you like this hot Asian noodle soup recipe, check out my super easy tutorial on how to make dashi.
Soup as summer food?! You bet!
What about you? What's a food you rely on in the summer to cool you down – and satisfy your taste buds in the process? Tell me all about your favorites in the comments!
Other simple, delicious Asian soup recipes: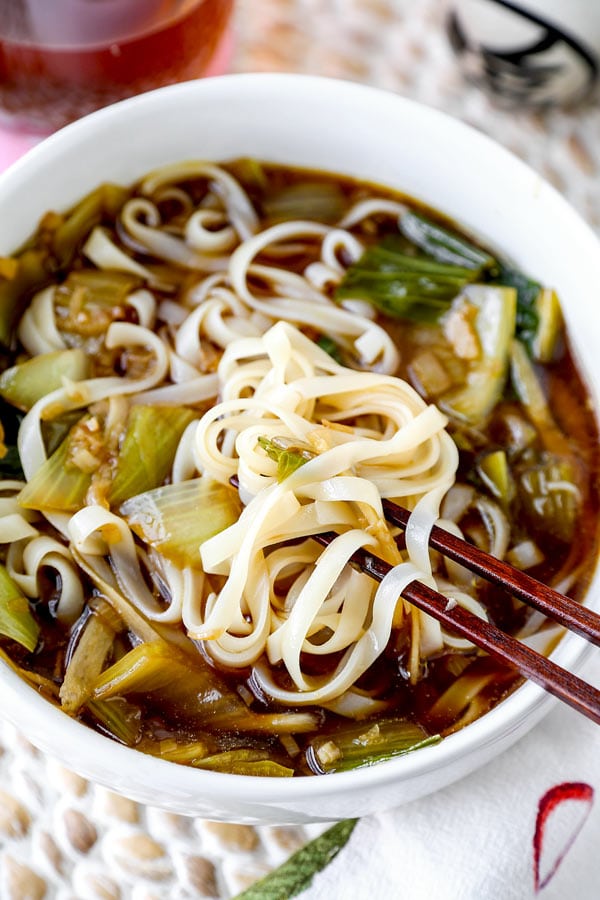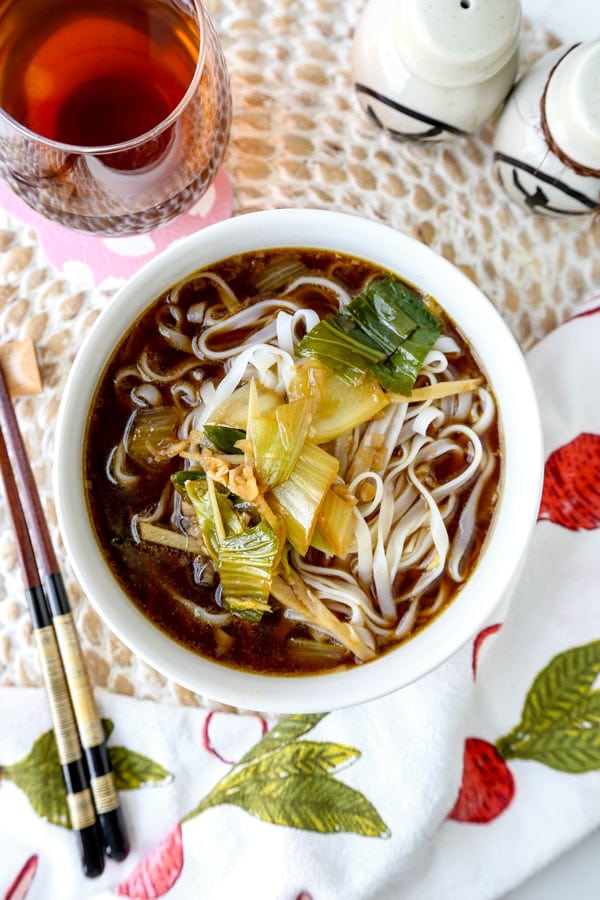 Did you like this Baby Bok Choy Soup With Garlic and Ginger Recipe? Are there changes you made that you would like to share? Share your tips and recommendations in the comments section below!
Print
Baby Bok Choy Soup With Garlic and Ginger
A light, vegan baby bok choy noodle soup that's both comforting and satisfying.
Author: Caroline Phelps
Prep Time:

5 minutes

Cook Time:

30 minutes

Total Time:

35 minutes

Yield:

2

people

1

x
Category:

Soup

Method:

Boiling

Cuisine:

Chinese
1 tablespoon

peanut oil or vegetable oil

2

garlic cloves (minced)

2

shallots (finely chopped)

4 cups

low sodium vegetable broth (or chicken broth)

2 tablespoons

soy sauce

1

thumb sized piece of ginger (peeled and chopped into very thin strips)

2

dried shiitake mushrooms

2

baby bok choy (chopped bite size)

4 ounces

dried rice noodles
sambal oelek or other chili paste (to taste)
Instructions
In a large pot over medium heat, add oil, garlic and shallots. Cook for 3-4 minutes, until onions are translucent and garlic is fragrant.
Add broth, soy sauce, ginger and shiitake mushrooms and bring to a boil. Lower heat to low, cover and simmer for 20 minutes.
Add bok choy and cook for 5 minutes, until tender. Turn the heat to very low and cover.
Meanwhile, bring another pot of water to boil and turn the heat off. Add rice noodles, cover and let sit for a few minutes until they have softened. There should be instructions on the package – the average soaking time is around 6-7 minutes.
Drain and divide noodles among two bowls.
Add broth and baby bok choy to the noodles and top with a little sambal oelek (about 1/4-1/2 teaspoon – a little goes a long way, it's very hot!)
Serve.
Nutrition
Serving Size:
Calories:

323

Sugar:

2.6 g

Sodium:

867 mg

Fat:

3.9 g

Saturated Fat:

1.3 g

Carbohydrates:

61.4 g

Fiber:

2.8 g

Protein:

6.1 g

Cholesterol:

3.5 mg
Keywords: recipe, appetizer, noodle soup, rice noodles, vegan, plant based, meatless, vegetarian
Recipe Card powered by