This is an easy and comforting hot and sour soup recipe that's ready in just 15 minutes. Making restaurant-style Chinese food at home is the best!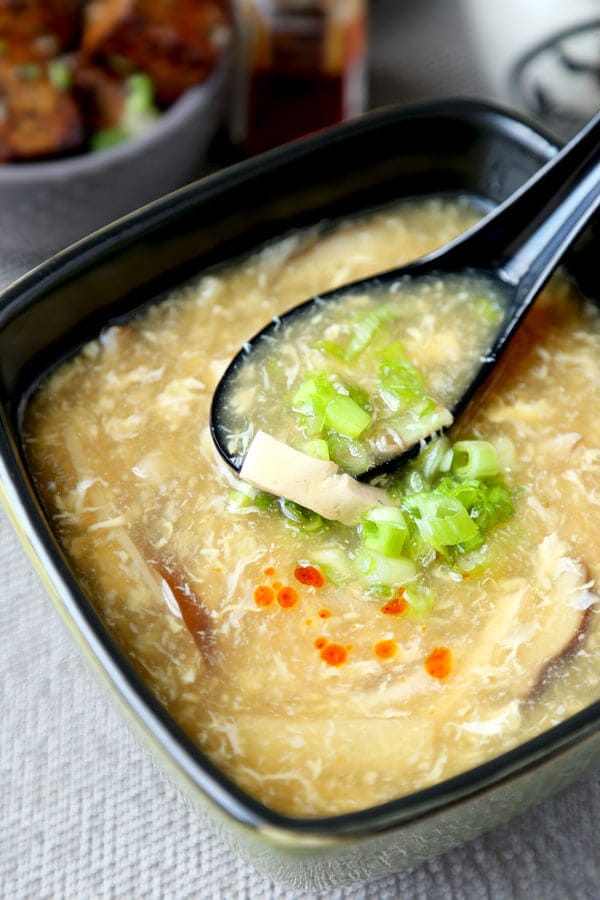 Chinese food is pretty the number one option in our house when we decide to get delivery.
We have a couple of restaurant that deliver authentic Szechuan food and one thing I must always is their delicious sweet and sour soup. I have a weakness for gooey Chinese soups, there's something about the silky texture I find insanely comforting.
But sometimes we have to watch our wallets and let's face it – ordering food in Brooklyn can be really expensive – so I put on an apron and make my own restaurant-style Chinese food. It's actually not that hard and if I may boast about myself, I'm pretty darn good at it.
I've been cooking Asian food for so long that I'm not longer intimidated by it. And as you will see, there is not reason why you should be either!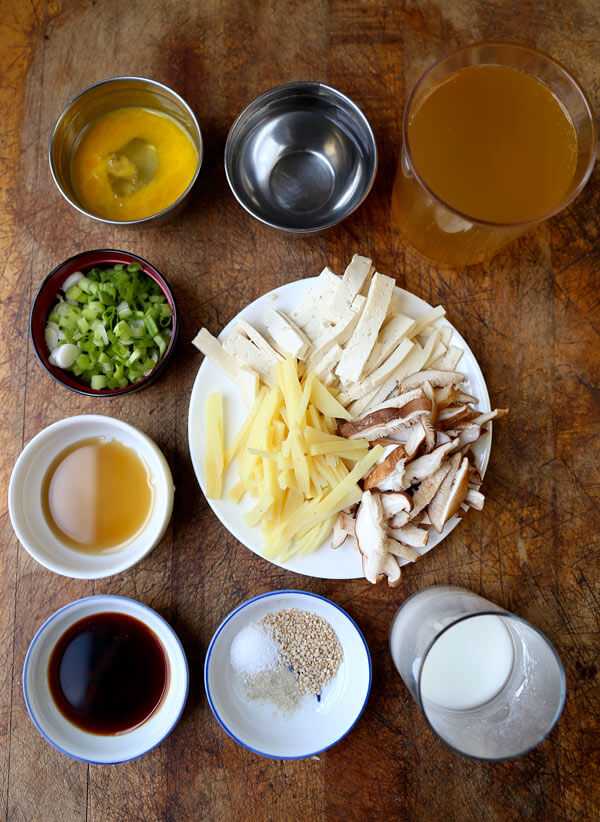 What is Hot and Sour Soup?
Hot and sour soup is the general term used to describe soups that contain ingredients that are both spicy and sour.
China is one of many countries that offers sweet and sour soup on their menu. Japan has a ramen version of it (sanratanmen), Cambodia offers a hot and sour soup that's like a shrimp stew, Thailand's version is a famous one called tom yum, and the Philippines version contains mango, guava and tamarind.
Some sweet and sour soups contain meat while others don't. My version is made with chicken broth but doesn't contain any meat. That's because I don't like heavy ingredient like pork to be added to something that's so light and delicate. Some things are just better without meat!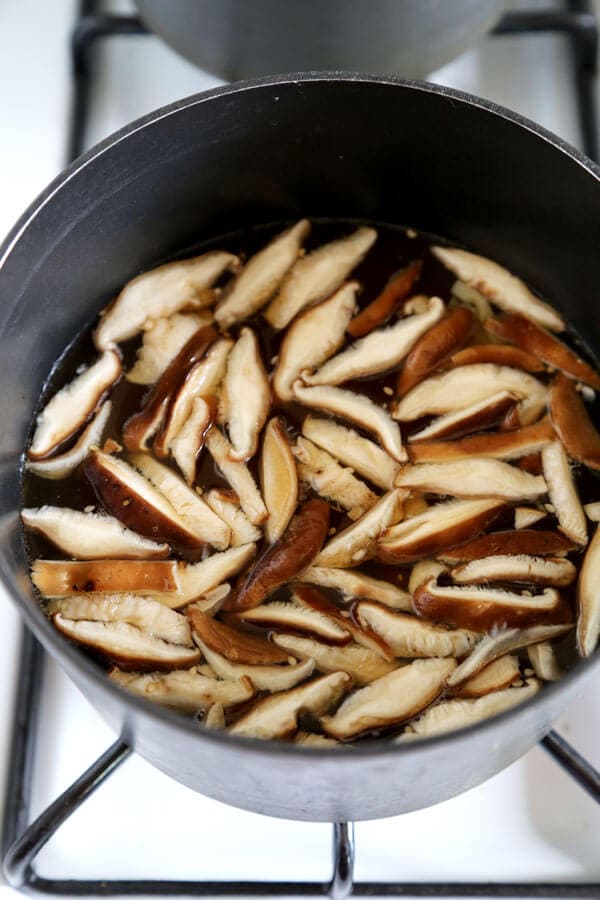 Ingredients for Hot and Sour Soup
Chicken stock: The base of our soup and what makes it so comforting.
Soy sauce: A splash of umami to add depth of flavor and earthiness.
White vinegar: This is what makes the soup sour so it's an absolute must!
Salt: Adding a little salt always helps to balance the overall flavor of a dish.
White ground pepper: Hotter than black ground pepper and also more floral, white ground pepper is an ingredient that's often used in Chinese cooking to season dishes.
Shiitake mushrooms: Earthy, chewy and packed with goodness.
Tofu: I'm slicing them into small stick so it's easier to eat.
Bamboo shoots: Bamboo shoots are quintessential to Chinese cooking. I love their crunchy texture and slightly bitter flavor.
Egg: We are going to whisk it once it's in the soup to make fluffy and break into teardrop-like pieces.
Cornstarch: This is to thicken the soup and give it that classic Chinese food gooey texture.
Sesame oil: To add nuttiness to the soup.
Scallions: A play on texture. Adding a crunch to an otherwise liquid meal is always nice.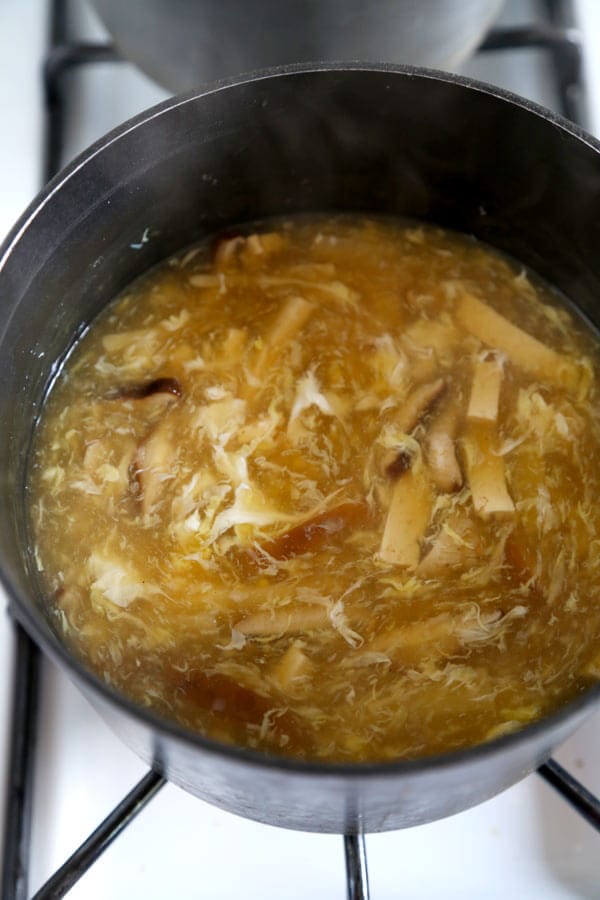 How To Make Hot and Sour Soup
Making the broth: Put the chicken broth, soy sauce and salt in a pot and turn the heat to high until the stock in boiling.
Cooking the ingredients: Add the mushroom, bamboo shoots and tofu and lower the heat until the soup is simmering (little bubbles).
Seasoning the soup: Stir in the vinegar, sesame oil and cornstarch mixture and continue cooking for about 2 minutes. The texture of the soup should thicken by now.
Adding the egg: Use a long pair of chopsticks if you have some, they are the best for this step. Otherwise use a regular pair of chopsticks. Briefly whisk the egg and as you stir the soup with your chopsticks, slowly drizzle it into the soup. Do little zig zag motions to break up the egg thread and do it consistently to avoid big chunks of eggs from forming.
Serve: Ladle the soup into small bowls and top with some fresh scallions and a few drops of chili oil. Delish!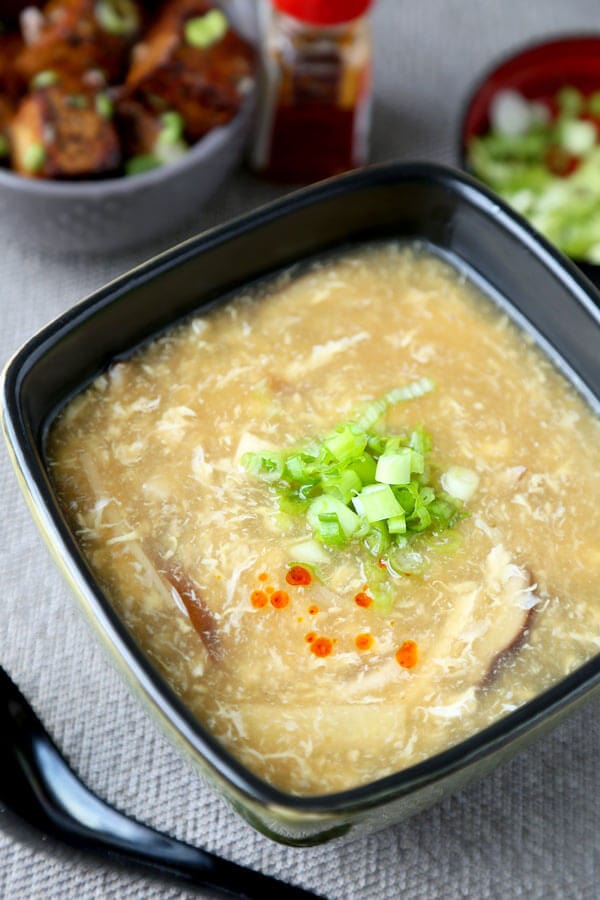 How to Reheat Hot and Sour Soup
I'm sure you've noticed that gooey Chinese dishes tend to become watery as time goes by. That's because cornstarch can only retain its shape for so long. It dissolve after a while and that's when you end up with liquid at the bottom of your takeout container.
The same goes for egg drop soup and hot and sour soup.
But there is a way to bring back to gooeyness!
Place your cold leftover soup and whisk in cornstarch. I can't tell you the measurement since I don't know how much is left. But I would say for every cup of soup left, start by adding 1 teaspoon. Turn the heat on, keep on stirring and wait until the soup is boiling. If you don't know notice any change, add a little more cornstarch but always mix it with a little cold water first, otherwise it will clump in your soup.
What About Those Red Dots in the Soup?
The little red dots you see in the picture is chili oil – it's basically sesame oil with a kick of heat. I love the nuttiness and put it on everything and in case you're wondering, I only use S&B La-Yu chili oil with chili pepper. It pairs really nicely with hot and sour soup and other Chinese dishes. It's also delicious with soy sauce and rice vinegar mixed together and used as a dipping sauce for gyoza or pot stickers.
What to Serve with Hot and Sour Soup:
Hot and sour soup makes a great appetizer or side to any of these main dishes:
Did you like this easy Hot And Sour Soup Recipe? Are there changes you made that you would like to share? Share your tips and recommendations in the comment section below!
Print
Hot And Sour Soup
An authentic hot and sour soup recipe that only takes 15 minutes to make from start to finish.
Author: Caroline Phelps
Prep Time:

10 minutes

Cook Time:

5 minutes

Total Time:

15 minutes

Yield:

6

people

1

x
Category:

Soup

Method:

Stove top

Cuisine:

Chinese
1 quart

chicken stock

2 tablespoons

soy sauce

1/2 teaspoon

kosher salt

1/2 teaspoon

white ground pepper

10

shiitake mushrooms (sliced into strips)

1/2 cup

bamboo shoots (cut into thin strips)

1 cup

medium firm tofu (cut into bite size cubes)

3 tablespoons

white vinegar

2 teaspoons

sesame oil

3 tablespoons

cornstarch mixed with 3 tablespoons water

1

large egg (whisked)

2

stalks scallions (finely chopped)
Instructions
In a pot over high heat, add broth, soy sauce, salt and pepper and bring to a boil.
Lower heat to a simmer (slight bubbling) and add mushrooms, bamboo shoots and tofu. Cook for 3 minutes.
Add vinegar, sesame oil and cornstarch mixture – stir it before pouring it in – and cook for 2 minutes.
Turn the heat off and while stirring with your chopsticks, slowly drizzle the egg. The stirring motion breaks up the egg thread.
Serve hot and sour soup with scallions and chili oil (optional).
Notes
This hot and sour soup will keep refrigerated in an airtight container for up to 3 days.
Nutrition
Serving Size:
Calories:

155

Sugar:

4.2 g

Sodium:

584.8 mg

Fat:

6.4 g

Saturated Fat:

1.2 g

Carbohydrates:

14.2 g

Fiber:

1.6 g

Protein:

10.1 g

Cholesterol:

35.8 mg
Keywords: recipe, appetizer, Asian, restaurant style
Recipe Card powered by