This Chinese hot and sour soup recipe only takes 15 minutes to make from start to finish and is both low in fat and calories. It's an easy hot and sour soup that makes an excellent late night snack!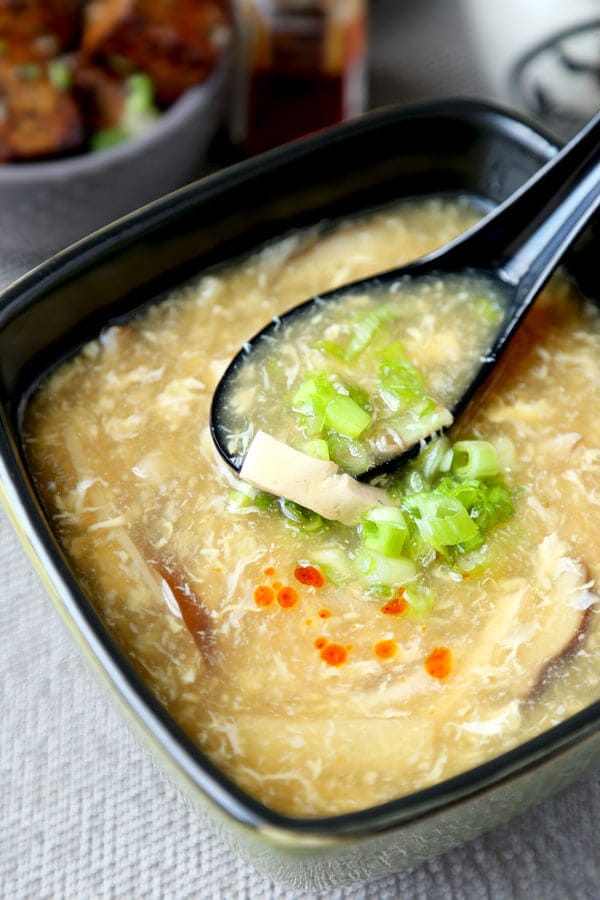 Hot And Sour Soup Recipe – 酸辣汤
"What's the one thing that pops into your head when you think about me?", I asked Ben.
"Soup!" he replied.
"Hahaha! Soup? Really?" I said.
"Whenever I think about you, I think about food. You know how much I love your cooking, all of it! But what stands out the most is how good your soups are. I never used to get excited about soup but now, just like you've turned me into French fries, I'm all about it!"
That put a big smile on my face because I'm also a major soup lover.
My love for soup goes all the way back to my childhood, back in the days when I read Mafalda, an Argentinian comic strip I was obsessed with. I owned every single tome in French and the thing I remembered the most is how Mafalda, a six year old girl who was concerned about humanity and world peace, hated soup.
I couldn't understand why she hated it so much. As someone who preferred a bowl of vegetable soup over a hamburger at A&W, I thought Mafalda was crazy! Maybe her mother made bad soup, who knows…
The funny thing is I still think about Mafalda every single time I make soup – maybe she would like my flavors?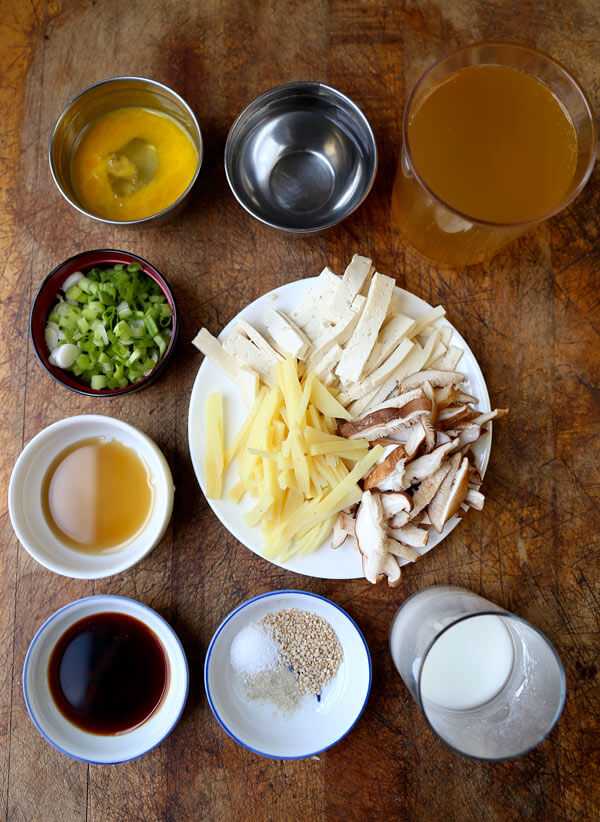 I usually make soup when I want something healthy and easy. It's low in calories and unless you are using lots of cream and butter, very low in fat too.
If you ask me what my favorite soup is, I'm not sure I could answer that question. There are so many different ways to prepare it! I love a vegetable potage or a vichyssoise to go with a hearty meal, a bean soup to accompany a Mexican feast or something like this hot and sour soup as a late night snack.
What is in hot and sour soup?
Because there isn't one specific traditional way to make hot and sour soup (many Asian countries have their own version), a variety of ingredients can be added to it.
Some of the more common ingredients are:
Eggs
Woodear mushrooms
Pork
Sesame oil
Corn starch
White pepper
My favorite type of hot and sour soup is one that is meat-free. That's because I don't like heavy ingredient like pork to be added to something that's so light and delicate. Some things are just better without meat!
My hot and sour recipe is very simple – I'm using stock, white vinegar, a little soy sauce, sesame oil, shiitake mushrooms, tofu, an egg and some chopped scallions.
The flavors are authentic of Chinese hot and sour soup with the perfect balance between acidic and spicy. It feels quite cleansing!
The little red dots you see in the picture is chili oil – it's basically sesame oil with a kick of heat. I love the nuttiness and put it on everything and in case you're wondering, I only use S&B La-Yu chili oil with chili pepper. It pairs really nicely with hot and sour soup and other Chinese dishes. It's also delicious with soy sauce and rice vinegar mixed together and used as a dipping sauce for gyoza or pot stickers.
How To Make Hot and Sour Soup
EASY!
The secret is in the corn starch.
You know that ooey gooey texture we all love so much about Chinese food? That's a mixture of water and corn starch.
Mixing a little cornstarch with cold water (it has to be cold water) dissolves it. Then all you have to is whisk it into the soup right before serving. It's important to incorporate the cornstarch during the last stage of cooking for the texture to remain gooey. Do it too early and it will lose its consistency.
Adding the egg the right way is also essential for good texture. Chopsticks are preferred here since it's a classic Asian technique.
I have a pair of long chopsticks I use for cooking. They are stronger than the average chopsticks, and because they are longer, are safer when cooking with oil and hot liquids. Long chopsticks are also great for handling small pieces of food and for plating (better than tongs!). Once you get used to handling long chopsticks they will become one of your most used kitchen utensils!
Briefly whisk the egg and as you stir the soup with your chopsticks, slowly drizzle it into the soup. Do little zig zag motions to break up the egg thread and do it consistently to avoid big chunks of eggs from forming.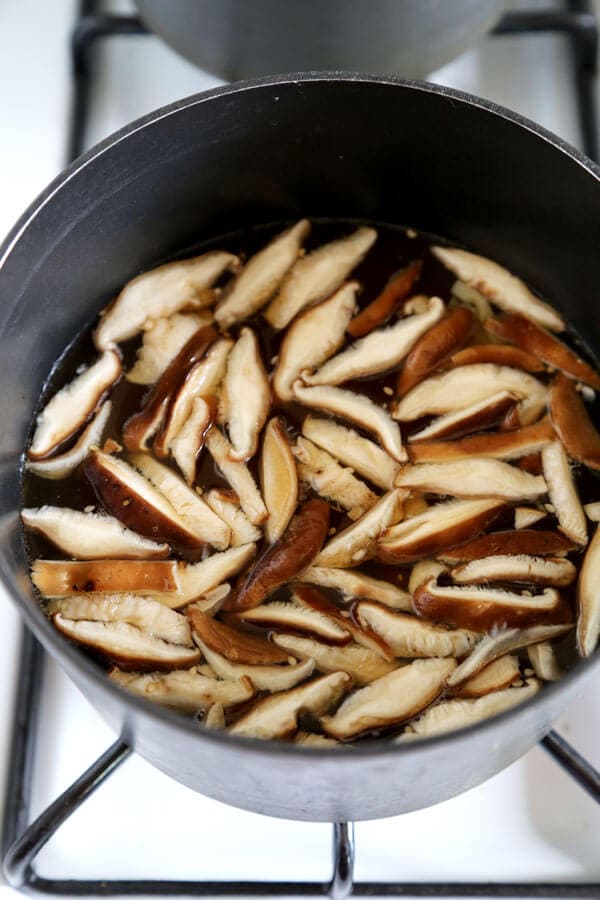 Did you know you can turn a hot and sour soup into a ramen lunch?
Surutan-men is Japan's version of hot an sour soup and it's beyond yummy! Follow the steps of this recipe but add a little more corn starch to the soup since the texture is more gravy-like than soupy. Add plenty of toppings such as corn, fish cakes, bean sprouts and pickled ginger. Finally, throw in some freshly cooked ramen noodles to the bowl and there you go – one seriously delicious meal that will blow your mind!
Chinese-Japanese dishes like surutan-men win my heart every time. It's the perfect balance between Japanese delicate flavors and aggressive heat and spices from China. I couldn't ask for more on the flavor front!
This hot and sour soup can be stored in the fridge for up to 3-4 days. However, be aware that it will loose its gooey consistency!
You can reheat it and whisk in a little more cornstarch (always mix it with cold before adding otherwise it will clump) but I find that this method only works 75% of the time.
Make a feast for dinner today with these other easy Chinese recipes: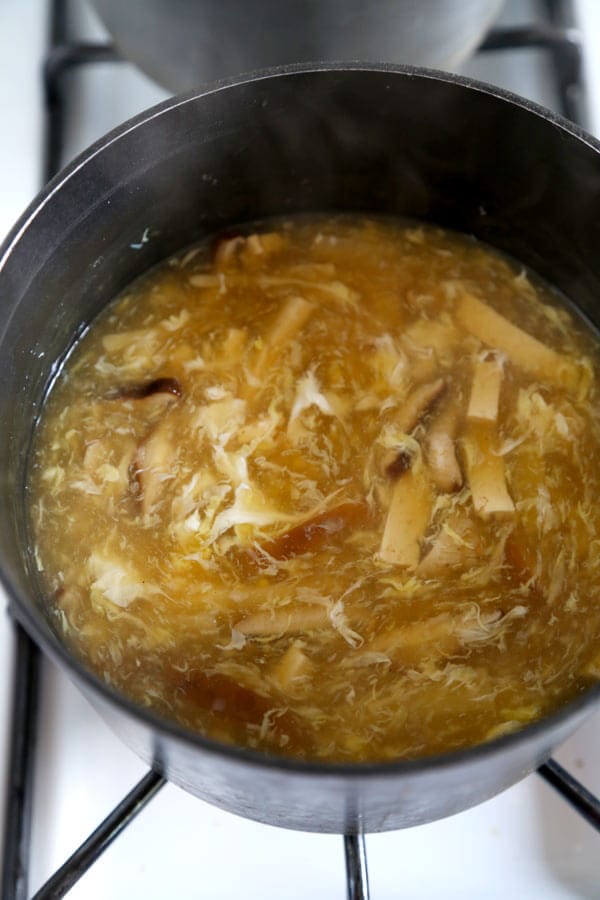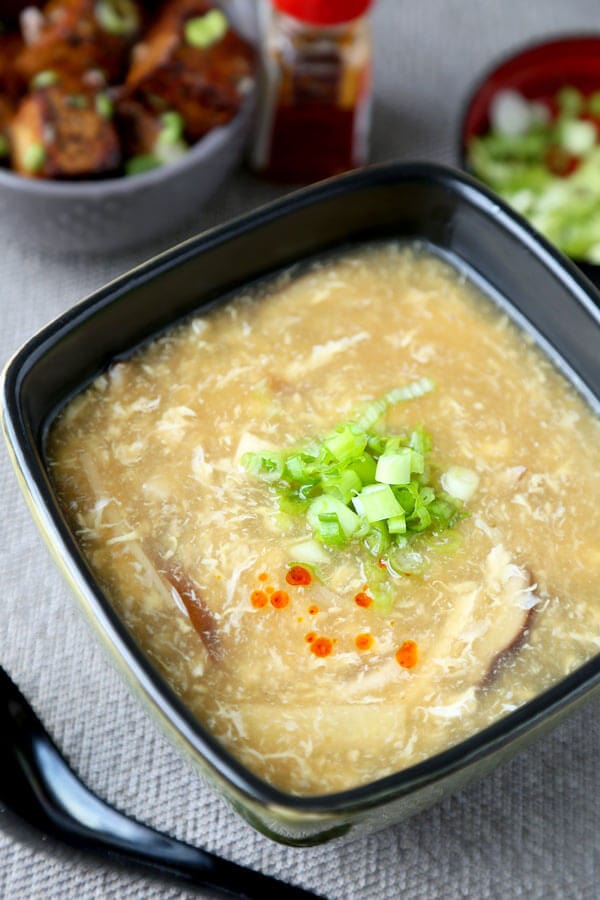 Did you like this easy Hot And Sour Soup Recipe? Are there changes you made that you would like to share? Share your tips and recommendations in the comment section below!
Print
Hot And Sour Soup Recipe
So simple yet so tasty! This hot and sour soup recipe only takes 15 minutes to make from start to finish and is both low in fat and calories. It's the perfect hot and sour late night snack!
Author:
Prep Time:

10 minutes

Cook Time:

5 minutes

Total Time:

15 minutes

Yield:

6 people

Category:

Soup

Method:

Stove top

Cuisine:

Chinese
Ingredients
1 quart chicken stock
2 tablespoons soy sauce
3 tablespoons white vinegar
1 teaspoon sesame seeds
1/2 teaspoon kosher salt
1/2 teaspoon white ground pepper
10 shiitake mushrooms (sliced into strips)
1 cup medium firm tofu (cut into bite size cubes)
1/2 cup bamboo shoots (cut into thin strips)
1 large egg (whisked)
3 tablespoons cornstarch mixed with 3 tablespoons water
2 teaspoons sesame oil
2 stalks scallions (finely chopped)
Instructions
In a pot over high heat, add broth, soy sauce, sesame seeds, salt and pepper and bring to a boil.
Lower heat to a simmer (slight bubbling) and add mushrooms, bamboo shoots and tofu. Cook for 3 minutes.
Add vinegar, sesame oil and cornstarch mix and cook for 2 minutes.
Turn the heat off and while stirring with your chopsticks, slowly drizzle the egg. The stirring motion breaks up the egg thread.
Serve hot and sour soup with scallions and chili oil (optional).
Notes
This hot and sour soup recipe is:
High in manganese
Very high in pantothenic acid
Very high in selenium
Nutrition
Calories:

154

Sugar:

5.7

Sodium:

1310

Fat:

5

Saturated Fat:

1

Carbohydrates:

23.2

Fiber:

3.5

Protein:

7.7

Cholesterol:

31
Keywords: recipe, appetizer, Asian, restaurant style