Homemade stir fried noodles to the rescue! This Singapore chow mei fun recipe is quick, easy and so tasty your whole family will ask for seconds! 20 minutes is all it takes to cook this delicious Singaporean dish.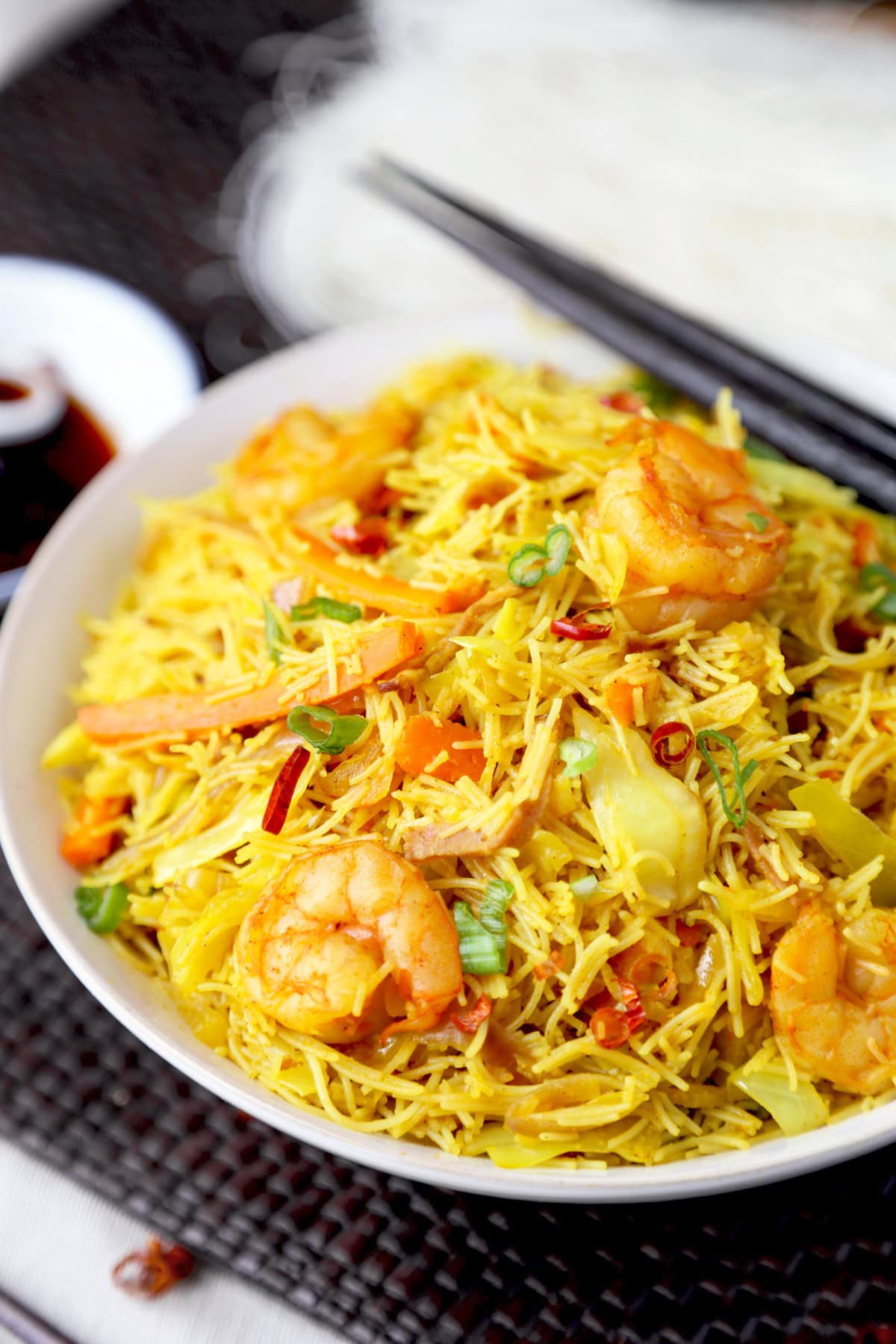 Singapore Chow Mei Fun
Chow mei fun is my husband's favorite dish whenever we order Chinese food. If Ben could have it every day, he would.
Apparently he ordered it for the first time from a Chinese takeaway spot in London, not really knowing what it was. He said, "It was cheap, and they said it was spicy. So I gave it a go."
Singapore chow mei fun (or mai fun) – with its curried, smokey and savory flavors… won Ben's heart that day.
But because Chinese food in New York can get a bit pricey for what you actually get in return, we don't order delivery all that often. Instead, I've gotten into the habit of making my own at home.
And, I must say, I've gotten pretty good at it 🙂
So good, in fact, that ordering Chinese food is no longer quite as appealing as it used to be. While many restaurant versions are okay, they don't usually compare to freshly made mei fun noodles.
Let's face it; stir fried noodles are always better fresh out of the wok!

What is Mei Fun?
Singapore chow mei fun, at its most basic, is a stir fried noodle dish that gets the lion's share of flavor from curry powder.
And while there are a ton of slight variations, most Singapore noodle recipes will call for shrimp, pork and veggies – and sometimes a scrambled egg for good measure.
Mei fun – (米粉 or mai fun) – sometimes also referred to as rice stick noodles, are thin rice vermicelli noodles.
Mei fun noodles are commonly used in Asian cuisine – from Mainland China and Hong Kong – to Thailand, Vietnam, Singapore – and most parts in between.
The traditional way to produce mei fun noodles is simply with rice and water. However, sometimes smaller amounts of ingredients like egg, wheat, and other starches are added to augment the texture of certain brand noodles.
Rice vermicelli that hasn't been augmented in the manufacturing process is a gluten free food. But it's important to note that many of the sauces used when preparing Asian noodle dishes contain wheat.
Cool fact: rice noodles are usually prepared by soaking in hot water rather than actively boiling them.
When preparing mei fun for a stir fry dish, it's best to slightly undercook the noodles at the soaking stage as they will continue to cook when you introduce them to the wok.
However, when making a soup with mei fun, you can add your noodles at the very last step. Once they're cooked through, you're ready to put the soup on the table!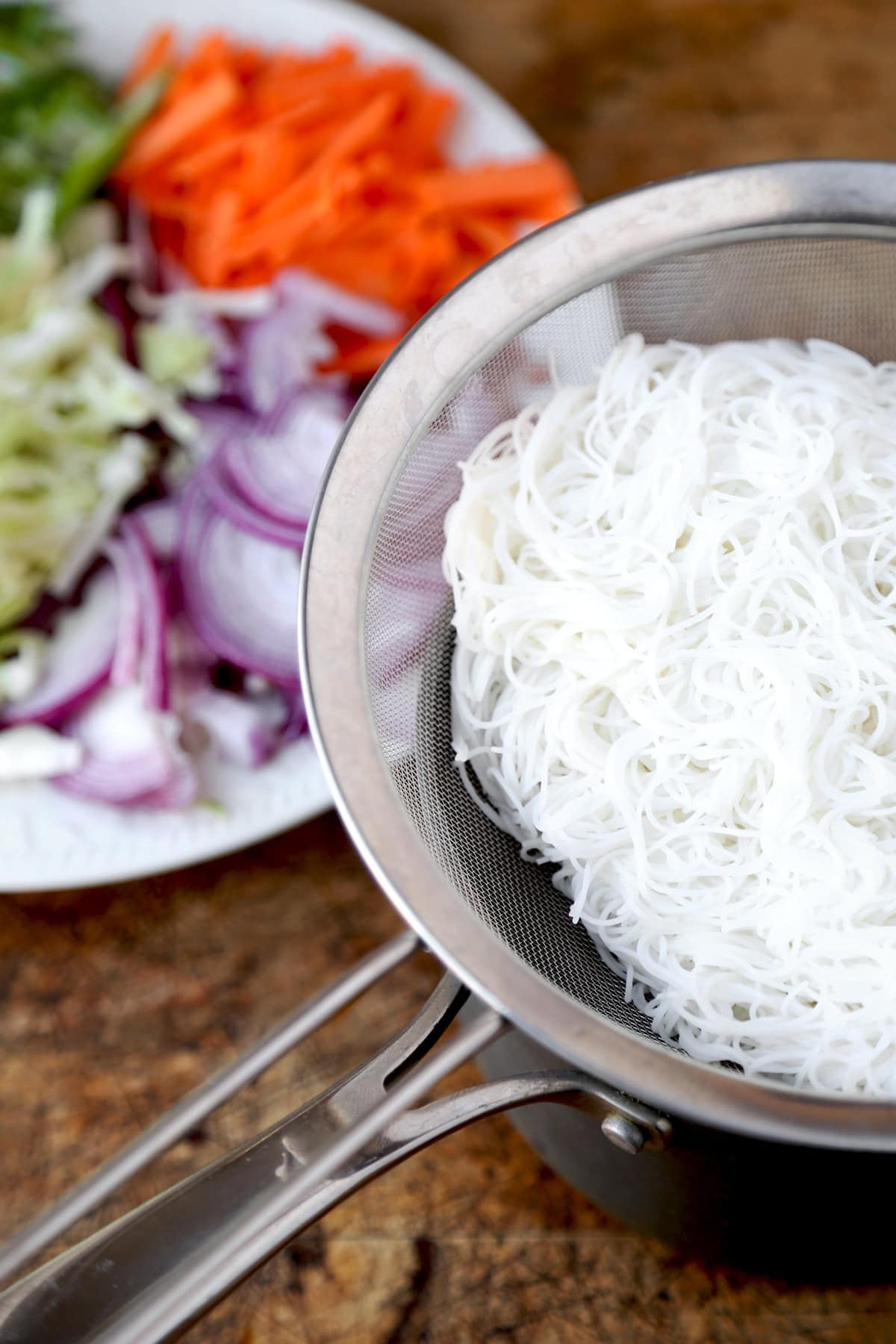 Are Mei Fun Noodles from Singapore?
While the name would have you believe otherwise, Singapore noodles probably didn't originate in Singapore.
They're likely Cantonese in origin. So, contrary to its moniker, you're way more likely to find these Chinese noodles in a restaurant in Kowloon, Hong Kong than in the Chomp Chomp Food Centre on Kensington Park Road in Singapore.
Singapore chow mei fun is actually quite similar to a Filipino bihon pancit from an ingredients standpoint – as it's a simple noodle stir fry with veggies and meats. What makes this Singapore "pancit" different is the use of curry powder.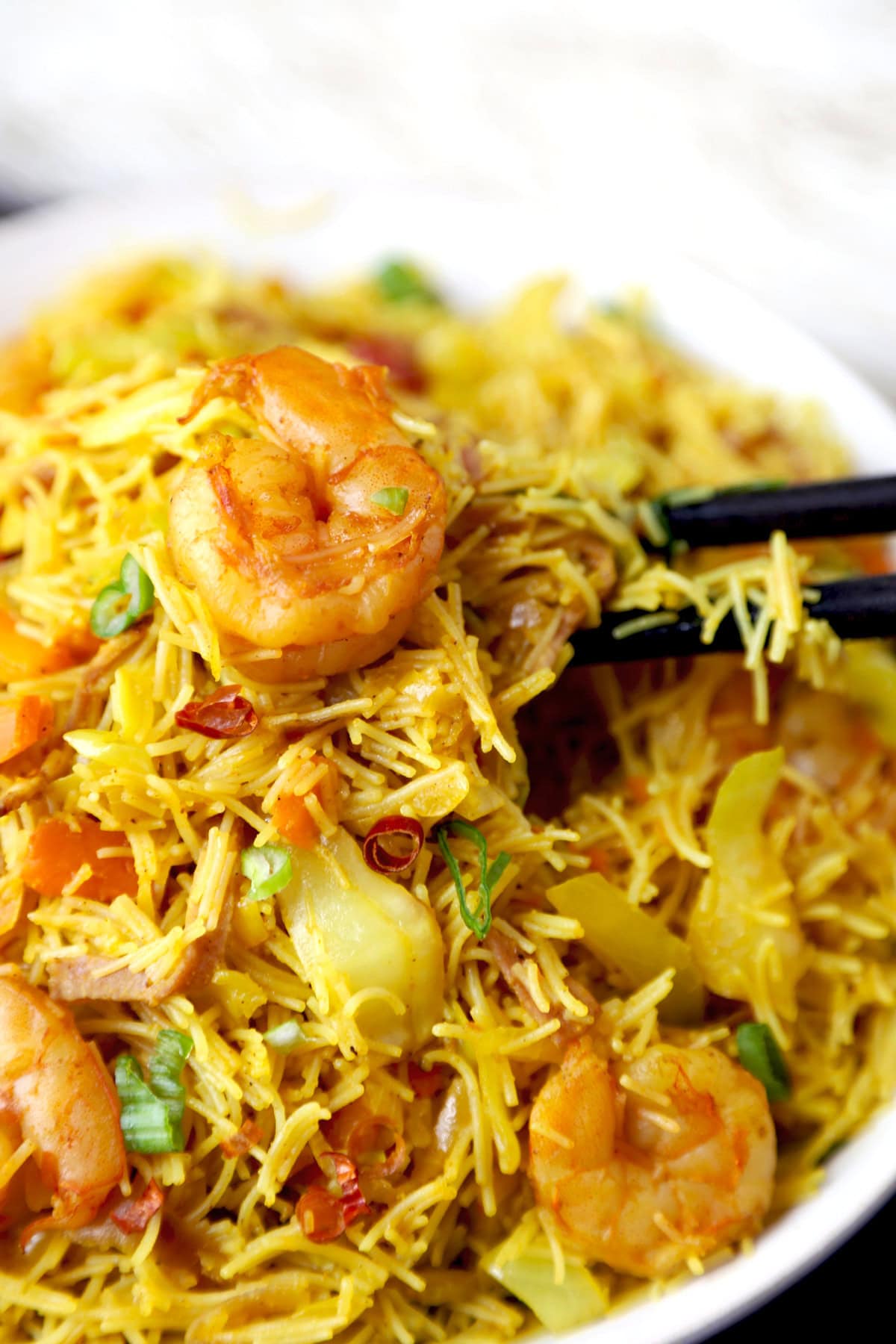 How to cook mei fun noodles
This is a super easy recipe, perfect for days when cooking feels like a chore.
While directions will vary from brand to brand, the long mei fun noodles usually require no actual boiling. Just a soak in water. That's it!
As mei fun noodles tend to be quite long – after soaking, I typically cut them down to a more manageable length with a pair of scissors.
All that's left is to add your ingredients to the pan, stir fry for a few minutes and enjoy!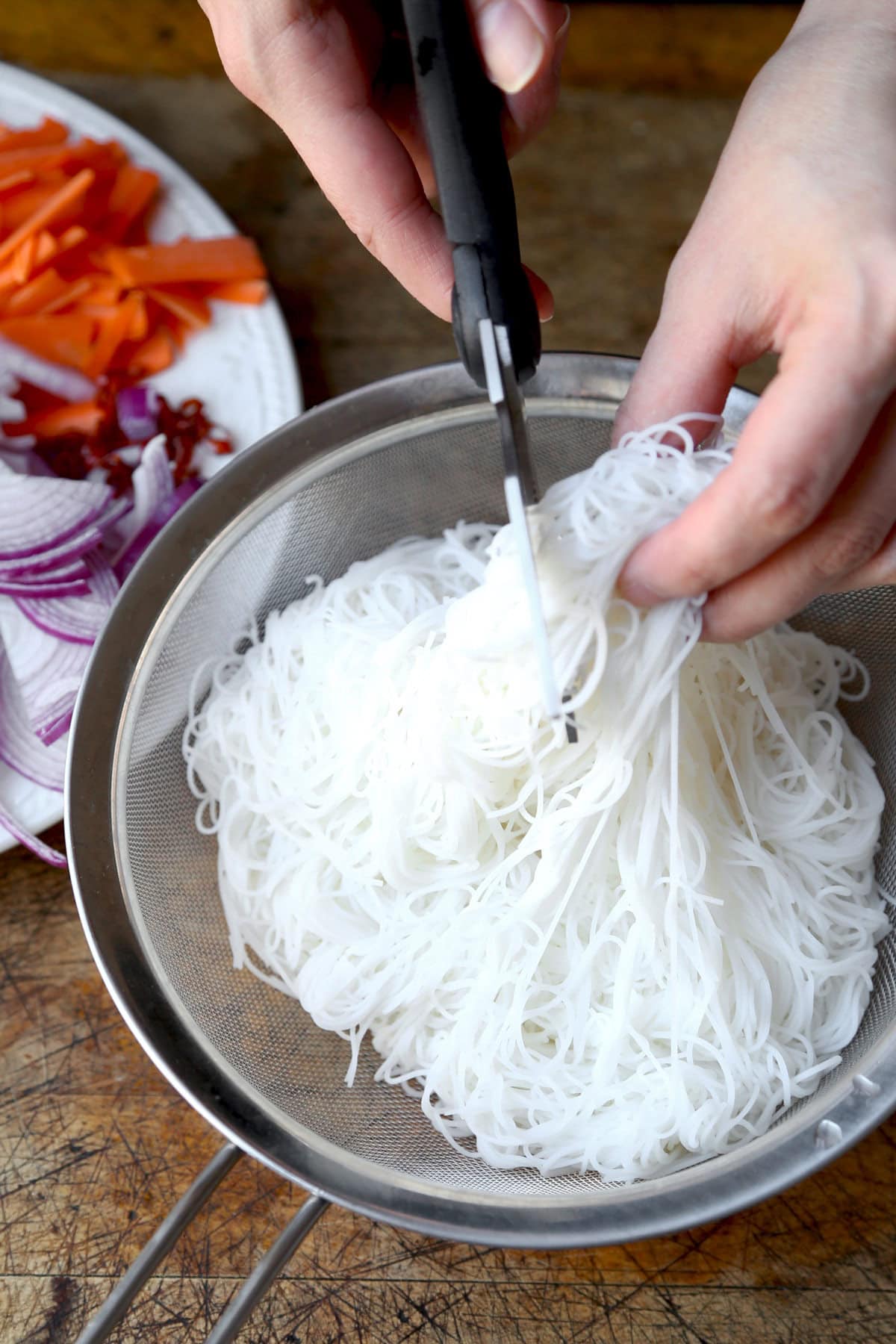 How To Make This Singapore Mei Fun Recipe
For this easy Singapore mei fun recipe, I've swapped pork for turkey bacon as a healthier alternative.
I find that Chinese food can sometimes be very oily, which can ruin the dish for me. The same goes for lower quality meats that are 80% fat and 20% meat. I would rather omit this ingredient entirely and replace it with something like low fat turkey bacon, tofu or simply add more vegetables.
The first step I take when making these Singapore noodles at home is to soak the noodles.
Make sure that the rice noodles don't sit in the water for too long. You want them to be al dente since you will be stir frying them in the pan with the other ingredients just before serving. Drain them well and set aside.
Add the shrimp and turkey bacon in a hot pan coated with a bit of oil. After 30 seconds or so, add the cabbage, carrot, red onion, dried red chili peppers and half of the scallions. Stir fry the mixture for 4 to 5 minutes.
Add the curry powder and stir well.
Add the rice noodles, salt, rice wine vinegar,

sesame oil

and soy sauce. Toss everything gently to prevent the noodles from breaking and turn the heat off.
Season with some ground white pepper and top with the remaining scallions. Enjoy!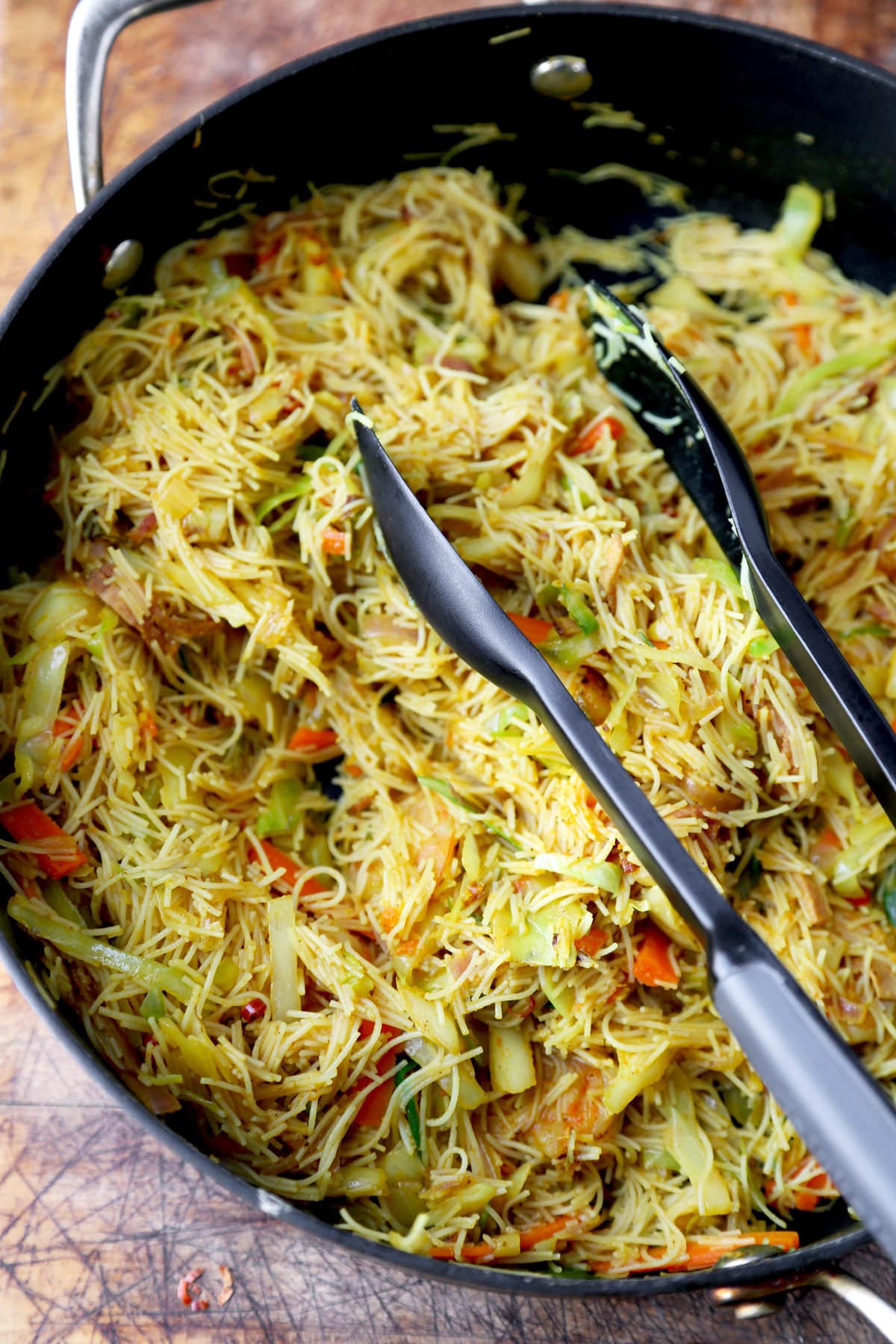 Wok vs Sauté Pan
As you can tell by the pictures, at the time of shooting this recipe, I didn't own a wok. Sad face. It was an oversight I soon corrected 🙂
And, while it's not necessary to use a wok to make this curry loaded Singapore chow mei fun recipe (a regular sauté pan will do just fine), it's a lot more fun and effective.
You see, the sloped sides are great for conducting heat from a gas range up the side of the pan. So even while you're tossing the noodles, they're receiving heat.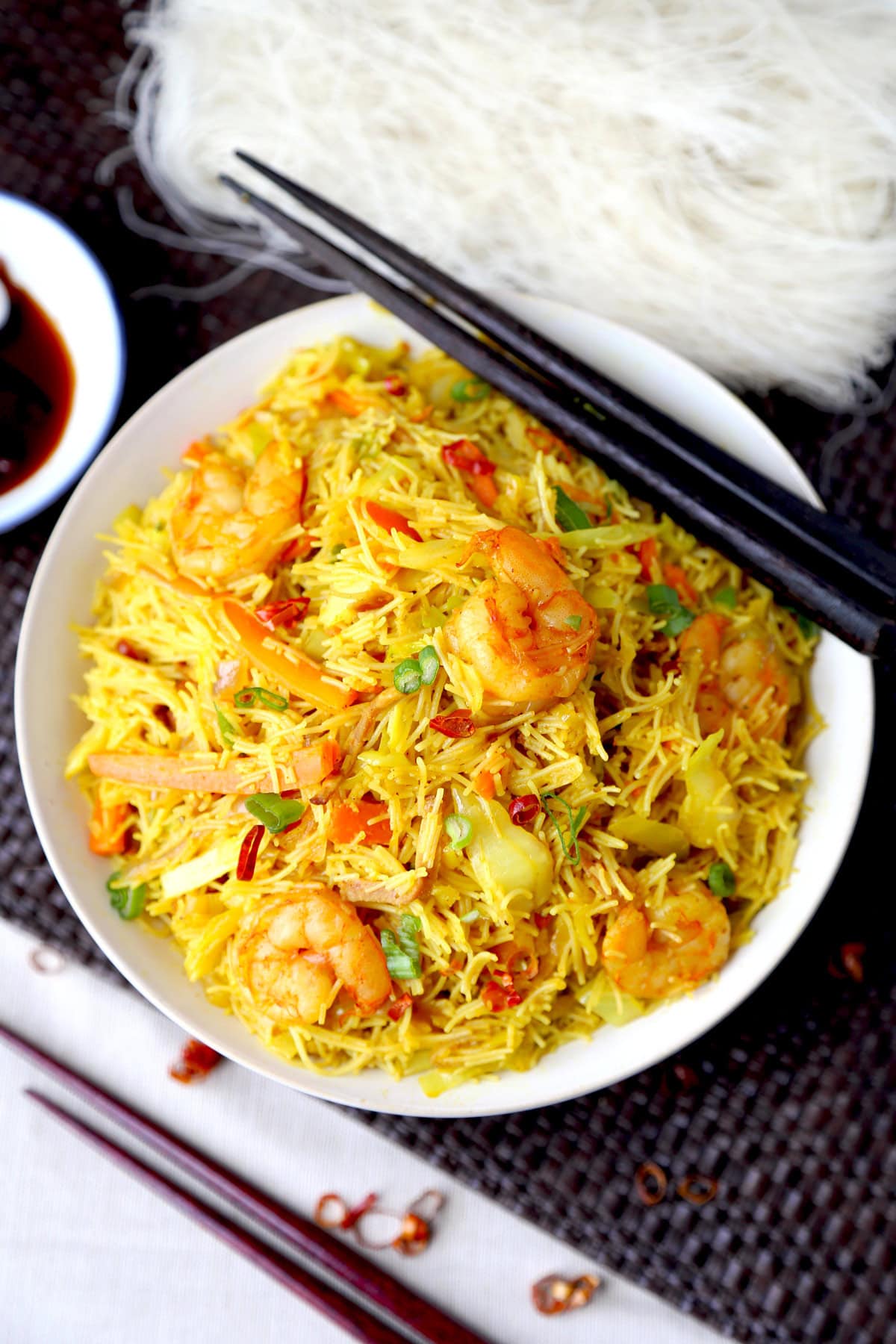 Variations of This Dish
It's pretty common to see quite a few ingredients in a curry laden order of Singapore noodles.
And, while pork and shrimp mei fun seems to be the industry standard, you wouldn't be hard pressed to find chicken mei fun or beef mei fun on a menu at some Chinese restaurants in the US.
Also, making Singapore chow mei fun at home can present a great opportunity to clear out some of your leftovers from the fridge. You see, as long as you nail the flavor the noodles tend to taste great with just about anything you decide to toss in.
It's not uncommon for me to use this recipe as a clearing house for a ton of veggies before they expire. Just empty the crisper and you're good to go. A simple vegetable mei fun is super delicious!
You can make this chow mei fun recipe ahead of time and give it a quick zap in the microwave before serving. It has plenty of flavor on its own but also makes a great companion to other Chinese based dishes such as:
So fire up the wok and, instead of delivery, make an eat-in feast of all your Chinese takeout favorites at home!
Whether you make it with chicken, shrimp, pork, tofu (or all of the above), the smoky and savory heat of this Singapore chow mei fun recipe is always a hit.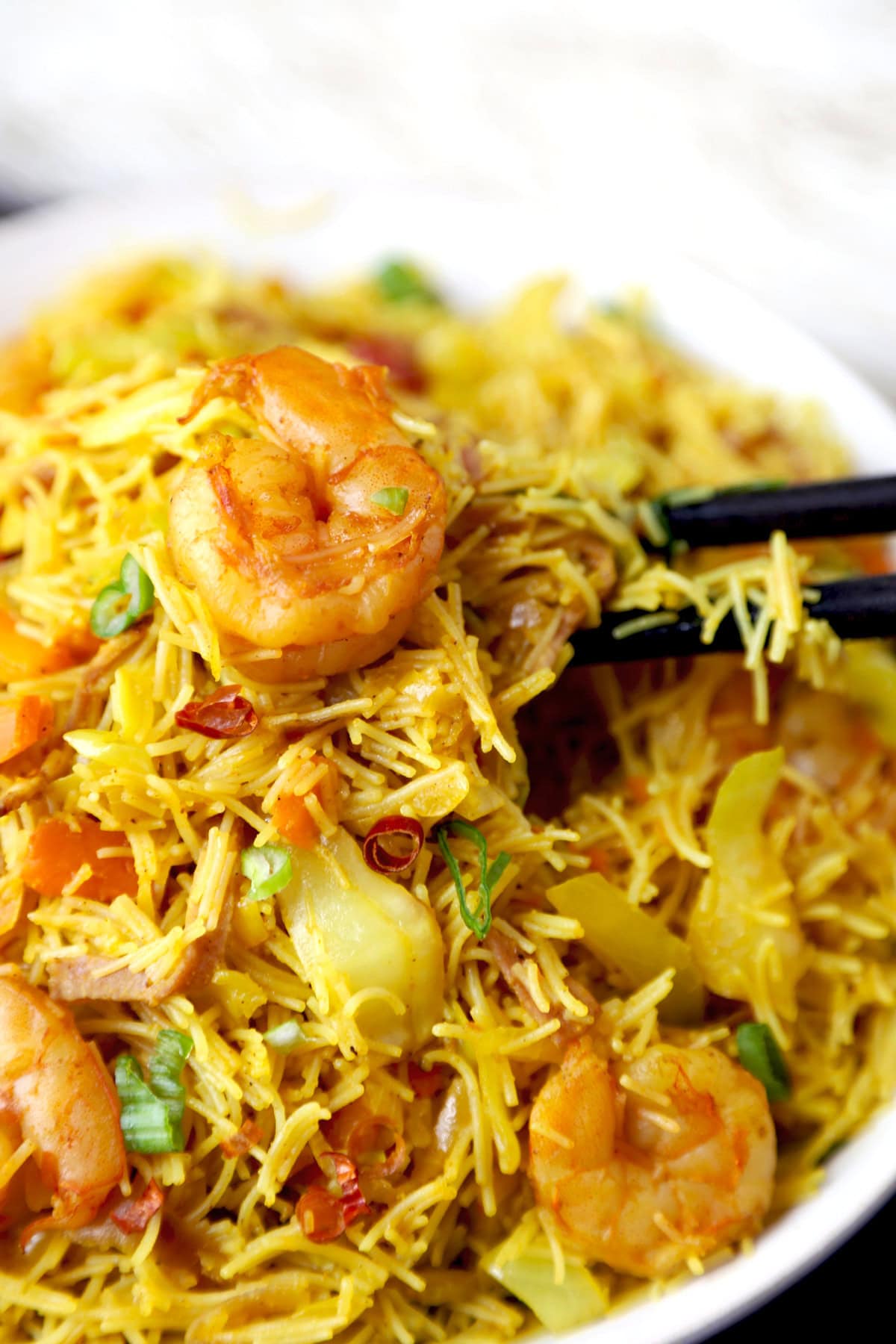 Other simple, delicious Asian noodle recipes:
---
Print
Singapore Chow Mei Fun
This is a simplified and better than takeout Singapore chow mei fun recipe your whole family will love. Ready in 20 minutes from start to finish!
Author: Caroline Phelps
Prep Time:

13 minutes

Cook Time:

7 minutes

Total Time:

20 minutes

Yield:

4

people

1

x
Category:

Stir fry

Method:

Stir frying

Cuisine:

Chinese
1 tablespoon

vegetable or canola oil

10

large shrimp (peeled and deveined)

3

strips turkey bacon (sliced into bite size strips)

2

cups

cabbage (shredded)

1

carrot (sliced into thin strips)

1

small red onion (thinly sliced into half moons)

2

dried red chili peppers (roughly chopped)

3

stalks scallions (roughly chopped)

1 1/2 tablespoons

curry powder

130

grams

dried rice noodles

1/2 teaspoon

kosher salt

1 tablespoon

rice wine vinegar

1 teaspoon

sesame oil

1 1/2 tablespoons

soy sauce
ground white pepper
Instructions
Soak rice noodles in hot water for 7-8 minutes, until they are al dente – you don't want them cooked all the way through since you will finish them in the wok (or pan).
Drain noodles and use scissors to cut them into lengths that are easy to eat. Set aside.
In a wok or large pan over high heat, add oil. When the oil is hot, add shrimp and turkey bacon and cook for 30 seconds.
Add cabbage, carrot, red onion, dried red chili peppers and

half

of the scallions, and cook for 4 minutes, stirring often.
Add curry powder and stir.
Add rice noodles, salt, rice wine vinegar, sesame oil and soy sauce, and gently mix.
Turn the heat off and transfer chow mei fun to a plate or bowl.
Season with ground white pepper, top with remaining scallions and serve.
Notes
This Singapore Chow Mei Fun Recipe Is:
Very high in vitamin A
High in vitamin C
Nutrition
Serving Size:
Calories:

224

Sugar:

6.2 g

Sodium:

856 mg

Fat:

4.4 g

Saturated Fat:

1.1 g

Carbohydrates:

39.8 g

Fiber:

4.6 g

Protein:

7.1 g

Cholesterol:

23.5 mg
Keywords: recipe, Chinese, Asian, noodles, main
Recipe Card powered by