Sweet and Sour Tofu
*This post may contain affiliate links. Read my disclaimer here.
This is how to make tofu taste good – toss crispy tofu cubes with bell peppers in a sweet and sour sauce and serve with a side of steamed white rice. This is an easy sweet and sour vegan tofu recipe that is way better than Chinese takeout! Plus, it's ready in just 20 minutes!
Sweet and Sour Tofu (Vegan)
These past three weeks flew by so quickly, it always seems to go by faster when I'm in Japan.
This time Ben and I took my mother to Okinawa for a little R&R. We picked a quiet resort by the beach because we wanted to unplug from everything and forget about work and responsibilities. The weather was heavenly, the water as clear as can be and the food, simply exquisite! We were there for just a few days but it was long enough for all of us to fall in love with Okinawa.
If you have a chance to go, go! It's as beautiful as Hawaii and the people are incredibly warm and also funny!
We spent the remaining of our stay in Tenjin, the biggest city in Fukuoka, going to the movie theater, a baseball game (go Hawks!), drinking tea with my mother's friends, shopping and eating the best food in the world. Fukuoka is renowned for its cuisine and I have to agree that it's hard to beat it!
I've been back in Brooklyn for a few days now, feeling sleepy from the jet lag and craving Chinese food. But not just any type of Chinese food – I want a big bowl of vegan sweet and sour tofu. YUM!
And since there aren't many restaurants who offer a good version of it, I've decided to make it myself.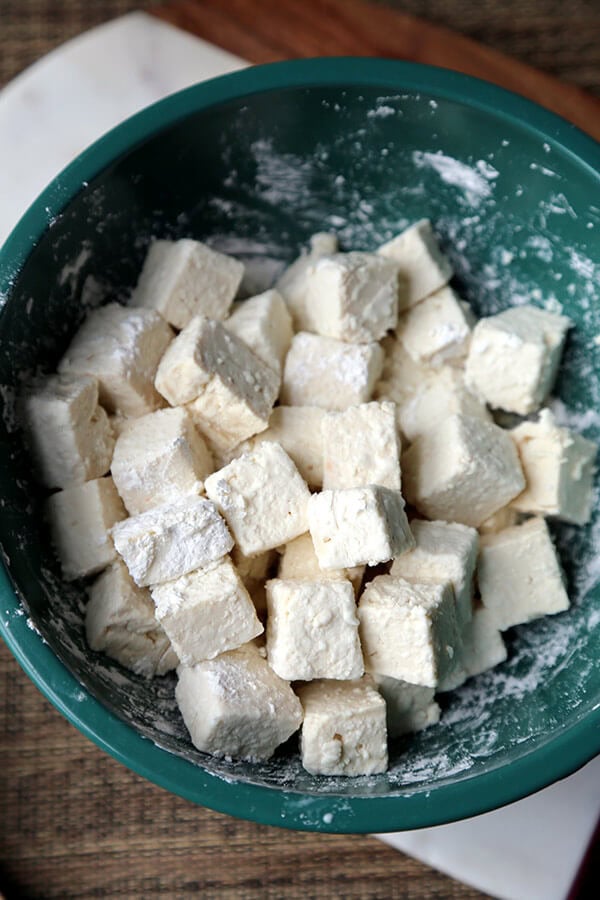 Cooking With Tofu
Cooking with tofu is very easy since it's such a versatile ingredient. You can marinate tofu (I have a yummy London broil tofu marinade), deep fry, stir fry, sautee, boil, steam, bake, freeze, blend or even eat it raw. Tofu can be used as the main ingredient of a dish – like in this dish – or as part of a dish. I often add it to my smoothies as a healthier substitute to dairy to mimic the creamy texture. You can check out my post – 25 Tofu Recipes That Will Make You Rethink Meat – for ideas on how and ways to cook with tofu.
The more I cook with tofu and the more I understand why it's such an important staple in Asian cooking. Some will say it has no taste but I beg to differ – tofu has a delicate sweetness that pairs beautifully with umami!
How To Prepare Tofu
The first thing to do when cooking with tofu is to drain it properly.
Since tofu has a high water content, you want to try to remove as much of it as you can to avoid a watery stir fry or salad. Silken tofu in particular is very high in water. To do this you can let the tofu block rest on a plate for 15 minutes (that's a traditional way to do it in Japan), roll it in paper towel and change it a few times, or you can use a tofu press like this one:
For medium firm and firm tofu, you can slice the block into bite size piece on a cutting board and proceed with your recipe. Silken tofu on the other hand is a bit trickier since it's so delicate. I recommend slicing the tofu on a plate or on a surface that's smooth. I've seen people holding the block in the palm of their hand and do it that way but that seems a little too dangerous for me. I prefer sticking to the plate method.
How To Make Tofu Crispy
Sweet and sour tofu takes less than 20 minutes to make and hits the spot if you are craving sweet and gooey American Chinese food. As you know, I love using the dust and quick fry method with tofu because it gives it a nice, crispy texture while keeping the cubes moist and silky on the inside.
It's the best!
The method is very simple; once the tofu block is drained properly, slice it into bite size cubes and dust each cube with corn starch so that all the sides are coated. Grab a pan, turn the heat up to high and add about 2 tablespoons of oil (neutral flavor is better for this recipe). Swirl the oil around to cover the pan and when the oil is hot, almost smoking, add a few tofu cubes.
Be careful not to overcrowd the pan as this will lower the cooking temperature and prevent the tofu from getting crispy. Cook each side until golden and transfer the cubes to a plate.
Works like a charm! What you will end up with are crispy on the outside, tender and soft on the inside tofu cubes.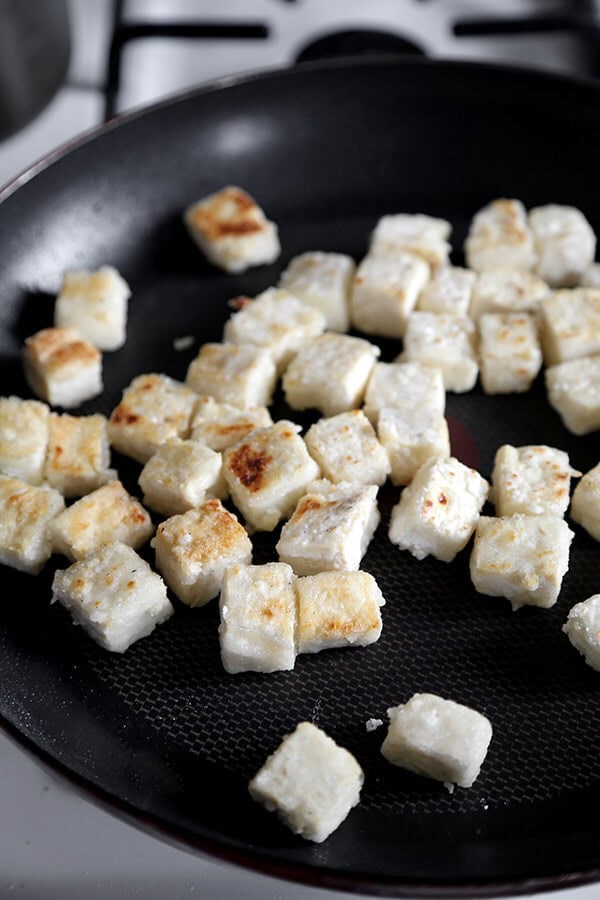 Is Tofu Gluten Free?
While tofu itself is gluten free, some farmers will grow wheat and soy using the same equipment for both. Because of that, it's always a good idea to check for a Certified Gluten-Free label before buying tofu.
My two favorite gluten free brands are:
Vegan Sweet and Sour Tofu
Transitioning into a vegan diet or a more plant based one?
You are going to love this recipe!
This is the perfect recipe to get you started because it doesn't lack any flavor, you won't miss the meat I promise! It's one of those tofu dishes that tofu skeptics would fall in love with. The colors are enticing, the Asian sauce is tangy and sweet and you have the perfect balance between tender bell peppers and crispy tofu. You don't realize you are eating a vegan meal unless someone tells you – even kids are crazy about this dish!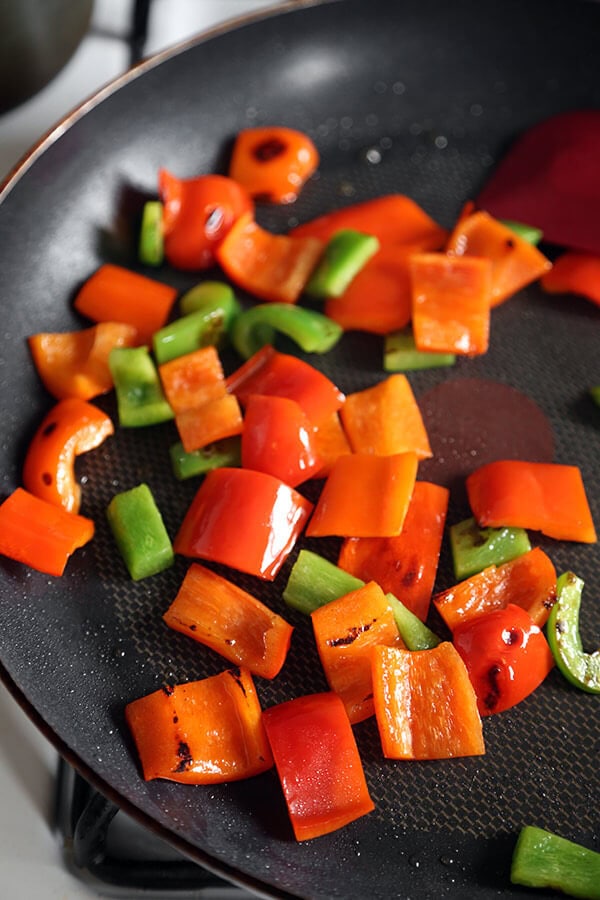 Using Tofu in Stir Fries
I have a natural tendency to prefer dishes that are on the lighter side which is why I will pick tofu over meat 90% of the time. But the type of tofu I use in stir fries is different than just plain regular firm tofu. I use smoked tofu because of its compressed texture that reminds me of the texture of meat. You can slice smoked tofu and it won't fall apart which means it can withstand being tossed around in a pan with vegetables.
Smoked tofu is smoked in tea leaves and is so dense that it almost looks like cheese. It has a golden hue and tastes like the name says it – smoked. You can find this type of tofu in Chinese or Asian grocery stores.
How Long Does Tofu Last?
Tofu that has not been opened can keep in the fridge until one or two weeks past the expiration date written on the label.
Once opened it will keep refrigerate for 3-5 days if left in a regular Tupperware container.
The best way to preserve tofu is by putting it in a tofu storage container. Since I cook with tofu all the time, the one I purchased gets plenty of use. It comes with a strainer to keep the tofu dry, which extends its life shelf to about 1 week.
This sweet and sour tofu tastes best when served fresh and hot because of the crispy tofu cubes. You can cook it in advance and take it to lunch the next day but I can't guarantee you'll get the same Oh-my-gosh-this-is-so-amazing reaction as you would if you ate it right out of the pan. Serve it with hot rice or on its own with a light salad on the side.
Other delicious, Chinese tofu recipes: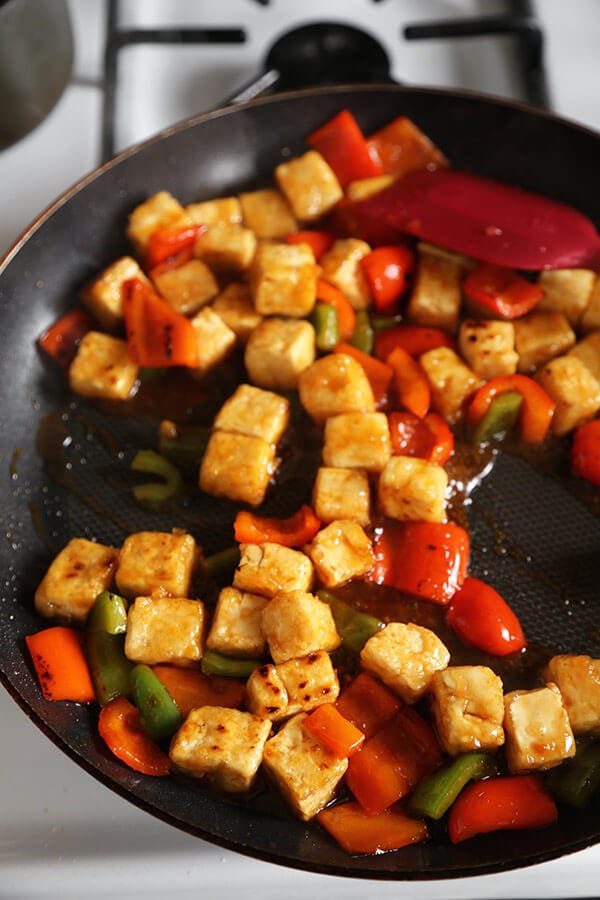 Did you like this Sweet and Sour Tofu Recipe? Are there changes you made that you would like to share? Share your tips and recommendations in the comments section below!
Serve this recipe with a side of Japanese rice. Watch our video on How To Make Japanese Rice the stove top or rice cooker method!
---
Print
Vegan Sweet and Sour Tofu
This sweet and sour tofu recipe is a quick and tasy dinner option that's much better than takeout – and is ready in just 20 minutes!
Author: Caroline Phelps
Prep Time:

10 minutes

Cook Time:

10 minutes

Total Time:

20 minutes

Yield:

4

people

1

x
Category:

Vegan

Method:

Stir frying

Cuisine:

Chinese
14 ounces

medium firm tofu

1

red bell pepper (cored and chopped into bite size pieces)

1

green bell pepper (cored and chopped into bite size pieces)

2 tablespoons

vegetable oil
cornstarch for dusting
For the Sweet and Sour Sauce:
3 tablespoons

brown sugar

1/4 teaspoon

salt

1 tablespoon

ketchup

1 tablespoon

soy sauce

3 tablespoons

rice vinegar or cider vinegar

1/3 cup

water
Instructions
Whisk all the ingredients for the sweet and sour sauce (until sugar has dissolved) in a bowl and set aside.
Drain tofu and wrap in paper towel or tea towel to remove excess water. Repeat 3 to 4 times until the tofu is drier. Slice tofu into 1 inch cubes.
Dust tofu with potato starch until all sides are well coated.
In a large pan over high heat, add oil and tofu and fry until all sides are slightly golden (about 7 minutes). Transfer tofu to a plate and set aside.
Add red and green bell pepper to the pan and cook for 3-5 minutes, until peppers have softened but still yield a crunch.
Return tofu to the pan, add sauce and stir until tofu and bell peppers are coated.
Turn the heat off, transfer to a plate and serve.
Notes
Keywords: recipe, Asian, tofu, vegetarian, plant based, meatless
Recipe Card powered by
Pickled Plum is a participant in the Amazon Services LLC Associates Program, an affiliate advertising program designed to provide a means for sites to earn advertising fees by advertising and linking to amazon.com.