Tofu can be so versatile and delicious when it's prepared the right way. These 30 tofu recipes are proof that there is nothing boring about bean curd! The list include vegan dishes as well as some that are vegetarian and pescatarian.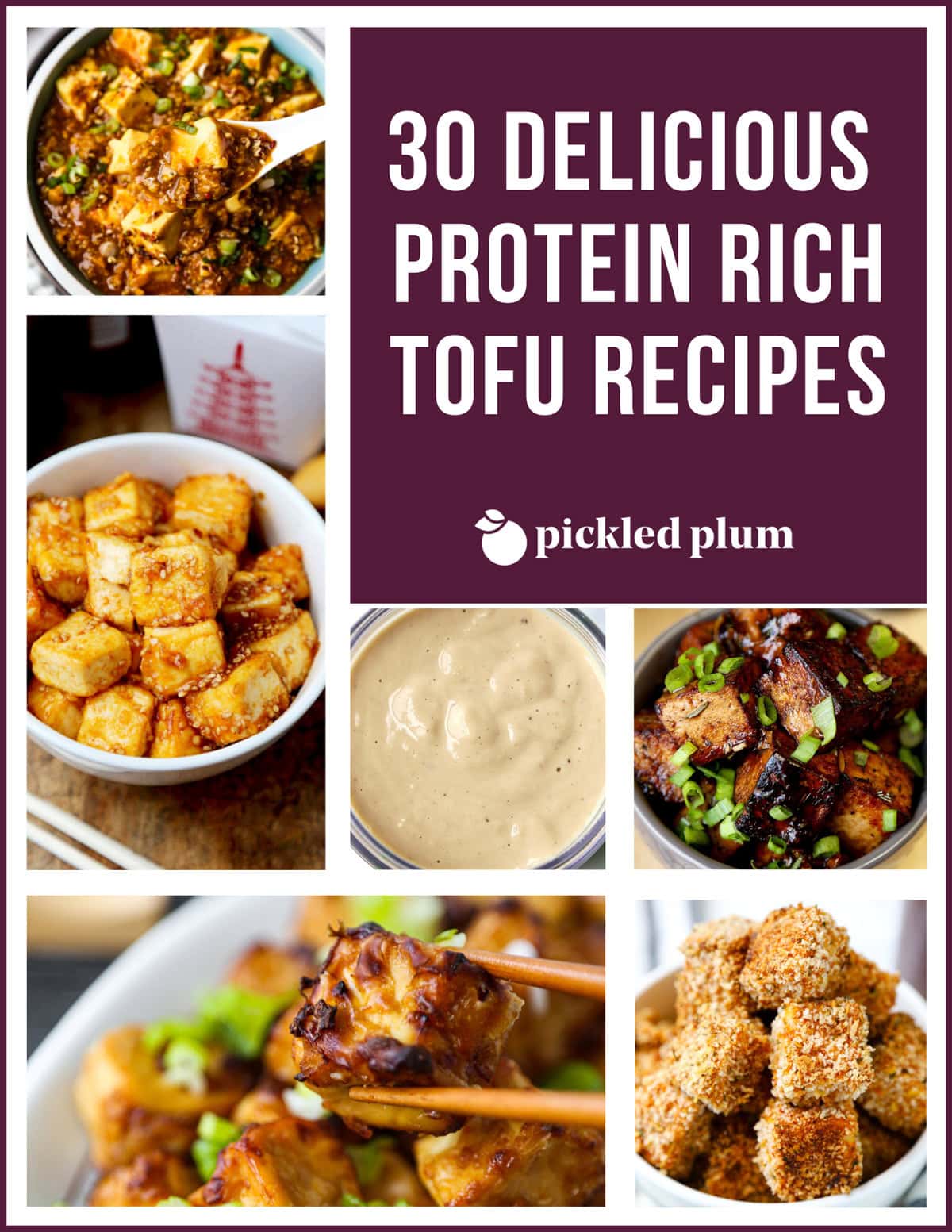 Tofu is a versatile ingredient that can be used in a variety of dishes such as stir fries and stews, as a meat replacement, because of its high protein content. It's also a great dairy substitutes for desserts like puddings and cakes, and drinks like shakes and smoothies. I always have a few blocks of firm and silken tofu in my pantry because I cook with tofu every week.
If you are looking to cut down on meat or dairy, then getting familiar with tofu and learning the best ways to make it shine will become an asset in your kitchen. You'll be an expert a cooking and creating your own tofu recipes in no time!
What is Tofu?
Tofu (豆腐), or bean curd, is made by clotting soy milk and pressing the curds into white blocks of various levels of softness. For example, silken tofu, which is the softest kind, is often used in soups, as a side dish dressed in a light sauce, or can also be blended into drinks or to make various desserts. that are used in main dishes such as soups, stews, and stir fries, and in desserts. The firmer types of tofu are used as a protein for stir fries and stews, or used as a topping for rice bowls and salads.
Tofu originated in China and has been used in Chinese, Singaporean, Taiwanese, Japanese, Korean, Thai, and Vietnamese cuisine for centuries. It's only the last few decades that it has become a popular ingredient to use in western cuisine, and has been making an appearance on restaurant menus more frequently.
Here Are 30 Different and Delicious Ways to Cook with Tofu!
Vegan Tofu Recipes
Vegetarian and Pescatarian Tofu Recipes
How to Store Tofu
This method is for plain tofu that hasn't been cooked or seasoned.
To help the bean curd last longer than 2 to 3 days, I recommend transferring the tofu to a storage container and filling it with water, until slightly above the tofu. This will keep the tofu hydrated (tofu is made of 80% water) which will give it a longer shelf life. Close the container with an airtight lid and refrigerate for up to 5 days. Make sure to change the water every 24 hours to keep the tofu as fresh as possible, and to prevent bacteria from forming.
I hope you enjoy these tofu recipes!
Print