This spiced up Southwestern Style Baked Tofu Steaks is the best because it's assertive in the flavor department, hearty like meat – and easy to make for any home chef.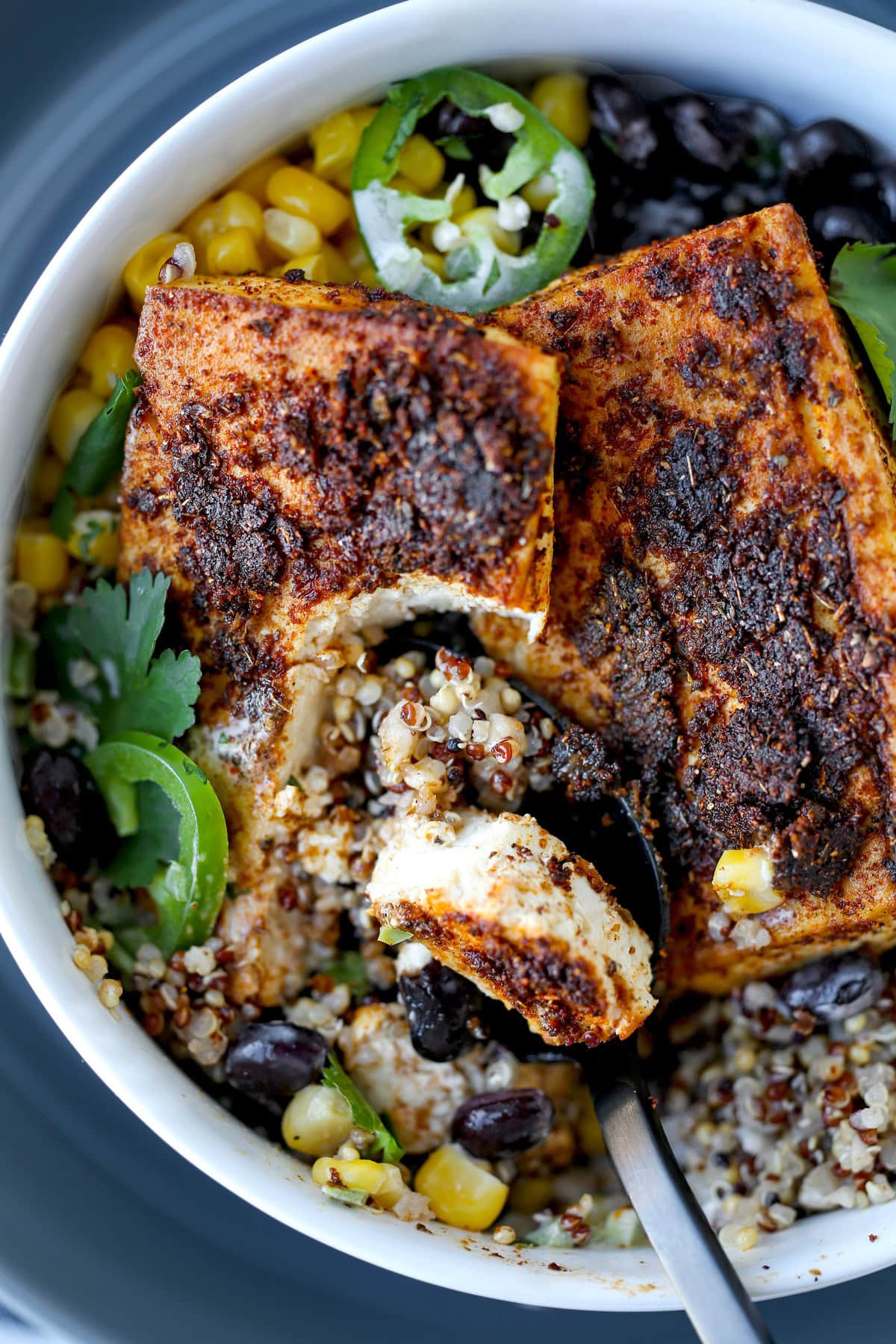 Southwestern Style Baked Tofu Steaks
It never ceases to amaze me what a wonderful unpainted canvas tofu can be. That blank slate allows me unlimited power in the kitchen as I can infuse any flavor to it, mild or strong.
It's one of those rare ingredients that you can totally bend to your will (and your taste), which is why it's so fun to cook with.
So – whether I'm making a comforting mapo tofu, creating something fun like these tofu edamame 'fish' cakes – or baking the Southwestern style baked tofu steaks I have for you in this post, cooking with tofu is anything but boring.
This is a favorite recipe of mine to share just how flavorful tofu can actually be!
Place these flavorful tofu steaks over a bowl of white or brown rice—whichever you prefer. While these tofu steaks are already fully spiced, feel free to add a little black pepper too, if you like a little extra heat.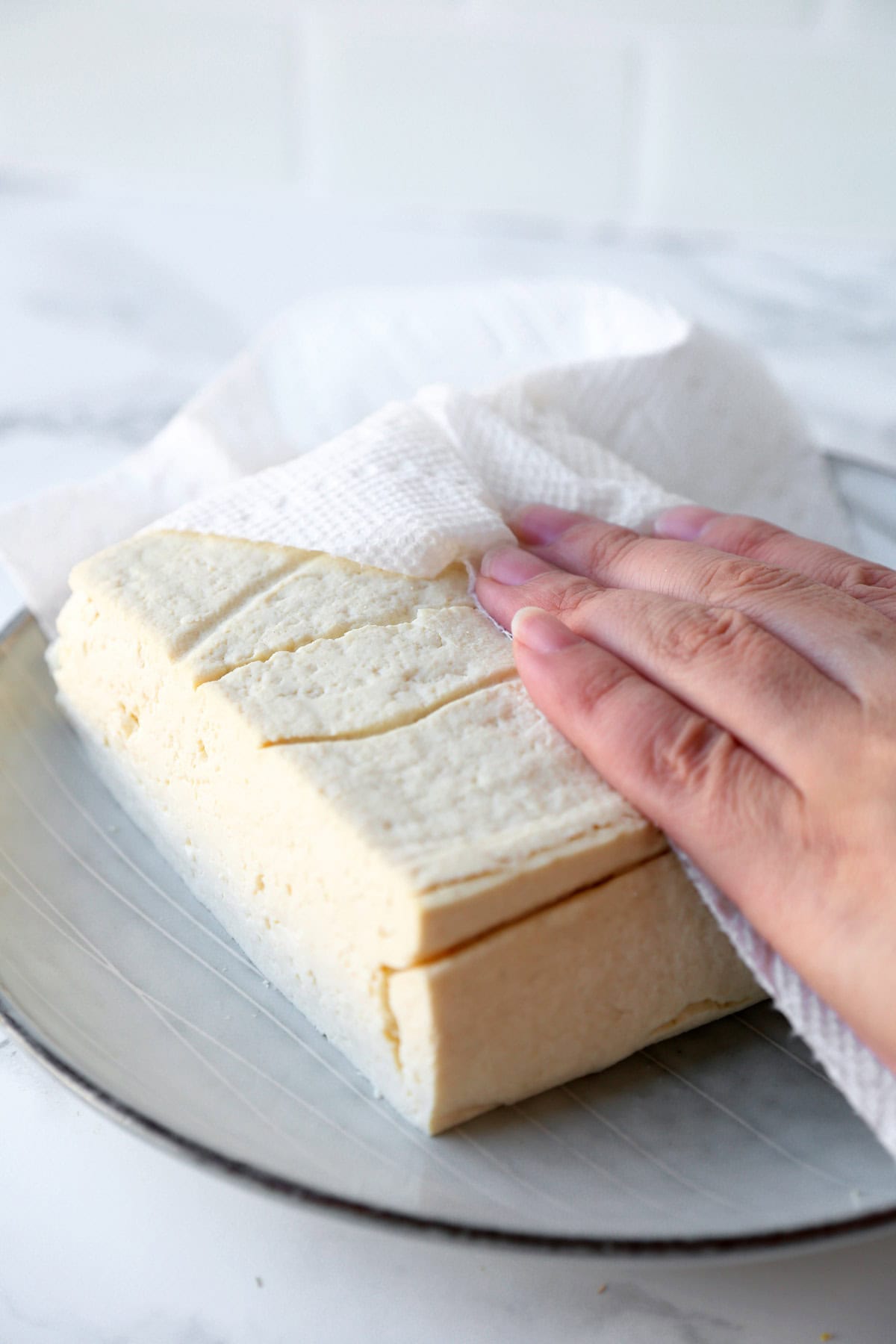 What is Tofu?
A block of tofu is made from dried and ground soybeans. Water is added to produce soy milk. Then the milk is heated and a coagulant is added—which causes curds to form. These curds are pressed into blocks which form the tofu we find in the square containers at the grocery store. You'll hear tofu referred to as bean curd pretty regularly—and considering the process in which it is made, that isn't so surprising!
High in protein and calcium, tofu has been a long running staple in Asian recipes and diets. It has also become super prevalent in Western vegetarian and vegan diets over the past few decades as a delicious meat-free protein option.
The stuff at the store usually runs the gamut, texturally speaking, from silken to extra-firm tofu. Like the name implies, silken tofu is soft. Silken tofu is mostly used in soups like miso soup, added to stews like Korean spicy tofu stew (soondubu), or served cold like this traditional Japanese hiyayakko.
Firm and extra firm tofu, on the other hand, have a tougher texture because they have been pressed and (they contain less water). They are often marinated and served in bigger pieces like these baked tofu steaks, since they can hold their shape well. They are also used as salad toppings or rice bowl toppings, in stir fries, and can be deep fried.
But it doesn't end there. Nope! There are also fermented tofus, smoked tofus – and even noodles you can make from tofu skin (yuba). The options are endless.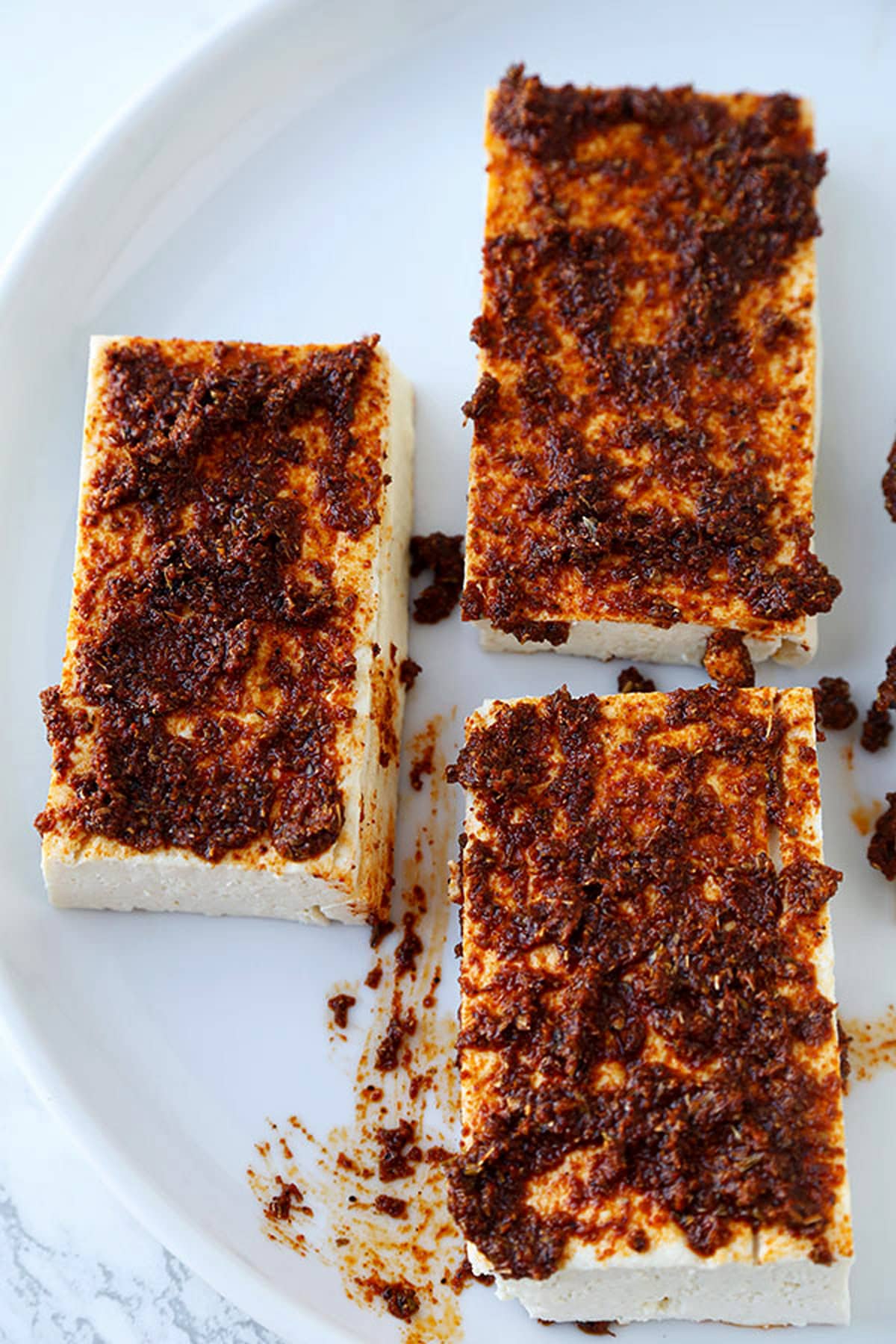 What does tofu taste like?
There's an assumption that tofu is going to taste like whatever you cook it with. And, for the most part, that's pretty accurate.
But high quality silken tofu, which can be found in traditional Japanese restaurants or specialized tofu shops across Japan, taste like the most beautiful soy milk you've ever had. They are exquisite, something to try at least once in your life because they are such a treat to have.
Unfortunately, most of the stuff sold in the US and Canada can be quite tasteless. Therefore, it's best to infuse it with a marinade or dress it up with a sauce.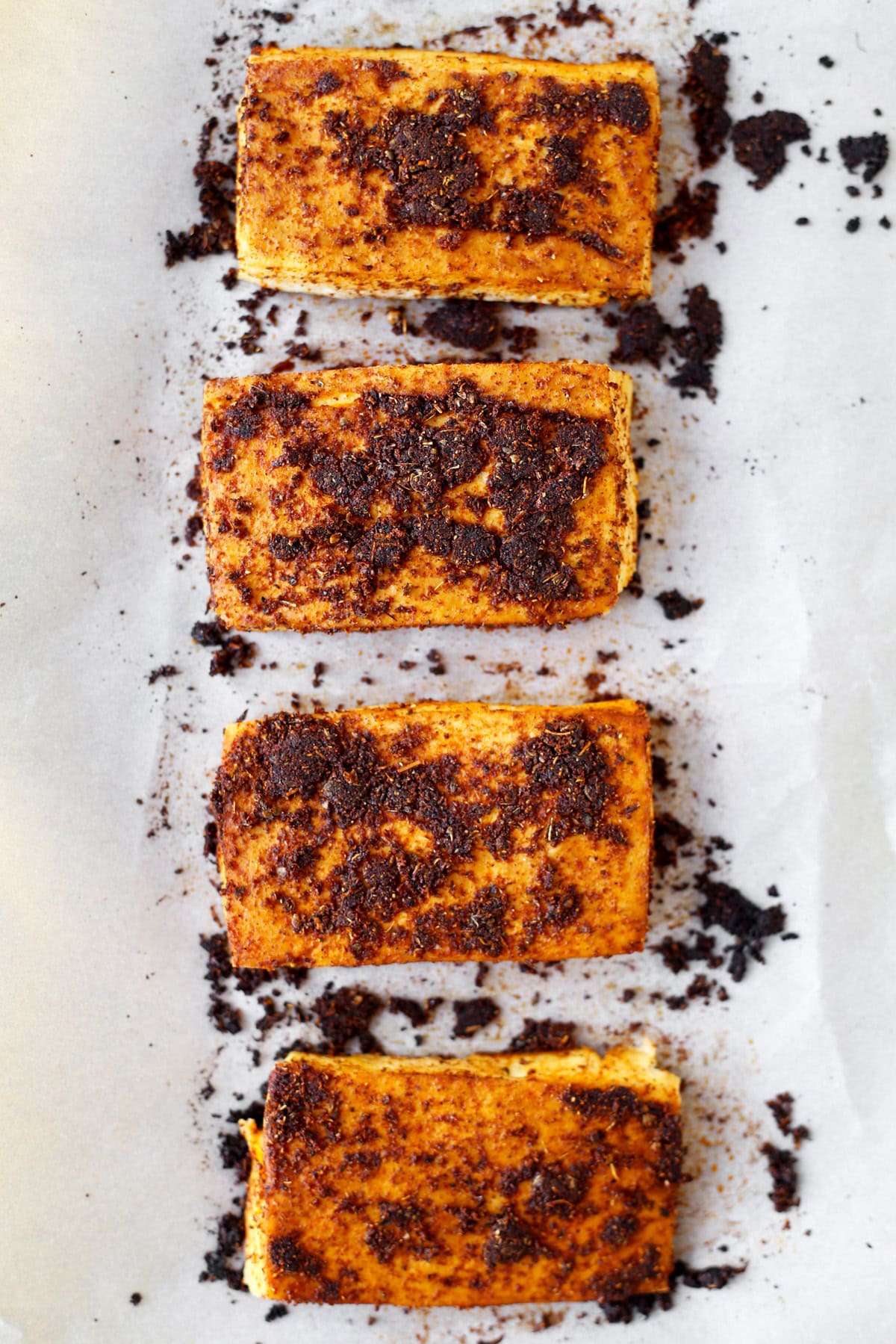 Ingredients for Baked Tofu Steaks
The flavor in question for this baked tofu recipe is due, in large part, to a spice blend. Loaded with cumin, chili powder, garlic and paprika (among others), this spice blend is mixed with a little olive oil and water and spread on the tofu steaks.
It's not quite a marinade, and not quite a dry rub – although there are elements of both.
For this recipe you will need:
Tofu: Look for a block of firm or extra firm tofu.
Southwestern spice mix: A mixture of chili powder, cumin powder, garlic powder, paprika, dried oregano, ground coriander, salt, extra virgin olive oil, and water.
Creamy lime dressing: A mixture of lime juice, mayonnaise (or vegenaise) red wine vinegar, maple syrup, cilantro, and jalapeno.
Additional ingredients: To make it a tofu bowl (full meal), you will need cooked quinoa, black beans, corn, corn tortillas, cilantro, and a jalapeno.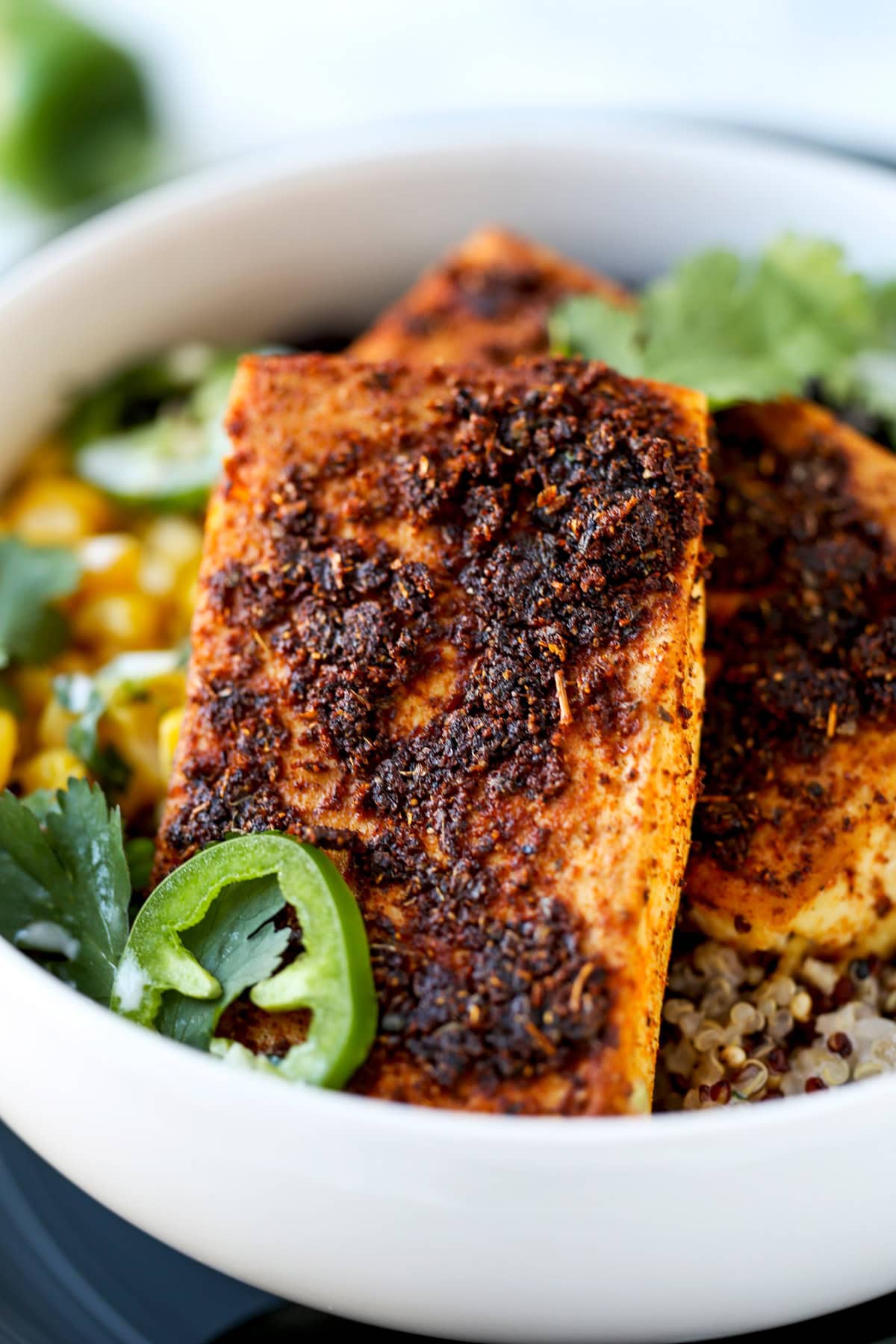 How to Make Southwestern Baked Tofu Steaks
Scroll all the way down to the recipe card for the full recipe.
Gather all of your kitchen tools and ingredients.
Preheat your oven to 400ºF (205ºC).
Drain the tofu and gently wrap it in a tea towel or in a couple of paper towels, to remove excess water. Very gently (be very careful not to break to tofu block) press down on the tofu block to let out some water and repeat 4 to 5 times.
Slice the tofu horizontally in half and in half again widthwise. This will give you four even tofu slices.
Cover a small cooking sheet with parchment paper and lay the tofu steaks on top.
Use a small bowl to mix all the ingredients for the southwestern spice mix and spread it over each tofu steak using the back of a spoon. Flip the steaks over and cover the other side with the marinade.
Let the tofu steaks sit for 45 minutes.
Put the tofu steaks in the oven and bake for 15 minutes. Flip the steaks over and bake for an additional 15 minutes. Season with salt and pepper and enjoy!
Cooking Tofu Steaks in a Pan
If you don't have an oven, or simply prefer to cook your tofu steaks in a pan, here is how to do it:
Use a large nonstick skillet and place it over medium heat (or medium-high heat if it's not a gas stove top).
Place the tofu steaks in the skillet and cook for 5 to 7 minutes on each side, making sure not to burn the spices. Keep an eye on your steaks at all times as the spice mixture can char easily. Turn the heat off and serve.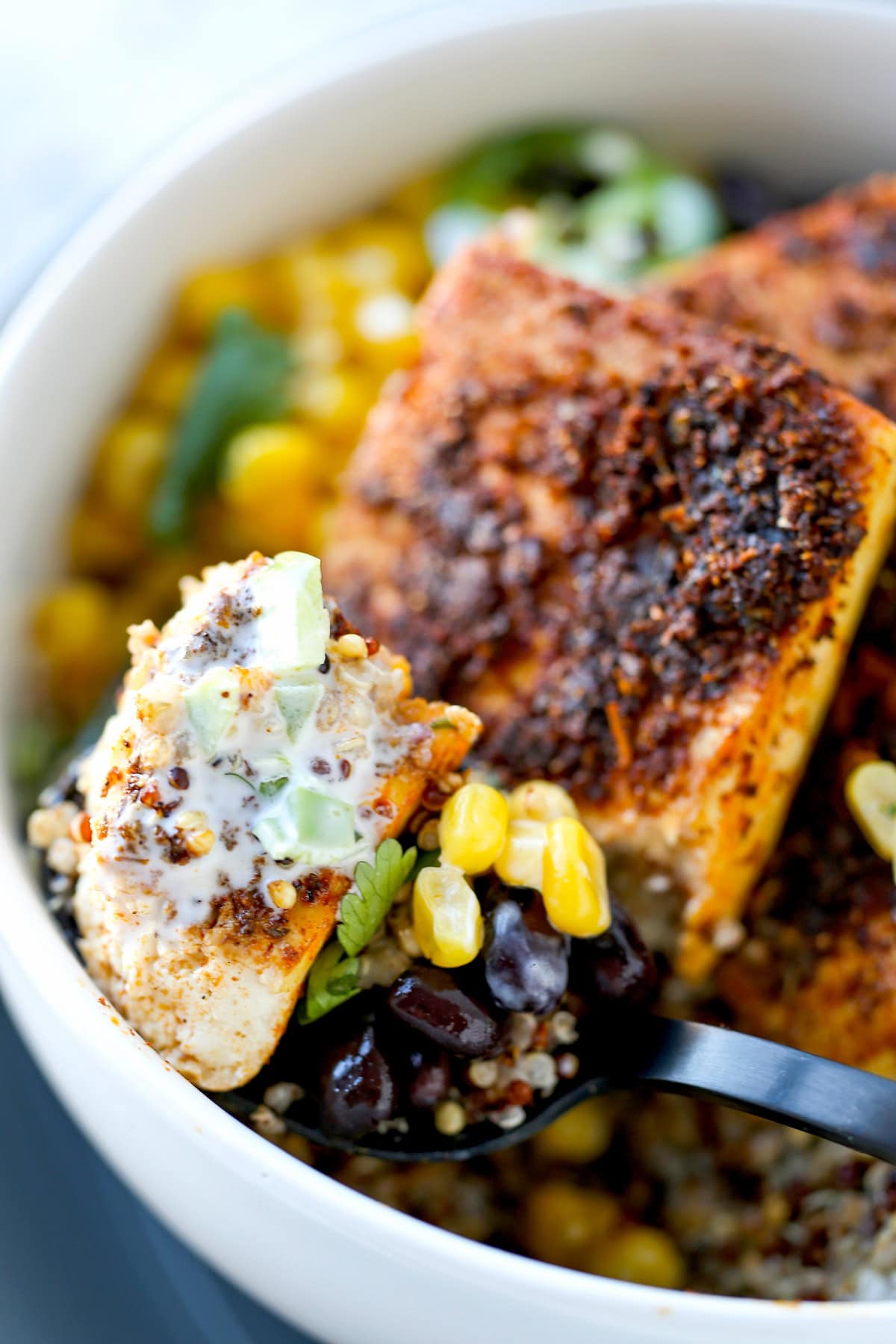 Tofu Nutrition
Tofu is loaded with protein and calcium. But it also delivers good amounts of iron, zinc and potassium as well.
Look for organic, non-GMO tofu
The general rule of thumb I follow when eating tofu is to stick to the stuff made from REAL soy. A few of non-GMO tofu producers I use are House Foods, Morinaga, and Nasoya. Always look at the list of ingredients on the packaging as many brands contain soy protein isolate or genetically engineered soybeans.
There is a ton of information out there about the possible health benefits – as well as the possible health detriments – of eating bean curd. This isn't that article. I'm most certainly not a doctor or a nutritionist, so please take my words as those of a home chef.
When it comes to food I wholeheartedly advocate doing due diligence in the form of research – and then eating accordingly. The big hope is always that the information you find happens to line up with what your taste buds like!
How to Serve these Tofu Steaks
When I made this at home, I whipped up quinoa as a hearty, nutty base for my smoky baked tofu steaks. But feel free to use brown rice or any type of rice or grain you like. This will be the bed upon which you will layer all the delicious flavors for this dish.
Aside from the toppings and sauce listed above, I recommend adding a sliced avocado for extra creaminess.
Other Tofu Recipes You Might Like
Favorite Tofu Recipes From The Blog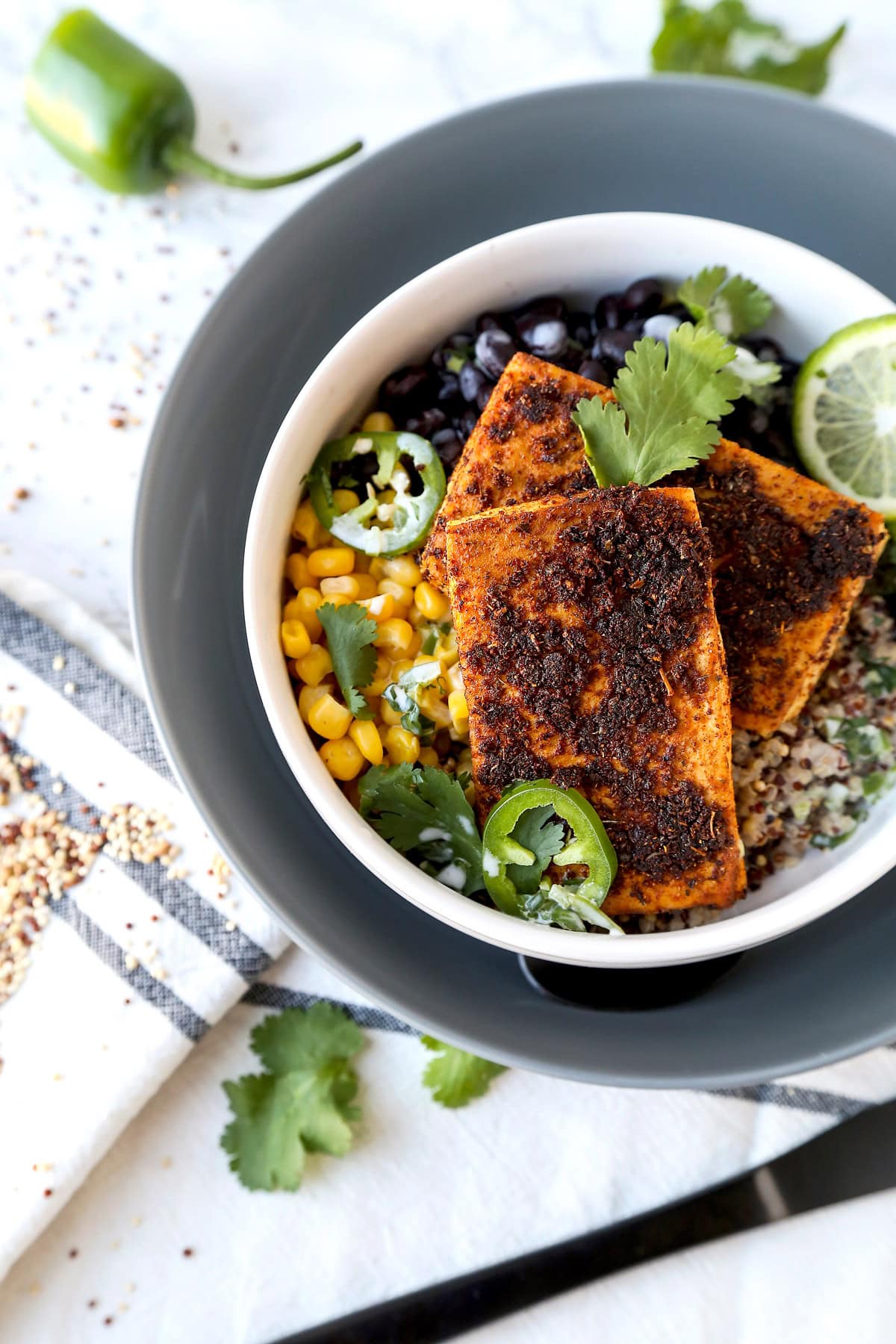 Did you like this Southwestern Style Baked Tofu Steaks Recipe? Are there changes you made that you would like to share? Share your tips and recommendations in the comments section below!
Print
Southwestern Style Baked Tofu Steaks
A recipe for spiced tofu steak you can serve at your next tex mex dinner!
Author: Caroline Phelps
Prep Time:

10 minutes

Cook Time:

30 minutes

Total Time:

70 minutes

Yield:

4

steaks

1

x
Category:

Vegan

Method:

Baking

Cuisine:

American
Southwestern spice mix:
1 tablespoon

chili powder

1 teaspoon

cumin powder

1/2 teaspoon

garlic powder

1 teaspoon

paprika

1/2 tablespoon

dried oregano

1/2 tablespoon

ground coriander

1/2 teaspoon

kosher salt

3 tablespoons

extra virgin olive oil

2 tablespoons

water
Creamy lime dressing (optional):
3 tablespoons

fresh lime juice

3 tablespoons

mayonnaise or vegenaise

2 teaspoon

red wine vinegar

1 teaspoon

100% pure maple syrup

2 tablespoons

cilantro (finely chopped)

1 tablespoon

jalapeno, finely chopped (use less or entirely omit it if you don't like spicy)
Additional ingredients for baked tofu bowl (optional):
black beans
corn
quinoa
fresh cilantro leaves
sliced jalapenos
corn tortillas
Instructions
Preheat oven to 400ºF.
Drain and wrap tofu in a tea towel or paper towel to remove excess water. Very gently (be very careful not to break to tofu block) press to let out some water and repeat 4-5 times. Slice tofu horizontally in half and in half again widthwise. You should have 4 tofu steaks.
Cover a small baking tray with parchment paper and lay tofu on top.
In a small bowl mix all the ingredients for the southwestern spice mix.
Using the back of a spoon, spread southwestern spice mixture on both sides of tofu steaks and set aside for 30-45 minutes to marinade.
Baked tofu in the oven for 15 minutes, flip the steaks and bake for another 15 minutes. Season with salt and pepper and serve.
Notes
Store the leftover tofu steaks in an airtight storage container, for up to 2 days.
Nutrition
Serving Size:

1 tofu steak

Calories:

184

Sugar:

0.5g

Sodium:

353.6mg

Fat:

15.3g

Saturated Fat:

2.1g

Unsaturated Fat:

4g

Trans Fat:

0g

Carbohydrates:

4.3g

Fiber:

1.9g

Protein:

9.3g

Cholesterol:

0mg
Keywords: recipe, bean curd, vegetarian, vegan, plant based, meatless, main
Recipe Card powered by