Filled with ingredients from the sea, soondubu jjigae warms the soul with its spicy, tangy, and smoky flavors. It's the perfect comfort food to enjoy throughout the cold season – and is very easy to make!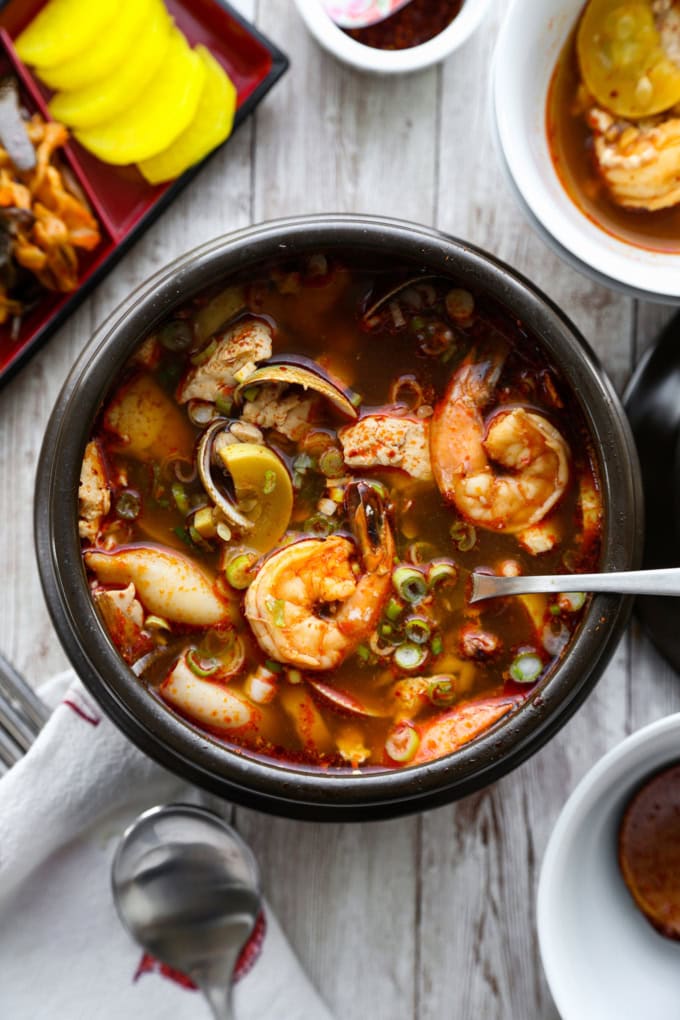 Seafood lovers, you are in for a treat!
Soondubu is one of Korea's most popular dishes and one I crave every time I want briny, sour, and pungent flavors. The stew is made of shellfish and melt-in-your-mouth curds of soft tofu, and served in a spicy anchovy broth peppered with Korean chili flakes.
It's heaven for those who are looking to put their tastebuds in overdrive!
Soondubu jjigae can also be made with pork or beef, but I'm only interested in the seafood version (called Haemul Sundubu Jjigae) because I generally prefer stews that are lighter and energizing.
This soondubu recipe is quite spicy but you can easily control the amount of heat that goes into the broth by adding more or less gochugaru (Korean chili flakes). Let's cook!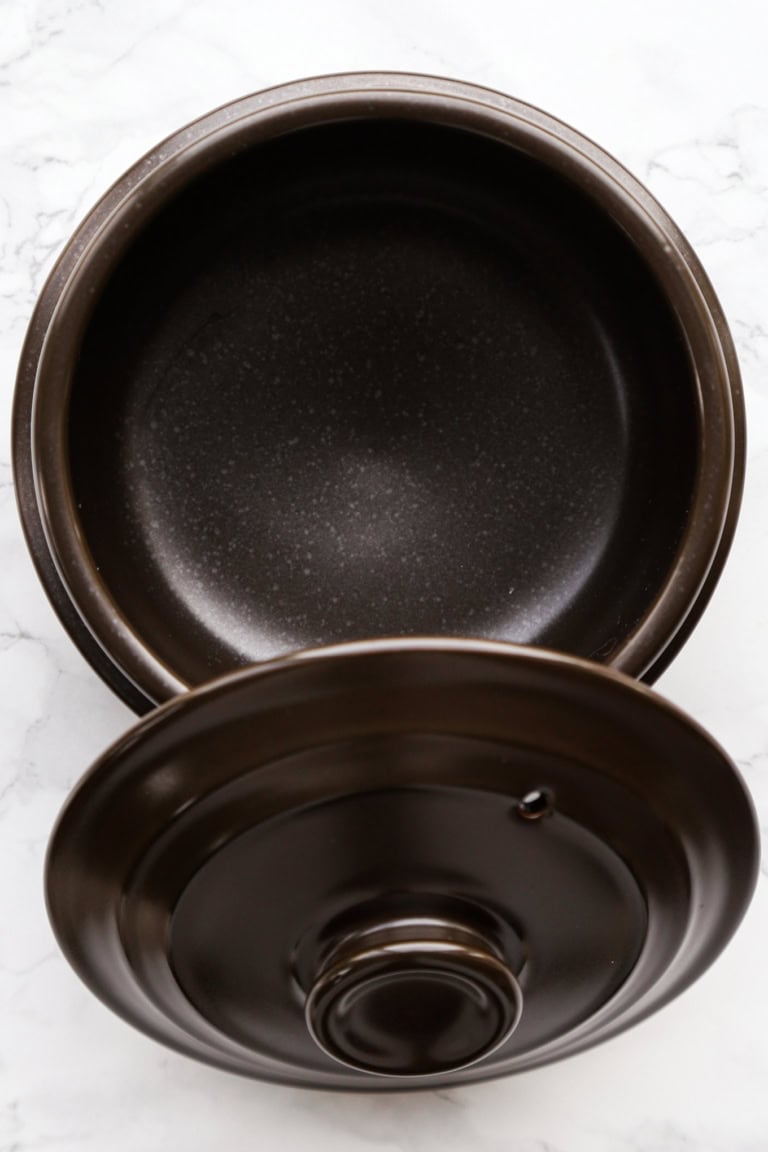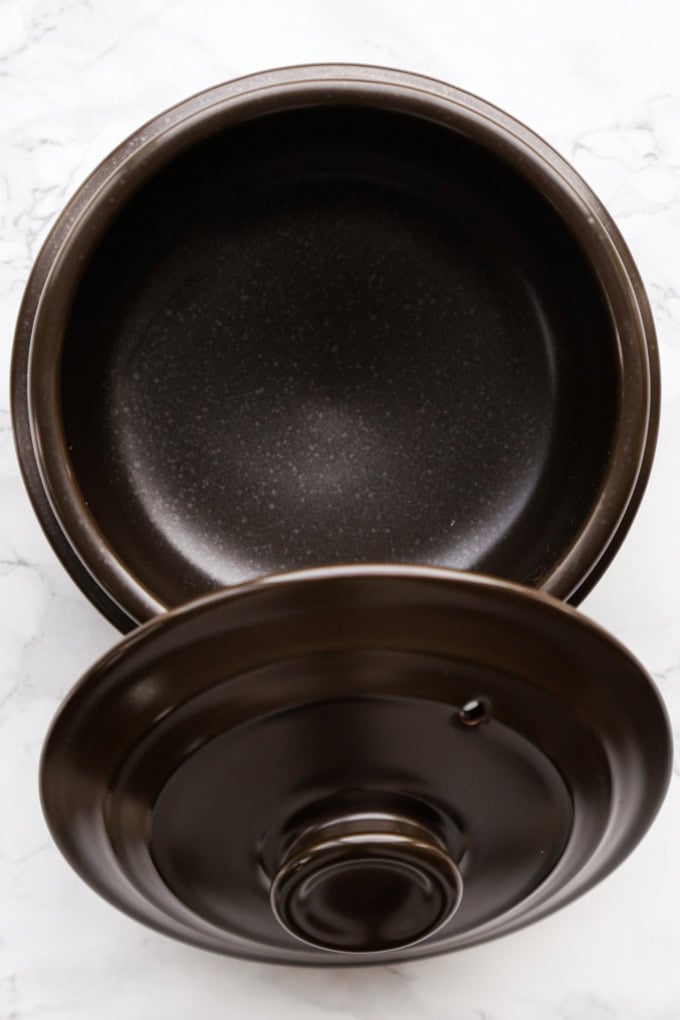 What is Soondubu?
Soondubu jjigae is a spicy Korean tofu stew made with a combination of soft tofu, vegetables, seafood, pork, or beef. It can also be topped with a raw egg and chopped scallions. The stew is cooked over direct flame until bubbling and served in the same pot (made of stone or porcelain).
Kitchen Tools Needed
Small pot
Strainer
Chef's knife
Dolsot Pot Substitute
The best substitute for a dolsot pot is a clay or ceramic pot since both are capable of retaining heat. Just be careful with the change in temperature – just like for a stone pot, it's important to slowly increase or decrease the temperature to prevent the pot from cracking.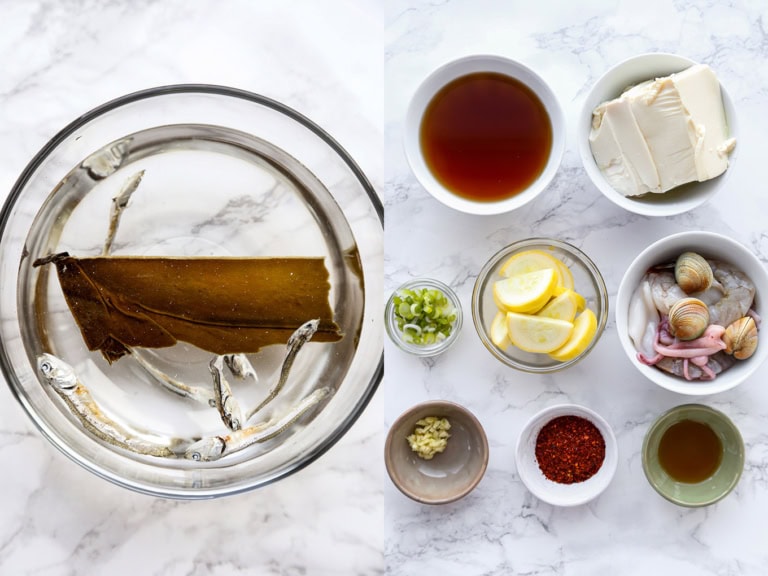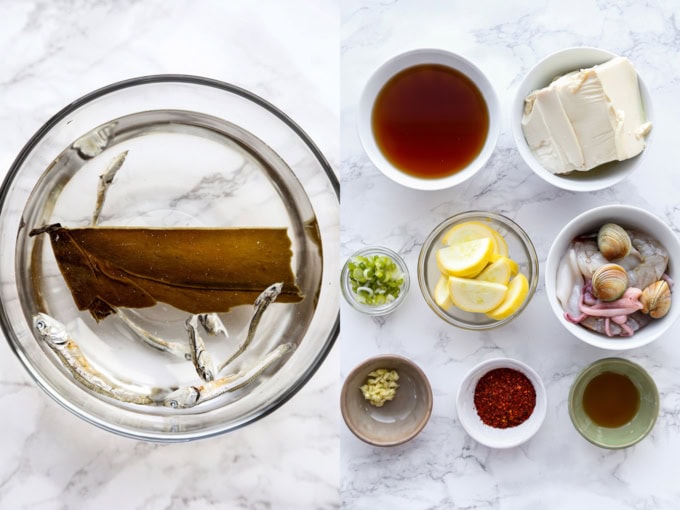 Ingredients for Soondubu
Sesame oil: The sesame oil is added at the beginning to briefly fry the garlic and chili flakes. It also adds nuttiness to the dish.
Garlic: One large garlic clove should come to about a teaspoon. We just want a little to infuse warmth and earthiness.
Korean chili flakes: Called gochugaru, these chili flakes are smoky and medium in heat. You will definitely feel plenty of warmth inside your mouth but not to the point where you will have to reach out for a sip of water after every bite you take.
Tofu: Korean tofu, which is sold in a tube, is the silkiest type you can find for this stew. But using regular silken tofu from brands like House Foods or Morinaga also works really well.
Yellow squash: The squash adds a tender texture to the stew and absorbs all the lovely flavors from the broth. Using green zucchini is also okay.
Seafood: A mix of shellfish such as squid, shrimp, mussels, and clams, infuses the broth with rich briny and sweet flavors of the sea.
Scallions: Scallions are added in the end to provide a refreshing crunch.
Broth: A mixture of kelp, dried anchovies, water, soy sauce, and salt.
Egg: Optional but recommend to those who like their stew on the heartier side.
Variations
Meat lovers: Substitute the shellfish for pork belly (finely sliced) or beef.
Vegans: Substitute the anchovies in the broth for 3 dried shiitake mushrooms, and substitute the shellfish for button mushrooms.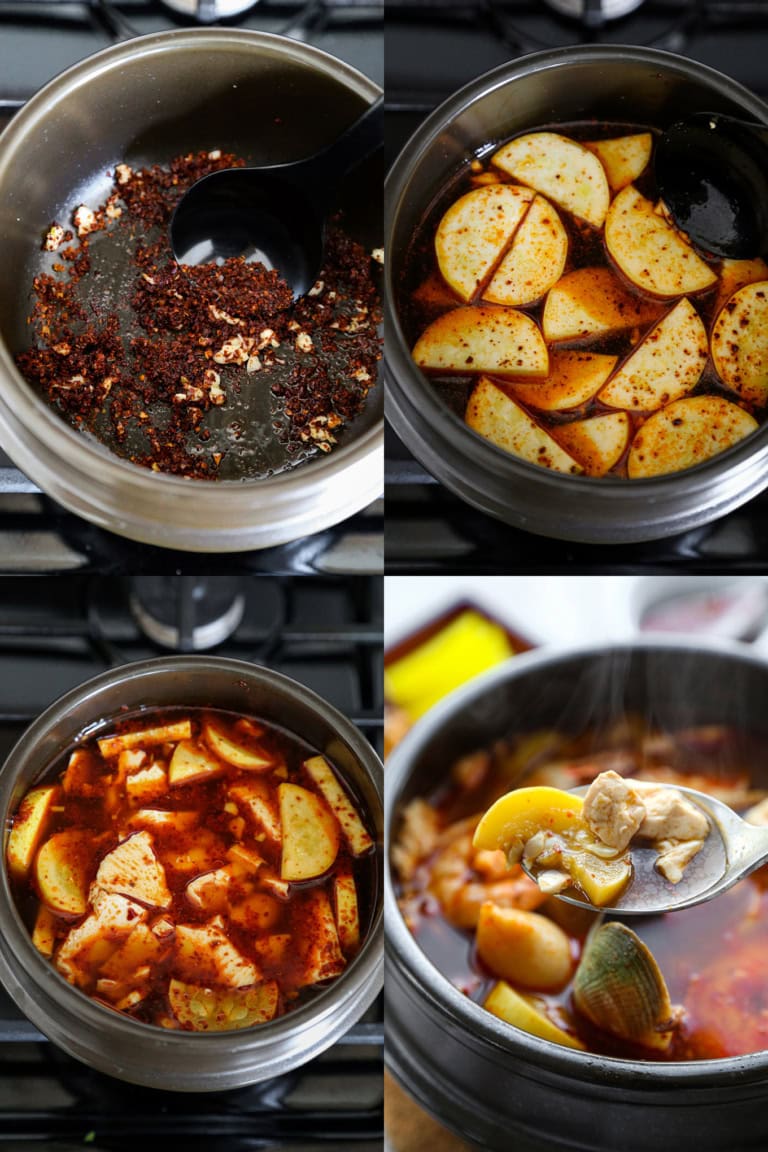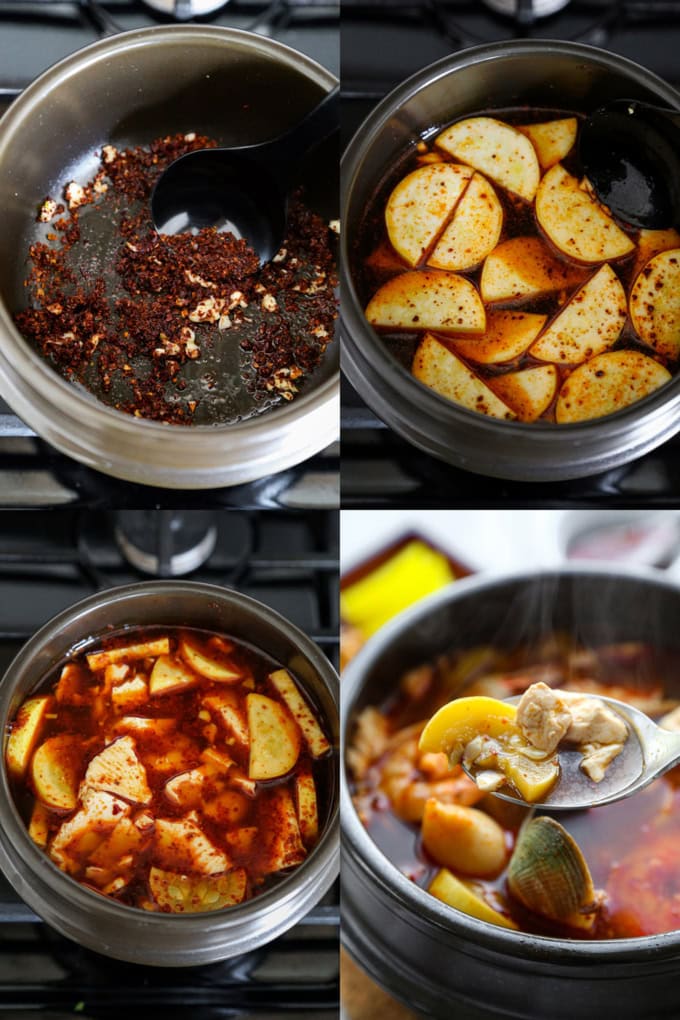 How to Make Soondubu Jjigae
Gather all of your ingredients for this recipe.
Remove the white dust on the kelp by gently wiping it down with a wet kitchen towel.
Put the kelp in a small pot along with the water and dried anchovies. Leave for 30 minutes.
Bring the water to a boil and remove the kelp from the pot. You can throw it out or slice it to eat later. Turn the heat down to a low simmer, cover, and cook for 15 minutes.
Turn the heat off, drain the broth through a sieve and throw away the anchovies. Sir in the soy sauce and salt.
Place the dolsot pot on a burner and turn the heat to low. Add the sesame oil, Korean chili flakes, and garlic and stir for 3 minutes.
Add the anchovy broth and squash and stir. Turn the heat up and bring the broth to a boil. Lower the heat and add the tofu by gently breaking it. Cook for 8 minutes.
Add the shellfish, stir and cook for 3-4 minutes, until the shellfish is cooked through.
Turn the heat off and top the stew with chopped scallions. Serve with rice.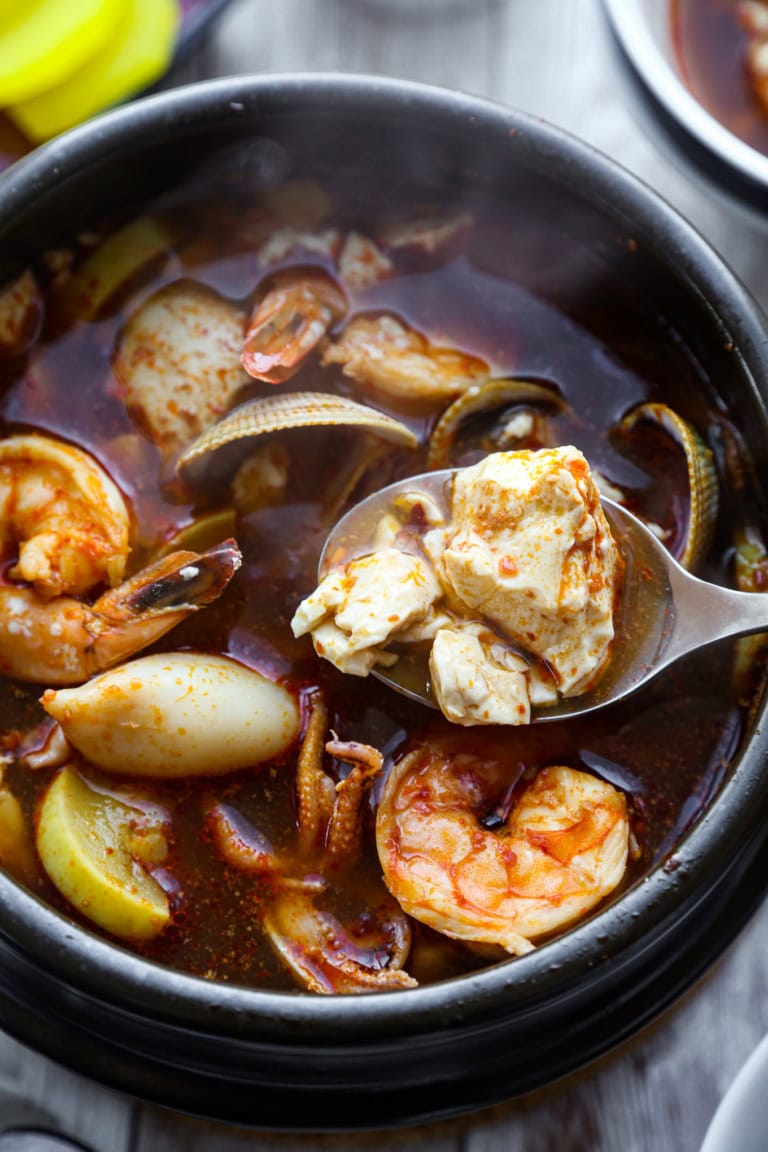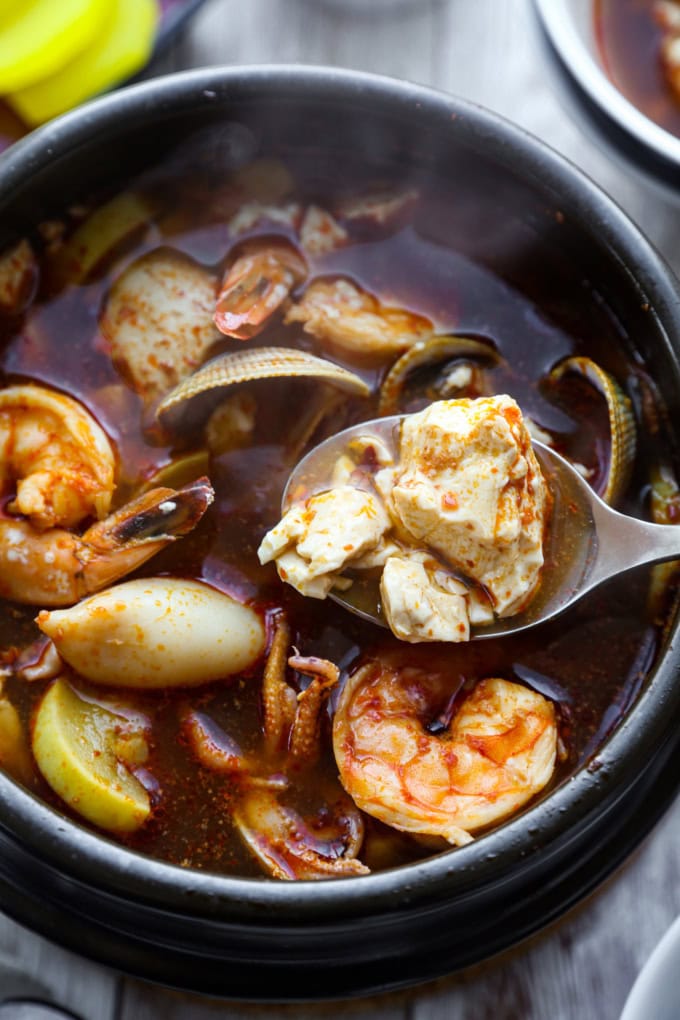 How to Eat Soondubu
Soondubu is typically served in the same pot that it's cooked in, while the broth is still bubbling. If you need to move the dolsot pot from the stove top to a table, place a cork trivet or other heat proof mat on the table first. Then put the lid on the dolsot pot, use some oven mitts that have a good grip (don't use kitchen towels as they can unfold or slip), and be very careful when traveling from point a to point b.
Soodubu is traditionally served with a side of rice and some traditional Korean side dishes (called banchan), such as these: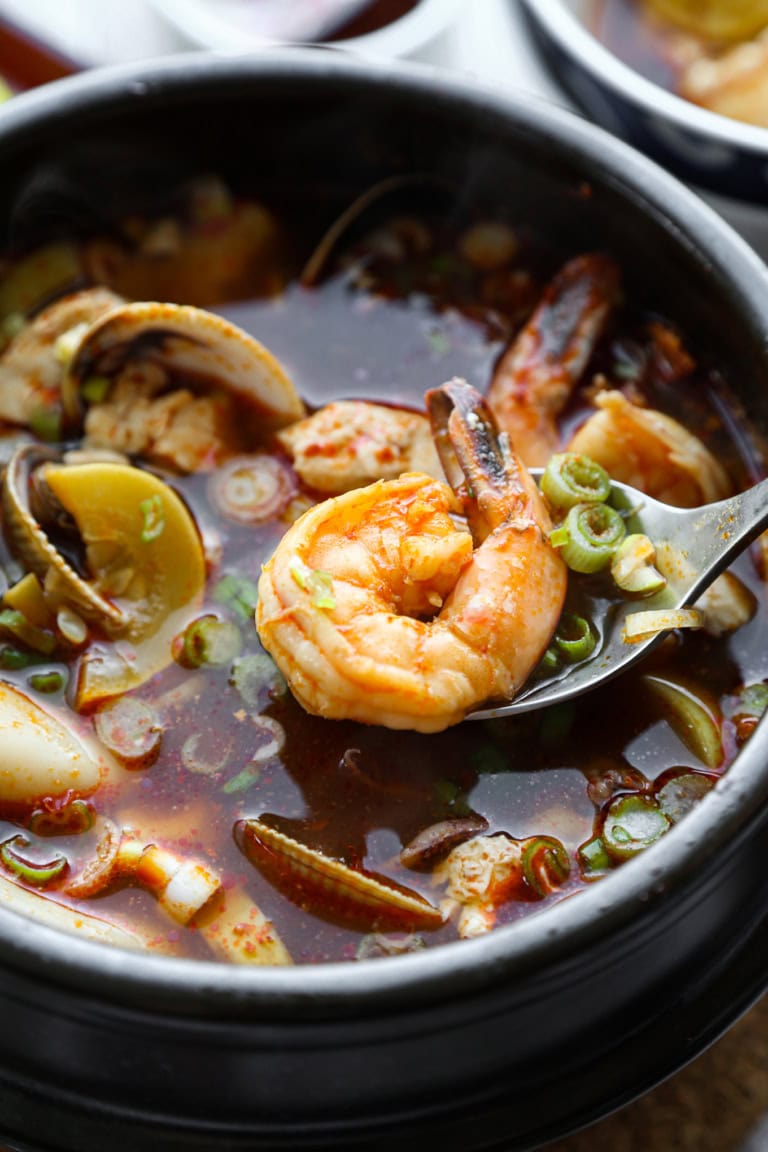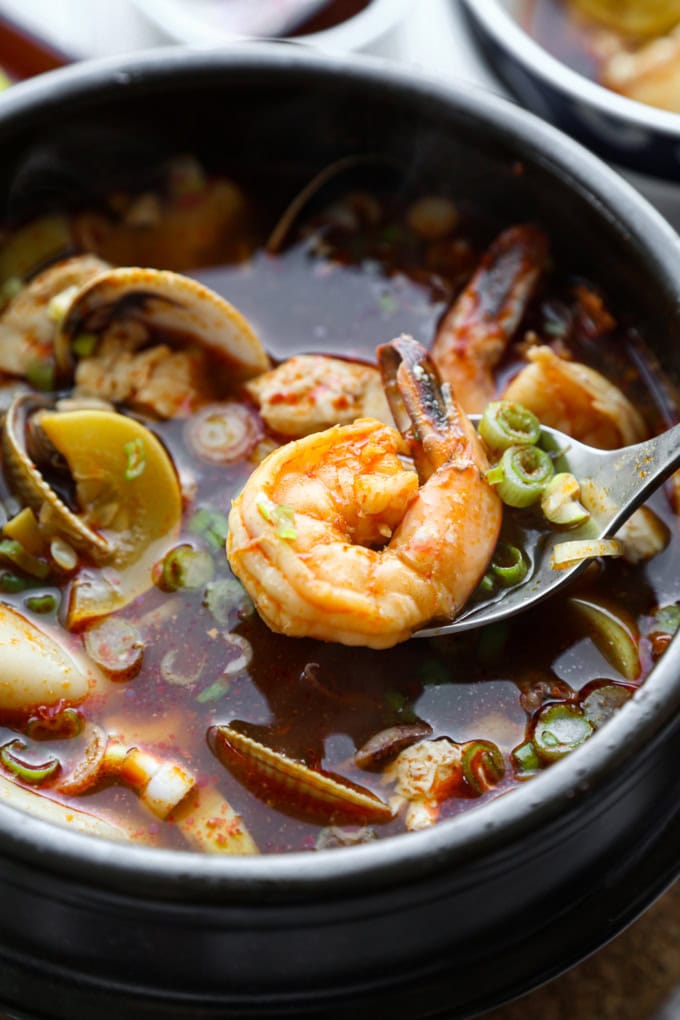 Did you like this Soondubu Jjigae Recipe? Are there changes you made that you would like to share?
Print
Soondubu Jjigae (Korean Spicy Tofu Stew)
Soondubu is a traditional spicy Korean tofu stew that's spicy, sour, briny, and smoky.
Author: Caroline Phelps
Prep Time:

10 minutes

Cook Time:

27 minutes

Total Time:

37 minutes

Yield:

2

1

x
Category:

Stew

Method:

Dolsot pot

Cuisine:

Korean
1 tablespoon

sesame oil

1 teaspoon

minced garlic

1 1/2 tablespoons

Korean chili flakes (gochugaru) – use less if you don't like it too spicy (start with 1/2 tablespoon, you can always add more later)

12oz

(350g) silken tofu, drained

3oz

(85g) yellow squash or zucchini, cut into half moons

7oz

(200g) mix shellfish such as shrimp, squid, mussels, clams – Vegan use button mushrooms

2

scallions, finely chopped

1

egg (optional)
Broth:
2

-inch piece dried kelp

7

dried anchovies – vegan use 3 dried shiitake mushrooms

1 1/2 cup

water

2 teaspoons

soy sauce

1/2 teaspoon

salt
Instructions
Wipe the kelp with a wet kitchen towel or paper towel to remove the white dust. Put the kelp, anchovies, and water in a pot and leave for 30 minutes. 

Turn the heat to medium and as soon as the water starts to boil, remove the kelp. Turn down the heat to a low simmer, cover, and cook for 15 minutes. 

Turn the heat off and strain the broth through a sieve. Discard the anchovies and add the soy sauce and salt to the broth. Stir and set aside. 

Put the sesame oil, garlic, and Korean chili flakes in the dolsot pot (stone bowl) and set it over a gas burner over low heat. Stir with a wooden or plastic spoon for 3 minutes, stirring constantly. 

Add the anchovy broth and the chopped squash. Stir and bring to a boil. Lower the heat to medium-low and carefully add the silken tofu. Break it up a little using the spoon and cook for 8 minutes. 

Stir in the shellfish and cook for 3-4 minutes, until the shellfish is cooked through. 

Top with chopped scallions and an egg, and serve with a side of white rice.
Notes
Tools Needed: Dolsot Pot (or ceramic or clay pot)
Soondubu made with shellfish should be eaten immediately to prevent the shellfish from overcooking. If you are making it with pork or beef, you can keep it in an airtight storage container and refrigerate it for up to 2-3 days.
Nutrition
Serving Size:

1 bowl

Calories:

249

Sugar:

1.3g

Sodium:

857.2mg

Fat:

12.5g

Saturated Fat:

1.7g

Unsaturated Fat:

5.6g

Trans Fat:

0g

Carbohydrates:

6.5g

Fiber:

1.8g

Protein:

29.5g

Cholesterol:

159.7mg
Keywords: Korean seafood soup
Recipe Card powered by