Love Korean food? Dig into this veggie and tofu loaded Doenjang Jjigae recipe with abandon! This is a delicious, Korean comfort food made of soybean paste stew. And it only takes 25 minutes to prepare from start to finish.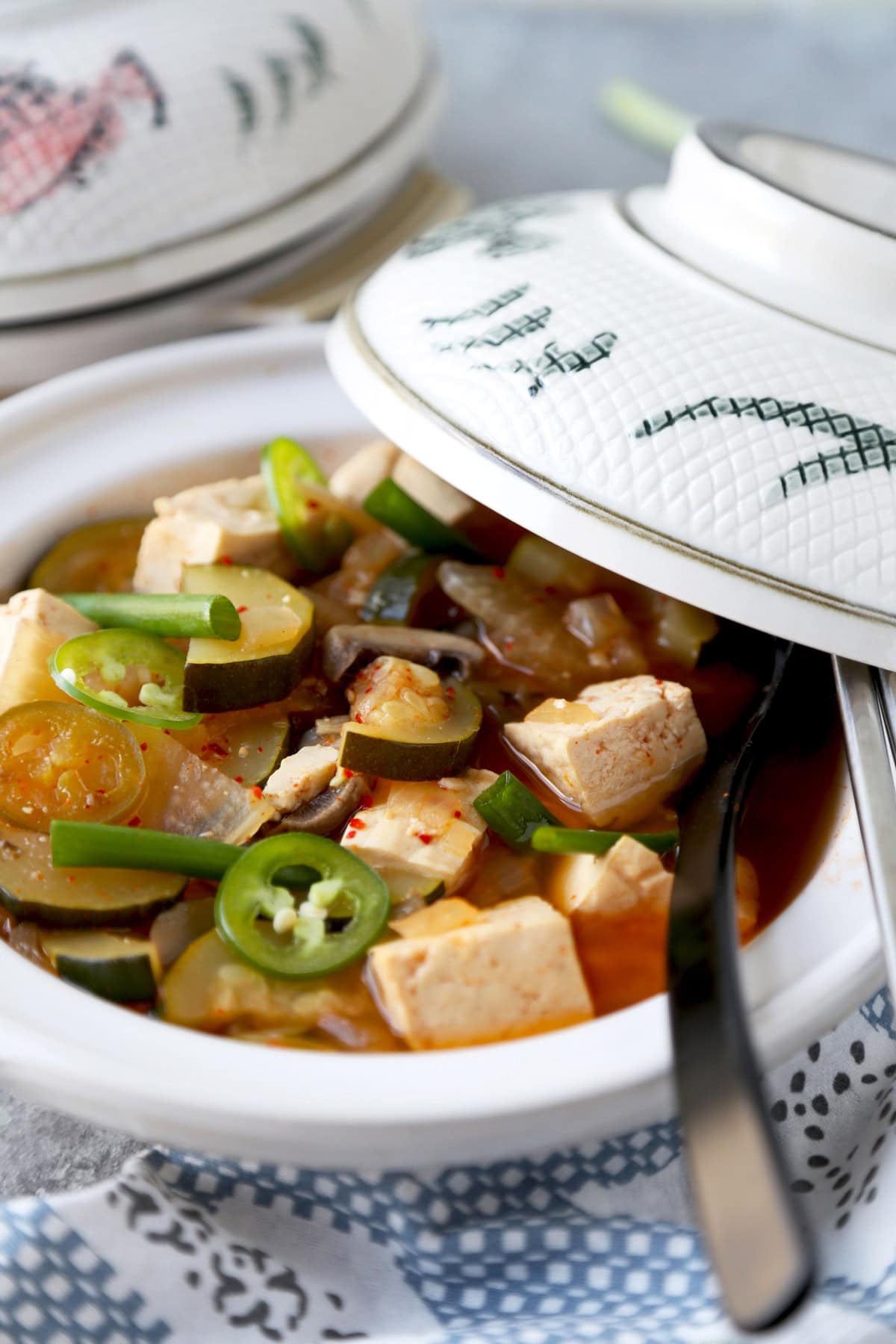 What is doenjang jjigae?
Doenjang jjigae (된장찌개) is an iconic Korean stew usually composed of meat, vegetables and tofu. I absolutely love this rich and silky veggie-loaded, Korean tofu soup. It's a savory stew that I make with daikon, tofu, zucchini and mushrooms in this recipe—but you can feel free to experiment with the ingredients in your own creations.
And while there are many ingredient variations found in doenjang jjigae, it almost universally utilizes a Korean fermented soybean paste as its main flavor component. This soybean paste is called doenjang (된장) and is made of soybeans and salt or brine.
And while it has some similarities to regular miso paste, in that it is made of soybeans, I find that doenjang has a more pungent flavor. You see, regular miso paste generally has a sweeter and more mild flavor. Doenjang brings a more earthy, salty punch to this yummy Korean soup. That said, in a pinch you could totally use awase miso.
Now, the difference between soup and stew is a fine line indeed. I find that the viscosity of this doenjang jjigae recipe straddles that line perfectly. It's not quite as thin as a consommé, however, it's not as thick as a traditional beef stew either. I'd say it's the perfect happy middle ground—and it's delicious!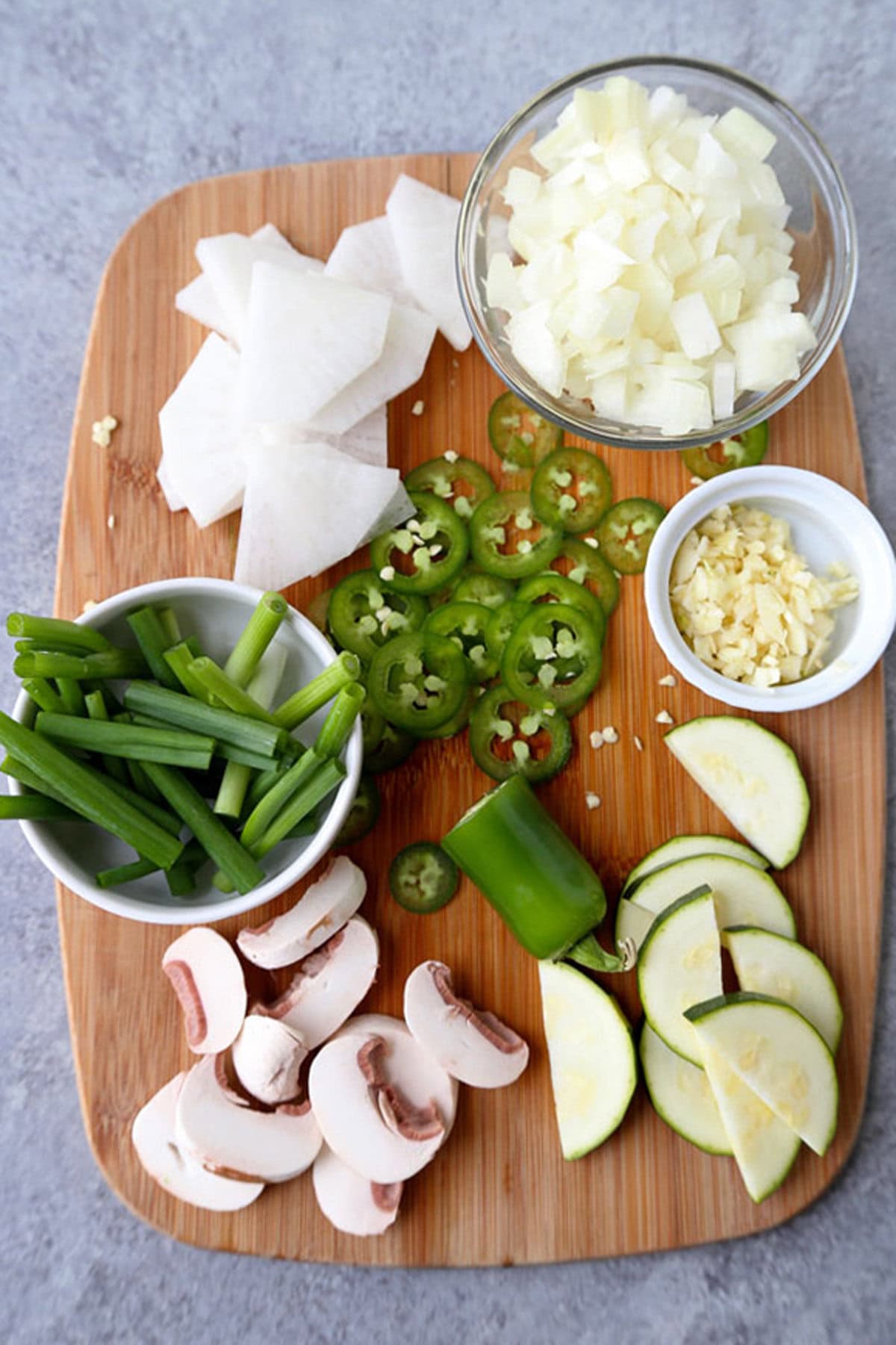 Doenjang Jjigae Ingredients
Doenjang (Korean fermented soybean paste) or miso paste: Personally, I prefer to use awase miso which is a mix of white and red miso paste.
Garlic: Adding minced garlic cloves to your stew brings out sweetness and adds a pungy element, will fill your home with an incredible cooking aroma!
Dried kelp (seaweed): Dried kelp infuses the broth with briny and mineral flavors.
Korean chili pepper flakes (gochugaru): Gochugaru can be found in many popular dishes within Korean cooking. It's spicy but mostly smoky.
Zucchini: Zucchini is a great ingredient to include in the kitchen because it's a light vegetable that offers vitamins, nutrients, and antioxidants. Fresh vegetables always bring a ton of life and benefits to any dish!
Onion: Onion adds sweetness and depth of flavor to most dishes, which is why they are usually added as a base to broths and sauces.
Mushrooms: Mushrooms are a great way to add texture and bulk to your stew. They are also filled with umami and earthiness which adds an extra layer of flavor to the broth.
Korean radish or daikon radish: Daikon is a winter radish that was originally added to many dishes to add heartiness and texture to dishes during harsh winter months when other food sources were less readily available. The flavor is mild but it's a wonderful vegetable to use to absorb all the flavors of this stew.
Tofu: You can use medium or firm tofu for this recipe. It's really up to you and how you prefer it. But soft tofu is definitely much too soft. We want a little firmness and bounce in our tofu cubes for this one!
Scallions: Scallions are also known as green onions. They make for the perfect adorning ingredient to sprinkle on top of your dish after it's done.
Korean chili pepper or jalapeño: Not a fan of spice? That's okay! These ingredients are entirely optional. If you're looking for a milder flavor, just leave these spicy numbers out!
Water or dashi broth: The main difference is that a water base will keep this dish vegan-friendly, while dashi is traditionally a fish-based broth.
Rice: Adding a bowl of rice to your Doenjang Jjigae is entirely optional. You don't need rice to pair with this dish because it can stand on its own. But if you do include it, don't forget the important step of rinsing rice before cooking it.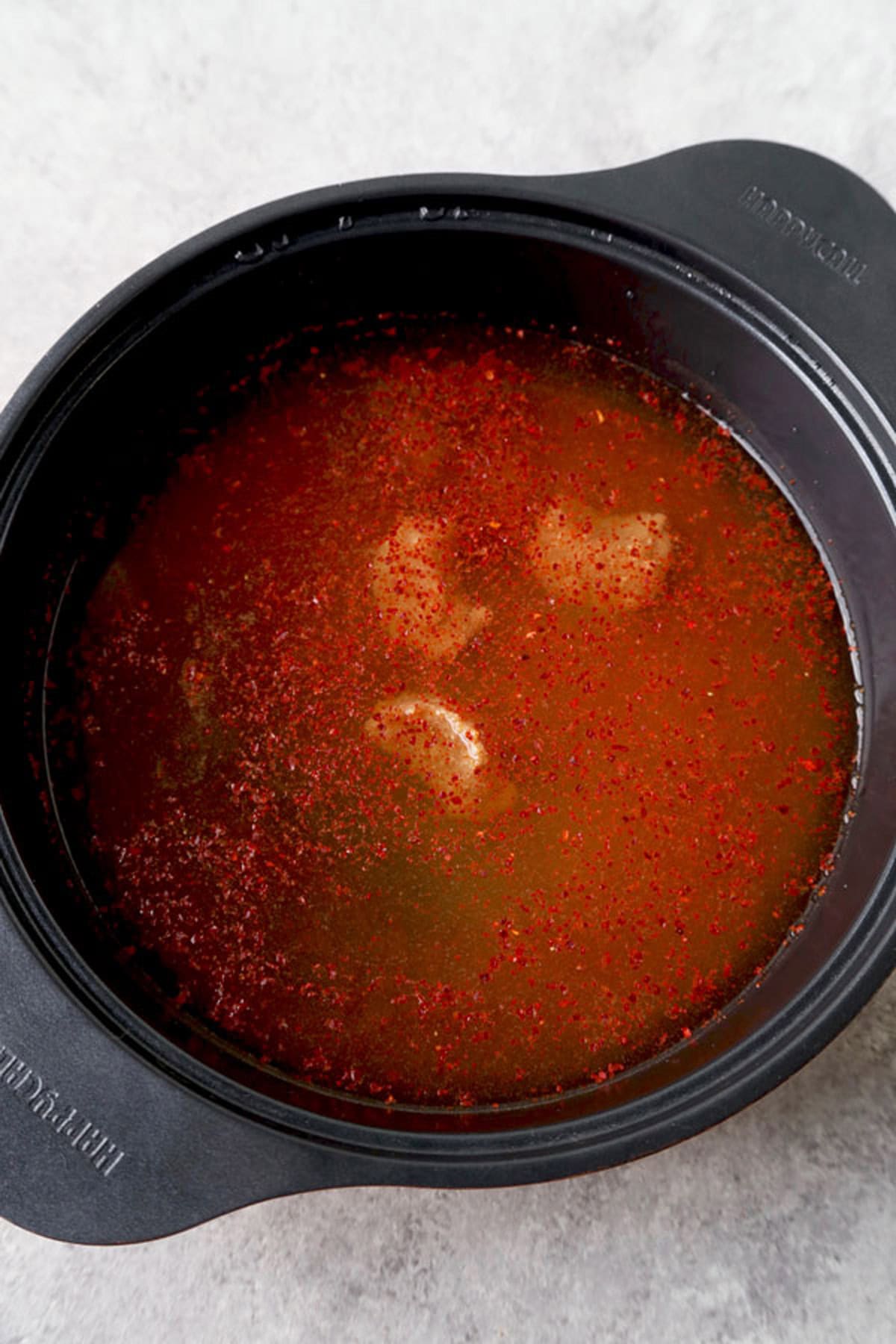 Doenjang Jjigae Directions
Gather all of your ingredients and cooking tools.
To start, pour 4 cups of water (or dashi broth) into a pot over medium high heat. Then add soybean paste, garlic, dried kelp, and Korean chili pepper flakes, and bring it to a boil.
Then add about three tablespoons of doenjang, three cloves of minced garlic, two teaspoons of gochugaru and a two-inch piece of dried kelp. Bring this to a boil while still on medium-high heat.
At this point, add your chopped zucchini, diced onion, your cup of quartered button mushrooms, your cup of sliced daikon radish, a block of cubed tofu, and thinly sliced chili pepper to the pot. Bring it back to a boil again.
Once it's bubbling, lower the heat to medium-low and let it simmer away until your veggies are properly cooked. This should take about 15 minutes.
Do a taste test and adjust the flavor by adding one or two tablespoons of soybean paste if desired.
Pull the kelp out and divide it into serving bowls. Top your bowl off with chopped scallions and serve with rice.
Enjoy your delicious Doenjang Jjigae dish!
What Are Doenjang Jjigae' Origins?
Doenjang Jjigae is a traditional stew originating from Korea. It dates back as early as the Korean Three Kingdoms period. For those not well-versed in Korean history, that's roughly 57 BC to 668 AD. During this time Korea was primarily agricultural with farmlands sweeping the nation. Unfortunately, meat became scarce in the winter months. As you can imagine, these circumstances created many Korean dishes in one particular way or another. This can explain why Doenjang Jjigae was likely born out of this period of time.
Because who doesn't want a hot, delicious stew on a cold winter night? The water base is an ingredient most people already had on hand. While the daikon, specifically a winter radish, would have been thriving during this region's harsh winter climate. It also explains why traditionally this Korean cuisine does not have meat in it. Interesting, right?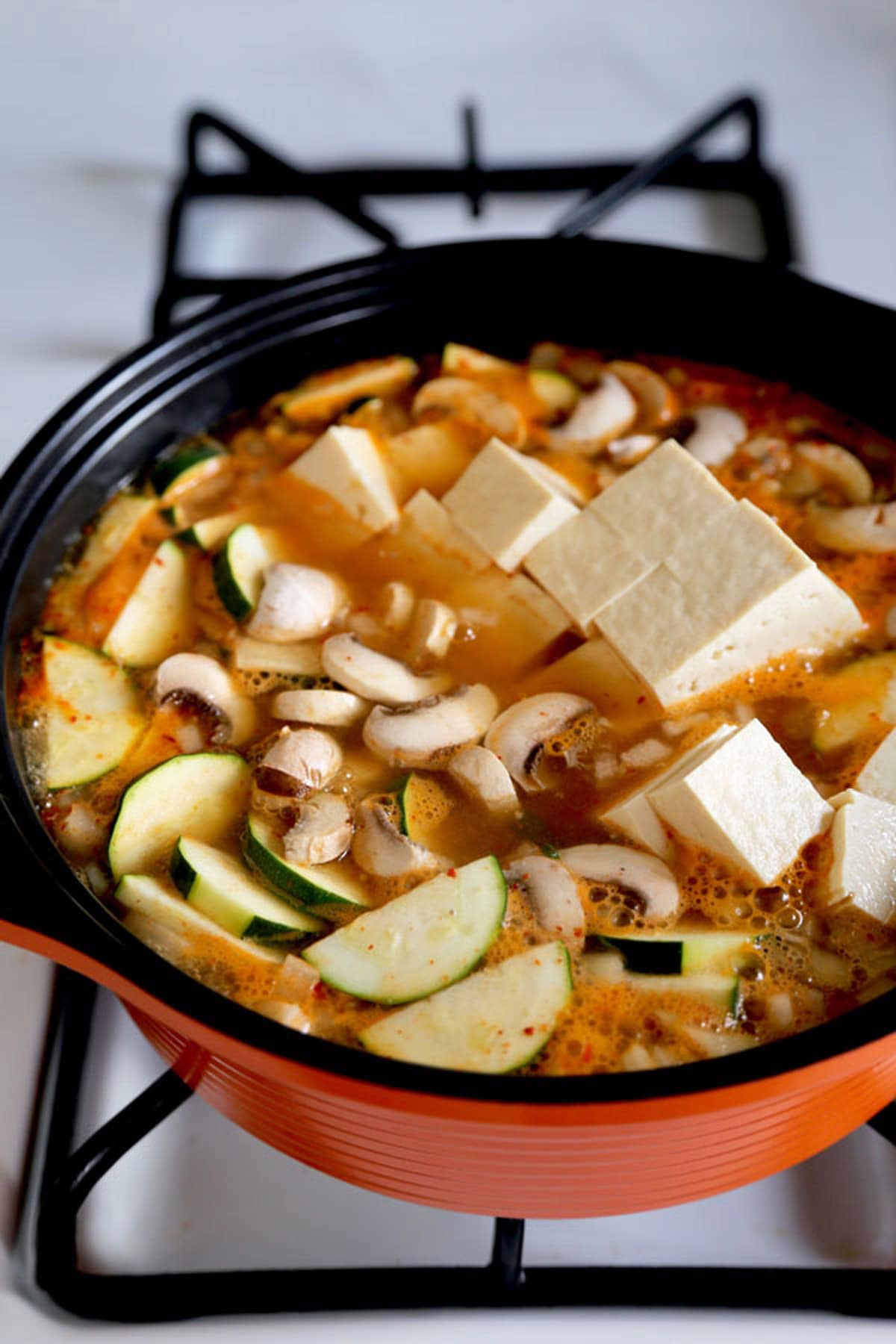 Is Doenjang the same as miso?
As I mentioned already, there are some differences between miso paste and doenjang. Korean doenjang paste is made solely from soybeans and salt, and is fermented to the point of earthy funkiness.
Miso is a bit smoother, milder, and slightly sweeter. Miso is produced by adding rice and a koji starter to the soybeans before fermentation. This is what gives miso its very specific taste.
Those subtle variations in production are responsible for the differences in flavor. However, you can totally substitute one for the other if you've only got one handy in your kitchen, you're putting dinner together, and need a quick fix ASAP.
While you can probably find many of the ingredients you'll need to whip up this yummy Korean doenjang jjigae recipe at most Asian grocery stores, it never hurts to do a bit of price-comparison shopping, right?!
Need Doenjang Jjigae-Specific Ingredients?
Here are a few of the ingredients you'll need for this recipe on Amazon: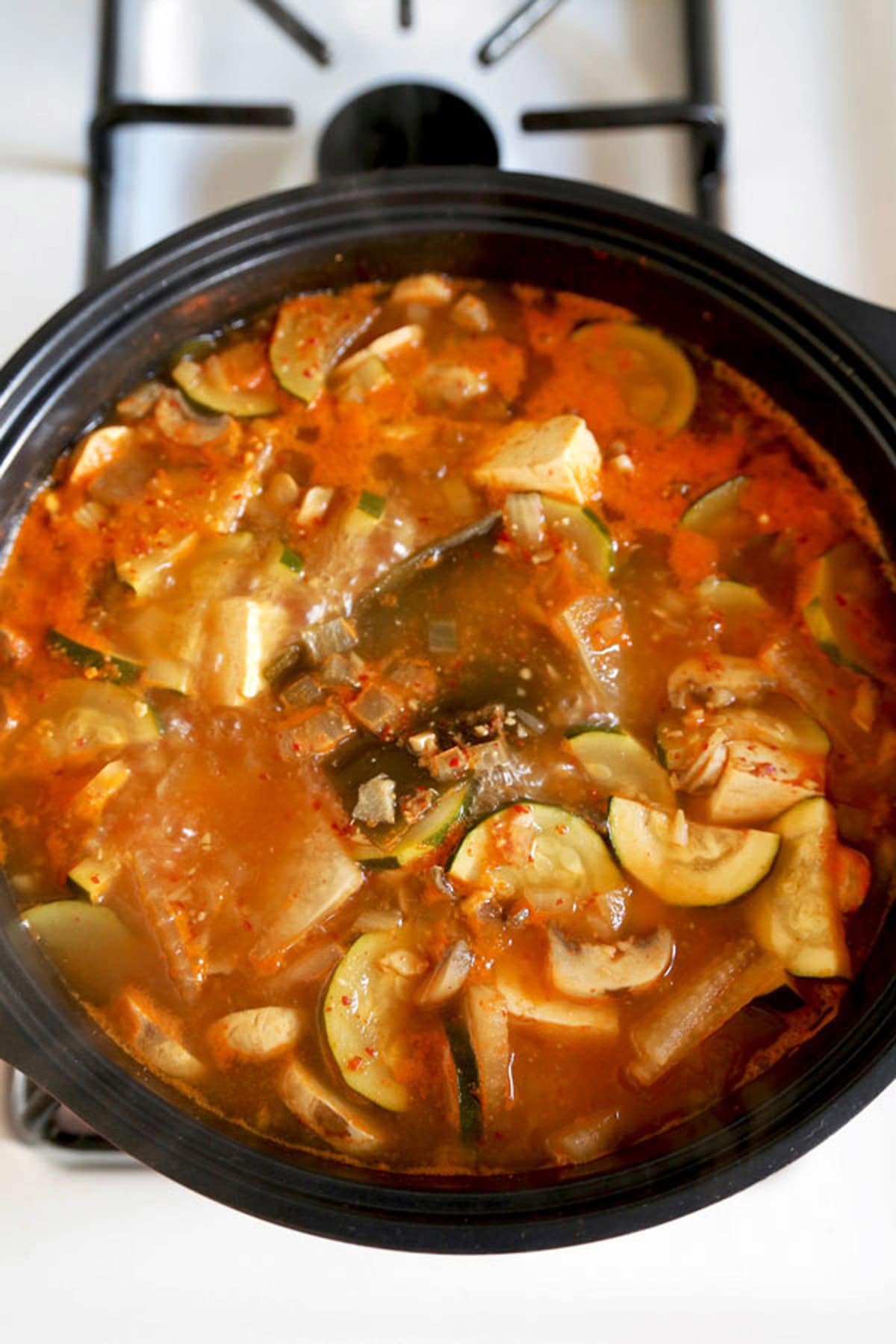 Is Doenjang vegan?
Doenjang paste is made with only soybeans and salt. Therefore the paste is completely vegan.
Now, in my own version of the composed dish, I mixed a bit of dashi stock with the water before adding it to the pan. If you use dashi, it won't be 100% vegan. You see, dashi is make with fish.
That said, if you just stick to the recipe as it's printed below (with water), this doenjang jjigae is a vegan recipe all the way!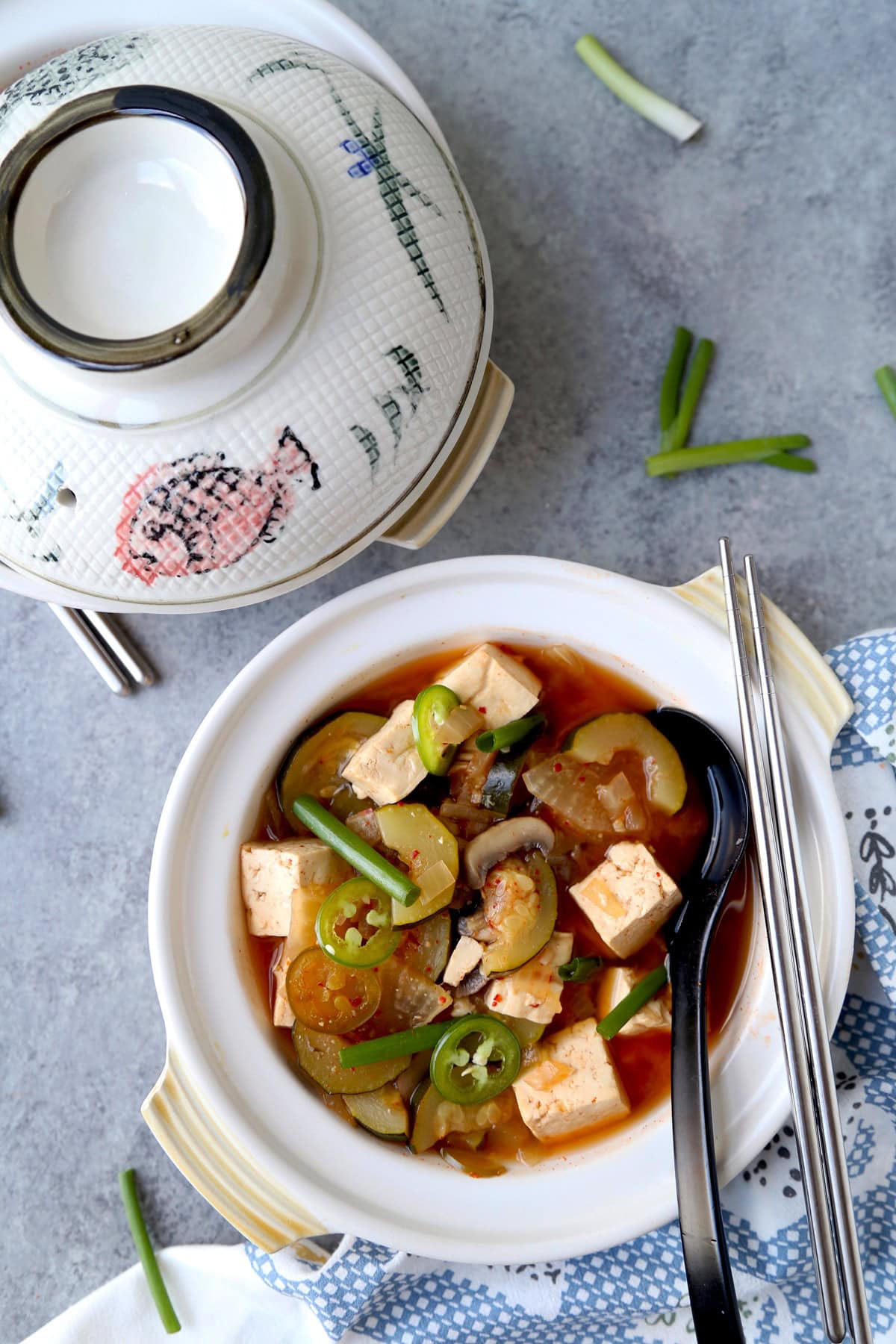 Is Doenjang Jjigae Seasonal?
Doenjang Jjigae is a delightful Korean tofu soup you can, in fact, make year round.
Of course, this warming, simmered stew is also even more perfect when sitting down to dinner with friends and family in the wintertime. A couple cans of cider and a big pot of this fermented soybean paste stew is the absolute antidote to the chilling winter winds that howl away just outside the frost rimmed window.
However, many simmered dishes are just too heavy to eat when it's a bazillion degrees outside, but not this one.
This doenjang jjigae is just light enough to whip up in the summertime. Hey, eating hot soup in the summer is supposed to cool you off, right? If you haven't heard this theory, here's a short explanation: You eat hot soup. It makes you sweat. The moisture on your skin catches the breeze and brings your body's surface temperature down. Science 🙂
Other delicious and easy Korean recipes: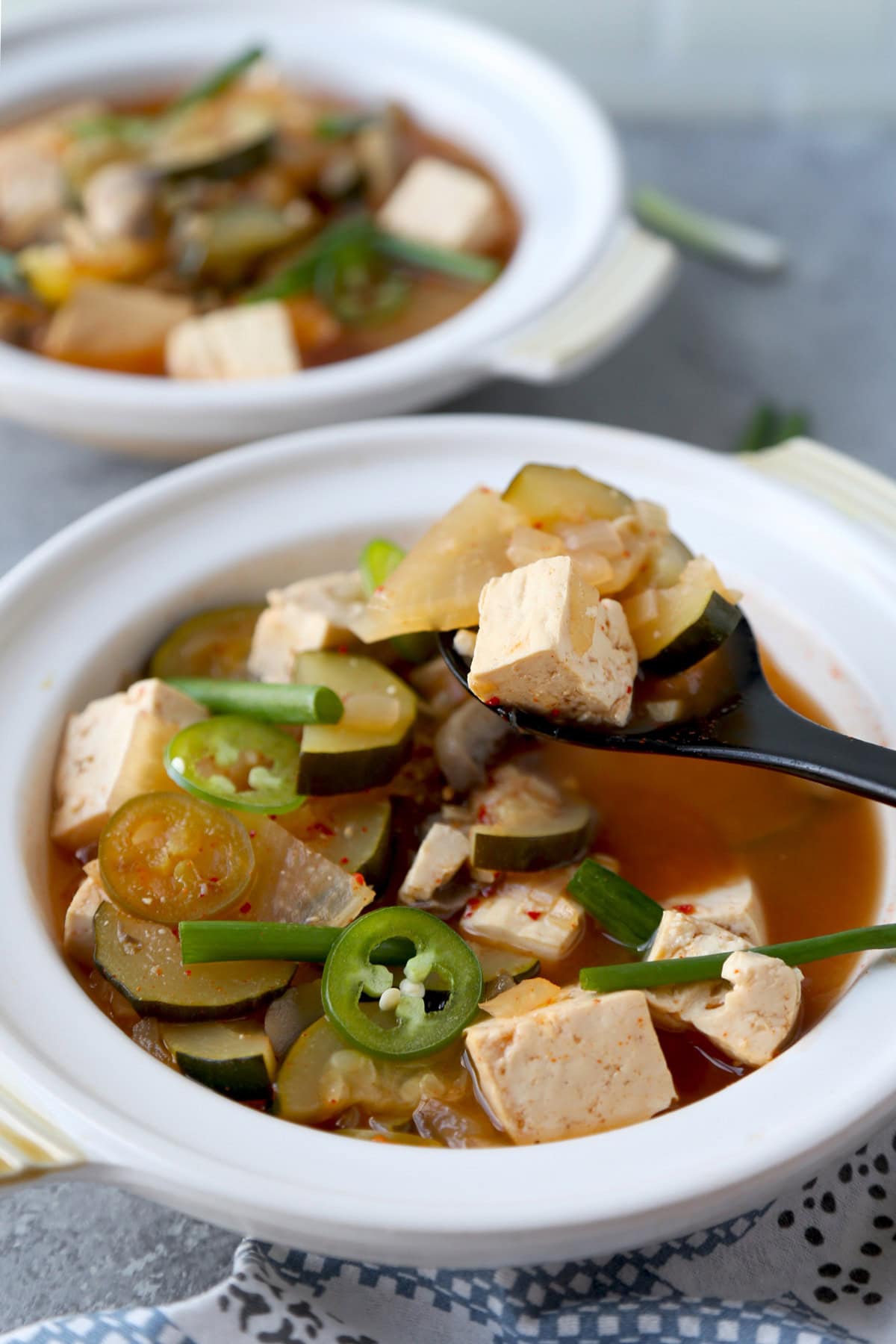 Did you like this Doenjang Jjigae Recipe? Are there changes you made that you would like to share? Share your tips and recommendations in the comments section below!
Print
Doenjang Jjigae
This is a vegetarian Korean soybean paste stew loaded with tofu, vegetables, and savory flavors.
Author: Caroline Phelps
Prep Time:

10 minutes

Cook Time:

15 minutes

Total Time:

25 minutes

Yield:

Serves 4

Category:

Vegan

Method:

Simmered

Cuisine:

Korean

Diet:

Vegetarian
4 cups

water (or dashi broth)

3 tablespoons

doenjang (Korean fermented soybean paste) or miso paste (I use awase miso which is a mix of white and red miso paste)

3

garlic cloves, minced

1

2-inch piece dried kelp (seaweed)

2 teaspoons

Korean chili pepper flakes (gochugaru)

1

large zucchini, cut into half moon slices

1

medium onion, diced

1 cup

button mushrooms, quartered

1 cup

Korean radish or daikon, cut into thin half moon slices

1

block (12-14oz) tofu (medium or firm), cubed

4

scallions, chopped

1

Korean chili pepper or jalapeño, thinly sliced (optional)

Cooked rice, to serve with (optional)
Instructions
In a pot over medium heat, add water, soybean paste, garlic, dried kelp, and Korean chili pepper flakes, and bring to a boil.

Add zucchini, onion, mushrooms, radish, tofu and chili pepper, and bring to a boil.

Lower heat to medium-low and simmer until all the vegetables are cooked – about 15 minutes.

Do a taste test – adjust flavor by adding 1 or 2 tablespoons of soybean paste if needed.

Pull the kelp out, divide into serving bowls, top with scallions and serve with rice.
Notes
Leftovers of this doenjang jjigae recipe will keep in the fridge for 2-3 days.
Nutrition
Serving Size:

1 bowl

Calories:

117

Sugar:

2.4g

Sodium:

13.6mg

Fat:

5.2g

Saturated Fat:

0.7g

Unsaturated Fat:

2.4g

Trans Fat:

0g

Carbohydrates:

10.5g

Fiber:

2.4g

Protein:

9.9g

Cholesterol:

0mg
Keywords: spicy tofu soup
Recipe Card powered by