If bold, crispy, chewy, garlicky goodness is your thing, give this Korean chive pancake a try! Garlic chives make the perfect filling for this iconic plant based Korean side dish. Serve it with a simple four ingredient dipping sauce that punches way above its weight class!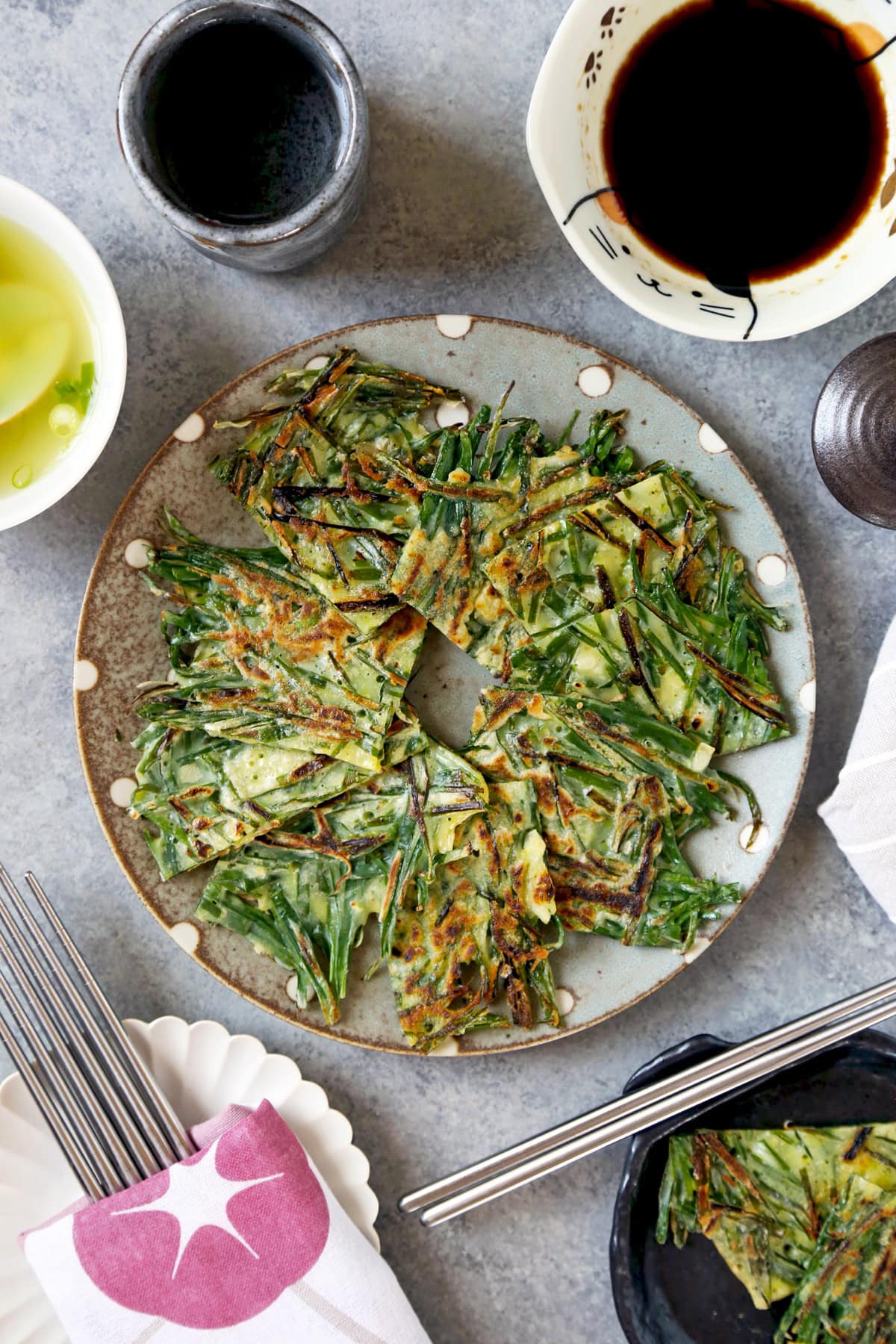 What is a Korean Chive Pancake?
Buchujeon are savory Korean garlic chive pancakes, pan fried until golden brown. The batter is light, airy and super satisfyingly crispy / chewy – and the flavor manages to be both mildly garlicky and zingy at the same time.
Garlic chive pancakes are commonly served in Korea as a side dish (banchan) or as a snack, alongside a bold, savory dipping sauce.
What are Garlic Chives?
Garlic chives come from the same allium family that includes garlic, onion and leeks. They have long, thin, flat green leaves and an aromatic mild garlic taste that is much less pungent than actual garlic cloves. However, they are different from chives which have hollow, cylindrical leaves and a more grassy, oniony flavor.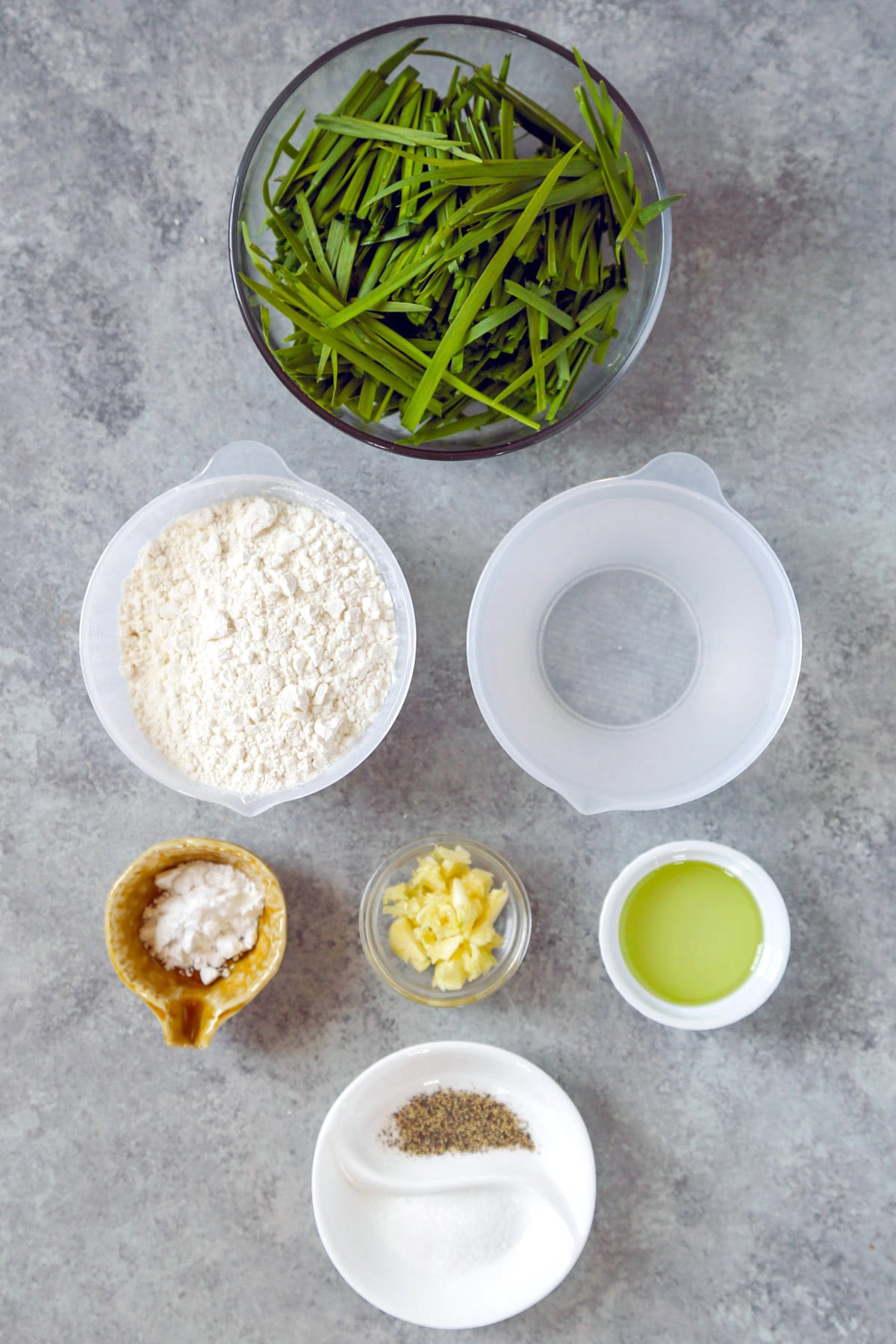 Korean Chive Pancake Ingredients
Korean Pancake Mix

or

All-Purpose Flour: Use one or the other. Some Korean pancake mixtures have added ingredients like garlic powder, pepper, sugar, etc. But I've found the flavor of the finished buchujeon to be similar with both pancake mix and plain all purpose flour. So, your choice.
Cornstarch: You'll only need 1/2 tablespoon in the batter. Cornstarch contributes to the overall crispy exterior texture.
Cold Water: When I say cold, I mean frigid. And this is for two reasons. Ice cold water binds ingredients in the chive batter better than warm water – and it inhibits the formation of too much gluten (which can result in chewy pancakes). But also, the sudden temperature change when the cold batter hits the hot pan results in crispier pancakes. Science!
Garlic Chives: These are mildly garlicky and oniony in the best way. Slice a bunch (about 3 ounces) one time in half crosswise (in the middle of the bunch).
Garlic Cloves: Mince 2 cloves finely for a little added sharp pungency.
Salt and Pepper: No need to get fancy here. Use what you've got handy. Although I definitely prefer kosher salt when cooking – as it's less overtly salty than equal amounts of regular table salt.
Cooking Oil: Use any neutral cooking oil you have in your pantry. I like using grapeseed oil – although vegetable oil works just as well. However, olive oil – with it's assertive natural flavors and low smoke-point – is wrong for this Korean chive pancake recipe.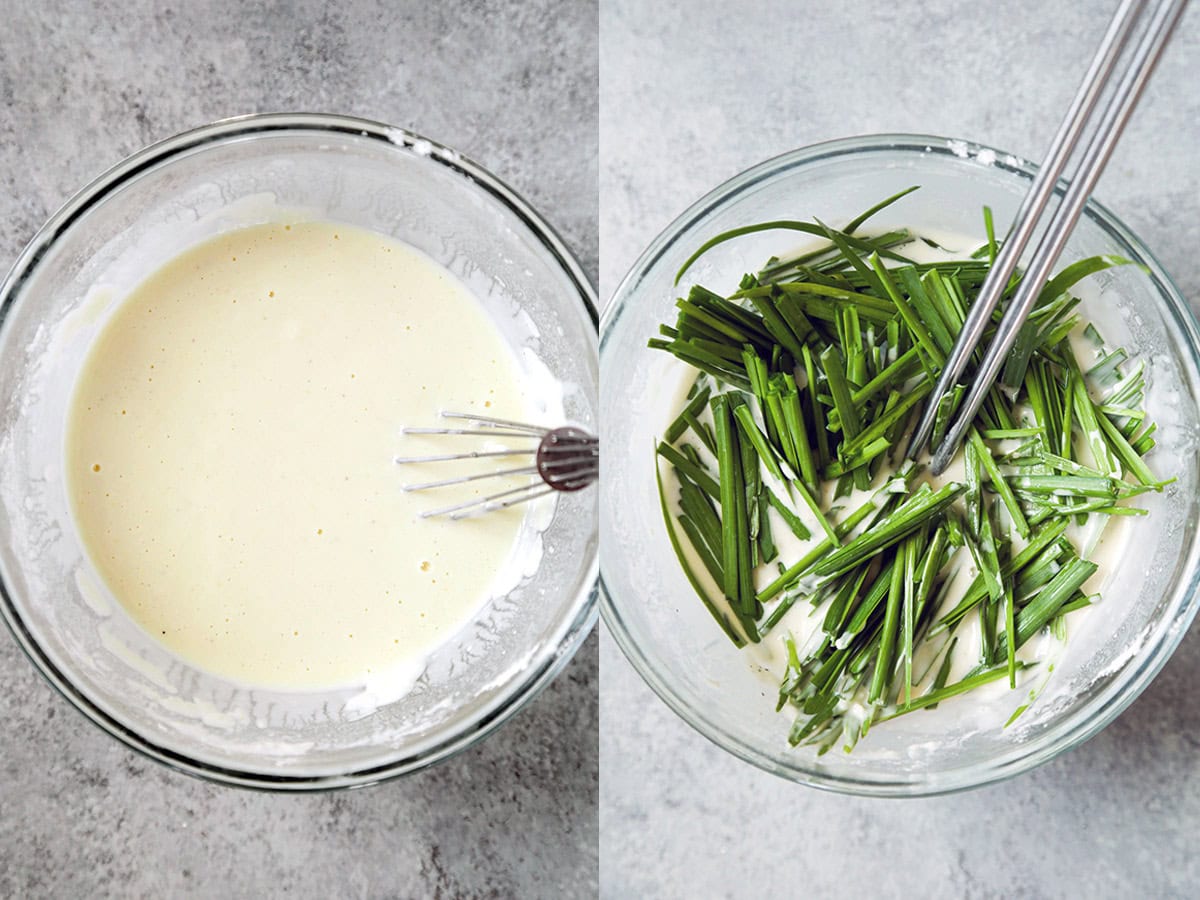 Ingredients for the Dipping Sauce
Soy Sauce: 2 tbsp soy sauce is the main source of savory and earthy umami in this chive pancake dipping sauce.
Rice Vinegar: Rice vinegar is mildly tart, with a hint of gentle sweetness around the edges. It blunts the more assertive notes from the soy sauce and rounds out the flavor profile so nicely. Grab rice vinegar on Amazon.
Sugar: I'm using 1 tsp sugar. It enhances the sweetness without taking it into cloying territory. If you prefer more or less sweetness, add the sugar last and stir in slowly, tasting as you go, until you find the right level.
Sesame Oil: This has an intensely nutty and aromatic flavor with a roasted aroma. It adds unreal depth and complexity to this simple 4 ingredient dipping sauce. And a little goes a long way. I'm only using 1/4 teaspoon sesame oil.
To make the buchujeon dipping sauce, simply whisk the ingredients together in a small bowl until the sugar has completely dissolved – and you're good to go!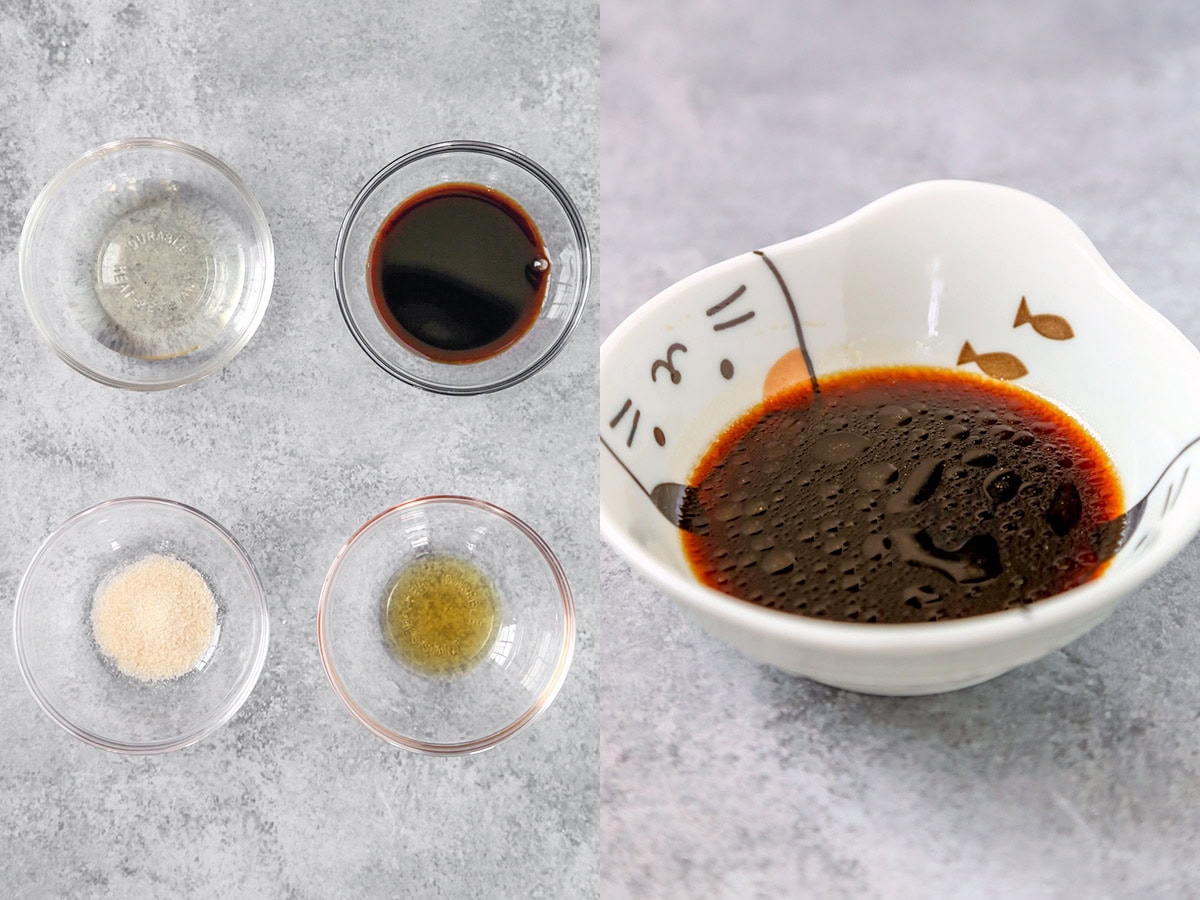 How to Make Buchujeon
Gather all of your cooking tools and ingredients.
Mix the Korean pancake mix (or all-purpose flour), cornstarch and ice cold water in a large bowl until it's smooth.
Add the garlic chives, minced garlic, salt and pepper – and mix again until the garlic chives are covered in batter.
Place a large skillet or frying pan over medium heat. Once the pan is hot, add 2 tablespoons of cooking oil. Swril the oil around the pan until the cooking surface is evenly coated.
Then ladle about a quarter of the mixture out and add it to the pan.
Quickly spread the mixture out by moving the pan from side to side. Alternatively, you can gently spread it around with the bottom of the ladle or a spatula.
Cook for around 3 to 4 minutes – until the side facing up starts to set. Then flip the pancake and cook until both sides are golden brown.
Next, transfer the Korean chive pancake to a plate, and repeat the process (3x) with the remaining pancake batter. If you need a bit more oil, be sure to reapply between pancakes.
Finally, cut each pancake into quarters (or smaller if you prefer). Serve immediately with the dipping sauce.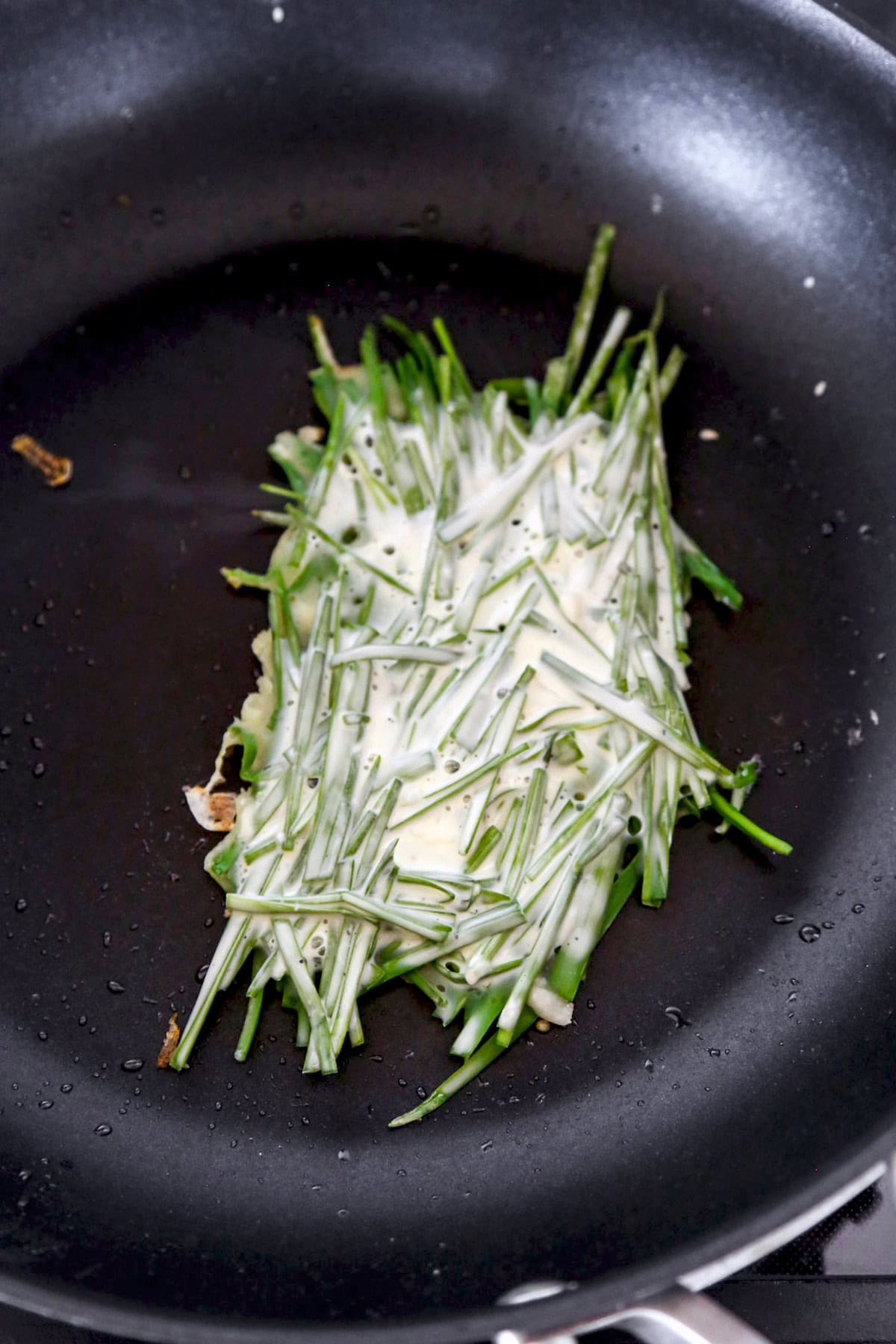 What to Serve With Korean Garlic Chive Pancakes
When I serve these chive pancakes, it's usually as an appetizer or side dish served alongside other Korean banchan. But buchujeon is substantive enough to be the sole side dish to a hearty Korean meal as well. So here are a few things that pair perfectly.
And Check Out These Other Delicious and Easy Asian Pancake Recipes
How to Store Leftovers
Refrigerate any leftover Korean chive pancakes in an airtight food storage container for up to 3 days. If stacking multiple pancakes, place a paper towel between them to keep them from sticking together.
Tips on reheating:
For the best (crispy) results, use a non-stick skillet on the stovetop – not the microwave. Unless the skillet you're using is super old, you shouldn't need any oil to reheat at all.
Get the pan going over medium to medium high heat – and add your chive pancake slices.
Cook on each side for a minute or two, until hot and crispy.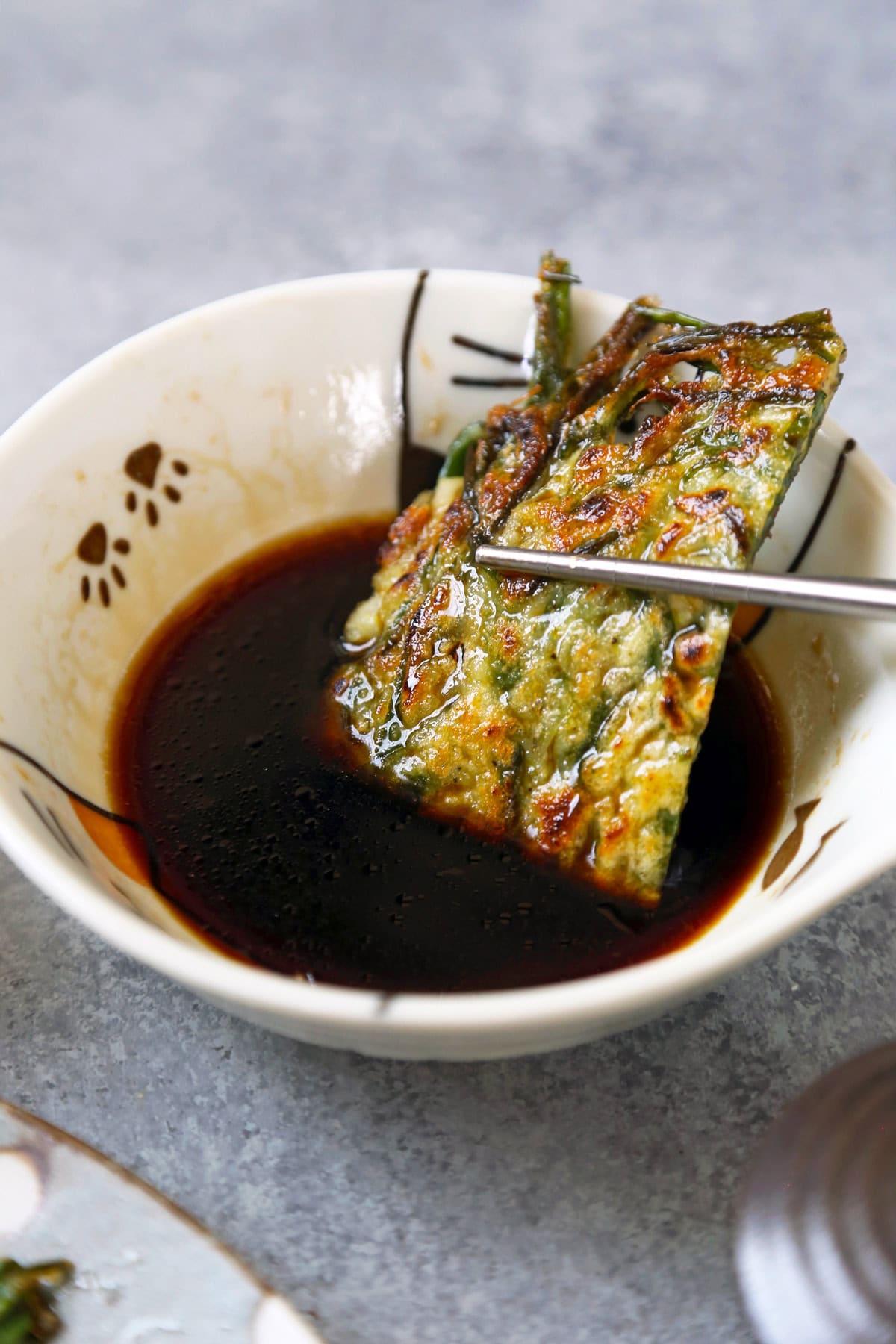 Did you like this Korean chive pancake recipe? Are there changes you made that you would like to share? Share your tips and recommendations in the comments section below!
Print
Korean Chive Pancake (Buchujeon)
Bold, crispy, chewy and garlicky, this Korean chive pancake calls for garlic chives as a plant-based filling. Serve this iconic Korean side dish with a simple yet punchy four ingredient dipping sauce.
Author: Caroline Phelps
Prep Time:

15 minutes

Cook Time:

25 minutes

Total Time:

40 minutes

Yield: About

4

pancakes

1

x
Category:

Appetizer

Method:

Pan frying

Cuisine:

Korean

Diet:

Vegan
1

cup

Korean pancake mix or all-purpose flour

1/2 tablespoon

cornstarch

1

cup

ice cold water

3

ounces

garlic chives, cut in half crosswise

2

garlic cloves, minced
Salt and pepper, to taste

2

to

3

tablespoons neutral oil such as vegetable oil or grapeseed oil
Dipping Sauce
2 tablespoons

soy sauce

2 tablespoons

plain rice vinegar

1 teaspoon

sugar

1/4 teaspoon

sesame oil
Instructions
Mix the pancake mix, cornstarch, and water in a bowl, until smooth.
Add the garlic chives, garlic, salt and pepper, and mix.
Place a large skillet over medium heat and when the pan is hot, add 2 tablespoons of oil.
Swirl the oil around the pan to evenly coat the surface. Ladle up about a quarter of the mixture and add it to the pan.
Quickly spread the mixture by moving the pan from side to side, or by gently spreading it with the back of the ladle, to form a round pancake [square or rectangular works too].
Cook for 3 to 4 minutes, until part of the top is cooked, and flip the pancake. Cook until parts of the pancake are golden brown.
Transfer to a plate and repeat the same process 3 more times (you may need to coat the pan with a little more oil, in which case, the remaining 1 tablespoon can be used).
Cut each pancake into quarters or smaller pieces if you prefer, and serve with dipping sauce.
Notes
Store the leftover buchujeon in an airtight storage container and refrigerate for up to 3 days. 
To reheat the slices, place a non stick skillet over medium heat and add the slices once the skillet is hot. Cook for 2 to 3 minutes and serve. You shouldn't have to add any oil to the skillet, unless the skillet you are using is very old (add just a little – one teaspoon of oil should be enough).
Nutrition
Serving Size:

1 pancake

Calories:

185

Sugar:

0.5g

Sodium:

4mg

Fat:

7.3g

Saturated Fat:

5.6g

Unsaturated Fat:

0.3g

Trans Fat:

0g

Carbohydrates:

26.2g

Fiber:

1.4g

Protein:

4g

Cholesterol:

0mg
Recipe Card powered by