Sometimes called Japanese pizza, okonomiyaki is a savory pancake stuffed with cabbage and dressed with a mix of kewpie mayo and sweet okonomi sauce. It's kid friendly, delicious, and ready in just 20 minutes! 
I'll never forget the first time I tried okonomiyaki – I was in Beppu, a city known for their bucolic hot springs, and my uncle Ken decided to introduce my brother and I to this famous Japanese dish. We were seated in a booth with tatami floors which had a low table in the center, and on top of it, a large hot plate "where the magic happens", my uncle said.
A waiter arrived with two bowls of batter that were mixed with cabbage and a mix of seafood. He poured a ladle full onto the hot plate and shaped the batter into a perfect circle. We watched in awe as the batter bubbled, our stomachs growling.
That first bite was a revelation – a fluffy savory pancake topped with kewpie mayo, okomi sauce and katsuobushi (bonito flakes). It was one of the best things I had ever tasted. Many, many Japanese pancakes were made and devoured that evening.
What is Okonomiyaki?
Okonomiyaki – お好み焼き – is a savory Japanese pancake made with a light but substantial batter made of flour, mountain yam (nagaimo) and dashi. It's very similar to takoyaki which are round shaped balls made with a mixture of batter, eggs, soy sauce, dashi, and stuffed with chopped octopus, scallions, and pickled red ginger.
Sometimes you will hear people refer to takoyaki as "okonomiyaki on a stick."
Okonomiyaki has a tradition of being topped with okonomi sauce, Japanese kewpie mayonnaise, katsuobushi, pickled red ginger, and green laver (aonori). But when it comes to the ingredients inserted into the batter, it's a different story.
Some pancakes include pork belly, while others contain seafood or a fried egg. There are even some that use more eclectic ingredients like mochi or even cheese. And the freedom to use those different ingredients is even reflected in the meaning of the name.
What Does Okonomiyaki Mean?
The word okonomiyaki derives from two words in the Japanese language:
Okonomi means roughly 'how you like'.
Yaki translates into 'grill'.
Therefore, grilled how you like it is pretty close to its literal meaning.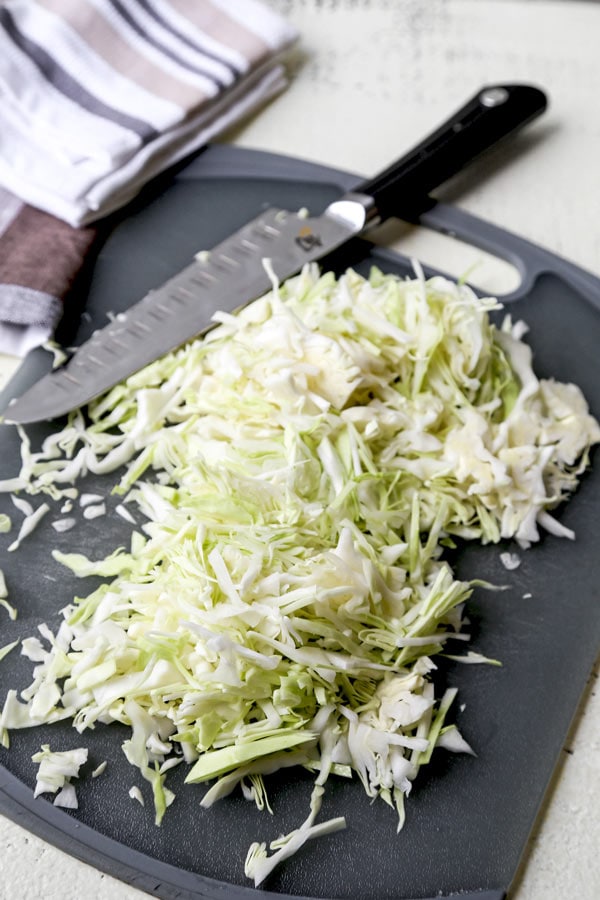 Ingredients for Okonomiyaki
Flour: Look for Osaka style okonomiyaki flour, which yield a rich and fluffy dough. Normally you would add grated mountain yam (nagaimo) to the batter to give it the right consistency, but since it's very difficult to find here in the US, brands like Otafuku have made it easy to make delicious okonomiyaki without the need for it.
Dashi:

Dashi is a Japanese sea stock that acts as the savory, umami bedrock in so many Japanese recipes

.

It adds a savory element to the pancake. You can use powdered dashi (1 teaspoon per 1 cup of water) or make it from scratch (I have an easy how to make dashi tutorial you can follow here).
Green cabbage: Green cabbage is a must to add that lovely crunch and refreshing taste. Make sure it's sliced very thinly.
Scallions: Scallions add a crunch and a little sweetness to the dish. Save about a teaspoon of fresh ones to sprinkle on top of the pancake.
Eggs: Large eggs and preferably pasture raised as they taste so much better! I get mine at Whole Foods.
Oil: Any type of neutral oil works here. You can even use olive oil if you really enjoy the taste.
Beans sprouts: A cup full of beans sprouts to lighten up the dish.
Toppings variations
The most popular toppings for okonomiyaki are:
How to Make Okonomiyaki
Pour 1 cup Osaka style okonomiyaki flour in a bowl along with 3/4 cup dashi and whisk until the flour has dissolved and the batter is smooth.
Stir in the whisked eggs, scallions, and shredded cabbage. Mix well.
Add 1 tablespoon of oil to a medium pan over medium high heat and when the oil is hot, 

ladle one third of the okonomiyaki batter into the pan.

Shape the batter into a pancake about a half-inch thick.
Place the beans sprouts on top of the pancake a cook for 4 minutes.
Flip the pancake and cook for 3 minutes.
Transfer the pancake to a plate and top with kewpie mayonnaise, okonomi sauce, bonito flakes (katsuobushi), and red pickled ginger (beni shōga).
The result is a nice pliable crunch from the cabbage and bean sprouts. The pancake itself is equal parts crispy on the outside – and chewy on the inside.
Oh – and that sauce!! Okonomiyaki sauce has a sweet and salty tang to it that plays ever so nicely with the creaminess from the mayo and the umami depth from the bonito flakes.
Where does Okonomiyaki Come From?
While okonomiyaki is found all throughout Japan, the most common form originated in the Kansai region around Osaka.
Osaka okonomiyaki is typically made from batter that has the vegetable, meat or seafood elements mixed in. The Japanese cabbage pizza we're making today is based on the Kansai (Osaka) style preparation.
However, there is a second method at you may be familiar with, and that method hails from Hiroshima.
Hiroshima style okonomiyaki (広島風お好み焼き) relies on most of the same basic ingredients as the Osaka version – however with Hiroshima-yaki, everything is layered. You'll typically find the ingredients piled one on top of the other in a neat, circular stack. Plus, the pancake comes topped with yakisoba (sometimes udon noodles) and a fried egg.
While I enjoy both versions of okonomiyaki recipes, when it comes to cooking okonomiyaki at home, I prefer the Osaka version simply because it's easier to execute.
What is Modanyaki?
Modanyaki, which is the Japanese pronunciation for "modern yaki", is an Osaka style okonomiyaki pancake cooked with yakisoba. It's cooked by mixing and grilling okonomiyaki batter and yakisoba all together.
What to Serve with Okonomiyaki
It's safe to say that if you are serving okonomiyaki for dinner, it's going to be the star of the meal, and most likely the favorite one. Therefore I recommend serving small side dishes to compliment the flavors of the Japanese pizza. Some of my favorite dishes are:
How to Store Leftovers
I only recommend saving okonomiyaki if the pancake isn't drenched in sauce. Otherwise I'm afraid it's only going to get mushier as time goes by.
To store okonomiyaki pancake, save it on a plate and wrap with plastic wrap. Or slice it and transfer it to an airtight storage container. Refrigerate for up to 2 days.
Did you like this Okonomiyaki Recipe? Are there changes you made that you would like to share? Share your tips and recommendations in the comments section below!
Print
The Best Okonomiyaki (お好み焼き)
An easy and delicious Japanese pizza, filled with cabbage and beans sprouts, and topped with sweet and tangy sauce.
Author: Caroline Phelps
Prep Time:

10 minutes

Cook Time:

10 minutes

Total Time:

20 minutes

Yield:

3

Japanese pancakes

1

x
Category:

Main

Method:

Pan frying

Cuisine:

Japanese
For the Japanese Pancakes
1 cup

Osaka style okonomiyaki flour

3/4 cup

dashi

10.5 ounces

green cabbage (shredded)

2

scallions (chopped)

2

eggs (whisked)

2 tablespoons

neutral oil such as vegetable or grapessed oil

1 cup

beans sprouts
Toppings
Bonito flakes
Pickled red ginger (beni shoga)
Kewpie mayonnaise or regular mayonnaise
Okonomi sauce or tonkatsu sauce
Aonori (green laver)
Instructions
In a large bowl, add okonomiyaki flour and stir in the dashi broth until the flour dissolves.
Add cabbage, scallions and eggs to the batter and mix well.
In a large pan over medium high heat, add 1 tablespoon oil and swirl to coat the pan.
Pour 1/3 of the mixture into the pan and shape into a 1/2-inch thick pancake. Top with 1/3 of the bean sprouts and cook for 4 minutes, until the bottom is golden brown.
Flip the pancake and cook for 3 minutes, until bean sprouts are cooked.
Transfer to a plate and top with okonomi sauce, kewpie mayonnaise, bonito flakes, pickled ginger, and aonori.
Repeat the steps for the remaining 2 pancakes.
Notes
How to store okonomiyaki: Keep the leftovers in an airtight storage container, or on a plate covered with plastic wrap. Refrigerate for up to 3 days.
Nutrition
Serving Size:

1 pancake

Calories:

291

Sugar:

5.6 g

Sodium:

218.9 mg

Fat:

8.9 g

Saturated Fat:

2.8 g

Carbohydrates:

41.6 g

Fiber:

3.9 g

Protein:

12.3 g

Cholesterol:

129.3 mg
Keywords: recipe, pancakes, pizza, snack
Recipe Card powered by