No Teppanyaki grill top needed to whip up this simple and savory Japanese Fried Rice recipe. Easy to make and ready in 15 minutes from start to finish!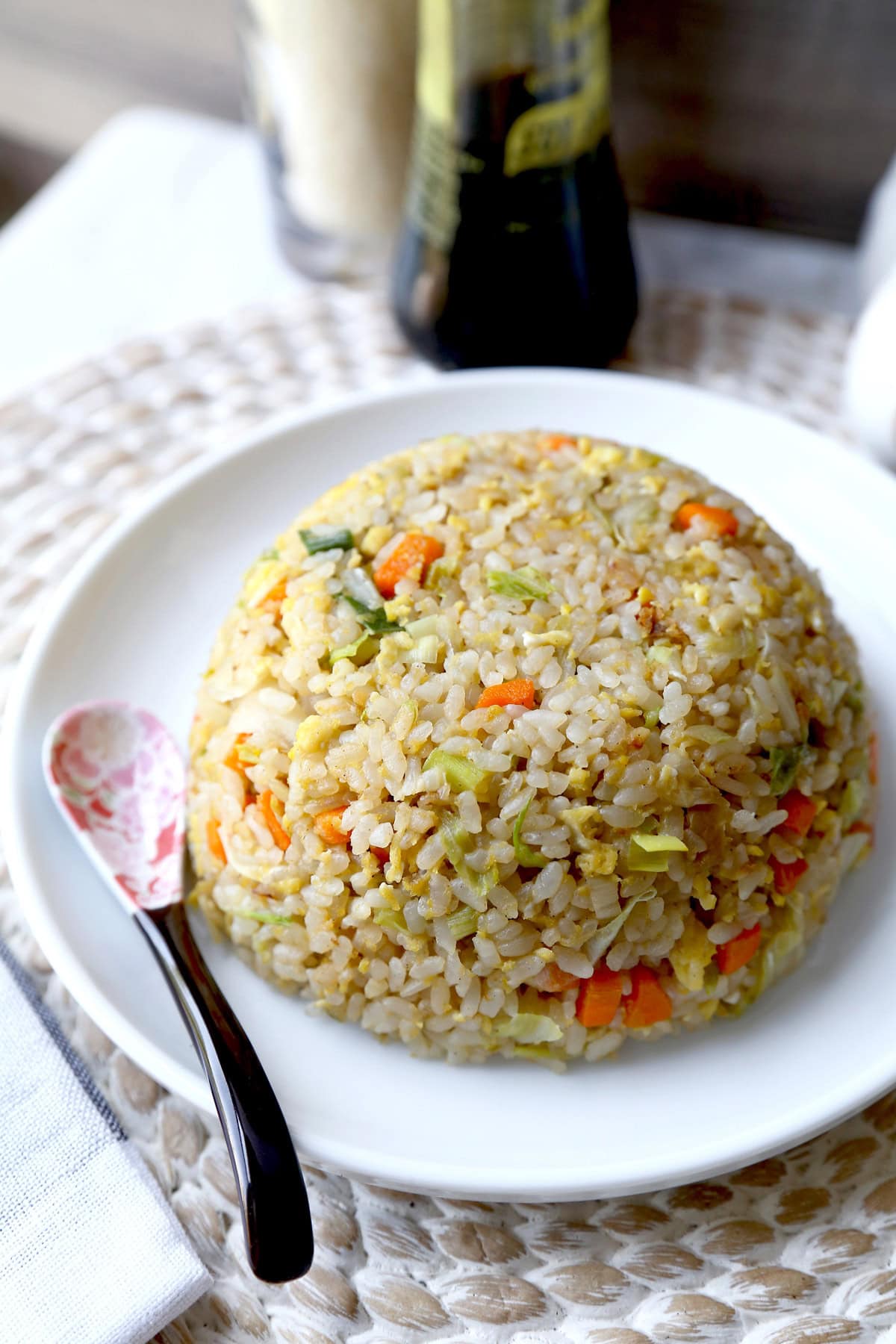 I think you'll agree with me that there's something magical about eating umami loaded hibachi fried rice at a Japanese teppanyaki restaurant.
But, there's a catch:
It sure isn't the easiest thing to make at home. I don't know many home chefs that have a teppanyaki grill top at the dining table, whipping up garlic rice while the family applauds your amazing spatula and knife skills 😂
Well, it turns out you can totally prepare a delicious Japanese fried rice at your place any time. The main difference: we'll just trade the grill top in for a frying pan or wok.
Good news if you're a fan of Japanese fried rice! Today's post is all about how to make hibachi fried rice in your home kitchen with the tools at your disposal. All you need are a few simple ingredients to whip up a flavorful and filling rice dish! This will surely be a staple dish to keep in mind in the future. Itadakimasu!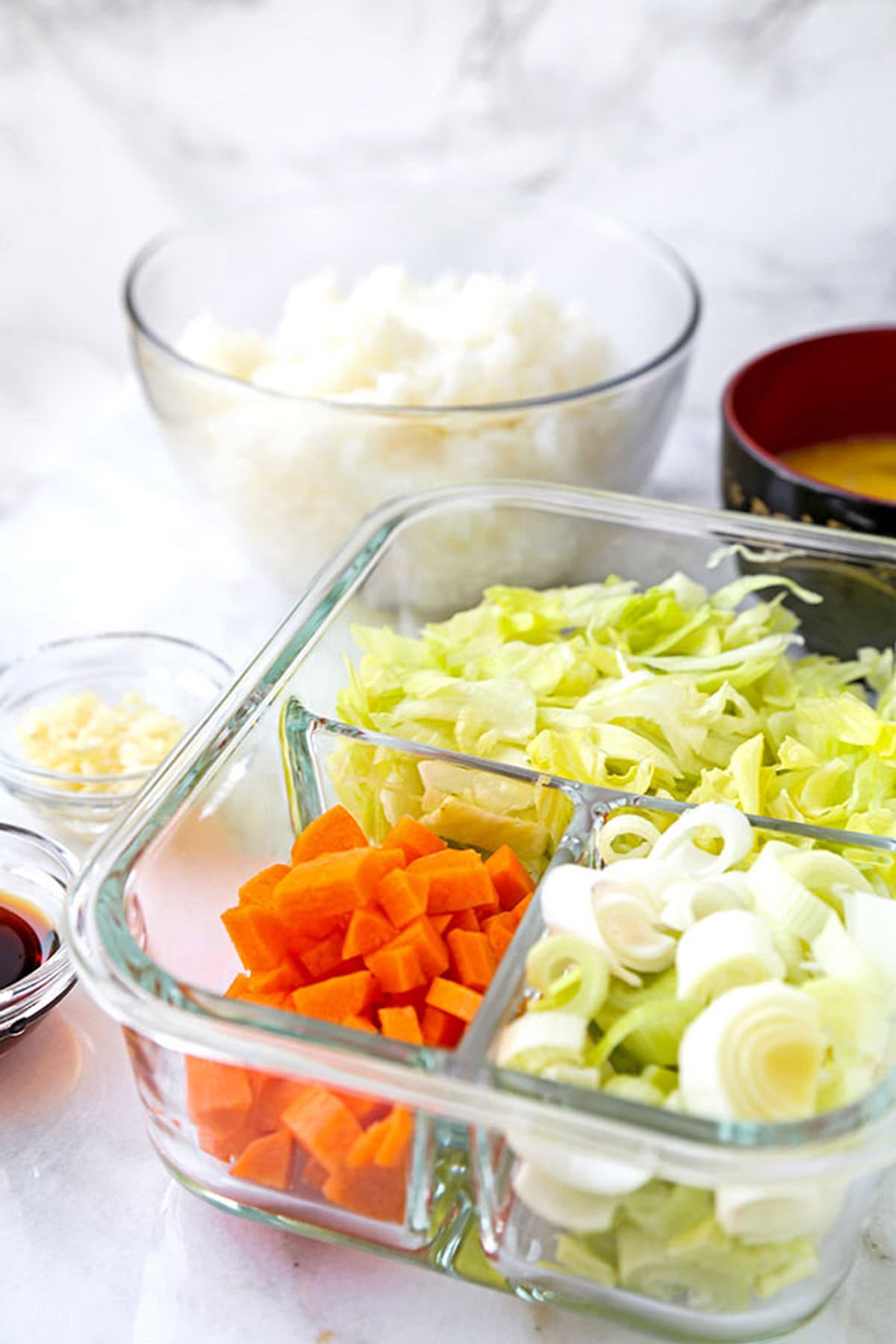 Are Fried Rice and Yakimeshi the Same Thing?
Yes!
Yakimeshi (やきめし) literally means fried rice. It's a rice dish that's made using leftovers such as eggs, veggies, meats and seafood.
Yakimeshi VS Hibachi Fried Rice
The only real difference between the Japanese fried rice at a teppanyaki spot and the simple fried rice you whip up at home is theater. Being able to flip an 8" chef's knife behind your back and catch it with your eyes closed is a neat trick – but, c'mon, we're making dinner here!
How is Japanese fried rice different from Chinese fried rice?
Japanese fried rice, also called yakimeshi, is very similar to Chinese fried rice, also called chahan, except for two main differences.
Japanese fried rice is made using short-grain rice, while Chinese fried rice uses long-grain rice like Jasmine rice. This means that Chinese fried rice has a firmer and drier texture than Japanese fried rice, which tends to be chewy and slightly sticky.
When making Chinese fried rice, the egg is added before the rice during the cooking process. Japanese fried rice uses the reverse technique – the rice is added first and the eggs are scrambled after.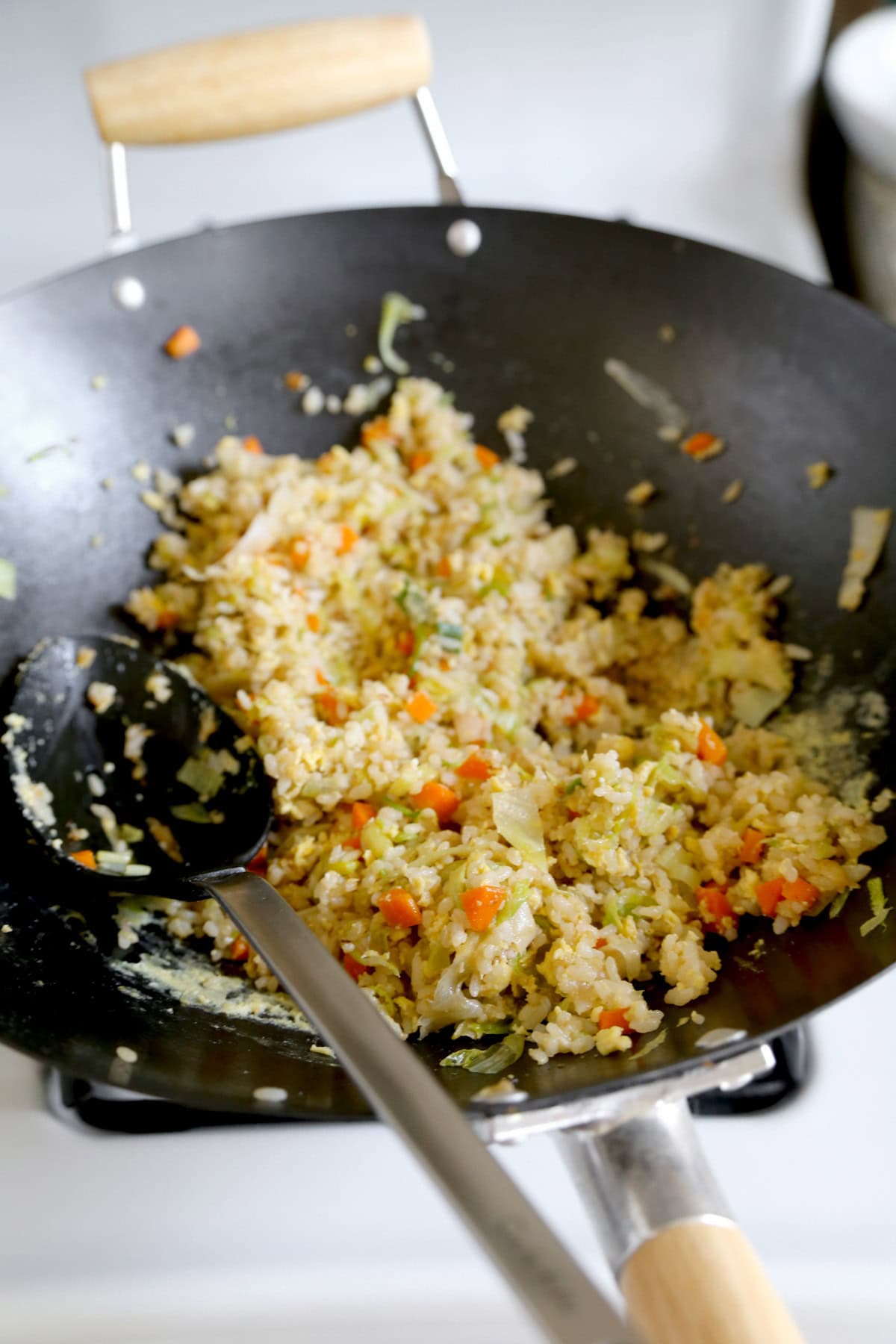 Japanese Fried Rice Ingredients
Oil: You can use a neutral oil such as grapeseed oil or vegetable oil. Or peanut oil also works if you happen to have some in your pantry.
Garlic: A couple of garlic cloves as aromatics, to infuse this rice stir fry with a slight sweet and spicy taste.
Leek: Leeks are often use in Japanese cooking for their mild and sweet taste. But feel free to use a regular onion or some shallots as well.
Carrot: You don't a lot of carrot – just a small will do. The carrot adds a little sweetness and a pop of color to this traditional Japanese dish.
Day old cooked Japanese short-grain rice: The reason why it's better to use rice that's been sitting in the fridge for one or two days is because the grains have less moisture and give the fried rice its firm and chewy texture.
Lettuce: The shredded lettuce is added last and give the dish a mild and refreshing taste.
Eggs: A traditional ingredient fried rice cannot do without! Adding eggs gives the dish a little moisture and a protein boost.
Soy sauce: Soy sauce for its umami and saltiness. I'm only using a little since Japanese fried rice is quite mild in flavor.
Salt and ground white pepper: A little of each to round up the dish. Add to your liking.
Other Popular Ingredients to Add to Fried Rice
This Japanese fried rice recipe is basically a blueprint for you to add your own cooking chops to.
You can technically use any vegetable or protein for this recipe!
Here is a list of common ingredients found used in yakimeshi and chahan:
Vegetables such as green beans, mushrooms, green peas, and celery.
Proteins such as extra firm tofu, chicken, pork belly, salmon, or shrimp.
A dash of toasted sesame oil to add nuttiness.
With a little Japanese kewpie mayonnaise on top for creaminess, and a touch of fruitiness and tanginess.
Chopped takana (Japanese pickled red mustard)
Chopped green onions are the perfect topping to add color and a delightful crunch to your dish.
Low sodium soy sauce to replace regular soy sauce for those watching their sodium intake.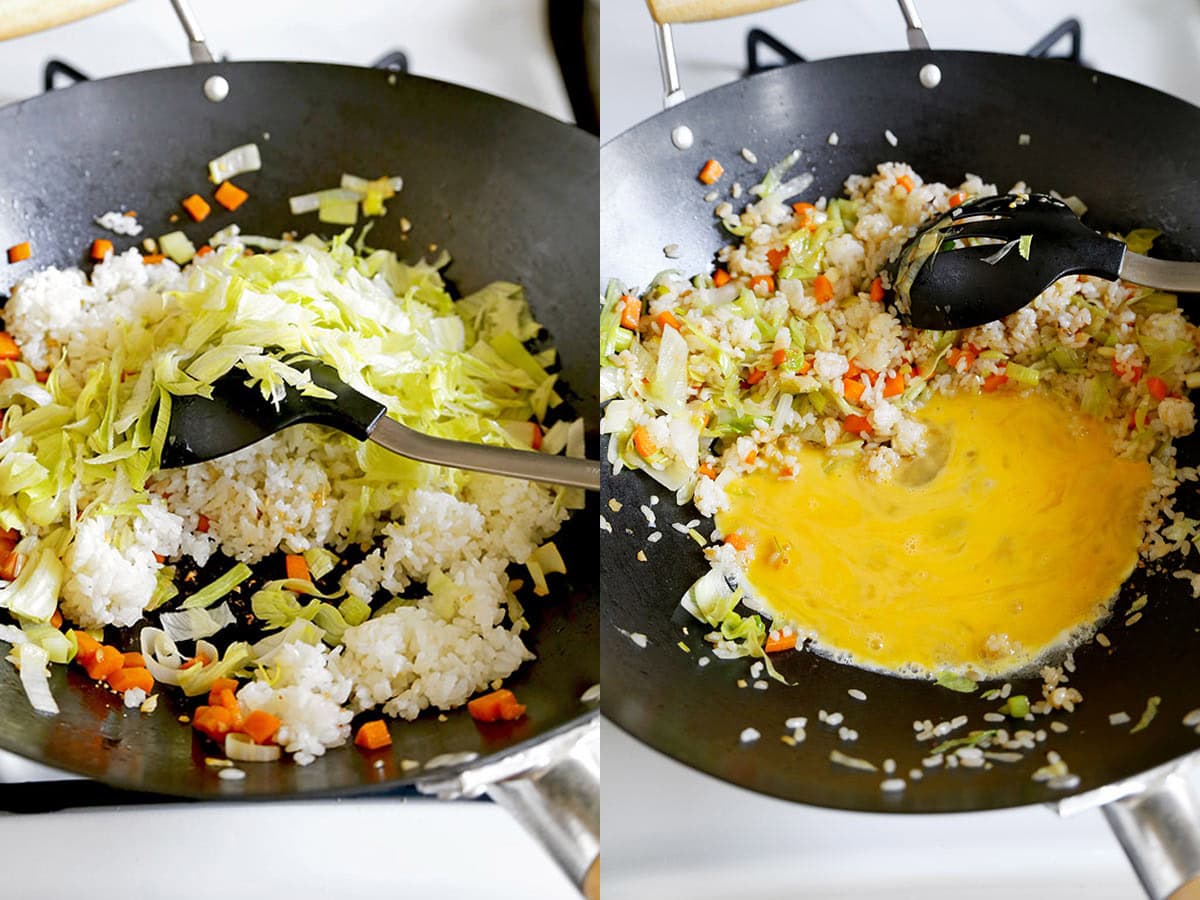 How To Make Fried Rice (Instructions)
Scroll all the way down to the recipe card for the full recipe.
PIace a wok or a large skillet over medium-high heat and when the wok is hot, add the oil and garlic.
Stir fry for 30 seconds and add the leek and carrot. Toss and cook for about 2 minutes, until the vegetables have begun to soften.
Add the cold rice and break it up. Add the lettuce and mix it with the other ingredients.
Push the fried rice to one side and add the whisked eggs to the other side. Move your spatula in zigzag motion to scramble the eggs.
Fold the cooked egg into the fried rice.
Add the soy sauce, a little salt and pepper, and stir fry until all the ingredients are combined and flavor is evenly distributed. Enjoy!
How to Make this Recipe Vegan
Most of this recipe is already vegan-friendly aside from the scrambled eggs. Therefore you can either skip the eggs or use a vegan egg replacements as a substitute such as tofu, tempeh, of vegan egg scramble.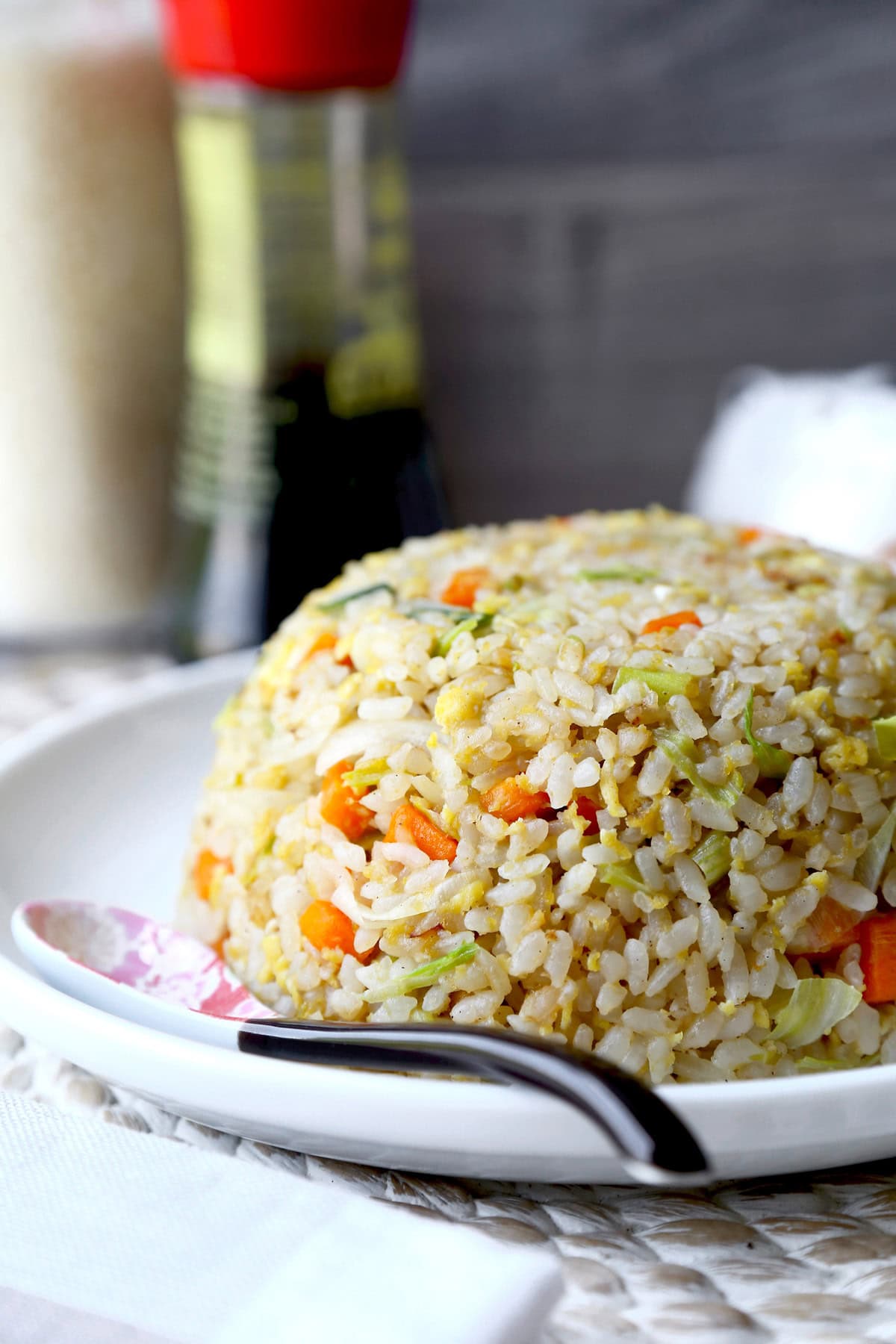 Best Rice to Use for Japanese Fried Rice
When whipping up Japanese fried rice at home, I try to go with rice that is at least a day old (and preferably refrigerated).
That's because some evaporation occurs when the rice cools down, that results in fried rice that holds its texture and is less mushy after the reheat.
But if you didn't plan ahead and steam a bunch of rice the day before making your own Japanese fried rice, it's totally OK.
The texture will be a bit more mushy than if it was made with day-old rice, but the dish will still be delicious.
Use short-grain Japanese rice whenever you are making traditional yakimeshi. It results in an almost chewy experience. but if you prefer the texture of hibachi fried rice which is a little less sticky, choose medium grain rice. Brands such as Nishiki, Botan, and Kokuho, are all medium grain.
Best Pan for Fried Rice
If you ask my Japanese mother how to fry rice, she'll tell you that any old pan is fine. And she's right… up to a certain point.
The best pans to use are the deep ones such as a wok or a deep skillet, and that's because it makes tossing the rice and veggies at high heat much more easy, and less messy.
If you have a gas range, the cooking flame will also heat the sloping sides of your wok, which is excellent for making fried rice.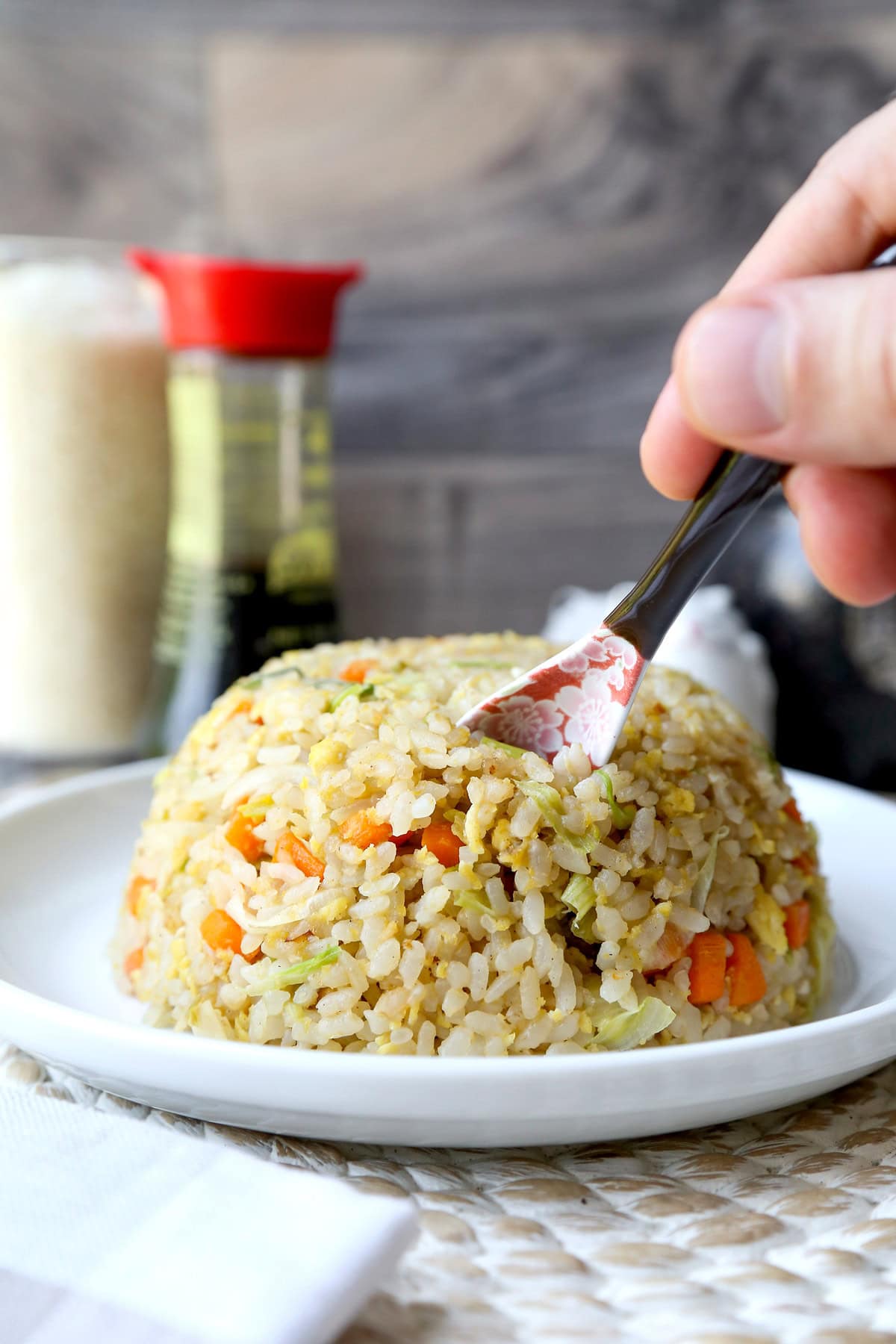 No matter how you decide to make this hibachi style Japanese fried rice in your own home kitchen, leave the fancy knife flipping tricks to the professionals at the teppanyaki joint!
How about you? Is there something you cook that transports you to a time or place from your past? I'd love to hear about it! Tell your foodie story in the comments!
Other Popular Japanese Dishes You Might Like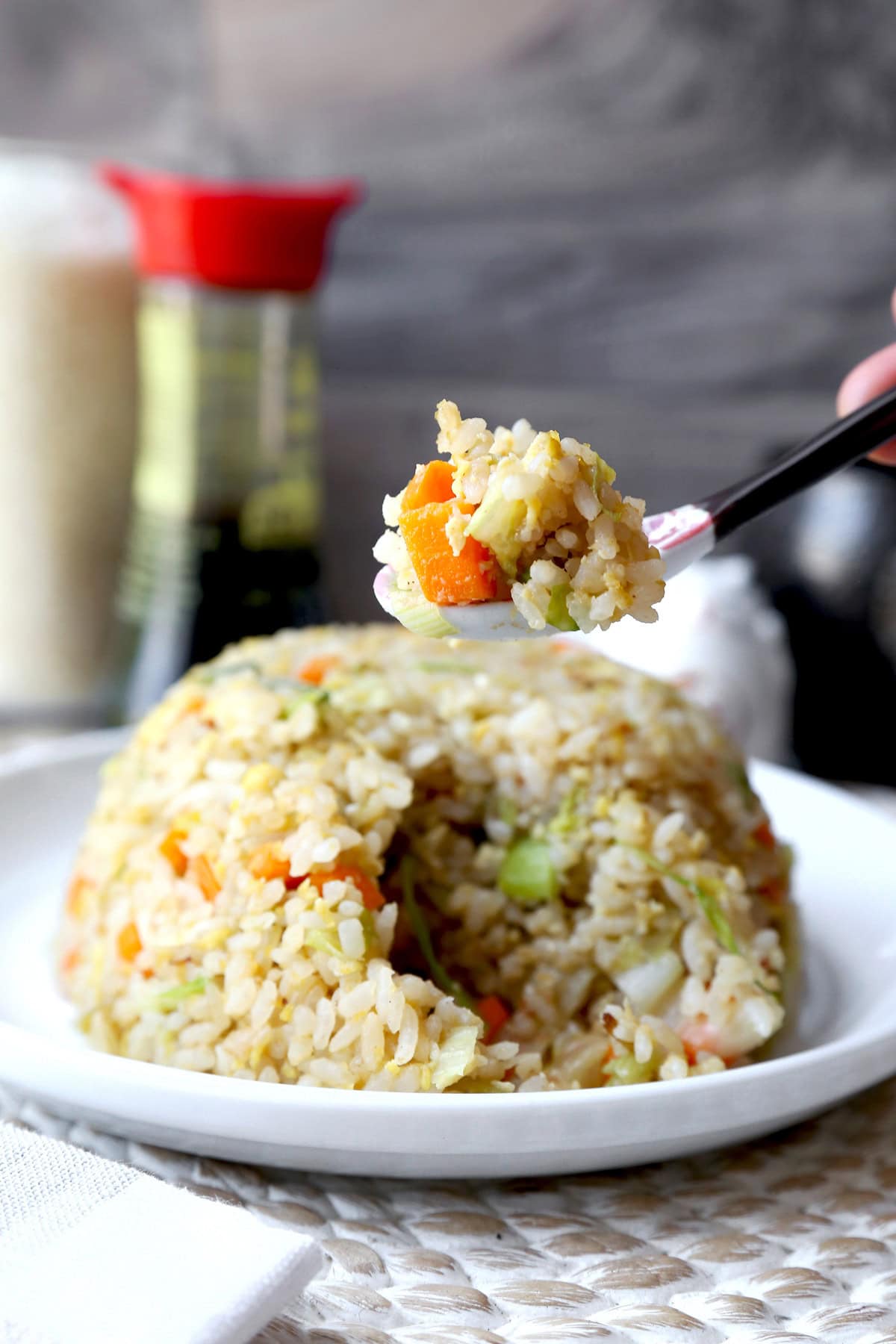 Did you like this simple Japanese Fried Rice Recipe? Are there changes you made that you would like to share? Share your tips and recommendations in the comments section below!
Print
Japanese Fried Rice (Yakimeshi)
No Teppanyaki grill top needed to whip up this simple and savory Japanese Fried Rice recipe. Yakimeshi can be made in a skillet and be ready to serve in just 15 minutes!
Author: Caroline Phelps
Prep Time:

10 minutes

Cook Time:

5 minutes

Total Time:

15 minutes

Yield:

4

people

1

x
Category:

Rice

Method:

Sauteeing

Cuisine:

Japanese

Diet:

Vegetarian
1 tablespoon

vegetable oil

2

cloves garlic (minced)

1

small leek or onion (finely chopped)

1

small carrot (finely chopped)

300

grams

1-2 days old cooked Japanese rice that was kept in the fridge

1

cup

lettuce (shredded)

2

large eggs (whisked)

1 tablespoon

soy sauce
salt and ground white pepper (to taste)
Instructions
In a wok or large skillet over medium-high heat, add the oil and garlic and fry for 30 seconds.
Add the leek and carrot and cook for 1 to 2 minutes, or until the vegetables are soft but still yielding a crunch.
Add the day-old rice and break it up until it's no longer clumpy. Add the lettuce and mix it in with the rice.
Push rice to one side and add the whisked eggs to the empty side. Move in zigzag motion to scramble the eggs, using a spatula and fold them into the rice.
Next, add the soy sauce, salt, and pepper, and toss the rice until the seasoning is evenly spread through the fried rice.
Turn the heat off, transfer the fried rice to a plate and serve.
Notes
Store the fried rice in an airtight container and refrigerate for up to 3 days.
Nutrition
Serving Size:

1 serving

Calories:

183

Sugar:

3g

Sodium:

191mg

Fat:

4.4g

Saturated Fat:

1.4g

Unsaturated Fat:

1g

Trans Fat:

0g

Carbohydrates:

29.3g

Fiber:

1.5g

Protein:

6.1g

Cholesterol:

94.8mg
Recipe Card powered by