No Teppanyaki grill top needed to whip up this simple and savory Japanese Fried Rice recipe. Easy to make and ready in 15 minutes from start to finish!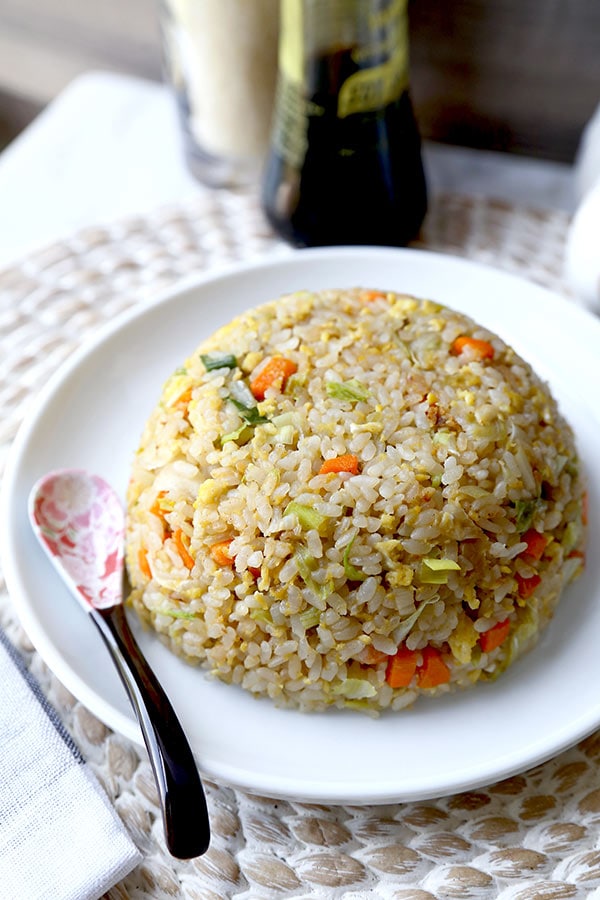 Japanese Fried Rice (Hibachi Fried Rice)
I think you'll agree with me that there's something magical about eating umami loaded hibachi fried rice at a Japanese teppanyaki restaurant.
But, there's a catch:
It sure isn't the easiest thing to make at home. I don't know many home chefs that have a teppanyaki grill top at the dining table, whipping up garlic rice while the family applauds your amazing spatula and knife skills 😂
Well, it turns out you can totally prepare a delicious Japanese fried rice at your place any time. We'll just trade the grill top in for a frying pan or wok.
Good news if you're a fan of Japanese fried rice! Today's post is all about how to make hibachi fried rice in your home kitchen with the tools at your disposal. Itadakimasu!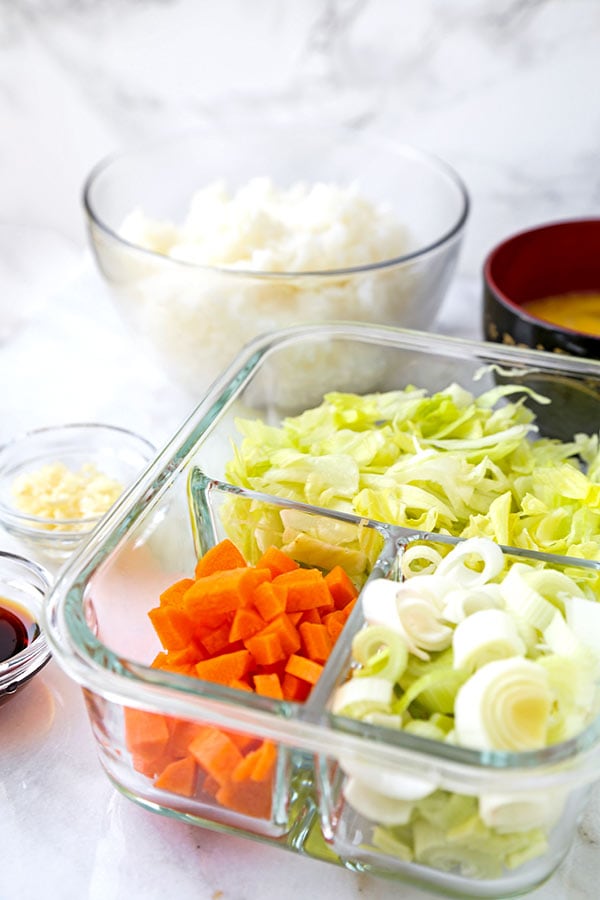 Is fried rice and yakimeshi the same thing?
Yes!
Yakimshi (やきめし) literally means fried rice. It's a rice dish that's made using leftovers such as eggs, veggies, meats and seafood.
Homemade Fried Rice VS Hibachi Fried Rice
The only real difference between the Japanese fried rice at a teppanyaki spot and the simple fried rice you whip up at home is theater. Being able to flip an 8" chef's knife behind your back and catch it with your eyes closed is a neat trick – but, c'mon, we're making dinner here!
Best Rice to Use for Fried Rice
When whipping up Japanese fried rice at home, I try to go with rice that is at least a day old (and preferably refrigerated).
That's because some evaporation occurs when the rice cools down, that results in fried rice that holds its texture and is less mushy after the reheat.
But if you didn't plan ahead and steam a bunch of rice the day before making your own Japanese fried rice, it's totally OK.
The texture will be a bit more mushy than if it was made with day-old rice, but the dish will still be delicious.
Use short grain Japanese rice whenever you are making traditional yakimeshi. It results in an almost chewy experience. but if you prefer the texture of hibachi fried rice which is a little less sticky, choose medium grain rice. Brands such as Nishiki, Botan, and Kokuho, are all medium grain.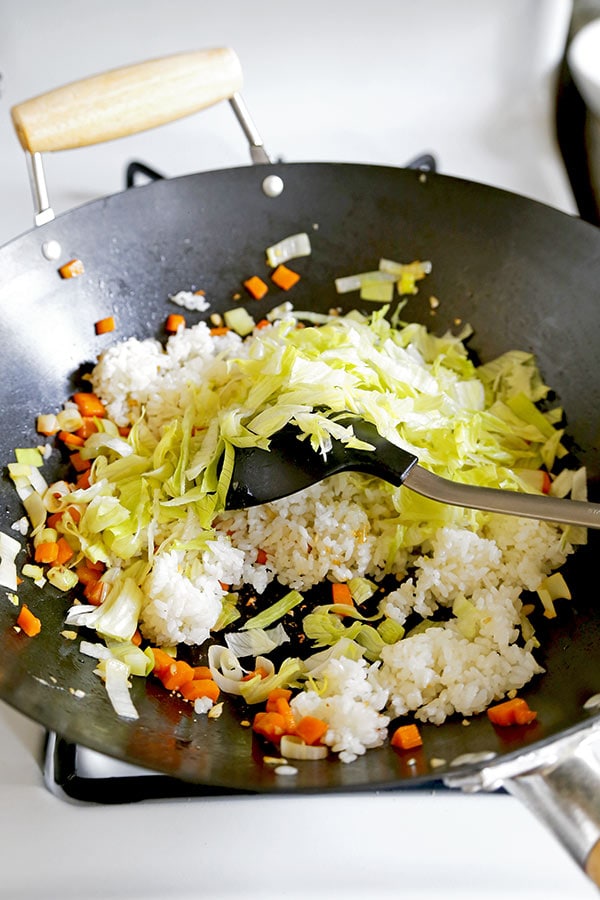 Best Pan for Fried Rice
If you ask my Japanese mother how to fry rice, she'll tell you that any old pan is fine. And she's right… up to a certain point.
The best pans to use are the deep ones such as a wok or a deep skillet, and that's because it makes tossing the rice and veggies at high heat much more easy, and less messy.
If you have a gas range, the cooking flame will also heat the sloping sides of your wok, which is excellent for making fried rice.
Best Vegetables
You can technically use any vegetable for this recipe – even chicken, pork, or shrimp, for that matter.
Big fan of green beans? Use 'em. Have leftover chashu (braised pork belly) from the last time you made ramen? Dice it and add it. Have a huge box of frozen peas in your freezer? Thaw some and add them to the mix.
This Japanese fried rice recipe is basically a blueprint for you to add your own cooking chops to.
My favorite flavor element of this easy vegetable fried rice recipe is the interplay of the soy sauce and white pepper. The bright and almost floral element of good white pepper elevates that umami of the soy. It's absolute magic!
Try it with Mayonnaise
I love squirting a tiny bit of Japanese kewpie mayo on top of my yakimeshi. It adds a little creaminess, tanginess, and sweetness. It's not a traditional thing to do but that's how I like it 😊.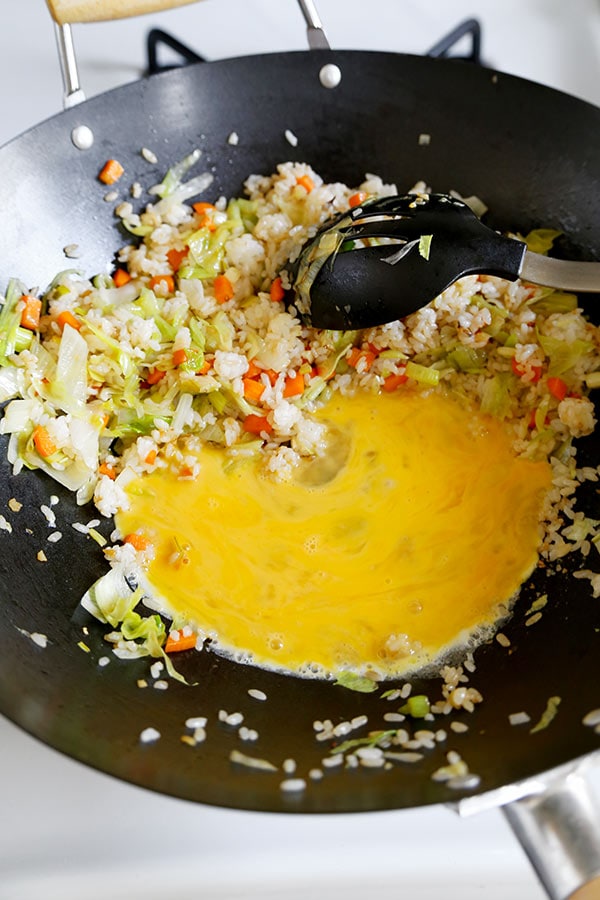 Food Can Transport You
Basically, my favorite thing about yakimeshi (aside from there being no hard and fast rules to the recipe) is that the first bite always reminds me of sitting in the kitchen with my Mom as a kid as she cooked lunch.
Good food is funny that way.
Taste is so evocative of time and place, it's easy to get nostalgic. One minute you're at the burners, frying rice – the next, you're eight years old again and Mom is setting a bowl of her special fried rice in front of you at the table.
A final word though:
No matter how you decide to make this hibachi style Japanese fried rice in your own home kitchen, leave the fancy knife flipping tricks to the professionals at the teppanyaki joint!
How about you? Is there something you cook that transports you to a time or place from your past? I'd love to hear about it! Tell your foodie story in the comments!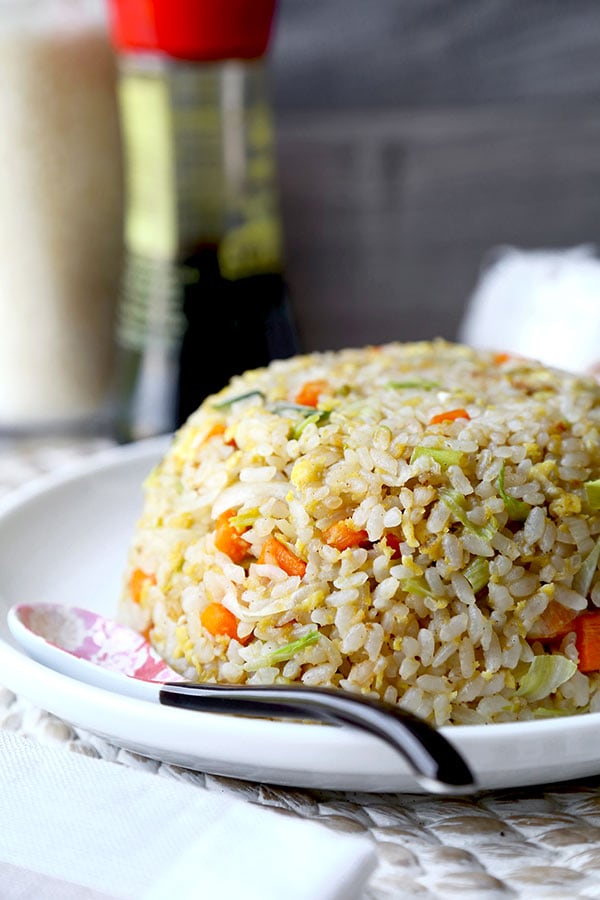 Other simple, delicious Japanese food recipes: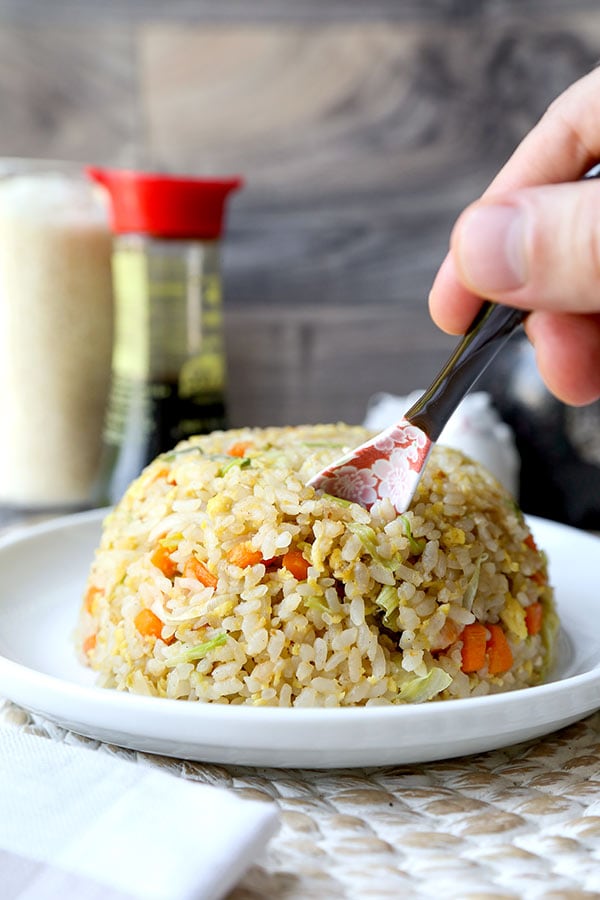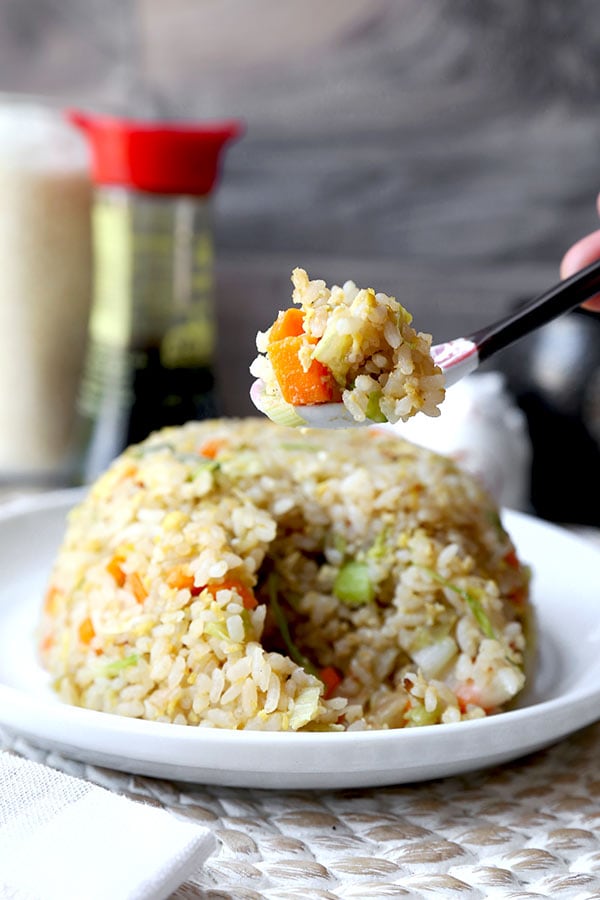 Did you like this simple Japanese Fried Rice Recipe? Are there changes you made that you would like to share? Share your tips and recommendations in the comments section below!
Print
Japanese Fried Rice (Yakimeshi)
This traditional Japanese fried rice ready to serve in just 15 minutes!
Author: Caroline Phelps
Prep Time:

10 minutes

Cook Time:

5 minutes

Total Time:

15 minutes

Yield:

4

people

1

x
Category:

Rice

Method:

Sauteeing

Cuisine:

Japanese

Diet:

Vegetarian
1 tablespoon

vegetable oil

2

cloves garlic (minced)

1

small leek or onion (finely chopped)

1

small carrot (finely chopped)

300 grams

1-2 days old cooked Japanese rice that was kept in the fridge

1 cup

lettuce (shredded)

2

large eggs (whisked)

1 tablespoon

soy sauce
salt and ground white pepper (to taste)
Instructions
In a wok or large pan over high heat, add oil and garlic and cook for 30 seconds.
Add onions and carrot and cook for 1-2 minutes, or until vegetables are soft but still yielding a crunch.
Add cooked rice and lettuce and stir until the ingredients are mixed in with the rice.
Push rice to one side and add eggs. Continuously stir and break the eggs with your spatula until they're almost fully cooked.
Mix the eggs with the fried rice and add soy sauce.
Season with salt and pepper and stir until the sauce and seasonings are evenly spread through the fried rice.
Turn the heat off and serve.
Notes
This Japanese fried rice will keep refrigerated for up to 3 days.
Nutrition
Serving Size:
Calories:

183

Sugar:

3 g

Sodium:

191 mg

Fat:

4.4 g

Saturated Fat:

1.4 g

Carbohydrates:

29.3 g

Fiber:

1.5 g

Protein:

6.1 g

Cholesterol:

94.8 mg
Keywords: recipe, side, vegetables
Recipe Card powered by