This easy shrimp fried rice recipe is savory and packed with umami—and the entire dish can be ready in less than 15 minutes! It's faster and cheaper than Chinese takeout!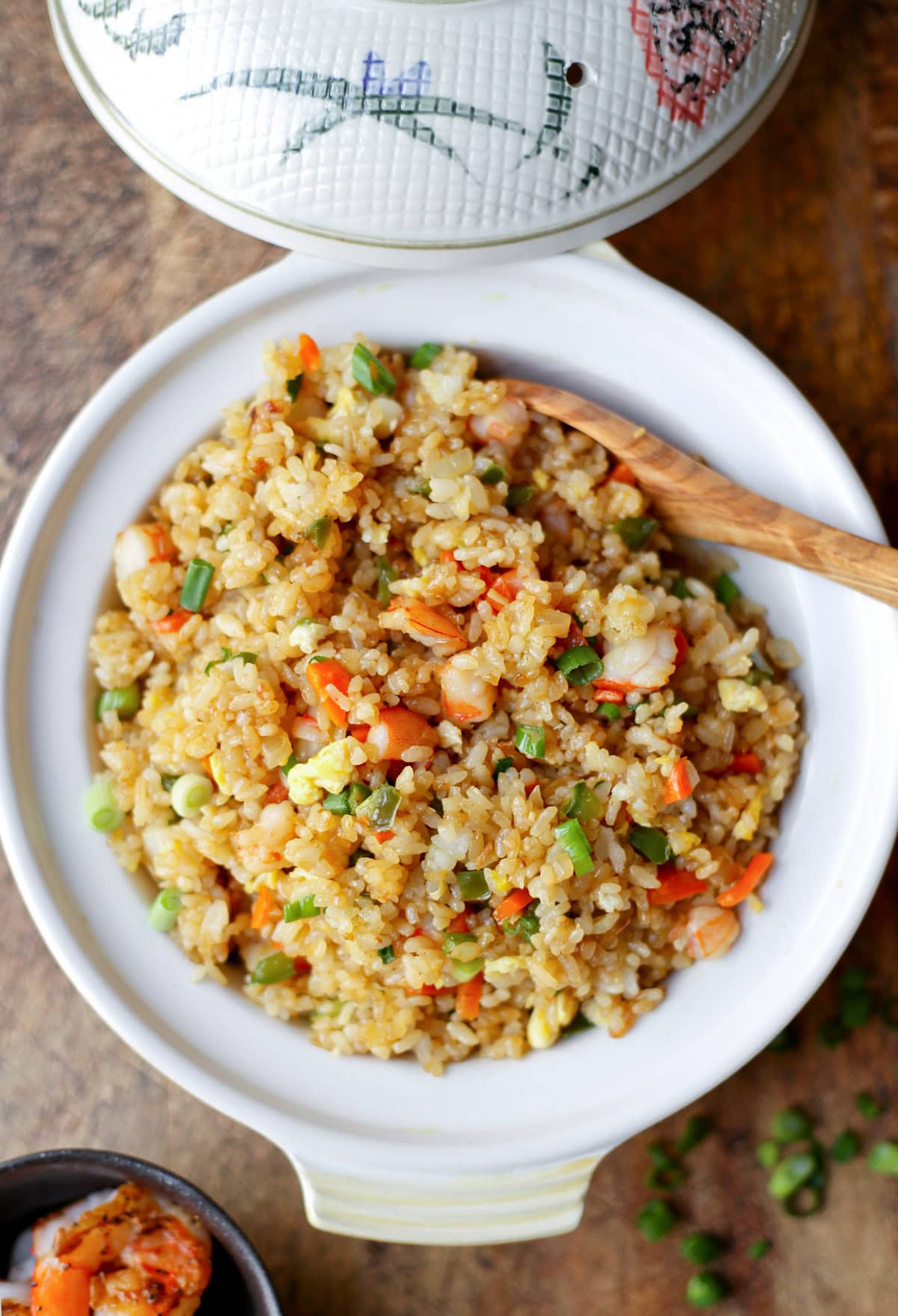 This may just be my absolute favorite quick and easy shrimp fried rice recipe. Like the majority of people I know, I never get bored of Chinese food. But when you live in a city like Los Angeles, ordering from Chinese restaurants can get expensive. Being able to cook better than takeout Chinese food has certainly saved me quite a few dollars. Plus, I get to control the amount of oil and sugar that goes into my dishes, so it's a win win!
This is the best fried rice because it's so simple and so tasty, you'll be wondering why you haven't made it sooner!
This easy recipe is impossible to mess up since it's made with leftover scraps that are quickly pan fried and lightly seasoned with some tender shrimp. What a great meal!
You can make it with freshly cooked rice although day-old rice is what most professional and home chefs prefer (including myself). That's because the rice is harder in texture and holds its shape better when fried in a wok or pan. You can also use any type of rice to make fried rice but my two favorites are Japanese short grain rice and jasmine rice. I find they absorb the flavors better and are texturally more pleasant, which is why I'm using Japanese rice for this easy shrimp fried rice recipe.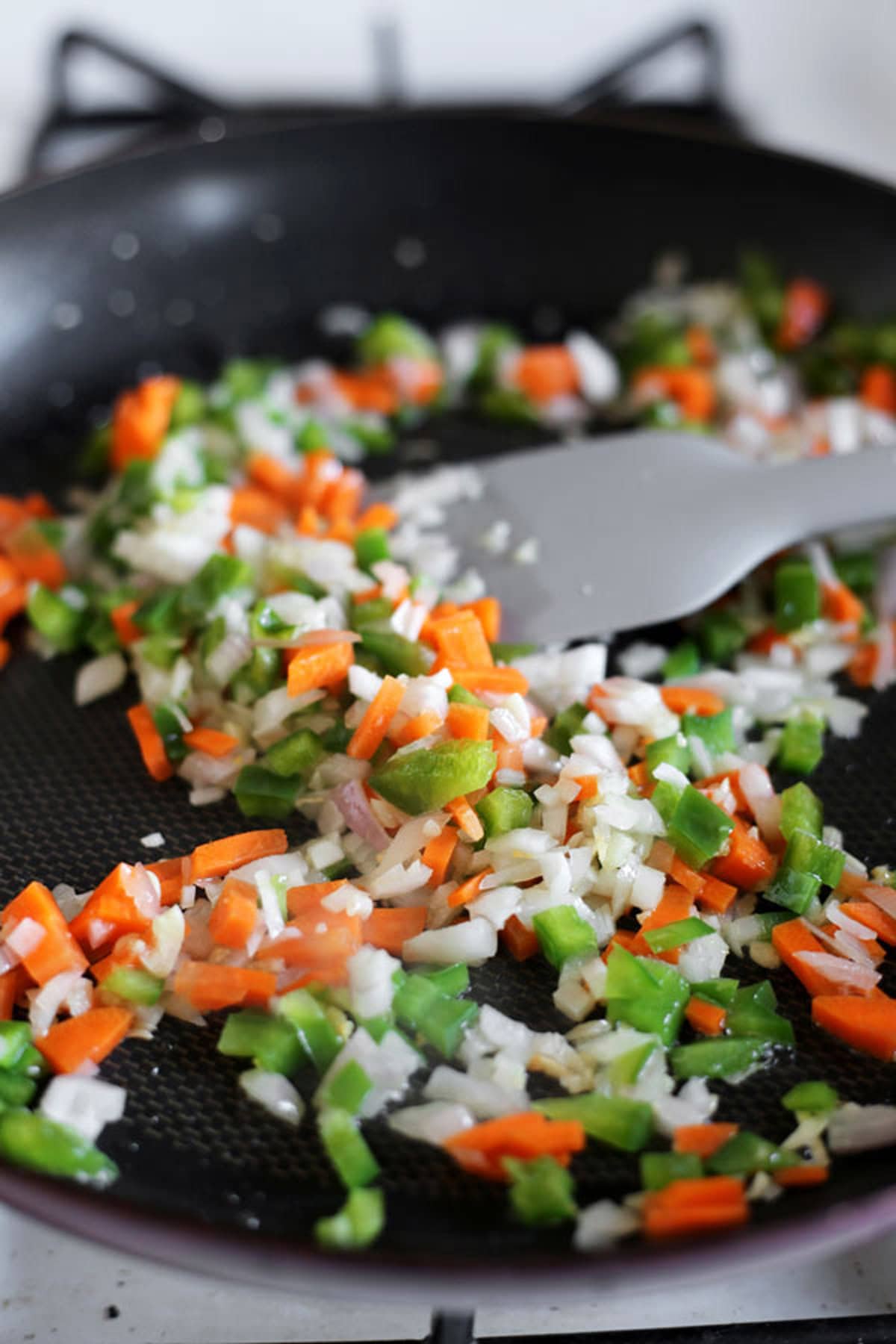 Shrimp Fried Rice Ingredients
Oil: Use a neutral oil such as vegetable oil or grapeseed oil.
Garlic: I've added two garlic cloves to infuse the rice with some sweet and spicy aromatics.
Bell pepper: I'm using green bell pepper because that's what I had in my fridge. So, feel free to use yellow, orange, or red bell pepper if you already have some.
Carrot: I like to add finely diced carrots for the subtle crunch and sweetness. Plus, the pop of color is also nice to look at.
Shallot: Shallots are slightly sweeter than onions, so I tend to favor them quite often in my cooking. But you can use half a small onion if you don't have or can't find a shallot.
Shrimp: I highly recommend spending a little extra on good, fresh shrimp because they do make a big difference in this fried rice. I get mine at Whole Foods and only purchase shrimp that have been farmed in the US or Canada.
Cooked rice: Using cooked rice that's one or two days old is better because it contains less moisture and gives the rice its dry yet chewy texture.
Powdered stock: Chicken or Consome by Ajinomoto are the two powdered stocks I use for most of my cooking. But you can also use powdered vegetable stock.
Soy sauce: I'm adding a splash of regular soy sauce to make the fried extra umami and savory. You may also opt for low sodium soy sauce if you prefer.
Ground white pepper: Ground white pepper is hotter than black pepper but has less aromatics. You can use either one for this recipe.
Egg: One large egg, scrambled, is added in the final cooking step to bring some buttery notes to the dish.
Sesame oil: I like to drizzle a little sesame oil right before serving the fried rice to add a layer of nuttiness.
Scallions: Chopped scallions (also called green onions) are a favorite of mine when it comes to completing a dish, as they add a clean and refreshing crunch.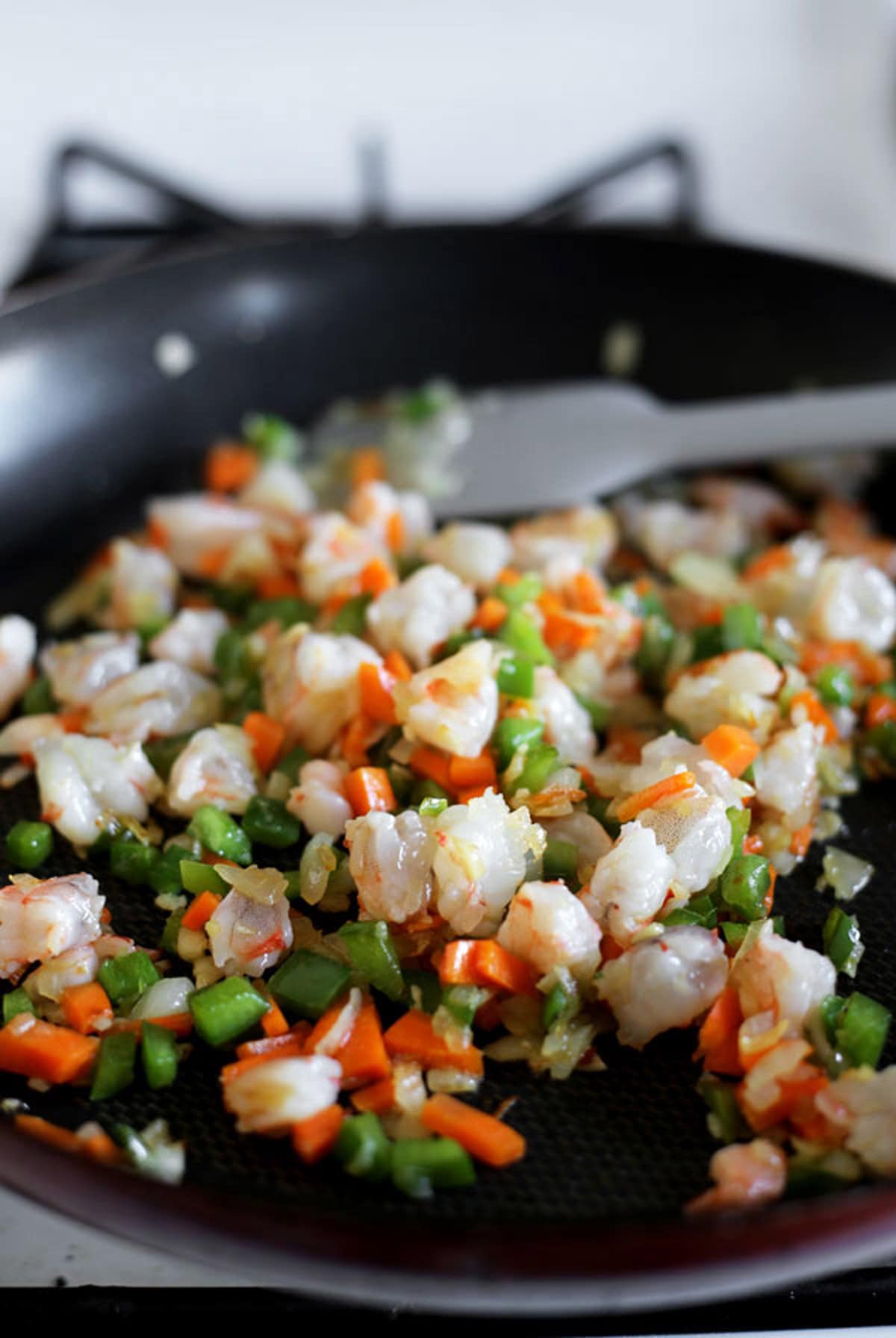 How To Make Shrimp Fried Rice
Scroll all the way down to the recipe card for the full recipe.
Gather all of your kitchen tools and ingredients.
Place a wok or a deep skillet over high heat and add the neutral oil and the garlic. Stir fry for 30 seconds.
Add the chopped bell pepper, carrot, and shallot, and stir fry for about two minutes, until the vegetables have softened a little.
Add the raw shrimp and cook for 3 minutes, until they are cooked through.
Add the rice and break it up using a rice paddle or spatula. Fold the rice with the vegetables and shrimp and add the powdered stock, a splash of soy sauce, and ground white pepper. Keep folding and mixing until the seasoning is evenly distributed.
Push the rice to one side of the wok and pour the whisked egg on the empty side. Wait a few seconds and start to stir the egg in a zigzag motion until it's completely scrambled. Mix it with the fried rice and turn the heat off.
Drizzle the sesame oil over the fried rice and top with the chopped scallions. Enjoy!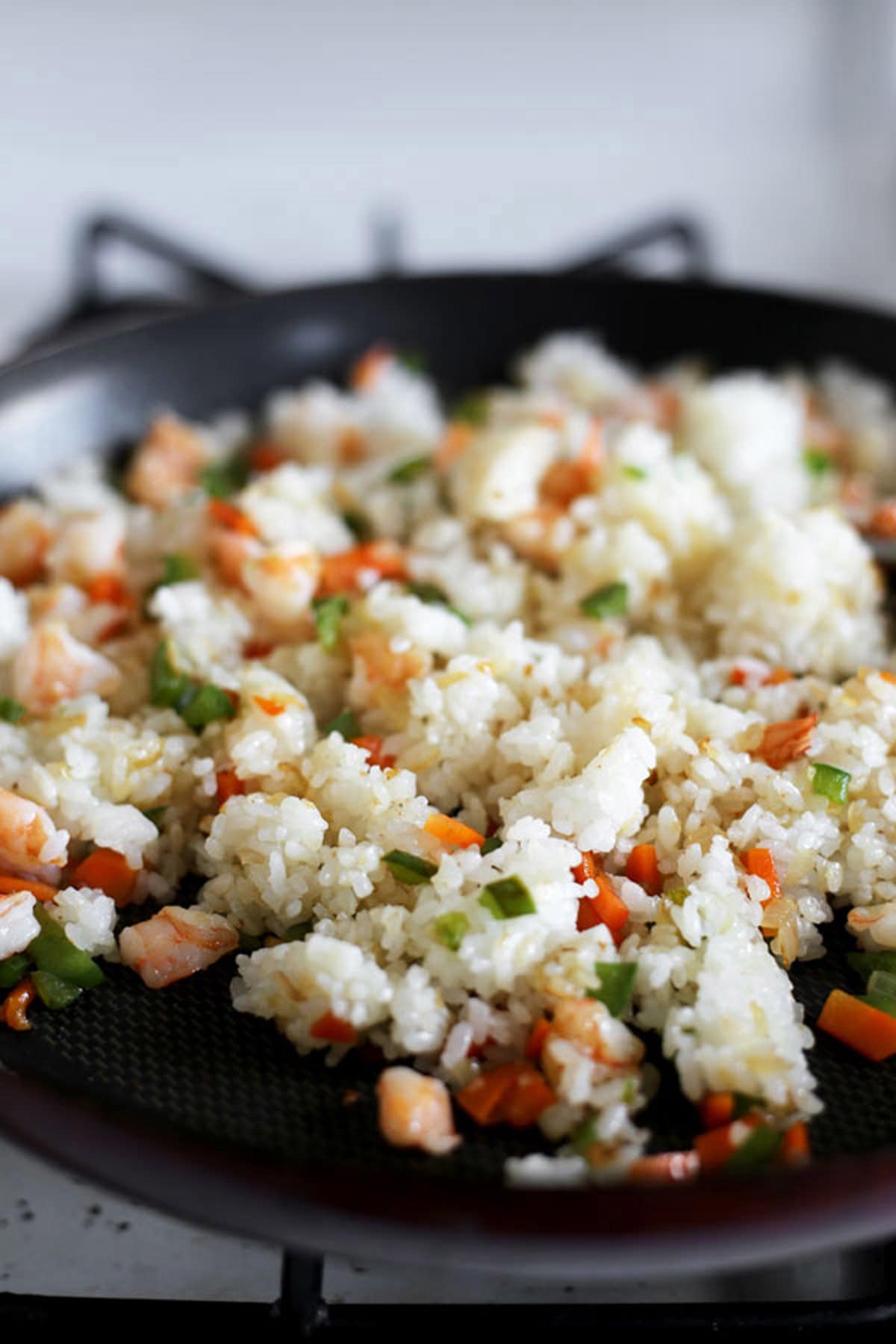 Powdered Stock to Add Flavor to Fried Rice
For this fried rice dish, I'm keeping the seasoning light and mild to preserve the delicate flavor of the shrimp and let their natural briny taste really shine. The addition of powdered chicken stock may seem surprising but it's an ingredient often used in Japanese fried rice (cha-han). If you've previously tried to make fried rice at home but couldn't achieve the flavor you get when you order it from a restaurant, chicken stock might just be what you were missing. It adds depth of flavor and marries so well with soy sauce!
Dashi powder is also used but is reserved more often for crab, lobster or dried shrimp fried rice. Either way, both are delicious!
Next Time You Make Fried Rice, Try A Seasoning Packet!
An easier way to make fried rice is by using seasoning packets. They are ah-mazing!!! If you can get a hold of these, DO IT. They will change your life! Made by Nagatanien or Glico, these little fried rice packets will season your rice so well you won't need to add anything else to it! They are the ultimate lazy chef ingredient – I use them all the time.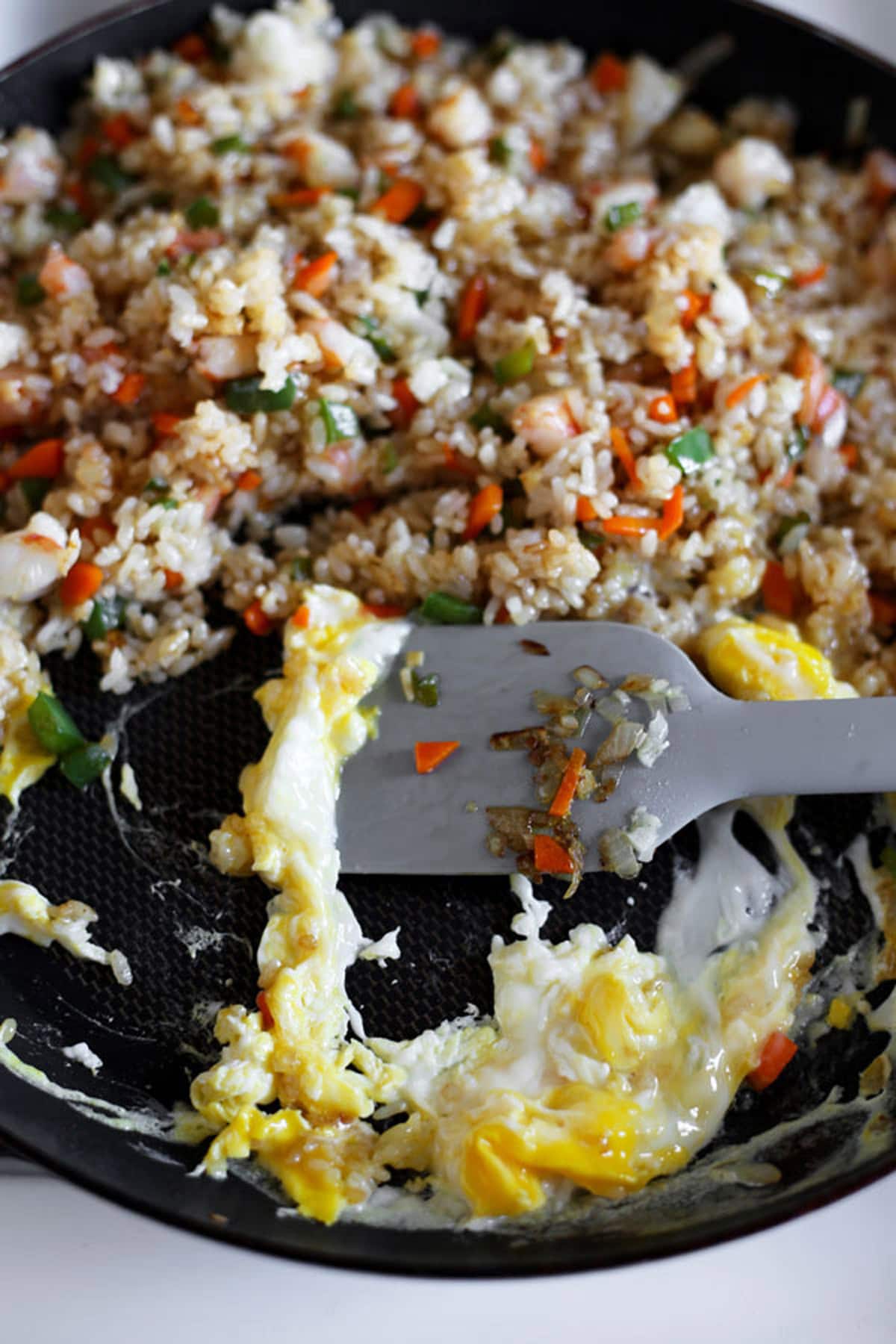 How to Reheat Rice
Whenever I make rice I always make more that I need so there is extra left for the next couple of days, or to make dishes such as this fried rice. You might be wondering what to do with cold leftover rice or how to reheat it so it retains its light and fluffy texture. Here's how:
Add one tablespoon of water per cup of leftover rice.
Microwave on high for 1 to 2 minutes, or place the rice in a small pan over low heat and warm it up for 3 to 4 minutes.
Origins of Fried Rice
Fried rice was likely first developed and/or made popular during the Sui Dynasty in Yangzhou City, China, around the end of the sixth century. This explains why rice is a staple in Chinese cooking and other Asian cuisines since it originated from that part of the world.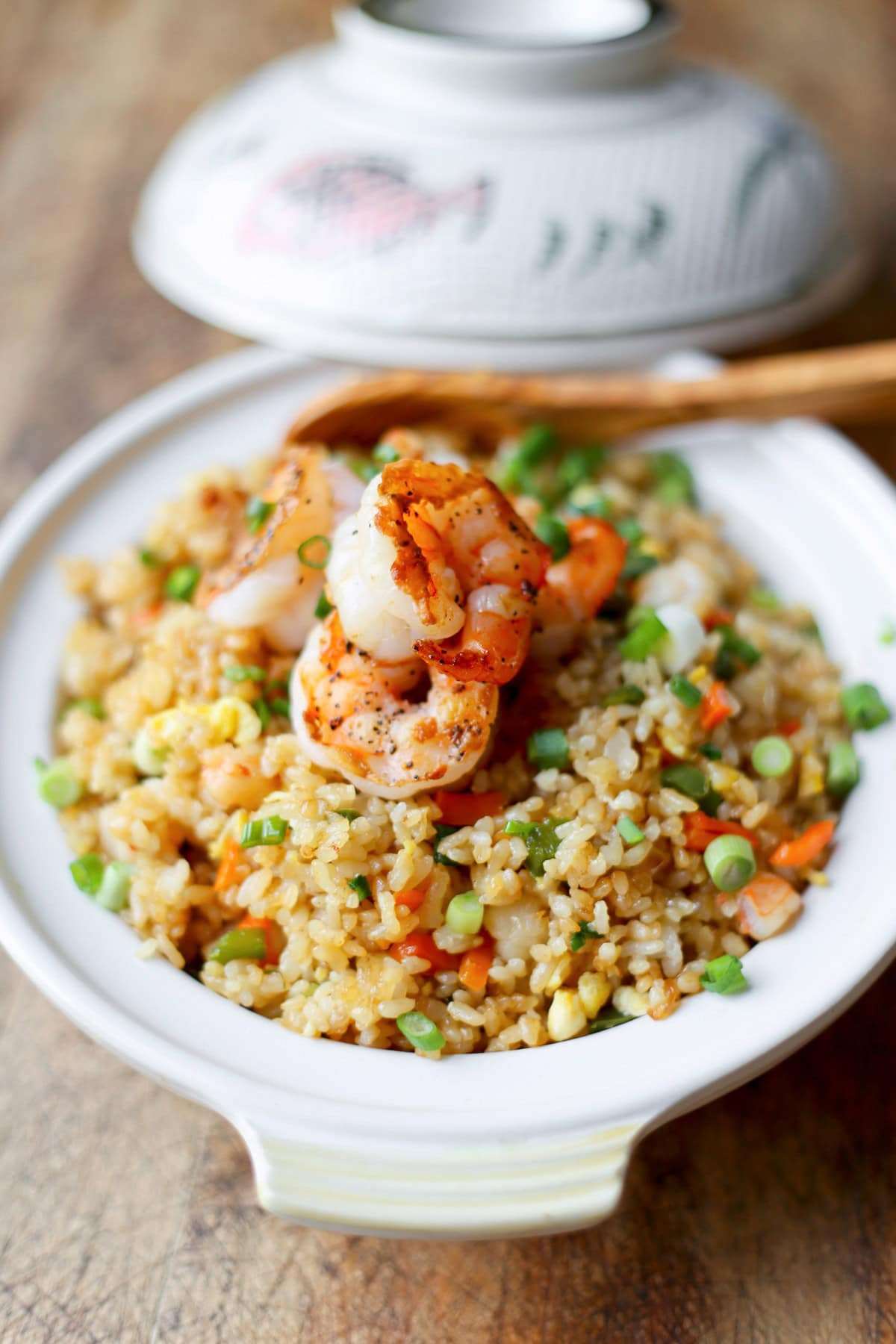 How to Store Fried Rice
Save your fried rice in an airtight storage container with a lid and refrigerate it for up to 3 days. Reheat on high in the microwave for 1 to 2 minutes until the rice is tender.
In the Freezer
Let the rice cool to room temperature.
Portion the rice into individual servings and save each serving in a freezer bag or air-tight container.
Squeeze out the air from each bag and seal, or close the each container with a lid.
Write the date on each bag and freeze.
Frozen fried rice will keep in the freezer for up to 3 months.
Other Fried Rice Recipes You Might Like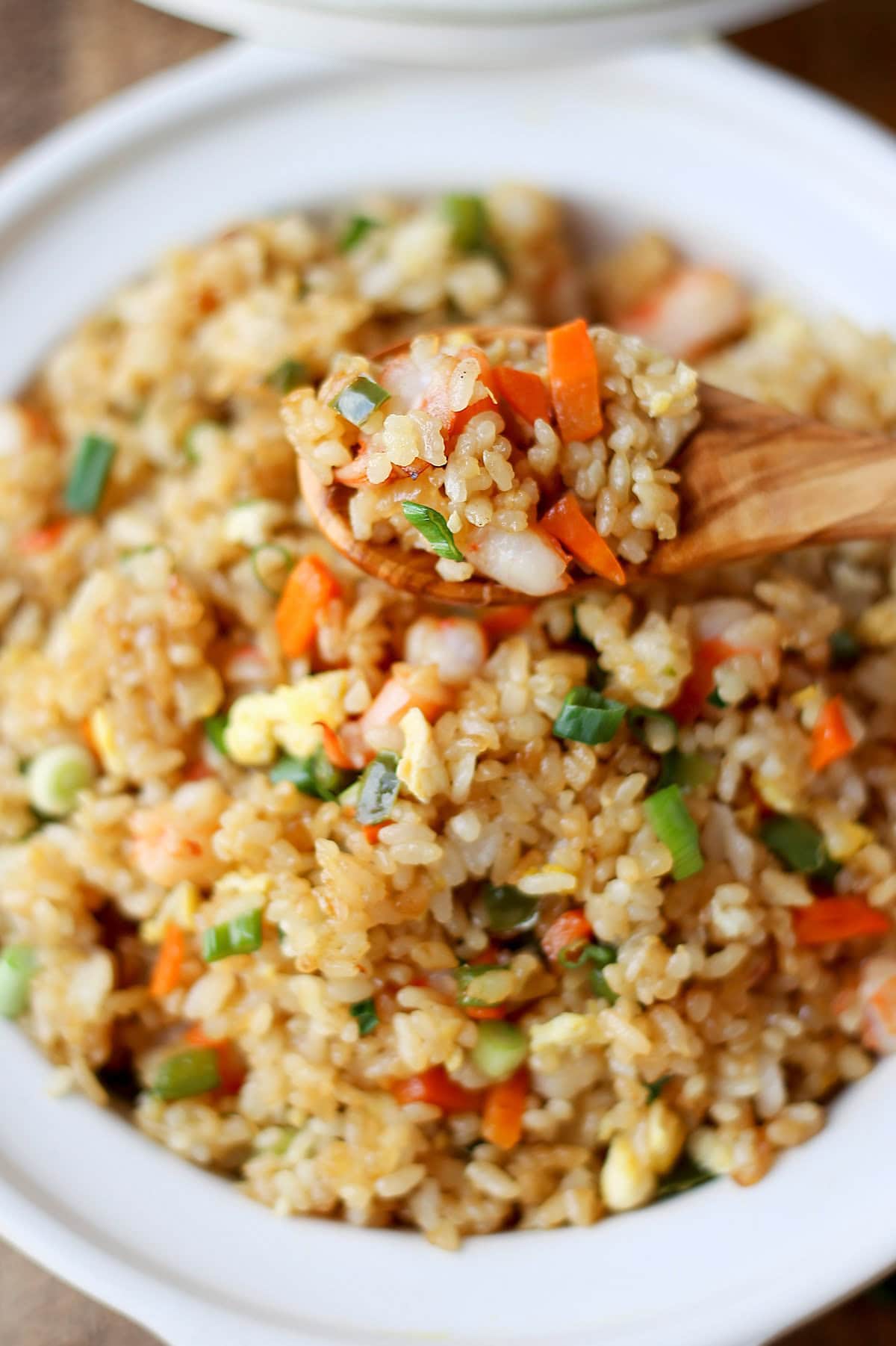 Did you like this easy shrimp fried rice? Are there changes you made that you would like to share? Share your tips and recommendations in the comments section below!
Print
Easy Shrimp Fried Rice
Ready in less than 15 minutes and with delicately sweet, savory and briny flavors. This shrimp fried rice recipe beats takeout any day!
Author: Caroline Phelps
Prep Time:

5 minutes

Cook Time:

8 minutes

Total Time:

13 minutes

Yield:

4

1

x
Category:

Rice

Method:

Stir frying

Cuisine:

Chinese
2 tablespoons

vegetable oil or grapeseed oil or other neutral oil

2

cloves garlic, minced

1/2

green bell pepper, finely chopped

1/4

cup

carrot, finely chopped

1

shallot, finely chopped

10

large shrimp, chopped bite size

3

cups

day old cooked short grain Japanese rice, at room temperature

1/2 teaspoon

powdered chicken stock

2 1/2 tablespoons

soy sauce

1/2 teaspoon

white ground pepper

1

large egg, whisked

1 teaspoon

toasted sesame oil

2 tablespoons

scallions, finely chopped
Instructions
In a large pan or wok over high heat, add oil and garlic and stir fry for 30 seconds, until the garlic becomes fragrant.
Add bell peppers, carrots, and shallots and cook for 2 minutes.
Add shrimp and cook for 3 minutes, stirring occasionally.
Add rice, break it and combine with shrimp and vegetables.
Add powdered chicken stock, soy sauce and white pepper and mix until the rice is uniformly golden / light brown.
Push rice to one side and add egg. Continuously stir and break with your spatula until it's almost fully cooked. Mix it in with the fried rice.
Turn the heat off, add sesame oil and top with scallions.
Season with salt and pepper if needed, and serve immediately
Notes
Keep the leftover fried rice in an airtight storage container and refrigerate for up to 3 days.
Nutrition
Serving Size:

1 serving

Calories:

301

Sugar:

1.6g

Sodium:

310.9mg

Fat:

9.6g

Saturated Fat:

1.6g

Unsaturated Fat:

3.7g

Trans Fat:

0g

Carbohydrates:

44g

Fiber:

0.7g

Protein:

8.7g

Cholesterol:

67.4mg
Recipe Card powered by