Easy shrimp fried rice recipe – Ready in less than 15 minutes and with delicately sweet, savory and briny flavors. This beats takeout any day!
Easy Shrimp Fried Rice Recipe
This.
This may just be my absolute favorite quick and easy shrimp fried rice recipe. So simple and so tasty!
Fried rice is something I make every time – and I mean every single time – I have leftover rice in the house. It's a dish that's impossible to mess up since it's made with leftover scraps that are quickly pan fried and lightly seasoned. It doesn't get any easier than that and yet, it looks impressive and everyone loves it!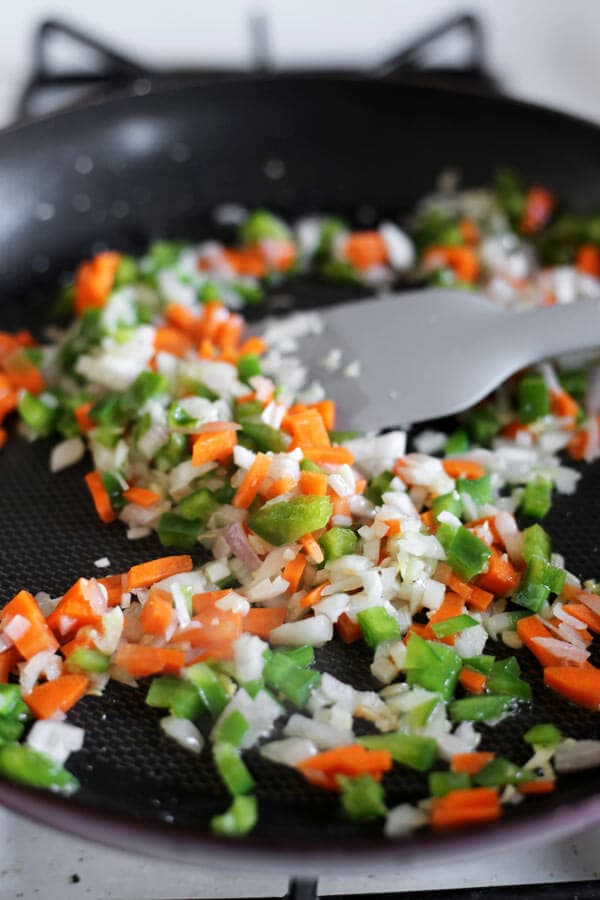 You can make it with freshly cooked rice although 2-4 day old rice seems to be what most professional and home chefs prefer (including myself). Maybe it's because the rice is harder in texture and holds its shape better when fried in a wok or pan. You can also use any type of rice to make fried rice but my two favorites are Japanese and jasmine rice. I find they absorb the flavors better and are texturally more pleasant, which is why I'm using Japanese rice for this easy shrimp fried rice recipe.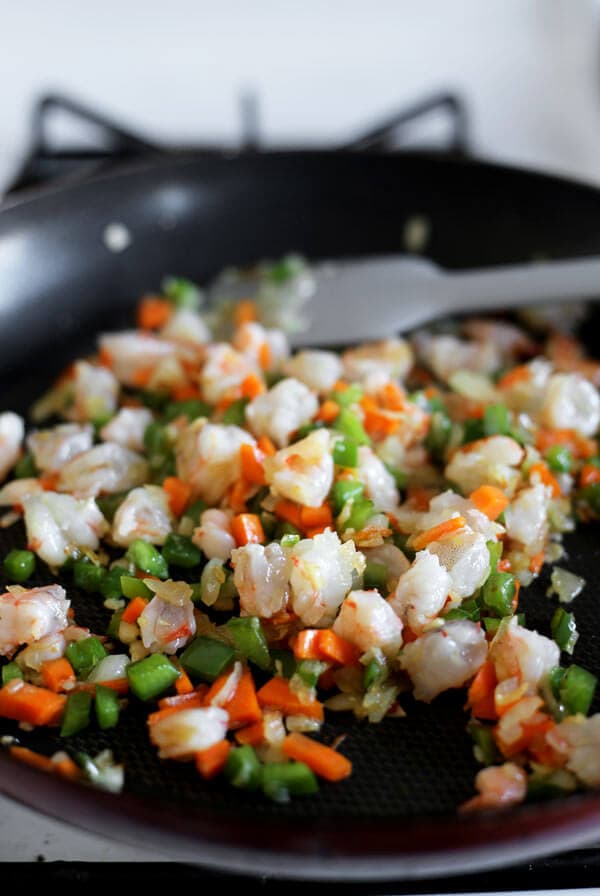 I'm keeping it light and mild to preserve the delicate flavor of the shrimps and bring out their natural briny taste. The addition of powdered chicken stock may seem surprising but it's an ingredient often used in Japanese fried rice (cha-han). If you've previously tried to make fried rice at home but couldn't achieve the flavor you get when you order it from a restaurant, chicken stock might just be what you were missing. It adds depth of flavor and marries so well with soy sauce!
Dashi powder is also used but is reserved more often for crab, lobster or dried shrimp fried rice. Either way, both are delicious!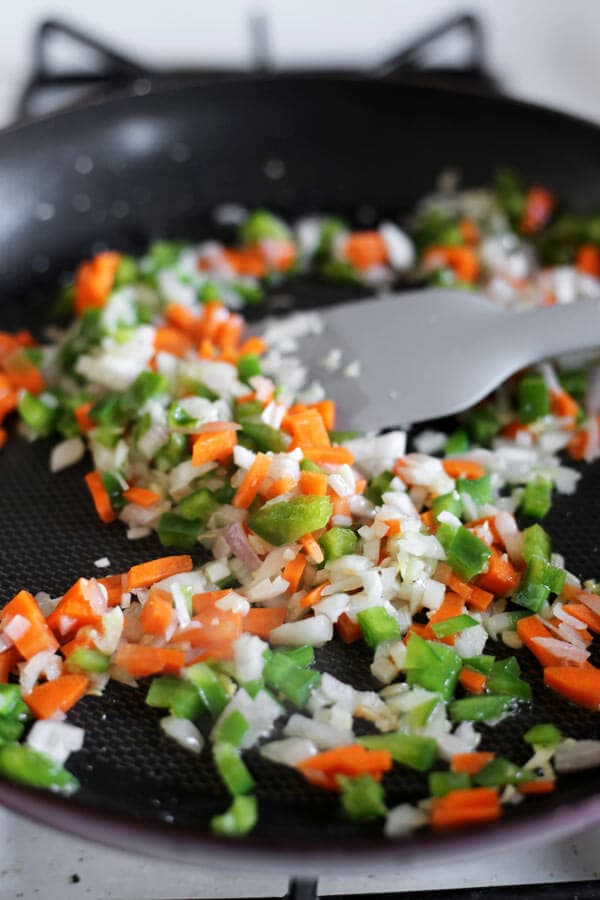 An even easier way to make fried rice is by using seasoning packets. They are ah-mazing!!! If you can get a hold of these, DO IT. They will change your life! Made by Nagatanien or Glico, these little fried rice packets will season your rice so well you won't need to add anything else to it! They are the ultimate lazy chef ingredient – I use them all the time.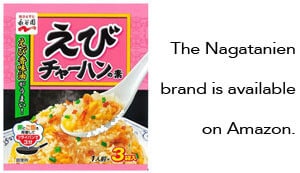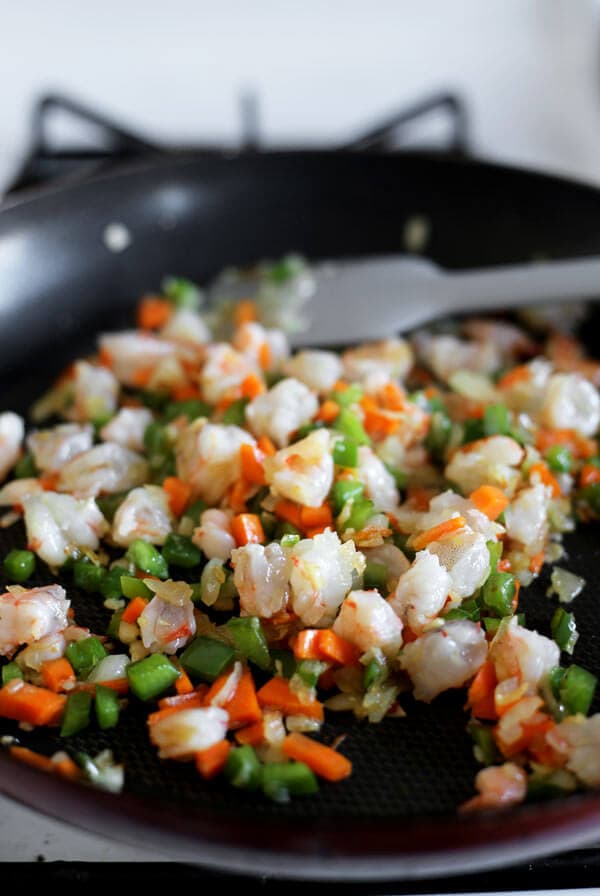 Fried rice keeps well in the fridge for about 5-7 days. Reheat in the microwave for a minute or two and you'll be able to enjoy yummy leftovers made from leftovers!
Other easy peasy fried rice recipes: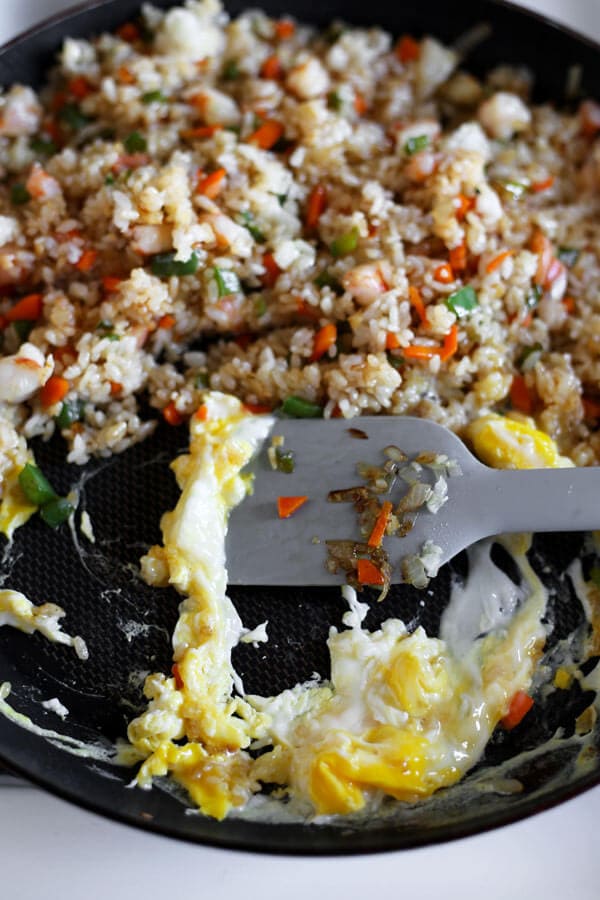 Did you like this Easy Shrimp Fried Rice Recipe? Are there changes you made that you would like to share? Share your tips and recommendations in the comments section below!
Print
Easy Shrimp Fried Rice Recipe
Ready in less than 15 minutes and with delicately sweet, savory and briny flavors. This shrimp fried rice recipe beats takeout any day!
Author: Caroline Phelps
Prep Time:

5 minutes

Cook Time:

8 minutes

Total Time:

13 minutes

Yield:

4

Category:

Rice

Method:

Stir frying

Cuisine:

Chinese
2 tablespoons

peanut or vegetable oil

2

cloves garlic (minced)

1/2

green bell pepper (finely chopped)

1/4 cup

carrot (finely chopped)

1

shallot (finely chopped)

10

large shrimp (chopped bite size)

3 cups

cooked Japanese rice (at room temperature, or Jasmine)

1/2 teaspoon

powdered chicken stock

2 1/2 tablespoons

soy sauce

1/2 teaspoon

white ground pepper

1

large egg (whisked)

1 teaspoon

toasted sesame oil

2 tablespoons

scallions (finely chopped)
Instructions
In a large pan or wok over high heat, add oil and garlic and cook for 1 minute, until garlic becomes fragrant.
Add bell peppers, carrots, and shallots and cook for 2 minutes.
Add shrimp and cook for 3 minutes, stirring occasionally.
Add rice, break it and combine with shrimp and vegetables.
Add powdered chicken stock, soy sauce and white pepper and mix until the rice is uniformly golden / light brown.
Push rice to one side and add egg. Continuously stir and break with your spatula until it's almost fully cooked. Mix it in with the fried rice.
Turn the heat off, add sesame oil and top with scallions.
Season with salt and pepper if needed, and serve immediately
Notes
This Easy Shrimp Fried Rice Recipe Is:
Low in saturated fat
Very low in sugar
It will keep in the fridge for 5-7 days.
Nutrition
Serving Size:
Calories:

301

Sugar:

1.6 g

Sodium:

310.9 mg

Fat:

9.6 g

Saturated Fat:

1.6 g

Carbohydrates:

44 g

Fiber:

0.7 g

Protein:

8.7 g

Cholesterol:

67.4 mg
Keywords: recipe, side dish, chahan, Asian
Recipe Card powered by