A savory and nutty Easy Vegan Fried Rice Recipe that has all the flavors of an iconic take out vegetable fried rice. Ready in 15 minutes from start to finish!

Easy Vegan Fried Rice
Some things are just perfect the way they are.
For me, veggie fried rice is one of those perfect things.
You see, on the weekends, we typically order takeout for at least one meal. It's a nice break from my work related duties in the kitchen – and it allows me to indulge in comfort food classics I've loved since I was a little girl.
And you better believe that Chinese fried rice is at the top of that classic comfort food list!
Now, while I always order vegetable fried rice when we order delivery, I've been hesitant to order an eggless fried rice. Egg just seems like it should be there, right!?
Well, while egg is truly great in fried rice, I decided to take the plunge and create a vegan fried rice…
And I'll tell you WHY in a second.
The combination of nutty brown rice, mixed with the verdant pop of stir fried veggies – made savory with soy sauce and toasted sesame oil just hit the spot in every way!
White pepper delivered its trademark aromatic hot and floral tones – and cashews injected some real heft in the texture department.
In short, this easy vegan rice dish had a complexity of flavor I wasn't quite expecting. Needless to say, we demolished this vegan fried rice in no time… YUM!
Now, the reason I even thought about veganizing a classic vegetable fried rice recipe in the first place started with a conversation I had with my mother about food.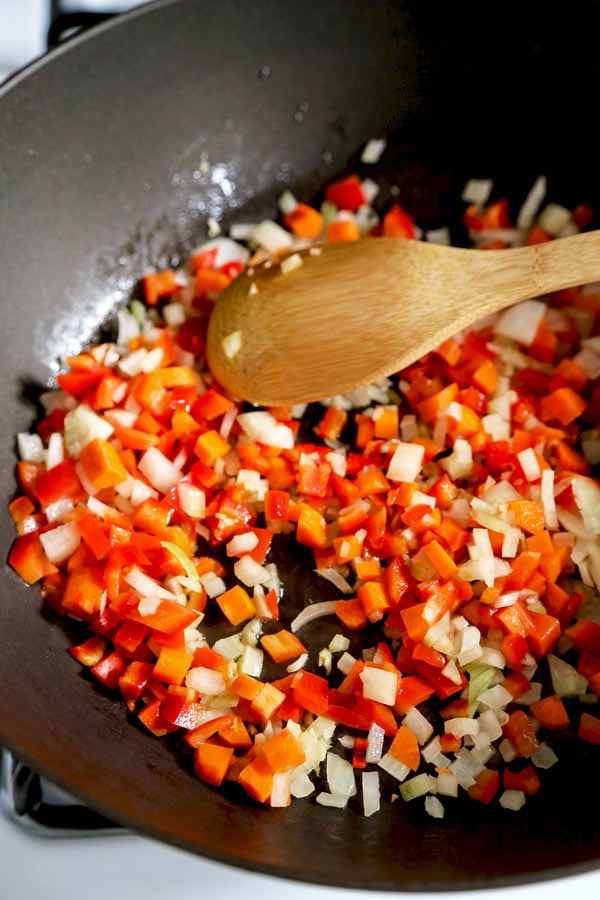 My Japanese mother asks about vegan meals
We're preparing to welcome my mom to Brooklyn for an extended visit from Japan very soon.
My mom taught me so much about the appreciation, preparation and savoring of food. In a lot of ways my palate is an extension of her palate.
So, it makes sense that I start a little list of the things I want to cook for her – and the things I will suggest (forcefully, if need be!) she whip up for us.
While we were chatting on the phone the other night about some of the plant based recipes she had seen in the Forks Over Knives Cookbook, she asked a question in all earnestness…
Can vegans eat fried rice?
While it first struck me as a no-brainer, I tried to see it from her perspective.
My mother was born in Japan just after WWII. At that time of rebuilding the country, food was tough to come by. Meat was a luxury.
And, while meat is definitely savored in the Japanese food lexicon, it has never comprised as large a percentage of most meals as it does in the West.
So there's less distinction between following a diet that is mostly plant based vs eating meat in a sensible way in Japan. Basically, while many meals in Japan contain small amounts of meat, many do not.
So, there are facets of having the luxury to follow a vegan diet that must seem strange to my mother who grew up perceiving food as sustenance (that wasn't guaranteed) during her early years.
I can totally see her wondering, why wouldn't you put an egg in your Japanese fried rice?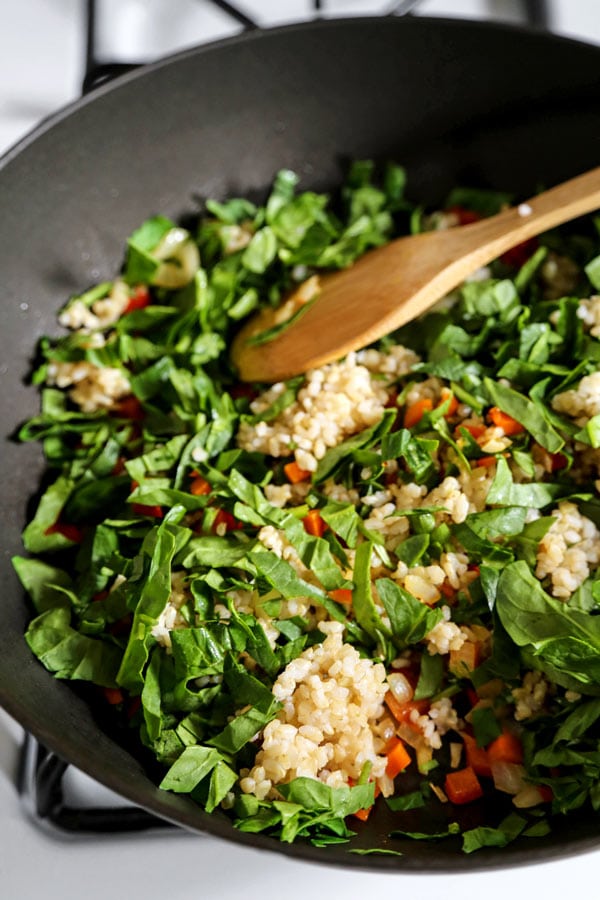 How to make fried rice… Er, how to make Vegan fried rice
Luckily this easy fried rice packs enough punch to render that whole no-egg-thing null and void anyway. I think you're gonna love it!
And, like most rice recipes, this vegan fried rice is super easy to make.
Simply add a tablespoon of vegetable oil to a wok or large pan over medium-high heat and cook two minced garlic cloves, being careful not to let your garlic burn.
Then add a small finely chopped onion, half a chopped red bell pepper and a small diced carrot and cook for about 3-5 minutes. Your veggies should soften while still yielding a bit of a crunch.
Now add about 300 grams of cooked brown rice and a cup of shredded baby spinach and give it all a good stir. While stirring, add a couple tablespoons of soy sauce to the wok and make sure everything is well coated in that umami goodness.
Btw… you can totally substitute liquid aminos for the soy sauce if you're making this vegan fried rice gluten free as well.
At this point, turn the heat off under the healthy rice mixture, but leave it in the pan! We have some last minute additions.
Drizzle about a teaspoon of sesame oil (a little goes a long way) and a quarter cup of roughly chopped cashews.
And the last addition to our fried rice seasoning is a little simple salt and pepper. Stir it up – and plate it up.
The resulting flavor in this vegan fried rice is nutty and savory in all the right ways. Plus, its a vegetable recipe you can make at the end of a busy day in no time flat!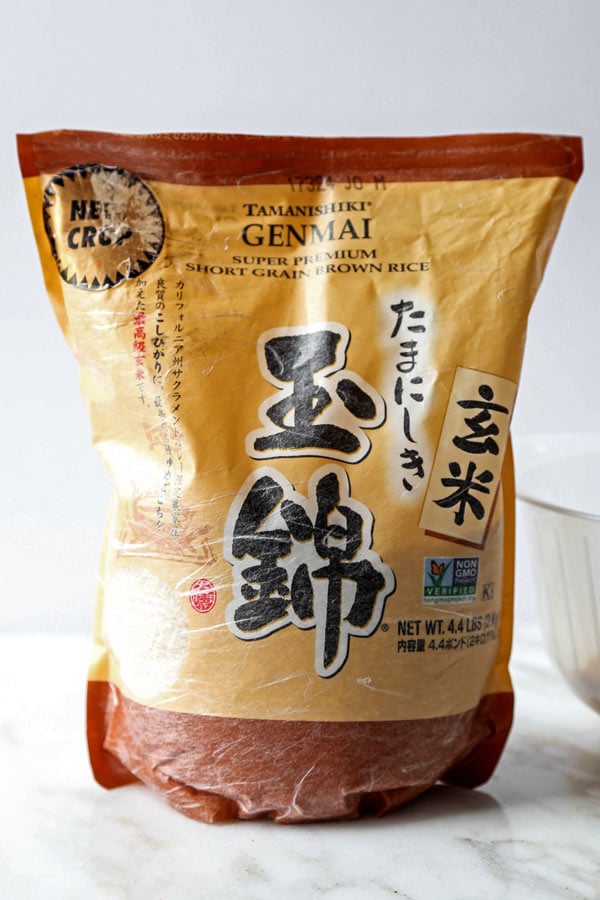 Why Brown rice?
Simply put, I love brown rice! Seriously, there's such a bite to it that can be absent from other types of rice.
Now, nothing will ever deter me from my absolute devotion to short grain Japanese rice. However, brown rice comes in a close second.
And an added bonus to brown rice recipes in general is that it's a super healthy grain to use when you want to prepare well balanced meals.
There are a ton of healthy fried rice recipes out there that call for riced cauliflower to actually stand in for the rice. I've tried it at home a couple of times – and really liked the texture of and taste of cauliflower rice.
Seriously – cauliflower is such an amazing vegetable. Check out this gluten free pizza crust I made using cauliflower!
However wonderful cauliflower rice is though, I'll be sticking to my white and brown rice when making indulgent fried rice 🙂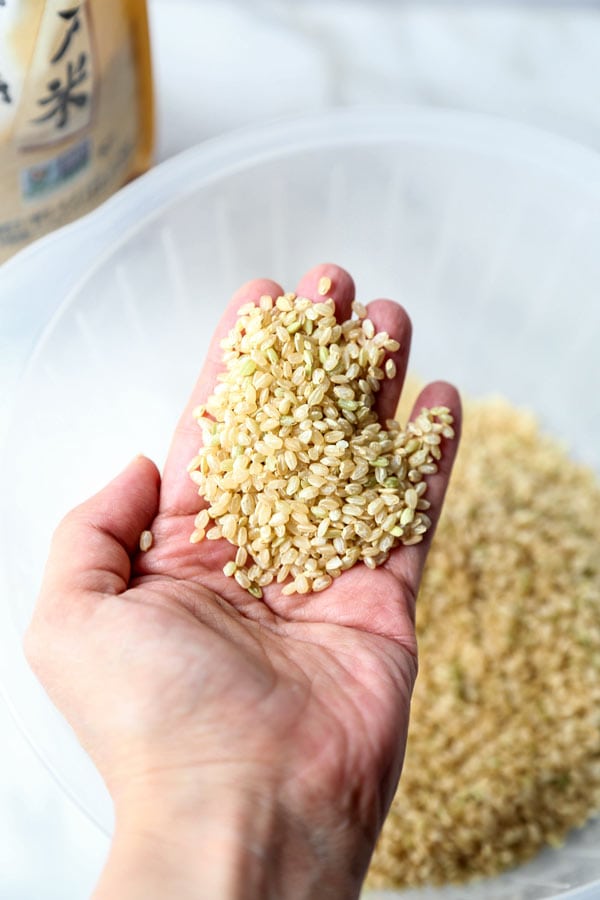 How to cook brown rice
Before we stir-fry this easy vegan recipe in the wok or frying pan, we'll need to cook our brown rice.
Now – if you have a rice cooker at home, this'll be the easiest thing you've done all day. Simply follow the water-to-rice-ratio for your machine, press start and move on to something else.
However, if you're making brown rice on the stovetop, the instructions aren't much more complex at all!
The secret to making tender, chewy brown rice in a pot is to stick to the golden ratio:
2½ cups cooking liquid for each cup of brown rice.
Just rinse and drain your rice grains – then add to a small pot (that you have a lid for). Now, you can toast your rice grains for a few minutes with a teaspoon of olive oil over medium-high heat – or you can proceed directly to the next step.
Add your grains, water (and a bit of salt, if you're using any) to the pot, bring to a boil – then reduce heat to simmer and cover. Simmer for 40-45 minutes – then remove from heat, but keep the lid on!
Let your rice rest in the pot, covered, for about 10 minutes.
Then, simply fluff with a fork – and voilà – nutty, toothsome brown rice perfection!
Brown rice nutrition
Brown rice is one of those wonderful things that manages to balance a sky high nutrient count with a fairly low calorie count.
You see, this whole grain is a complex carbohydrate (those are the good carbs).
It's also packed with magnesium which promotes heart health, and is much lower on the glycemic index than white rice.
Naturally gluten free, brown rice is also loaded with fiber and bran – which are both known to be instrumental in lowering LDL (that's the bad cholesterol).
In short, brown rice is definitely a great part of a balanced diet!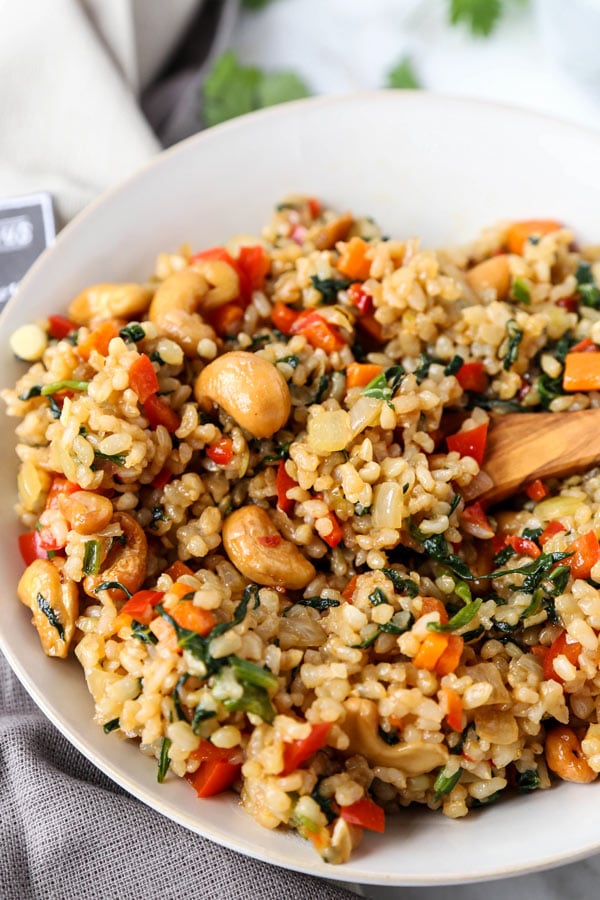 Vegan Fried Rice FTW
I'm so excited to prepare this vegetable fried rice for my mother when she arrives in Brooklyn! It's such an easy dinner recipe – but doesn't taste that way.
There's a complex savory nuttiness that clings to the healthy brown rice grains and works so well with the diced veggies and cashews.
I hope you try it in your home kitchen – and end up adding it to your roster of yummy weeknight dinners!
Hey… Tell me about the best fried rice recipe you've ever tried in the comments section! I'd love to hear about it 🙂
Other simple, delicious Asian fried rice recipes: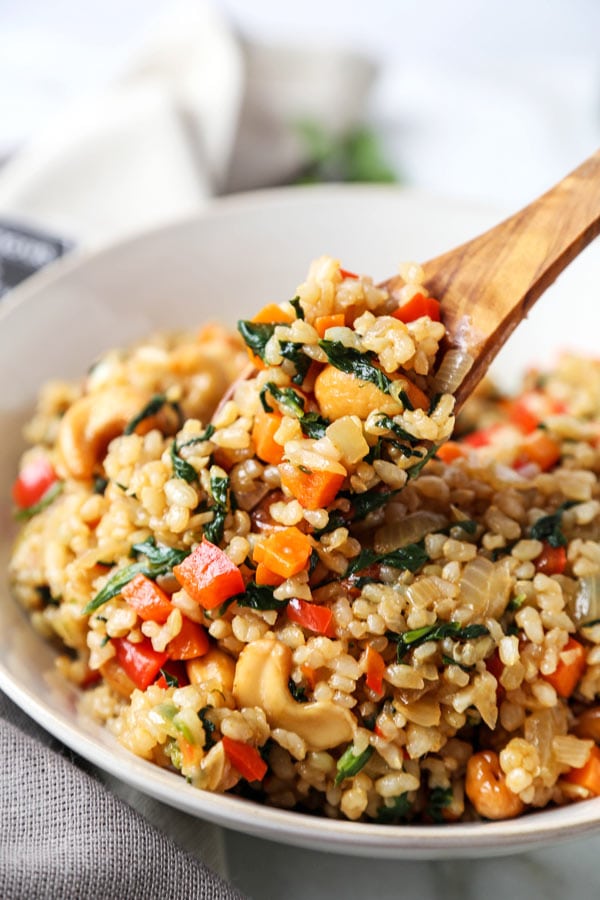 Did you like this Easy Vegan Fried Rice Recipe? Are there changes you made that you would like to share? Share your tips and recommendations in the comments section below!
Print
Easy Vegan Fried Rice
An easy to make vegan fried rice that has the flavors of an iconic take out vegetable fried rice.
Author: Caroline Phelps
Prep Time:

10 minutes

Cook Time:

5 minutes

Total Time:

15 minutes

Yield: Serves

4

people

1

x
Category:

Vegan

Method:

Stir Fried

Cuisine:

Chinese
Fried Rice Ingredients:
1 tablespoon

vegetable oil

2

garlic cloves, minced

1

small onion, finely chopped

1

small carrot, peeled and finely diced

1/2

red bell pepper, cored, seeded and finely chopped

300g

cooked brown rice

1 cup

baby spinach, shredded

1/4 cup

cashews, chopped
Sauce:
2 tablespoons

soy sauce (or liquid aminos for gluten-free)

1 teaspoon

sesame oil

1/4 teaspoon

kosher salt

1/8 teaspoon

ground white pepper
Instructions
In a wok or large pan over medium high heat, add oil and garlic and cook for 1 minute.

Add onions, carrot, red bell pepper and cook for 3-5 minutes, or until vegetables are soft but still yielding a crunch.

Then add cooked brown rice and spinach and stir until the vegetables are well mixed with the rice.

Add soy sauce (or liquid aminos) and toss until the rice and vegetable are evenly coated.
Turn the heat off and add sesame oil and cashew nuts.

Season with salt and pepper and toss the fried rice until the flavors are evenly spread out.

Transfer to a bowl and serve.
Notes
This vegan fried rice tastes best when served fresh from the wok. For meal prep, omit cashew nuts (add just prior to serving) as they get soggy when stored in the cooked rice.
Nutrition
Serving Size:
Calories:

215

Sugar:

3 g

Sodium:

399.3 mg

Fat:

9.8 g

Saturated Fat:

2 g

Carbohydrates:

27.6 g

Fiber:

3 g

Protein:

5.7 g

Cholesterol:

1.8 mg
Keywords: Vegan, Vegetarian, Gluten-Free Optional, Asian, Chinese, Fried Rice
Recipe Card powered by