A savory and nutty Easy Vegan Fried Rice Recipe that has all the flavors of an iconic take out vegetable fried rice. Ready in 15 minutes from start to finish – an easy dish the whole family will love!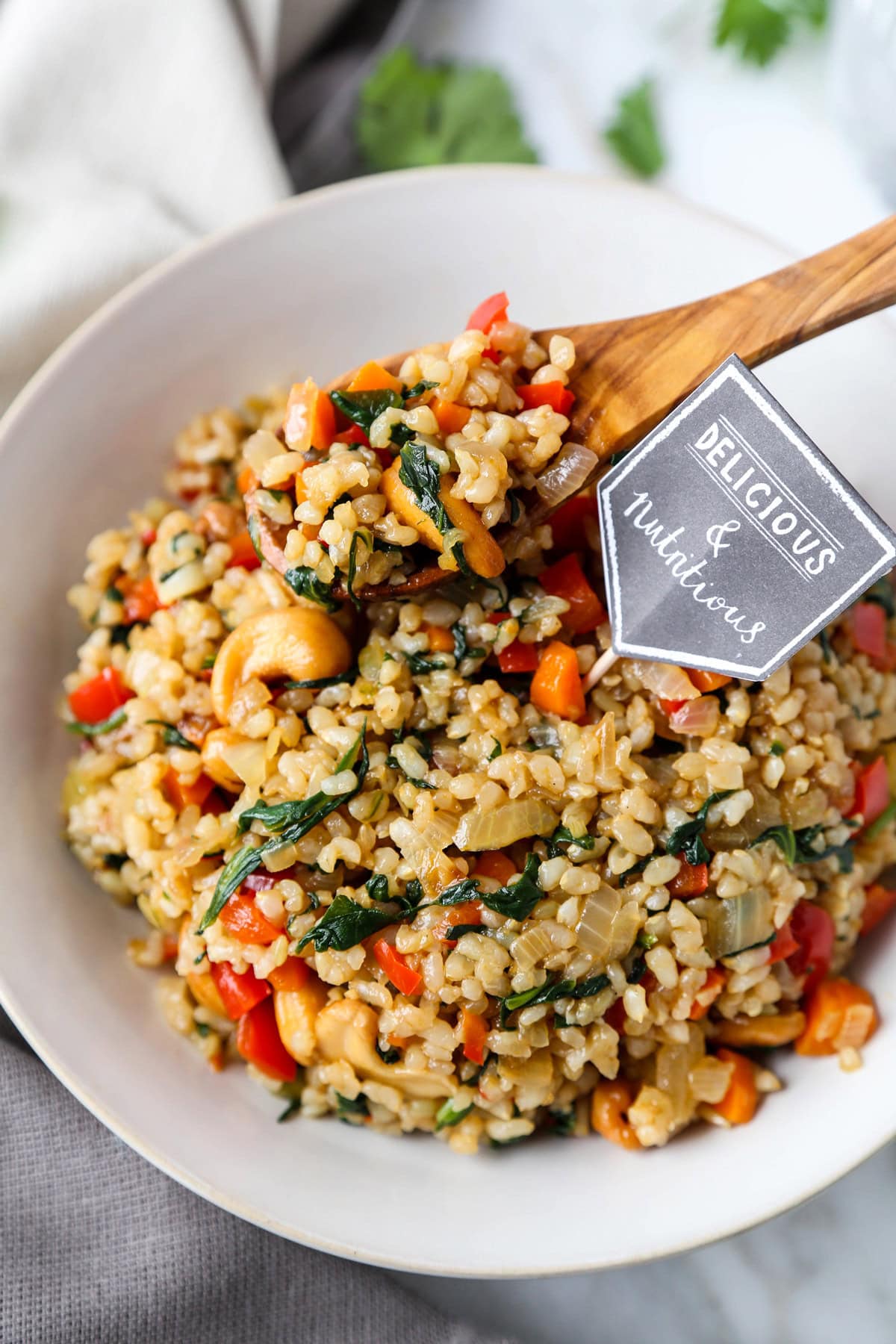 Some things are just perfect the way they are. For me, vegetable fried rice is one of those perfect things.
You see, on the weekends, we typically order takeout for at least one meal. It's a nice break from my work related duties in the kitchen and it allows me to indulge in comfort food classics I've loved since I was a little girl. And you better believe that Chinese fried rice is at the top of that classic comfort food list—hence the creation of this delicious vegan fried rice recipe.
The combination of nutty brown rice tossed with light and colorful vegetables, seasoned with a mixture of soy sauce and toasted sesame oil… This just hits the spot in every way!
The Origins of Fried Rice
While it's difficult to pinpoint its exact origin, fried rice can be dated back to at least A.D 589 to 618 during the Sui dynasty.
Although it's said that it didn't become more popular until the Ming dynasty, from 1368–1644 CE. While information varies, it's said fried rice dishes first became popular in rice farming regions and often created as a way to use leftover rice and veggies that could be thrown together to create a new, delicious recipe.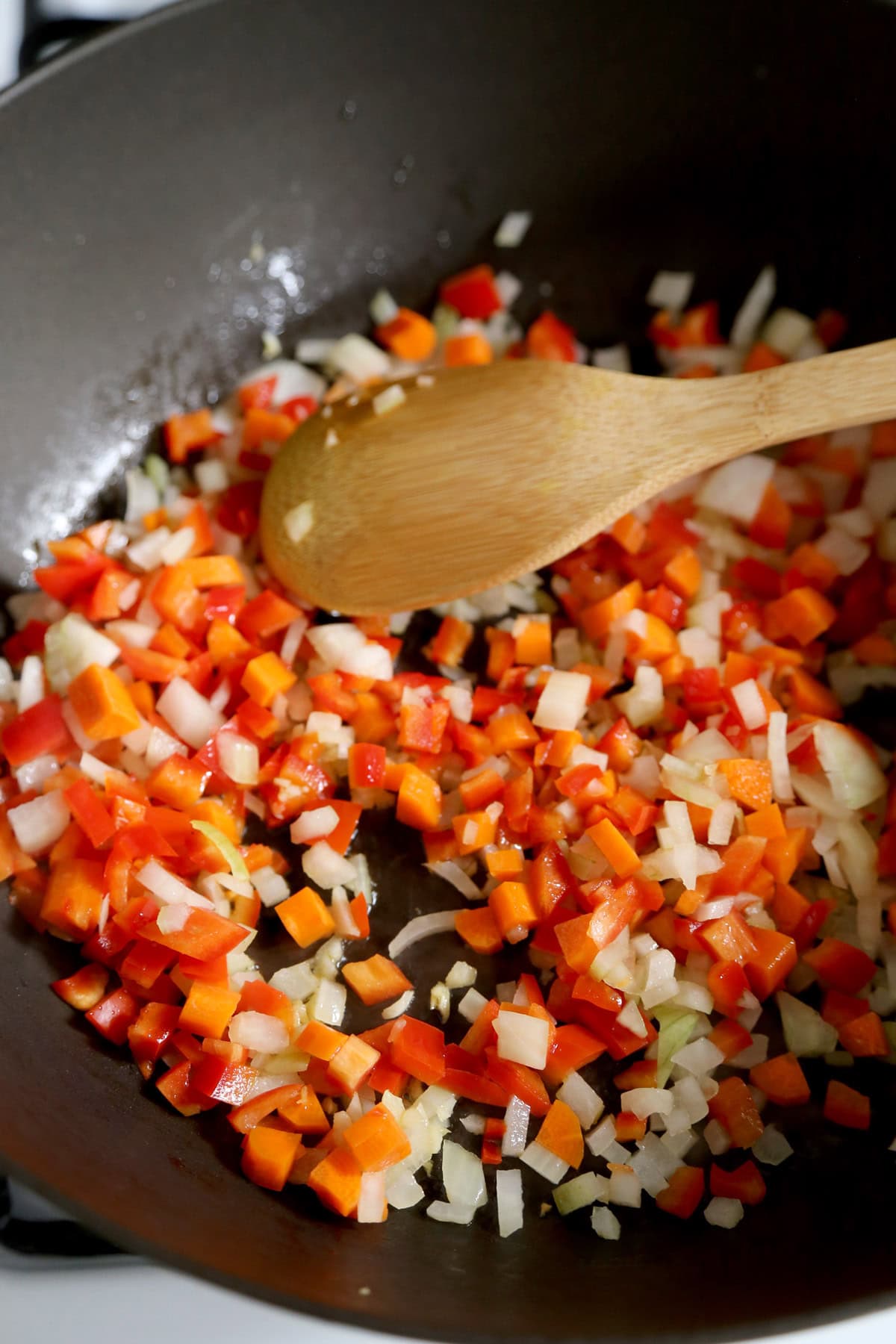 Ingredients for Vegan Fried Rice
Neutral oil: Use a neutral oil such as vegetable oil or grapeseed oil. You can also use peanut oil.
Garlic: You will need two cloves, minced, to add a little sweetness and aromatics.
Onion: One small onion, finely chopped, will also add sweetness and some moisture to the fried rice.
Carrot: One small carrot, finely diced, adds a beautiful pop of color and adds a slight crunch to the fried rice.
Bell pepper: I'm using red bell pepper for its bright red color and sweeter taste. But feel free to use other bell peppers such as green bell pepper or yellow bell pepper.
Brown rice: I recommend using short grain brown rice for a firmer and stickier texture, and very nutty taste. I never was a fan of brown rice until I started eating short grain brown rice.
Baby spinach: I'm using 1 cup but you can add an additional cup if you are a spinach lover.
Cashew nuts: Cooked cashew nuts are tender, a little sweet, and infuse the fried rice with plenty of nuttiness. You can use sunflower seeds, pumpkin seeds, or chopped walnuts as substitutes.
Fried rice sauce: A mixture of soy sauce, toasted sesame oil, salt, and ground white pepper.
Ingredient Variations
As you may already know, fried rice can have many variations. The following are suggestions of popular ingredients often added to this classic Chinese dish.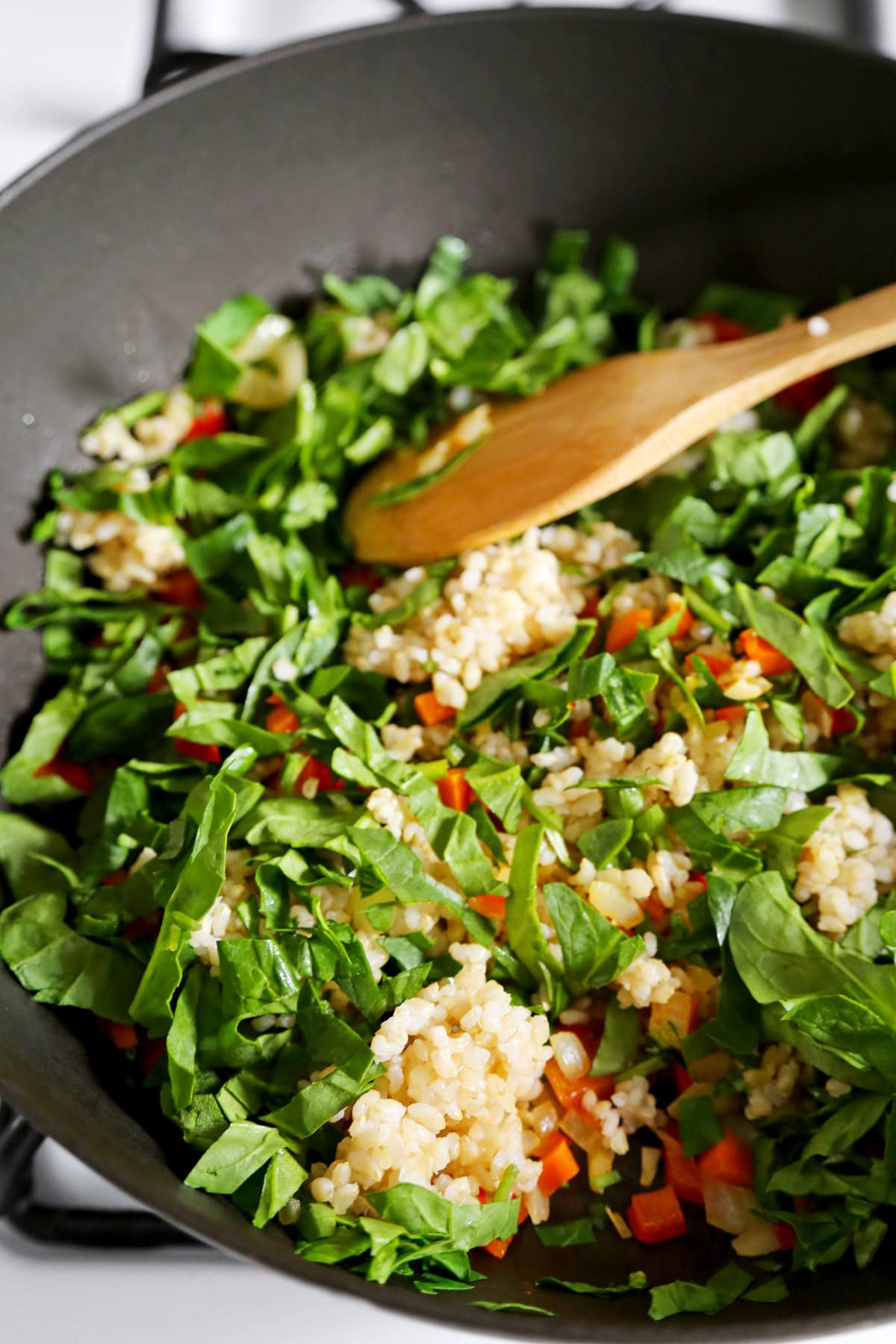 How to Make Vegan Fried Rice
Add a tablespoon of vegetable oil to a wok or a large skillet over medium-high heat, and saute the garlic for 30 seconds.
Add the onions, carrot, and red bell peppers, and saute for 3 to 5 minutes, until the vegetables are soft but still yielding a crunch.
Add the cooked brown rice and spinach to the wok and toss until all the ingredients are evenly mixed.
Add the soy sauce and toss until the rice and vegetable are evenly coated.
Turn the heat off, stir in the toasted sesame oil and cashew nuts.
Season with plenty of salt and pepper, mix well, and serve.
This vegan fried rice is full of great flavors – nutty and savory in all the right ways. Plus, it's a vegetable recipe you can make at the end of a busy day in no time flat!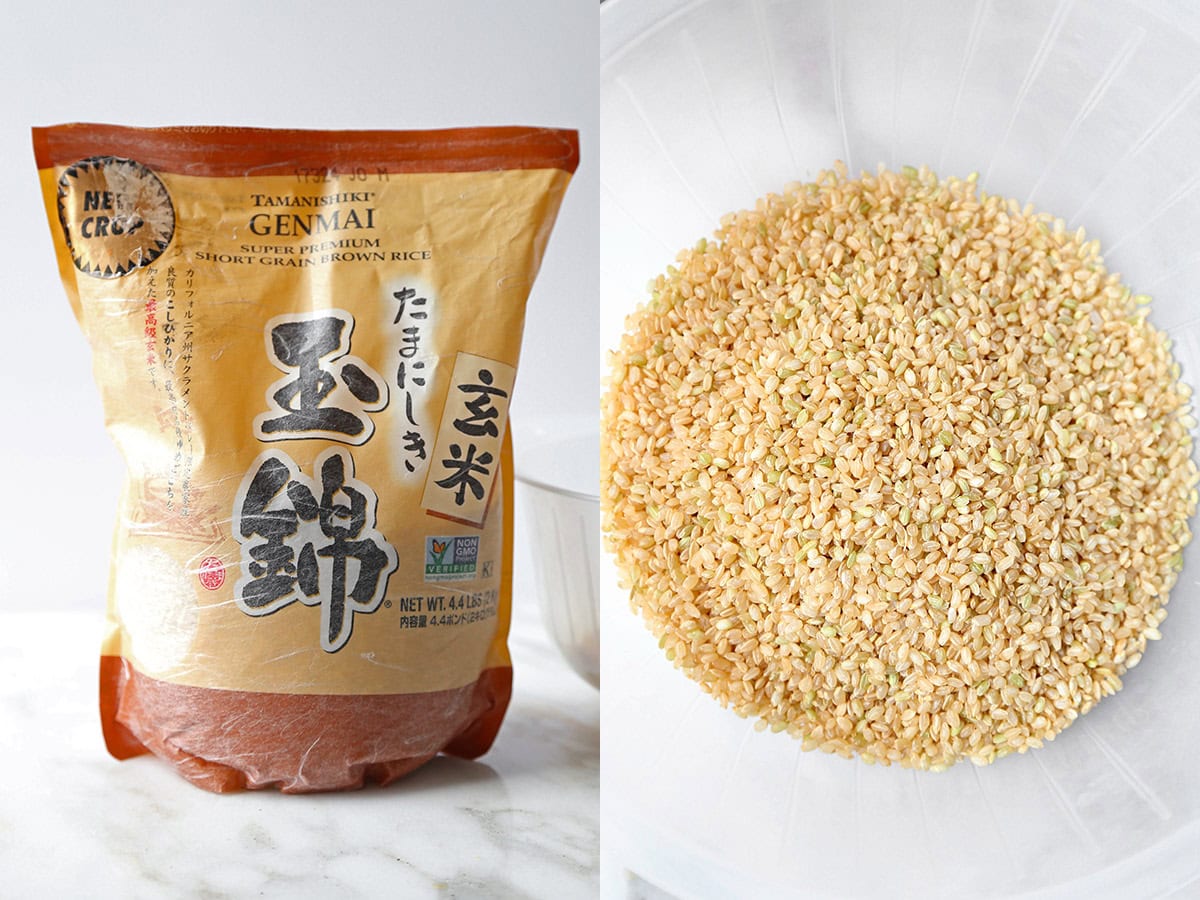 Brown Rice

Benefits

Brown rice is one of those wonderful things that manages to balance a sky high nutrient count with a fairly low calorie count. This whole grain is a complex carbohydrate (the good carbs) packed with magnesium which promotes heart health, and is much lower on the glycemic index than white rice.

Naturally gluten-free, brown rice is also loaded with fiber and bran – which are both known to be instrumental in lowering LDL (the bad cholesterol).

In short, brown rice is definitely a great part of a balanced diet!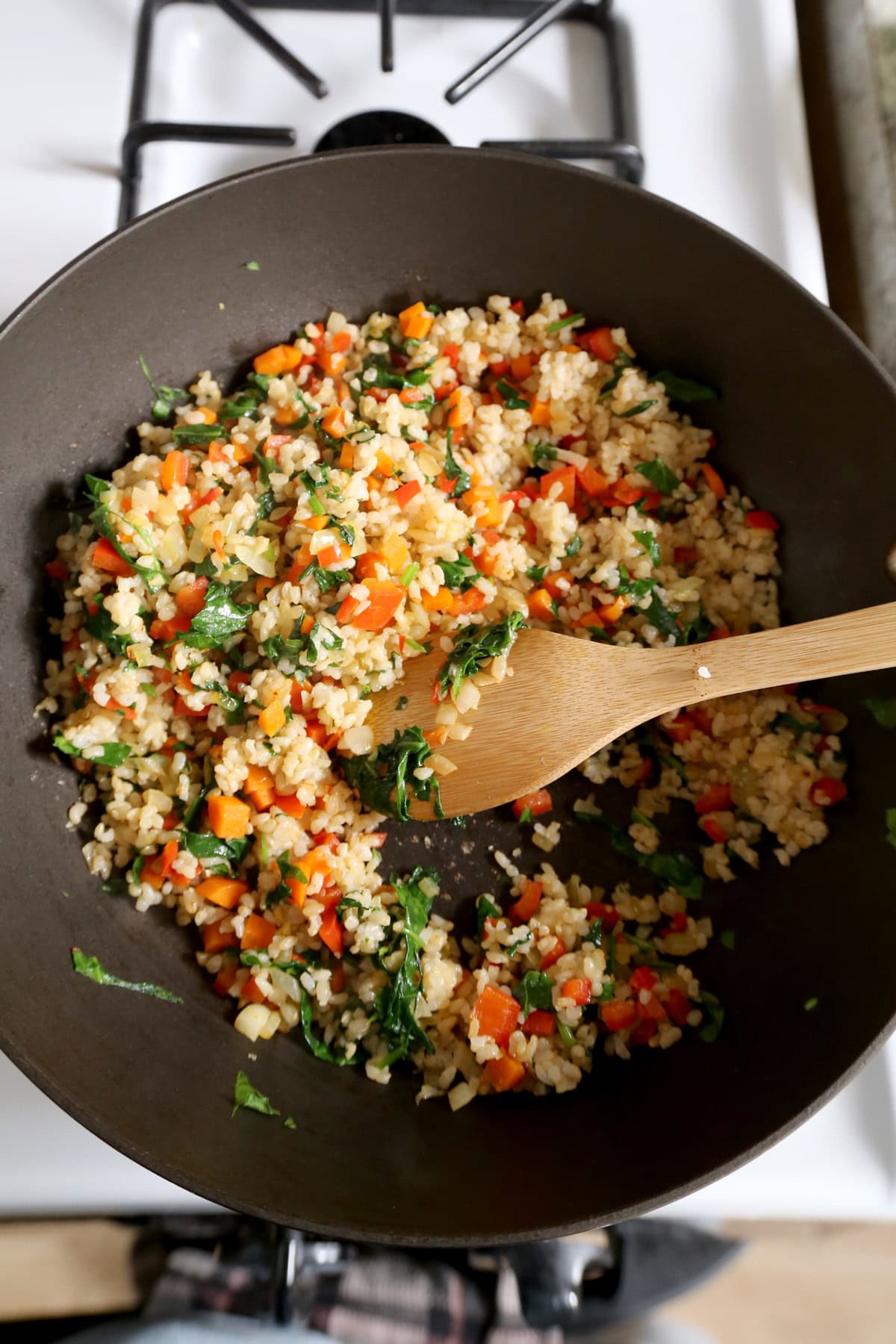 How to cook brown rice
If you have a rice cooker at home, simply follow the water-to-rice-ratio for your machine, and press start.
If you are making brown rice on the stovetop:
The secret to making tender, chewy brown rice in a pot is to stick to the golden ratio – Use 2½ cups cooking liquid for each cup of brown rice.
Rinse and drain the rice grains and add them to a pot that comes with a lid

.

Add the brown rice, water and a pinch of salt (optional) to the pot, and bring to a boil.

R

educe the heat to a low bubbling simmer, and cover with the lid.

Simmer for 40 to 45 minutes – until the rice is cooked – and turn the heat off. Remove the pot from the burner to prevent further cooking and leave, covered, for 10 minutes.

Fluff the rice with a fork and serve.
Fried Rice Variations Across the World
Fried rice is such a popular dish it's really no surprise that you can find variations of it across the globe. Aside from the classic version sold in Chinese restaurants, there is bokkeumbap (Korean fried rice, yakimeshi (Japanese fried rice), khao phat (Thai fried rice), sinangag (Filipino fried rice), arroz chaufa (Peruvian fried rice), and many more. What's the best fried rice you've ever had? Let me know in the comments below!
Other Fried Rice Recipes You Might Like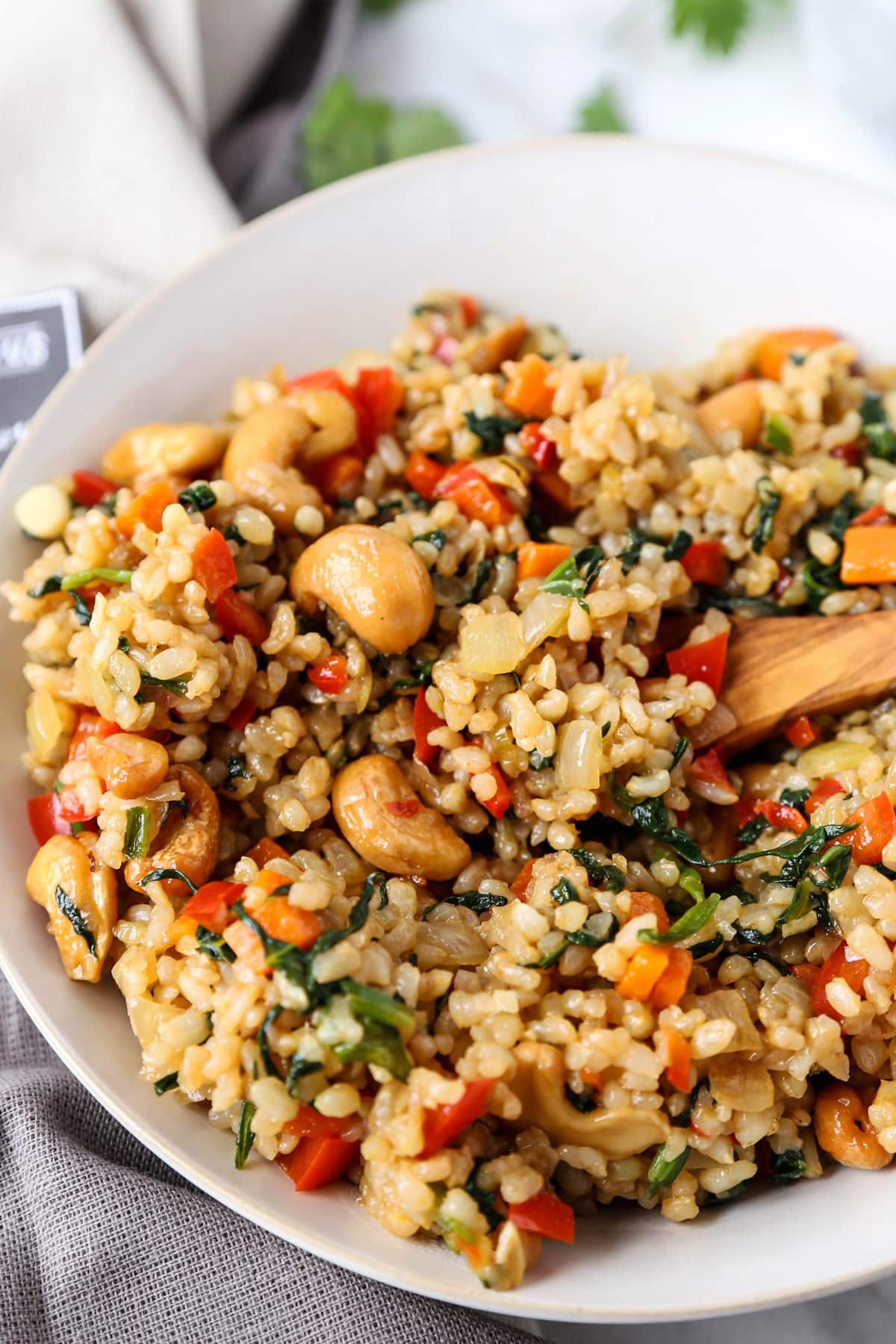 Did you like this vegan fried rice recipe? Are there changes you made that you would like to share? Share your tips and recommendations in the comments section below!
Print
Easy Vegan Fried Rice
An easy to make vegan fried rice that has the flavors of an iconic take out vegetable fried rice.
Author: Caroline Phelps
Prep Time:

10 minutes

Cook Time:

5 minutes

Total Time:

15 minutes

Yield: Serves

4

people

1

x
Category:

Rice

Method:

Stir Fried

Cuisine:

Chinese

Diet:

Vegan
Fried Rice Ingredients:
1 tablespoon

vegetable oil

2

garlic cloves, minced

1

small onion, finely chopped

1

small carrot, peeled and finely diced

1/2

red bell pepper, cored, seeded and finely chopped

300g

cooked brown rice

1 cup

baby spinach, shredded

1/4 cup

cashews, chopped
Sauce:
2 tablespoons

soy sauce (or liquid aminos for gluten-free)

1 teaspoon

sesame oil

1/4 teaspoon

kosher salt

1/8 teaspoon

ground white pepper
Instructions
In a wok or large pan over medium high heat, add oil and garlic and cook for 1 minute.

Add onions, carrot, red bell pepper and cook for 3-5 minutes, or until vegetables are soft but still yielding a crunch.

Then add cooked brown rice and spinach and stir until the vegetables are well mixed with the rice.

Add soy sauce (or liquid aminos) and toss until the rice and vegetable are evenly coated.
Turn the heat off and add sesame oil and cashew nuts.

Season with salt and pepper and toss the fried rice until the flavors are evenly spread out.

Transfer to a bowl and serve.
Notes
This vegan fried rice tastes best when served fresh from the wok. For meal prep, omit cashew nuts (add just prior to serving) as they get soggy when stored in the cooked rice.
Nutrition
Serving Size:

1 serving

Calories:

215

Sugar:

3g

Sodium:

399.3mg

Fat:

9.8g

Saturated Fat:

2g

Unsaturated Fat:

2.2g

Trans Fat:

0g

Carbohydrates:

27.6g

Fiber:

3g

Protein:

5.7g

Cholesterol:

1.8mg
Recipe Card powered by