Wondering how to turn breakfast sausages and eggs into the most delicious Asian comfort food of all? This breakfast fried rice is umami, eggy perfection! Make it with your favorite meat or plant based sausages. It's ready in just 17 minutes from start to finish.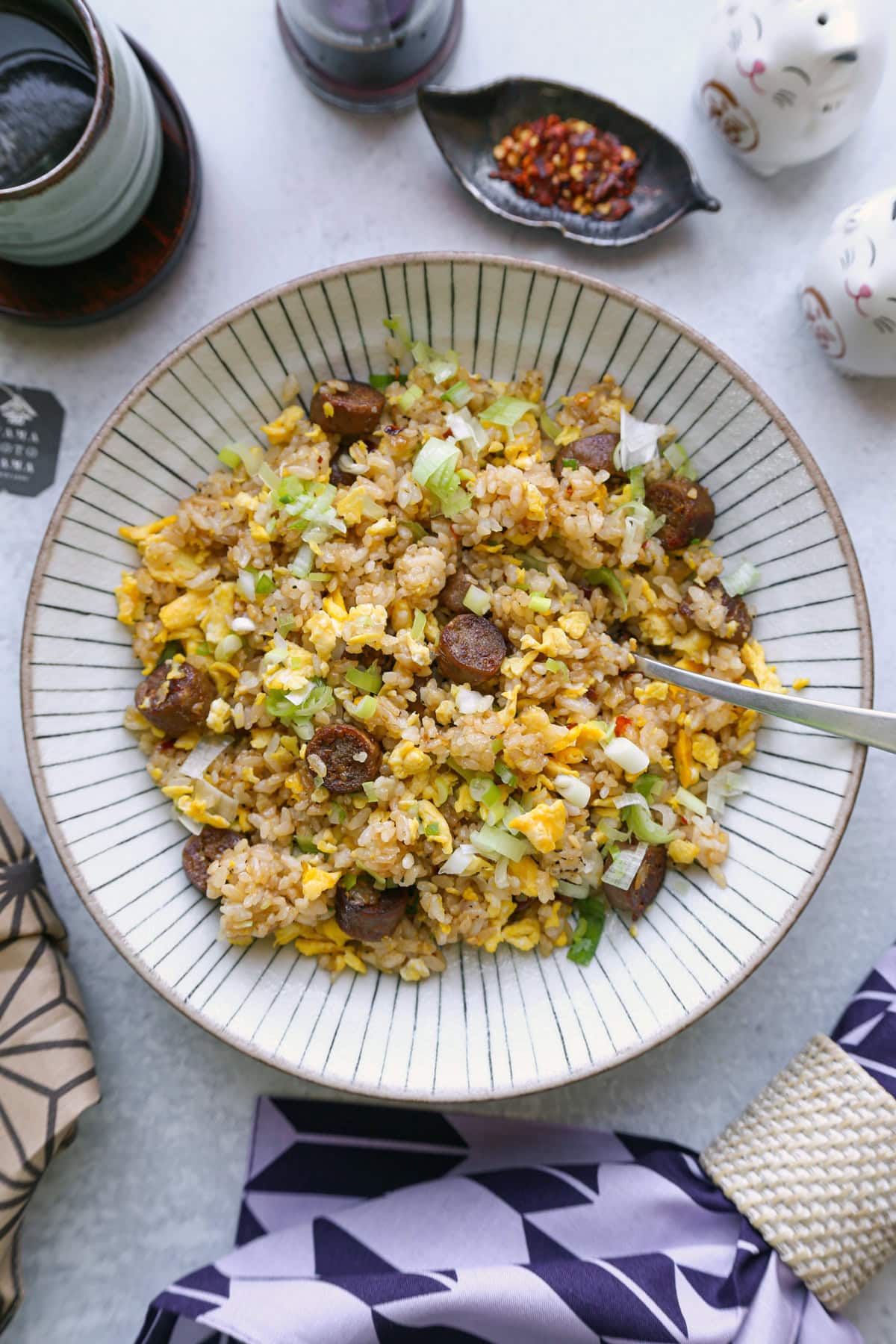 Fried rice for breakfast? You bet! My mom used to make it for my brother and me all the time when we were kids. And, if you ask my husband, there's never a bad time of day or night to eat fried rice.
This breakfast fried rice is so savory and hearty you'll start your day with a delicious boost. And, full disclosure, you can eat it any time of the day or night.
What is Breakfast Fried Rice?
Now, I'm actually calling it breakfast fried rice mainly because it's loaded with sausage and eggs. And while it has an overall Asian flavor profile, it also skews slightly Western.
However, regardless of the flavor, fried rice is a common breakfast food throughout Asia, unlike in the US, where cereal is the preferred choice.
For example, in the Philippines, sinangag (garlic rice) is a wildly popular breakfast food. In Hong Kong tea houses, you'll probably find ketchup loaded Western fried rice on the menu.
And in Japan, it's common to have things like salted salmon and fermented soybeans over rice for breakfast. Maybe those aren't the first things you think of when contemplating what to make for breakfast.
But the underlying sentiment is that protein rich food that tastes delicious can be served anytime – whether it's for breakfast, brunch or a midnight snack.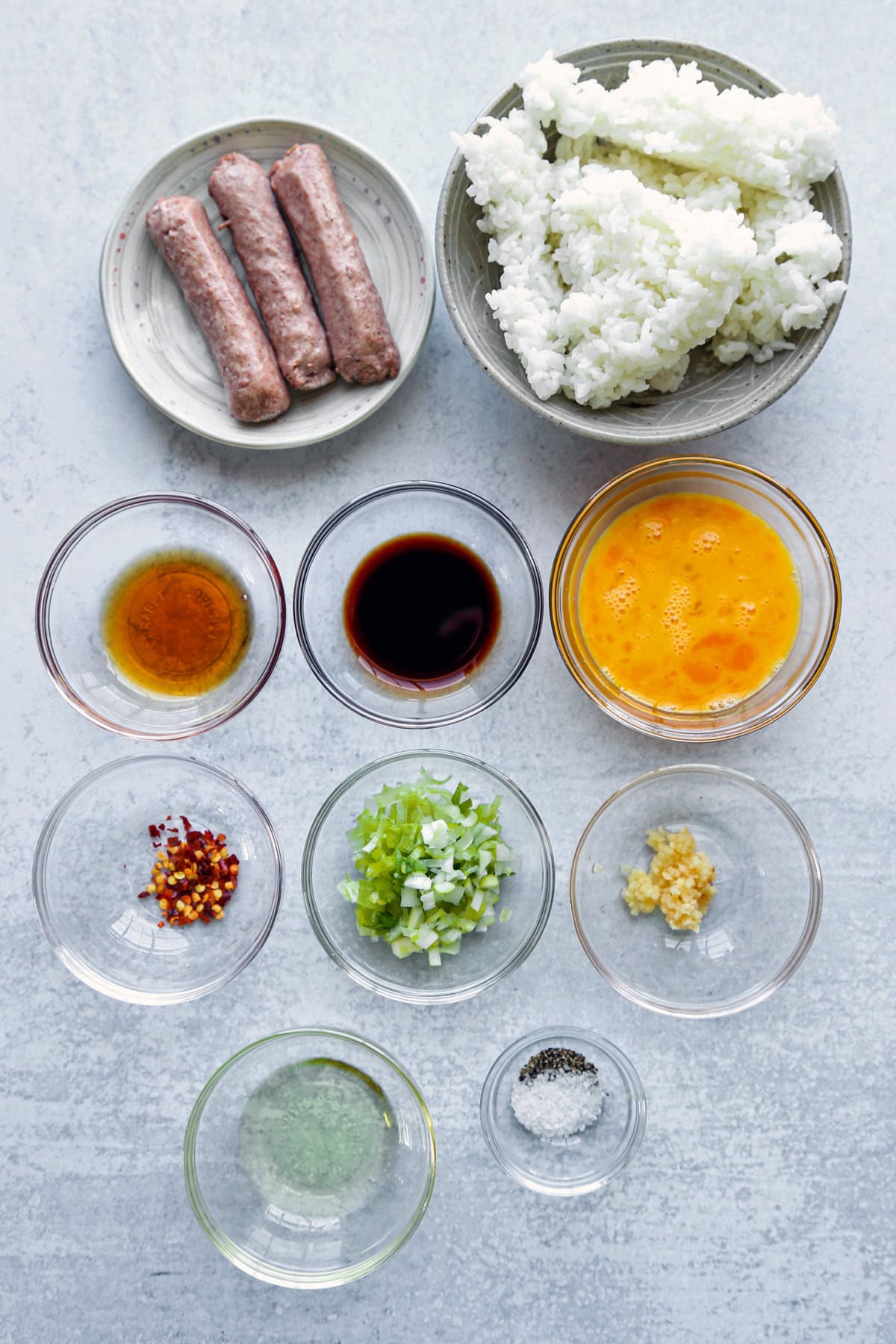 Breakfast Fried Rice Ingredients
Scroll all the way down for the full recipe.
Cooking Oil: Any neutral cooking oil will work here. Grapeseed oil is ideal. Unfortunately, olive oil has too much natural flavor to be used in this recipe.
Breakfast Sausage: Breakfast sausage is smoky, peppery and loaded with sage. You can use chopped links or chopped patties. Or you can use a plant based protein like tofu. I'm using Beyond plant-based sausage links to keep this breakfast fried rice vegetarian – but this recipe works with pork sausage (or even bacon) as well.
Garlic: Two minced cloves should have you siting pretty.
White Rice: If you can, you should use leftover cooked rice that has been in the refrigerator for at least a day. We'll talk about why this is best in a sec.
Soy Sauce: I use regular Japanese soy sauce because of its complex flavor, but feel free to use low-sodium soy sauce if you are watching your salt intake, or tamari, for a gluten-free option.
Red Pepper Flakes: Like a little fire? While using red pepper flakes is ultimately optional in this recipe, I find using 1/4 teaspoon introduces some heat to the dish without sounding any actual fire alarms.
Salt and Pepper: I use kosher salt. The larger crystals make it difficult to accidentally over-salt your food. Woodsy black pepper – or floral white pepper both work in this recipe.
Sesame Oil: A touch of sesame oil delivers a toast-y depth of flavor to this egg fried rice.
Eggs: Whisk 2 large eggs. For the best results, you'll want to scramble your eggs to at least 80% doneness before incorporating them with the rest of the fried rice mixture.
Green onion: A finely chopped green onion makes the best topper for this easy egg fried rice recipe. Bonus: green onions add both sharp flavor and a slightly crunchy texture.
Ingredient Variations
Since this is a fried rice recipe, feel free to add your own mix of vegetables or protein if you are missing some ingredients or would like to make this dish more nutritious. Vegetables such as carrots, bell peppers, peas, celery, leek, mushrooms, and minced ginger, will only add more flavor and texture.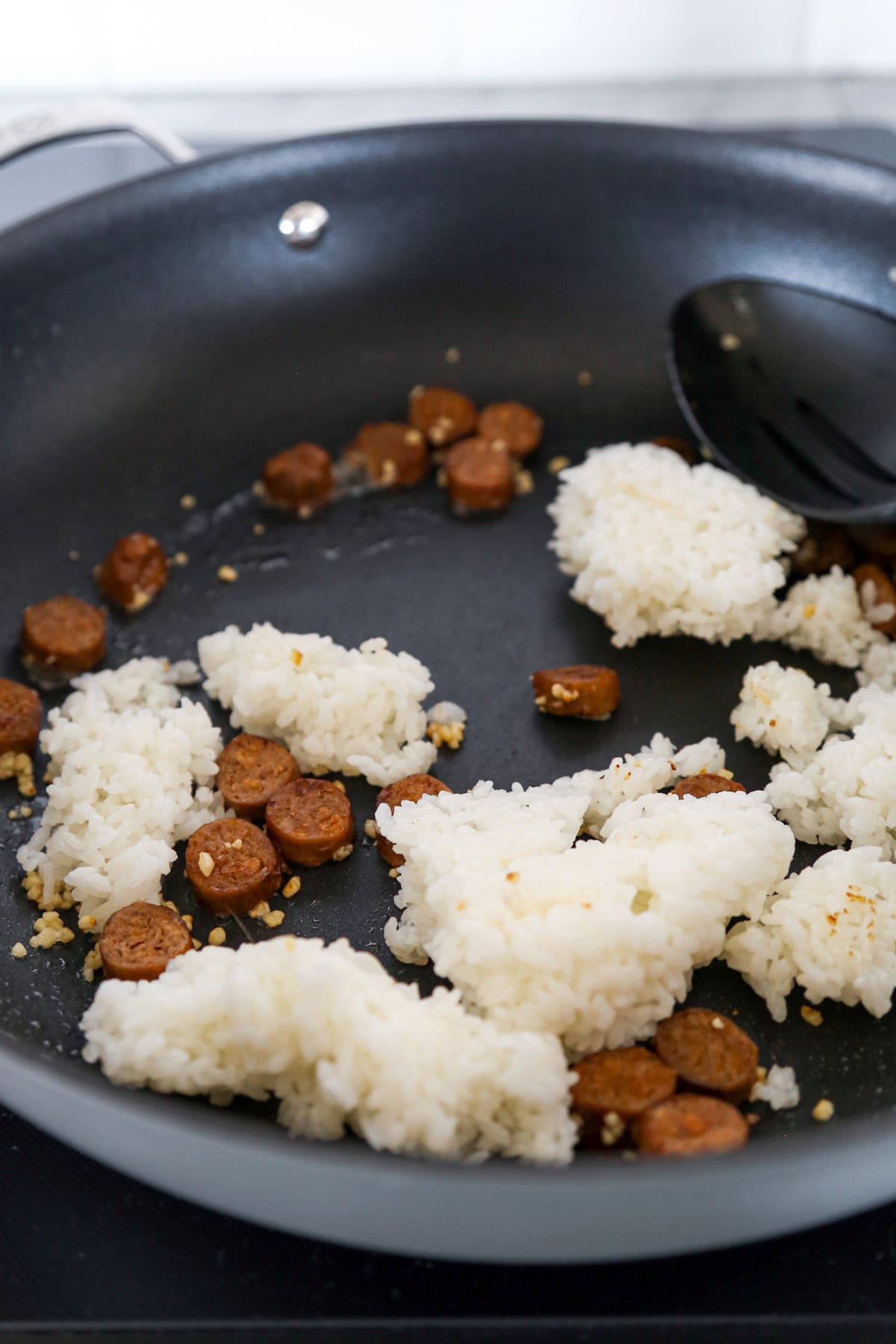 Best Rice For Fried Rice
The best rice for making fried rice is leftover rice that has been in the fridge for at least a day.
And this is for a couple of reasons. The main one is that the grains have had a chance to dry out a bit.
You see, when you first pull cooked rice out of the rice cooker, those grains are plump and chewy. If you add freshly cooked rice directly to the skillet to make fried rice, any liquid you add (for example: soy sauce or cooking oil) can oversaturate the already moist rice grains, resulting in gloppy fried rice. Not nice!
The other reason is that freshly cooked rice grains can break easily when stir-frying in a wok or skillet. Those dried out leftover rice grains are a bit more sturdy. And any liquid you add to the cooking pan only serves to rehydrate it a bit.
Now, all that said, I have totally used freshly cooked rice to make breakfast fried rice before. Sometimes it's impossible to plan a day ahead, right?
A good solution is to take the fresh, hot rice and spread it into a thin layer on a plate and then place it in the refrigerator uncovered until it is cold.
As for the grains themselves, I'm using Japanese short grain white rice for this recipe. Another popular choice would be Jasmine rice.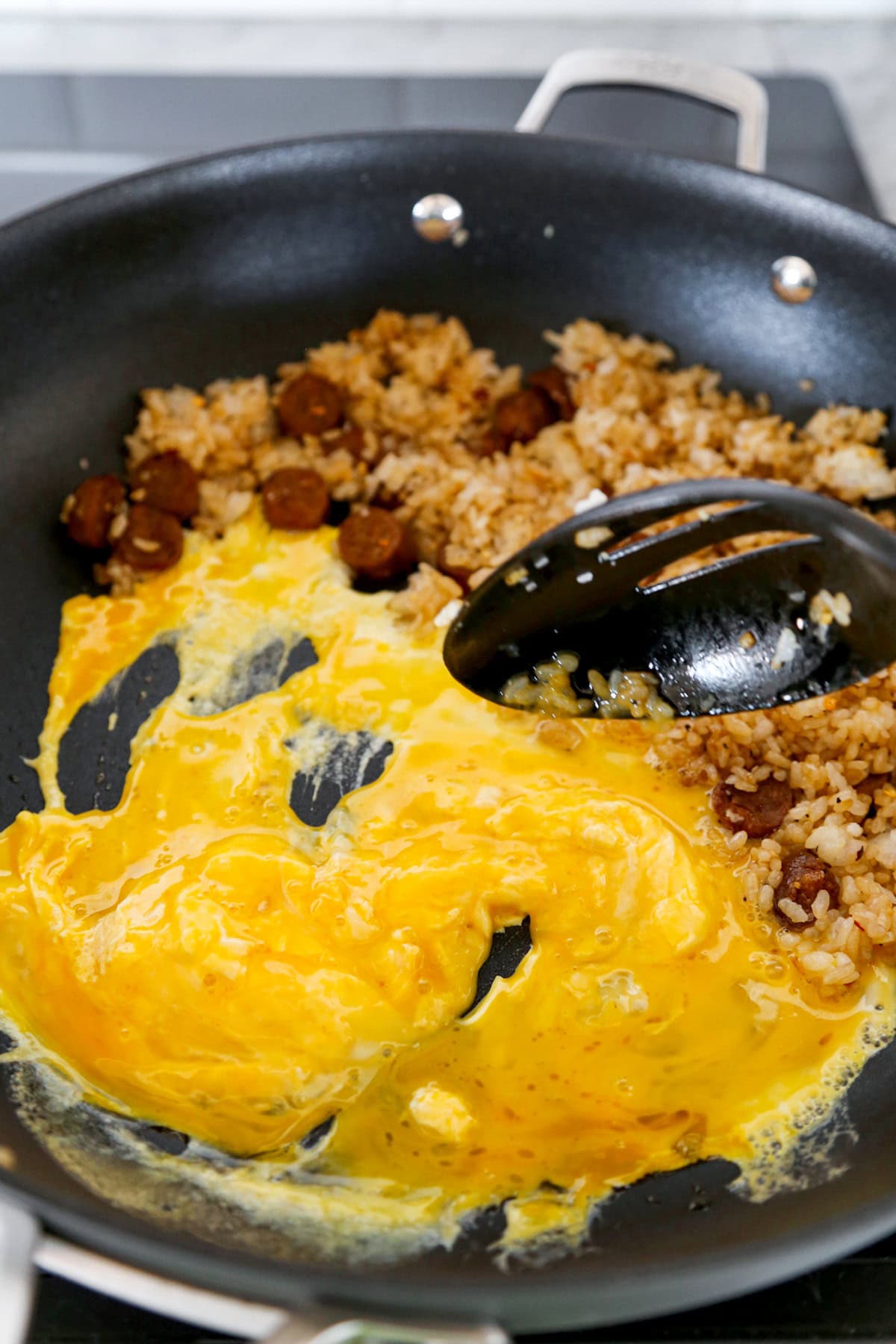 How to Make Breakfast Fried Rice
Prep your cooking station. Gather all of your kitchen tools and ingredients.
Turn on the heat. Add the oil to a large non-stick skillet over medium high heat and swirl it around to cover the surface.
Cook the breakfast sausages. Once the oil is hot, add the chopped breakfast sausage pieces and cook for a few minutes, until they are cooked through.
Add the garlic. Add the garlic and stir fry for 1 minute.
Add the rice. Once the garlic is fragrant, add the rice. Be sure to gently break up any clumps. Add the soy sauce, red pepper flakes, salt and pepper, and stir.
Scramble the eggs. Lower the heat to low and push the rice mixture to one side of the skillet. Add the sesame oil to the empty side along with the whisked eggs. Gently scramble the eggs until they are about 80% cooked and fold them into the rice.
Serve. Finally, turn off the heat, top with scallions and serve immediately.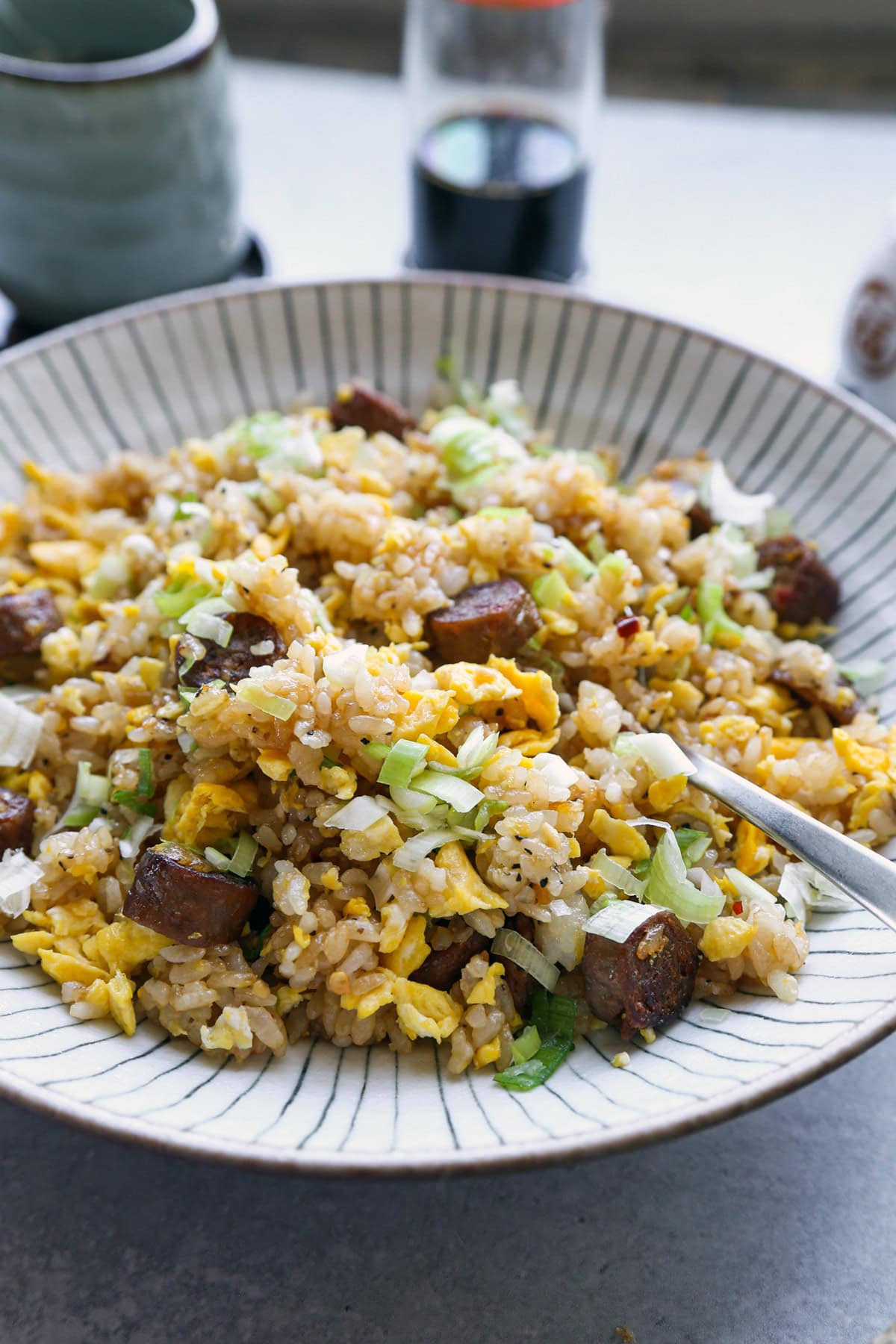 Variations On Cooking Eggs For Fried Rice
As with most recipes, you can play around with key ingredients until you find what works best for you. Here are a couple of options for the egg:
Scrambled: Personally, this is my favorite way to enjoy any fried rice. You can push the fried rice to one side of the pan and cook the eggs in the cleared half. Or just scramble the eggs in a separate pan. Either way, I find that 80%-90% doneness is the perfect consistency to fold the eggs into the rice. Less than 80% and the final texture of the rice can be a bit gloppy.
Fried: A bowl of rice with a fried egg on top is a pretty glorious thing! Extra points if you can get the egg white crispy and browned while leaving the yolk gooey and creamy. And let's be real: there's nothing that screams breakfast more than a sunny-side-up egg.
Soft, medium or hard boiled: While this method may not be suited to everyone's taste, it's the perfect solution if you've got boiled eggs in the fridge that you need to use up. Simply break them up with a spatula or fork and fold them into the fried rice.
How to Store Leftovers
You can store any leftovers inside an airtight storage container in the fridge for 1-2 days.
However it's important that you heat any leftovers in the microwave until they are piping hot before consuming. A lot of not-so-great things happen to rice as it cools to room temperature. Always be safe!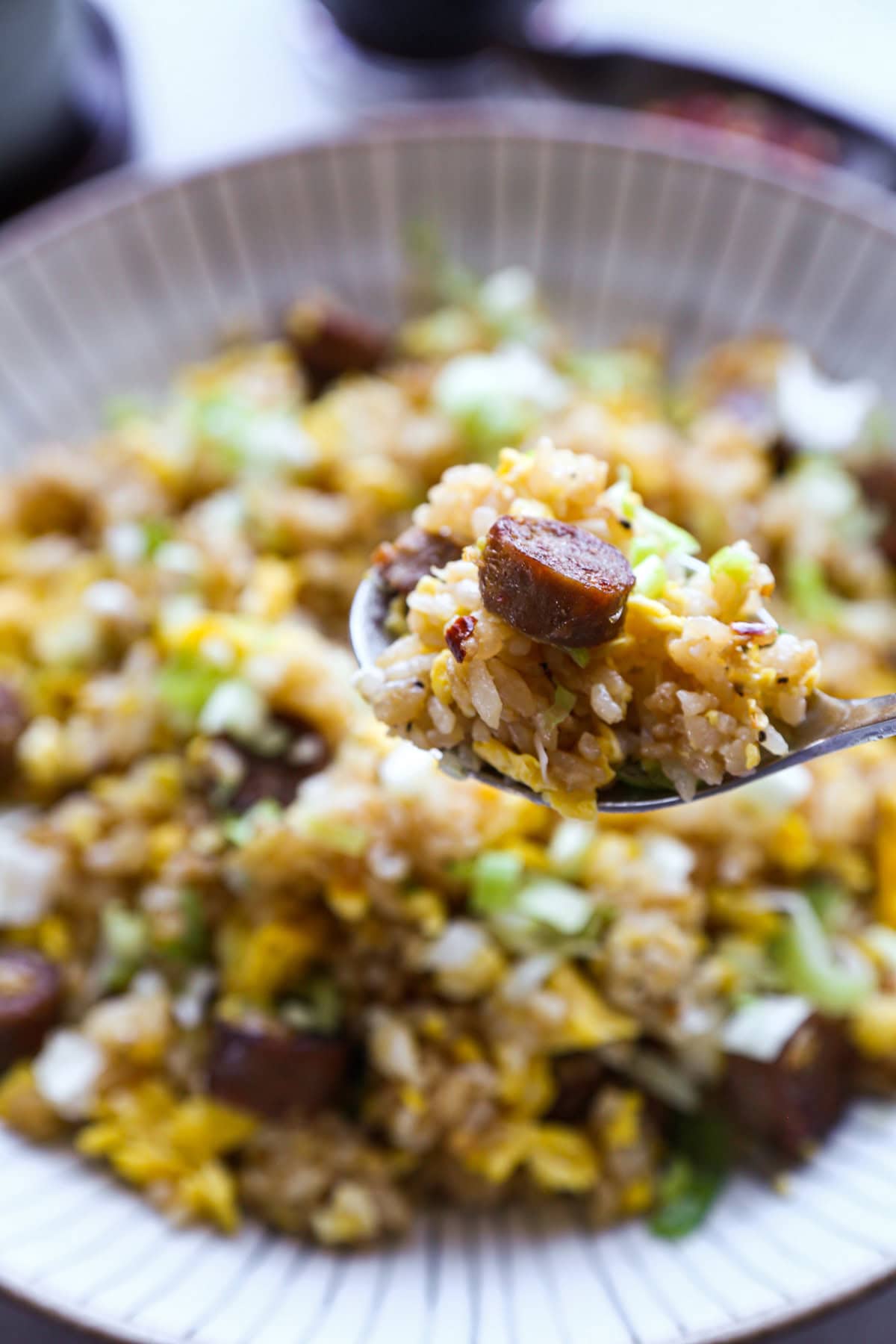 More « Eggscellent » Breakfasts To Try
Did you like this breakfast fried rice recipe? Are there changes you made that you would like to share? Share your tips and recommendations in the comments section below!
Print
Breakfast Fried Rice
Fried rice with breakfast sausages and eggs galore. You'll love the Asian flavors with a Western twist. This easy breakfast fried rice is ready in just 17 mins!
Author: Caroline Phelps
Prep Time:

10 minutes

Cook Time:

7 minutes

Total Time:

17 minutes

Yield:

2

1

x
Category:

Rice

Method:

Frying pan

Cuisine:

Japanese

Diet:

Vegetarian
1 tablespoon

neutral oil such as grapeseed oil

2

to

3

breakfast sausages or vegan breakfast sausages such as Beyond Sausage, chopped bite size

2

garlic cloves, minced

1 1/2 cup

day old, cooked, white rice

1 1/2 tablespoon

soy sauce

1/4 teaspoon

red pepper flakes

Salt and pepper, to taste

1 tablespoon

sesame oil

2

large eggs, whisked

2

scallions, finely chopped
Instructions
In a large pan over medium heat, add the oil.

When the oil is hot, add the breakfast sausages and cook for 2 to 3 minutes, until they are cooked through. 

Add the garlic and stir fry for 1 minute, until the garlic is fragrant.

Add the rice and gently break it up in the pan until it's easy to stir fry. Add the soy sauce, red pepper flakes, salt, and pepper, and stir to combine. 

Lower the heat to low and push the rice to one side. Add the sesame oil to the empty side and add the whisked eggs.

Gently move the eggs around to scramble them and when they are about 80% cooked, fold them into the rice. 

Turn the heat off and serve the rice topped with scallions.
Nutrition
Serving Size:

About 1 cup

Calories:

488

Sugar:

1.1g

Sodium:

1757.6mg

Fat:

25.5g

Saturated Fat:

5.5g

Unsaturated Fat:

8.7g

Trans Fat:

0g

Carbohydrates:

45.6g

Fiber:

1.8g

Protein:

16.8g

Cholesterol:

186mg
Recipe Card powered by