Avocado Egg Boats
*This post may contain affiliate links. Read my disclaimer here.
Avocado egg boats are such an easy dish to make! They are tasty, creamy, and so pretty to look at. Plus, they only take a few minutes to make! Thank you Reynolds Wrap® Foil for sponsoring this post!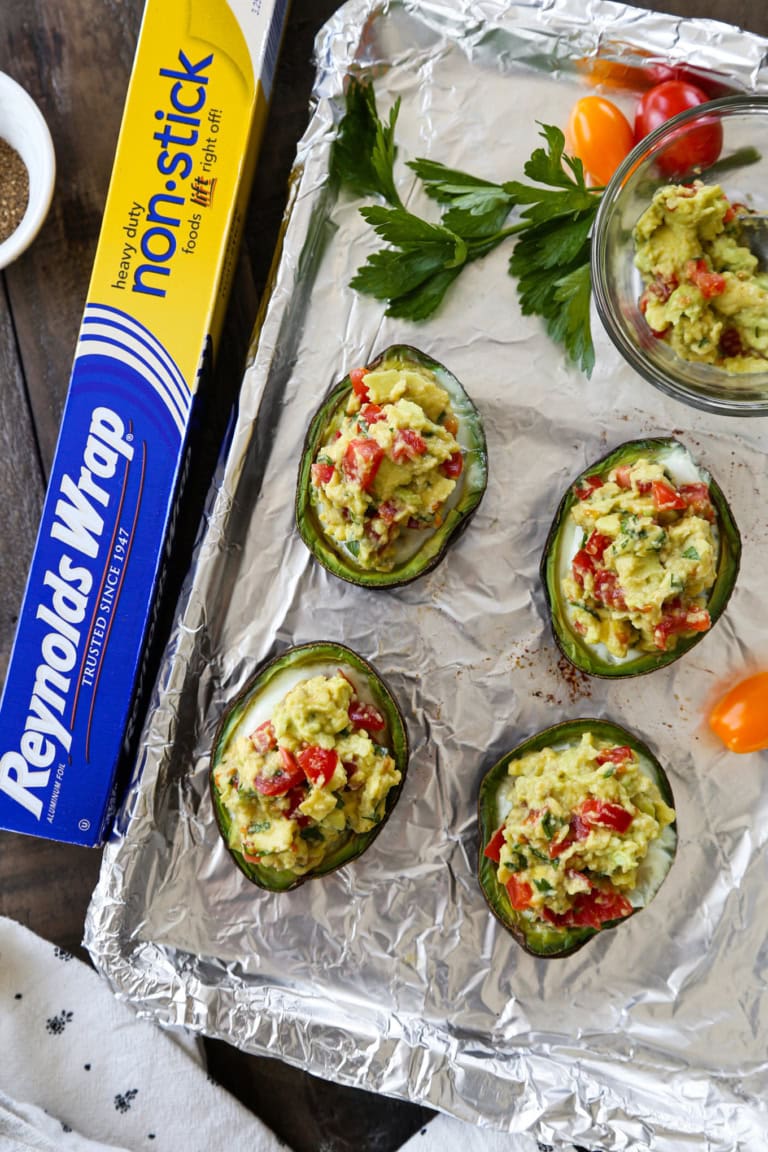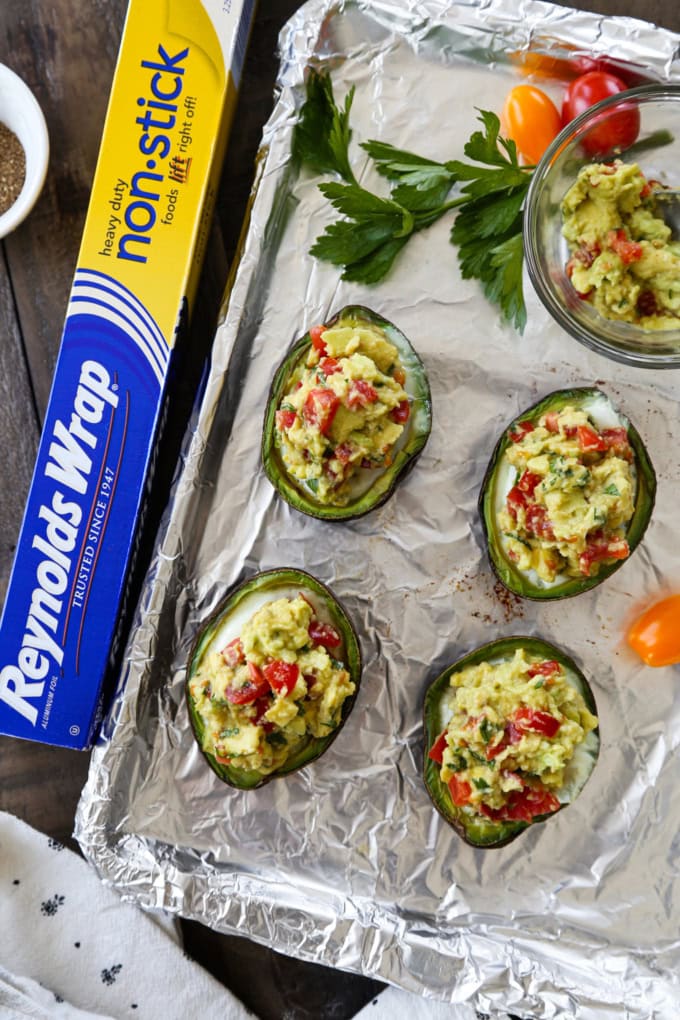 Making avocado boats is something I've been doing for years. I love the combination of creamy avocado and runny yolk and how I can change the flavor by using different toppings.
I've served avocado boats for breakfast and lunch, and sometimes, will make them as a late night snack if I'm craving something substantial. Despite looking small and cute, they're actually quite filling!
Today's flavor is something close to guacamole – a mixture of cherry tomatoes, miso paste (I know it's weird, but trust me, it's delicious!), parsley, scallion, and lemon juice. It doesn't take long to make and it's a dish that both kids and adults enjoy.
Cleaning up was a breeze since I used Reynolds Wrap® Non-Stick Foil. No need for cooking spray to cover the baking sheet, the avocado boats slide right off the foil! It's my favorite foil to use when I'm baking because your food won't stick. This way, there's no mess and the food always come out looking good.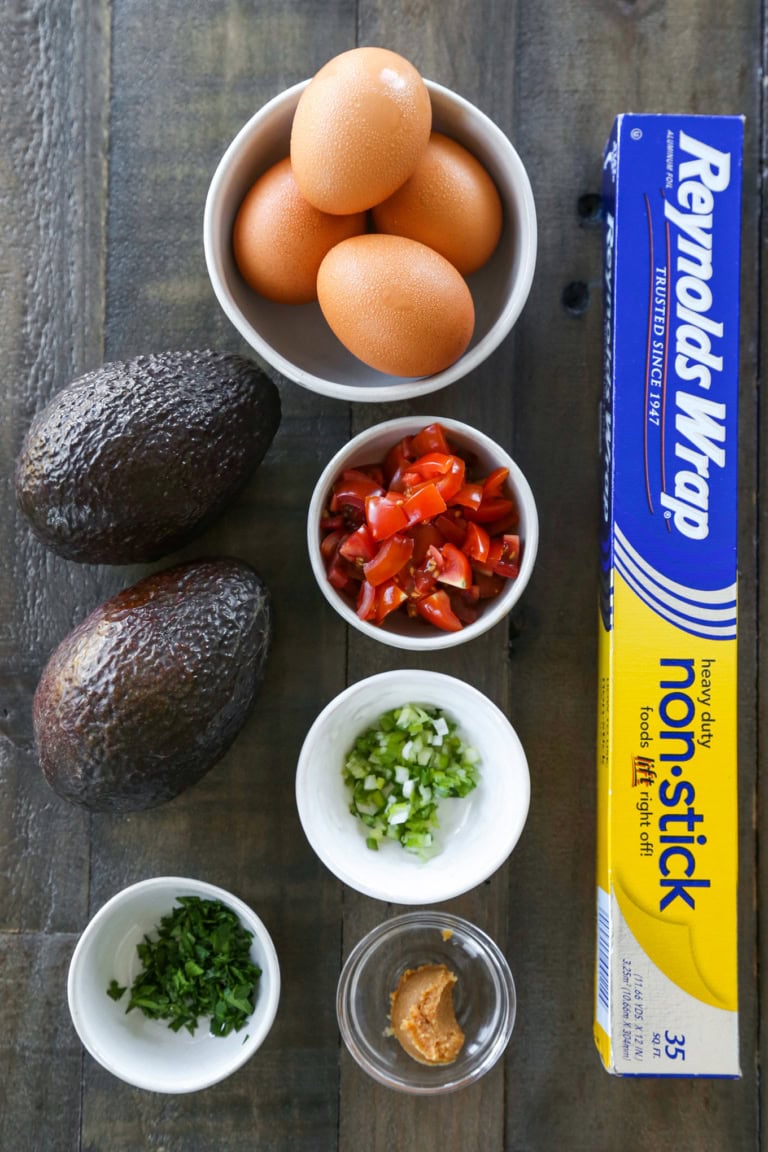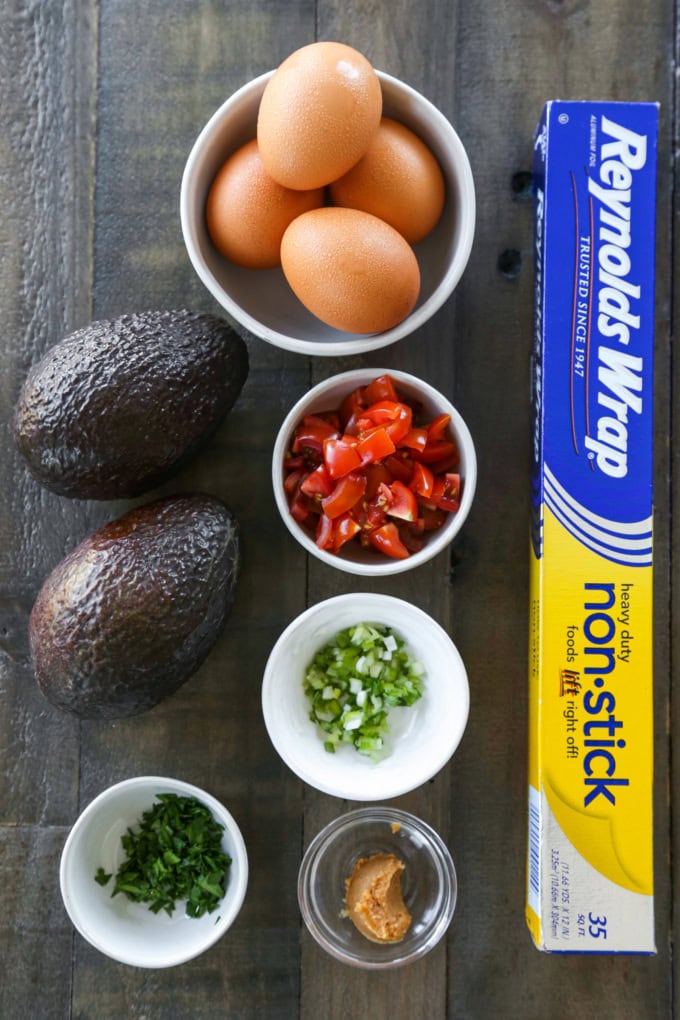 Tools Needed to Make This Recipe
Chef's knife: To slice the avocados and other vegetables.
Spoon: You will need a spoon to scoop out some of the avocado flesh to make room for the eggs.
Mixing bowl: To make the avocado mixture that will go on top of the avocado egg boats.
Small bowl: To mix the cherry tomatoes, miso paste, scallions, and parsley.
Small bowl: To break the eggs one at a time and to measure the right amount of egg white to add to each avocado half.
Baking sheet:  A small or medium baking sheet to bake the avocado eggs.
Reynolds Wrap® Non-Stick Foil: To wrap the avocado boats, the eggs bake evenly, without losing their moisture, and make cleanup a breeze.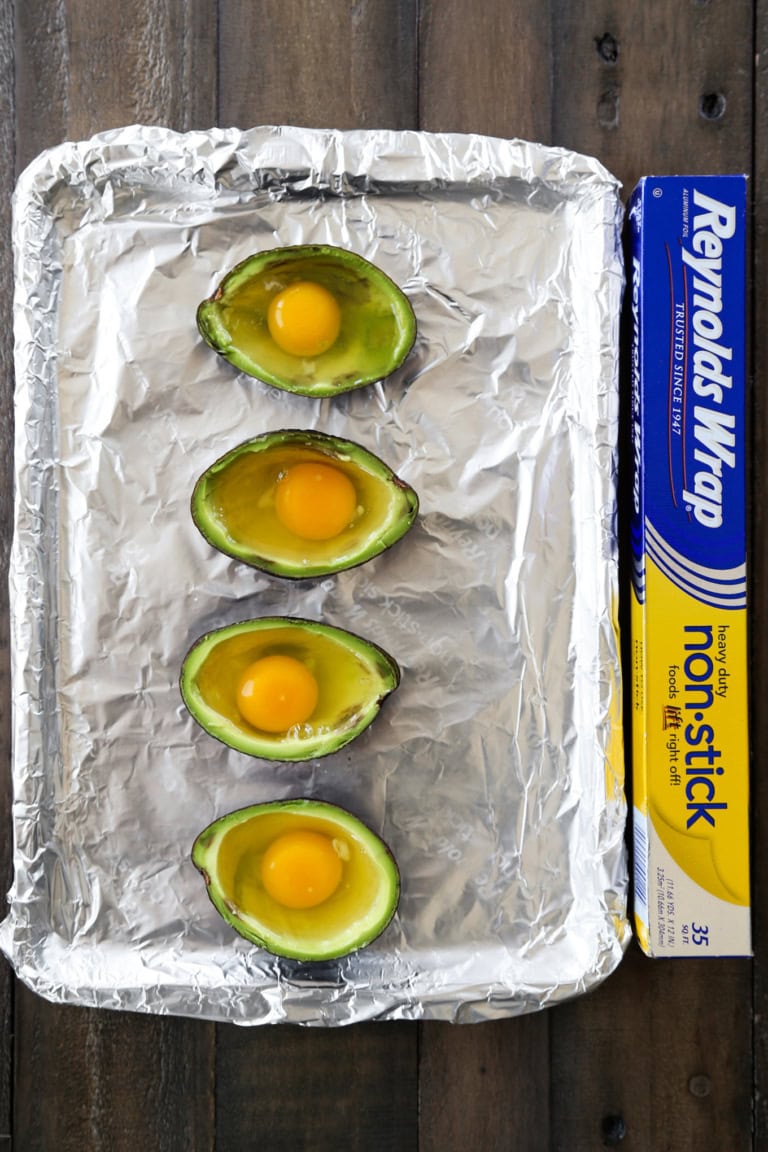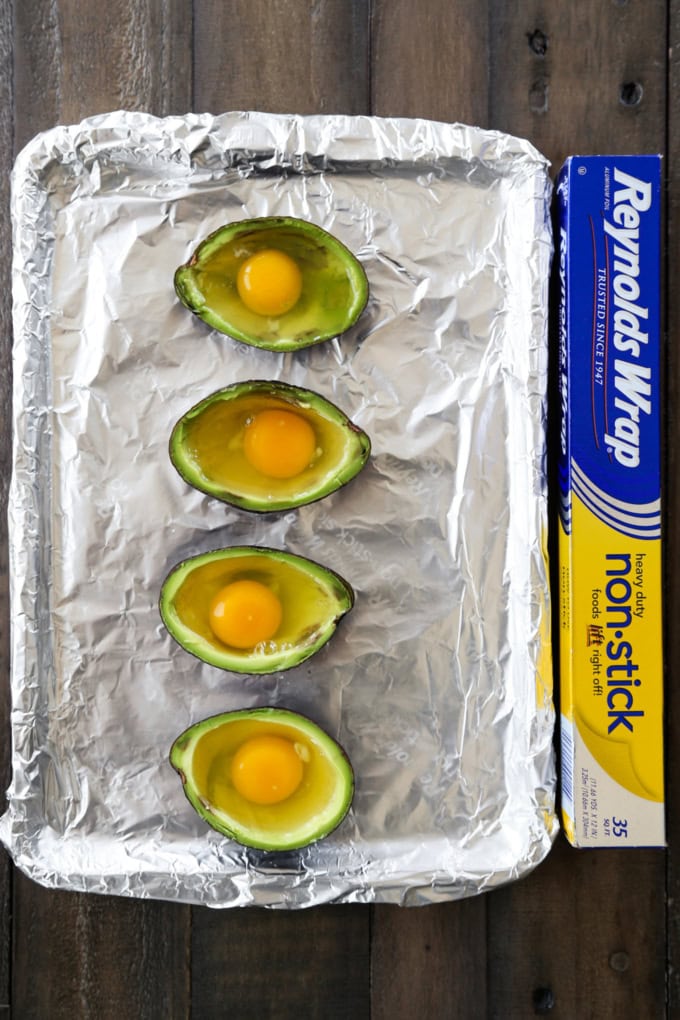 Ingredients for Avocado Boats
Avocados: 2 ripe avocados, medium size. They have to be a decent size to accommodate the eggs once hollowed.
Eggs: 4 eggs, medium size preferably. Large size is also fine but you might end up with some leftover egg white.
White miso paste: Miso paste adds umami and pairs beautifully with tomatoes! Only a teaspoon is needed.
Cherry tomatoes: I like using cherry tomatoes because they tend to be sweeter and are easy to finely chop.
Parsley: You can use curly or flat leaf parsley; both will work for this recipe. You only need about a tablespoon to brighten up the dish.
Scallion: 1 scallion to add a little crunch and sweetness.
Lemon or lime: Just a squeeze to bring all the flavors together and give the avocado mixture a guacamole-like taste.
Salt and pepper: Adding salt and pepper is optional so I'm leaving this step up to you. The avocado boats are delicious with or without them.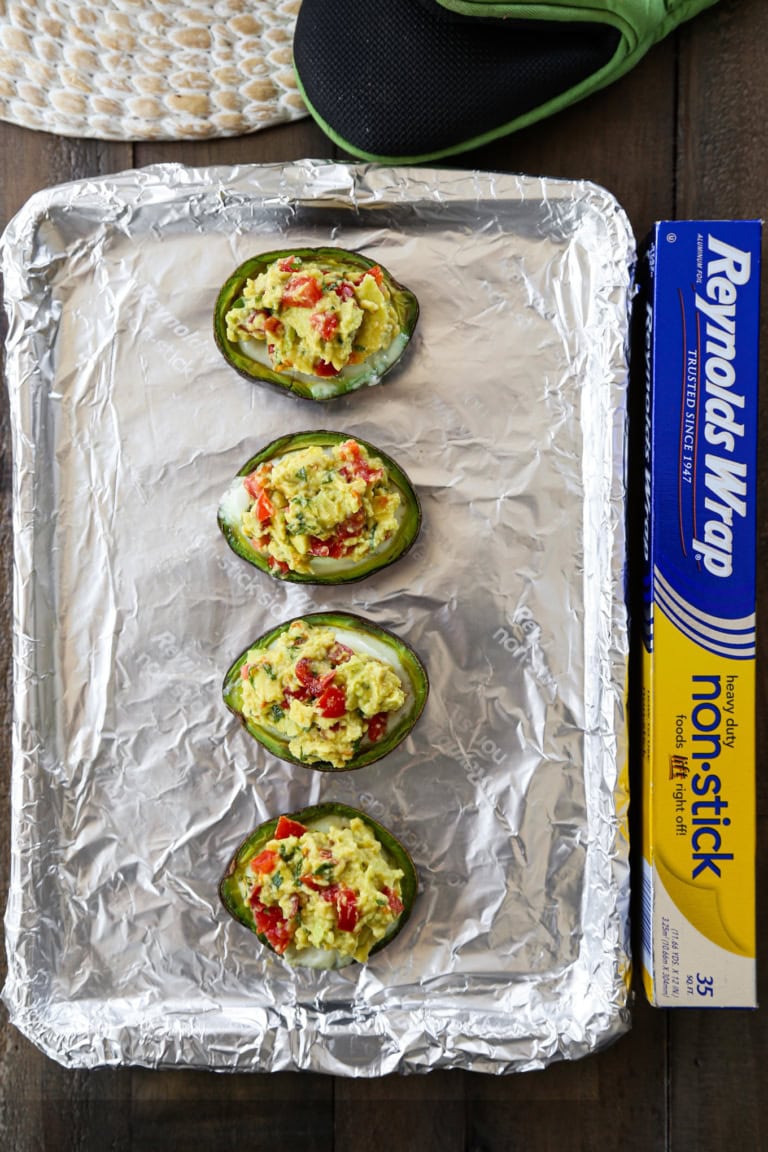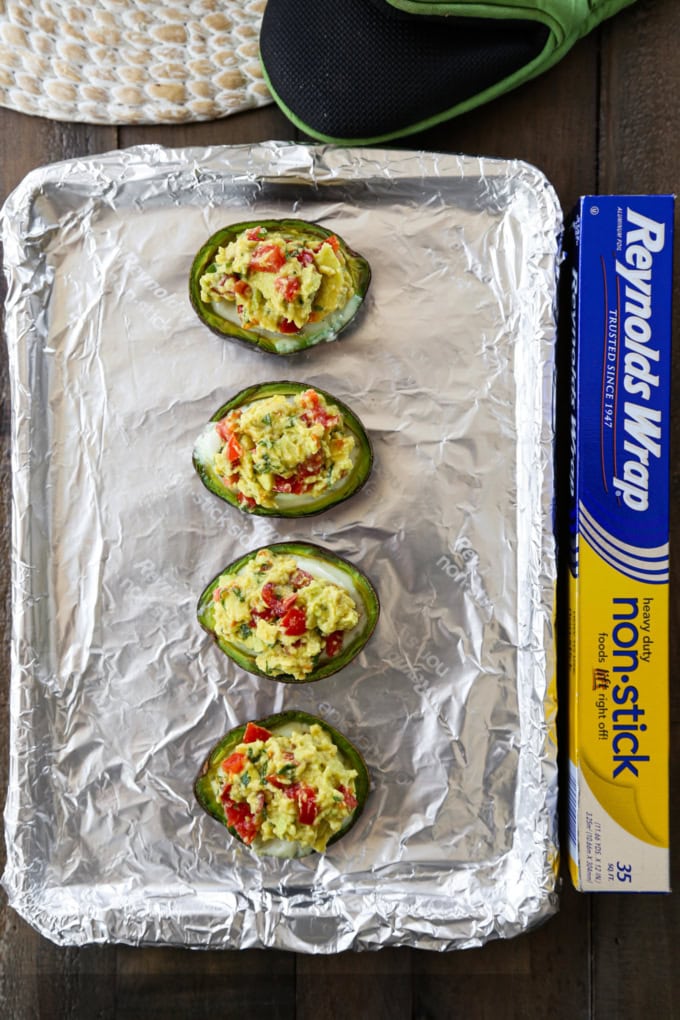 How to Make Avocado Boats
Preheat the oven the 425ºF.
Using your chef's knife, cut the avocados in half lengthwise and get rid of the pits.
 Grab your spoon and scoop some of the avocado flesh, leaving about 3/4 of an inch around the edges of the skin.
Place the scooped avocado flesh in a bowl and set aside.
Break an egg in a bowl and spoon the yolk. Add it to an avocado half and spoon enough egg white to fill most of the avocado half. Do the same thing for the remaining three avocado halves.
Cover a small baking sheet, including the edges, with Reynolds Wrap® Non-Stick Foil, and place the avocado boats on top. The dull side with the watermark should always be facing the food to benefit from the non-stick properties.
Bake for 15-20 minutes, depending on how runny you like your egg yolks.
Meanwhile, mix the cherry tomatoes and miso paste in a bowl, and add the parsley and chopped scallions. Add the leftover avocado and gently mix and mash. Add a squeeze of lemon or lime juice and stir again.
Take the avocado boats out of the oven and top them with the avocado mixture.
Season with salt and pepper and serve!

What to Serve with this Dish
Avocado boats are quite filling so my suggestion would be to serve them with a simple green salad or other light salads such as: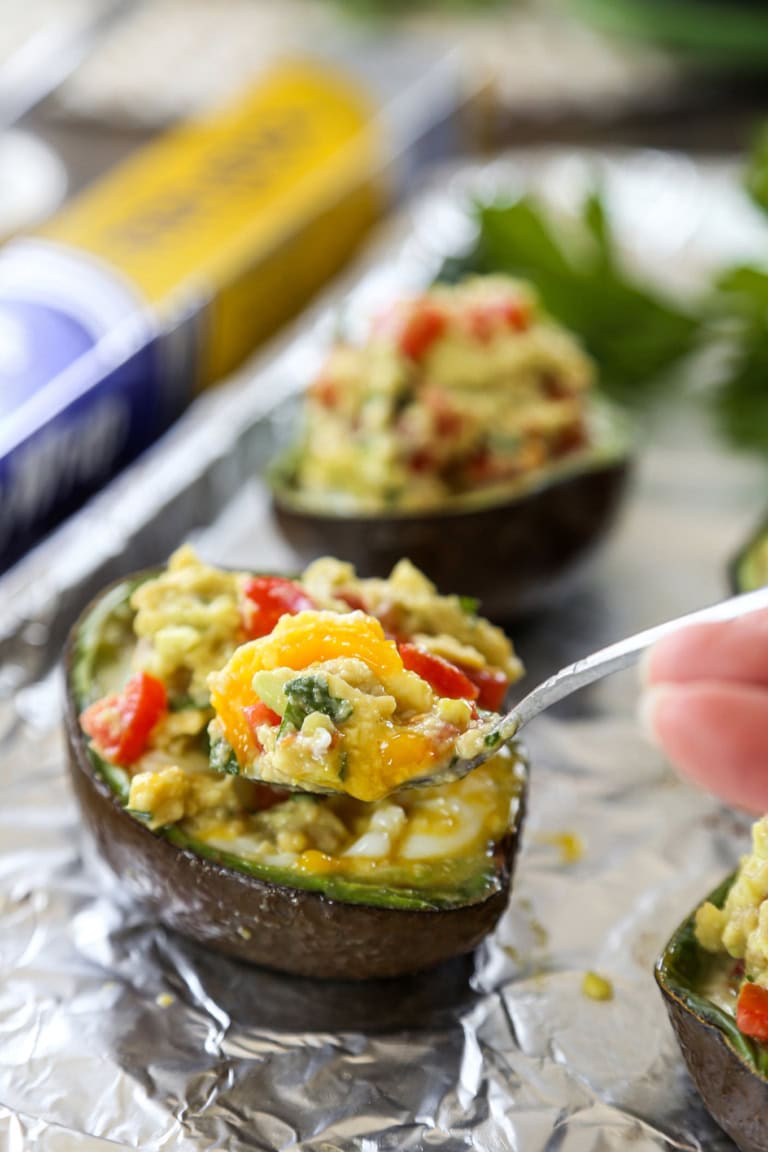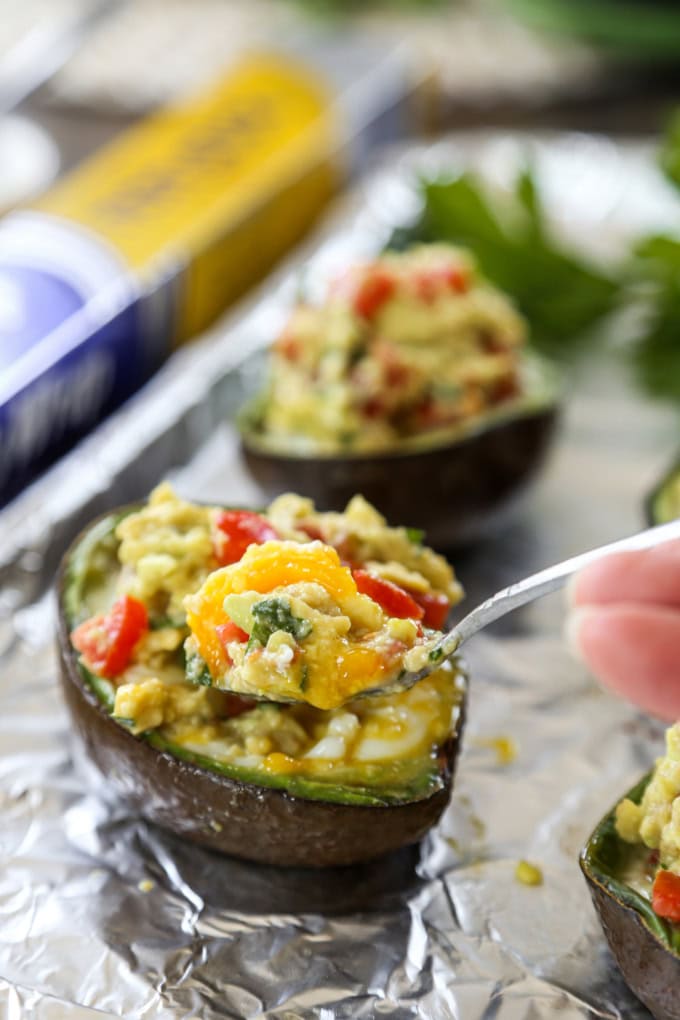 Did you like this Avocado Egg BoatsRecipe? Are there changes you made that you would like to share? Share your tips and recommendations in the comments section below!
Print
Avocado Egg Boats
Author: Caroline Phelps
Prep Time:

10 minutes

Cook Time:

15 minutes

Total Time:

25 minutes

Yield:

4

1

x
Category:

Side

Method:

Baking

Cuisine:

American

Diet:

Gluten Free
2

large avocados

4

eggs
Reynolds Wrap Non Stick Foil

1 teaspoon

white miso paste

6

cherry tomatoes, diced

1 tablespoon

chopped flat parsley

1

scallion, finely chopped
Squeeze of fresh lime or lemon juice
Salt and freshly ground pepper
Instructions
Preheat oven to 425ºF.
Wash the avocados, dry them, and slice in half, lengthwise. Remove the pit.
Using a spoon, scoop up some of the flesh until there's about 3/4 of an inch of flesh left around the edges. Save the scooped up flesh and place it in a bowl. Set aside.
Break an egg into a small bowl and transfer the egg yolk to an avocado half. Scoop some of the egg white and add it until the avocado half is almost full. Leave a little empty space on top so it doesn't spill over when you move the avocado half. Do the same for the remaining avocado halves.
Cover a small baking sheet, including the edges, with Reynolds Wrap® Non-Stick Aluminum Foil, with the dull side facing up, and place the avocado boats on top.
Bake for 15-20 minutes, depending on how you like your eggs done. Check after 10 minutes to see the doneness – every oven is different so it's best to check every few minutes to make sure the eggs don't overcook.
While the avocado boats are baking, add the miso paste and cherry tomatoes in a bowl and stir until combined. Add the parsley and scallion and stir. Lightly mash the leftover avocado and add it to the tomato mixture. Add a squeeze of lemon or lime juice, and stir. Set aside.
Check on your avocado boats and take them out of the oven. Unwrap them and transfer them to a serving plate.
Top with avocado mixture, season with salt and pepper, and serve.
Keywords: Appetizer, side dish
Recipe Card powered by
Pickled Plum is a participant in the Amazon Services LLC Associates Program, an affiliate advertising program designed to provide a means for sites to earn advertising fees by advertising and linking to amazon.com.